Are you looking for a complete Instagram video guide?
Video content on Instagram can be a fantastic way to engage people and get tons of views.
But getting started with Instagram videos can be tough, especially if you're new to social media marketing. What's more, there's already so much content on Instagram, so it's not easy to stand out.
To help you make popular Instagram videos in no time, we're bringing you this simple guide.
But first, let's take a look at the different types of Instagram videos and how you can use each one.
Or you can click here to skip to our guide on how to create videos for Instagram.
What Are the Types of Instagram Videos?
Did you know that videos on Instagram get 49% more interactions than photos?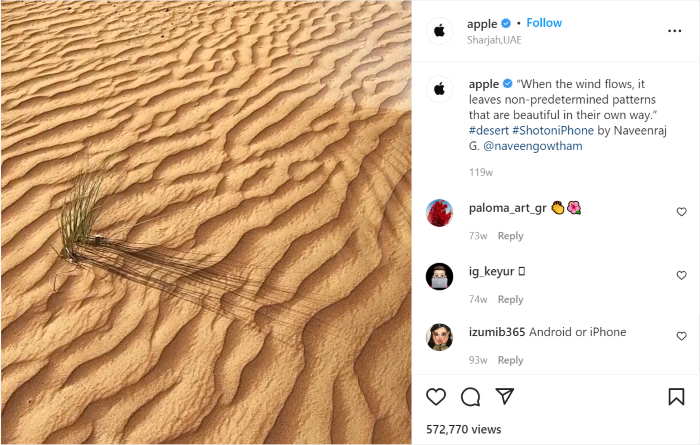 By using Instagram videos, you can easily give your brand a boost with more likes, comments, views, and followers.
Plus, there are 5 types of Instagram video content that you can choose from: Stories, Instagram Videos, Reels, Instagram Live, and IGTV Videos.
In this guide, we'll take you through all the Instagram video formats and how you can use them to grow your business.
Let's get started!
1. Stories
Instagram stories are 15-second videos that you can share for up to 24 hours.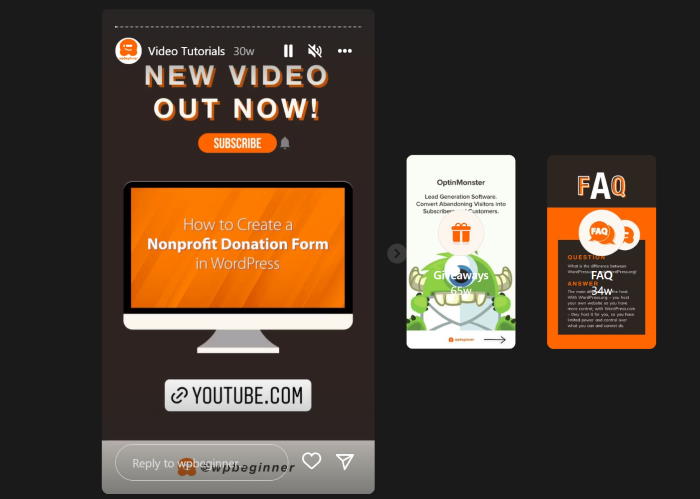 To make your stories even more engaging, you can add filters, emojis, tags, stickers, and more. What's more, you can use these elements to create interactive polls or Q&As as well.
In fact, you can even add links to your Instagram stories for an easy way to drive traffic to your website.
Want your stories to be available even after 24 hours? Just save the story as a highlight, and it will appear on your profile permanently.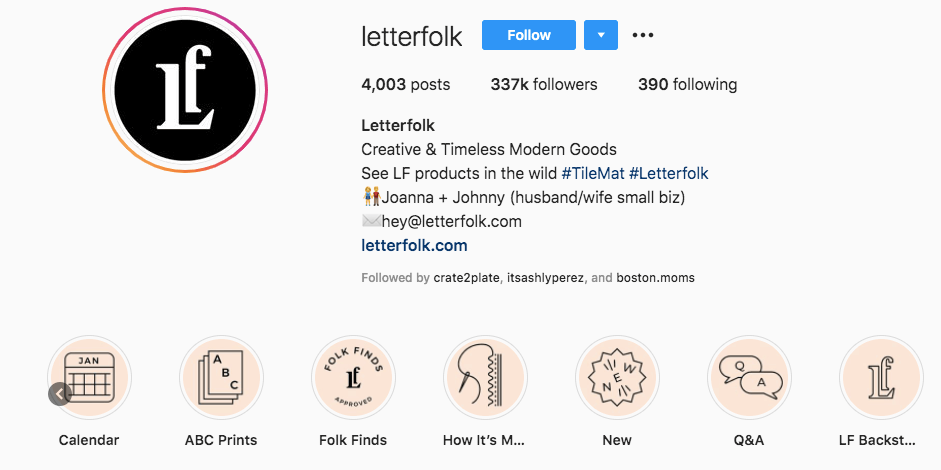 Here are a few great ways your brand can use Instagram stories:
Quick announcement posts and updates
Product discounts with links to the sales page
Questions and polls for your Instagram followers
Time-limited exclusive offers for your customers
To help you get started, here are the recommended specs for Instagram stories:
Instagram video format: MP4 or MOV
Aspect ratio: 1080px by 1920px
Instagram video size: Up to 4GB
Instagram video length: Up to 15 seconds for each story
2. Instagram Videos
On October 2021, Instagram merged IGTV and Instagram feed videos and created a single video format: Instagram videos.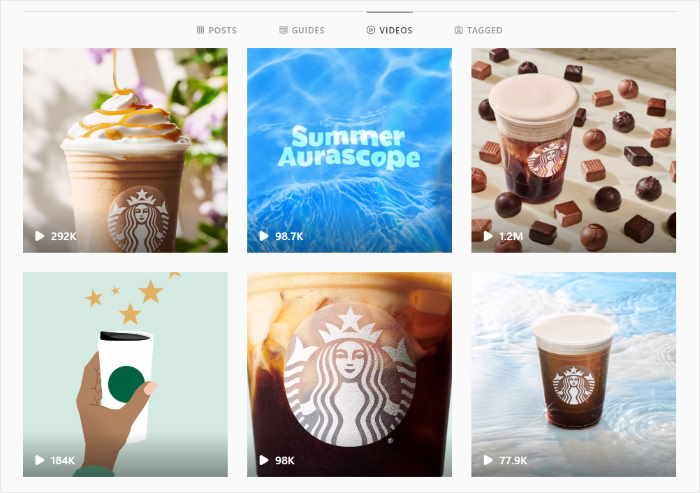 With this new format, Instagram also introduced some new and useful features such as video trimming, 60-second feed preview, tagging, and more.
Your Instagram videos can be up to 60 minutes long, so you can use them in tons of different ways:
Ready to use Instagram videos? Here are the technical specs that you can keep in mind:
Instagram video format: MP4, MOV, or GIF
Aspect ratio: Between 1.91:1 and 9:16
Instagram video size (10 minutes or less): Up to 650MB
Instagram video size (60 minutes or less): Up to 3.6GB
Instagram video length: Up to 60 minutes
3. Reels
Instagram reels is a newer video format that was actually inspired by the popularity of TikTok. With this format, you can create bite-sized clips and share them with your followers.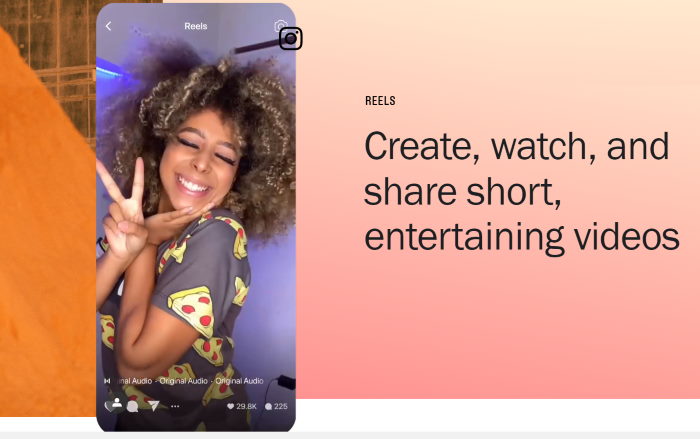 What's more, you can allow any Instagram user to find your reels using the new Explore section. So, this video format can help you reach a global audience.
Like with TikToks, you can edit these videos, add music, show fun effects, and more if you want to make your reels engaging.
Since Instagram reels can be up to 60 seconds long, you can show more content than with stories. Here are a few great ways you can use reels for your brand:
Show an educational video
Share a quick tutorial
Reveal a blooper reel
Here are the technical specs to help you get started:
Instagram video format: MP4 or MOV
Aspect ratio: 1080px by 1920px
Instagram video size: Up to 4GB
Instagram video length: Up to 60 seconds
Grow your online business faster by checking out this guide on how to get more views on Instagram reels.
4. Instagram Live
Want to run a long livestream and connect with people on Instagram? You can simply use Instagram live then.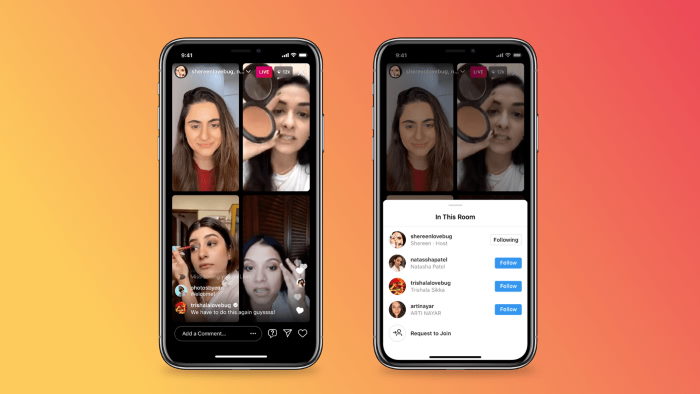 As a live video format, you can use Instagram live to interact with people in real-time. Your stream can last for up to 4 hours and you can share the video of the stream for 30 days.
Since it's such a unique video format, you can use Instagram Live in lots of amazing ways:
Host a webinar
Run long Q&A session
Share behind-the-scenes footage
Interview other users
And that's just the start! Since you can actually talk with your followers and respond in real-time, livestreams can help you build relationships with your followers.
If you want to start using Instagram live for your business, the specs are pretty simple.
You're directly using your own camera app so the aspect ratio is the size of your screen. Plus, you don't have to worry about file formats, size, or resolution. Just remember that the Instagram video length can be up to 4 hours.
5. IGTV
Unlike the other formats on this list, Instagram TV (IGTV) is no longer available to use. It was removed back when the Instagram video format was released.
Since you can no longer post IGTV videos on Instagram, you can use the Instagram video format instead which has even more features.
As you can see, there are lots of Instagram video formats that you can use to promote your brand.
Now, let's check out our guide on how to make Instagram videos that engage your visitors with ease.
Ultimate Instagram Video Guide to Grow Your Business (9 Best Ways)
In this guide, we'll show you how to create videos for Instagram so you can reach tons of potential customers with ease.
1. Post Videos Regularly
According to research, posting on Instagram at least once a day can help you promote your brand more effectively.
When you regularly post Instagram videos, you will have more chances to get views, likes, and comments from your followers.
What's more, your followers can fall into a routine of checking out your posts if you're regularly posting interesting content.
To reach lots of people, you can try posting videos on Instagram when they are most likely to be online. Simply follow this guide to do that: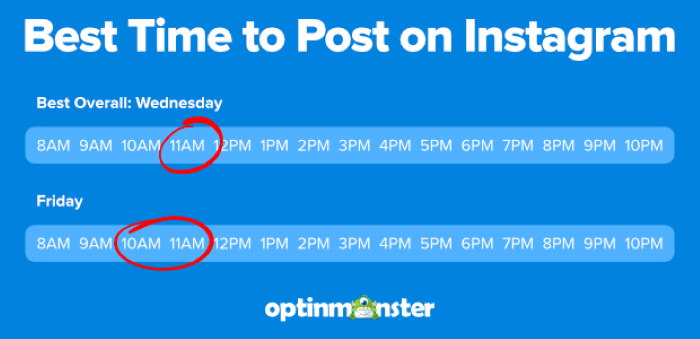 For Instagram, the best time to post your videos is 11 AM on Wednesdays and 10 AM to 11 AM on Fridays.
All you have to do is get into a habit of posting Instagram videos regularly and you'll have a dedicated following in no time.
Want to learn more? Check out this guide on the best time to post on social media.
2. Focus on Video Quality
If you spend time and effort making high-quality videos for Instagram, you can reach a lot more people.
Like YouTube videos, Instagram videos that look and sound quality will immediately stand out from the rest of the posts. And that means more people will view, like, comment, and share your content.
On the other hand, poor video quality means people can just scroll past your videos.
The good news is that phone cameras can take quality videos nowadays so you don't need to spend money on an expensive video camera.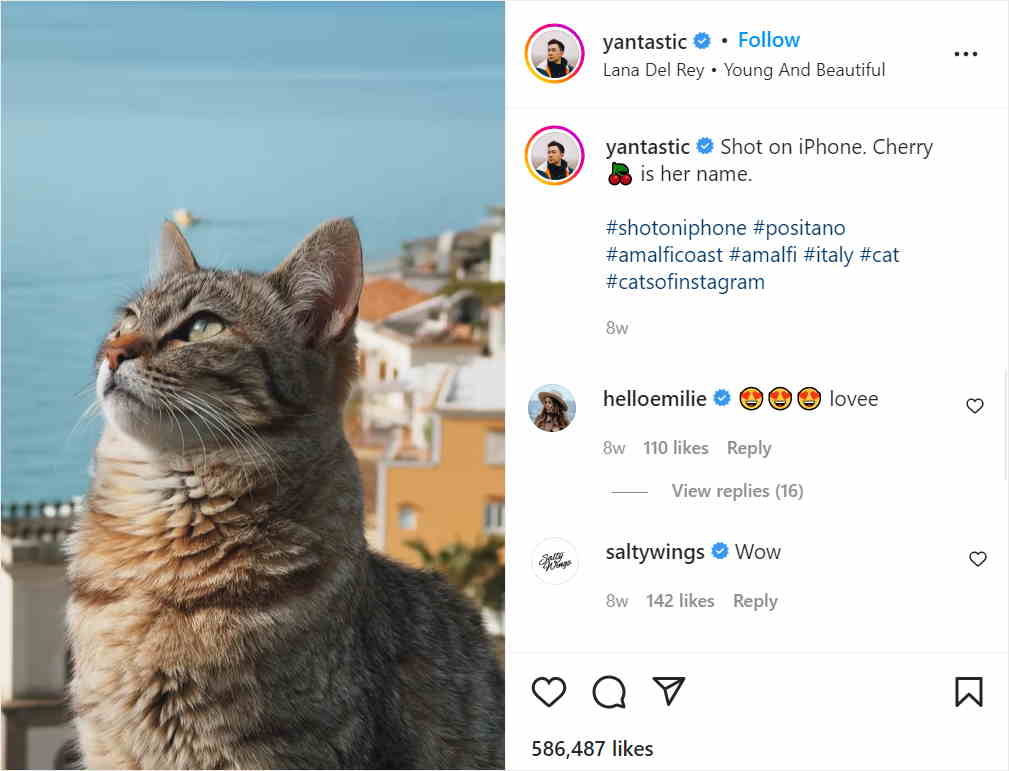 To get started, you can try shooting your videos using the natural light from the sun. This will make your videos look nicer and you don't need to spend money on lighting equipment.
Even if you're making your video indoors, you can open the windows and move closer to the light so things appear clearer.
And if you shoot right after sunrise or before sunset, your video will have lots of orange light which looks warm and comfortable.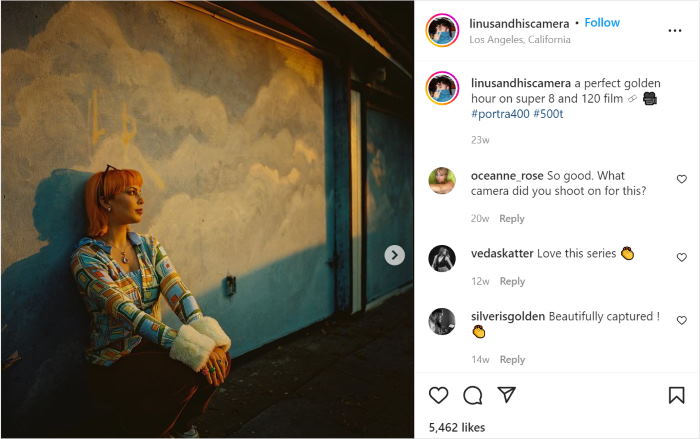 If you're making long videos, you can also use tools like Audacity or Adobe Audition to edit your audio. These tools can help you remove background noise, cut out long pauses, remove mistakes, and more.
By creating videos that look and sound great, you'll have a huge advantage over your competition.
3. Add Captions and Stickers
By adding captions and stickers, you can get more people to watch your videos till the end.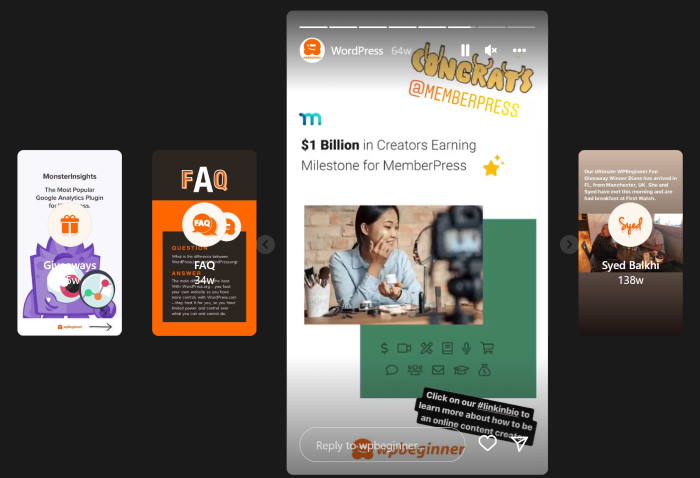 When people browse through Instagram, the videos will autoplay without the audio unless they choose to turn it on.
If your video makes sense even without sound, you'll have a much better chance of grabbing people's attention.
With the help of stickers, you can easily add locations, hashtags, gifs, mentions, and more to your videos. That way, you can make it clear what the post is about.
What's more, you can even use the "caption sticker" which can show your script on the video. People will then know what you're saying even without the sound.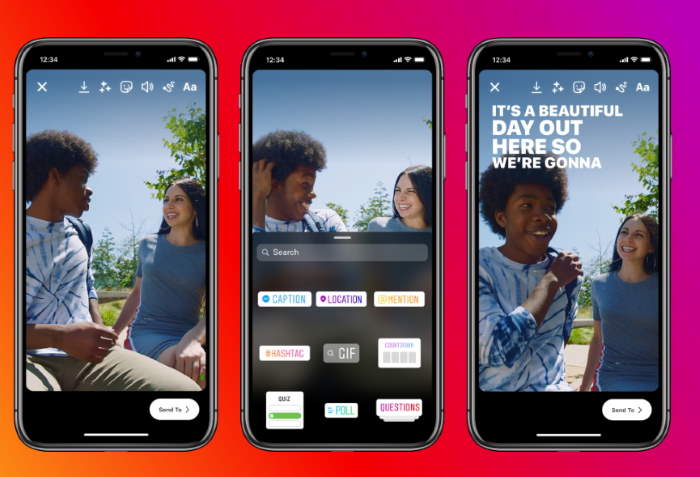 Plus, your Instagram videos also have captions where you can describe your video and even add links.
As a result, you can add a video that shows a product demonstration and then show people where to buy that product in the captions.
Want to write captions that get tons of clicks?
Just look at our guide on how to create the perfect call-to-action and you can learn more.
4. Embed Instagram Video Feeds
An easy way to promote your videos is to display Instagram video feeds on your website.
Using an Instagram feed, you can show your video content to your website visitors. Since these visitors are already interested in your brand, getting views from them is much easier.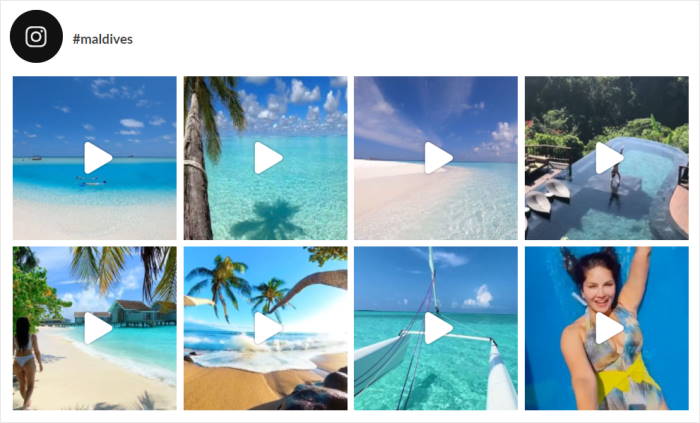 What's more, they can also like, comment, or even follow your Instagram account directly from your site. As a result, Instagram feeds can use site traffic to boost your brand's social media presence.
To easily show Instagram posts on your website, you can use Instagram Feed Pro.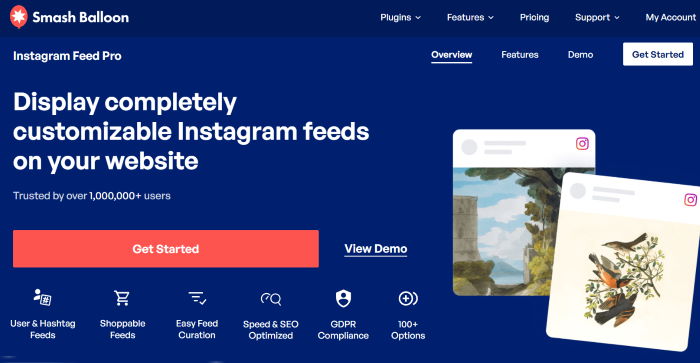 As the best Instagram feed plugin in the market, Instagram Feed Pro allows you to embed beautiful feeds on your website in a few clicks — no need to touch a single line of code.
Just follow the 3-step guided flow which will take you through the whole process of creating, customizing, and embedding Instagram feeds.
To make it even easier, you can use the live feed editor to customize your Instagram feeds and create beautiful designs with ease.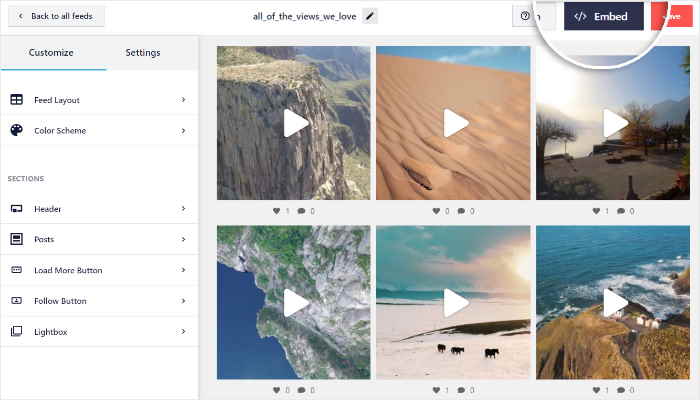 Plus, you can use the plugin to show tons of different content on your website. Instagram Feed Pro supports shoppable feeds, video feeds, Instagram stories, hashtag feeds, and more.
You also get a support team of experts who'll be happy to help you out whenever you need it.
Due to all these amazing features, Instagram Feed Pro has a rating of 4.9/5 from over 1 million users.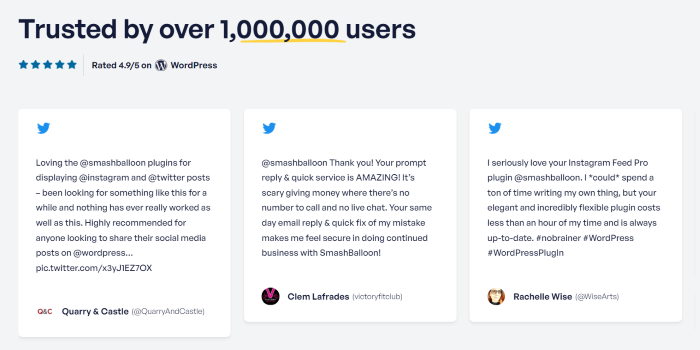 Want to show Instagram feeds on your website? Grab Instagram Feed Pro today and get started.
You can check out this tutorial on how to embed Instagram videos on your website to learn more.
5. Start Videos With a Hook
When you're making videos for social media, the 3-second rule is extremely important.
According to this rule, your videos only have 3 seconds to grab people's interest before they stop watching.
If your Instagram video has a slow introduction or a confusing start, people could stop watching before reaching the interesting parts.
So, you can add a hook at the start if you want to immediately engage your viewers. That hook can be any one of these:
Tell them an interesting fact
Ask a question
Use a joke, meme, or pop culture reference
Show a short clip from later in the video
Surprise people with something unexpected
Directly offer solutions to their problem
And there are tons of other hooks out there that you can try. Whenever you're watching video content online, you can take a not when you see an interesting hook and try it on your website.
Just give these a try and you can get tons of people watching your videos.
6. Pick an Eye-Catching Thumbnail
As the saying goes, a picture is worth a thousand words and this also applies to Instagram videos.
If you have a thumbnail that grabs people's attention, getting views will be much easier.
For an example of eye-catching Instagram thumbnails, you can take a look at these examples from WPBeginner's Instagram account.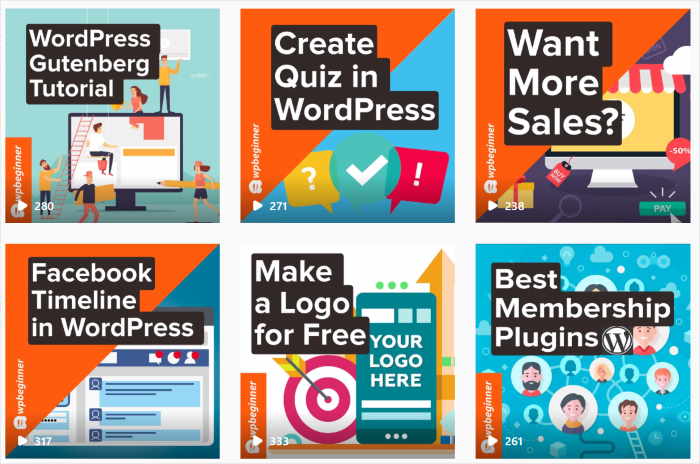 Here's what you can copy from this example for your own Instagram video thumbnails:
Include your logo or branding on the thumbnail
Use a specific color palette that matches your branding
Choose similar font for all of your videos
Use this style for your Instagram stories and reels as well
With that, you can create video thumbnails that will engage your visitors and promote your brand on Instagram. Plus, having a consistent style means fans can immediately recognize your content and watch it.
On top of that, you can also embed an Instagram gallery on your website so more people will see your thumbnails and check out your videos.
As a bonus, we also have a list of the best visual content creation tools to help you create beautiful thumbnails.
7. Add Instagram Video Widgets to Your Site
Another fantastic way to promote your videos is to add Instagram video widgets to your website.
When people open your website, they can easily check out your Instagram videos on the sidebar or footer. That way, you can turn website traffic into Instagram followers and views.
The best part?
You can embed Instagram video widgets in a few clicks if you use Instagram Feed Pro.
With its pre-built widgets, you can show Instagram videos on your website's sidebar or footer with ease – no coding needed!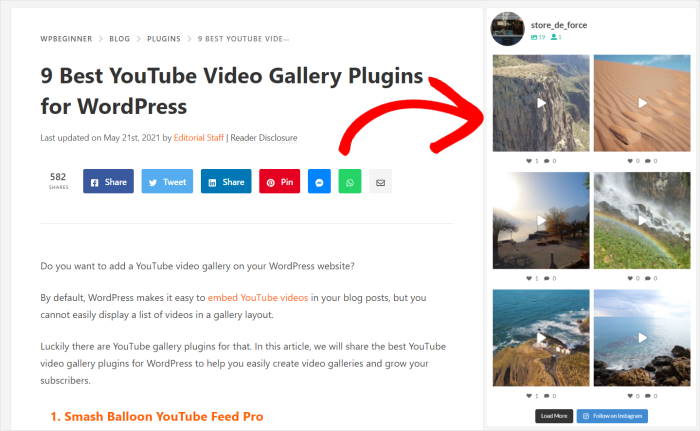 What's more, the plugin is super lightweight as well so your Instagram widget and website will still be lightning-fast. And with a faster website, you get much better SEO.
Since the plugin automatically inherits your website design, your Instagram widgets will perfectly match your branding right out of the box.
You can still customize the template, layout, color scheme, post style, and more for your Instagram video widgets using the simple live feed customizer.
Ready to add engaging Instagram widgets to your site? Grab your copy of Instagram Feed Pro here.
To get started, follow this step-by-step guide on how to embed Instagram widgets in WordPress.
8. Check Instagram Insights
If you want your Instagram videos to perform better, then Instagram Insights can be a massive help.
Like Google Analytics, Instagram Insights give you access to data about your content and your followers, so you can tailor your content to suit them better.
Using Instagram Insights, you can clearly see how your videos are performing by tracking your views, profile visits, impressions, total followers, earnings, and much more.
By checking these analytics, you can see if your Instagram video strategy is working or not.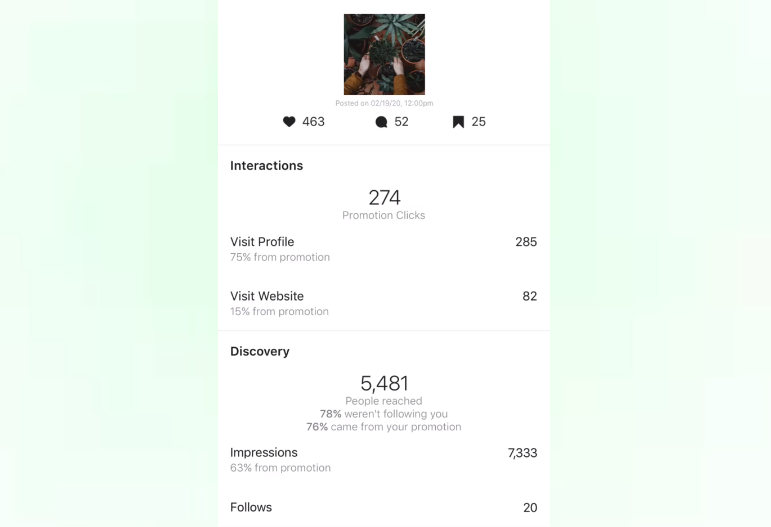 For example, let's say you start using a new thumbnail design for your videos. With the help of Instagram Insights, you can simply check if people prefer these thumbnails or not.
Just like that, you can make the right decisions and reach tons of people with your Instagram videos.
9. Cross-Promote to Different Platforms
Cross-promotion is an easy way to reach more people with your Instagram videos.
To get lots of extra views, all you have to do is share your Instagram posts on different social media platforms like Facebook, YouTube, Twitter, and more.
People on those social media platforms can then check out your videos and even follow you for more content. As you can see, you can boost your brand's social media presence without having to make new content for other platforms.
If you don't have a following on other social media platforms yet, Smash Balloon has you covered.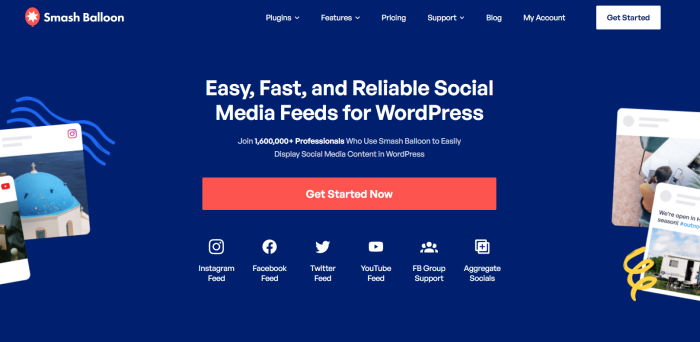 Smash Balloon has the best social media plugins for Twitter, Facebook, YouTube, as well as Instagram. In a few simple clicks, you can show engaging social media content on your website.
You can then turn your website traffic into views, followers, and interactions with ease — no coding needed at all.
What's more, you get tons of options when it comes to social media feed types, such as:
Twitter timeline
YouTube channel feed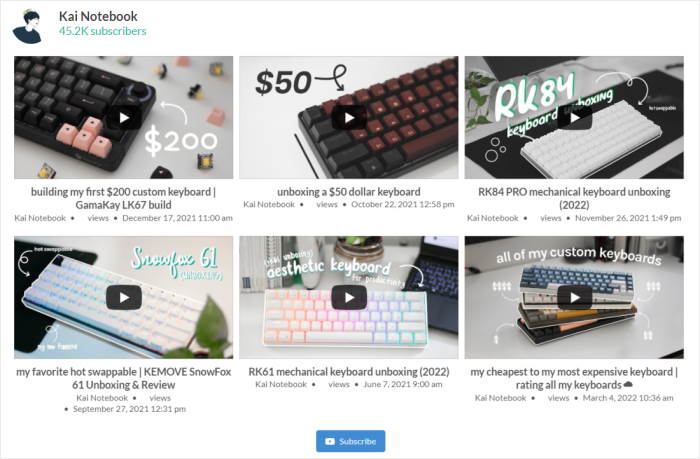 Instagram hashtag feed
Twitter hashtag feed
…and much more!
The best part? Smash Balloon's acclaimed support team is always ready to lend you a hand. As a result, you'll have a smooth experience with these plugins.
Since Smash Balloon plugins are trusted by some of the biggest brands in the world, you'll be in good company here.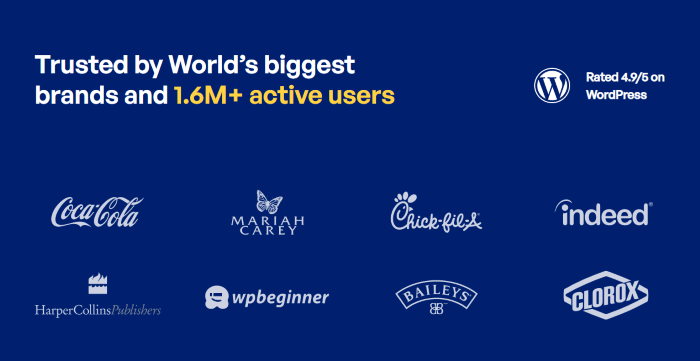 If you grab the All Access Bundle from Smash Balloon, you can get ALL the plugins at a massive discount.
And that includes the Social Wall plugin, which you can use to combine content from all these social media platforms in a single feed.
Just check out our guide on how to embed social media feeds on your website.
And that's it!

This was our Instagram video guide to help you understand all the Instagram video formats and how to use them for your business.
As you can see, making popular Instagram videos can be super easy if you know the right way. Give these a try and you can get tons of likes, views, comments, and followers in no time.
Ready to promote your Instagram videos? Give Instagram Feed Pro a try today!
While you're here, we've got an ultimate list of the best Instagram marketing tips that you can read.