Want to learn how to respond to negative reviews?
Since most customers check reviews before buying something, negative reviews of your brand can end up damaging your brand.
The good news?
With the right response, you can turn these negative reviews into positive reviews!
And in this article, we're going to show you how you can reply to negative reviews, along with response examples.
Since this is a comprehensive guide, we have included a table of contents for easier navigation.
Let's get started!
Why Respond to Negative Reviews of Your Brand?
When it comes to promoting your business online, having negative reviews can end up hurting your sales.
But here's the thing – all you need is the right response, and your brand can actually benefit from these reviews.
After all, only 41 percent of negative reviewers expect a response, but they are twice as likely to recommend the brand if they get a response.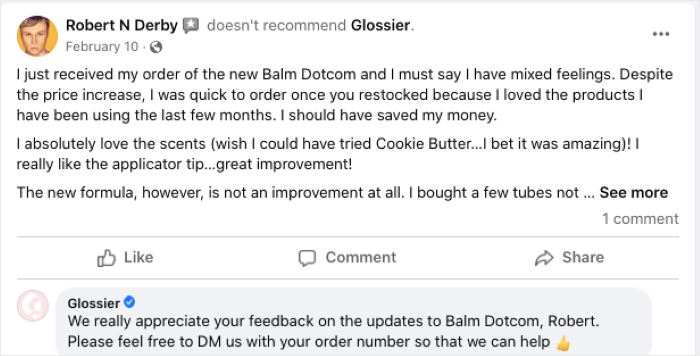 In fact, here's what you can do by properly responding to negative reviews:
By responding to the reviews, you can show that you're listening to your customers, which creates a better impression of your brand.
With a fitting response, you can mitigate the damage of negative reviews and even convert them into positive reviews.
Sometimes negative reviews can also give useful feedback, so engaging with them can help improve your products.
Responding to reviews can also give you a chance to personally interact with customers, build a relationship, and convert them into repeat customers.
Now you know how responding to negative reviews can help out your business. With that, let's see how you can respond to negative reviews properly.
Top Tips to Consider When Responding to Reviews
Before you can start replying to your negative reviews, there are a few things you need to consider first:
Try to reply as fast as you can since people appreciate a quick response from businesses.
If you want to create a better impression of your brand, the best option is to be professional and polite – even when the reviewer is rude.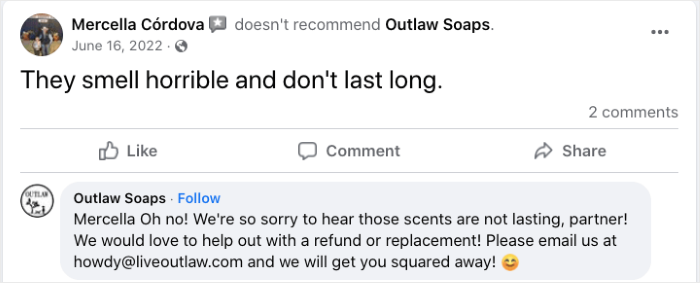 Check if there was a problem or mistake on your end. If so, you can apologize and let them know that you've taken steps to prevent it from happening again.
While it's best to apologize, you don't have to take responsibility in case the problem wasn't your fault.
Let them know they can reach you via email or phone call and offer to help solve their problem.
To create a better impression, you should make it clear that a real person is responding to the review. You can also sign off the email with your name or initials.
With these tips, you can start appearing professional, helpful, and empathetic in your responses.
On top of helping you build a relationship with the reviewer, anyone seeing your reviews will have a much better impression of your brand.
Next, let's look at an easy way you can use customer reviews to grow trust in your business.
Easiest Way to Build Brand Trust with Customer Reviews
With over 95% of customers checking online reviews before making a purchase, reviews are more important than ever.
If you want to use customer reviews to boost your brand's profile and get dedicated customers, there's an easy solution.
All you have to do is embed positive reviews of your business using the Reviews Feed Pro plugin.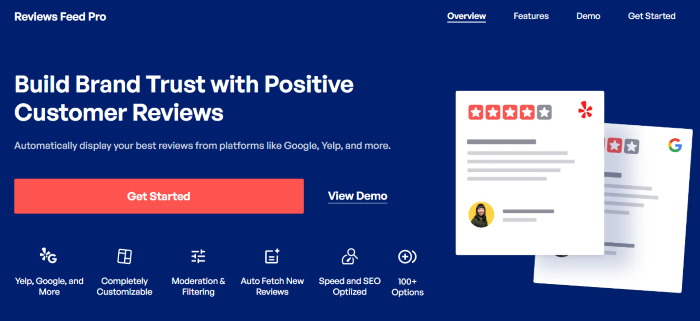 As the #1 reviews aggregator in the market, you can use this plugin to easily display reviews and testimonials on your website – no coding needed!
In just minutes, you can start engaging visitors and boosting your conversions with reviews from the biggest platforms out there: Facebook, Google Reviews, Tripadvisor, and Yelp.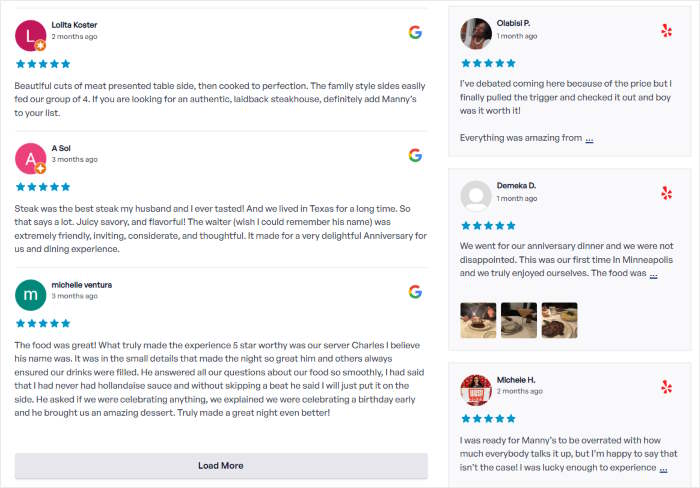 What's more, you get total control over the reviews that appear on your website.
You can use the visual customizer to change the layout, review elements, button design, header, and much more – no need for HTML, CSS, or any kind of coding.
Plus, you can add filters to only show reviews with specific ratings or keywords and even set up banned words to automatically hide reviews with profanity.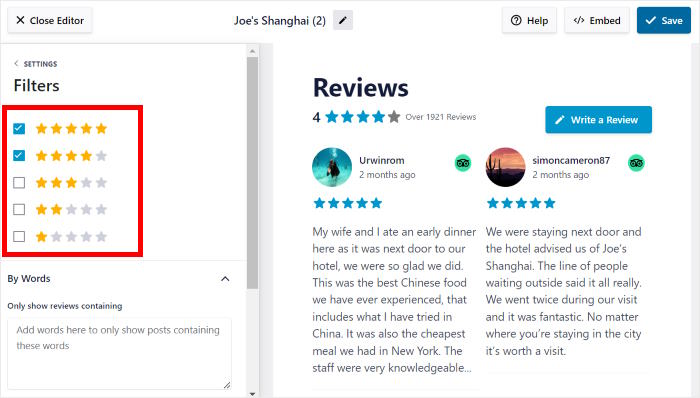 Reviews Feed Pro also lets you moderate your review feeds so you can manually choose which reviews to show or hide.
With the help of all these amazing features, you can:
Show website visitors that your brand is trusted by users on the biggest review sites
Build trust by showing high-quality reviews and hiding reviews from trolls, bots, or spammers
Start getting tons of new reviews by letting users leave new reviews directly from your website
Showcase user testimonials on your sales or checkout page to boost your conversions
Make your website more engaging by displaying review images from real customers
And a whole lot more!
As you can see, Reviews Feed Pro can be an amazing tool if you're looking for a simple way to give your business a boost using online reviews.
Get your copy of Reviews Feed Pro to get started today!
For more information, you can check out our guide on how to embed social media reviews on your website.
With that, let's look at some tried-and-tested templates that can help you respond to negative reviews.
9 Templates on How to Respond to Negative Reviews Online
Below, we've listed proven templates that you can use to respond to negative reviews effectively.
Plus, we've got different templates for different situations, so you can get started easily. Let's take a look!
1. Highlight the Technical Error
In some cases, the reviewer might be facing an unintentional technical error that causes them to have a poor experience with your business.
"I honestly loved how the app was easy to use, but when I got to the hotel, they were sold out. They confirmed my reservation, yet they tried to offer me a room at double the rate. I'm disappointed in Hotel 123."
For these reviews, here's a template that you can use for your response.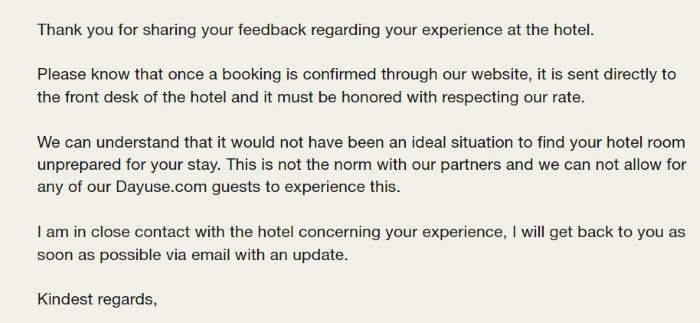 In the above example, you can see that the business makes it clear how the error might have occurred and which party is at fault.
At the same time, the business is taking the responsibility to deal with this issue so the reviewer can have a better experience in the future.
Another great thing you can see in this review response is that it ends with a promise of follow-up.
When you email the reviewer later, you can explain in detail how you've made sure this won't happen again.
It's a great way to show that you care about each and every one of your customers.
2. Sympathize With the Customer
Sometimes the reviewer has good things to say about your business but is disappointed with the overall experience.
This can be because of a single big problem or a few small ones. In either case, you're dealing with someone with mixed feelings.
"Our hotel recommended and made breakfast reservations for us. The food and atmosphere was great. The service was fine, but once the food came, we were ignored, and there was no follow-up. We even had to go to the front to pay the bill."
As you can see in this example, the customer points out the positives (food and atmosphere) but also has some pretty big complaints about the customer service.
Here's a reply template for reviews like this: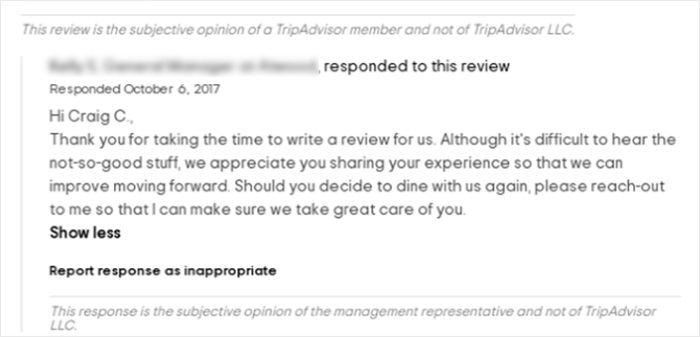 Here, the review starts by thanking the person and acknowledging that hearing criticisms can be tough. As a result, the reply can end up making the business look more relatable and sympathetic.
With that, the business promises to make improvements and asks the reviewer to reach out if they ever decide to give it another try.
Since the customer already has good things to say about the business, they're more likely to accept.
Plus, you're personally making a promise to give the reviewer a better experience, so it's easier to get repeat customers.
3. Offer Complimentary Service
When your business ends up making a mistake that's damaging or hurtful to customers, they can leave a poor review of your brand.
"I'd never colored my hair before and decided to give it a try. Since I'd heard good things about Salon ABC, I booked a partial color appointment. While my stylist was friendly, she didn't understand what I was looking for, and I ended up with a completely different look from what I asked. I couldn't tell at the time because the blowout was nice, and it was 8:30 pm. But when I woke up, I was horrified!"
In this situation, the right option can be to let them know you're ready to make up for the bad experience.
For instance, you can take a look at this response template.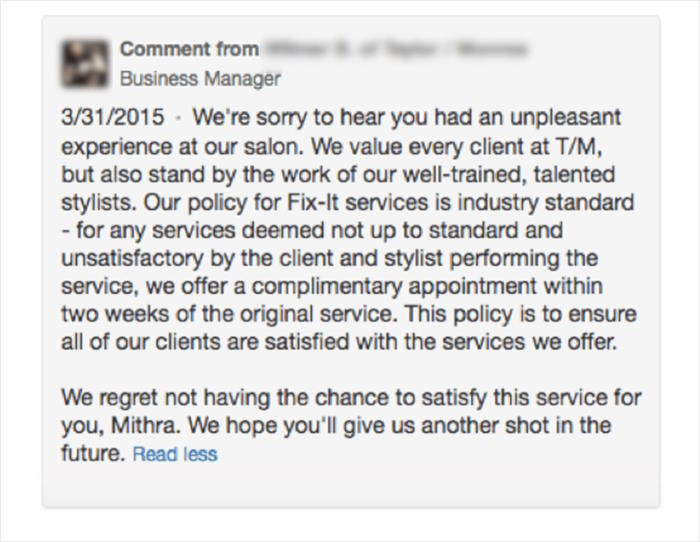 After an apology, the business offers a complimentary session to help fix the mistake, free of charge, within two weeks.
This lets everyone know that your business is ready to help customers that aren't satisfied with the experience.
At the same time, the business emphasizes the skill of its workers to show that a mistake like this is going to be rare.
If the reviewer accepts the offer, you'll get a chance to change their mind with a better experience.
4. Ask For Feedback
Some negative reviews might not have enough information for you to see what the problem could be.
If the review is too short or vague, it can be hard to know what went wrong and how you can improve.
"This place is not good at all. ZERO out of 5 stars!"
With a review like this, finding the correct response can be tough. To deal with that, here's a template that you can follow:

In this simple response, the business offers an apology before asking them for more feedback on how they can improve in the future.
You can show people that you listen to your customers and are always looking for ways to improve your business.
Finally, the reply ends with a way for the reviewer to reach out and talk about their problem in detail.
For this, you can leave your phone number, email address, physical address, or any other way for the person to reach you.
Instead of ignoring a negative review, this gives you a chance to improve your brand's image and get valuable feedback.
5. Respond to an Incorrect Review
While reviews from customers can be useful, sometimes the person might be leaving the review for the wrong business.
"I used this law firm for a really bad car accident I had last year, and let me just say, I would never use them again! I only spoke with my attorney maybe 3-4 times throughout the whole thing. The first issue was that they assumed I spoke Spanish and assigned a bilingual attorney. Second, I felt like she was just pushing me to try all these different doctors for my back injury even after I kept saying I don't want to keep racking up bills."
Before you respond, you'll have to be 100% sure this person wasn't a genuine customer at your business.
Once you're sure, here's a simple template that you can try out for the response:

Here, you can see that the responder is completely professional while making it clear that the person's review doesn't match their business.
As a result, anyone else reading this response can clearly see that this review was a mistaken one.
Another great thing about this response template is that it still highlights that the business puts the customers first and is willing to take their problems seriously.
With a positive interaction like this one, this reviewer can come out of this situation with a better opinion of your brand.
6. Correct a Customer
Reviewers can sometimes be wrong or under a misconception when leaving a negative review of your brand.
"Sorry, but I'm so disappointed with ABC Plumbing. It was a complete waste of time to call them because they wanted to charge me approximately $600 to replace the shower control handle. In my opinion, a prime example of price gouging."
When that happens, it's important to correct the customer while still being polite. They'll be much more likely to change their mind that way.
Let's look at this response template for an example: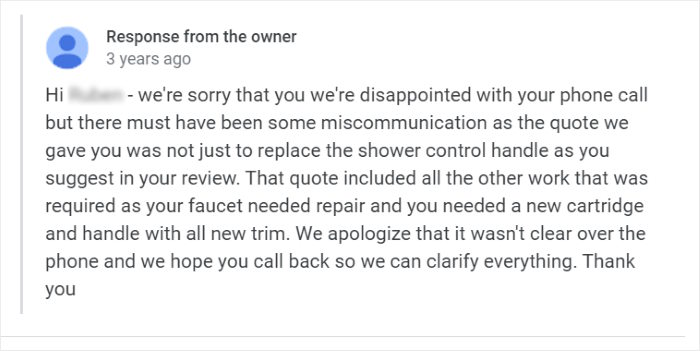 Right at the start, the response corrects the customer, so people will immediately realize that the review is wrong.
Instead of accusing the customer, the response then gives the person a chance to contact the business once again to clear up any confusion.
Just by being polite like this, you'll have an easier time converting negative reviews into positive ones.
7. Deal With the Issue Before Responding
Your business can also face a temporary problem that causes customers to have a poor experience and leave a negative review.
"The onboarding process was good, but it's been all downhill from there. The support was terrible and they couldn't do some things when we asked them to. Choosing this brand was a mistake."
If a problem can be solved quickly, you can take care of it before you go and leave a response to this review.
For example, here's a template that you can use:

Right at the start, this response makes it clear why there was a problem with the business and that the problem is now solved.
That way, you can show the reviewer that you listen to your customers and try your best to solve any problems they have.
As a result, people can see that you're customer-centric and decide to give your brand a try.
8. Reach Out Informally
Some reviews can end up being critical of the brand's professionalism or quality of customer service.
"I called for a quote. They told me they would provide the quote the next day, but they never showed up. I waited, but they never showed up or provided any explanation. Very unprofessional and unreliable company."
If you're dealing with a review like that, a good tactic can be to reach out in a more informal way.
That way, you can come across as a real person who actually cares about the reviewer's experience.
Let's take an example of this response template here: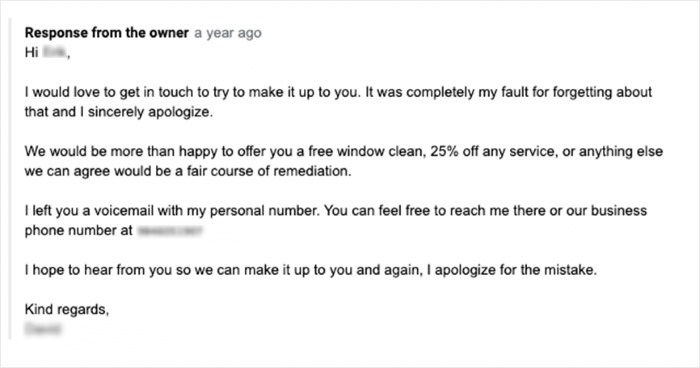 A great thing about this template is that you're responding not as a corporation but as a person.
This shows the reviewer that you're willing to personally put in the effort needed to correct the brand's mistake.
As an apology for their mistake, they're also giving out a discount on their services. You can use this to show that you're serious about trying to make it up to the reviewer.
With just a small discount, you can turn this into a positive review and get a dedicated customer for the future.
Finally, you can give out your own number or email along with other ways of reaching out to the business.
It's a great way to highlight that you're going to personally make sure they get a better experience in the future.
9. Address Overbooking or Lack of Response
If you end up overbooking and or missing an appointment, the customer can end up leaving a negative review of your business.
"Disappointed. Everything went fine before, but last month they didn't show up at all. Not even a phone call. I don't know what happened, but I ended up hiring another cleaning service instead."
For those situations, here's a simple template that you can follow: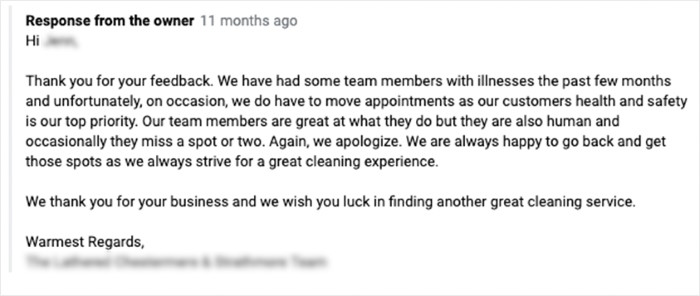 At the start, you can give a quick reason why you were unable to make the appointment or booking.
In the above example, you can see that the business was dealing with some unexpected illnesses. After that, they even offered to go back and clean up the place as an apology.
Despite the missed booking or appointment, you can show people that you care like this.
Finally, the responder gave out an apology and wishes the reviewer the best of luck.
It's a nice way to try and improve your relationship so the reviewer is more likely to give the business another shot.
And there you go!
Now you know how to respond to negative reviews online and create a better impression of your brand with ease. All you have to do is use these free templates for your responses.
If you want to get the most out of online reviews, the best option out there is Reviews Feed Pro. With this tool, you'll be able to get tons of reviews and convert more people into customers easily!
Ready to embed reviews on your website? Get Reviews Feed Pro for your site today!
For more ways of growing your business, check out these easy tips to promote your business on Facebook.
Don't forget to follow us on Facebook and Twitter for more social media marketing tips and tricks.