Are you looking for the best Smash Balloon alternatives?
While Smash Balloon plugins are trusted by 1,750,000 professionals including big brands like Coca-Cola, Indeed and Baileys, it may not be the right fit for your site right now.
In this post, we've selected different solutions that you can use as alternatives to Smash Balloon.
Let's get started.
Best Smash Balloon Alternatives
Among WordPress social media feeds plugins, only a few measure up to Smash Balloon's industry-leading standards.
3. SeedProd
6. Elfsight
Want to start embedding social feeds on your website? Here's our top recommendation: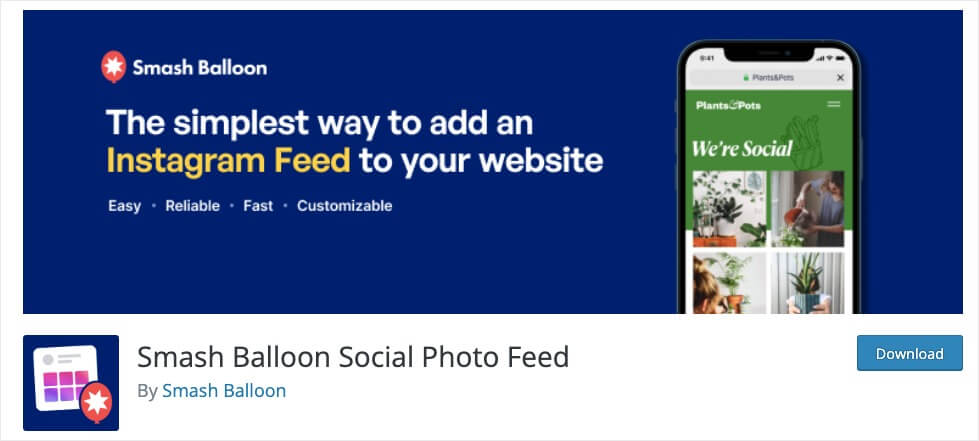 Want to display Instagram feeds on your site without spending a cent?
You can get started with Social Photo Feed, which is the free version of Instagram Feed Pro by Smash Balloon.
As the free version of Instagram Feed Pro, Social Photo Feed helps you create, customize and embed Instagram feeds on your WordPress website with just a few clicks.
By using this Instagram feed aggregator, the plugin easily connects with Instagram's API so you can add different types of Instagram feeds to your website like:
Instagram oEmbeds
Thumbnail, medium or full-size photos from your Instagram feed
Responsive Instagram feeds that look great on both mobile and desktop
When you add them to your WordPress or Elementor site, these Instagram feed types can help you grow your followers and reach more audience for your brand.
Instagram feeds can even boost your site's SEO and help your site rank higher in search engines by encouraging your visitors to spend longer time on your website.
Plus, Social Photo Feed uses the same newbie-friendly visual customizer with real-time preview as the paid version to customize your Instagram feeds.
This way, you can easily customize your Instagram feeds to match your brand's design just by clicking on the customization options. No need to deal with confusing code and no need to be a WordPress expert.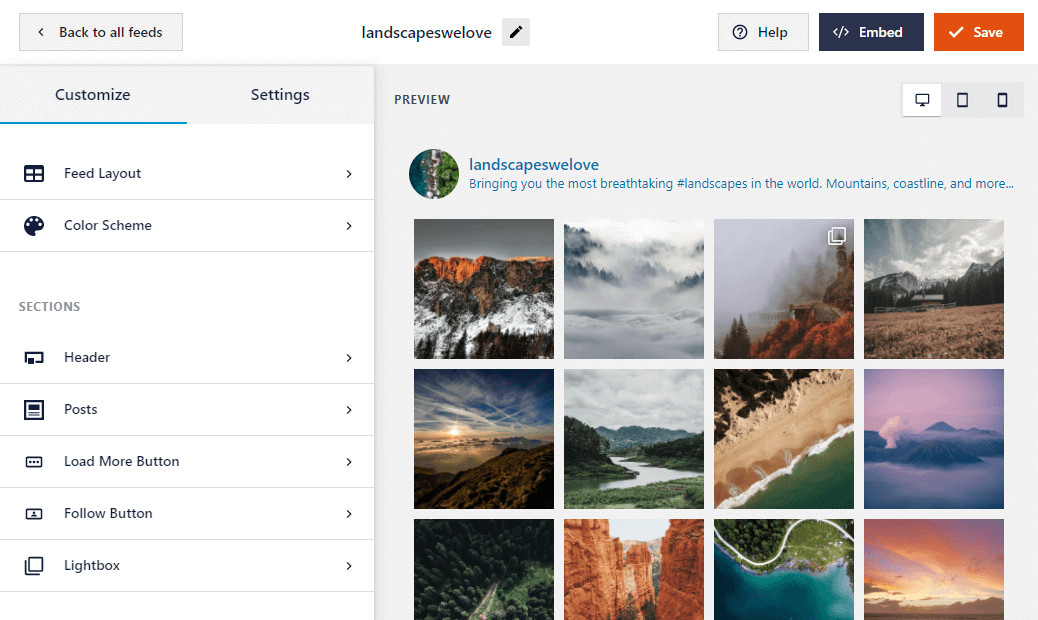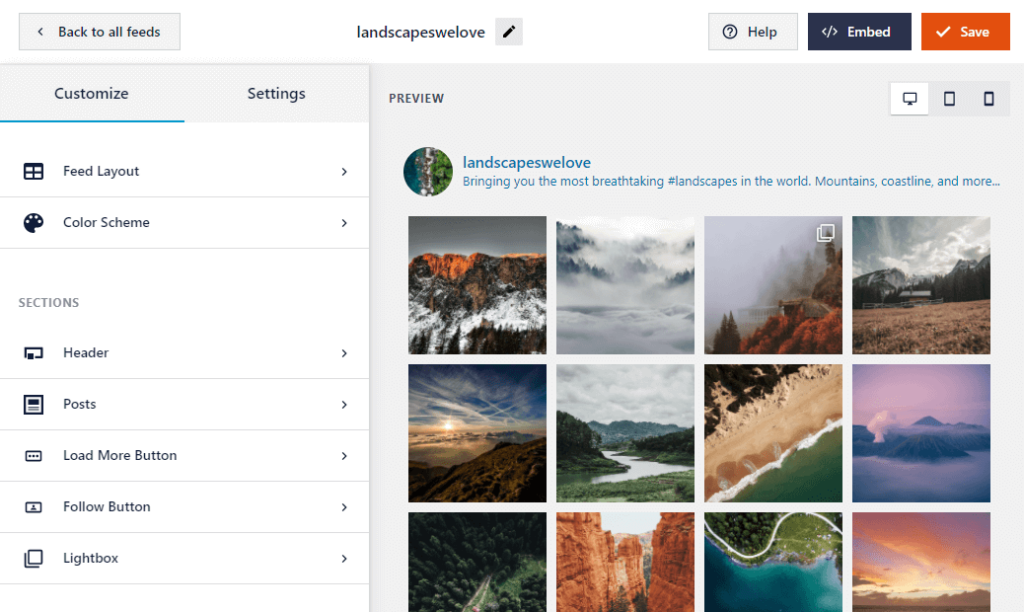 The best thing about Social Photo Feed is that you can use it to display Instagram feeds from multiple Instagram accounts.
Still, since it's a free version, the plugin comes with limited functionalities.
And if you want to have ready access to more features, you can easily upgrade to Instagram Feed Pro so you can:
But if you only need to add basic Instagram feeds to your WordPress for free, Social Photo Feed is the second best option to Instagram Feed Pro.
Pricing: Social Photo Feed is a 100% free WordPress Instagram feed plugin.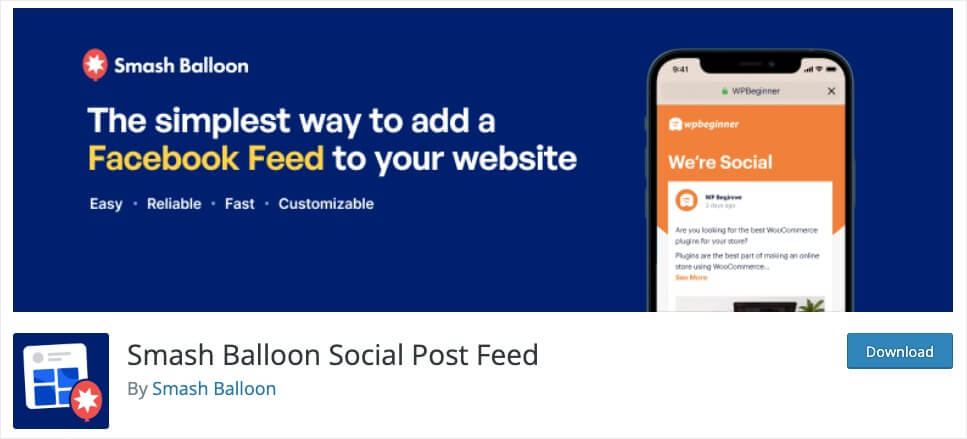 Another Smash Balloon alternative for displaying social feeds on your website is Social Post Feed.
You can use this best WordPress plugin for Facebook feeds to make, customize and embed engaging Facebook feeds on your WordPress in less than 5 minutes. No experience in coding or CSS needed.
Do you have a Facebook page or group?
It doesn't matter — Social Post Feed lets you embed Facebook feeds from a Facebook page or Facebook group that you are an admin of.
By default, your Facebook feeds copy your theme's style so they can automatically match your brand identity.
If you want to customize your Facebook feeds, you can easily use the plugin's visual feed customizer. By using it, you can quickly set your feed's background color, header style, text color, link color, and more.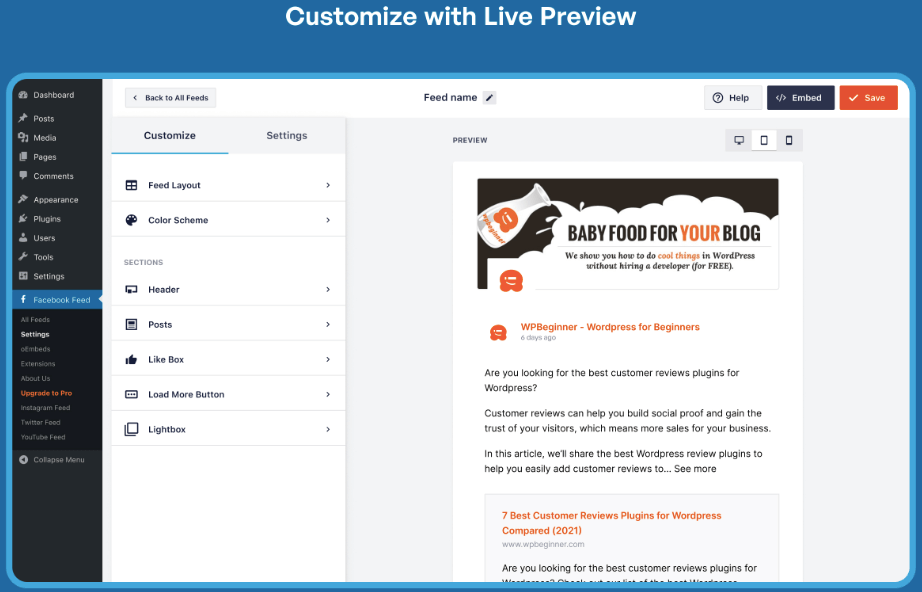 One of the cool things about Social Post Feed is that it powers any Facebook embeds on your website. This prevents them from breaking, so you can still embed Facebook posts on your site — even without a Facebook developer app!
It does a great job embedding simple Facebook feeds. And you can always upgrade to the premium version of Facebook Feed Pro if you want to get instant access to premium features like:
Pricing: Free. Check out this post to know how you can get Social Post Feed for free.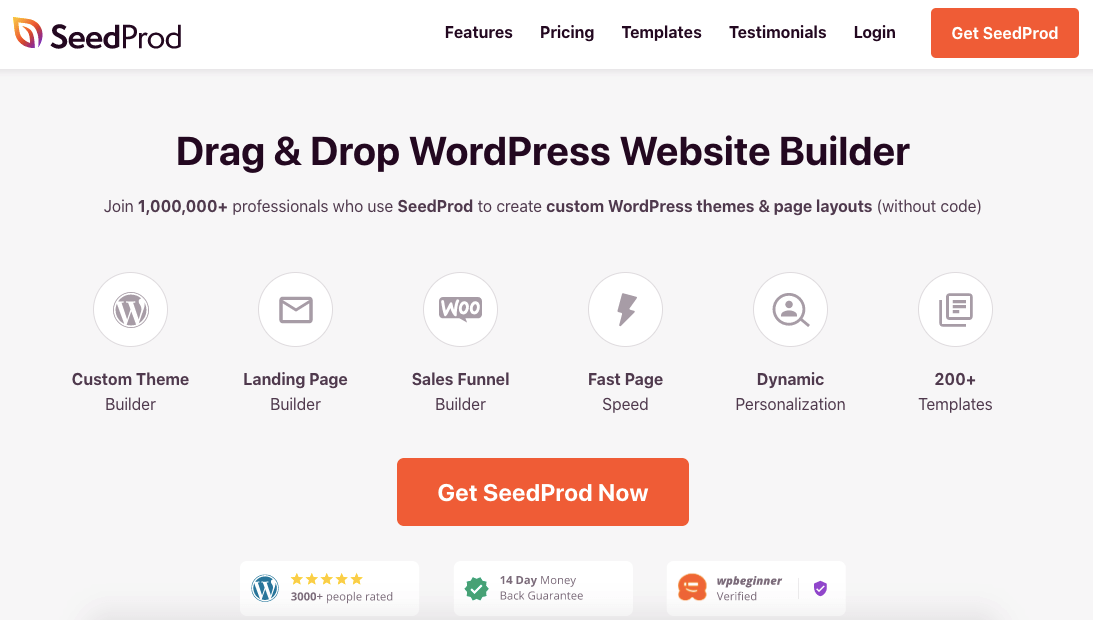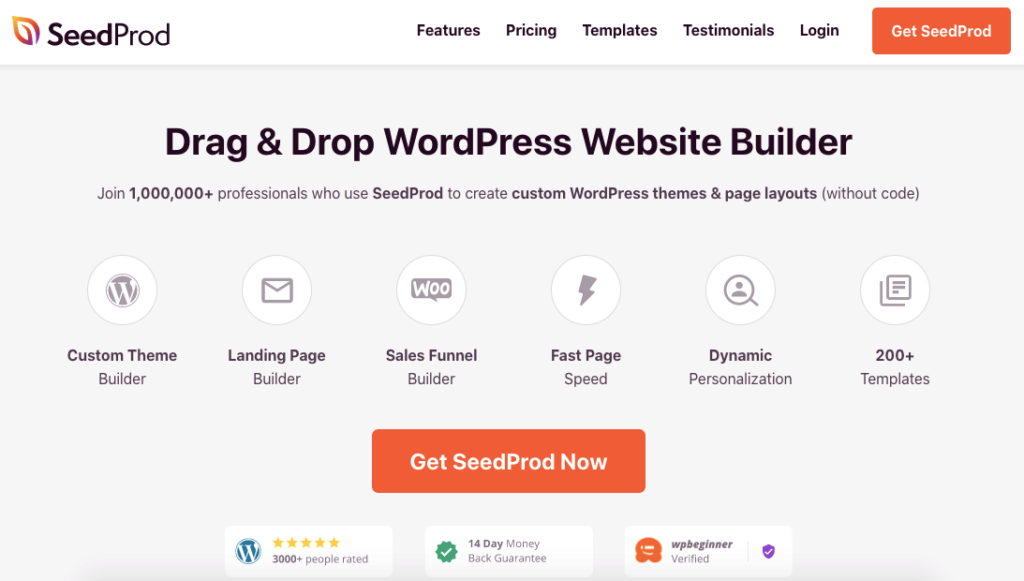 Next up on this list is SeedProd, the world's best website builder for WordPress.
With its drag-and-drop builder, SeedProd helps you design and customize WordPress themes and page layouts for your ecommerce site — no coding required.
It's one of the reasons why the plugin has thousands of 5-star reviews from satisfied users.
While SeedProd is more known as the most powerful website builder for WordPress, you can also use it as a page builder and show social media content on your website to boost social proof.
The plugin comes with tons of social media blocks you can use for different social media platforms, such as:
Facebook Embed Block – embed a Facebook page, comment, and videos on your page
Facebook Like Block – show this on your site to let users Like your content on Facebook
Facebook Page Block – add a Facebook page to your landing page
Twitter Embed Timeline – display several tweets on your page
And more
Although Smash Balloon lets you curate and show social feeds from Instagram, Facebook, Twitter and YouTube, SeedProd allows you to add basic social content from Facebook and Twitter to your site.
SeedProd is the best Smash Balloon alternative if you need to embed social feeds to optimize your high-converting landing pages or custom WordPress themes.
Pricing: SeedPro has a free version but it comes with several limitations. You can check out this SeedProd review we wrote to see if it's worth the extra features starting at $39.50 per year.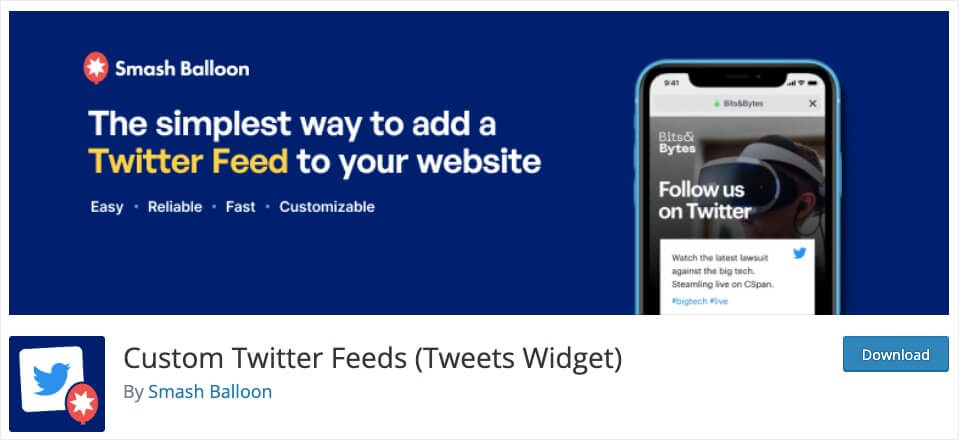 If your brand's most active social media account is on Twitter, then the Tweets Widget is what you need.
It's the lite version of Twitter Feed Pro, the best Twitter feed plugin for WordPress in the market.
With the help of Tweets Widget, you can easily create, customize and embed beautiful and engaging Twitter feeds on your website.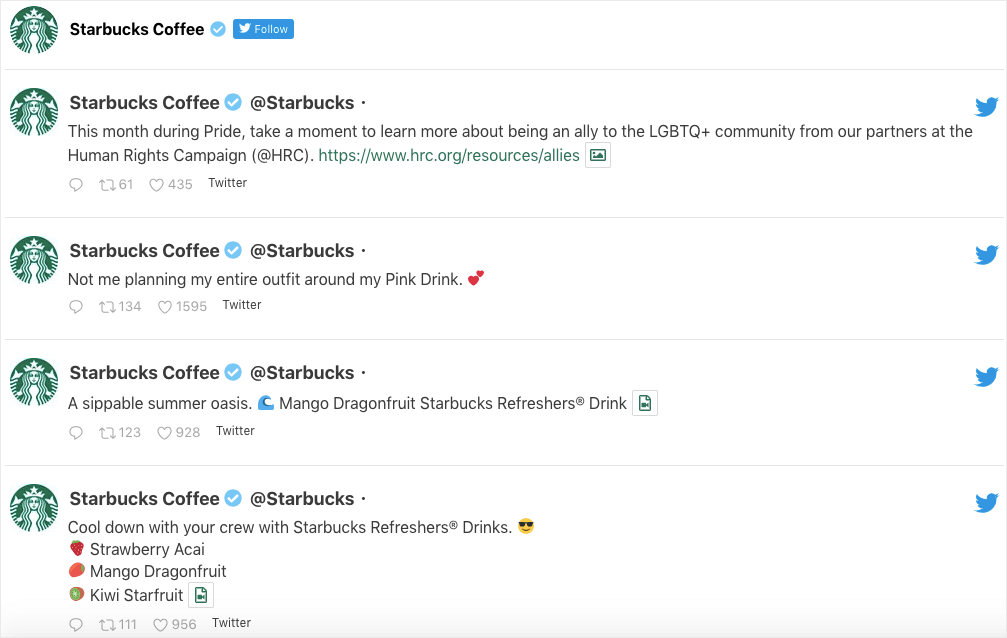 No expertise in WordPress? No problem.
By downloading this free Twitter feed plugin, you can:
Display a Twitter feed from 1 public Twitter account for absolutely free
Boost your website's SEO by adding search engine crawlable content to your WordPress
Design how your Twitter feeds look — in just a few clicks
Automatically refresh your Twitter feed once a week so you can display fresh Twitter content on your site at zero cost
And if you're in the market for a powerful Twitter feed plugin that lets you dominate Twitter, then it's time to upgrade to Twitter Feed Pro. This lets you add advanced features to your site like:
Photos, videos, and gifs in your tweets
Tweet replies
Twitter feeds from multiple users or multiple hashtags in the same Twitter feed
Mentions timeline to show tweets you're mentioned in
Filter Twitter feeds by hashtag or certain words
And more
Pricing: Free. Here's how you can get this Twitter feed plugin without paying anything.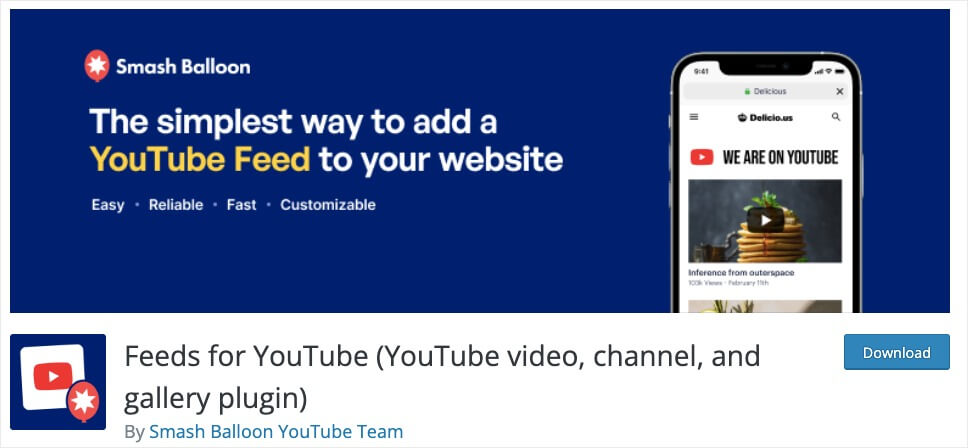 Do you have a YouTube channel that you want to promote for free?
Feeds for YouTube can help you add your videos to your WordPress site — even if you're not tech-savvy.
Also, like other Smash Balloon plugins, Feeds for YouTube has a reliable backup caching system so even if YouTube is temporarily down, your YouTube feeds stay up.
You can use Feeds for YouTube to add video content to your site, such as:
YouTube videos arranged in a list, gallery, or grid layout
YouTube widgets in your sidebar or footer
And the awesome part?
You don't even need to write a single line of code. Simply connect the plugin to your YouTube account and it automatically creates your YouTube feeds for you.
Then, all it takes is just a couple of clicks and you can quickly embed your YouTube feeds on your site.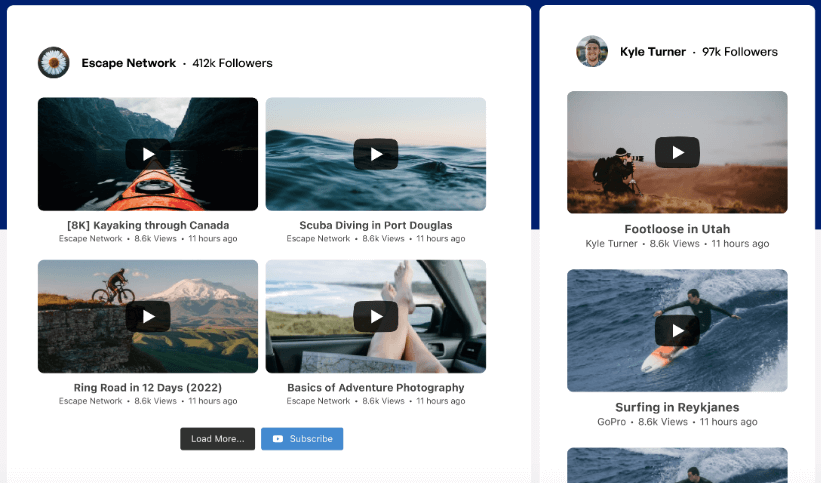 This plugin is the best alternative to Smash Balloon if you want to showcase YouTube videos to your site so you can get more subscribers and grow your channel.
What if you want to embed a YouTube playlist? Upgrading your plan to Feeds for YouTube Pro solves this for you. With a premium plan, you can display:
YouTube videos from your favorites list
Carousel YouTube feeds
Combined multiple feeds into one
Customized Call-to-Action links at the end of videos
And more
Pricing: It's a lite version, so you can get Feeds for YouTube for free here.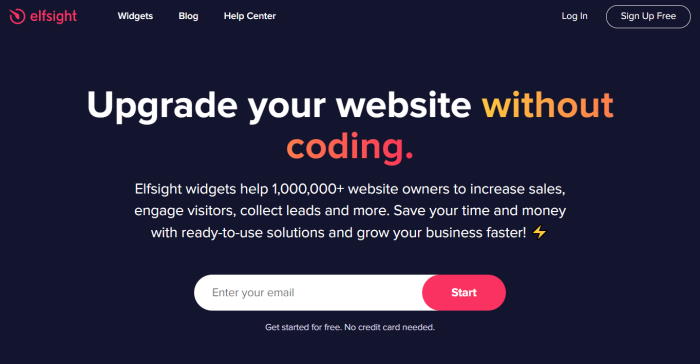 Elfsight provides different widgets to help users connect their websites to other social platforms. It has 14 social apps, and each app lets you integrate 1 social network into your website.
Although it's a good Smash Balloon alternative to embed social feeds into WordPress, there are a few drawbacks to Elfsight.
When it comes to cost, Elfsight can be more expensive so it's not ideal for business owners on a budget.
For example, if you use Smash Balloon's Instagram Feed Pro alone, you can show posts from your Instagram profile, display hashtag feeds, embed widgets, and much more.
With Elfsight, you can end up buying 3 different apps to get the same features instead.
Plus, Elfsight's plans are limited by the number of times a widget loads on a webpage, so it doesn't support unlimited views for your social media feeds.
Our detailed comparison between Smash Balloon and Elfsight takes a deeper dive into their differences, so you can find the social media feed plugin for your business.
Pricing: Elfsight has a very limited free trial — if your feed is loaded more than 200 times, the feed stops working. Paid plans start at $60 per month.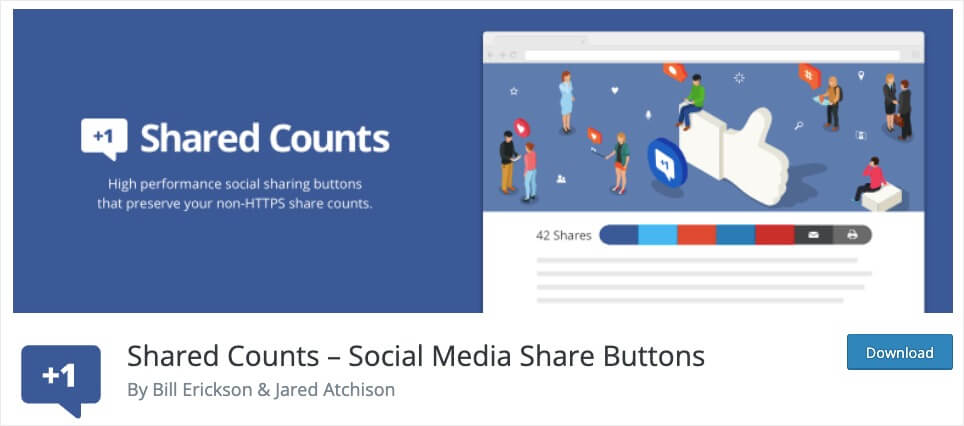 As a popular social sharing button, Shared Counts lets you insert share buttons from tons of social networks, either before or after post content on your WordPress.
In addition to its user-friendly interface, users also like that it's safe to use because it doesn't use cookies or tracking scripts.
Plus, Shared Counts doesn't store user data, unlike other social sharing tools in the market.
The plugin has support for social platforms like Pinterest, Facebook and even LinkedIn. So it's a good Smash Balloon alternative if you simply want to display social sharing buttons on your site.
FAQs on the Best Smash Balloon Alternatives
Here are the answers to some of the most commonly asked questions about Smash Balloon alternatives and embedding social media feeds on WordPress.
Is there a free alternative to Smash Balloon?
Yes, there are several free alternatives to Smash Balloon, depending on the specific social media feed you want to embed on your website:
These free Smash Balloon social feed plugins make it easy to create, customize and display customizable social media feeds on your website with just a few clicks.
Is Smash Balloon safe?
Yes, both Smash Balloon's premium plugins and free alternatives to Smash Balloon such as Social Photo Feed, Social Post Feed, Tweets Widget, Feeds for YouTube and Reviews Feed are completely safe to install and use on your website.
For more details, you can see this next post outlining the top reasons why Smash Balloon is the safest social media feed plugin in the market.
Is Smash Balloon worth it?
Yes, premium Smash Balloon WordPress social feed plugins are worth every penny because they help you save thousands of dollars in creating, customizing and embedding your social media feeds on your website.
When it comes to showing social feeds on your site, you can:
Embed feeds manually and risk breaking your site in the process
Hire an expensive developer to help you
Or, get a Smash Balloon premium plugin so you can customize your social feeds in just a few clicks and get access to expert support and new features regularly.
Quick and Easy Tutorials on Embedding Social Feeds
And there you have it! Now you know the best Smash Balloon alternatives you can use for your site.
We hope this list helps you create, customize and showcase engaging social feeds on your website so you can get more followers and grow your business.
So, what are you waiting for? Get started with the easiest and most powerful social media feed plugins today.
Want to cross-promote your social content on your site? Here are the best social wall examples for your website.
You may also want to read this next post on why you should avoid Smash Balloon nulled plugins.
Finally, if you find this article useful, feel free to follow us on Twitter and Facebook for more social media marketing tips and tricks.