Looking for an Elfsight alternative? Well, let's see how well Smash Balloon holds up.
Nowadays, adding social media feeds to your site has become easier than ever. If you want to get started, there are tons of amazing tools to help you out.
Today, we'll compare 2 popular options: Elfsight and Smash Balloon. After this, you'll be able to pick the best social media marketing solution for your site.
To see how they compare to each other, we'll be using the following criteria:
Overview: Smash Balloon vs Elfsight
Before we get started, let's give you a quick rundown of both of the options here.
1. Smash Balloon
Smash Balloon is more than just a single tool. It's actually a collection of 5 WordPress plugins that let users create, customize, and display social media feeds for their website.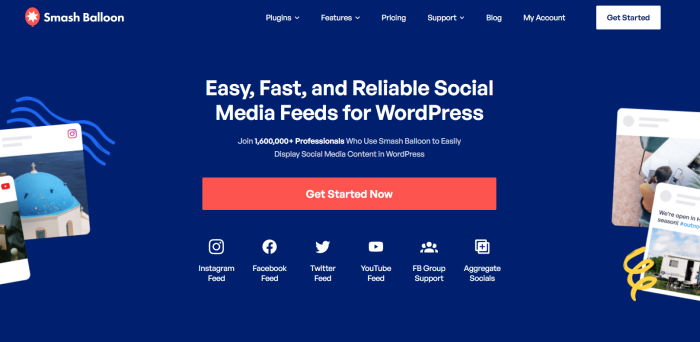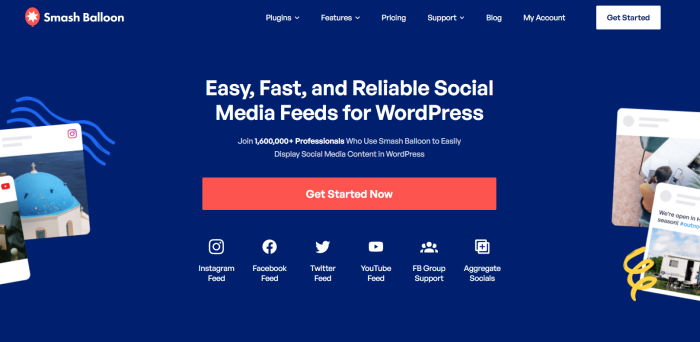 Created in 2013, Smash Balloon has been helping people boost their social media following and gain conversions for 8 years — and counting! You can use Smash Balloon to add Instagram, Facebook, Twitter, and YouTube feeds to your site.
Now, it's the #1 social media feed plugin out there and powers 1,600,000+ websites from all over the globe. Among its users are some of the biggest brands in the world.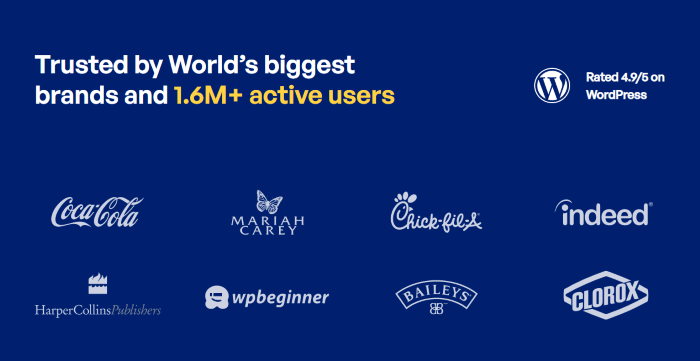 With all this, it's easy to see why Smash Balloon is a popular alternative to Elfsight.
2. Elfsight
Elfsight is a service that provides different apps to help users connect their websites to other platforms.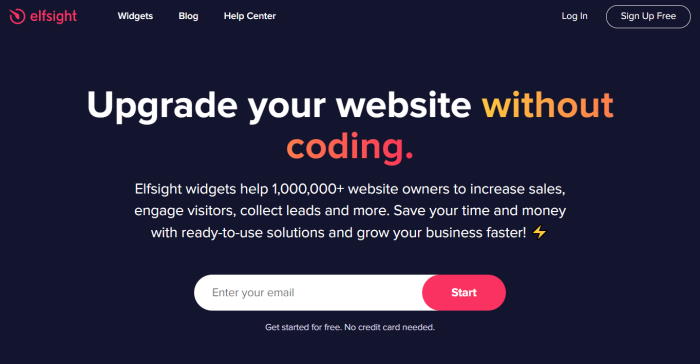 With Elfsight, each app allows you to integrate 1 social platform into your site. And since there are 80+ apps, you have a lot of options to pick from.
So, you can just add their app to your site to embed social feeds. And just like Smash Balloon, there's no need for coding languages like HTML or Javascript.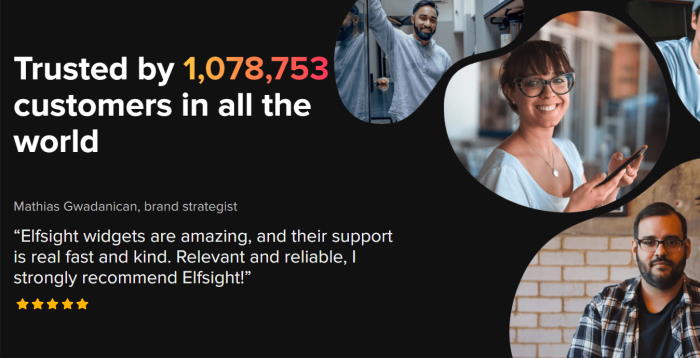 Similarly, both Smash Balloon and Elfsight work perfectly well with WordPress, so you can rest easy.
Features: Smash Balloon vs Elfsight
Now let's get started with the comparison! We'll start by looking at the features you'll get with Smash Balloon and Elfsight.
1. Smash Balloon
Smash Balloon has a lot of great features to offer. And it does all that while keeping things simple.
Here are the main features you'll get from Smash Balloon:
Easy Setup With Zero Coding
No need to mess about with complex codes or a long setup. Setting up Smash Balloon is so easy that it takes only a few clicks, and you're done.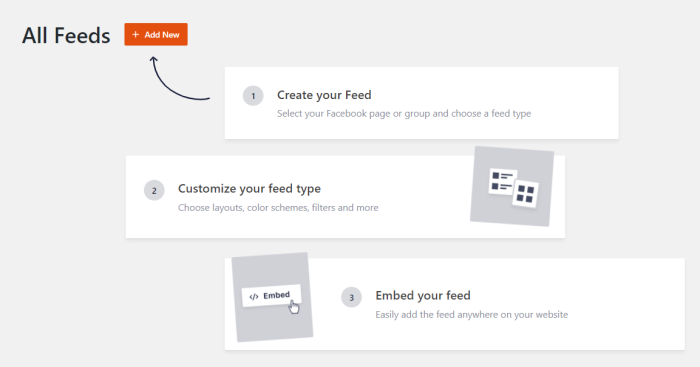 Of course, you get a lot of features with Smash Balloon, like multiple feed support, mobile-friendly feeds, different layouts, and more.
It also does a good job of keeping everything streamlined. So, you will not feel overwhelmed by everything if you're a new user.
Plus, you can easily embed social media feeds on your website without touching a single line of code!
Highly Customizable Feed
If you want a social media feed that fits your brand identity, then Smash Balloon has you covered. You're going to have total control over how your feed looks.
So, you don't have to worry about your social media feeds looking out of place. With its live feed customizer, you can easily change your layout, size, margins, font, color, and more.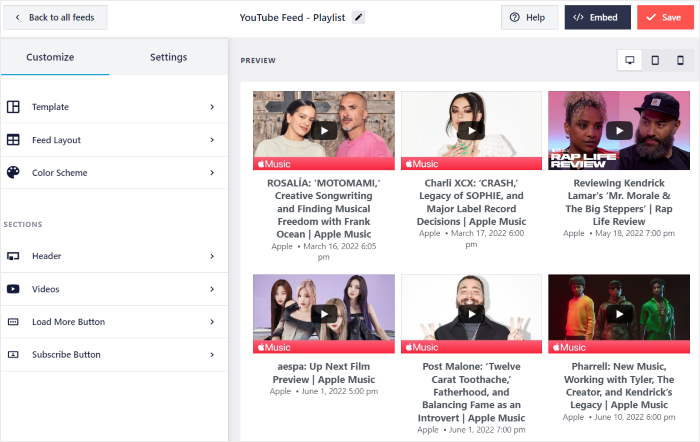 On top of that, you can simply import a feed template and save time when creating your social media feeds.
What's more, your feeds will automatically copy the design of your website. So, this Elfsight alternative can give you beautiful social media feeds that match the look of your brand.
Smart Caching for Speed and Backup
Another highlight of Smash Balloon is the smart caching feature. Your social feeds don't have to repeatedly ask the social media platform for data.
This means less time is wasted when loading your page, so both your social feeds and webpage load much faster.

Plus, it won't load YouTube videos until your visitors click on it to open the lightbox popup, so you can add tons of media to your web page at once.
On top of that, smart caching also backs up your feeds. So, even if the social media platform goes down, your social media feed will still be displayed on your website.
Multiple Feeds Support
One of the best things about Smash Balloon is that you can add as many feeds as you want with no limits.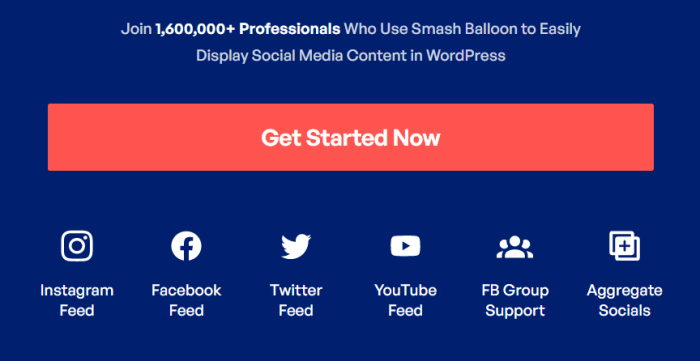 And you also have lots of different feed types to pick from: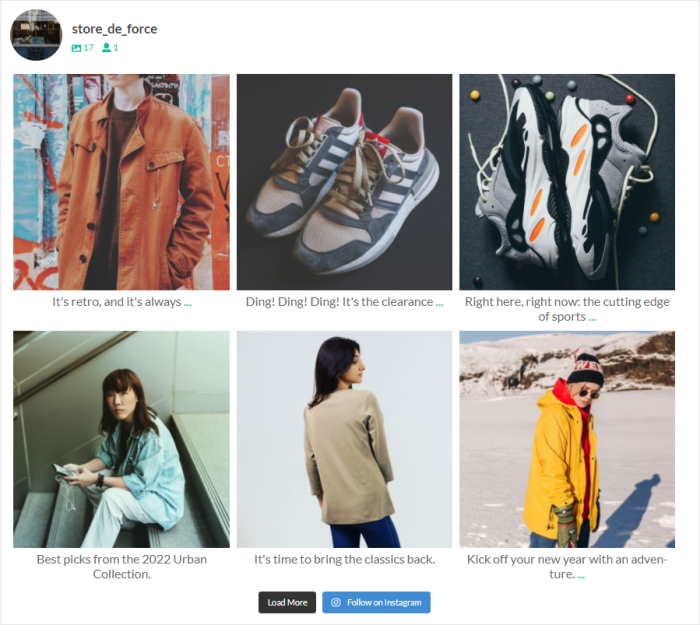 Plus, you can even have feeds from multiple accounts on a single site. And don't worry about mobile users. All those feeds are going to be responsive.
Optimized for SEO
Want your social media feeds to boost your presence in search engine results? Well, Smash Balloon can help you out.
Most of the other social media aggregators use iFrames to display the feeds. Since search engine bots can't recognize iFrames, that's not good for SEO.
However, Smash Balloon actually embeds the content on your website with absolutely no iFrames. So, your social media content is going to be recognized by search engines.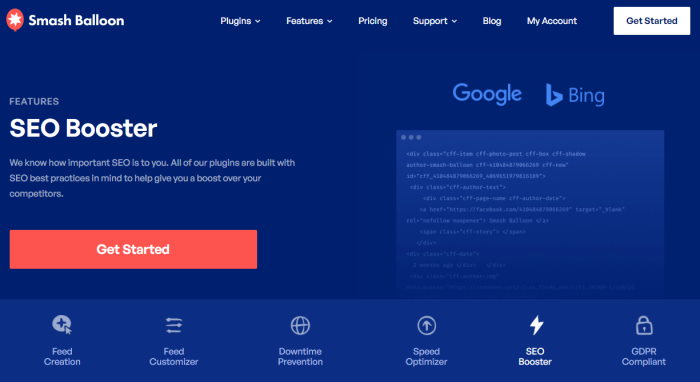 And since search engines can read your content properly, it can improve your SEO ranking.
2. Elfsight
As an all-in-one social feed plugin, Elfsight also comes with a nice collection of features. To give you an idea, here are a few highlights:
Supports Lots of Sites
The biggest selling point for Elfsight is the sheer number of apps that it supports. Of the 80+ Elfsight apps, about 14 are social apps.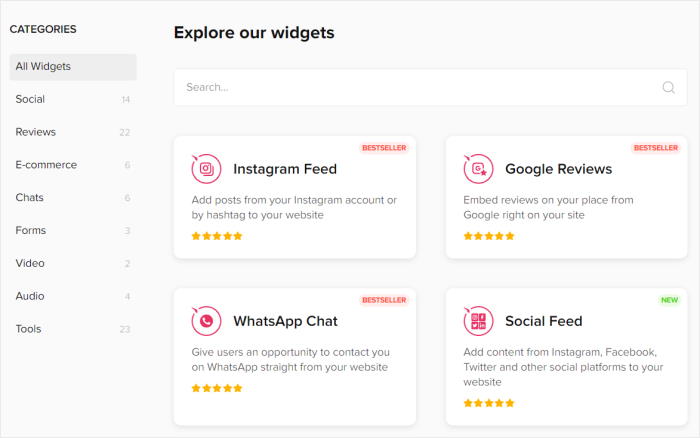 So, you can use these 14 apps to show social feeds on your site. From social media giants like Facebook and Instagram to less popular platforms like VK and Tumblr.
Unfortunately, there's a downside as well. When compared to the popular social media plugins, you won't get as many features from each app.
Let's take a quick example. With Smash Balloon's Instagram Feed Pro alone, you can add posts from your Instagram profile, show testimonials, add widgets, and much more.
With Elfsight, you might end up buying 3 different apps to get the same features instead.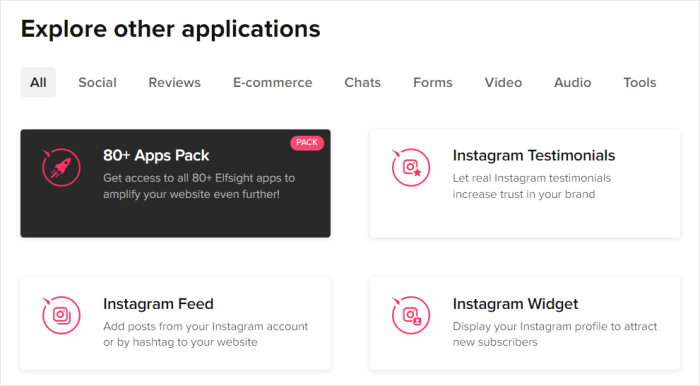 If you want a single app to be more feature-rich, then you'll have to buy the Social Feed app, which is a lot more expensive.
And you don't get advanced moderation, filters, Instagram shopping, and more like you do from Smash Balloon's Instagram Feed Pro.
So if you're on a tight budget, this solution may not be the best to help you meet your social media marketing goals.
Lots of Supported Platforms
While Smash Balloon is specifically for WordPress, Elfsight is different. You can use its functionalities with almost any website builder out there.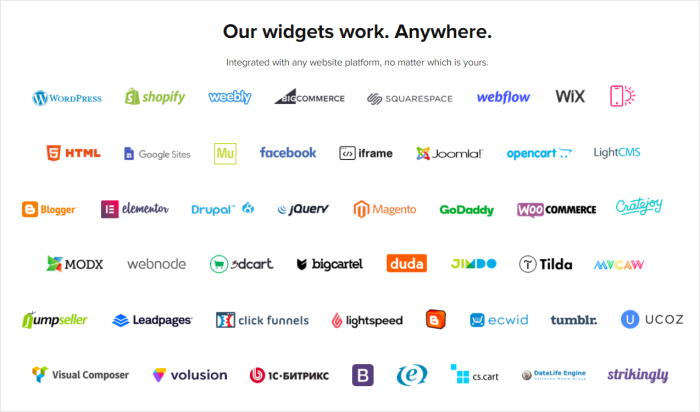 If you're not a WordPress user, then this can be a plus for you.
Additional Useful Tools
Want to spice up your site with extra items like maps, forms, and media players? With Elfsight, you can also get apps that add all these features to your site.
For better communication with your audience, you can also buy tools that can add chats from Discord and Viber.
Live Customizer
Another great thing about Elfsight is the live customizer. Like with Smash Balloon, you can edit your feeds in real-time, you can see how your changes will look while you're customizing your feeds.
Since it's so easy, you can create social feeds by yourself in a few clicks — no need to hire a web designer.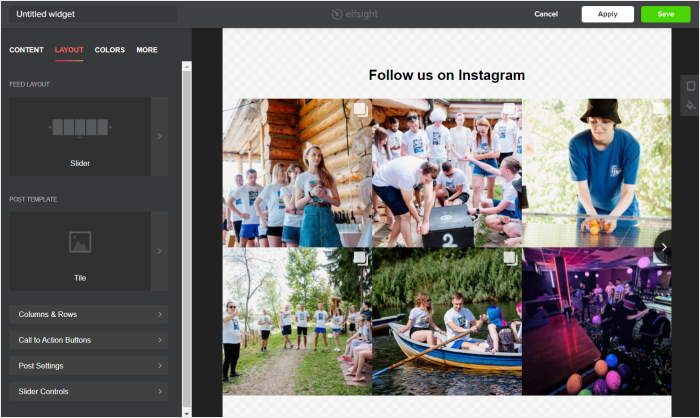 You'll get a simple collection of customization options for each app. While you won't be able to do advanced customization, it's user-friendly.
If you've got a bit of technical know-how, you can also use the customizer to add custom CSS to Elfsight feeds.
Despite that, the options here are fairly basic. You can only choose to show or hide certain parts of the feed. So, your social media feeds might not match your brand image.
On the other hand, Smash Balloon plugins inherit your site's existing design. So your social feeds match your brand's identity — automatically.
Ease of Use: Smash Balloon vs Elfsight
Another important thing to consider is how user-friendly the tool is. So, let's compare and see which one will be easier for you.
1. Smash Balloon
Smash Balloon keeps things as easy as possible even though it's packed with a lot of features. You'll be able to connect your social media, customize and then embed your feed — all with zero coding.
In fact, this is all so easy that you can finish everything in a few minutes. You don't even have to bother with embed codes. You can simply add a block, and you're good to go.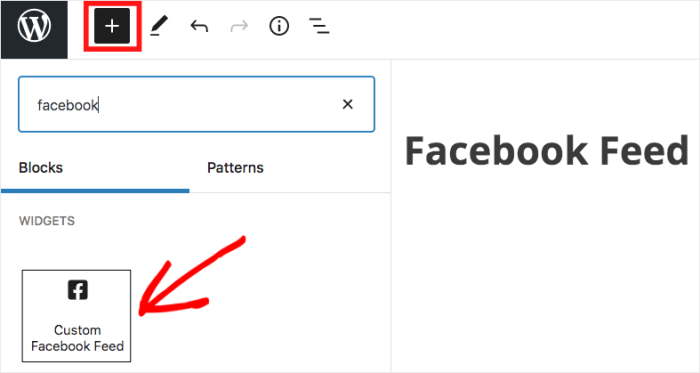 Customization is also pretty straightforward. There are many options, but it's laid out in a simple way so that you won't get lost.
You even get an amazing live customizer to customize your Facebook and Instagram feeds with ease.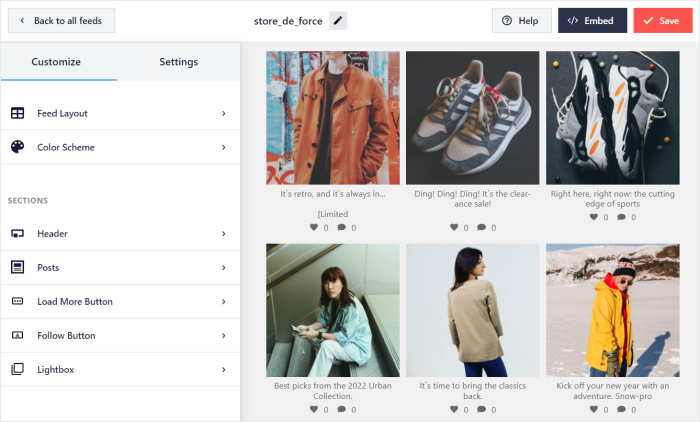 What's more, you can even embed your social feeds directly from the live feed customizer in just a few clicks.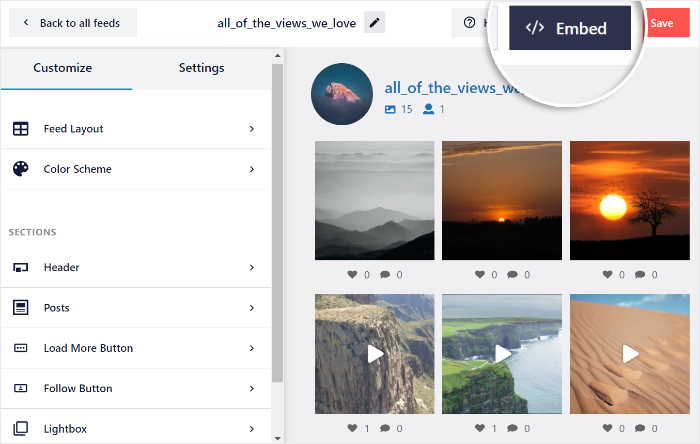 If you ever get stuck, there are tons of resources to give you a hand. You can check out the in-depth documentation or the various blog posts.
Plus, you always have a dedicated support team to help you out.
2. Elfsight
Elfsight also tries to provide a smooth user experience. From sign-up to posting the feed, you can do the whole process in just a few clicks — just like with Smash Balloon.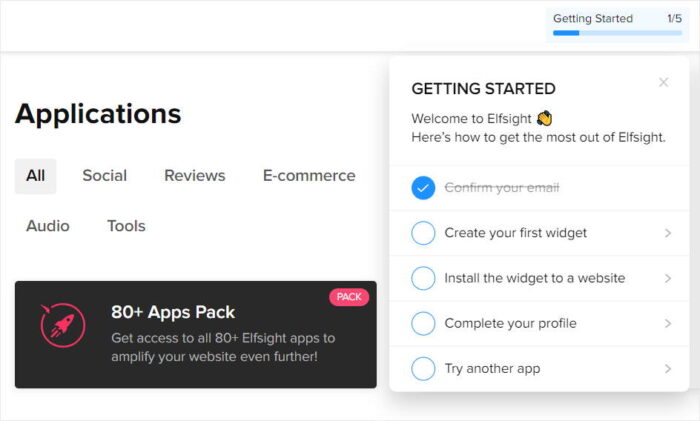 If you're getting started with Elfsight, there'll be one big hurdle to get past: picking the right apps. It sounds simple, but there are a lot of options here, so you might get confused.
Also, you'll have to pay for each app separately (more on that later). So, you'll have to be careful while picking the app if you want to get your money's worth.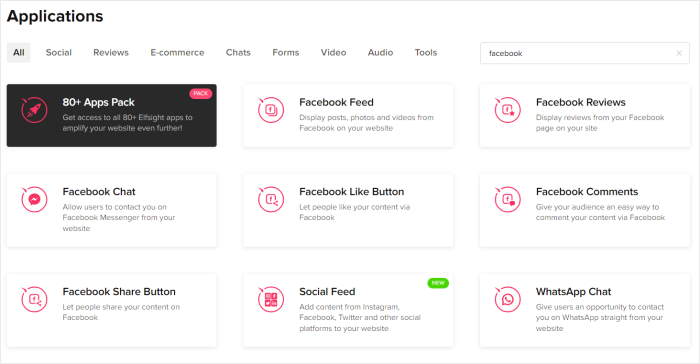 Aside from that, the rest of the process is pretty smooth. The customizer is simple, so you can have the feed ready to go in no time at all. After that, you just need to copy the embed code to your site, and you're set.
While Elfsight is mostly user-friendly, having to mess about with the embed code is a downside when compared to Smash Balloon.
Customer Support: Smash Balloon vs Elfsight
If you ever run into any issues while using these tools, you'll have to turn to the support team. When that happens, high-quality support can make your experience so much better.
So, let's see if Smash Balloon holds up as an Elfisight alternative when it comes to customer support.
1. Smash Balloon
The quality of customer support is one of the best things about Smash Balloon. Anytime you need help, the dedicated support team will be there.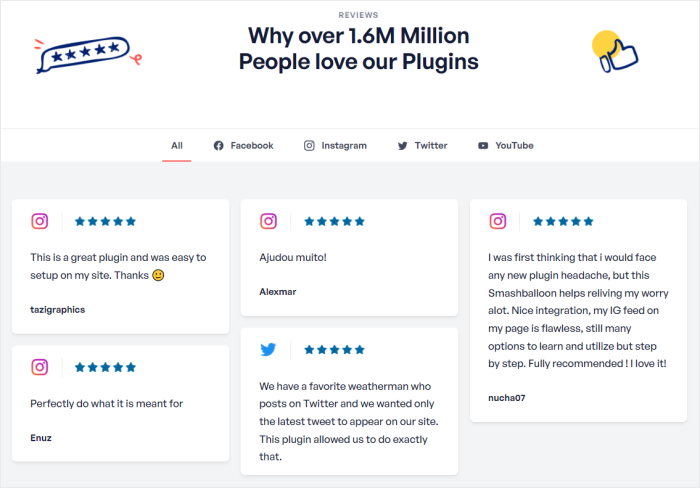 Just take a quick look at the user reviews, and you can see how happy people are with the support. It's no wonder that Smash Balloon has a 4.9/5 star rating.
If you ever need help with Smash Balloon, you can just reach out using the support page here.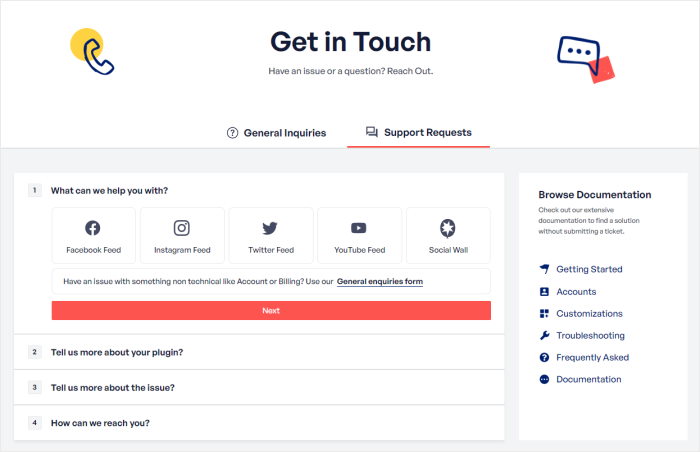 You also get lots of other resources that can guide you. Just check out the helpful videos, blog posts, and documentation if you ever need help.
2. Elfsight
With Elfsight, you also get quite a few options for support. There's a help center where you can easily search for your queries.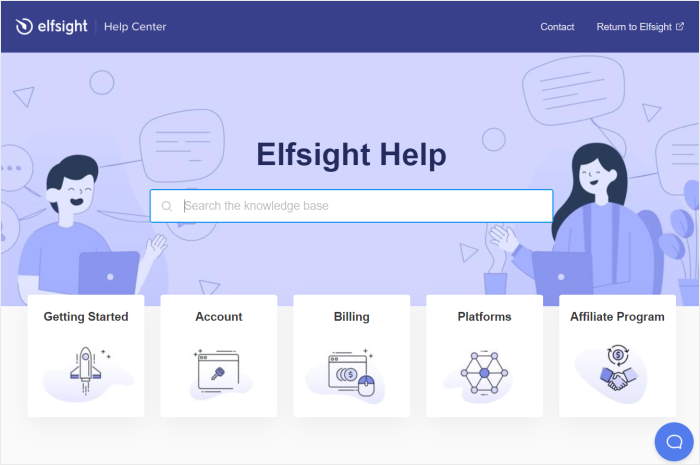 You also get tons of articles and tutorials that you can look through here. There's also the blog if you want to learn more.
For help with specific problems, you can also leave them a message on their contact for so they can get back to you.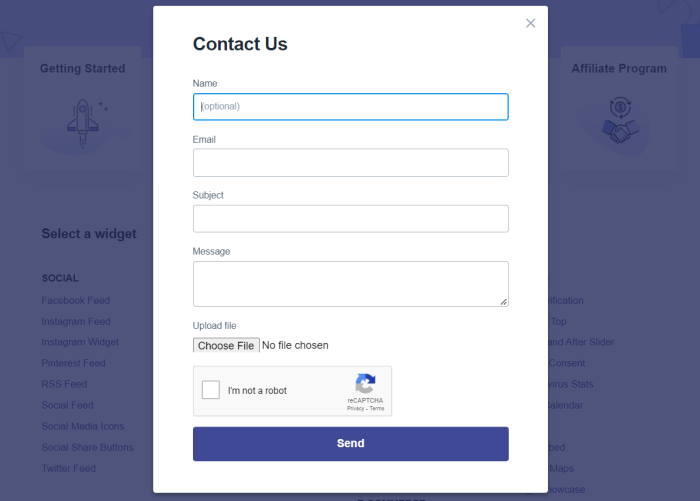 However, unlike Smash Balloon, you can't just check the user reviews on their site. So, it is harder to judge the quality of support.
Pricing: Smash Balloon vs Elfsight
So far, we've seen the features, support options, and user-friendliness of the two options. Now, let's see if their prices are worth it.
1. Smash Balloon
First of all, you can use Smash Balloon without even paying for anything. You can just use the forever free versions of the plugins.
Since they're free, the features are a bit basic. Still, if you just want to add simple social feeds, then these can be perfect. And if you want more features, you can just upgrade anytime.
For the premium plugins, the pricing is actually pretty simple. For each plugin, you can choose between 3 plans: Personal, Business, and Developer.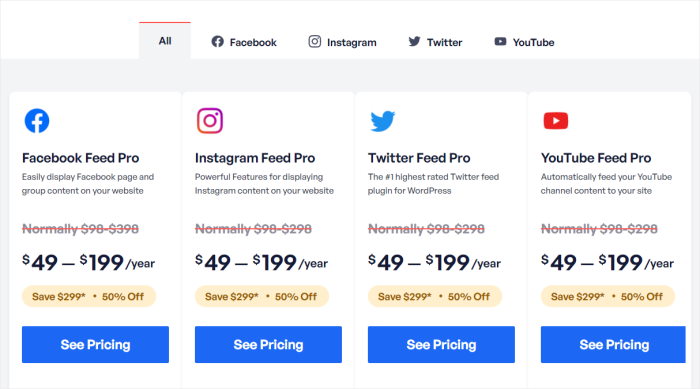 The Personal Plan starts at just $49/year with unlimited use for 1 website.
If you want something more, then there's the Business Plan. For $99/year, you can have all the features of the Personal Plan plus support for 5 websites.
The next one is the Developer Plan at $149/year and supports up to 25 websites! On top of that, you also get priority support.
And finally, there's the All Access Bundle. You can get ALL the plugins, including the Social Wall Pro, for just $299/year. And that's unlimited access for unlimited websites!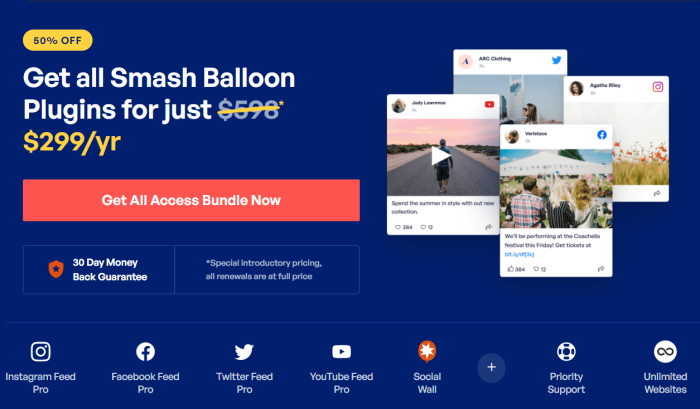 But that's not all! The All Access Bundle also gives you the Facebook extensions and all of Smash Balloon's future plugins. And remember, you can freely use it for unlimited websites.
The best part? Smash Balloon has a 30-day 100% money-back guarantee! If you're not happy, then you can just get a full refund. So, it's completely risk-free.
2. Elfsight
Elfsight gets a bit more complex with its pricing options. Like Smash Balloon, the Elfsight plugin has a free plan as well.
However, the free plan is limited to just 200 page views per month. If your feed is loaded more than 200 times, the feed stops working.
Not only that, but it also shows a message that you've run out of views for the month. This way, your site can take a pretty big hit in terms of professionalism.
While the free version does work, keep this risk in mind. A sudden influx of visitors can cause you to run out of views with no warning.
For the paid versions, you can choose between 3 Elfsight plans: Basic, Pro, and Enterprise for a single app.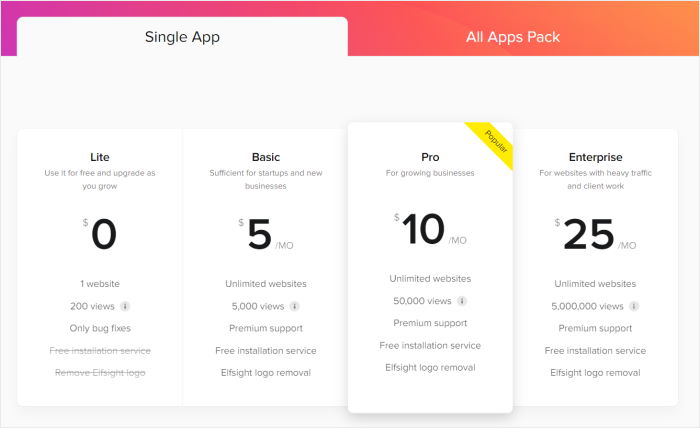 You can get the Basic Plan for $5/month, or 60$/year with support for unlimited websites. As a plus, you also get premium support, and the Elfsight logo is removed.
While that is great, it also has a limit of just 5,000 views per month. As said before, that limit can cause you problems in the future.
The second pricing plan for Elfight is the Pro Plan at $10/month or 120$/year. You can now get up to 50,000 views with this plan.
With the Enterprise Plan, Elfsight costs $25/month or $300/year. With this upgrade, you'll get a limit of 5,000,000 views.
However, certain apps like Social Feed can actually cost more than this, so remember to check carefully before buying.
And then, you also have the All Apps Pack, where you can purchase all of their 80+ apps in one go.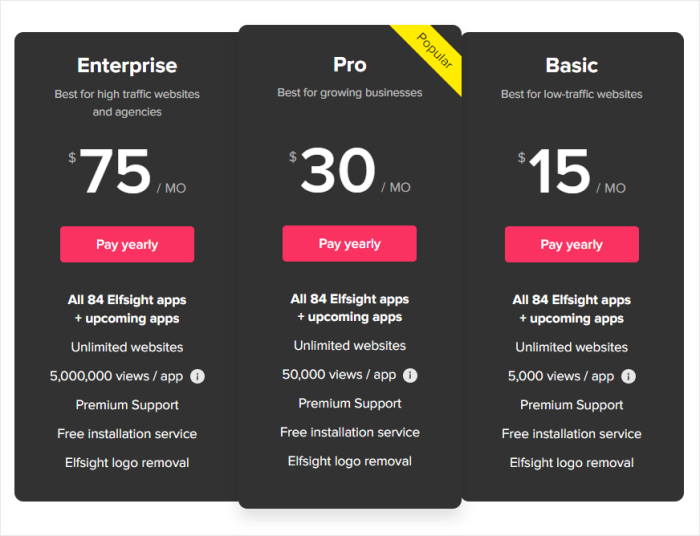 Here, the Basic Pack starts at $15/month or $180/year. The bad news is that you'll still have to deal with that 5,000 view limit.
To upgrade to 50,000 views, you can get the Pro Pack for $30/month or $360/year. 
Finally, you have the Enterprise Pack that increases the limit to 5,000,000 views. However, it costs $75/month or $900/year!
With Smash Balloon, you will not be limited by views, no matter what plan you get. Similarly, 1 plugin from Smash Balloon can do the job of multiple Elfsight apps.
With that in mind, you can see how Smash Balloon is a cheaper Elfsight alternative.
Is Smash Balloon the Best Elfsight Alternative?
We've seen everything these two have to offer. Now, it's time to make the decision and help you decide between Elfsight vs Smash Balloon for your business.
Smash Balloon
With Smash Balloon, you can integrate your site with a smaller number of social media platforms. However, you also get a lot more options for each of them.
Plus, these social media platforms are the top 4 most popular channels worldwide: Facebook, Instagram, Twitter, and YouTube.
For online stores and e-commerce websites, you can easily create shoppable feeds to give your visitors an amazing buying experience.
As you can see from the customer reviews, Smash Balloon maintains a high quality of customer support. It's amazing rating of 4.9/5 stars says a lot.
You get a lot more customization options like feed layouts, color options, and typography options. Plus, you get a live feed editor to help you create engaging Facebook, and Instagram feeds.
And since the plugin will automatically inherit your site's existing design, it's super easy to match your branding.
Smash Balloon has absolutely NO limits for page views.
If the plugins aren't right for you, you can get a complete refund within 30 days — no questions asked.
Elfsight
Elfsight has over 80 apps in total, and you can add them to almost any kind of website out there.
Customizing your feed is simple with Elfsight, but you only get some basic options. So, making things look the way you want can be tricky and time-consuming.
You'll have to deal with limited page views regardless of the pricing plan.
While you can buy one app for cheap, you'll need multiple apps to match the features of a single Smash Balloon plugin. So it can be pretty expensive in the end.
Elfight will only give you a refund under some specific circumstances, so small businesses might not have room in the budget.
While Elfsight has its plus points, it's clear that Smash Balloon wins by most metrics here.
You just get much more features with its plugin. Plus, purchasing it is completely risk-free because of the 30-day refund.
If you're not a WordPress user, then Elfsight can still do the job for you. You might even enjoy how simple the live customizer is.
With Smash Balloon, you get better and MORE features. On top of that, you can also enjoy top-notch customer support at a budget-friendly price.
Plus, you won't have to worry about any limits on your views.
So, it's easy to see why Smash Balloon is used by 1,600,000+ websites, including some of the biggest brands in the world, like Clorox and Coca-Cola.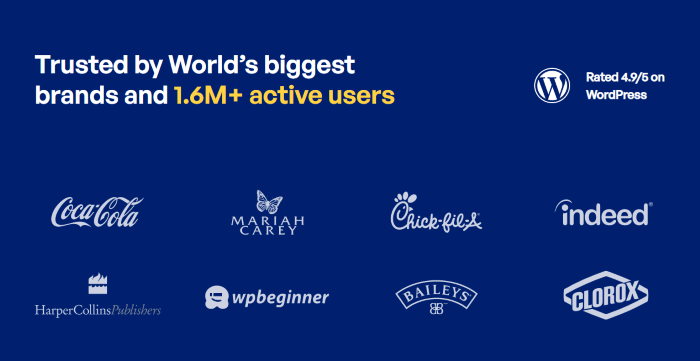 And that's it!
We hope this review of Elfsight and Smash Balloon helps you pick the right option for you. Now that you know about Smash Balloon as well as Elfsight, you can decide for yourself which one's the best for you.
Ready to add social media feeds and grow your online presence?
Grab Smash Balloon's All Access Bundle today and get started!
If you want to boost your social media followers, check out this article on social media marketing tips and tricks.
If you found this article to be helpful, drop us a follow on Facebook and Twitter, and stay tuned for more social media marketing tips and tricks.