Looking for the best social media feed plugins for WordPress?
With the help of the right social media plugins, you can easily integrate social media into your website. As a result, you can enjoy more followers for your social media profiles and more sales for your business.
There's a lot of social media feed plugins for WordPress, though. So it gets hard to choose the best partners that'll help your business grow.
In this post, we'll show you the best social media plugins for WordPress that can take your business to the top.
Let's start by talking about what features you need to look for in a great social media feed plugin first.
What Features Should the Best Social Media Plugins Have?
You need to consider several plugin features when it comes to selecting the best social media feed tools for WordPress.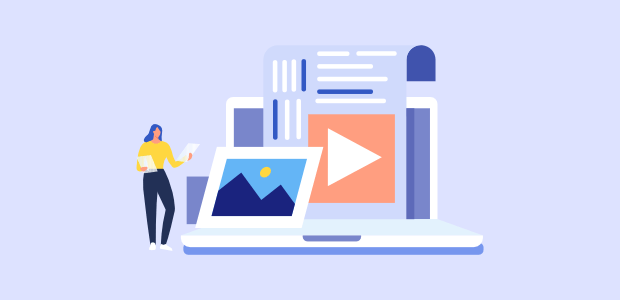 First, the best social feed plugins need to have lightning fast performance so they won't slow down your website.
Some social media plugins load lots of additional scripts and stylesheets. That's why it's best that you choose a social feed plugin that efficiently processes data so it won't negatively affect your site performance.
Next, the best social feed plugins need to be compatible with your social media platforms.
Some plugins support Facebook only, while others integrate with Instagram alone. You need a great social media plugin that can seamlessly integrate with different social channels.
After all, an effective social media marketing campaign is multi-channel. So your plugin should be able to connect with Facebook, Instagram, Twitter and even YouTube in promoting your brand.
Last but not the least, the best social media plugins for WordPress should be both easy and powerful.
The best choices for your social media feeds plugins are those that have tons of helpful features but are still easy to use, set up and customize, even if you're a total WordPress newbie. A user-friendly plugin that gets the job done — that's what you're looking for.
With these in mind, let's talk about the best plugins that can help you add social media content to your WordPress.
As the best Facebook feed plugin for WordPress, Custom Facebook Feed Pro allows you to create and display customizable Facebook feeds on your website.
When you use the plugin, you can easily personalize your feed's design just by clicking or unclicking. No need to be a Facebook developer just to customize your feed and make it appear how you want.
Plus, Custom Facebook Feed Pro is responsive right out of the box. This means that it looks great on any device and any screen size, automatically.
You can use the plugin to display feeds from both your Facebook group or business page.
Also, you can choose to show certain Facebook content only, such as events, status, photos, videos and albums — in just one plugin!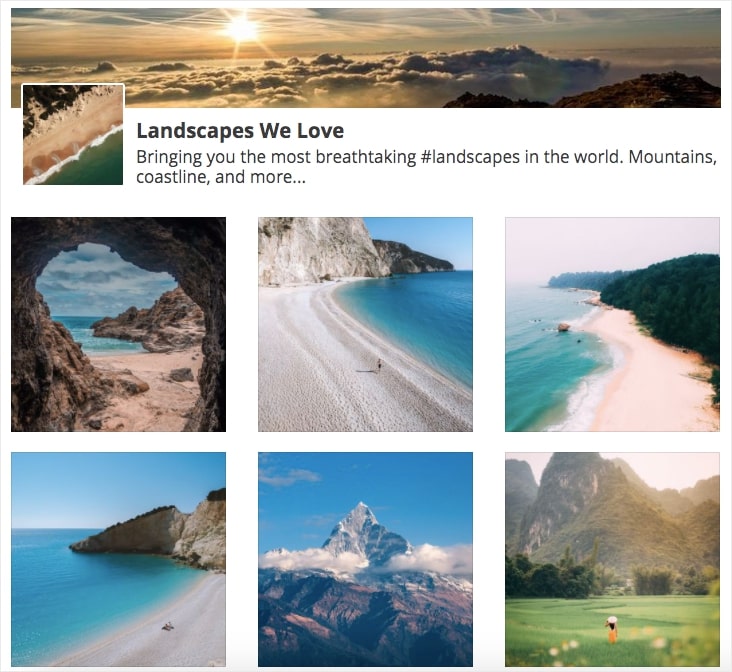 Want to embed Facebook reviews on your WordPress site? It's also the best tool to help you boost your sales, since you can use the plugin's Reviews extension to easily display authentic Facebook reviews on your website.
The more positive social proof you have, the more your prospects will trust you and eventually do business with you, after all.
Get started with Custom Facebook Feed Pro today!
With over 200,000 active users and a solid 4.8/5 rating, it's the best social media feed plugin to help you integrate Facebook into your website.
When it comes to creating, customizing and displaying Instagram feeds on your website, Instagram Feed Pro is the best tool in the market.
As the highest-rated Instagram feed plugin for WordPress, it lets you display beautiful Instagram feeds on your WordPress in under 5 minutes. Yes, even if you're not tech-savvy.
With the plugin's help, you can improve your sales by linking your Instagram posts to any page in your website. These are called shoppable Instagram posts.
For example, you can display an Instagram feed of your best-selling products. Then, add the products' page links to the post captions.
As a result, when your users click on the Instagram posts, the plugin will direct them to the product pages for an easier and faster shopping experience.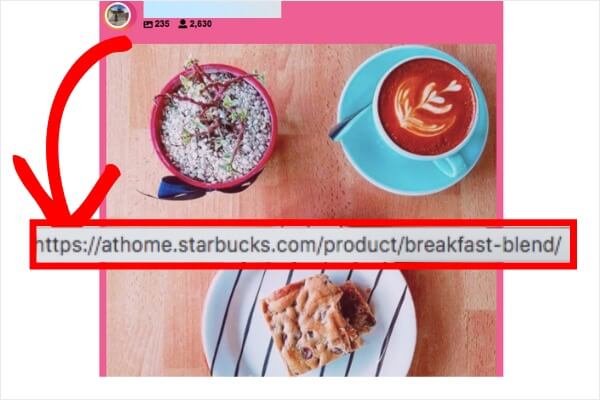 The best part? Since Instagram Feed Pro is created with users in mind, it's designed to be ultra fast. And with a stable 4.9/5 star rating, the plugin is trusted by over 1 million users around the world.
Improve your sales with Instagram Feed Pro today!
As the #1 Twitter feed plugin, Custom Twitter Feeds Pro makes creating, customizing and displaying Twitter feeds in WordPress so easy even complete newbies like you can use it.
In fact, you can set up and showcase your Twitter feeds in under just 5 minutes and with just a few clicks — no coding knowledge needed.
With the plugin's helpful moderation feature, you have full control of your Twitter content when you add it to your website. This lets you display only the tweets that you want to showcase.
As a result, you'll have organized, customizable and responsive Twitter feeds that increase user engagement and add valuable social proof.
Other social media plugins let you display only your Twitter profile. But Custom Twitter Feeds Pro takes your marketing to the next level by helping you display your mentions timeline as well.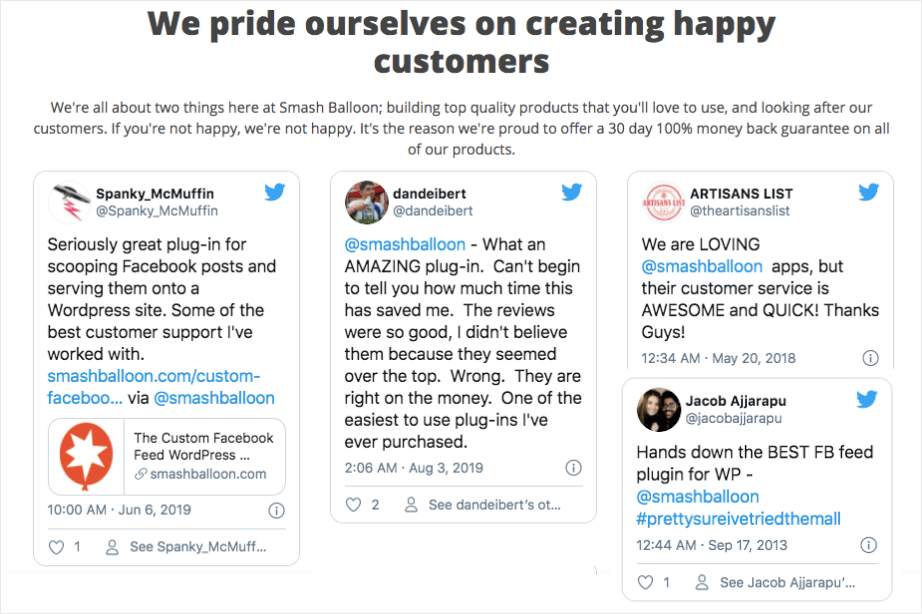 With the mentions timeline, any relevant tweet that mentions your Twitter username will be displayed. So, you can proudly display this Twitter feed as a customer testimonials grid on your website to boost sales for your business.
Want more details on how you can do this for your own site? Take a look at this helpful post on how to add a mentions timeline to your website.
Let your business enjoy more sales by getting Custom Twitter Feeds Pro right now!
Another great social media plugin for WordPress is the fastest-growing YouTube plugin, Feeds for YouTube Pro.
By using this plugin, you can easily create and display completely customizable YouTube feeds on your website. Your YouTube content such as channel, playlist, responsive videos or even YouTube widget can then be cross-promoted on your WordPress site to reach a wider audience.
Also, the plugin offers different user-friendly customization choices when it comes to styling your YouTube feed. Even with zero coding or design background, you'll still end up with beautifully organized and engaging YouTube feeds that can boost user engagement and your subscriber count.
Another benefit of using Feeds for YouTube Pro?
With this plugin, you can automatically embed multiple YouTube videos on your website without uploading each one manually.
This feature is particularly helpful when displaying effective video testimonials on your WordPress to skyrocket your sales. With the plugin's help, you can easily add tons of positive video testimonials on your website.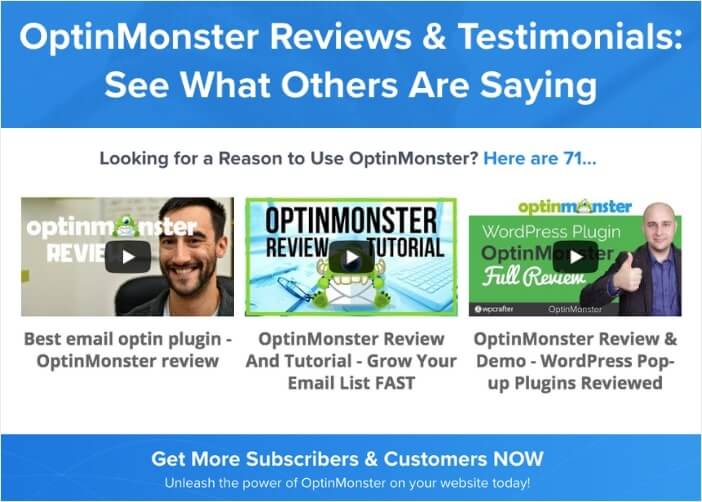 This way, you can use the power of social proof and let your own customers encourage your site viewers to do business with you. After all, 80% of marketers say that videos directly helped them increase sales and grow their businesses in no time.
Skyrocket your sales with the power of videos. Get started with Feeds for YouTube Pro today!
What if you want to combine social media feeds from Facebook, Twitter, Instagram, and YouTube into a single wall? Social Wall Pro can make this happen.
As the best social feed aggregator for WordPress, Social Wall Pro boosts your followers in all 4 platforms and increases user engagement and brand awareness by adding social media feeds from different social networks to your website.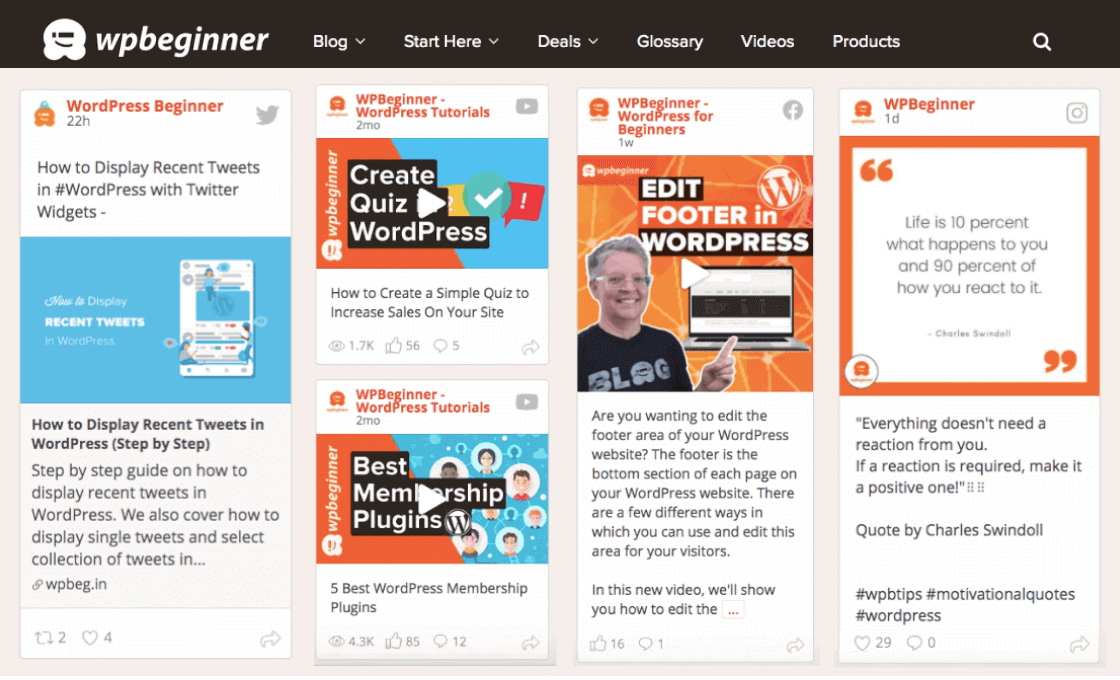 You can choose from 3 beautiful layouts to display your social media feeds. This way, you can take advantage of the power of user-generated content to increase profits for your business.
What are you still waiting for? Get your own copy of Social Wall Pro here!
And there you have it!
We hope this article helped you learn about the best social media plugins for WordPress. Now all that's left is for you to get your own copies of these top-rated plugins so you can start displaying social feeds on your site to get more sales for your business.
Get the All-Access Bundle now and have access to Social Wall Pro and all Smash Balloon Pro plugins. It's definitely worth your investment. And the cool part? Getting the All-Access Bundle lets you use all these plugins on unlimited websites!
Finally, if you enjoyed this article, feel free to follow us on Twitter and Facebook for more social media marketing tips to help your business thrive.