Looking for the best social media marketing examples you can copy for your own business?
This post is exactly for you.
With over half the world's population using social media, you can easily boost brand awareness, encourage user engagement and skyrocket your sales with social media marketing campaigns.
Even though posting regularly on social media is a good start, it's not strategic enough to help you get more customers and grow your business.
That's why in this post, we'll show you the best social media marketing examples that are guaranteed to increase sales for your own business.
Shall we get started?
Facebook
Known as the most influential social media platform, over 2.5 billion users log into Facebook every month.
And since the social media channel reaches over 66% of internet users, it's important that you plan for your Facebook marketing strategy.
Here are some posts you can copy:
1. Oreo's Recipe Post
What they did: In celebration of the launch of their limited-edition Red Velvet flavor, Oreo posted an easy-to-make recipe using their new product as the main ingredient.
Since 2020 was the year when people were encouraged to stay at home, posting a dessert recipe effectively boosted Oreo's engagement.
With over 10,000 reactions and hundreds of comments, it's one of Oreo's most successful Facebook posts that year.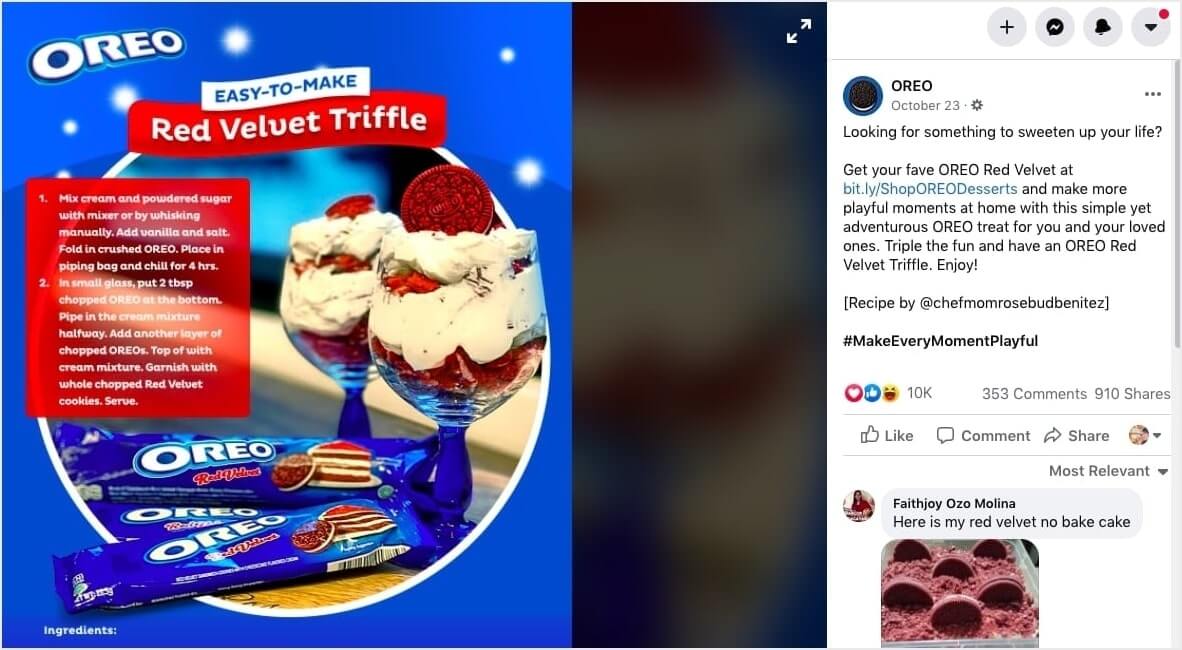 The next time you're planning for a launch of a new product, ask yourself this:
"How can my customers enjoy this product and include it in their day-to-day routine?"
When it comes to launching new products, posting about them is a given.
And if you want to go the extra mile and generate more buzz, you can also include easy ways where your customers can use your product in their daily lives — just like what Oreo did.
2. Tasty's Playlist of Cooking Videos
What they did: Tasty is well-known as a brand that does easy-to-follow cooking videos. So, in celebration of the upcoming holidays, they made a playlist of their best holiday-themed cooking videos that their followers can readily access.
And their efforts to organize their cooking videos paid off! With over 100 million followers and 30 million views for this playlist alone, it's Tasty's best playlist yet.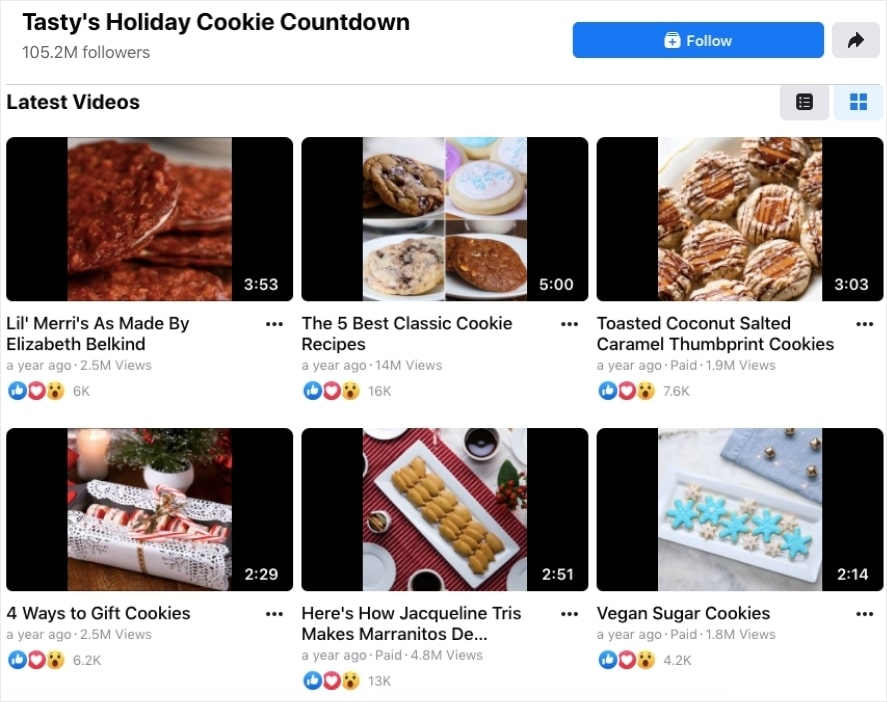 Selling a dress? Make a video on how to accessorize it.
Promoting an app? Make a film and show your users how user-friendly it is.
Have a coffee shop you want to market? Create a tutorial video on how you make your special coffee to entice your followers to drop by.
A how-to video, or tutorial video, is one of the most popular types of Facebook posts that can increase engagement for your page.
Videos get 59% more engagement than other post types in Facebook, after all.
And the more engaged your followers are, the more likely your Facebook post will be visible in their timelines and the more diverse your organic reach will be.
What does this mean for you?
The more audience you can reach organically, the more people will know about the products or services that you offer — even if you don't spend a centavo on Facebook marketing!
How to Add Facebook Feed to Your Website
What if you've already copied the Facebook posts above for your business, but you can't seem to get the engagement and sales you want?
Then, it's time to get more traffic to your Facebook posts by cross-promoting it to your website.
Using Facebook's platform, you can only embed single videos on your site manually.
But when you use Facebook Feed Pro, the best Facebook feed plugin for WordPress, you can easily add your Facebook videos to your site — even if you're not tech-savvy.
With the help of the plugin, we embedded WPBeginner's Facebook videos on WordPress in under 5 minutes.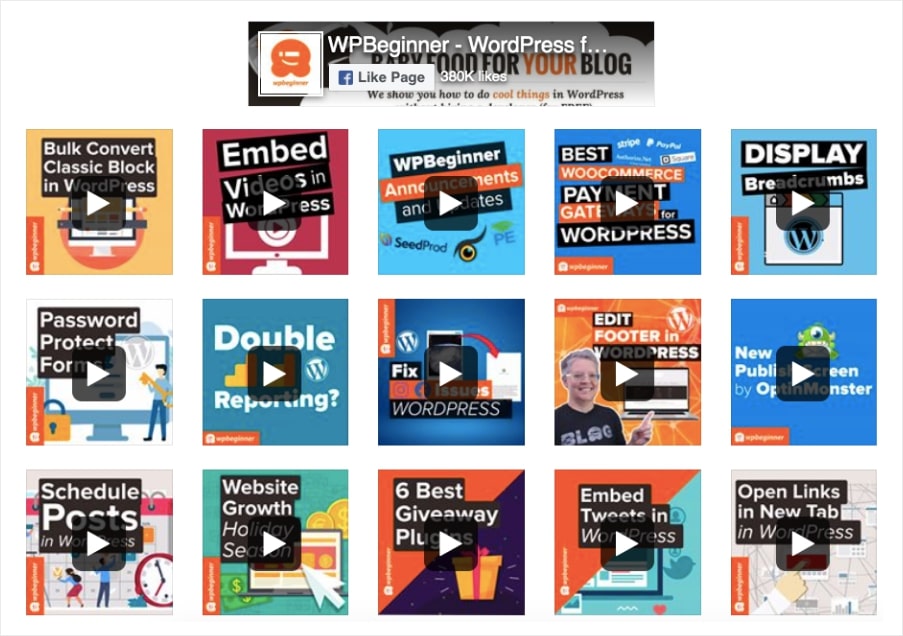 Want to try it out for yourself?
Just follow the easy instructions on this post on how to embed Facebook videos on WordPress to get started.
Instagram
When it comes to displaying positive social proof that can encourage your followers to buy from you, Instagram is the best social media platform for the job.
With its highly visual content and beautifully interactive feeds, you can also take advantage of user-generated content (UGC) to fuel your sales and get customers from Instagram's millions of users worldwide.
3. Spotify's #SpotifyWrapped
What they did: To celebrate the end of the year, Spotify trended the #SpotifyWrapped hashtag and showed every individual user's most-played songs in their accounts.
This social media marketing example is similar to Spotify's #2020Wrapped campaign last year, which successfully engaged more than 60 million users and resulted in nearly 3 billion streams from Wrapped playlists.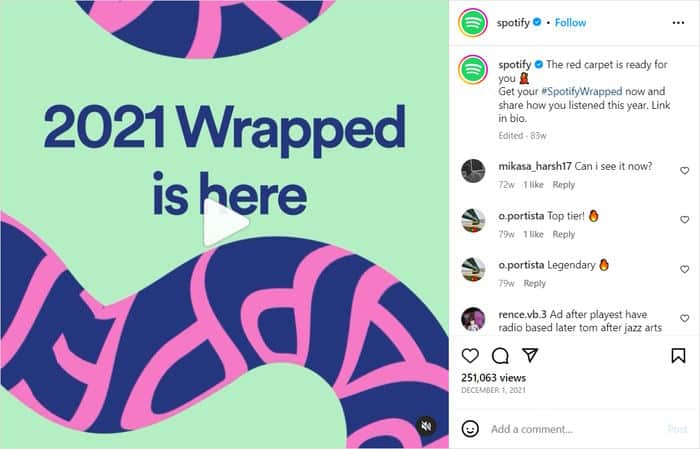 In today's digital age, personalization in marketing gets you ahead of the competition.
After all, 91% of consumers are more likely to do business with a brand that recognizes and remembers their personal preferences.
And you don't even need to work with fancy technology to include personalization in your marketing.
If you can, sending a handwritten thank-you card to every customer who bought from you or emailing them a product list based on their past purchases can help boost customer loyalty as well.
Check out this article on smart ecommerce personalization examples for more ideas on how to do this.
4. Fenty Beauty's Branded Hashtag
What they did: Fenty Beauty cleverly took advantage of user-generated content (UGC) by featuring their branded hashtag feed on their website's homepage.
This way, their site visitors can see Instagram users actually using Fenty Beauty products and posting about it on the platform — essentially promoting their services and marketing their products for free.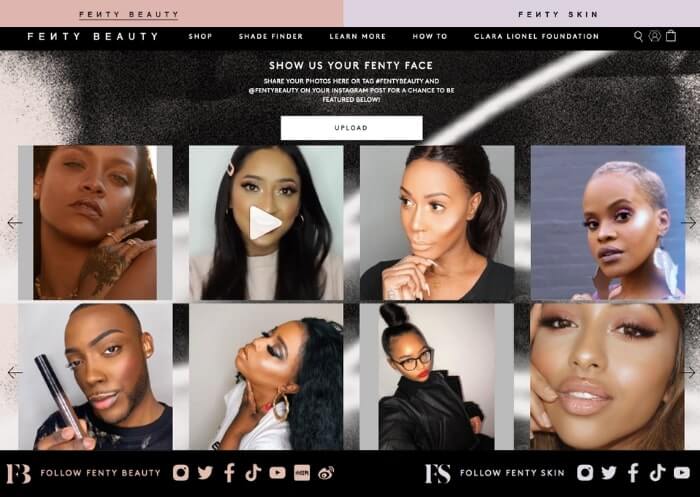 By displaying their branded hashtag on their website, Fenty Beauty also successfully encouraged more sales for their brand.
Since 79% of shoppers believe that UGC highly influences their buying decisions, seeing their beautifully organized Instagram feed may be the slight nudge they need to start buying.
How to Add Instagram Feed to Your Website
Using Instagram, you can only manually embed single posts on WordPress.
So if you'd like to embed multiple posts with your hashtag, you'd need to spend lots of time and resources.
Here's the great news: by using the Instagram Feed Pro plugin, you can easily add hashtag feeds to your website — even without any coding knowledge.
Using the best Instagram feed plugin for WordPress, we recreated Fenty Beauty's hashtag feed below. We didn't even need to tweak any codes or hire a developer, since it was super easy to use.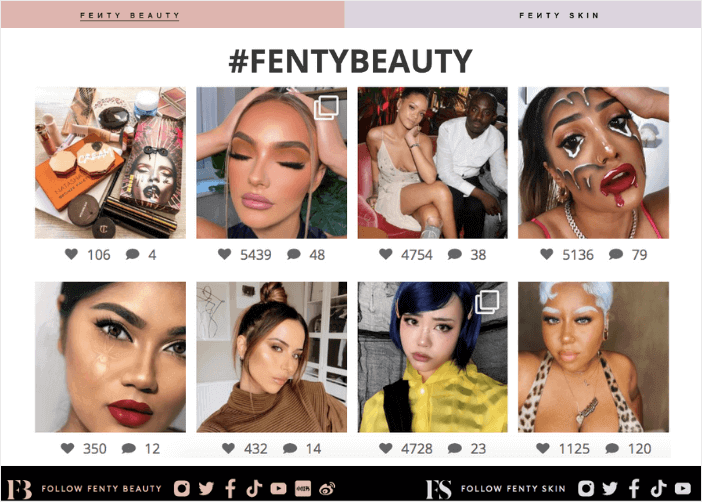 To learn more about how you can easily display branded hashtags feeds, check out this post on how to add Instagram hashtag feed to WordPress today.
Twitter
Twitter's character count may be limited, but this doesn't mean you can't effectively promote your business on this platform.
With 4 out of 10 users buying a product after they've seen it on Twitter, it's still an influential social media network.
Here are some Twitter posts you can steal for your brand:
5. GoPro's Photo of the Day
What they did: GoPro regularly features submitted pictures from their customers in their daily "Photo of the Day" campaign.
Since GoPro is in the business of selling cameras, its customers are interested in the quality of pictures that their cameras will produce.
Instead of taking commercial photos, GoPro posted pictures taken by their customers to add authenticity to their brand.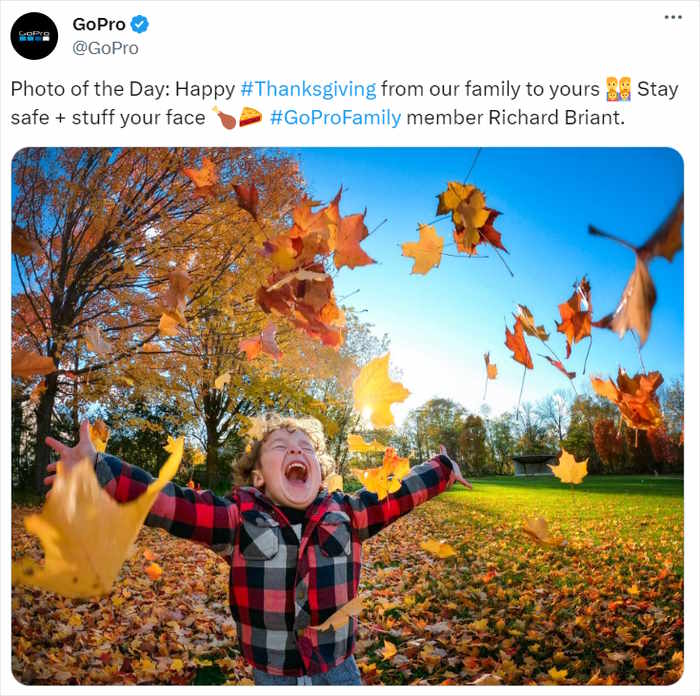 The power of this social media marketing example is twofold.
It uses UGC to display positive social proof about GoPro's products. And it also helps the company sell more, since authenticity is important to 86% of shoppers worldwide.
6. SeedProd's Testimonial Page
What they did: The #1 landing page builder for WordPress, SeedProd, displayed tweets from happy customers in their testimonial page to increase customer conversion.
Instead of adding testimonials that were written by unverified strangers on the Internet, SeedProd took it a step further by including the names, photos, and job positions of the people who posted the testimonials.
This way, 92% of customers who read online reviews before buying will be convinced to trust the brand more because a lot of its customers are willing to publicly vouch for SeedProd.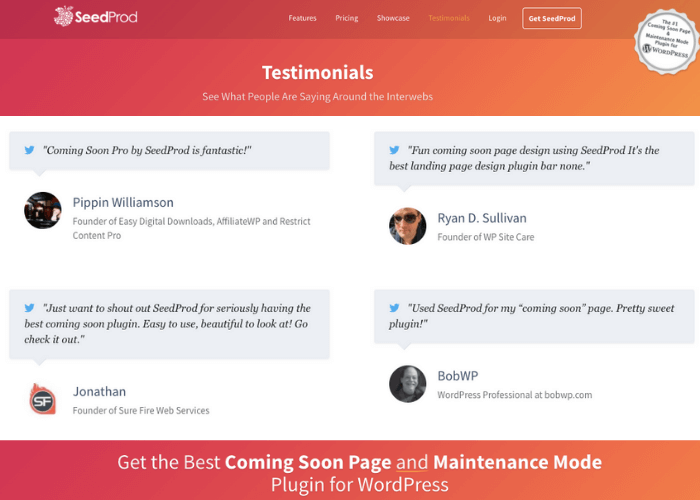 Want more ideas on which testimonial pages you can take inspiration from to supercharge your sales? Check out this post on clever testimonial page examples that convert customers.
How to Add Twitter Feed to Your Website
Want to publish multiple tweets on your WordPress?
Using Twitter, you can only publish single posts one-by-one.
So if you'd like to save time and still post an interactive Twitter feed on your website without hiring a developer, you can use the Twitter Feed Pro plugin.
After installing the plugin, we searched for the tweets with the term "Seedprod" and added them to our feed. In just under 5 minutes, we were able to recreate SeedProd's testimonial page below: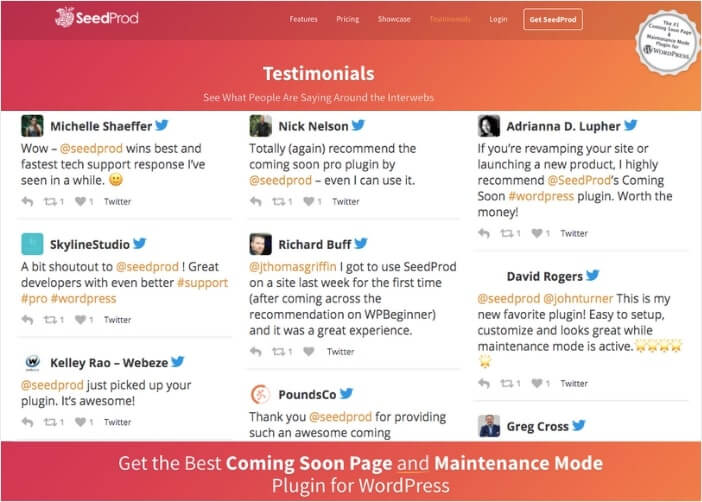 Don't have technical knowledge? No problem.
Take a look at these instructions on how to add an engaging Twitter feed on your website and see how easy it is to do this with just a few clicks.
YouTube
People have limited attention span now. So, they prefer watching videos instead of reading descriptions to learn more about products and services online.
That's why if you want to increase your sales, you need to include video marketing in your social media campaigns. Here are some examples:
7. Casper's Sleep Channel
What they did: "Sleep company" Casper created a YouTube channel dedicated to helping their customers sleep better. Their video content includes meditations and other relaxing sounds that can encourage restful sleep.
When you're selling sleep-related products and accessories, the last thing you want to be is intrusive in your social media marketing campaigns.
That's why Casper's YouTube videos are on-point with their brand: calming and witty, with a touch of playfulness.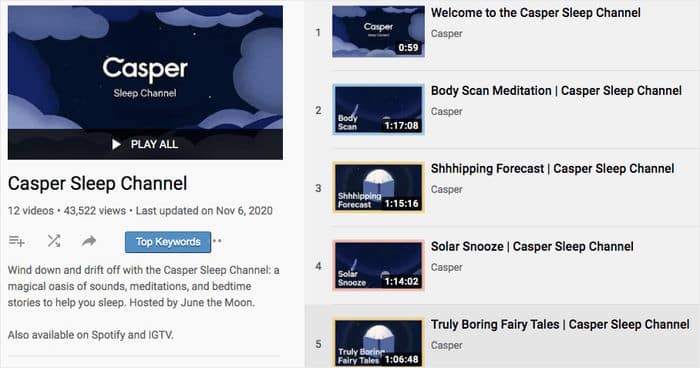 This social media marketing example is proof that it pays to think outside the box when promoting your products.
Instead of just posting videos about the benefits of using their mattresses, Casper aimed to be a part of their customers' night routine.
By creating a YouTube channel focused on achieving their brand's mission, Casper is "bringing joy to a tired industry" indeed.
8. Airbnb's Video Testimonial
What they did: In the true spirit of hospitality, Airbnb featured their top hosts on their website, complete with their backgrounds and stories, all told in an engaging video format.
Airbnb's brand is all about travel and "belonging anywhere" so they filmed the video inside the homes of their hosts.
This, together with cinematic views and breathtaking landscapes in the videos, enticed the viewer to visit different countries and live like a local using Airbnb's platform.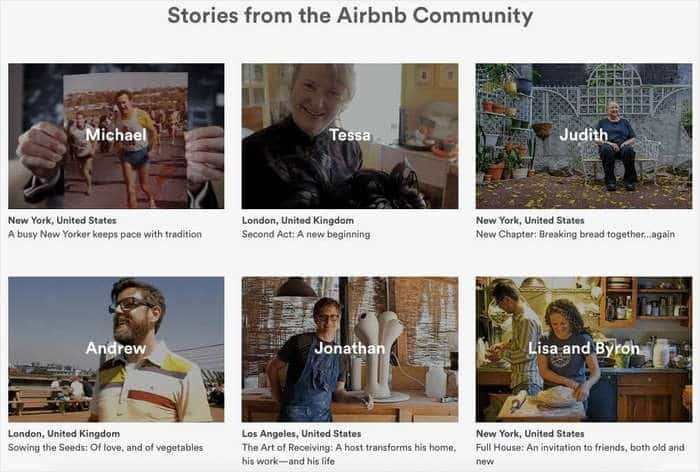 What makes this video testimonial stand out?
It's such a feel-good social media marketing campaign that you don't even feel like you're being sold to.
Instead, you feel like these hosts are your friends. Since they've shared their personal stories on camera, you want to visit their homes and experience their culture.
Airbnb also displayed their videos feed on their website.
Why?
Because they wanted to expose it to more people — site visitors who are interested in doing business with the company.
Cross-promoting your content to different platforms helps reach a wider audience that can potentially give you more sales over time.
How to Add YouTube Feed to Your Website
Want to embed multiple YouTube videos to your site?
Again, doing this manually is tricky, especially if you don't have any technical knowledge.
Because it's confusing and complicated, you may even break your website during the process.
No need to worry, though.
Because when you use YouTube Feed Pro, you can easily display multiple YouTube videos on your website.
And the best part? You just need to install and set up the plugin, and it'll do the hard work for you.
With the help of the plugin, we recreated Airbnb's testimonial page below in just under 5 minutes: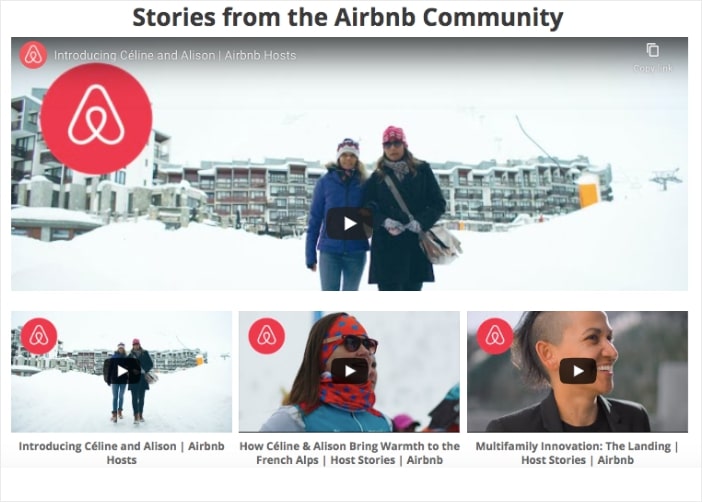 Want to know how to do this for your own brand? Take a look at this post on how to embed multiple YouTube videos on your website.
Google
As the biggest review platform on the internet, Google is a massive online platform and a great place for marketing.
After all, 95% of customers read reviews before buying a product on the internet.
Here are a few examples you can try to grow your sales using Google.
9. Gentle Dental's Testimonial Slideshow
What they did: To create a great impression of their brand, Gentle Dental displayed a testimonial slideshow on their website. So, people can clearly see that tons of customers are happy with this brand.
Since Google is such a popular and highly-trusted platform, people are likely to trust a testimonial slider like this.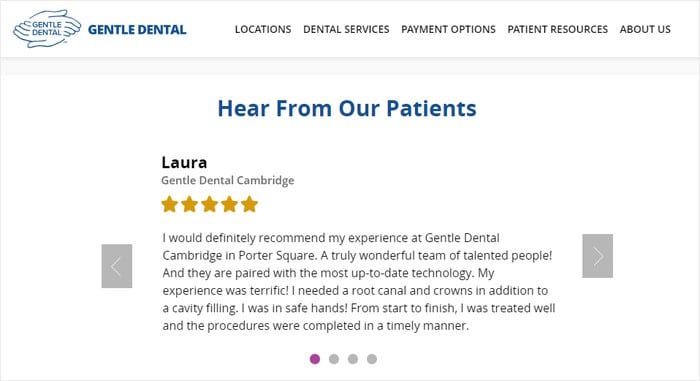 Plus, since this uses a beautiful sliding carousel, visitors can interact with the website and check out more reviews at their own pace.
As a bonus, a testimonial slider like this will show visitors that the business actively listens to what their customers have to say.
How to Add Google Testimonial Slideshow to Your Website
When it comes to displaying reviews on your website, the easiest option is to use a reviews aggregator plugin.
And the best option in the market that you can try is Reviews Feed Pro.
With the help of this amazing tool, you can easily create, customize, and embed feeds of Google reviews on your site.
For example, here's a testimonial slideshow for Gentle Dental created using this tool in just minutes!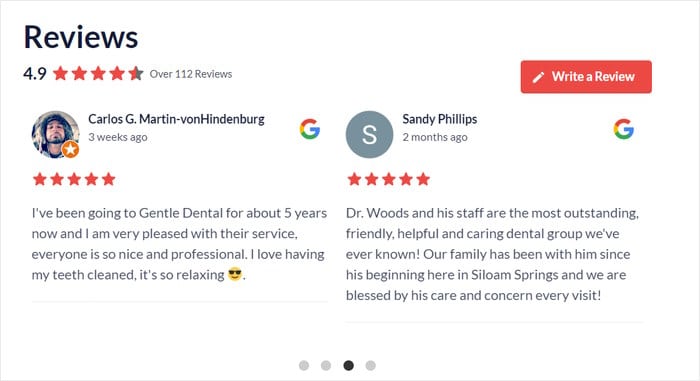 On top of Google, Reviews Feed Pro supports other trusted platforms like Tripadvisor, Yelp, Trustpilot, and Facebook.
What's more, the plugin gives you total control over the design of your review feeds.
That way, you can choose to highlight your best reviews using your Google reviews slider.
Ready to get started? Check out this guide on how to embed Google reviews in WordPress.
10. Professional Responses by Green's Garage
What they did: To create a great impression of their brand and get repeat customers, this business started writing custom responses to each reviewer.
With a positive interaction like that, visitors are much more likely to return again. As a result, this method can turn people into dedicated customers with ease.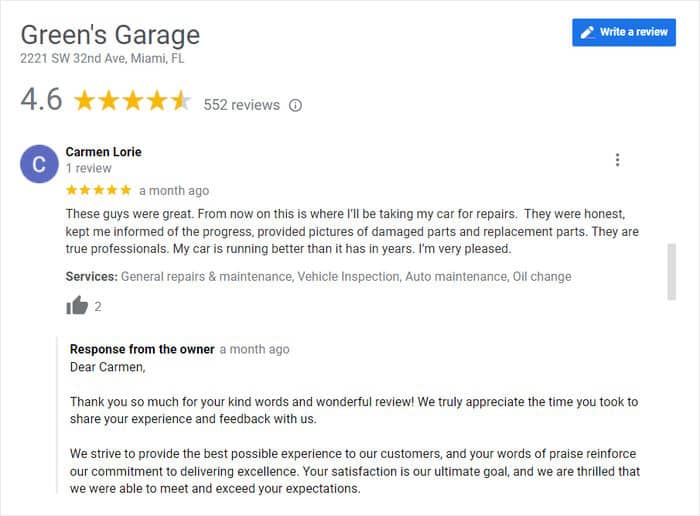 Plus, when people check Google for more reviews, they'll see that Green's Garage will listen to what people have to say.
Just like that, you can create a much better impression of your brand and boost your sales.
How to Get More Google Reviews for Your Brand
Want to get more reviews on Google with ease? It can be super easy with the help of the Reviews Feed Pro plugin.
Using this tool, you can display a button on your site that lets visitors leave a new Google review.
What's more, you can display a feed of Google reviews on your site along with the button. So, visitors can see all the reviews left by other customers and leave a new one of their own.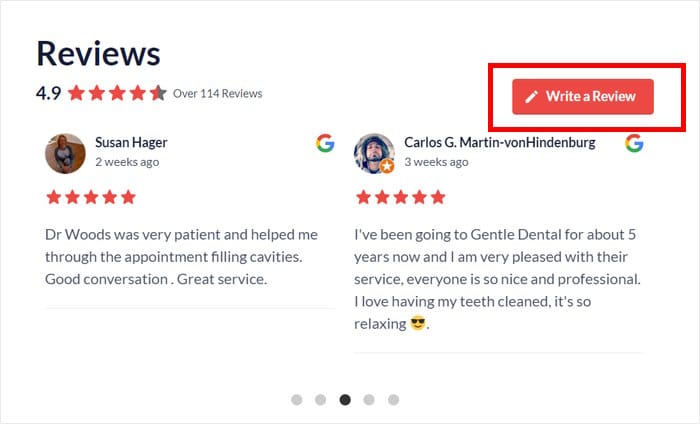 As you can see, Reviews Feed gives you an easy way to grow your online presence with more Google reviews.
If you respond to these reviews, you can easily get more dedicated customers for your brand.
Want to turn negative reviews into positive ones for your brand?
Check out our article on how to respond to negative reviews online for templates that you can copy.
TikTok
As one of the fastest-growing social media platforms on the internet, TikTok can be a great place to promote your brand online.
Let's take a look at some examples that you can copy for your brand's Tiktok marketing campaign.
11. Duolingo's Educational TikToks
What they did: Duolingo, a popular language learning app, started making educational content that teaches people new words in order to get more engagement.
Since Duolingo is seen as an authority when it comes to teaching languages, people are more likely to trust the content of these TikToks.
With bite-sized content like this, people can quickly learn something new without it interrupting their day.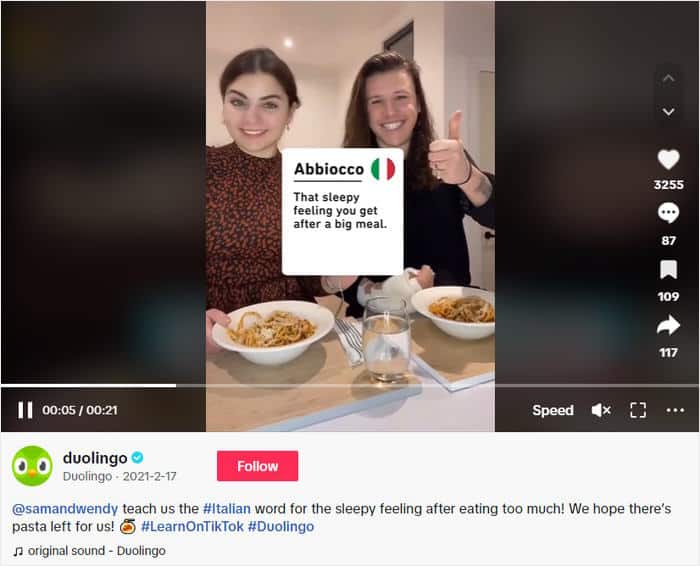 And if they're interested in learning more, they can go ahead and start using Duolingo. It's a great way to reach TikTok users who are interested in language learning.
By getting more people on their app like this, Duolingo can reach more customers and boost their sales.
How to Embed TikTok Videos in WordPress
A great way to get more views for your educational TikToks and tutorials is to display them on your website.
To do that, first, go to www.tiktok.com and then open the video that you want to embed.
Once you do that, click on the Arrow icon before selecting the Embed option.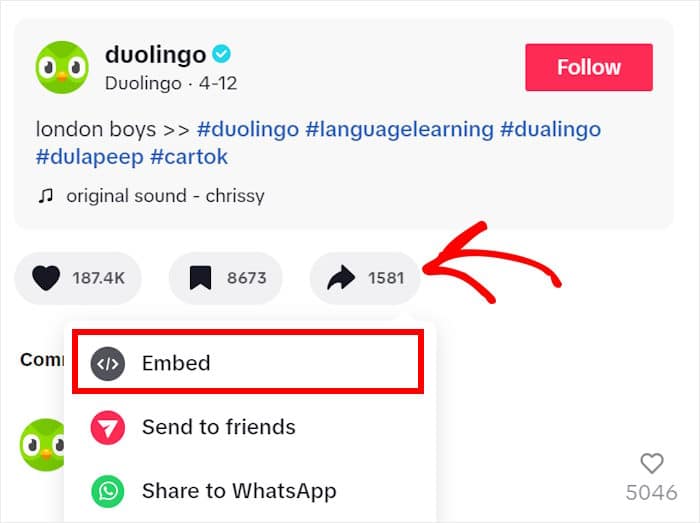 After that, TikTok will generate an embed code for this video.
To continue, click on Copy code button on this popup.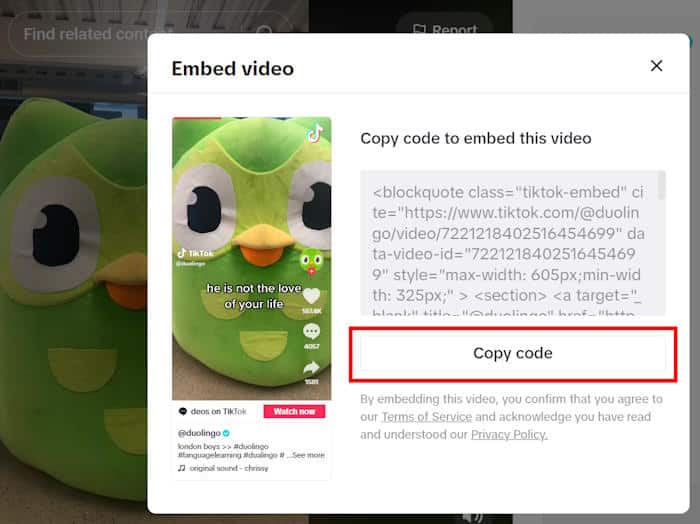 After you do that, you can paste this embed code on your web page, post, sidebar, or footer.
That way, anyone visiting your website can see your TikTok content. And if they're interested, they can follow you for more.
12. Gymshark's Cross-Platform Takeover
What they did: To boost engagement across multiple platforms, Gymshark's TikTok content team did a takeover of the brand's Threads account.
They then shared the results by making a TikTok video on the posts.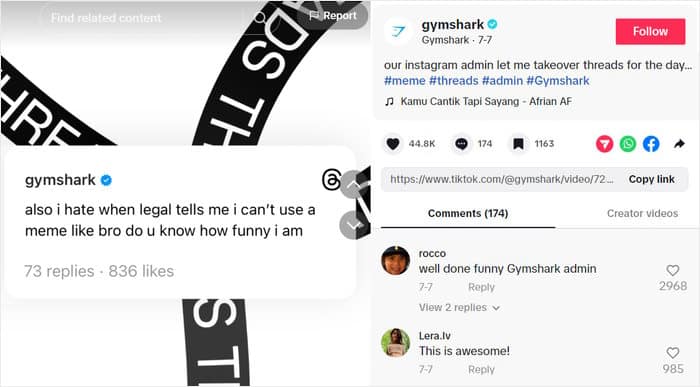 Just like that, Gymshark can drive their TikTok followers to Threads and boost their social media following.
At the same time, the brand's Threads followers would see that Gymshark has a TikTok account and follow them for more video content.
It's a great way to boost a brand's social media following and start reaching more potential customers on different platforms.
Tripadvisor
As a highly-trusted online review platform, Tripadvisor can be a great place to promote your brand.
After all, if you have tons of positive reviews on Tripadvisor, you'll have an easy time convincing people to buy from you.
13. Sanctuary Day Spa's Review Widget
What they did: This brand added a review widget on their website to showcase some positive reviews from Tripadvisor.
On top of that, Sanctuary Day Spa also added a call-to-action to encourage people to leave a new review of their own.
Since they're already embedding Tripadvisor reviews on their website, this shows visitors that Sanctuary Day Spa listens to what their customers have to say.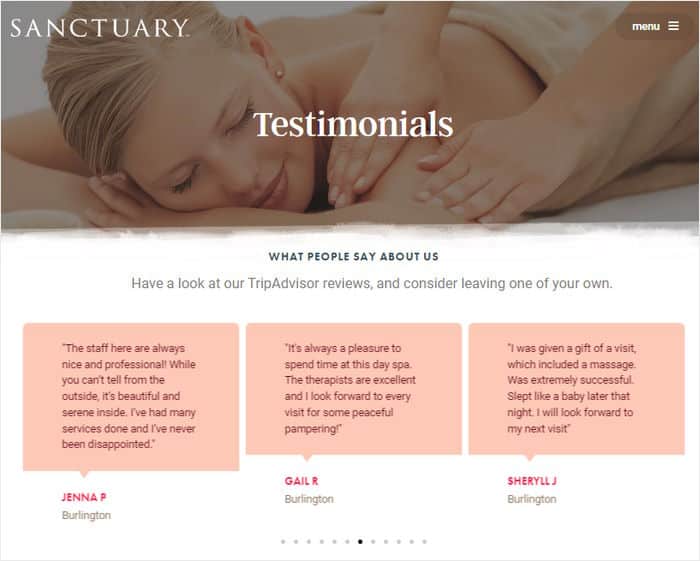 This makes people more likely to leave a Tripadvisor review and convinces more people to make a purchase.
The best part? You can create a review widget like this in just minutes with the help of Reviews Feed Pro.
For more details, look at this tutorial on how to add Tripadvisor widgets to your website.
Yelp
Another great website and a popular review platform where you can promote your business is Yelp.
Similar to Tripadvisor, you can easily start reaching tons of potential customers by growing your presence on Yelp.
14. Dragonfly Designs' Review Button
What they did: To create a great impression and convert more visitors, Dragonfly Designs added a button on their website that lets visitors add new Yelp reviews.
So, customers who are happy with their service can leave a Yelp review directly from their website.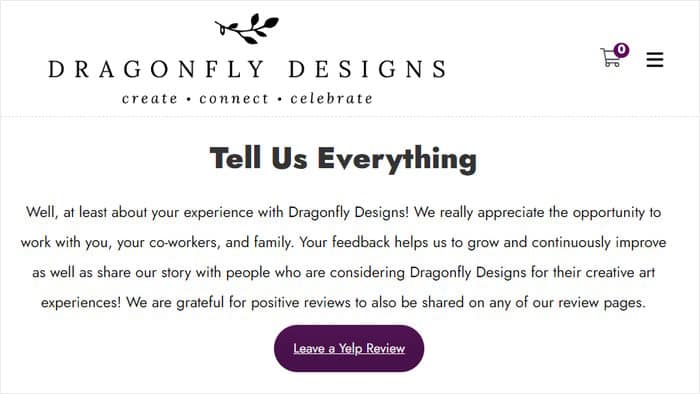 Plus, they've also added a short note on how they value people's feedback, and it helps them provide a better experience.
This is great because Yelp doesn't allow businesses to directly ask for reviews. So interested people can leave a new review with ease.
How to Add Yelp Review Buttons on Your Website
Want to copy this example and add Yelp review buttons to your site?
Instead of manually creating buttons, inserting them into WordPress, and linking your Yelp account, we've got an easier way for you.
All you have to do is use the Reviews Feed Pro plugin for your site.
With it, you can easily embed a review button along with selected Yelp reviews on your website — no coding needed!
Here's a quick example of a review page we created with the help of this plugin.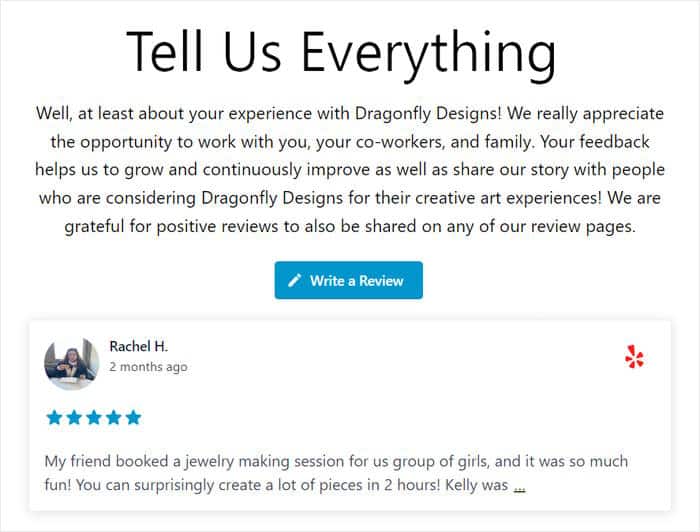 As you can see, the plugin even lets you embed Yelp reviews along with your review button.
By showing positive reviews like this, you'll have an easier time convincing people to leave new reviews.
After all, you're showing visitors that you pay attention to what reviews have to say.
Better yet, Reviews Feed Pro lets you pick which reviews you'd like to highlight on your website. That means you can showcase high-quality reviews along with your button.
Want to get started? Check out our guide on how to embed Yelp on your WordPress website.
Combined Social Media Channels
Lots of brands do well in promoting their businesses on specific social media platforms.
But when you're a big brand like Starbucks, cross-promoting your content to multiple channels is key.
It helps in engaging your followers and establishing brand awareness.
15. Starbucks' Red Cups
What they did: For the holiday season, Starbucks promoted their red cups by giving away limited quantities for every purchase of their holiday drinks. They updated their customers about their promotion by posting about it on Facebook, Twitter, and Instagram.
For this social media marketing example, Starbucks used fear of missing out (FOMO) marketing when they included the phrase "while supplies last" in their copy.
Considering that 56% of the world's population experience FOMO, it's a great promotional strategy that can boost sales. Especially when you include power words that trigger a sense of urgency.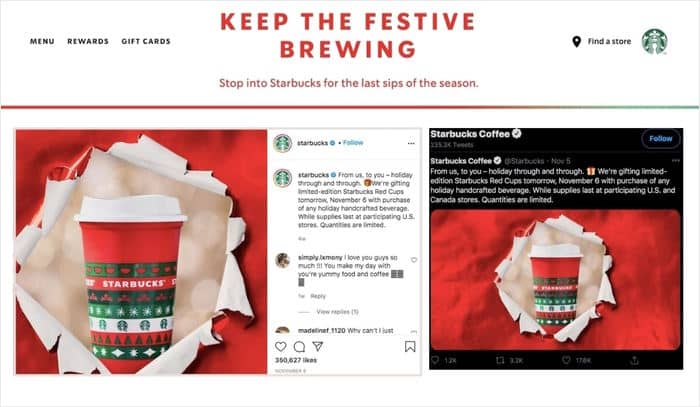 To make sure that their marketing copy reaches as many customers as possible, Starbucks planned ahead.
They posted the same update to all of their social media platforms at the same time.
How to Add Social Media Feeds to Your Website (Combined)
Social media integration into your website is one of the best ways to drive more sales for your business.
And instead of integrating just 1 social media feed on your website…
…Imagine how much more influential your social media marketing will be if you added ALL social media channels?
With the help of the Social Wall Pro plugin, this can be a reality for you.
As the best social media aggregator for WordPress, Social Wall Pro helped us display WPBeginner's social media channels into one single feed below — and we didn't even have to mess around with code just to do this: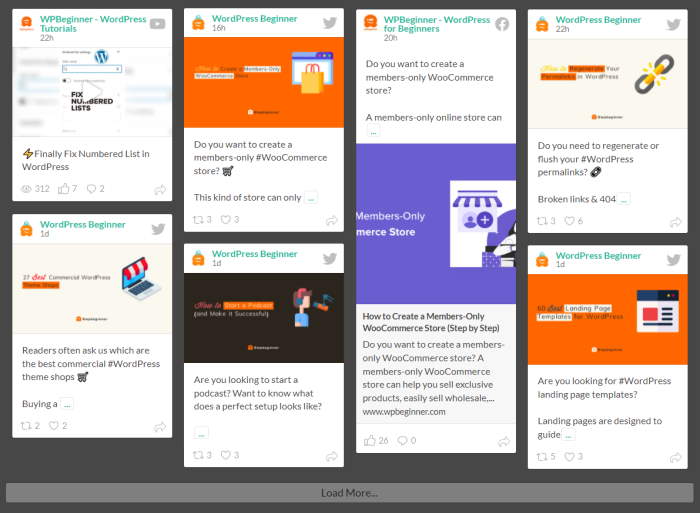 To learn more about how you can do this for your business, check out this post on how to add social media feeds to your WordPress website.
And there you have it!
Now you know which social media marketing examples you can copy for your own brand. You're well on your way to getting more sales and growing your business in no time.
With the right tool, it can be super easy to get started right away and grow your brand's social media presence.
So what are you waiting for? Get the Smash Balloon All Access Bundle now!
Want to upgrade your brand's website? To help you out, we've listed the best website builders for WordPress.
And don't forget to follow us on Twitter and Facebook for more social media tips and tricks to grow your business.