Want to know what a social media aggregator is, and why it is important to your website?
In today's digital world where more than half of the world's population now uses social media, it's now more important than ever to integrate social media into your website.
This is where having a trusty social media aggregator enters the picture.
But with lots of options available, it can be confusing to start using a great social media aggregator for your website. Especially if you're a newbie who's not familiar with coding.
In this post, you'll learn what a social media aggregator is, why you need it for your business and the different ways you can use it on your website.
Now, since we're going to talk about lots of high-value tips, we've organized this post into several sections for you. Feel free to click on a topic you'd like so you can skip ahead:
Ready to boost your followers and sales with the help of a powerful social media aggregator? Let's dive in!
What is a Social Media Aggregator?
A social media aggregator is a tool that helps you collect content from your social media platforms and display this content in a social media feed that you can embed on your website.
Instead of adding social network buttons to your website, a social media aggregator lets you cross-promote your social media content by directly adding your social feeds to your WordPress.
The great thing about using a social aggregator is that you don't need to manually curate your social media content — it can do this for you, automatically!
Plus, if you choose the right tool like Smash Balloon plugins, you can even use it even if you don't have any technical knowledge at all.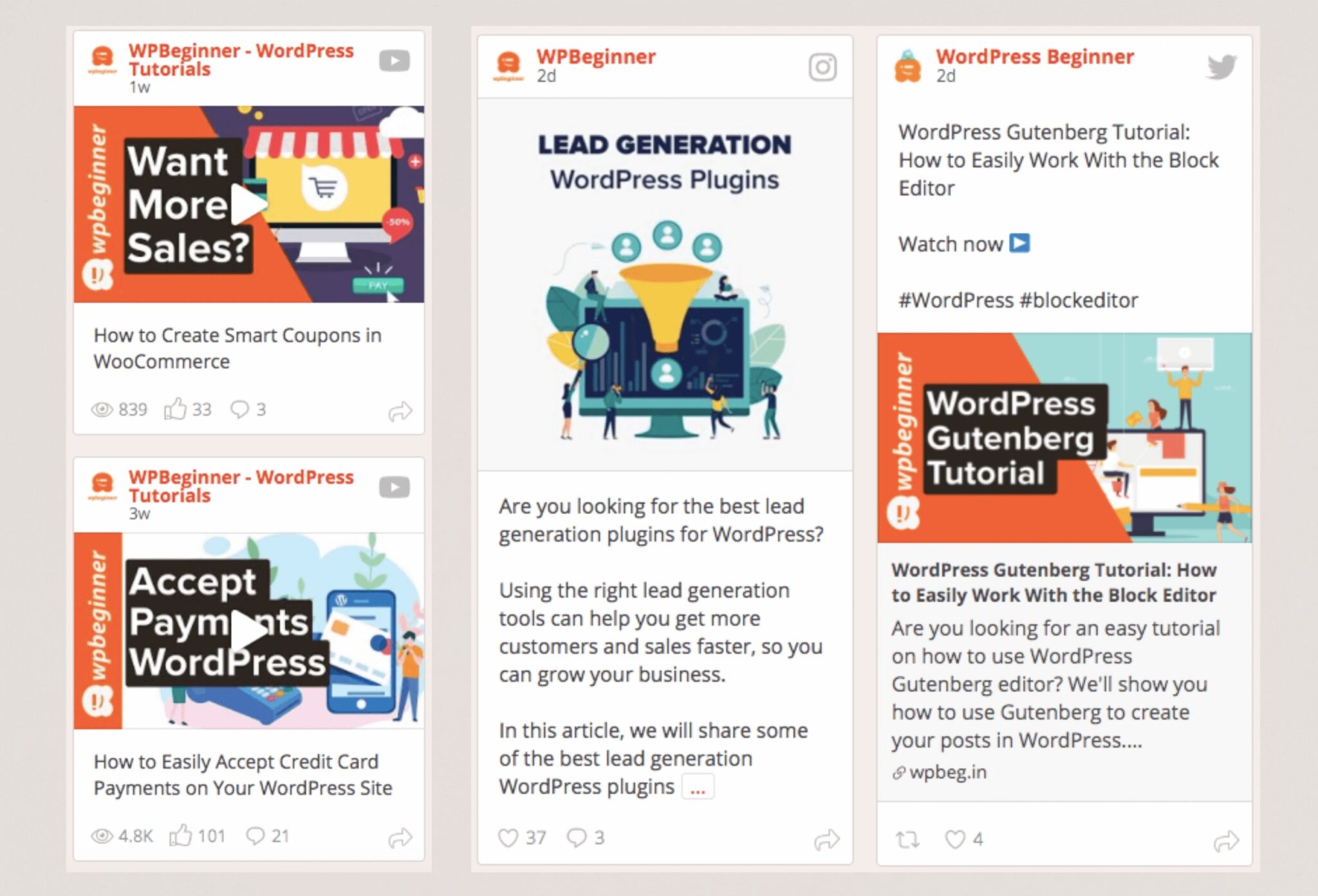 Why You Should Use a Social Media Aggregator
Now that you know what a social media aggregator is, it's time to talk about why you absolutely need to use it for your business' website.
When you use a social media aggregator to cross-promote your social media content on your website, you get to show off your posts to all your website visitors. As a result, you can:
Establish brand awareness by providing real-time social media posts to your users
Encourage visitors to stay longer on your website, since they can check out your posts right on your website
Show positive social proof about your brand so you can encourage visitors to buy from you
Display user-generated content (UGC) which helps improve your brand reputation and convince customers to become your brand ambassadors
Improve your website's search rankings by boosting your SEO
With these in mind, you may be asking yourself, "What's the best social media aggregator?"
For us to answer this, let's talk about the types of social media aggregators first.
5 Types of Social Media Aggregators
You can use a social media aggregator to collect content from a single social network like Instagram.
Or, you can also let it curate social media content from multiple social networks like Facebook, Instagram, YouTube and Twitter.
Here are 5 different types of social media aggregators that you can use on your website:
1. Facebook Aggregator
Want to show your Facebook posts on your website?
Then, a Facebook aggregator is the right tool for you.
A Facebook aggregator like Facebook Feed Pro helps you show your posts from your Facebook page on your website. Using this plugin, here's an example of a Facebook feed we created in just under 5 minutes: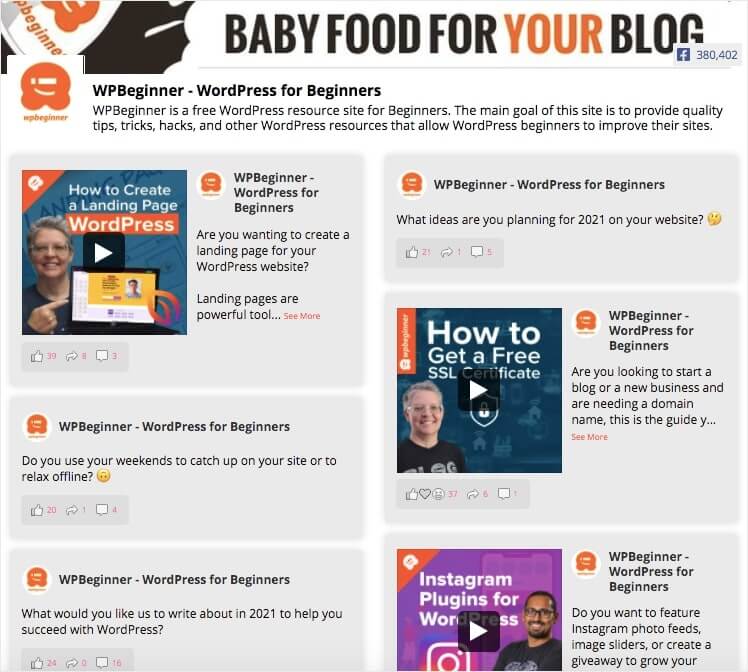 The cool thing about Facebook Feed Pro is that it's not just limited to showing Facebook posts from your page. It can also display Facebook photos, videos, albums and even Facebook group feeds on WordPress.
Plus, you can also use this Facebook aggregator if you want to embed a curated feed of Facebook reviews on your website, like this: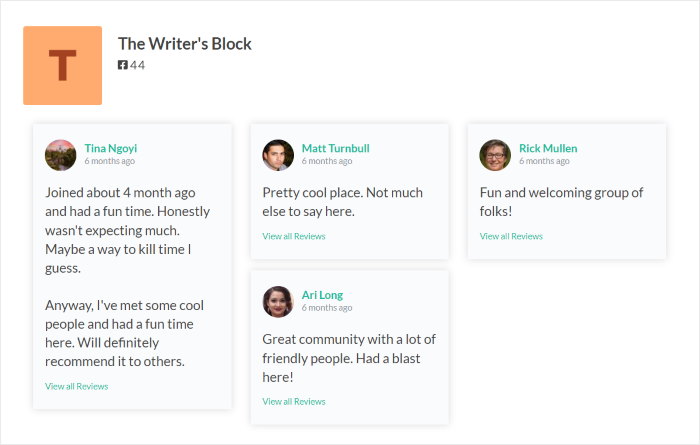 Itching to try this out for your business? You can take a look at this nifty tutorial on how to add a Facebook reviews feed to your website for more details.
2. Instagram Aggregator
An Instagram aggregator collects Instagram posts published on your Instagram profile and organizes them into a unified Instagram feed.
For example, Instagram Feed Pro automatically fetches posts from the Instagram account "landscapeswelove" and curates them into a single Instagram feed that you can display to your WordPress, like this: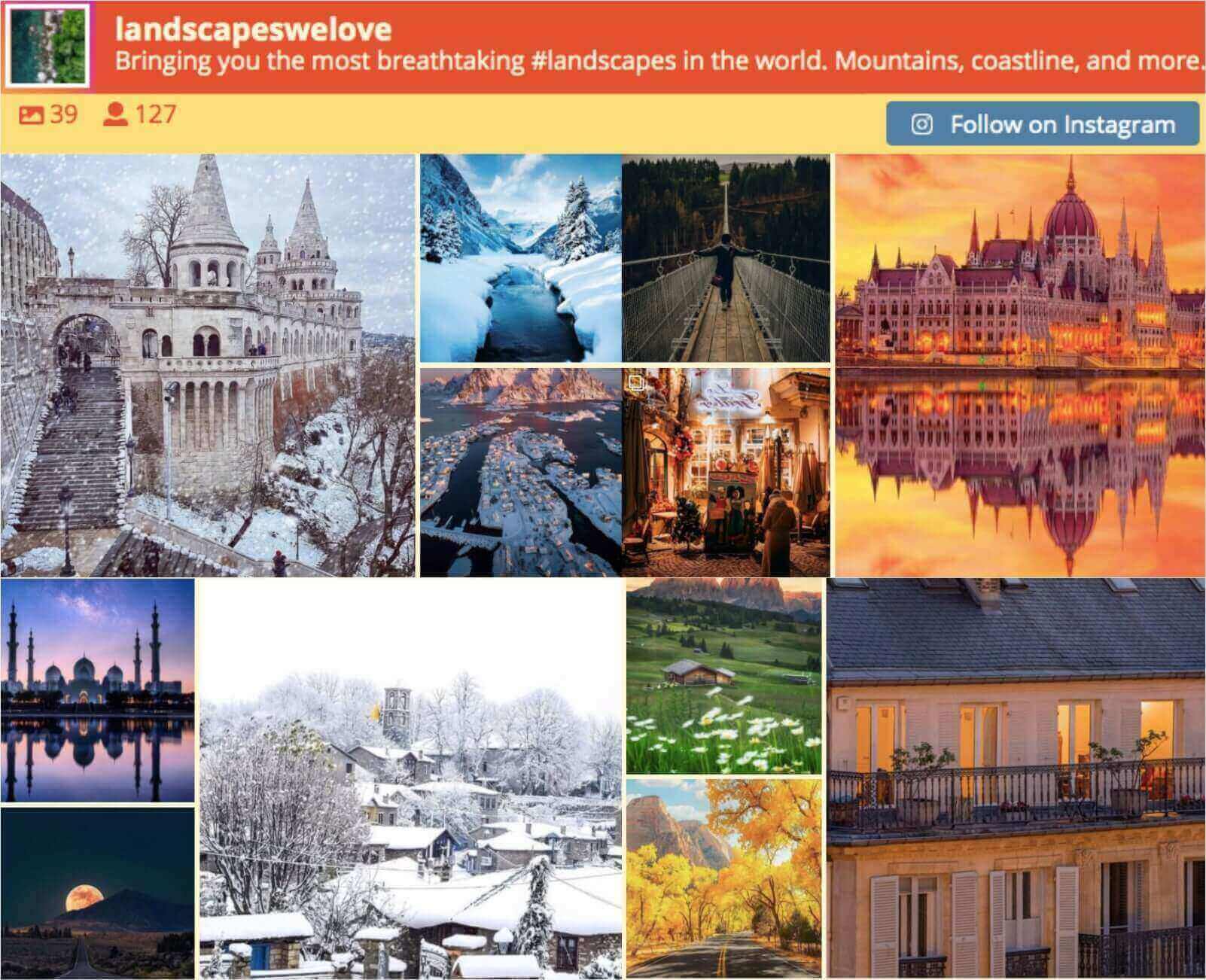 You can also use an Instagram aggregator to set up shoppable Instagram feeds.
In a shoppable Instagram feed, when a user clicks on your Instagram photo, they're directed to the page you want them to go to instead. In this case, you can direct them to your product pages so they can start shopping from you.
Instagram Feed Pro can help you easily set up Instagram shopping on your website.
For example, whenever someone clicks on a post on your embedded Instagram feed, they'll be directed to the URL you put in the post's caption.
As a result, users can go to your product catalog page and buy from you.
Want to do this for your own website? Check out this handy tutorial on how to set up shoppable Instagram feeds on your website.
3. Twitter Aggregator
Another type of social media aggregator, a Twitter aggregator lets you collect your tweets posted on your Twitter profile and organize them into a single Twitter feed that you can embed on your website.
And the best social media aggregator for Twitter?
It's Twitter Feed Pro. This user-friendly WordPress plugin helps you easily customize and display your Twitter feeds on WordPress, like this: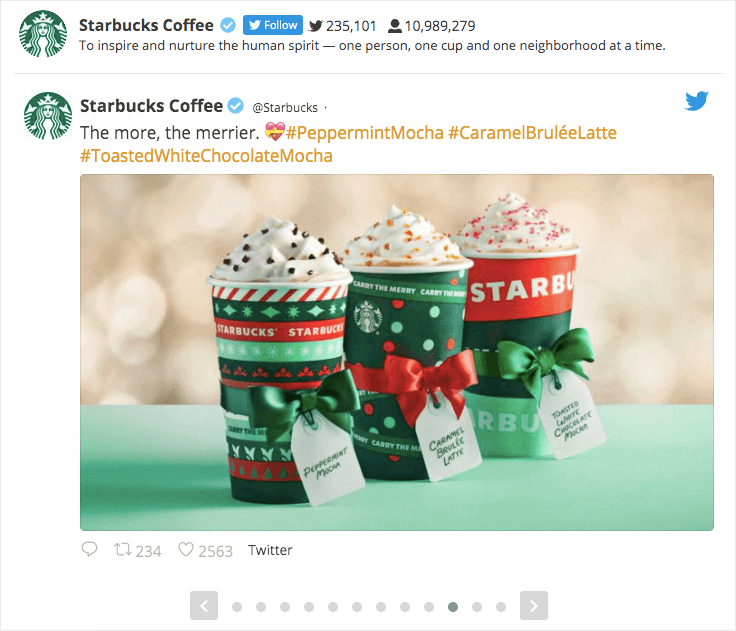 In addition to showing off your personal tweets, Twitter Feed Pro lets you embed your Twitter hashtag feeds as well.
This way, you can show off Twitter testimonials on your website from your happy customers.
And since social proof is proven to boost sales by a whopping 34%, it's a must-have for your website to have it. Especially if you want to increase your revenue and grow your business online.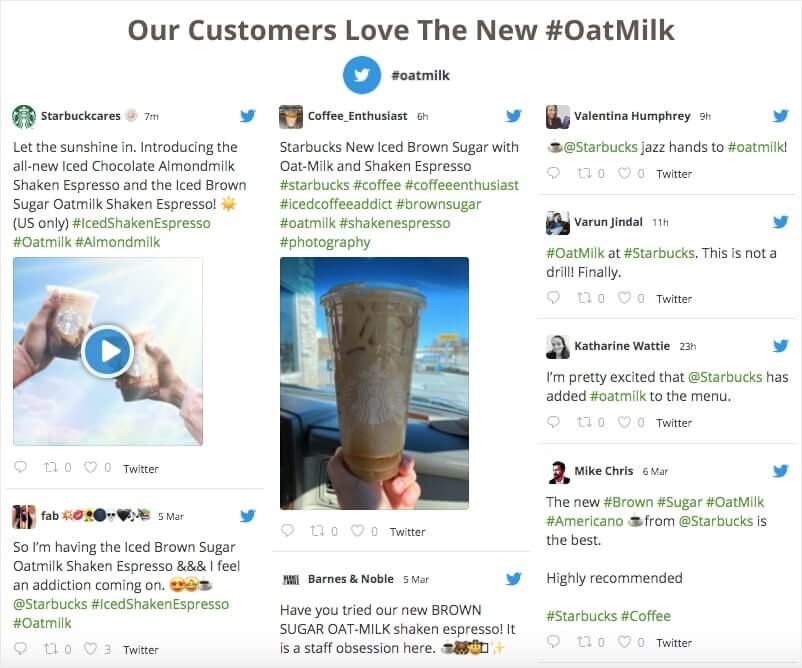 If you want to know how to embed a Twitter hashtag feed on WordPress, check out this newbie-friendly tutorial now.
Also, did you know that Twitter Feed Pro can also collect Twitter posts that mention your username and post these tweets on your website?
Adding your mentions timeline is also a great way to skyrocket your sales.
For example, using this plugin, here's how we created this mentions timeline featuring Smash Balloon, even though we don't have any background in design: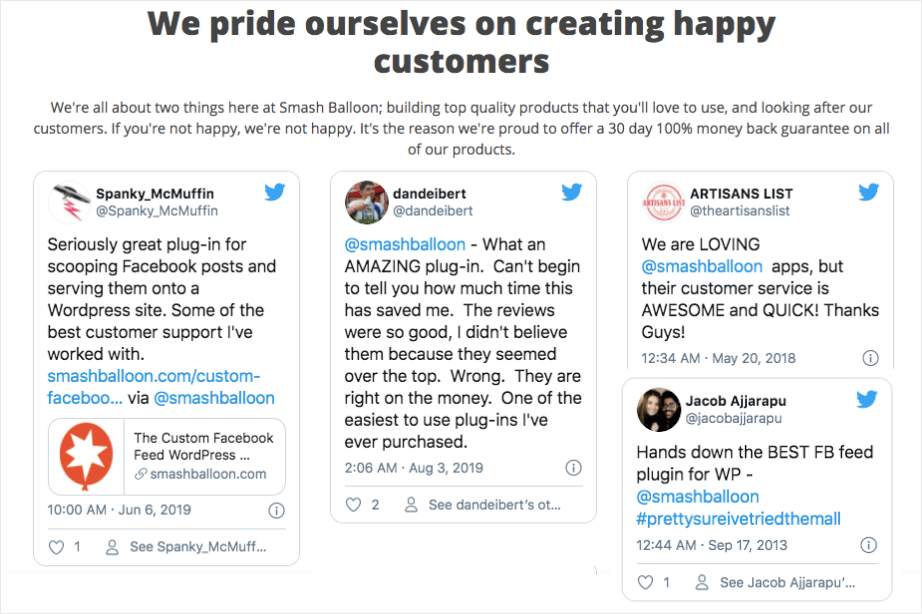 4. YouTube Aggregator
Ever wanted to add multiple YouTube videos to your website?
If yes, then a YouTube aggregator is what you've been looking for.
A top-rated plugin like YouTube Feed Pro helps you fetch your YouTube videos from your channel and organize them in a unified YouTube feed that you can embed on your website.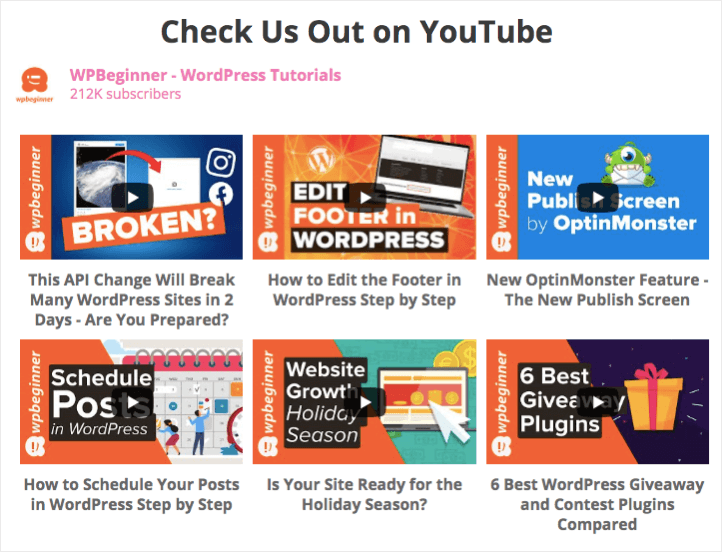 It's such a high-rated plugin because of its lightning-fast performance. Unlike other plugins on the market, YouTube Feed Pro loads the YouTube video player only when your visitor starts to interact with your feed — so it won't negatively affect your page speed and site performance.
And that's not all.
The cool thing about it is this YouTube aggregator can display a feed of your YouTube playlists as well.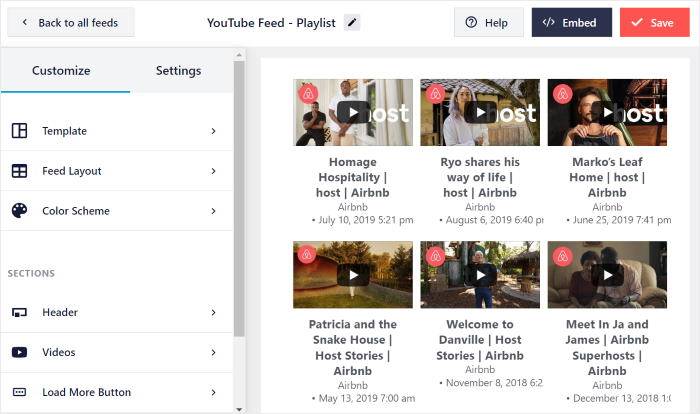 This way, you don't need to manually add your YouTube videos to your playlist anymore. Simply embed your YouTube playlist on your website and let it automatically post your new videos every time you update your playlist on YouTube.
Interested in doing the same for your website? Check out this post on how to embed a YouTube playlist on your WordPress so you can get started.
5. Combined Social Media Aggregator
Finally, what if you want to collect posts from multiple social media accounts and organize these social media posts into 1 feed?
In this case, you need a top social media aggregator like Social Wall to help you.
As the best social media aggregator in WordPress, Social Wall Pro helps you get more followers on not just 1, but 4 social media accounts: Facebook, Instagram, Twitter, and YouTube.
Plus, it comes with 3 beautiful layouts you can choose from to showcase your social media feeds: grid, list, and carousel.
Social Wall is not only powerful, but it's also easy to use. For example, using this plugin, we're able to create, customize and display this unified social media feed in just a few minutes: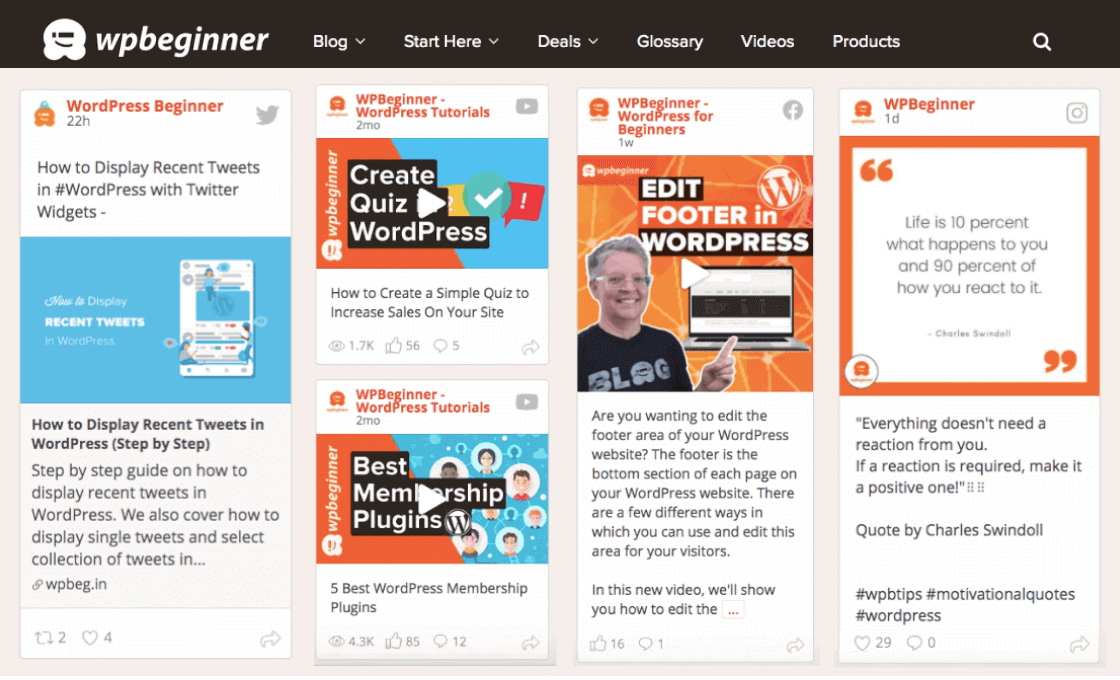 And so, there you have it, folks!
By reading this ultimate guide on social media aggregators, now you know why it's important to use them for your business.
You've also learned the best ways to apply social media aggregators on your website. As a result, you can now use them to boost user engagement, followers, and sales!
Ready to take your business to the next level?
Get Smash Balloon's All Access Bundle right now!
Want step-by-step instructions on how you can embed different social media feeds on WordPress? Check out this next post on how to add social feeds to your website.
Interested in dominating social media marketing? Here are the best tips to improve your social media marketing.
And don't forget to follow us on Twitter and Facebook for more social media tips and tricks to grow your business.