After releasing a massive update for Social Wall Pro recently, we're kicking things off with another surprise.
We're thrilled to announce that after a lot of hard work, we're finally releasing our newest forever-free plugin – Reviews Feed!
As the lite version of Reviews Feed Pro, the fastest-growing review aggregator in the market, Reviews Feed helps you embed beautiful review feeds from the biggest platforms.
You can then build customer trust, get tons of new sales, and grow your business with ease. To make this super easy, we're bringing you features like:
Support for Trusted Platforms: Embed reviews from 2 of the biggest reviews sites – Google and Yelp
Simple Dashboard: Easily manage your review feeds 
3-Step Feed Creation: Follow the guided flow to create your review feeds in a few simple clicks
Visual Customizer: Personalize your review feeds with the user-friendly visual customizer
Lightning Fast: Embed as many reviews as you want while making sure your site loads as fast as ever
Responsive Design: Create review feeds that load perfectly on any screen size and device
We'll explore these features below and see how you can use them to grow your brand in no time.
Show Reviews From Top Platforms
Did you know that you can boost sales by 270% just by displaying reviews from trustworthy sites?
After all, tons of people trust sites like Google and Yelp when they're making purchasing decisions.
But manually embedding reviews can be tricky if you're not used to dealing with code. You'll have to generate the embed code, tweak it, and then insert the code on your website.
The good news?
With the help of Reviews Feed, you can embed reviews from Google and Yelp in just minutes – no need to touch a single line of code!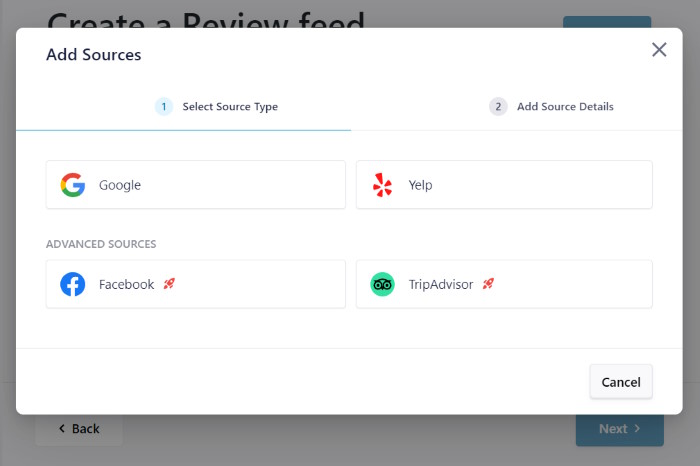 As a result, you can show positive reviews from 2 of the biggest platforms out there and start converting visitors into customers.
What's more, your reviews feed comes with a handy Write a Review button that visitors can use to leave new reviews.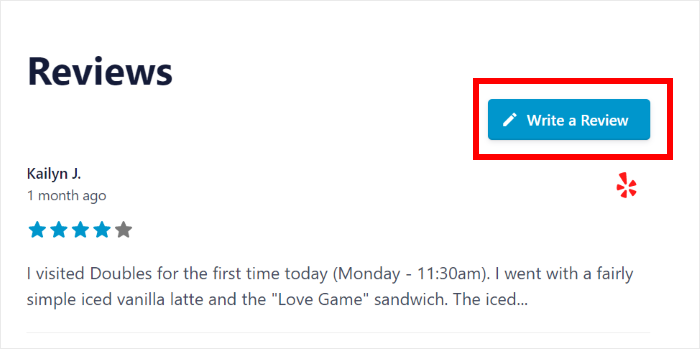 If you want to take things a step further and convert even more visitors into customers, you can upgrade to Reviews Feed Pro at any time.
Using this pro version of Reviews Feed, you can display customer reviews from 4 platforms: Google, Yelp, Tripadvisor, and Facebook as well!
With reviews from all these trusted platforms, you'll have an easy time convincing website visitors to do business with you.
Simple Way to Create and Manage Review Feeds
In the past, you had to manually handle HTML embed codes or iFrames just to display reviews on your site.
But with Reviews Feed, there's now a much easier way to embed reviews without dealing with code.
Create Review Feeds With Guided Flow
Before, you had to generate embed code snippets for each review and manually add them to your WordPress site.
Since you had to manage a lot of embed code snippets, tweak them, and go back and forth between two sites, this took a lot of time and effort.
To make this super easy, the free Reviews Feed plugin comes with a simple 3-step guided flow that you can follow.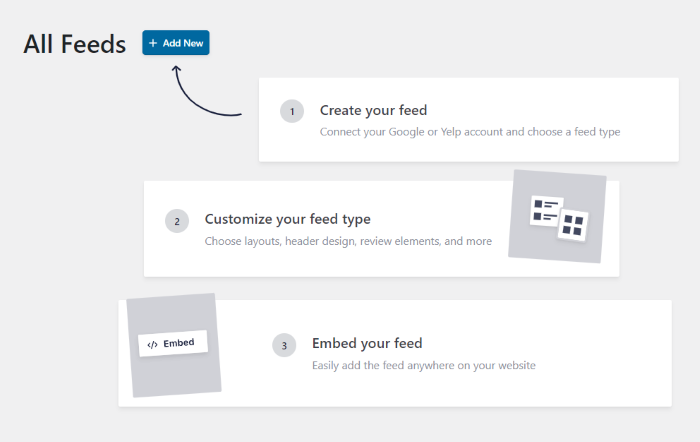 All you have to do is follow this guided flow, and it'll take you through these steps:
Step 1: Choose a reviews feed type and connect your account
Step 2: Set your layouts, header design, and other design options
Step 3: Add the review feed to your website
Since the plugin has a user-friendly layout, clearly readable font, and plenty of whitespace, you'll have an easy time following the guided flow.
In just a few simple clicks, you can create, customize, and embed engaging review feeds on your website.
Manage Your Review Feeds From One Place
By tracking your review feeds, you can check how effective they are at converting visitors into customers.
And with the Reviews Feed plugin, it's easier than ever to keep track of all the reviews that you've embedded.
If you check the All Feeds dashboard, you can find your review feeds listed for you.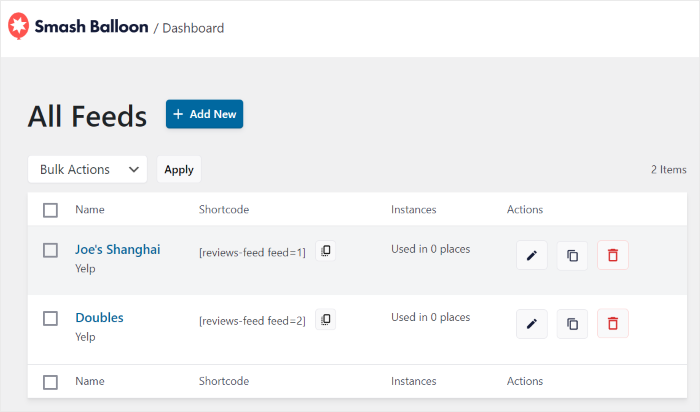 What's more, you can directly start managing your review feeds with actions, such as:
Edit your review feeds individually using the simple visual customizer
Duplicate a specific feed and use its design as a template for your new feed
Delete all the review feeds that you don't need on your site anymore
Copy Shortcode of a review feed and manually insert it anywhere on your site
View Instances to see all the places you've embedded each review feed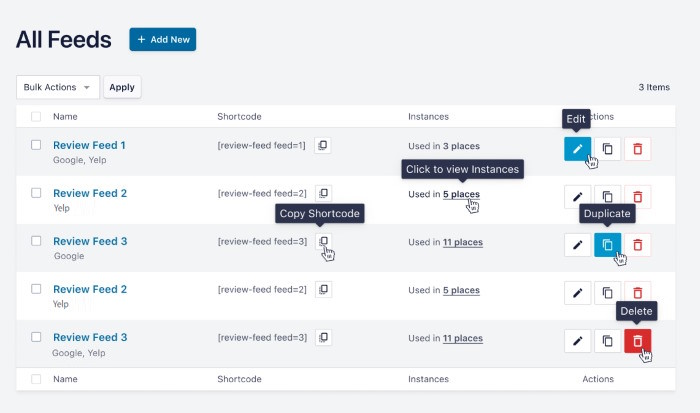 As you can see, the free Reviews Feed plugin makes it super easy to manage all of your review feeds with ease – even if you're new to WordPress.
What's more, you can edit any of your feeds individually. With this handy feature, you'll be able to:
Highlight convincing reviews from high-profile customers on your homepage to build trust in your brand
Show highly-rated reviews as a sidebar widget and start converting your website visitors easily
Create separate review feeds for different product pages and show that real people are enjoying your products
User-friendly Review Feed Customization
With the help of the Reviews Feed free plugin, it's now super easy to personalize the design of your review feeds – absolutely no coding or design experience needed.
Easily Design Review Feeds With Visual Customizer
In the past, customizing your reviews meant manually editing each platform's embed code before inserting the code into your website.
Since this was so complicated and time-consuming, we wanted to give you an easier way to customize your review feeds.
After you create your reviews feed, the plugin will automatically copy your website's design. If you embed your feed now, it'll automatically match your branding perfectly.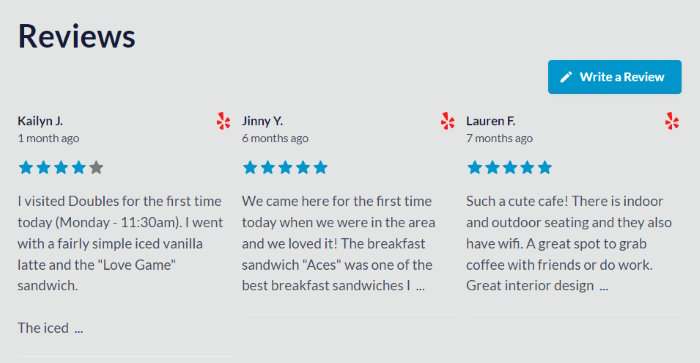 On top of that, you get tons of customization options that can help you create review feeds that fit your needs.
Instead of editing code or spending money on a developer, you can use Review Feed's built-in visual customizer to design your review feeds with just a few clicks.
Just use the customization options on the left to change the design of your review feed. Plus, the live preview on the right will let you track your changes in real time.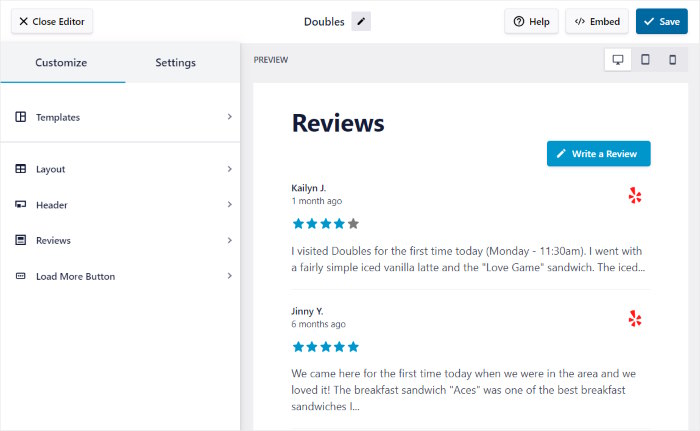 In fact, you can even use layout options to change how the reviews will show up on your feed.
With the free version, Reviews Feed, there are 2 layouts that you can choose from: List and Masonry.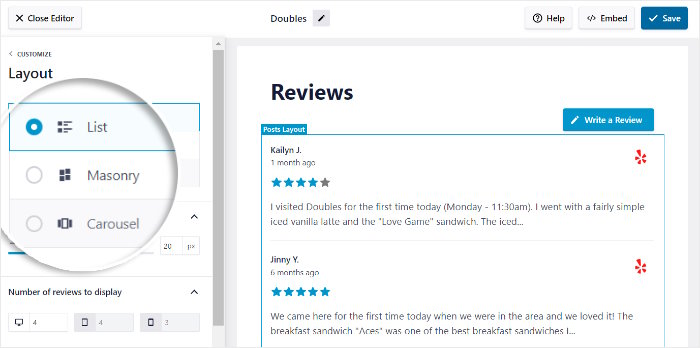 Using the List layout, you can display your reviews in a single full-width column, so each review takes more space on your page. For instance, you can use it to clearly show long-form reviews where your dedicated customers talk in length about your brand.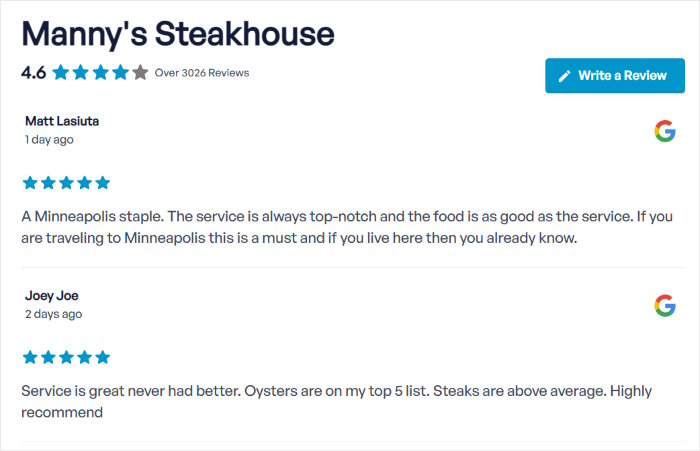 This helps your website visitors have an easy time reading the review and gaining a better understanding of your brand and products.
Next, you have the Masonry layout, which shows your reviews in multiple columns. Since you can display tons of reviews at once this way, you can show your website visitors that you've got a large user base of happy customers.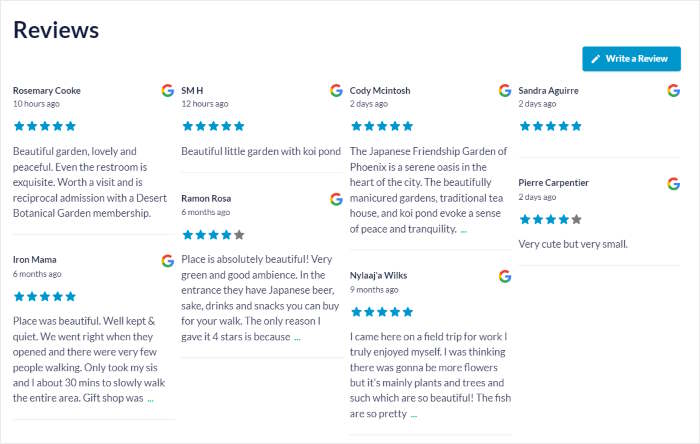 Displaying positive social proof on your website lets you have an easier time converting your site visitors into customers for your business.
On top of the layout options, you can also change your review feed's header design, review elements, post style, and more.
Want even more control over your review feeds?
You can upgrade to Reviews Feed Pro to get access to more customization options, including a carousel layout, button design options, review image style, and more.
What's more, the premium version makes customization even easier. The free Reviews Feed plugin comes with one default template when personalizing your feed, while the premium version gives you instant access to a total of 7 ready-made feed templates.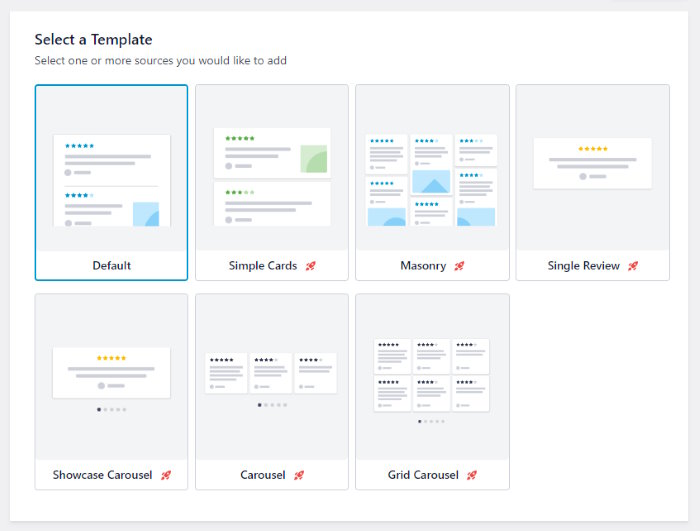 The best part is that the pro version gives you total control over the reviews that show up on your feed. In fact, when you upgrade to Reviews Feed Pro, you can:
Filter your reviews by star rating so only reviews with your chosen rating will show up on your feed
Add filters to ban certain words or only display reviews with your specified keyword so you can hide low-quality reviews, spam, or troll reviews
Moderate your reviews feed with just a few clicks to hide specific reviews or only show your selected reviews
Combine Different Sources for a Single Review Feed
Using the free Reviews Feed plugin's visual customizer, you can even combine reviews from different sources into a single feed.
Simply click on the Settings tab and then select the Sources button.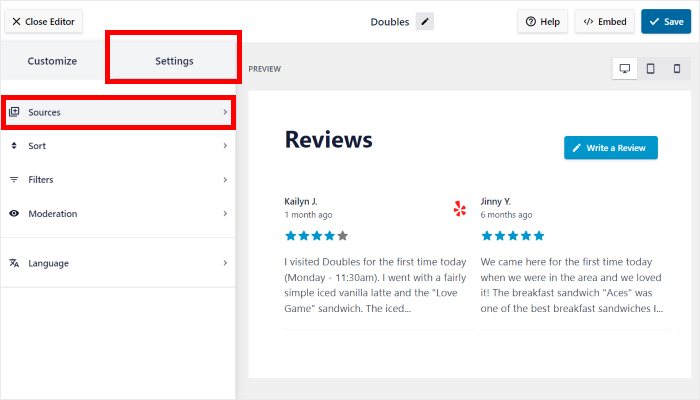 After that, you can add tons of Google listings and Yelp business pages whose reviews you'd like to display.
Similar to the guided flow, you can connect your feed to new sources in just a few simple clicks – it's that easy.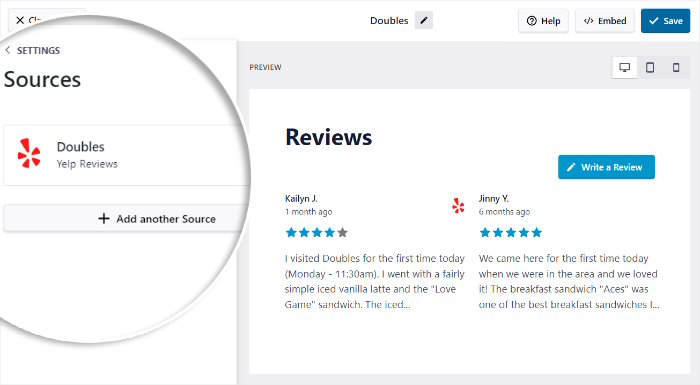 By displaying both Google and Yelp reviews on your WordPress site, you can show your visitors that your brand has positive reception on both of the top review sites. It's a great way to boost people's trust in your brand and get more sales – no design experience needed.
Responsive Design With Mobile Preview
Fun fact: 60.67% of website visitors will be using their phones when visiting your site.
With so many potential customers using their mobile devices, it's more important than ever to create review feeds that work on all screen sizes.
The good news is that Reviews Feed will automatically make all of your review feeds mobile-friendly.
What's more, you can even check how your feed will look on different screens directly from the visual customizer.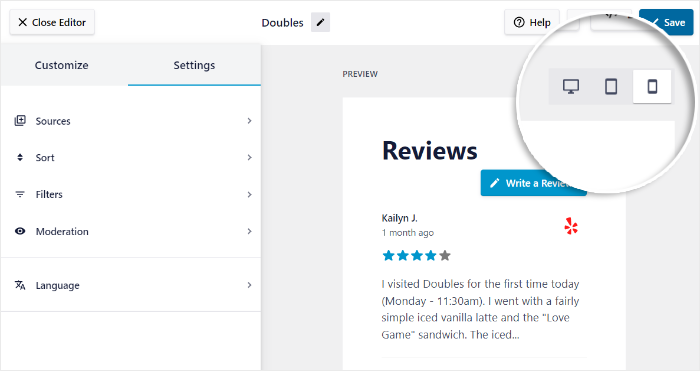 You can then make sure your review feeds will look beautiful on any screen size and device. It's another great way Reviews Feed can help you create a great impression of your brand and get more sales, no matter what device your customers are using when accessing your site.
Quickly Embed Review Feeds
Once you're happy with how your reviews feed looks, you can embed it on your website in just seconds. From your visual feed customizer, simply click on the Embed button at the top.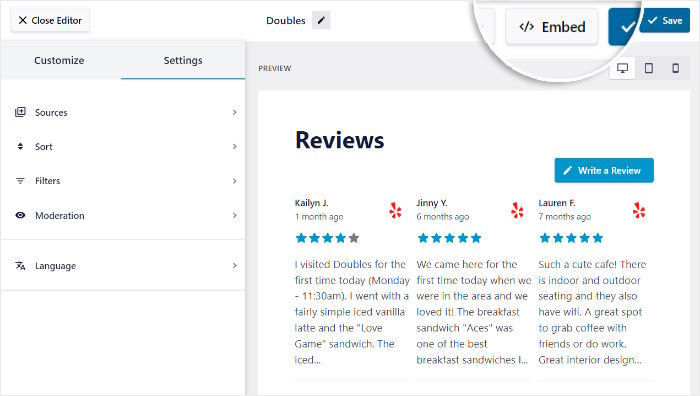 Doing that will open the embed options for your feed. From here, you can choose to embed your reviews feed on a WordPress page or a widget-ready area.
As a bonus, you can even copy the shortcode and directly add the reviews feed to any part of your WordPress site.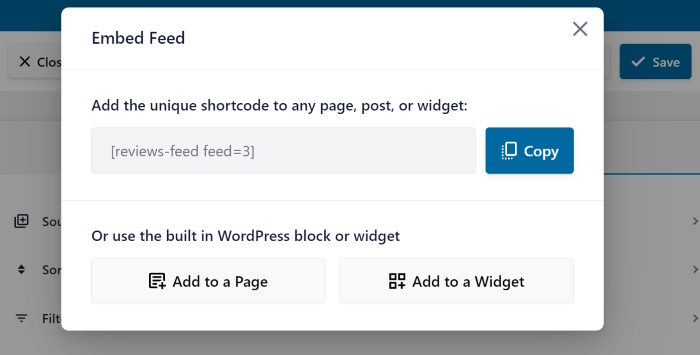 Once you select where you want to embed your reviews feed, the plugin will automatically redirect you. To finish embedding your reviews feed, just add the convenient Reviews Feed block to your post, page, sidebar, or footer area.
With easy embed options for your review feeds, you can quickly:
Add informative Yelp reviews to your "About Us" page and encourage visitors to buy from you
Show Google reviews of your online store on the sidebar to grab people's attention and highlight your best products
Display glowing reviews from Yelp and Google on your store's "Checkout" page for an easy way to boost sales
How Do I Install Smash Balloon Reviews Feed Free Version?
Want to try out our new Reviews Feed plugin for free?
Great! All you need is a WordPress website, and you can start using the plugin right away. Don't forget to make sure you're using WordPress.org and not WordPress.com.
In case you don't know the difference, you can check out our helpful guide on WordPress.org vs WordPress.com here.
Follow the step-by-step instructions below to add the free Reviews Feed plugin to your website:
Step 1: Download the Reviews Feed Plugin
To grab your copy of the plugin, visit the Reviews Feed plugin in the WordPress repository here and click on the Download.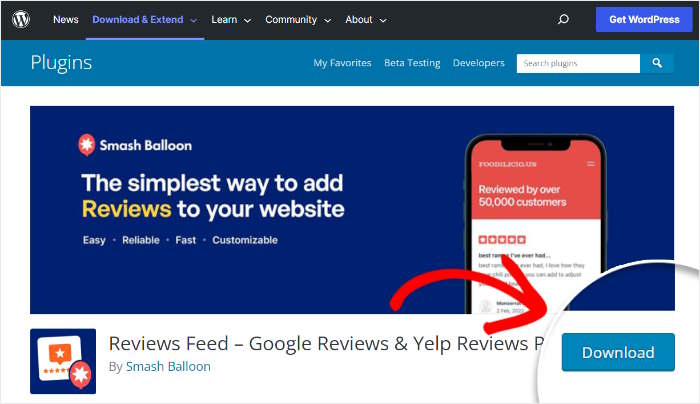 Doing that will save the plugin as a .zip file on your computer.
In the next step, you can upload this file to your WordPress website and install the plugin.
Step 2: Upload Reviews Feed to Your WordPress Site
Now that you have the plugin file, simply open your WordPress website to proceed.
From your WordPress dashboard area, navigate to the Plugins » Add New menu to start installing a new plugin.
On that page, click on the Upload Plugin button at the top.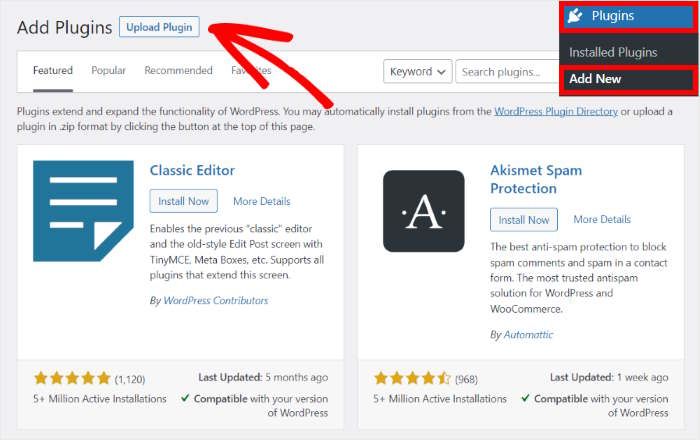 Clicking on that will reveal a new section where you can upload new plugins to your website.
First, click on the Choose File button and then select the .zip file that you downloaded in the last step. Next, you can just click on the Install Now button.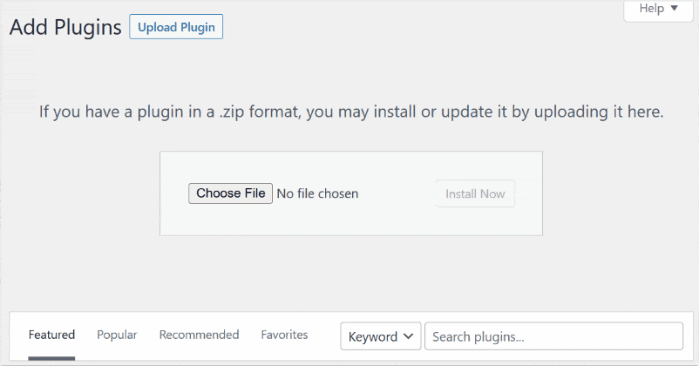 Just wait a few seconds, and WordPress will automatically install the plugin for you – it's that simple.
Step 3: Activate the Smash Balloon Reviews Feed Plugin
Once Reviews Feed has been installed, click on the Activate Plugin button.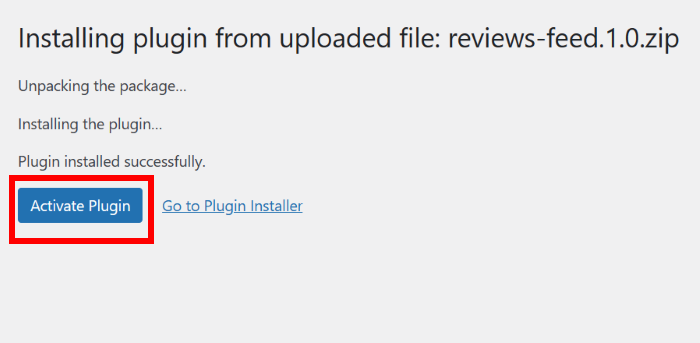 With that, you can start using your new plugin to create new review feeds on your WordPress website.
To do that, navigate to the Reviews Feed menu from your WordPress dashboard and click on the Add New button.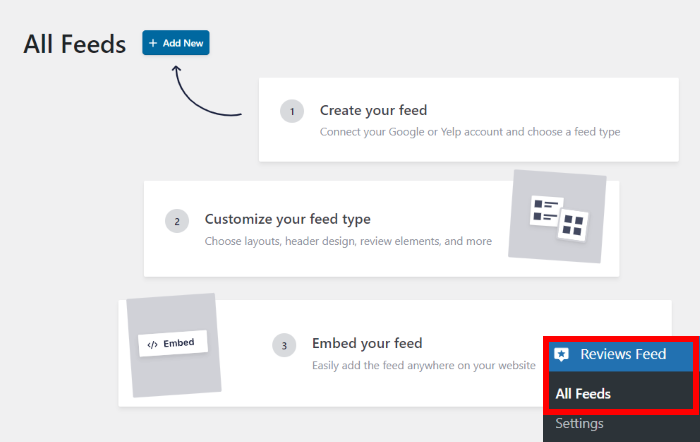 You can then follow the simple guided flow and create beautiful review feeds with ease.
Try Reviews Feed Today
And that's it for this update! As you can see, we've packed a ton of useful features in this 100% free Reviews Feed plugin.
On behalf of the whole Smash Balloon team, we'd like to sincerely thank you guys for giving us a chance. Not everyone is lucky enough to have such an amazing community, after all.
We're really proud of the hard work we've put into this plugin, and we can't wait to see you grow your business with engaging review feeds.
Ready to check out these features for yourself? Get your copy of this FREE plugin here!
If you want access to advanced features such as:
Support for 4 review platforms: Google, Yelp, Facebook, and Tripadvisor
Dedicated support team of WordPress experts who are always ready to help
Filter your reviews by star rating and remove reviews with banned words
Moderate your feed to highlight specific reviews or hide low-quality reviews
Pre-built feed templates with unique designs that you can import in a single click
With all these features and more, the premium version of Reviews Feed has got you covered.
Get Reviews Feed Pro for your business today!
Keep your eyes peeled for more updates in the future. As always, a massive thank you to you guys for supporting Smash Balloon and inspiring us to make the best social media feed plugins in the market.