At Smash Balloon, we're constantly improving our plugins to give you a better user experience.
Just 1 week ago after our huge announcement, we're back with the newest update for Custom Facebook Feed Pro.
After listening to your feedback, we've added a feature that changes how you create and customize your Facebook feeds.
We're proud to introduce Feed Templates for our Custom Facebook Feed Pro plugin.
With the help of these convenient Facebook feed templates, you can now:
Create engaging Facebook feeds with just a few clicks
Save time on customization by picking a template instead
Embed lots of Facebook feeds with unique designs on your site
And much more!
Let's check out how this newest feature can help you build better Facebook feeds to boost your followers and grow your business.
Brand New Feed Templates for Facebook
We've revamped the way you create and customize your Facebook feeds and made it even easier.
Before this update, you customized your Facebook feeds from scratch. Since you started from the same default look, creating unique feeds meant spending time on customization.
Now, with our new feed templates, it's faster as well as simpler.
With just a few clicks, you can use a premade feed template and instantly have a beautiful Facebook feed ready to go. No need to hire a designer to customize your feeds for you.
Plus, there are lots of different feed templates to help you create unique Facebook feeds that perfectly match your brand and business goals.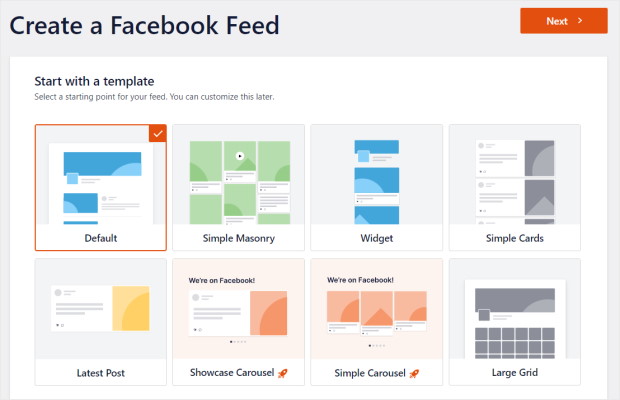 In this update, we're bringing you 8 new Facebook feed templates for your website.
Default Template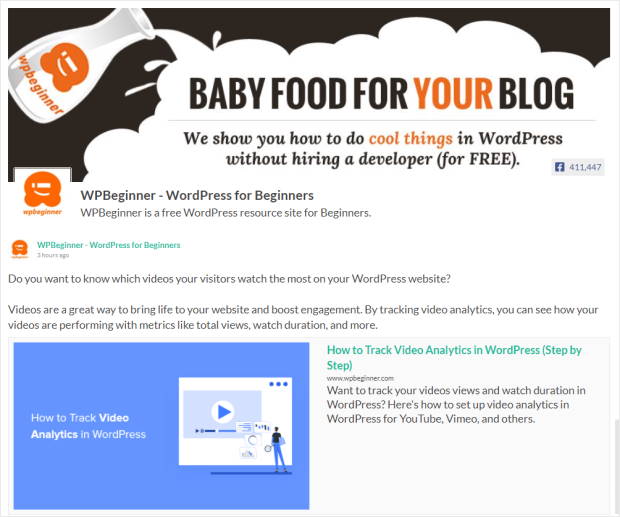 The first option is the classic look where each Facebook post gets a lot of space on the page. With this template, you also get a wide cover photo where you can show your branding.
If you want to embed an events calendar where each event's details are clearly visible, this template can be a great option.
Simple Masonry Template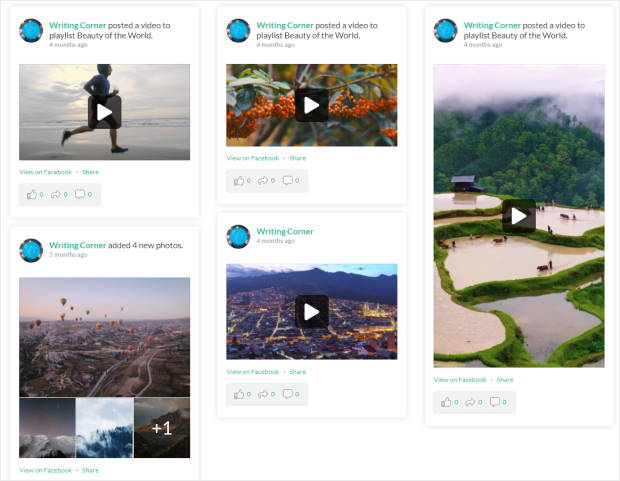 With the masonry template, you can show tons of Facebook posts in different columns at once.
Did you know that photos get 120% more engagement than text content?
That's why we've created the masonry template to help you embed photos and videos from Facebook with just a few clicks.
If you want to embed relevant product photos on your site to keep visitors engaged, you can use this template.
Widget Template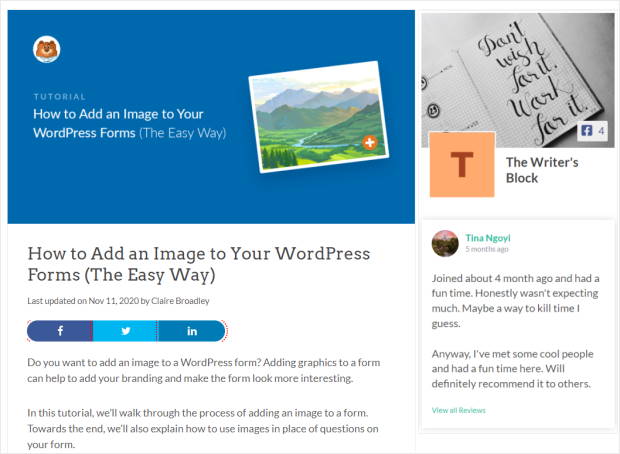 To help you create Facebook feeds that perfectly fit the widget-ready areas of your site, you've got the widget template.
With its compact style, you can easily add it to your sidebar or footer. This way, your visitors can see your Facebook feeds, no matter what page they're on your site.
Here's something interesting: 63% of customers are more likely to buy from a site that has user reviews.
If you want to easily boost your conversions, you can use this template to show Facebook reviews on your product pages.
Simple Cards Template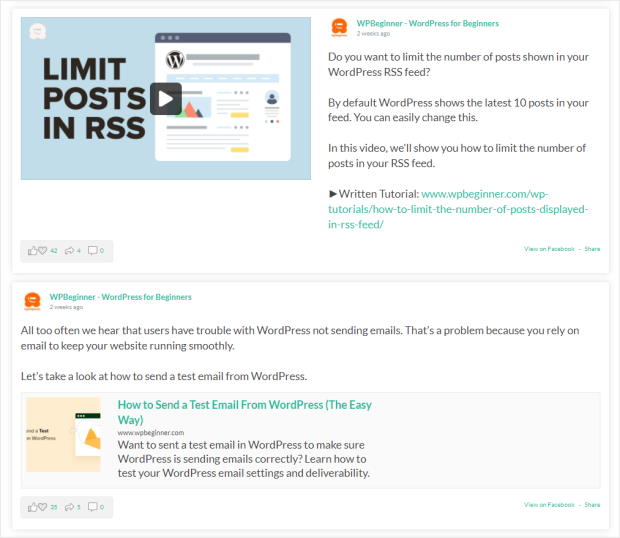 The simple cards template comes with a clean and minimal design that uses cards to show your Facebook posts.
If you want to embed Facebook posts without taking all the space on a page, this can be a great option.
You can use this template to show posts from your Facebook group on the "Contact Us" page of your site.
It's a fantastic way to promote your Facebook group and grow your brand's social media presence in just a few clicks.
Large Grid Template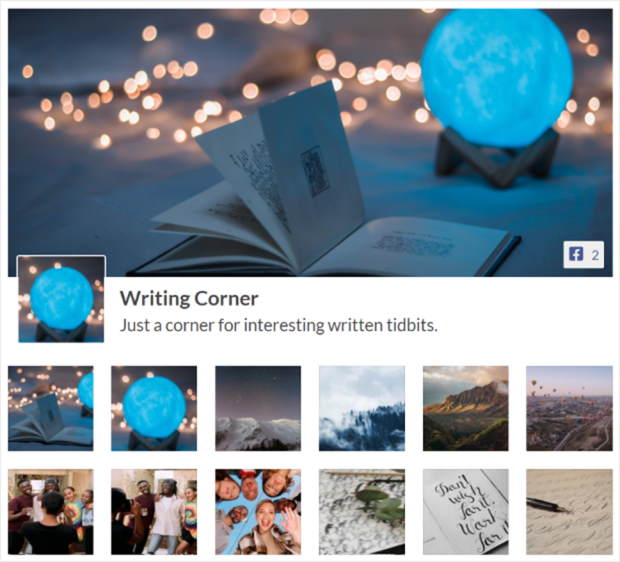 For the large grid template, you have a cover photo and a grid that can show your photos and videos in rows and columns.
Did you know that 68% of people will rather watch videos to learn about products or services instead of looking at articles, infographics, presentations, or ebooks?
That's where using the large grid template comes in handy.
If you have a "Tutorial" page on your website, you can use this template to easily show tons of informative Facebook videos to help your visitors find the answers they're looking for.
Latest Post or Single Photo Template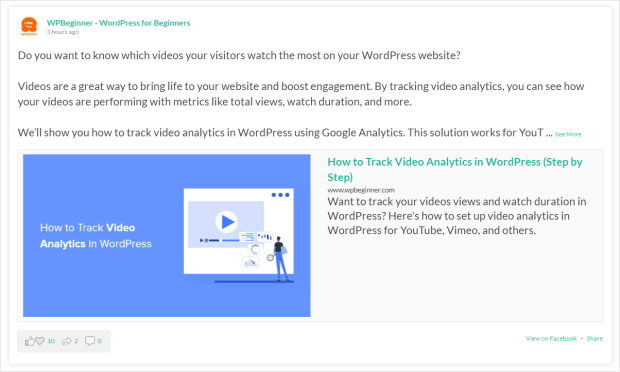 Using this feed template, you can put the complete focus on a single Facebook post or photo.
Looking for a way to highlight an important news or announcement, such as product launches or limited-time promotions?
Grab this template and you can use it to show the Facebook post you want.
You can also use the single photo template to get tons of interactions on your best photograph.
Showcase Carousel Template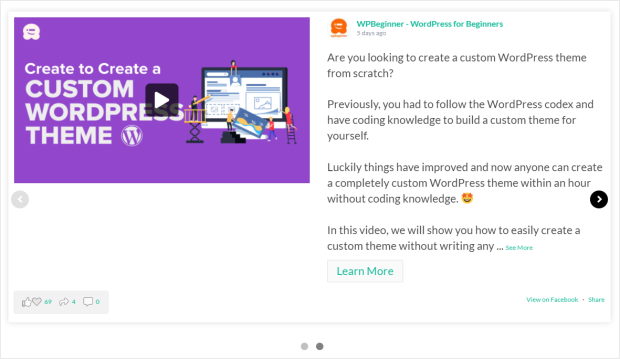 If you pick this template, your Facebook posts will appear in a beautiful carousel slider that immediately grabs people's attention.
Since each post gets the entire space on the carousel, your Facebook content will be clearly visible.
Want to bring more focus on your best products?
Highlight the products using a showcase carousel so visitors can easily check them out and make a purchase.
Simple Carousel Template

Finally, you have the simple carousel template that comes with a minimal design. It's a great choice if you want to show lots of posts without taking up a lot of space on the screen.
If you have an "About Us" page, you can also use a simple carousel to show engaging photos of your team or products.
As you can see, each template is perfectly suited for a different type of Facebook feed. It's now faster and much easier to show Facebook content in lots of different ways – no coding needed.
With the help of Facebook feed templates, you can easily keep visitors interested, get tons of interactions, and boost your conversions so you can grow your business.
The best part? Using a feed template is as simple as clicking on it.
Once you pick the source for your Facebook feed, the plugin will ask you which feed template you want to use.
All you have to do is select the feed template here and then click on Next.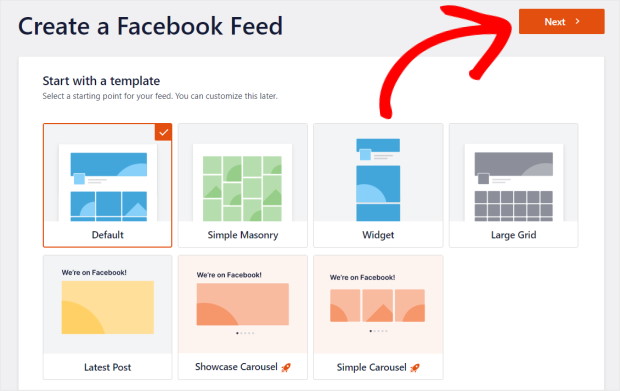 Just like that, you've selected the template for your Facebook feed.
Plus, you can still use the feed customizer with live preview just like before if you want to change how your feed looks.
In fact, you can even change your feed template directly from the plugin's feed editor.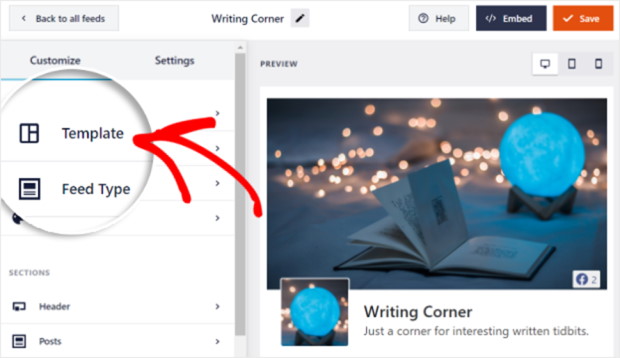 With these templates, you now have a headstart that'll make customization much faster.
And that's all we have for now. We've got a lot more planned for the future, so remember to keep an eye out.
You can read our documentation here for more details on using Facebook feed templates.
Have any questions? You can reach our customer support team here and they'll be happy to help you out.
If you're not using Custom Facebook Feed Pro yet, just click here to get started today!
It's the best Facebook feed plugin in the market and we're making it even better with each update.
As always, a huge thank you for your continued support. We have tons of features and updates planned for all the Smash Balloon plugins, so make sure to follow us on Facebook and Twitter to keep up with the latest updates.