Can't decide if Smash Balloon is a good SociableKIT alternative? Then you've come to the right place.
When it comes to integrating social media into your site, Smash Balloon and SociableKIT are both popular options. After all, both options let you display social media feeds on your website.
However, there are some pretty significant differences between them. So if you want to choose the right one to help you with your social media marketing, then we've got you covered.
Here, we'll be comparing these two popular social media feed plugins in this post so you can decide which one will work best for your business needs.
Smash Balloon vs SociableKIT
To see how two social media aggregators measure up to each other, we'll use the following criteria:
With that, let's get started!
Brief Overview
First of all, let's take a step back and try to understand where both of them came from and what they offer.
Smash Balloon
Developed in 2013, Smash Balloon is a collection of 5 different plugins that help people integrate their website with various social media platforms.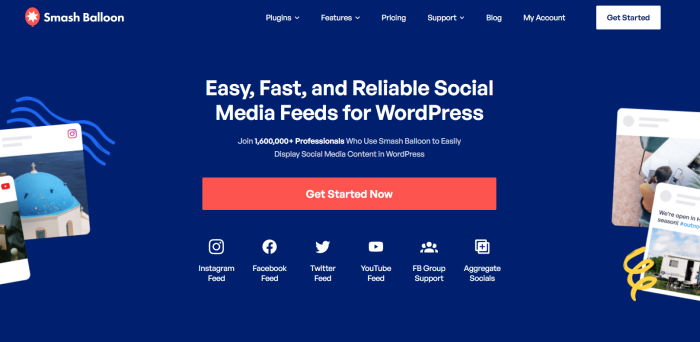 Today, it powers 1,750,000+ websites all over the globe. With its user-friendly interface and powerful set of features, just about anyone can get started with Smash Balloon.
As a result, Smash Balloon is the #1 social media aggregate plugin in the market right now and a popular SociableKIT alternative.
With it, you can add Facebook, YouTube, Twitter, and Instagram feeds to your WordPress website in just a few clicks.
As the best suite of social media feed plugins, Smash Balloon plugins are trusted by the world's biggest brands to display social content on their sites: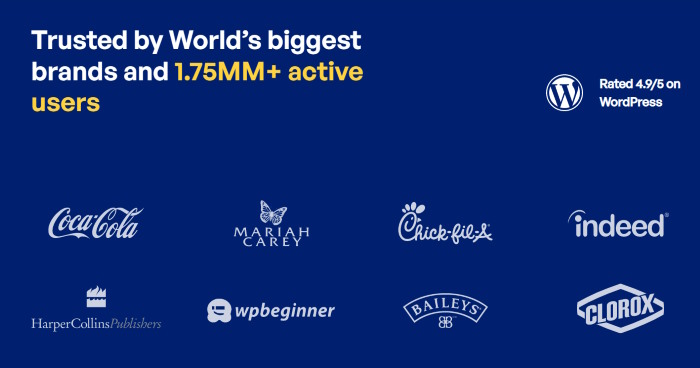 With that, let's go ahead and give you an introduction to SociableKIT.
SociableKIT
SociableKIT is a website plugin created to help businesses make the most of social media. With it, users can display social media content on their websites.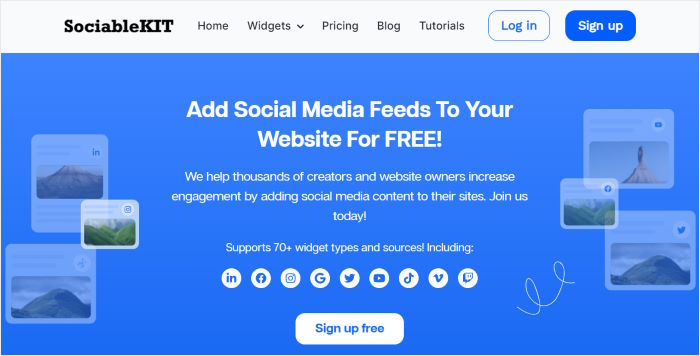 The story of this plugin began in 2014 under the name of Display Social Media. At the time, it provided a simple way for people to create social media feeds that matched their brand.
Another plus point was that it kept things beginner-friendly and required no coding, similar to Smash Balloon plugins.
No need for the user to worry about complicated things like the API. Like Smash Balloon, SociableKIT would handle everything behind-the-scenes for the user.
Today, it's one of the most popular social media solutions out there.
Features
With that out of the way, let's see how they compete with each other. First, let's see what both of them have when it comes to features.
Smash Balloon
One big plus point for Smash Balloon is that it comes with many great features while still being user-friendly. Here are some of its highlights.
Easy Setup
If you want to add Smash Balloon to your website, then it takes just a few clicks. There's no need to mess around with codes or anything complex.
As a result, you won't have issues using the plugins, even if you're a WordPress beginner.
Smart Feed Caching and Backup
Worried about the social media feeds slowing your site down? Well, Smash Balloon takes care of that as well.
With this feature, your website doesn't need to collect data from social media sites all the time. So, it doesn't use a lot of processing power and keeps everything snappy. This way, your social feeds load as fast as possible on your website.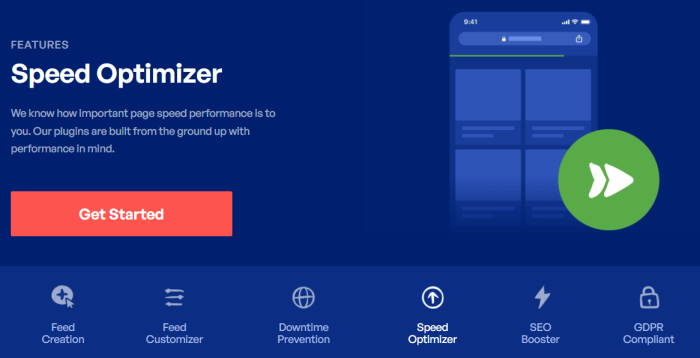 As a nice bonus, it also keeps your social media feeds running even if the social media platform temporarily goes down.
Multiple Feed Support
Smash Balloon doesn't restrict you when it comes to adding your social feeds. In fact, you can embed multiple social media feeds as you like to your website.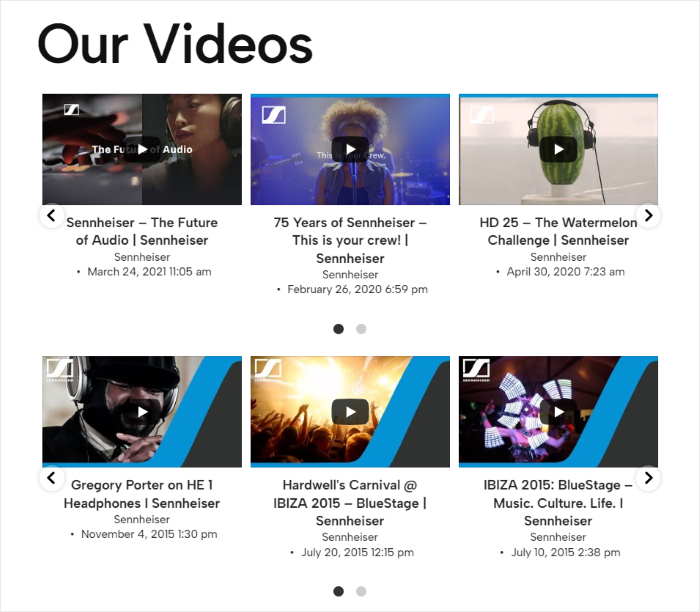 There's a lot of variety as well. Using Smash Balloon plugins, you can display different types of feeds from Facebook, YouTube, Twitter, and Instagram, such as:
Photo, Album, and Gallery feeds
Video feeds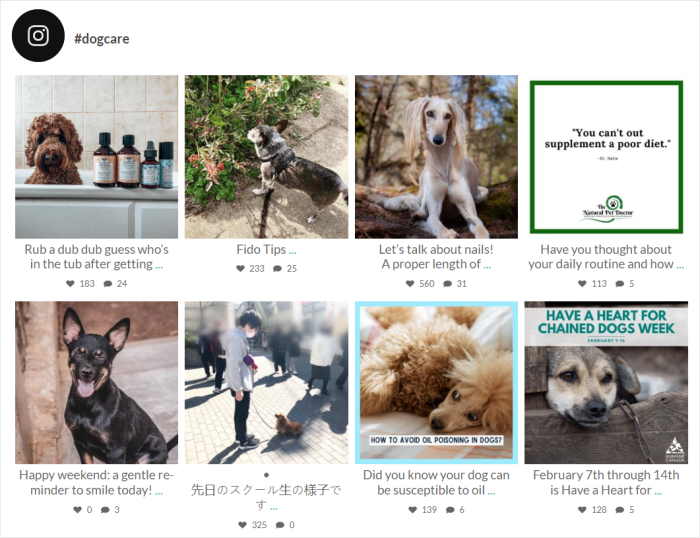 Mentions feed
Instagram stories
and much more.
No iFrames
Many social media aggregators use something called iFrames to show their social media content. That can be a problem — since search engine bots can't read iFrames, they can't use your social content to improve your rankings.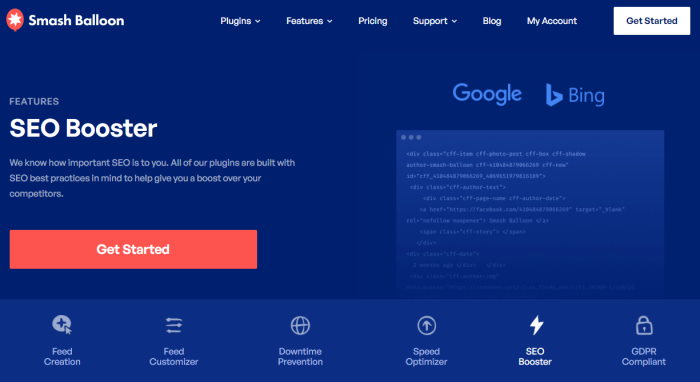 The great news? Smash Balloon plugins don't use iFrames.
Instead, Smash Balloon plugins directly embed the social media posts on your site. That way, search engines like Google can easily read your content, so this is great for boosting your SEO.
Multiple Platforms
Using Smash Balloon, you can display your social media feeds from Facebook, Twitter, Instagram, and YouTube. On top of that, there are a ton of options for each of these platforms.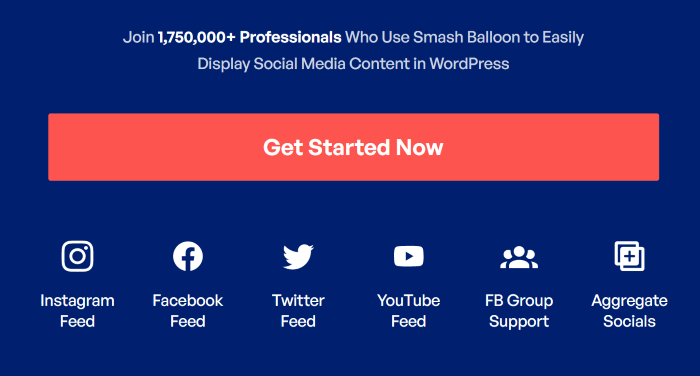 Also, Smash Balloon's Social Wall plugin allows you to combine all the different feeds into one. So, there's a lot of variety there.
Social Review Support
Another great feature of Small Balloon is that you can embed reviews from the biggest platforms out there: Yelp, Tripadvisor, Facebook, and Google.
In just a few clicks, you can show convincing reviews from trusted platforms and convince visitors to buy from you.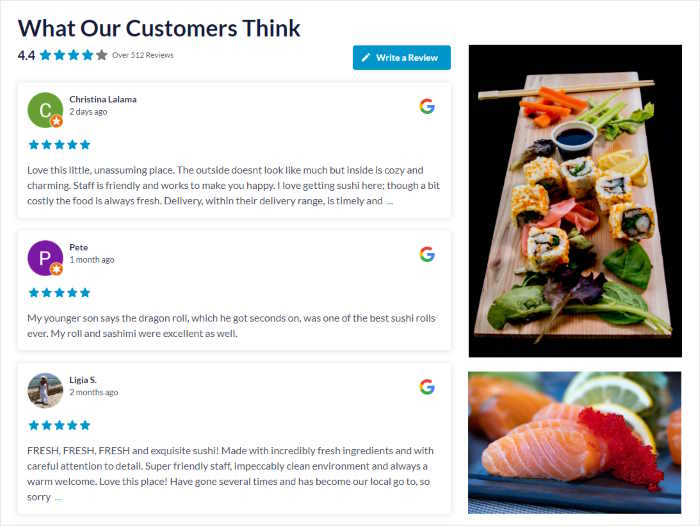 What's more, you can add filters so only reviews with your selected star rating will show up. Plus, you can moderate your feeds and only show specific reviews.
As a result, you can only show high-quality reviews that boost your conversions and builds trust.
SociableKIT
When it comes to features, SociableKIT isn't lacking either. Here are a few of the major ones.
Supports 99% of Website Builders
There's one thing that separates this social media aggregator from the competition. SociableKIT comes with support for almost all the site builders out there.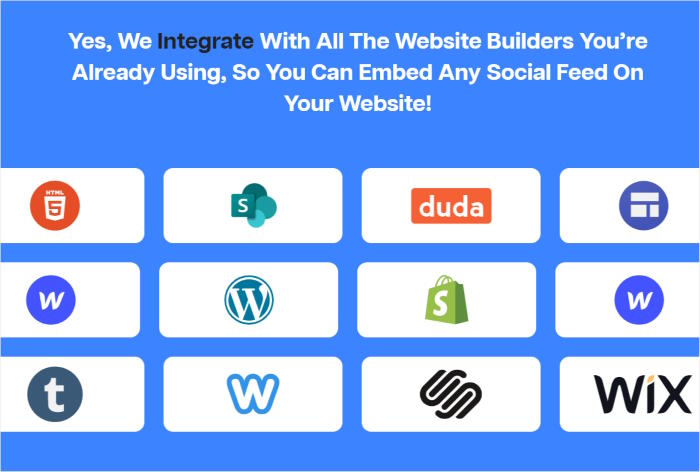 As long as the platform supports Javascript or iFrames, SociableKIT will work for you.
Widgets for Different Platforms
A SociableKIT widget is a tool that lets people show social media content on their site — just like Smash Balloon's social feeds.
There are tons of different options to choose from, and you can easily add content from sites like Vimeo and Medium.
7-Day Free Trial
While SociableKIT has free versions of the plugin, it can be somewhat tough to access. After all, you'll have to get the trial version of the premium plan before you can use the free version.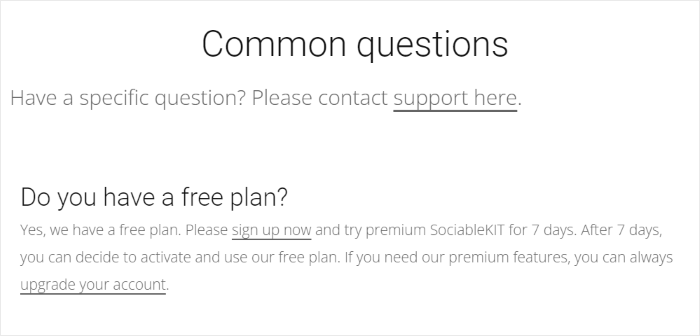 On the other hand, its popular alternative, Smash Balloon has forever-free versions of its plugins that you can directly access from the WordPress repository.
In case you want to try SociableKIT, you can take a quick look using the 7-day free trial for the plugin. You can then decide for yourself if it's worth a buy or if you want the free version.
Easy Customization
Setting up your feed to look just the way you want is also simple with SociableKIT. Similar to Smash Balloon, the plugin lets you easily customize your feeds even if you're not tech-savvy.
To make things simple, it also comes with a live editor. So, you can see how your feed will look as you customize.
We'll compare the customization options below, so stay tuned for more details.
Ease of Use
While features are important, the plugins also need to be easy to use. Let's see how Smash Balloon matches up as a SociableKIT alternative in this area.
Smash Balloon
Smash Balloon plugins have taken a lot of steps to keep things simple and streamlined. No need to worry if you don't know how to code.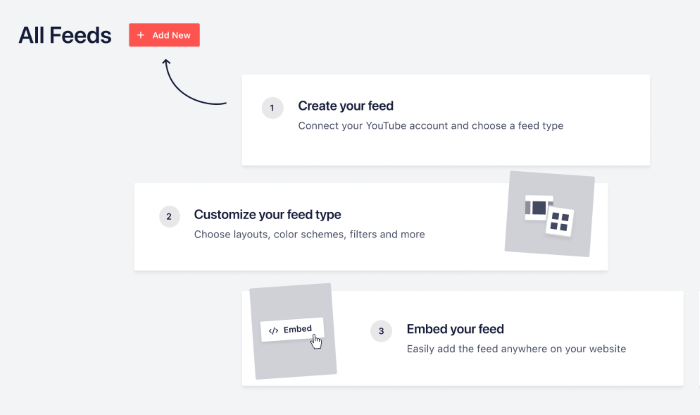 It's so easy that you can connect your site to your social media account in just a few clicks.
In addition to the user-friendly setup, Smash Balloon also lets you easily add social media feeds to your website.
No need to worry about embed codes, either. You can just add the plugin's ready-made WordPress block or a simple shortcode, and you're good to go!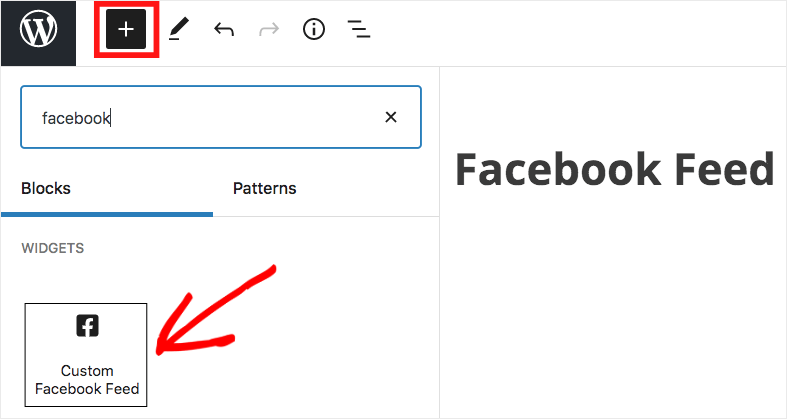 While there are a lot of customization options with Smash Balloon, they're all pretty simple — even if you're a WordPress newbie.
In fact, you even get a live feed editor to help create engaging social media feeds for your website.
SociableKIT
Setting up SociableKIT is also easy. Like with Smash Balloon, connecting your account is just a matter of minutes.
After that, you'll have to pick from a long list of widgets from SociableKIT. It might be a bit overwhelming, so you'll have to take your time with the options.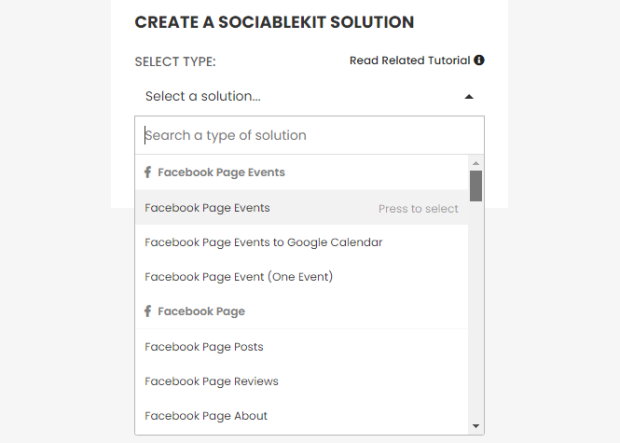 When it comes to adding a social media feed to your site, SociableKIT gives you 3 different methods. You can pick between iFrame, Javascript, or a link (for Wix users).
Of course, adding a block of code from SociableKIT might not be as simple as using a WordPress block or a shortcode. In that case, you can check out their blog posts and see how that's done.
The whole interface is also clean and minimal, so you don't have to worry about getting lost.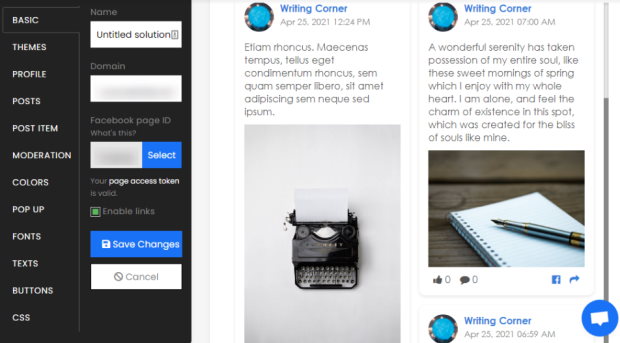 And finally, there's the customization. SociableKIT has a live editor, which makes customization pretty easy. While there are fewer options, that also makes it easy to grasp.
Customization
Want your social media feeds to stand out? Well, you can turn to the customization options for help there.
Let's see if Smash Balloon is a worthy SociableKIT alternative with that in mind.
Smash Balloon
Customization is one of the strongest points of the Smash Balloon plugins. With these options, you can personalize your feed to the smallest details — no coding needed.
In fact, you can use the powerful live feed editor to customize your social feeds. That way, you get a live preview that makes customization simpler and more accurate.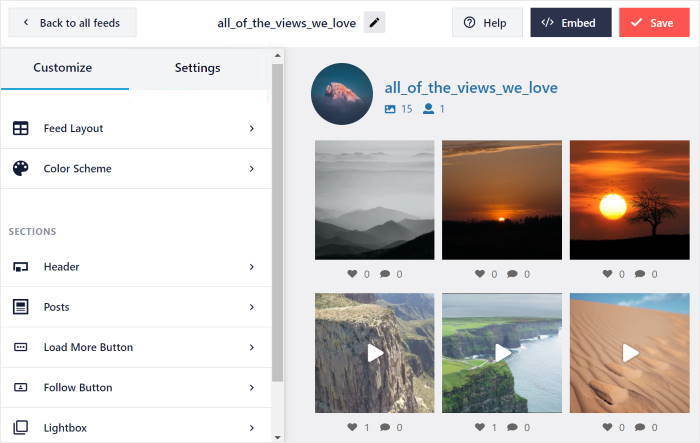 As a start, you can choose from different layout options, from grids, carousels, masonry, and highlight layouts.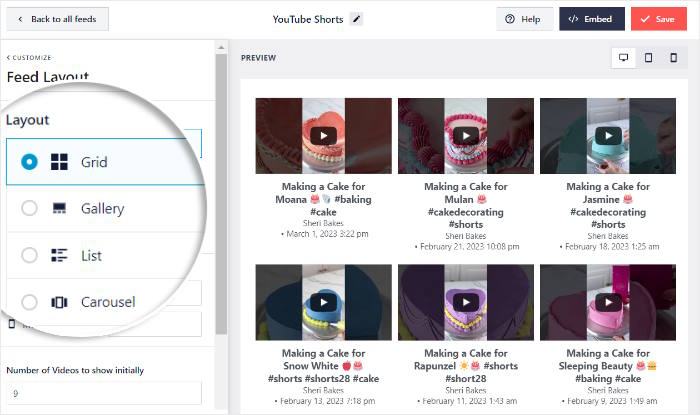 On top of that, you also have control over the size, text style, dimensions, and behavior of your social media feed. You also have easy color scheme options to change the look of your feed in a few simple clicks.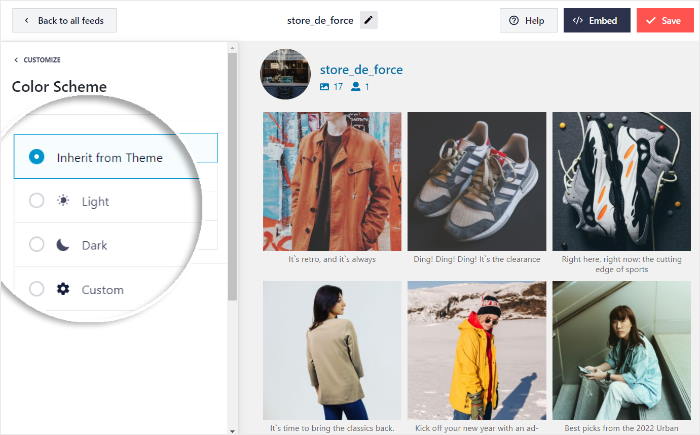 Plus, you can choose to show or hide parts of social media posts, like captions, logos, images, links, and much more. It even allows you to add call-to-action (CTA) elements.
There are also many options that are unique to the different social media platforms here. Also, Smash Balloon has a bonus for Facebook feeds, with extensions that add more options.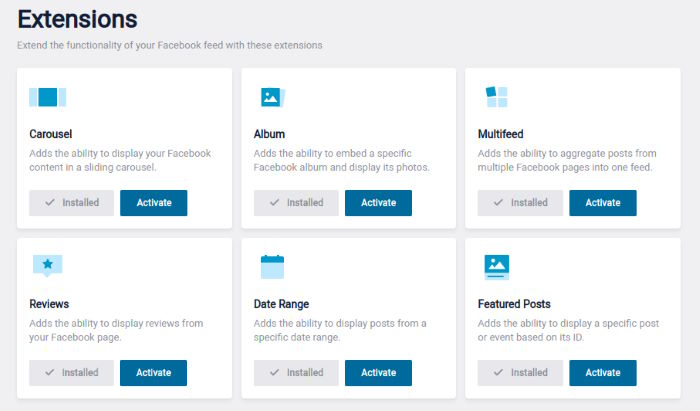 And that's just scratching the surface. You can still find much more customization options with this SociableKIT alternative.
All you need is a little bit of time, and you can have a great social media feed to match your brand.
SociableKIT
When it comes to customization, SociableKIT places simplicity above all. It comes with a live editor where you can see how it'll look on the front end.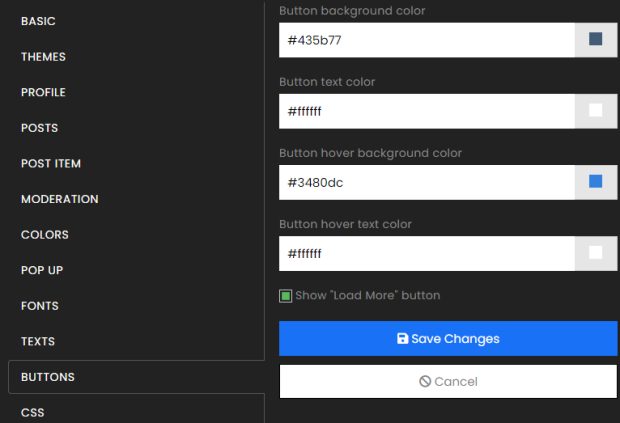 But while it is simpler to use, SociableKIT ends up missing some important features.
Using SociableKIT and Smash Balloon side by side makes that even more obvious. You can't even properly set the height and width for the feed items with SociableKIT.
It deserves credit for its simple and user-friendly customizer. But if you want more control over how your social feeds look, a SociableKIT alternative like Smash Balloon will undoubtedly be better for your brand.
Customer Support
If you ever run into problems with the plugins, you'll need to turn to customer support for guidance. So, it's pretty important when picking the right tool.
In this section, let's check and see how Smash Balloon and SociableKIT measure up.
Smash Balloon
The Smash Balloon team puts an emphasis on providing top-notch customer support to the users.
You can always turn to its dedicated support team to ask for help with your problems — Smash Balloon has a solid 4.9/5 star rating, after all.
If you check the user reviews for Smash Balloon, you can see that it's overwhelmingly positive. In fact, Smash Balloon plugins are the highest-rated social media plugins on WordPress.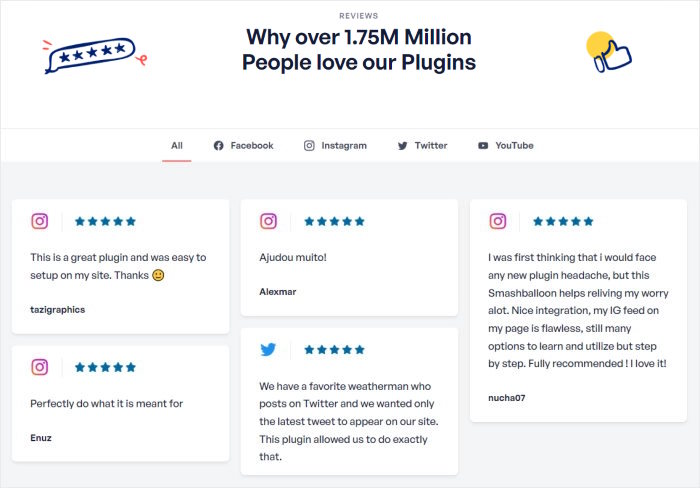 There are also some other resources to guide you with Smash Balloon. From the in-depth documentation to the blog posts, you can get help from different sources.
As you can see, people are extremely satisfied with Smash Balloon. Not just that, the quality of customer support is also common praise in many of the thousand reviews available.
SociableKIT
If you ever need help with SociableKIT, you can turn to the live chat. The team will reply within a few minutes during business hours (PHT) and within the day during any other time.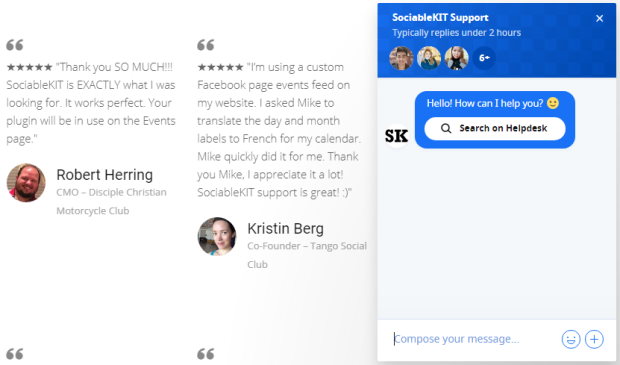 Aside from that, you can also email them for help or just take a look at their help desk articles. There are lots of handy resources there.
While the blog section of their site is somewhat basic, you could still potentially find your solution there.
Taking a look at the user reviews, it's clear that SociableKIT provides high-quality services. All in all, they provide a nice collection of customer support options.
Pricing
Of course, you can't ignore the pricing when you pick the social media feed plugin for your business. You'll have to keep everything else in mind and decide if the prices are worth it.
Let's see what the 2 options have in terms of pricing plans.
Smash Balloon
The great thing about Smash Balloon is that its plugins have forever-free versions. You can just give those a try at any time and see how it works. Those are great options when it comes to free SociableKIT alternatives.
If you just want to embed basic social media feeds on your site, then the free Smash Balloon plugins can serve you well. While they're less powerful than the Pro versions, they can be suitable for some small sites.
And if you find yourself wanting more features and better customization, you can upgrade to the Pro versions anytime.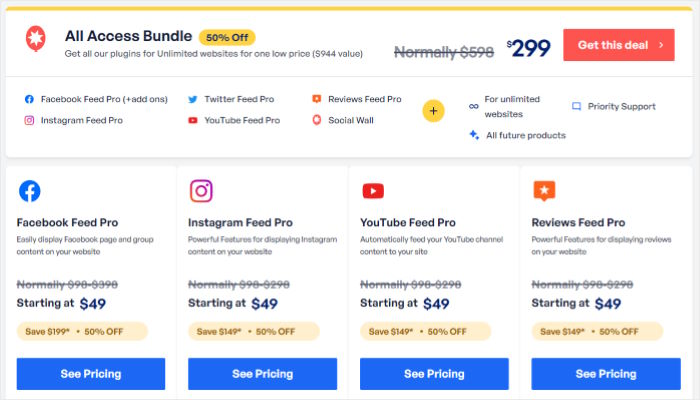 For Smash Balloon Pro plans, the prices start at just $49/year for the Personal Plan, which supports one site.
What if you have more websites? For $149/year, you can get the Developer Plan. With this, you can get all the Pro features, usage for 25 sites, as well as priority support.
Finally, we have the amazing All Access Bundle for $299/year. This plan gives you access to ALL the Smash Balloon plugins to use on unlimited websites.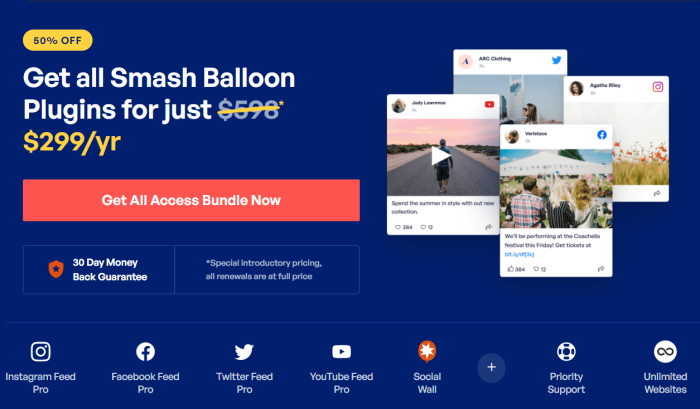 When it says "all Smash Balloon plugins," it even includes the future plugins! This plan also gives you all the available features of the other plans.
Best of all, you can just get a 100% refund within 30 days if the plugins are not the right fit for you. So there's no risk there.
SociableKIT
On the other hand, the pricing plans on SociableKIT are a bit more complex.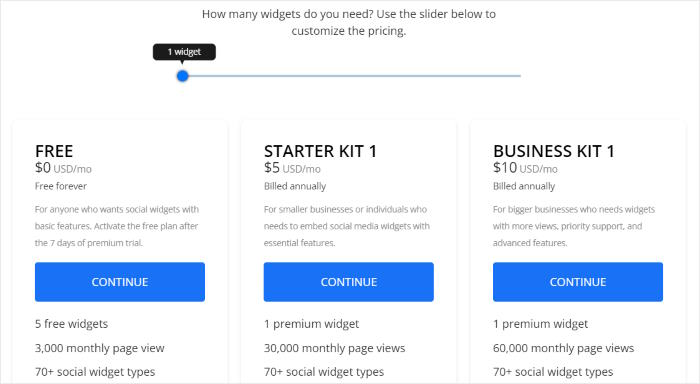 The cheapest premium plan you can get is Starter Kit 1 at $5/month. Unfortunately, it's not as good as it looks.
With this plan, you can just have 1 premium widget for your website. Plus, your widget can stop working if you get more than 30,000 views a month.
The other plan, Business Kit 1, supports up to 60,000 monthly views instead.
While there's a SociableKIT free plan, it has limited features and only supports 3,000 page views a month. Plus, getting the free plan can also be tricky.
You'll have to get the 7-day trial first, wait for it to expire, and then navigate through the dashboard to find the option to enable the free version.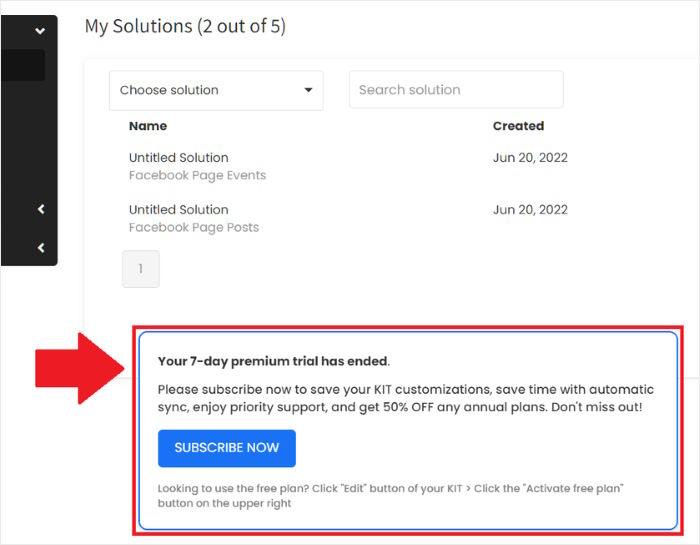 On the whole, SociableKIT is more expensive than Smash Balloon. And if you want to embed multiple social feeds, you'll have to spend even more money.
Final Verdict: Best SociableKIT Alternative?
So it's time to decide if Smash Balloon is really a great SociableKIT alternative. First, let's summarize what both of these plugins have to offer.
Smash Balloon
Smash Balloon supports a few social media sites, but you get far more options for each platform.
Smash Balloon does not limit the number or types of feeds you can add to your site — you can embed as many social feeds as you like on your website.
You can have a powerful set of customization options along with a user-friendly live feed editor. So, you get a lot more control over your feed's look and feel.
Smash Balloon also comes with free plugins and supports a 100% money-back guarantee for the Pro versions.
While SociableKIT is trusted by 63,500+ brands, Smash Balloon is the more trusted option, with over 1.75 million users.
SociableKIT
SociableKIT has a larger collection of supported social media platforms.
You get a customizer that's more limited but also easy to use for beginners.
It has noticeably higher prices for its payment plans and doesn't have any free plugins.
It's not possible to add different types of feeds at once unless you spend more money.
In the end, it's clear that Smash Balloon beats out SociableKIT due to some pretty significant advantages.
Of course, SociableKIT deserves some credit for supporting a lot more platforms. For someone with a Wix or Squarespace website, SociableKIT can be the better choice.
In any other situation, Smash Balloon is the better option. It wins in pricing, features, and even customization. So, it really is the best SociableKIT alternative.
And that's it!
We hope this article helped you choose between Smash Balloon and SociableKIT. Whichever one you choose, just remember to keep the needs of your website and online business in mind.
As you can see, Smash Balloon is really a fantastic SociableKIT alternative. There's so much to love about it, and with the All Access Bundle, all of it can be yours!
Ready to grow your business with social media marketing?
Get started with the best social media feed plugins today.
If you found this article to be helpful, drop us a follow on Facebook and Twitter, and stay tuned for more content.