Do you want to learn how to get more Facebook followers for your business?
Today, Facebook is still the biggest social media platform out there. With billions of active users, there's a massive potential for marketing on Facebook so you can get more customers for your brand.
But standing out from all the other businesses already on Facebook isn't easy.
In this article, we'll share with you our tried-and-tested hacks so you can get more Facebook followers for your business in no time.
Here's a quick table of contents so you can easily skip to the section you like:
Why Use Facebook for Business?
As the biggest social media platform on the internet, Facebook has about 2.85 billion users from around the globe.
Facebook is a great place to promote your business if you want lots of new customers. With such a massive user base, you can find tons of people who are your target audience and start connecting with them.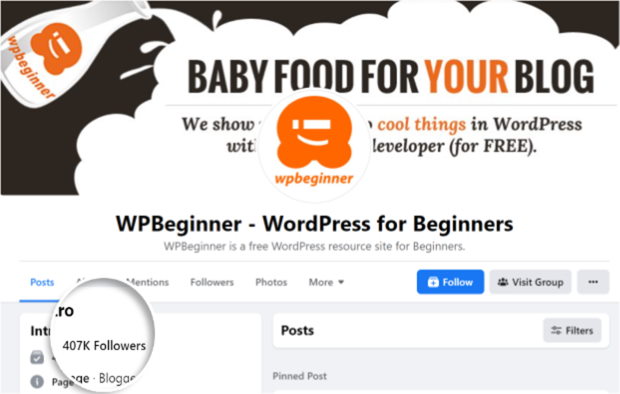 Since it's a social media platform, you can directly interact and engage with your customers to build a relationship. As a result, you can turn people into dedicated customers who are loyal to your brand.
Here are other benefits of using Facebook to grow your online business:
18.3% of adults in the US have made a purchase using Facebook, so you can directly sell your products on Facebook.
Using Facebook analytics, you can perform market research and get to know your customers better.
When you show people discussing and enjoying your products on Facebook, it can work as social proof to convince others to buy from your business.
As you can see, with an active Facebook page with lots of engaged followers, you'll have a much easier time marketing your products and growing your business online.
Should You Buy More Facebook Followers?
Now that you know how important Facebook marketing is, the next question is: Should you buy followers for your page?
It can be tempting, especially if you've seen offers that can give you 1,000 followers on Facebook in 5 minutes.
But the truth is, when you buy Facebook followers, you're simply buying spam accounts and robots to follow your page.
Buying followers gives the same result as buying fake likes — there won't be any organic engagement on your page and your account can even get penalized by Facebook. Because of this, we don't recommend purchasing fake followers for your page.
With this in mind, let's see how to organically get more followers so you can promote your brand on Facebook better.
How to Get More Facebook Followers for Your Business (12 Hacks)
If you want to know to get more Facebook followers on your business page, you're in luck.
Today, we're showing you a collection of easy-to-use hacks that are proven to get more followers on Facebook. Let's get started with the most effective tip.
1. Show Facebook Feeds to Your Site
Want an easy source of new Facebook followers for your business? Then all you have to do is add Facebook feeds to your website.
With a Facebook feed, you can show posts from your Facebook page or group on your site. As a result, your visitors can interact with your Facebook posts and follow you directly from your website.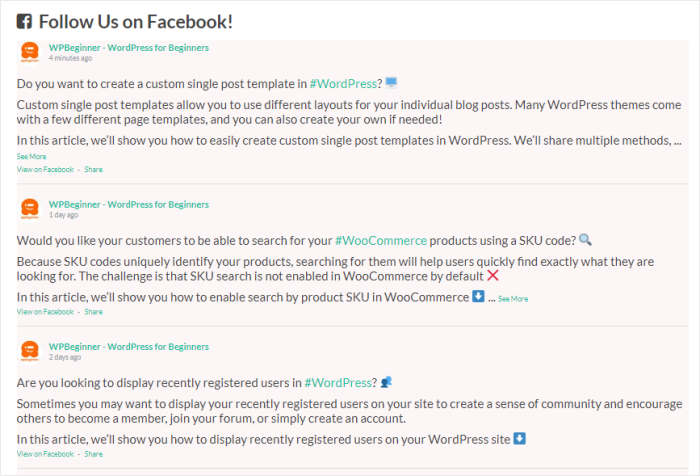 Another advantage of Facebook feeds is that you can show posts of real people enjoying and discussing your products. This way, people on your site will be more likely to buy from you.
The best way to do this is with the Facebook Feed Pro plugin. It's the #1 Facebook feed plugin for WordPress that lets you display Facebook content on your site.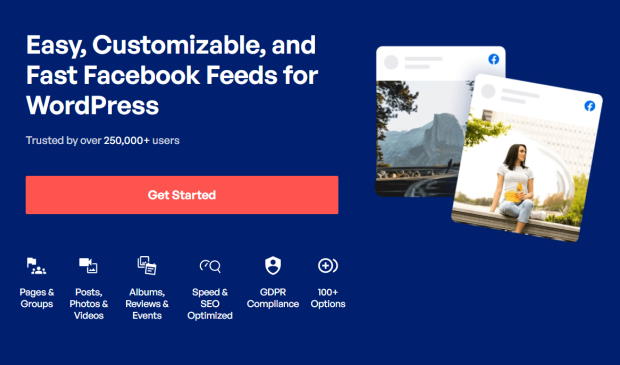 Using this plugin, you can add Facebook feeds to your website in just a few clicks — no need to touch a single line of code.
Since the plugin automatically adapts to your website's design, your Facebook feed will perfectly match your branding.
Plus, you can use Facebook Feed Pro's visual feed editor to customize your feed's background color, feed layout, header style, and much more.
This way, your engaging Facebook feed will be up and running in no time, even if you're a WordPress newbie.
You can learn how to embed Facebook feeds on your site to boost your following here.
2. Invite Users Who Engaged With Your Posts
Interested in how to get followers on Facebook for free?
Another quick way to increase your Facebook page followers is by inviting users who reacted to your posts to like and follow your page as well.
The cool thing about this hack is because these users have interacted with your post before, there's a higher chance that they'll follow your page.
Here's how you can do this: look for a high-performing post with tons of engagement, like the post below.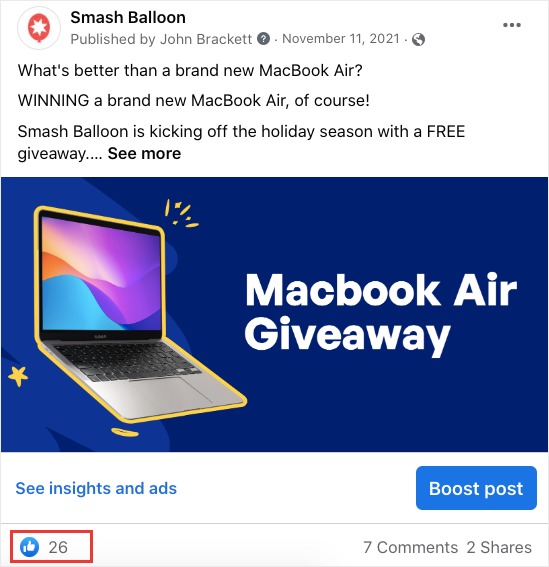 Then, click on the reaction button to see the names of the people who've liked your post, but haven't liked your page yet.
Manually check the names of users who reacted to your post. See those users with an Invite button next to their names?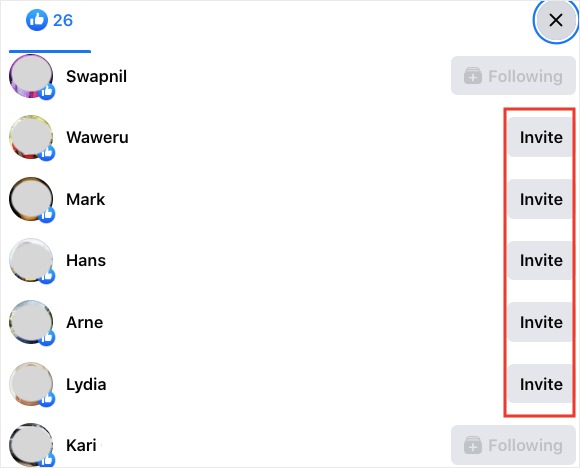 You just need to click on Invite to ask them to like your Facebook page. See how easy and effective this tip is?
For more details, you can see this helpful post on how you can increase your Facebook page likes organically.
3. Run a Facebook Giveaway
Another great way to get more Facebook followers for free is to run a Facebook giveaway.
With viral contests, you can give people a shot at winning a prize — this can motivate people to engage with your brand on Facebook.
The more engagement your page has, the more visible you'll be in the news feed. As a result, more people can view and follow your Facebook page.
By investing in running a Facebook giveaway, you're getting lots of likes, shares, and followers for your Facebook page. And that means your business gets new potential customers.
Want to make this process even more simple? Check out the easy-to-use RafflePress plugin. As the best WordPress plugin for contests and giveaways, RafflePress makes it super easy to organize contests.
With its drag and drop builder, you'll have a beautiful page for your contest in just a few minutes. Make sure to use their template to grow your Facebook following.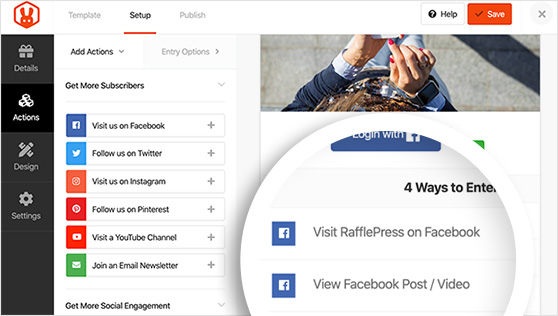 To promote your Facebook giveaway to more people, you can also use Facebook Feed Pro to embed your Facebook post with the contest announcement directly on your site.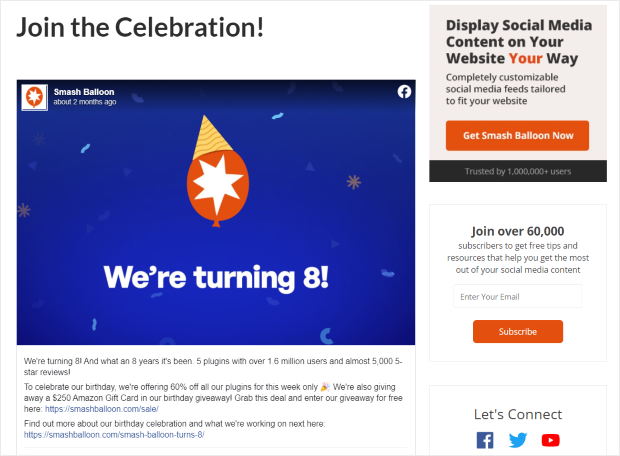 As a result, the people visiting your site can follow you on Facebook and join the contest as well.
4. Invite Your Email List
For this Facebook marketing hack, you can use the power of email marketing to get more followers for your business.
There's a ton of options about how to increase your Facebook followers via emails.
To get started, you can use these 2 tips to email your subscribers that your business has an active Facebook page that they can follow:
When you send out your official newsletters, you can include a link to your Facebook business page.
You can also add your Facebook URL on your email signature to make sure everyone you email will see it.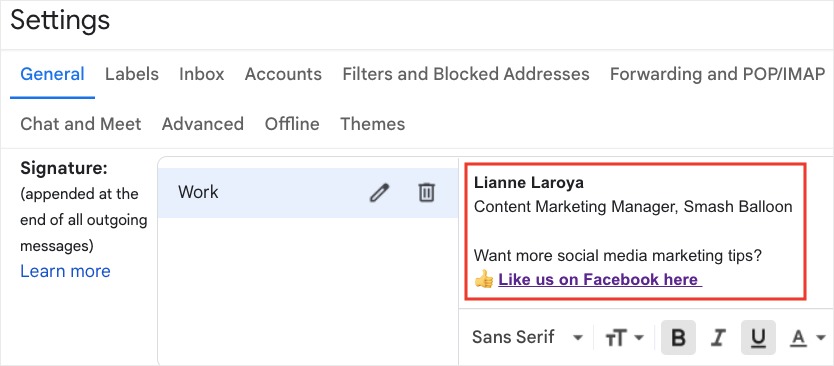 And if you want to start using email marketing to boost your followers, the first step is to create an email list from people who visit your site. For more details, take a look at our beginner-friendly guide to email marketing.
5. Create and Upload Videos
One of the quickest ways to help you increase your Facebook followers for business is by creating video content.
After all, video posts on Facebook get 110% more engagement than other posts.
This means that the more videos you upload, the more likely you are to get promoted by Facebook's algorithm. As a result, you can get more exposure on this social media platform.
Not sure which video content to create? Start with Facebook live videos.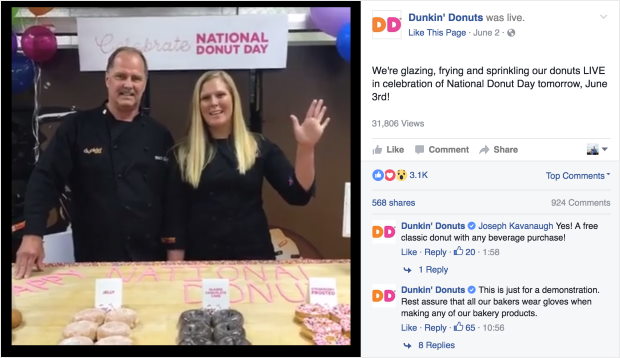 Facebook live allows you to organize livestreams where you can directly interact with people in real-time. This makes it much easier to keep your followers engaged and convince new people to follow you.
You can create video livestreams about:
New product releases
Interviews with experts
Behind-the-scenes of major events
Question and answer sessions
Pro-tip: Use Facebook Feed Pro to embed your Facebook livestreams on your website. This allows your site visitors to join the stream as well, getting you more viewers and interactions.
Plus, they can follow your Facebook business page right from your website so you can increase your video engagement even more.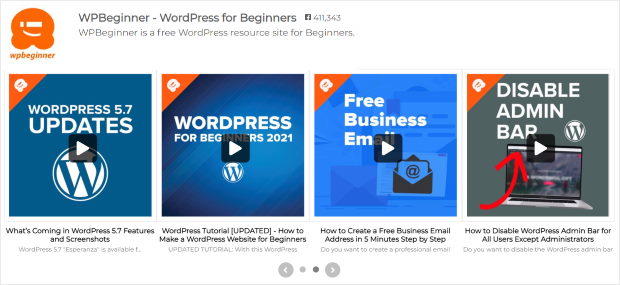 Interested in doing this for your business page? Check out our guide on how to embed Facebook livestreams on your website.
6. Add a Facebook Widget to Your Site
The next tip to increase your page followers is by adding a Facebook widget on your website.
Your sidebar or footer areas are visible on every page on your site. This means that adding a Facebook widget to them can display your Facebook page to everyone visiting your website.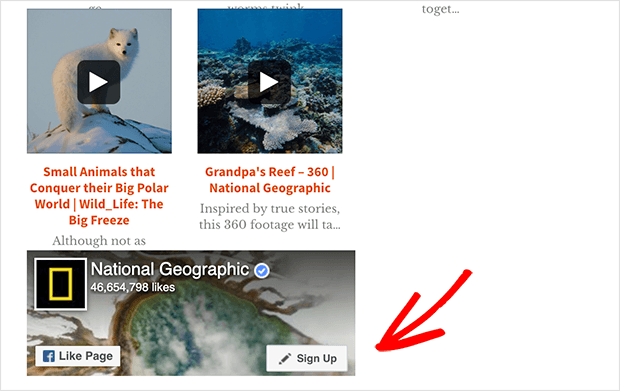 The best part about this is they don't even need to be on Facebook to follow you. They can simply click on your Facebook widget and like and follow your page — right on WordPress.
Embedding a Facebook widget is quick and easy to do, even if you're not tech-savvy. Take a look at this guide on how to create a Facebook feed widget to get started right away.
7. Show Facebook Popups on Your Website
If you want an easy way to get website visitors to follow your business on Facebook, you can show popups on your site.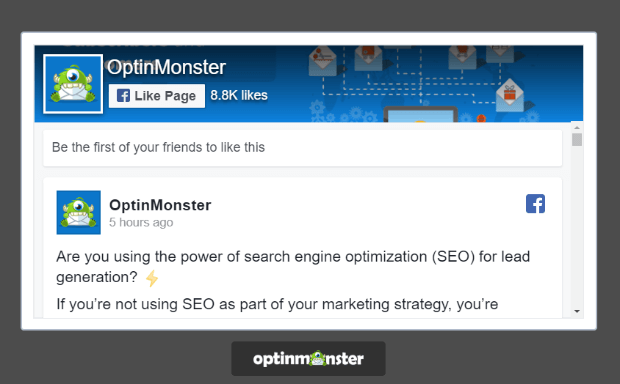 Using popups, you can immediately grab people's attention and convince them to like and follow you on Facebook. Instead of just asking people to follow you, you can show engaging popups with your page details.
And when it comes to adding high-converting popups to your site, OptinMonster is the best tool to help you convert site visitors into page followers.
With OptinMonster, you can use a simple drag and drop builder to create optimized popups that'll get people to follow your Facebook page.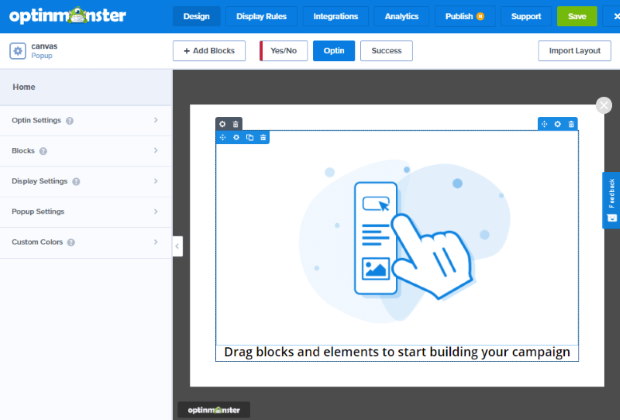 You get tons of unique templates to choose from too. OptinMonster comes with lightbox popups, fullscreen popups, countdown timers, interactive spin-a-wheel games, and much more.
After that, OptinMonster can show the popup to the right person at the right time so you can increase your Facebook followers with just a few clicks.
For more details, check out this detailed OptinMonster review so you can start displaying Facebook popups on your site.
8. Create and Share Viral Content
Here's another tip on how to get more Facebook followers: you can't just promote your products on your page. You'll also have to create content that your followers will like, interact with and share.
Remember, the more engaging and shareable your content is, the more likely it'll be shown on your followers' feeds. As a result, your content can also convert your followers' friends into your own fans and followers.
To get started, here are a few ways to make Facebook posts that are shareable:
Tell an intriguing story
Talk about trending topics
Appeal to your customer's values
Use humor, memes, or pop culture references targeted towards your users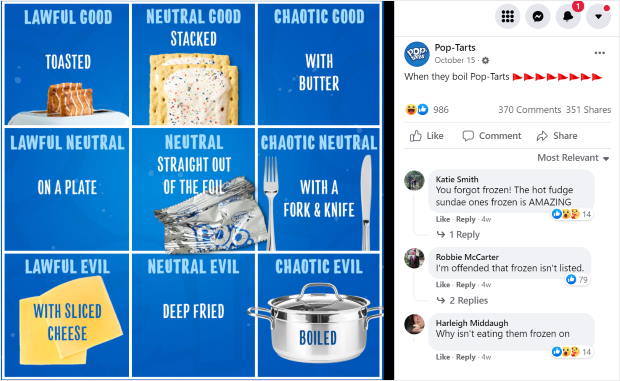 Want to get started? Here are the best types of Facebook posts guaranteed to increase engagement.
9. Cross-Promote With Partner Brands
Does your business have collaborations with other brands? Then a fantastic way to grow your Facebook followers organically is by cross-promoting with other brands.
There are tons of Facebook pages out there that have a similar target audience as you. You can simply reach out to them and promote each other's content:
You can promote a partner brand's page on your page
And to return the favor, your partner brand can tag you on their page as well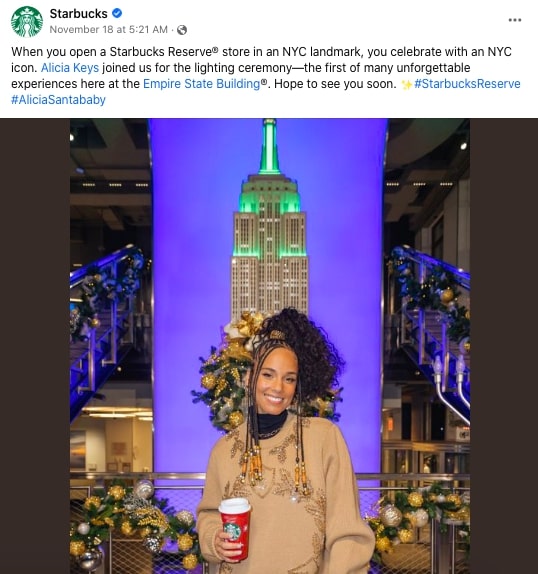 That way, both Facebook pages will get the chance to reach more people and get more followers. At the same time, you're also showing fresh new content to your Facebook followers.
Pro-tip: If you embed your cross-promotion posts on your website, you can reach even more potential followers and a larger audience for yourself and your partner brand.
For more social media marketing tips, check out this post on how to easily promote your business on Facebook.
10. Build a Community Using Facebook Groups
Did you know that more than 1.8 billion people use Facebook groups every month?
It's why creating your own Facebook group is an effective way to increase your page followers.
The awesome part about building your own group is the members are targeted — they're already interested in your business, so it's easier to convert group members into page followers.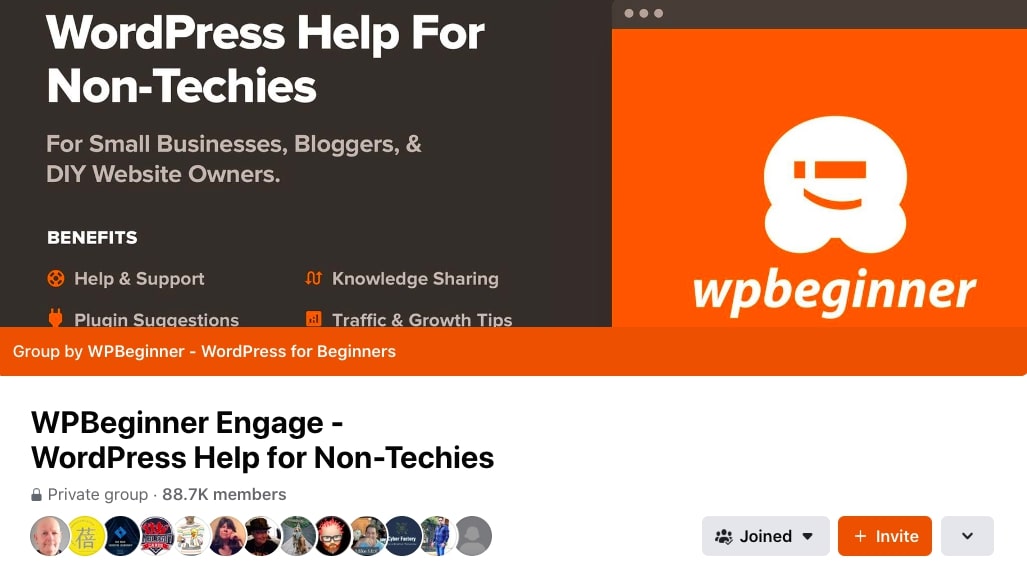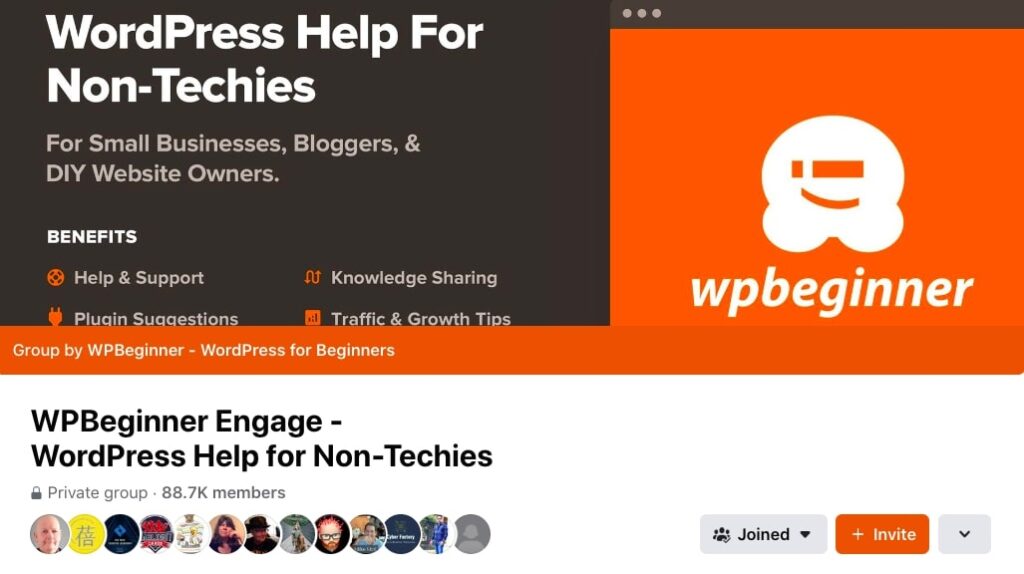 To make your Facebook group popular, the key is to provide value to your members. You can easily do this by:
Answering your members' relevant questions
Informing your members about limited-time sales
Doing a Facebook live video about frequently asked questions in the group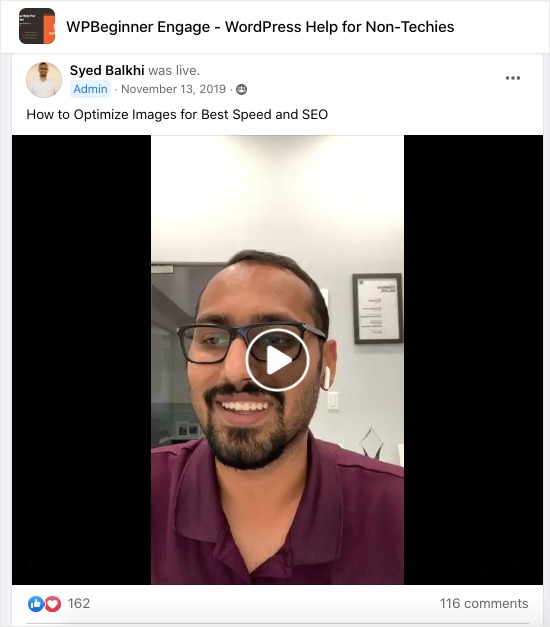 Make your Facebook group massively popular with these group-building hacks.
And if you're interested in tapping a large audience to join your group and follow your page, you can easily embed your Facebook group on your website as well.
11. Use Facebook Insights
If you want a good strategy to grow your Facebook page, you'll need to see how you're currently doing.
The good news is that Facebook has a fantastic tool that can help you do just that: Facebook Insights.
This tool can show you how effective your current methods are at bringing new followers. Then, you can see which strategies are working the best and focus on them.
At the same time, you can see if people aren't responding well to a strategy and rework it.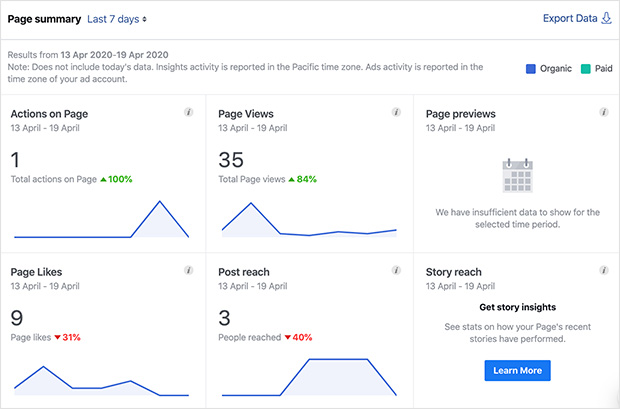 As a result, you can make the right decisions and start improving your strategies to get more Facebook followers.
And that's just the start. You can get lots of other information that can help you boost your Facebook following.
For example, you can learn more about your audience, including their age, gender, location, and more. And with that information, you can create content that your audience is more likely to find interesting.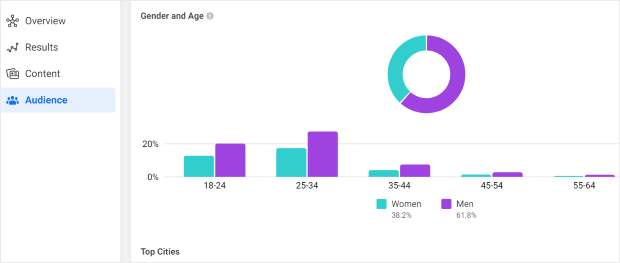 Similarly, you can also learn about your audience's behavior. You can see when they're the most active, which posts are the most engaging, and more.
All this means you'll have a much easier time using social media marketing on Facebook. You'll know what type of content you need to make and which strategies to go for.
Want to learn more? Check out this article on the best social media analytics tools.
12. Run Targeted Facebook Ads
In addition to all the Facebook marketing tips above, you can also run ads to get more followers for your business page. You can do this by creating a Facebook ad with "more engagement" as your goal.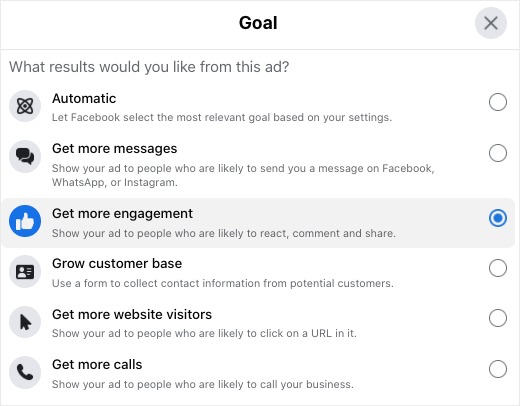 To get the most value for your money, make sure that your ad is customized according to your target audience. You can easily personalize the following metrics when creating your Facebook ad:
User demographics
Behavior
Interests
As a result, you can use Facebook ads to reach more people who match your user persona, so there's a higher chance for them to engage with your post and follow you.
The more your ads are shown to your target market, the more likely they'll see your content and become your fan.
For more tips on the top tools for social media marketing, check out this post on the best Facebook marketing tools.
And that's it! By now, you should already know how to get more Facebook followers for your business.
So what are you waiting for?
Grab your copy of Facebook Feed Pro today and start increasing your page followers organically today.
If you're like most businesses, you also have social media accounts in other platforms. You may also like this next post on the best social media marketing hacks to grow your followers.
Don't forget to follow us on Twitter and Facebook so you can get even more social media marketing tips and tricks to grow your business.