Wondering if you should buy Yelp reviews for your business?
If your brand has positive reviews, Yelp can be a great place to reach new visitors and boost your sales.
But if you buy Yelp reviews, it can actually end up harming your business and turning off potential customers.
Today, we're going to show you why you should NOT buy reviews for your Yelp business page.
Here's what we'll cover in this post (click on a section to skip ahead):
Let's get started!
Can You Pay for Yelp Reviews?
No, you can't pay for Yelp reviews. In fact, buying Yelp reviews is actually not allowed at all.
While a quick Google search can show you services that ask for money in exchange for fake Yelp reviews, it goes against Yelp guidelines.
What's more, you could actually be breaking the law by paying for fake reviews!
Let's take a look at the reasons why you should avoid buying Yelp reviews.
5 Reasons Why You Should NOT Buy Yelp Reviews
While there are tons of ways fake reviews can harm your business, let's take a look at 5 of the biggest ones below.
1. You're Wasting Your Money
The biggest reason to avoid buying reviews is that you're basically wasting your money.
In fact, Yelp will automatically hide reviews that it suspects as fake. So, you might be paying for reviews that don't actually show up on your Yelp business page.

Instead of buying fake reviews, you can just spend that money on getting organic reviews for your brands and get much better returns.
We'll show you the best ways to get organic reviews on Yelp below.
2. Your Account Might Get Banned
Yelp is pretty clear about the fact that buying reviews is forbidden and will lead to a ban.
On top of buying reviews, Yelp also punishes businesses that encourage people to leave reviews in unethical ways.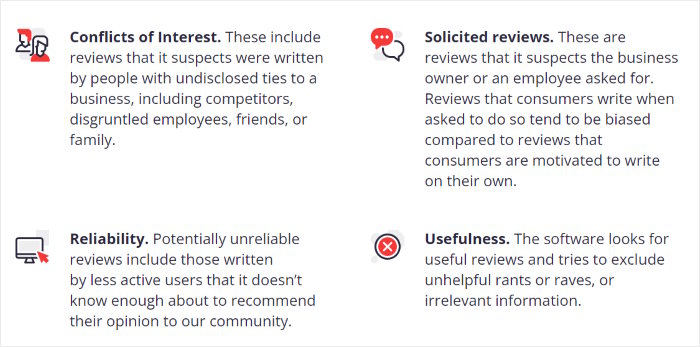 In fact, you can be banned from Yelp if you:
Ask customers, subscribers, friends, family, and more to leave reviews
Get your staff to ask for reviews on your behalf
Request reviews using surveys or contact forms.
Offer free products, discounts, gift cards, or payment in exchange for reviews
As you can see, purchasing Yelp reviews can lead to a ban which means you'll lose ALL the positive reviews you've collected so far.
3. You're Breaking the Law
On top of being banned from Yelp, purchasing fake reviews is also illegal in many places.
In fact, the Federal Trade Commission (FTC) in America and the EU forbids businesses from using fake reviews to bring in customers.
As a result, you can end up facing fines and other penalties simply by paying for Yelp reviews.
Instead, you can avoid this risk and still get positive reviews using our tried-and-tested methods.
4. Your Customers Will Lose Trust in Your Brand
Yelp can also detect fake reviews using a special automated system that scans the site.
If this system finds paid reviews on your page, it will display a large banner on your business page warning others about fake reviews.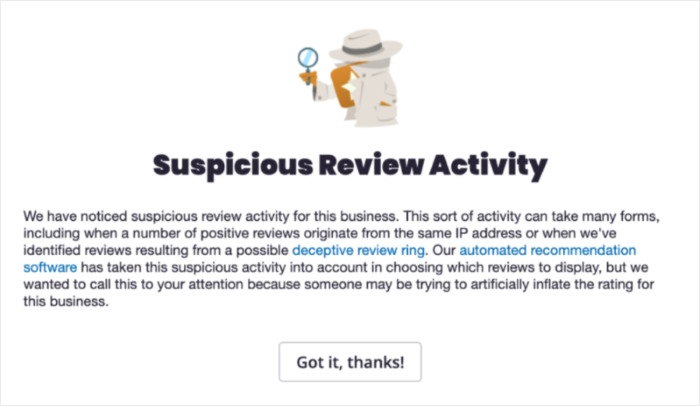 As a result, you'll be creating a much worse impression of your brand.
Instead of getting positive reviews, you might end up turning people off your brand altogether.
5. You're Risking the Security of Your Business
Since buying reviews is not allowed, you'll have to turn to shady businesses to purchase fake reviews.
What's more, many of them are actually working illegally.
So, you might be offering your business info, money, and credit card information to these shady businesses. You're basically risking the security of your business for a few positive reviews.
Now that you know why you shouldn't pay for Yelp reviews, look at some actually great ways of getting more reviews.
7 Proven Ways to Get Positive Yelp Reviews 
Below, we've collected our tried-and-tested ways of getting organic reviews on Yelp.
The best part? These are so easy that you can get started right away and get tons of social proof for your brand.
1. Respond to Your Reviews
A simple way of getting new reviews is to respond to the people who leave reviews of your brand or products.
When someone leaves a positive review, you can show your appreciation with a quick "thank you" message.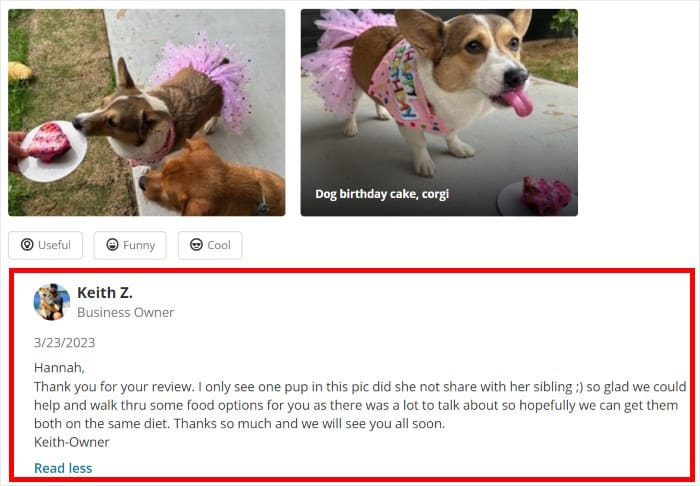 But when you receive negative reviews, it's even more important to respond to your reviews quickly.
When responding to them, you can follow this 3-step guide:
Apologize for the problem
Offer ways to reach your support team
Promise to help them with their problem
That way, you can deal with negative reviews and even turn them into positive reviews sometimes.
Just by responding to reviews this way, you can show people that you care about what your customers have to say.
So, people will be much more likely to leave reviews of their own.
For more details on handling negative reviews, you can look at our guide on how to deal with negative Facebook reviews.
2. Embed Yelp Review Feeds on Website
Another simple way to get tons of reviews is to embed a Yelp reviews feed on your website.
By embedding a Yelp reviews feed, you can show your Yelp reviews to anyone on your website. So, they'll realize that your business has a Yelp page where they can leave reviews.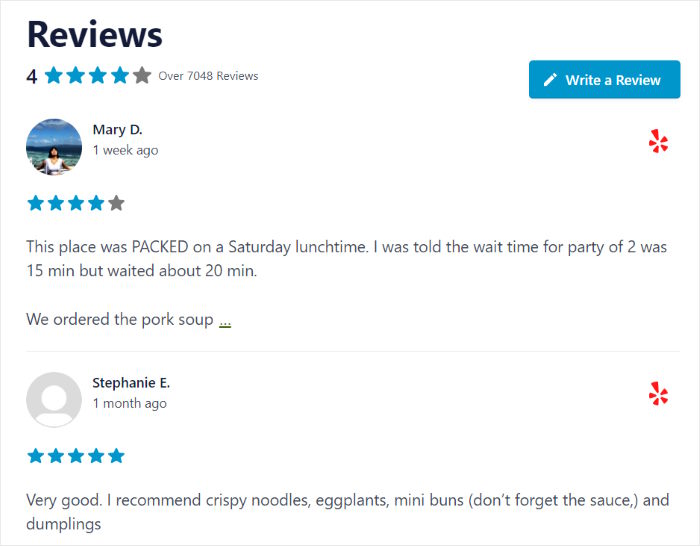 Just like that, you can convert your website traffic into new reviews for your brand.
The best part? Embedding Yelp reviews on your website can be super easy.
All you need is the Reviews Feed Pro plugin.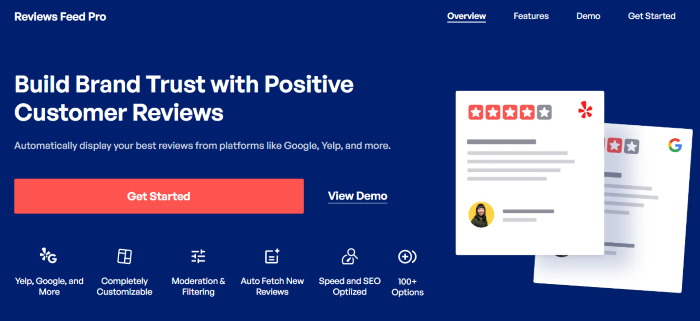 As the #1 reviews aggregator for WordPress, you can use this plugin to embed online reviews in just a few simple clicks.
On top of embedding Yelp reviews, you can show reviews from other trusted platforms, including Facebook, Google Reviews, and Tripadvisor.
Your visitors can even use the Write a Review button to start leaving reviews directly from your website.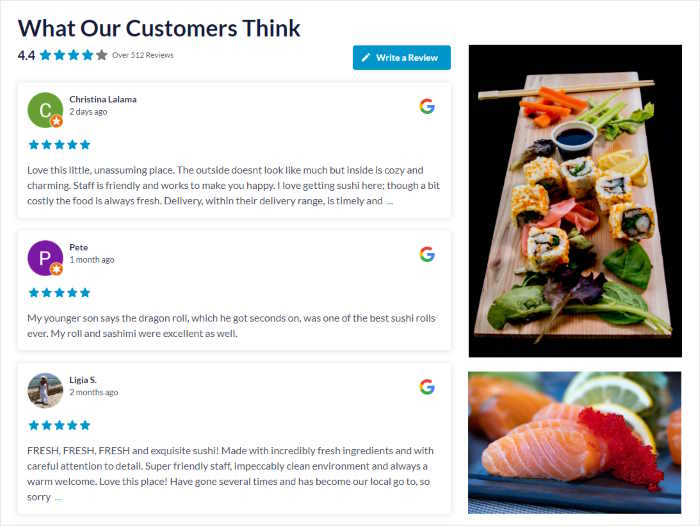 Just follow the plugin's guided flow, and you can have a beautiful reviews feed on your site in minutes – no need to touch a single line of code.
Plus, you get total control over the design of your Yelp reviews feed. Using the visual customer, you can edit your layout, header, review elements, and much more.
You can even moderate your Yelp reviews to hide specific social media reviews or only show your selected reviews.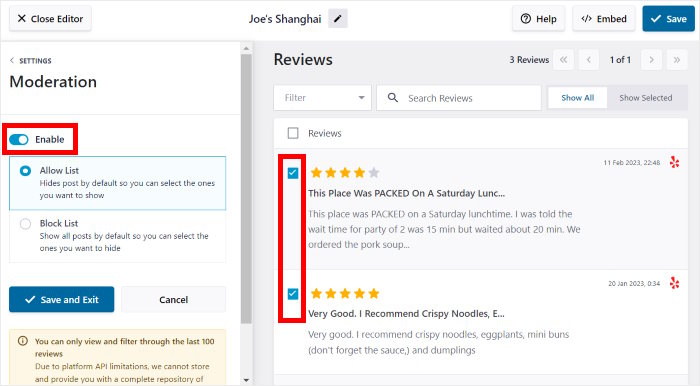 On top of that, you can add filters to only show reviews with your chosen star ratings.
As a result, you can use Reviews Feed Pro to highlight your best reviews and hide reviews from trolls or bots.
Ready to embed Yelp reviews? Get your copy of Reviews Feed Pro here.
To learn more, you can take a look at our guide on how to embed Yelp reviews on your website.
3. Run Ads on Yelp
Instead of paying for Yelp reviews, you can spend that money running ads on Yelp.
As a result, you can get tons of people on your brand's Yelp page and boost your reviews with ease. You can even place your business at the top position of search results using Yelp Ads.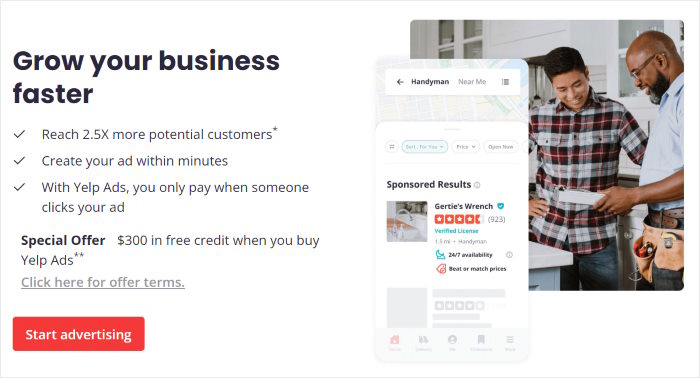 When potential customers are looking for brands on Yelp, they'll be able to find your business more easily.
What's more, you'll only have to pay when people click on your ads!
Since you're paying per click, you won't be wasting your time and money, unlike with fake Yelp reviews.
4. Add Yelp Review Widget to Your Site
Another amazing way to get Yelp reviews from your website is to display a Yelp review widget.
Just by adding Yelp reviews to your sidebar or footer, you're showing your visitors that your brand has tons of positive reviews from real people.
So, they're more likely to give your brand a chance and leave their own review as well.
And if you want to create a Yelp widget the easy way, you can just use the Reviews Feed Pro plugin.
In just minutes, you can create, customize, and embed a Yelp widget on your site – complete with a button to add new reviews.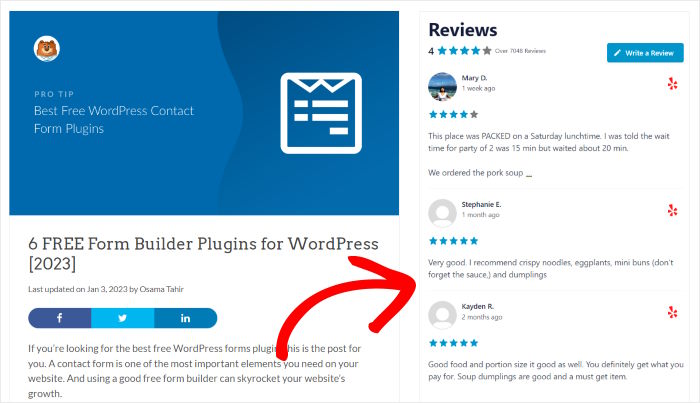 To get started with Yelp widgets, you can take a look at this guide on how to embed Yelp review widgets in WordPress.
5. Share Positive Yelp Reviews on Facebook
A simple way to encourage new reviews without directly asking people is to share your Yelp reviews on Facebook.
With 2.96 billion users, Facebook is the biggest social media platform out there and a fantastic source of potential reviews and customers.
Just by sharing Yelp reviews on Facebook, you can show tons of people that your brand is active on Yelp and listens to customer feedback.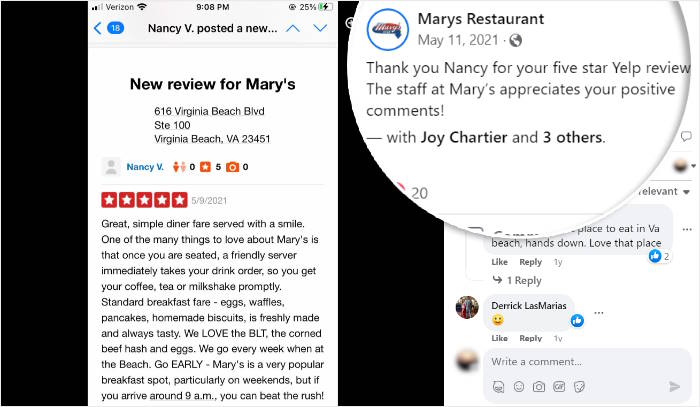 So, your followers on Facebook will be much more likely to leave you Yelp reviews.
Don't have a large following on Facebook yet? We've got you covered.
You can simply embed a Facebook feed on your website and start converting your site traffic into Facebook followers.
When it comes to displaying Facebook feeds, the easiest way is to use Facebook Feed Pro.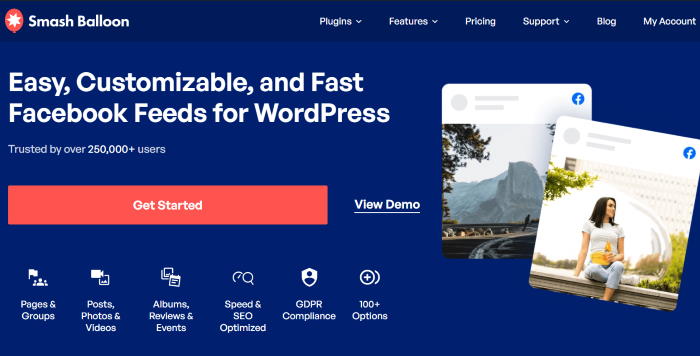 With it, you can follow a simple guide to create, customize, and embed a beautiful Facebook feed in just minutes – no need for HTML, CSS, or any code.
As a result, it's easier than ever to display Facebook content on your WordPress website.
Once you share your Yelp reviews on Facebook, you can embed them on your website as well and get even more people to leave new reviews.
Plus, Facebook Feed Pro supports a variety of content to help you engage visitors. In fact, you can use this plugin to embed:
Facebook groups
Facebook live streams
Facebook reviews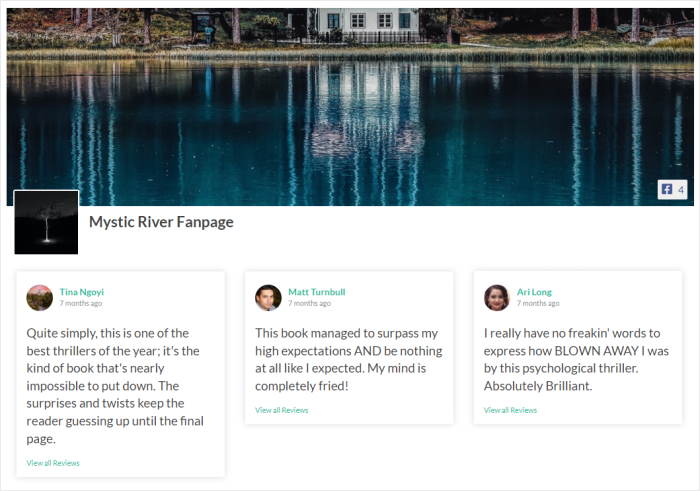 Facebook photo albums
Facebook events calendars
And much more…
Similar to Reviews Feed Pro, this plugin comes with a live feed editor. In just a few clicks, you can freely personalize your feed layout, header design, post elements, color scheme, and much more.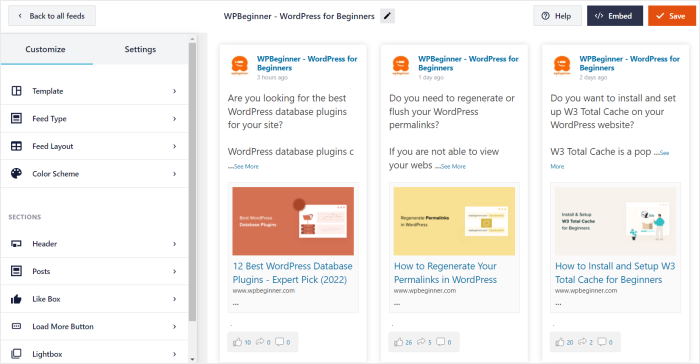 Once you're happy with your Facebook feed, you can start embedding it directly from your live feed editor.
Just like that, you can share your Facebook content with your website visitors and get tons of likes, comments, and followers in no time.
Ready to grow your Facebook following? Get Facebook Feed Pro for your site here!
Want more Facebook reviews for more social proof? You can follow our guide on how to get Facebook reviews for your business.
6. Promote Yelp Page Using YouTube Videos
Did you know that social media videos generate 1200% more shares than text posts?
Promoting your Yelp page using a YouTube video can be a great way to reach tons of people and get them to leave reviews.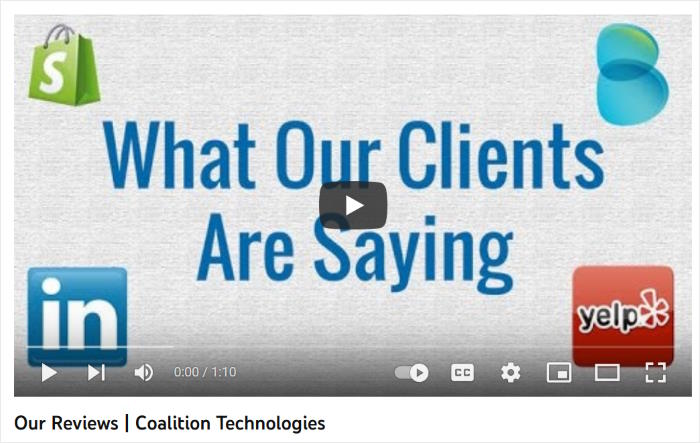 Instead of just telling people that you've got a Yelp business page, you can directly show them using a video. Plus, you can even highlight some of your best reviews to create a great impression of your brand.
You're showing your customers that their Yelp reviews can get noticed and highlighted on a video as well. This can actually motivate them to leave reviews.
Plus, it can be super easy to grow your YouTube channel and reach tons of people with your videos.
All you have to do is embed YouTube feeds on your site, and you can get your website visitors to watch your videos and subscribe for more.
When it comes to YouTube feeds, the easiest option is to use YouTube Feed Pro.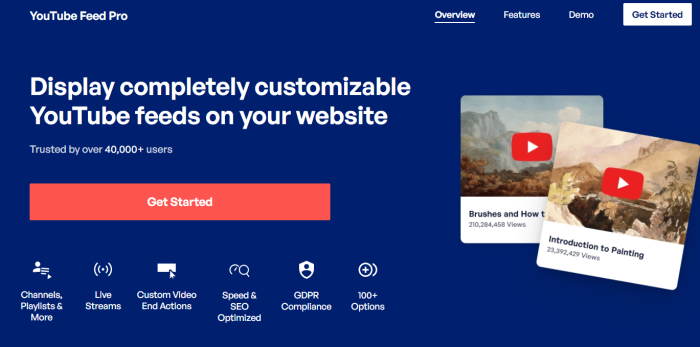 As the best YouTube feed plugin in the market, you can use it to display all kinds of YouTube content on your site with ease.
On top of embedding a YouTube channel in WordPress, the plugin lets you showcase content from YouTube playlists, favorite lists, search results, and much more.
Plus, you can even directly share video reviews and testimonials of your products using this plugin.
Then, your website visitors can see that real people on YouTube are happy with your brand.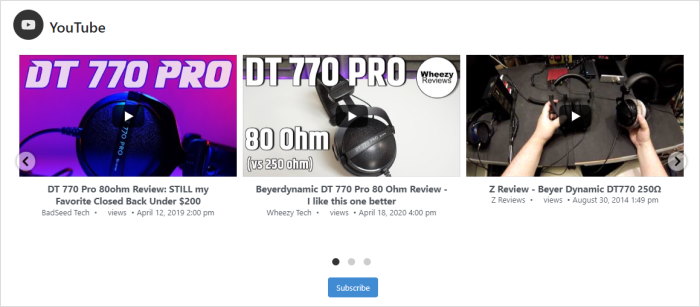 As you can see, YouTube Feed Pro can help you promote your videos, grow your YouTube channel, and even boost your conversions.
If you want to start embedding YouTube feeds, just get YouTube Feed Pro from here.
Want to start growing your sales with YouTube video reviews?
We've got a beginner's guide on how to make great customer video testimonials here.
7. Link Yelp Page on Your Social Media
Finally, you can even share your Yelp page across all of your social media platforms.
To have more people checking out your Yelp page and leaving reviews, all you have to do is link your Yelp page on popular platforms like Instagram and Twitter.
Whenever someone checks out your social media page, they'll see the option to share a review on Yelp and provide feedback.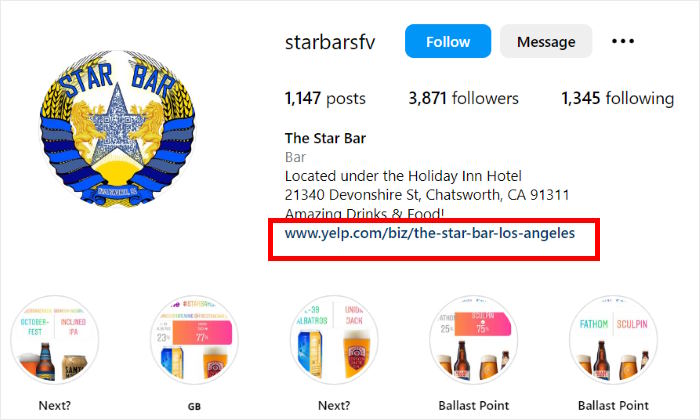 Since your followers are already interested in your brand, they're more likely to leave a Yelp review.
In case you don't have a large following on different social media platforms, there's an easy solution.
With the help of Social Wall Pro, you can promote your brand's social media accounts with ease.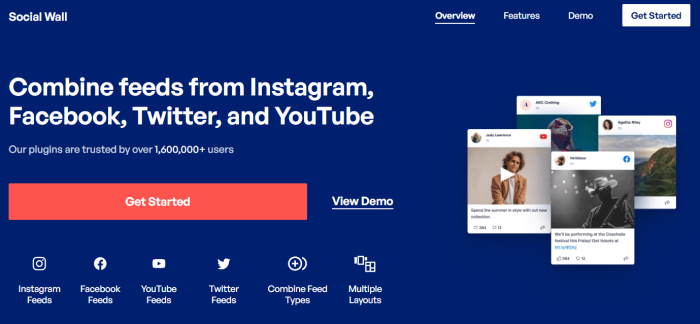 This plugin lets you create beautiful social walls to showcase content from the biggest platforms out there: Facebook, Twitter, Instagram, and YouTube.
You can then get all the people on your site to interact with your posts and follow your accounts. At the same time, you're also making your website much more engaging.
Since the plugin is designed with users in mind, you'll have an easy time displaying your social walls.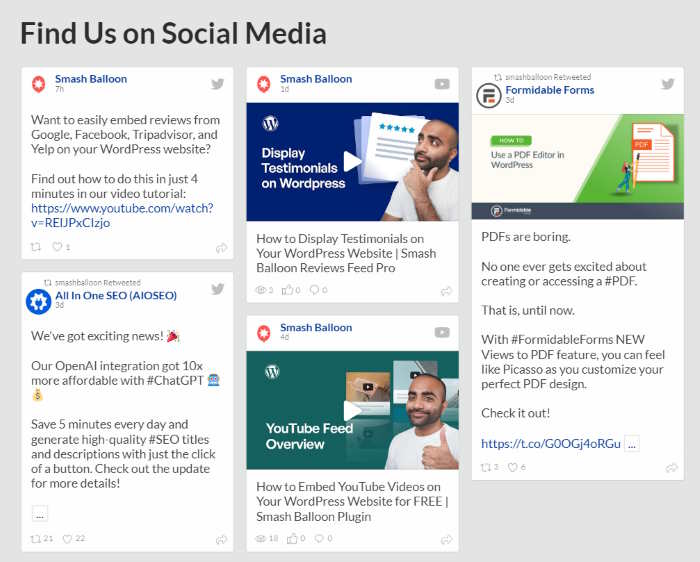 In fact, you even get a simple live customizer where you can customize your layout, post elements, number of posts, and more.
After you're done customizing your social wall, you can add it to your website with ease and start growing your social following.
You can add your social walls on WordPress pages, posts, or even the widget-ready areas of your site, like the sidebar or footer.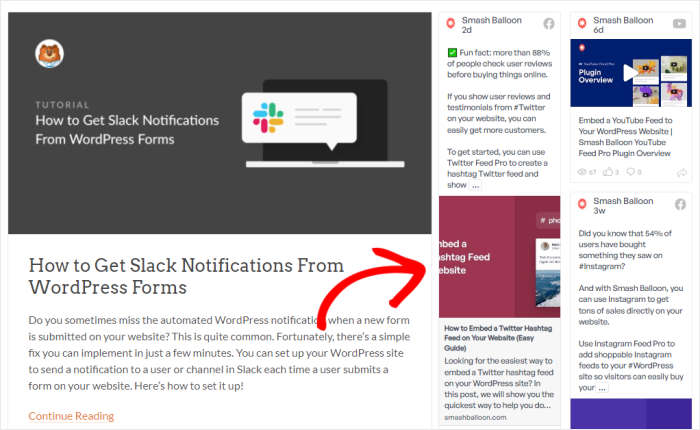 Want to get started with Social Wall Pro and start promoting your brand?
If you grab the All Access Bundle, you can get this plugin, along with ALL the other Smash Balloon plugins, at a huge discount.
And that includes the best social media feed plugins and the best reviews aggregator available in the market!
And there you go!
Now you know why you should not buy Yelp reviews and all the ways you can end up harming your brand with fake reviews.
Since it's unethical to pay for reviews, you can opt for our tried-and-tested ways of getting more Yelp reviews with ease.
Ready to embed Yelp reviews and get tons of reviews? Get Reviews Feed Pro today!
If you want to get more out of social media marketing, take a look at our list of the best ways to make money on Twitter.
And don't forget to follow us on Twitter and Facebook for more social media tips and tricks.