Want to know the best examples of Facebook feed you can add to your website?
As the leading social network, embedding Facebook content is an important part of social media integration into WordPress.
But Facebook only lets its users embed limited Facebook feeds. Plus, they don't allow you to easily customize these feeds so you can't use them to effectively promote your brand.
Ready to increase your Facebook page engagement and see your business thrive?
Let's dive into the Facebook feed examples below.
7 Examples of Facebook Feeds on Websites You Can Copy
Displaying different Facebook feeds on your site boosts user engagement, improves your search rankings, and grows your business over time.
In this article, you'll see different examples of Facebook feeds you can embed on your website.
The best part? Each example has links to newbie-friendly tutorials so you can copy them for your business.
1. Facebook Feed of Photos
Cross-promoting your Facebook photos on your website is a great way to deliver fresh and engaging content to your visitors.
After all, visual posts on Facebook get 2.3x more engagement than those without images.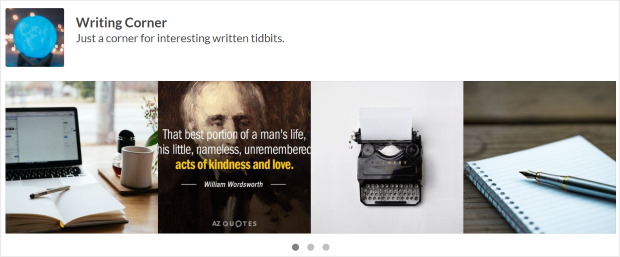 Your business can upload Facebook photos to promote a new product or update your customers about an upcoming sale.
If you'd like to boost your Facebook page engagement, you can also post branded images on Facebook to encourage your fans to interact with you.
When you embed your Facebook photos on your WordPress, you save time and effort.
Why?
You only need to upload your photo on Facebook — since your Facebook feed is added to your site, it's automatically updated every time you upload a new post.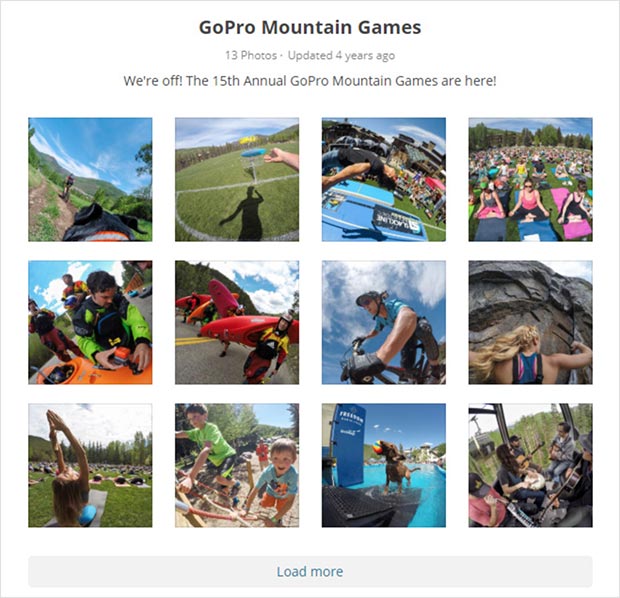 Sadly, using Facebook's plugin doesn't allow you to add a photos feed to your website.
No worries, though.
You can still use the best Facebook feed for WordPress, Facebook Feed Pro, to help you embed your Facebook photos feed on your site.
Check out this step-by-step tutorial on how to can display your Facebook photos on your website.
Following this tutorial, you can do this in less than 5 minutes.
Do you have an Elementor site instead? Here's how you can embed a Facebook feed in Elementor.
2. Facebook Albums Feed
Sure, you already know how to add a photos feed to your site.
But what if you want to display different photos that are neatly categorized into albums?

This is where embedding a Facebook albums feed on your website enters the picture.
In marketing your business on Facebook, you have lots of album ideas to choose from.
For example, you can create a "Customers" album where you can feature submissions from your loyal customers using your product. Adding a caption with your customer's testimonial helps increase sales, too.
You can also make a Facebook album dedicated to your company's operations, such as featuring an "Employee of the Month" or sharing milestones that your business was able to achieve over the years.
Or, if you're in the field of photography, you can organize different subjects into different Facebook albums and embed them on your website.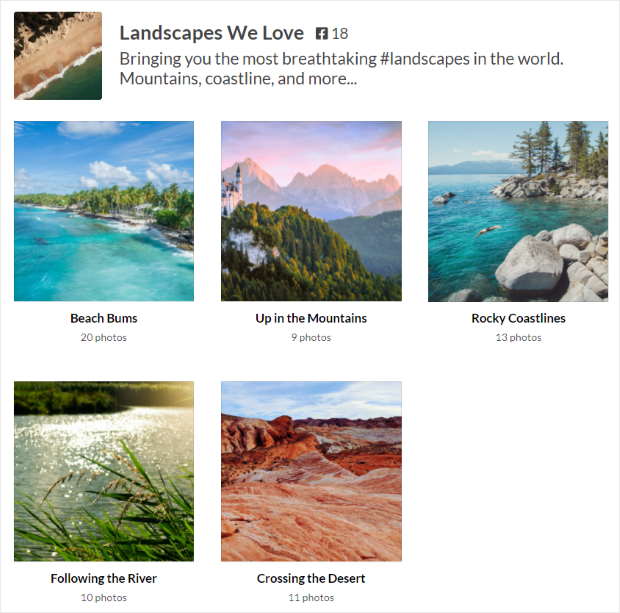 This way, potential customers will know about photography subjects you specialize in, like the example below.
Interested in adding a Facebook album feed to your own site?
Follow the instructions here to embed a Facebook album on your website, even if you're a WordPress newbie.
Custom Facebook Feed Pro allows you to customize your feed with just a few clicks — no technical knowledge required.
3. Facebook Feed of Videos
Another example of a Facebook feed embedded on a website is the videos feed.
Adding your Facebook videos to your WordPress establishes brand awareness because it helps your site visitors discover your Facebook page.
It's an effective way to boost Facebook user engagement as well. After all, Facebook video posts get 59% more engagement than other post types.
Another benefit of embedding your Facebook video feed?
It helps your Facebook page get more visibility in your followers' news feed — so your posts get seen by more people organically.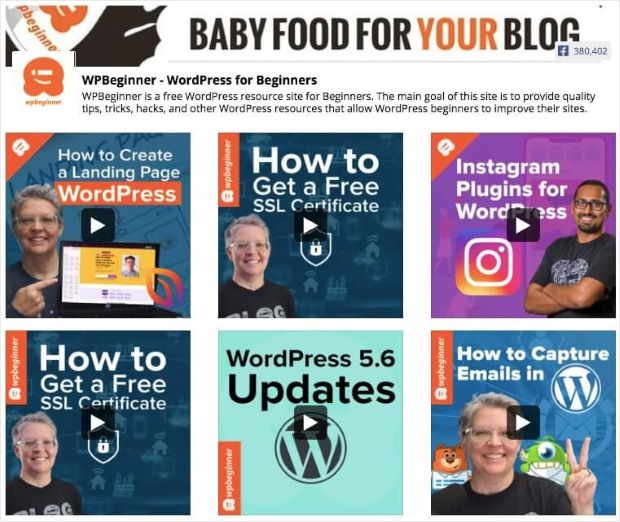 Using Facebook's plugin, you don't have an easy way to display your video feed on your site.
To make your life easier, the best way is to use a beginner-friendly plugin like Custom Facebook Feed Pro and follow the steps in this tutorial on how to embed Facebook videos in WordPress.
The plugin's simple to set up, so it'll just take you a few minutes to add your video feed to your site.
4. Feed of Facebook Posts
What if you're using your Facebook page to promote your company's blog posts?
You can choose to embed a feed of your Facebook posts so your site visitors can see it when they check out your website.
When you display a Facebook feed of your posts on your site, you can cross-promote your articles by sharing your blog post links on Facebook and on your homepage.
Plus, since your Facebook feed also shows text posts, you can use it to show questions as well.
Check out WPBeginner's Facebook feed below.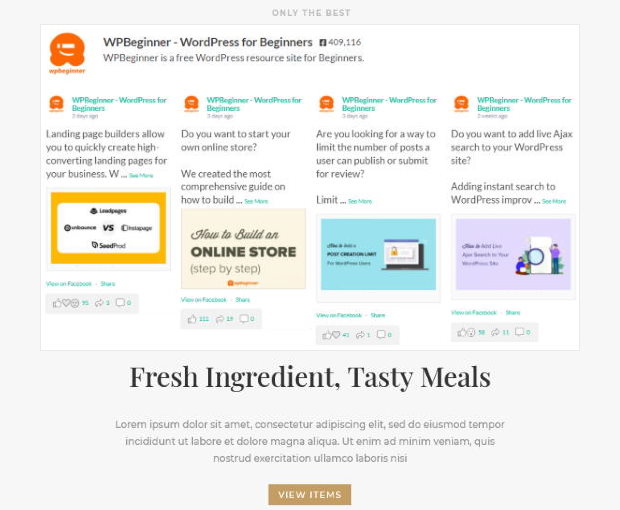 Since it combines blog post links and relevant questions, it's a great way to promote existing content and encourage interaction with the audience at the same time.
Want to know how you can easily display completely customizable Facebook feeds on your website?
Check out this handy guide for full details on how to add a Facebook feed to WordPress today. And if you have a Divi theme, you can see this post on how to embed Facebook feeds on Divi.
5. Facebook Reviews Feed
The great thing about social proof is you can easily use it to your advantage — if you know how to use it right.
For example, displaying social proof like customer reviews on your site is a great way to increase sales and convince your customers to buy from you.
Shoppers would spend 31% more on your business if they see you have good reviews, after all.
So, if your business page has great customer reviews, why don't you embed a Facebook reviews feed on your website?
This way, potential customers can see that you're a company worth doing business with.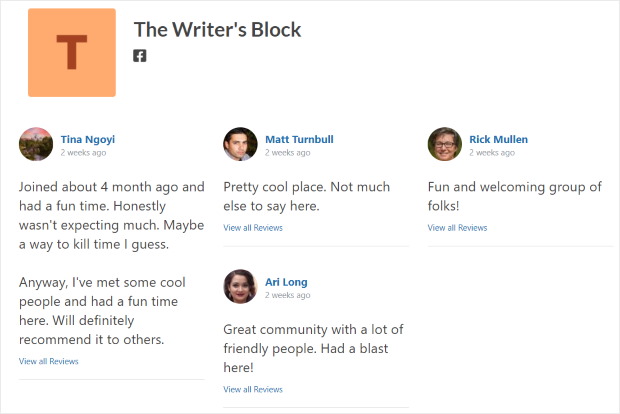 Instead of copying and pasting every single Facebook review code, why don't you let a trusted WordPress plugin automatically do it for you?
And the best plugin that you can use is Reviews Feed Pro.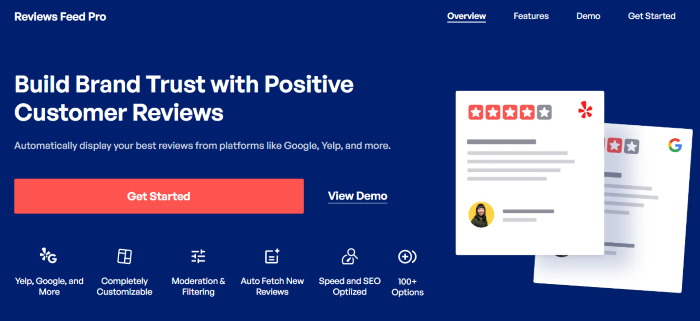 With it, you can create, customize, and embed feeds to show reviews from trusted sites like Google, Yelp, Tripadvisor, and Facebook.
Since it gives you total control over your review feeds, you can choose which reviews to show, add filters, and much more.
Check out this post on how to embed Facebook reviews on WordPress to learn more.
6. Facebook Feed Slideshow
Different types of people respond to different feed layouts.
That's why in this list of Facebook feed examples, we're not going to limit them to just the grid or timeline layout — we'll talk about the Facebook feed slideshow, too.
Displaying your Facebook feed in a slideshow layout entices your target audience to click on your feed, so your audience can interact with you, even without leaving your website.
Why?
Because you're not bombarding them with lots of posts that can seem overwhelming.
Instead, they can take their time looking through your posts and click on the navigation arrows included in the slideshow feed once they're ready.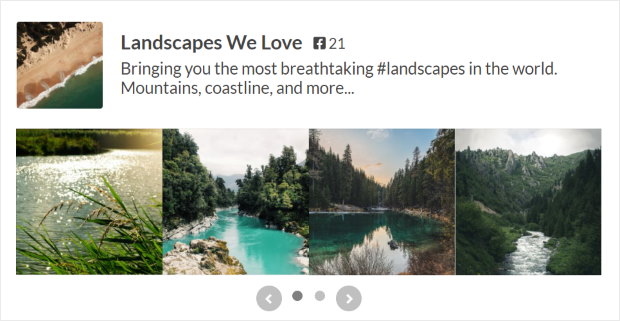 If you use Facebook's platform to display your posts in a carousel, you'd need to have coding knowledge to customize the layout.
Or you'd need to hire an expensive developer to do it for you.
The great news?
If you use Custom Facebook Feed Pro, the best Facebook feed plugin for WordPress, you can easily embed a Facebook feed slideshow on your website — easily, risk-free, and quickly.
Check out the newbie-friendly tutorial here on how to add a Facebook slider to your WordPress.
7. Facebook Sidebar Widget
All the Facebook feed types we've covered above can also be displayed as social media widgets in your sidebar area.
This way, your Facebook content can be seen on every page of your website. So, if you want to increase the visibility of your Facebook feed, choose this layout.
Embedding your Facebook feed as a widget is helpful, especially if you're promoting a limited-time sale, posting real-time updates about your company, or displaying your Facebook reviews.
Since the sidebar widget is highly visible, you can get more exposure to your Facebook posts — something that's tricky to do when your Facebook page isn't popular on the platform.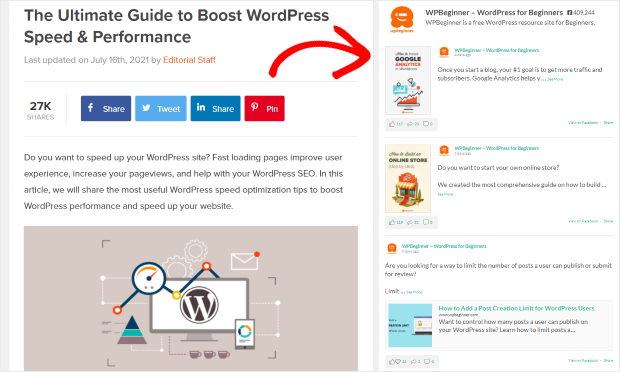 And the bonus part?
The people seeing your Facebook feed will be highly targeted since they're your site visitors who are already interested in your brand.
Interested in doing this for your own website?
Just follow the step-by-step instructions in this post on how to create a Facebook feed widget on WordPress.
So, there you have it!
Now, you've learned about the different examples of Facebook feeds you can embed on your website. As a result, you can easily get tons of new customers and grow your brand.
Next thing on your to-do list? Just follow the linked tutorials so you can easily recreate these examples and use them for your own business.
Ready to get started with Facebook marketing? Get started with Custom Facebook Feed Pro today.
Want to get started with Instagram for marketing? You can just check out our list of the best Instagram marketing tips.
Found this helpful? You can follow us on Facebook and Twitter for more helpful social media marketing tips and tricks.