Are you looking for the best Instagram feeds on website examples? We've got your back.
As one of the fastest-growing apps worldwide, cross-promoting your Instagram content on your website helps you establish brand awareness. It's also a great way to supercharge user engagement and skyrocket customer conversions.
But with multiple social media integration examples on the web, it can be overwhelming to add your Instagram feeds to WordPress. Especially if you're not sure where or how to start.
So in this post, we've compiled a list of the best Instagram feeds on website examples you can copy. For each example, we've also added links to easy-to-follow tutorials so you can easily recreate them on your websites. Yes, even if you don't have any coding skills!
Let's dive in.
1. Highlight Instagram Feed
When talking about Instagram feeds on websites, the grid layout below is the most common example.
It's a great way to showcase your Instagram posts by organizing them into small square-sized thumbnails, right? Every post has the same size, so it can capture your audience's attention equally.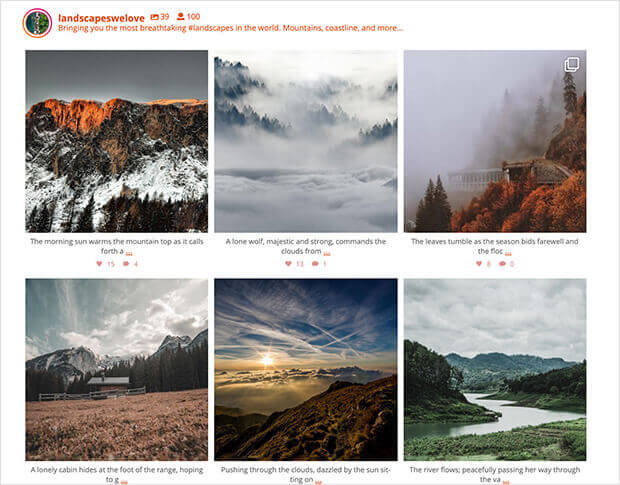 But what if you want something more?
What if your goal is to display an Instagram feed where you want to highlight specific images? What if you want certain images to stand out from the feed?
Have seasonal products that you're selling? Or time-limited sales that you're holding? Perhaps you have certain Instagram posts that link to your product pages when clicked, so you want to put the focus on them?
You can use Instagram Feed Pro's highlight layout for that. Using the highlight layout helps boost brand awareness and market specific products or services that your business is offering.
Since you're using Instagram for business, you can use the highlight layout so that specific Instagram posts on your feed will have 4x the size of the regular posts, like this: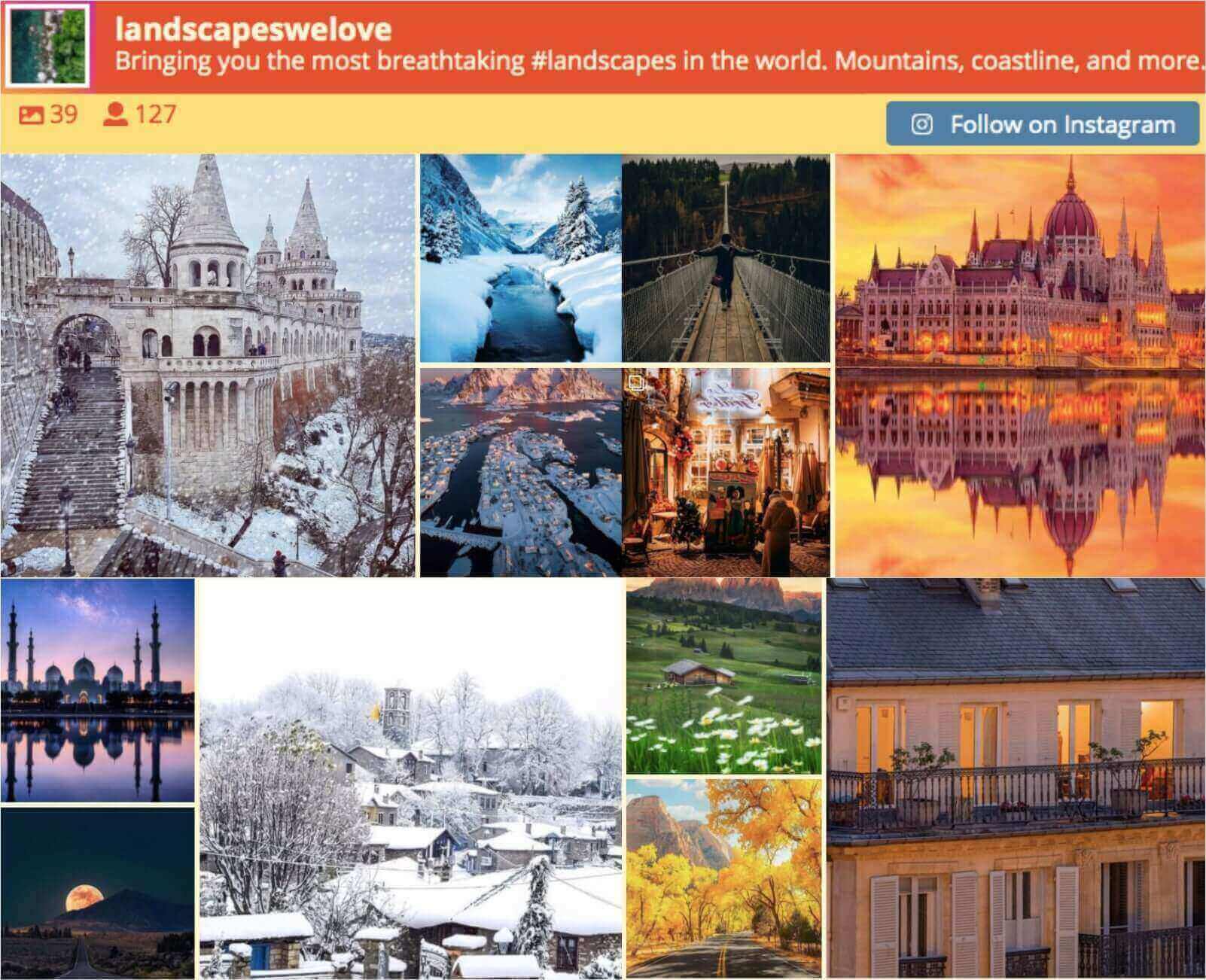 To get started with adding a highlight Instagram feed on your website, check out this easy-to-follow tutorial on how to embed your Instagram feed on WordPress.
2. Hashtag Feed
Another great example of Instagram feed added to a website is the hashtag feed. This type of Instagram feed is the best way to drive more sales to your business through the convincing power of positive social proof.
For example, makeup brand Fenty Beauty displays an Instagram feed of posts using their branded hashtag #FentyBeauty on their homepage.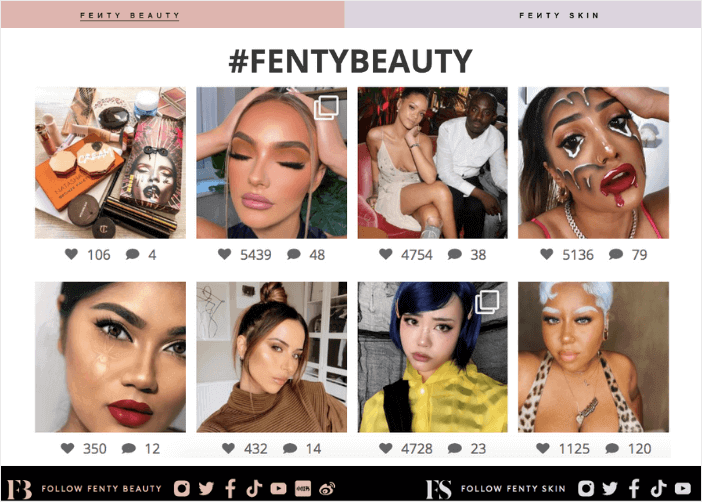 Online athletic wear retailer, Fabletics, does the same thing: posting an Instagram hashtag feed on their website. The only difference is instead of displaying it on their homepage, they created a dedicated testimonial page to showcase their user-generated content.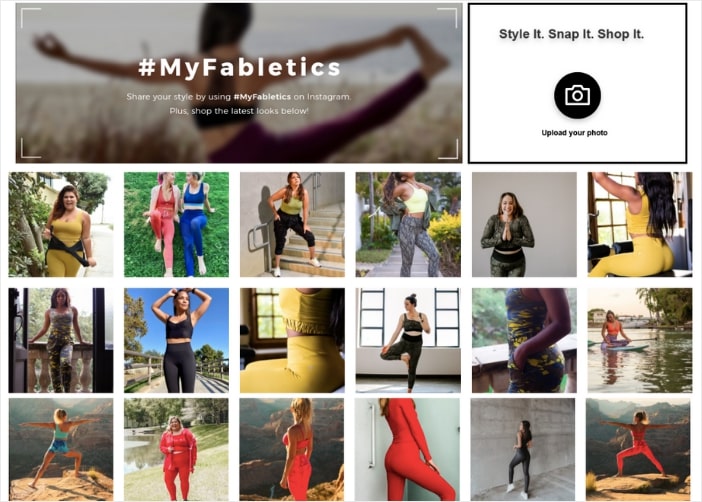 Both brands encourage their website visitors to try out their products because of 3 marketing principles:
Referral marketing: In addition to the website's visitors, the branded hashtag posts can be seen by the users' friends on Instagram as well. And considering that 90% of shoppers trust recommendations from family and friends, it's a powerful tool that can convince prospects to try out the brand's products.
Social proof: Their customers must be in love with their products and services. After all, they're posting about them positively on social media, right?
Power in numbers: The more branded hashtag posts can be seen on your Instagram hashtag feed, the more credible your brand is — so the more likely they'll trust you and do business with you.
Go ahead and learn how you can embed a hashtag feed to skyrocket your website's sales. Take a look at this helpful guide on how to add an Instagram hashtag feed to WordPress for more details.
3. Instagram Slider Feed
Did you know that a person's average attention span is 8 seconds?
This means that if you're showing an Instagram feed on your website, it needs to be beautifully designed and visually engaging to capture your audience's attention.
Otherwise, your site visitors may not even pay attention to your Instagram feed!
Worried about what to do? You don't need to be. When you use Instagram Feed Pro to embed your Instagram feed, it automatically inherits your existing theme's design so your feed looks consistent with your brand's look and feel.

This way, your Instagram feed looks amazingly curated — even if you're an absolute beginner in design.
Also, when you use Instagram Feed Pro's carousel layout, you're encouraging your website visitors to interact with your Instagram content, while still spending time on your website.
This layout is a great way to boost user engagement because your website visitors can take their time consuming your content. And since navigation arrows are added to the slider feed, the user can just click on them to move on to the next page of the feed.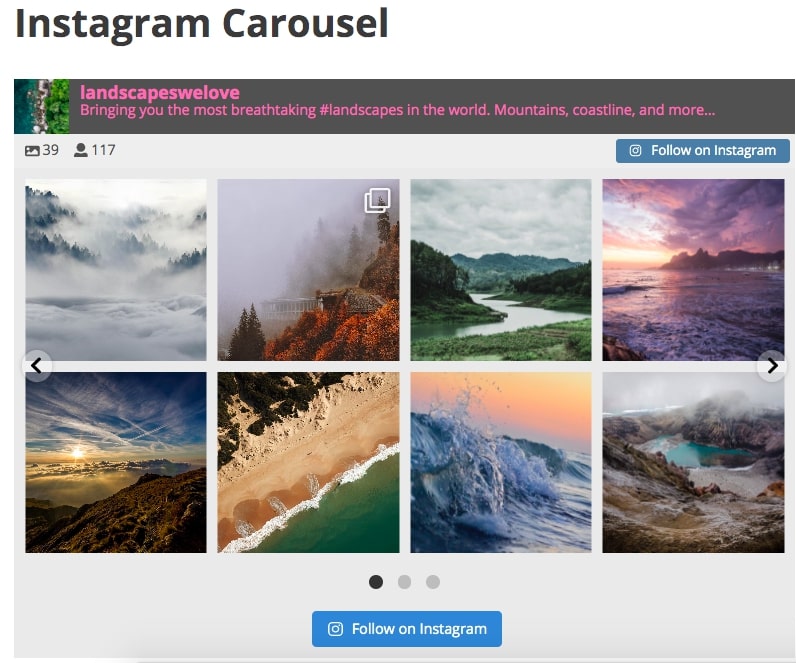 Want to know the best way to embed an Instagram carousel feed on your website? Learn more by following this newbie-friendly tutorial on how to add an Instagram slideshow widget to WordPress.
4. Instagram Sidebar Widget
Another great Instagram feed on website example is your Instagram sidebar widget.
Why? It's simple. Since you embedded your Instagram feed on your sidebar area, it's visible on all pages of your website — as long as the sidebar is enabled.
So, the more site visitors check out your homepage, the more your Instagram feed is seen by targeted traffic. And the more your Instagram feed is exposed to a wider audience, the more likely people will follow you on Instagram and engage with your feed, without leaving your website at all.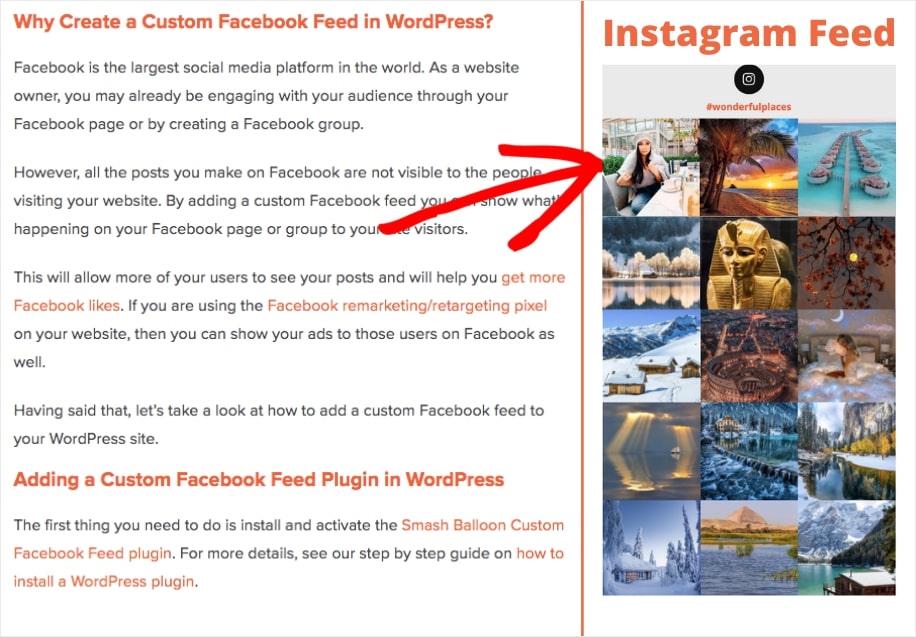 If you're also worried about spending lots of time and effort into making a great Instagram post, only for it to be buried because Instagram's algorithm didn't pick it up, you're in luck! Since you're displaying your Instagram feed on your sidebar, you get to extend the "shelf-life" of your Instagram posts as well.
Interested in trying this out for your own business? Check out this easy-to-follow post on how to add an Instagram widget to your WordPress.
5. Instagram Footer Widget
In addition to getting more Instagram followers, another benefit of embedding your Instagram feed on your website is increasing sales.
How? You need to do 2 things to make this possible:
First, learn how to create a shoppable Instagram feed here. This way, every post on your Instagram feed links to your website's products page.
So, whenever a site visitor clicks on your embedded Instagram post, they're automatically taken to your product catalog where they can take their time browsing through your available products list.
Already created your shoppable Instagram feed? Great!
The next step is embedding your Instagram feed on your footer area, like this: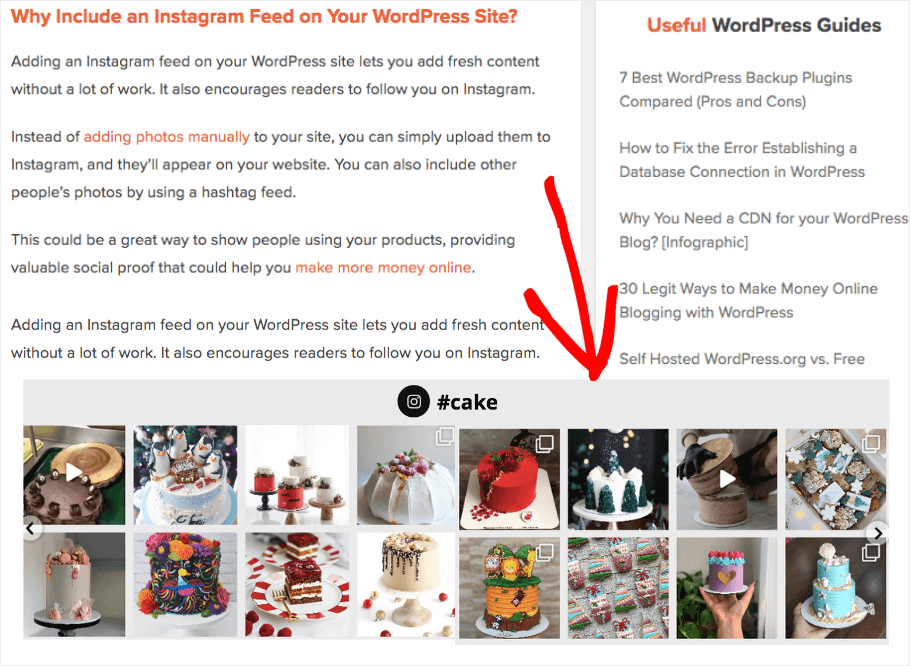 How can you display your Instagram footer feed on your website?
Well, when you use Instagram's platform, you can only add single posts — so adding a whole feed can be complicated, especially if you're a WordPress newbie.
So, to make your life easier, the best way is to get your own copy of Instagram Feed Pro and just follow this helpful tutorial on how to add an Instagram footer widget on WordPress.
Alright — and that's it! We have now showed you the different examples of Instagram feeds on website examples. 
What to do next, you ask?
First, get started with Instagram Feed Pro today. It's the best Instagram feed plugin for WordPress — and the best investment you can make to level up your business' social media marketing.
Next, just follow the linked tutorials so you can easily recreate these examples and use them for your own brand! With the plugin's help, you can set up each Instagram feed in just under 5 minutes, remember?
And if you enjoyed this article, feel free to follow us on Twitter and Facebook for more social media marketing tutorials.