Want to know the best way you can add a YouTube feed to your own website?
With over 500 hours of video uploaded to YouTube every minute, competition is fierce.
That's why displaying your YouTube content on WordPress sets you ahead of the game. It helps you grow your audience and drive more leads to your business.
But if you're not tech-savvy, it can be difficult to manually do this.
So in this article, we'll show you the easiest way to embed your YouTube feed on your site. With this step-by-step tutorial, you can easily do this in just under 5 minutes!
Ready? Let's jump right in.
Easiest Way to Add YouTube Feed to Website
In displaying your YouTube content to WordPress, you can do this manually or automatically.
Manually adding your YouTube videos to your website comes with lots of restrictions, like:
No bulk options: Have tons of YouTube videos you want to display? You need to get the code of each video so you can manually embed them, one by one.
Limited to experts in coding: To embed a YouTube feed and control how it looks like on your site, you have to change pieces of code in the process.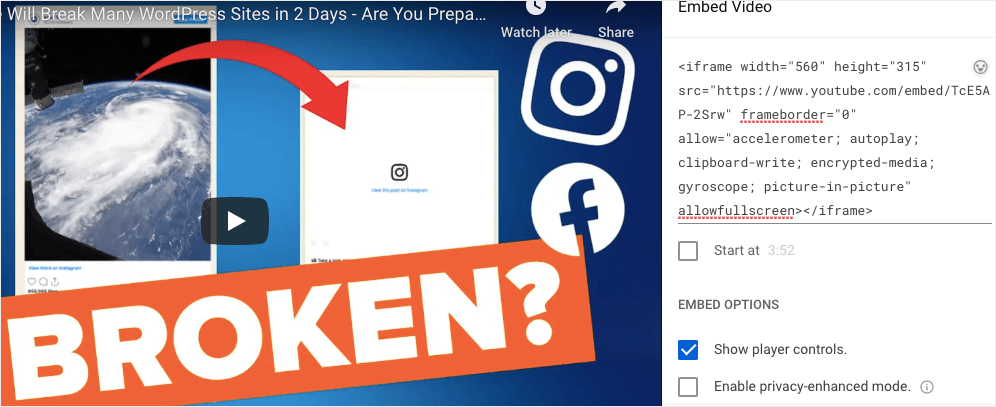 Limited customization choices: Want to customize your YouTube feed to be consistent with your site's theme? You can't. So it'll be hard to change your feed's background color or font color — unless you hire a developer to do it for you.
Risky: One small mistake in coding can break your website and show error pages as a result.
And the worst part? When you manually embed your YouTube feed and accidentally break your site, there's no support team you can contact to help you fix it. So you're left to do things on your own.
If this is the case, then, why not add your YouTube feed automatically instead?
When you use a beginner-friendly plugin like Feeds for YouTube Pro, you can display your YouTube content on WordPress — easily and hassle-free, even if you're not a WordPress expert!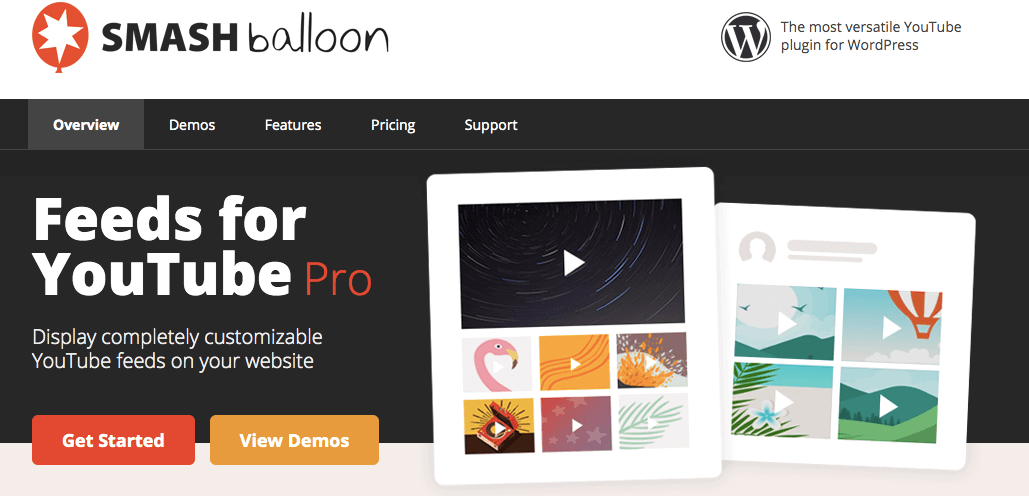 As the fastest-growing YouTube plugin for WordPress, Feeds for YouTube helps you add a customizable YouTube feed to your website.
Just by checking or unchecking choices, you can smoothly set up your YouTube content and control how it looks like when your site visitors see it. No need to deal with confusing code.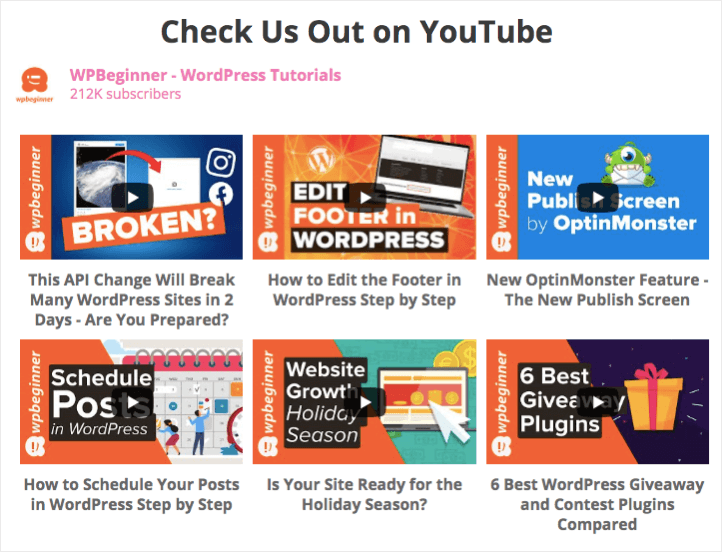 Since the plugin is created with users in mind, it's designed to be ultra fast. So it won't slow down your website at all.
In fact, the only thing faster than the plugin is the dedicated customer support behind it! Need any help with adding your YouTube content to your site? They're just a message away.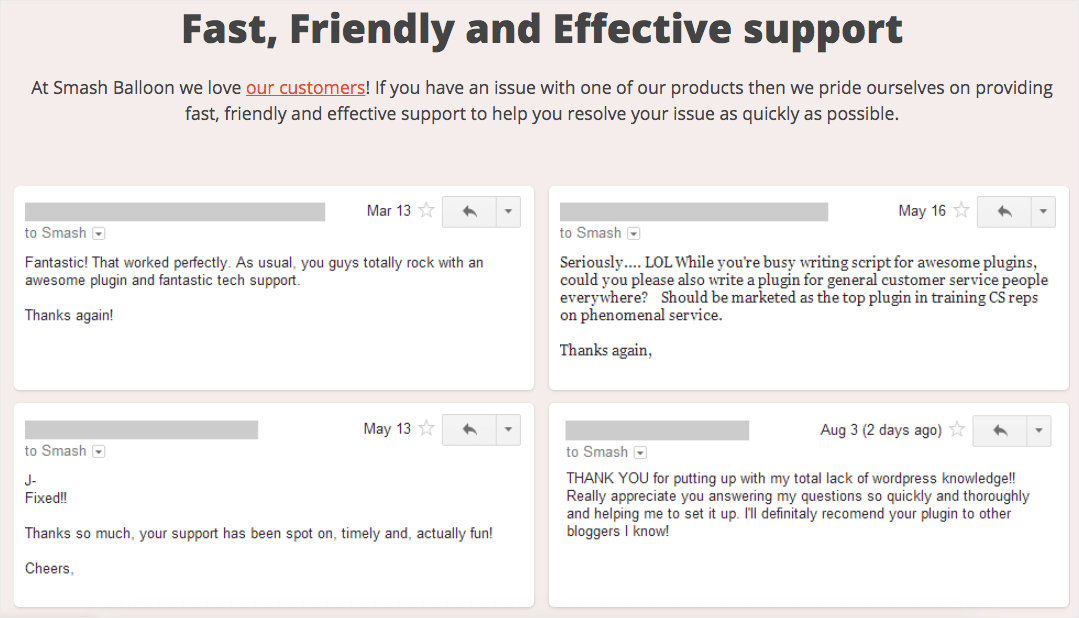 Ready to boost your YouTube subscribers by cross-promoting your content on your site? Check out the step-by-step tutorial below to easily add your YouTube feed to WordPress.
Step 1: Install Feeds for YouTube Pro plugin
To start showing your YouTube feed on your website, get your own copy of the Feeds for YouTube Pro plugin here.
Then, install the plugin so you can add it to your WordPress site. Need a refresher on how to do this?
Check out this step-by-step tutorial to install a WordPress plugin for your guide.
Step 2: Connect Your YouTube Channel
Already done installing and activating the plugin? Great work! The next step is to connect your YouTube account so you can access the plugin's helpful features.
To start, navigate to Feeds for YouTube. Then, under the Configure tab, click on the blue Connect to YouTube to Create a Feed button. Follow the onscreen instructions to successfully link your account to the plugin.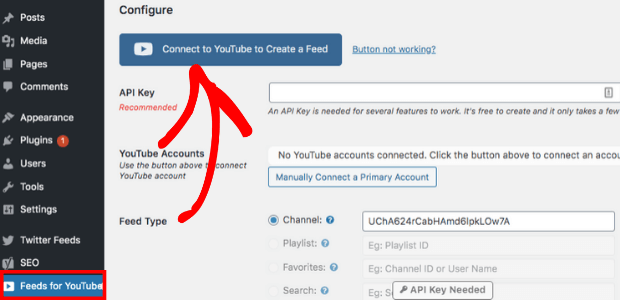 Under this section, you can also add your API Key so you can display more types of YouTube content. It's free to create.
Just follow this nifty guide on creating and using an API Key so you can make one in just a few minutes.
Step 3: Choose Your YouTube Feed Type
Once you're done connecting your YouTube account, the next step is choosing the type of YouTube feed you want to display. First, scroll down to the Feed Type section.
Then, choose the YouTube feed type to be added to your site. You can show YouTube videos from the following feed types:
Channel: Show your chosen YouTube channel's videos.
Playlist: Display a specific playlist feed by adding the YouTube playlist ID
Favorites: Add videos marked as "favorites" by your selected YouTube channel
Search: Embed a video feed based on specific search words or phrases
Live Streams: Show upcoming or existing YouTube live streams of your specified YouTube channel
Single Videos: Display individual videos on your site

Click on the radio button beside your chosen feed type to select it. Then, click the Save Changes button to finalize your choice.
We'll be adding the Channel feed type in this tutorial, so it'll show a YouTube feed of a specified channel's videos on WordPress. To illustrate, we'll use WPBeginner's YouTube channel.
It's super easy to add a YouTube channel's ID. For example, navigate to the YouTube channel you want to display on your website. Then, you can just check out the URL.
The characters after "channel/" is the channel's ID or username, like this: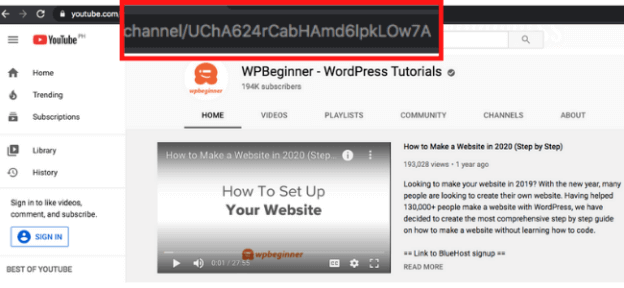 When you're done setting up the channel's ID, it's time to move on to the next step below.
Step 4: Customize How Your YouTube Feed Looks Like
Did you know that the plugin already looks great right out of the box? Since it inherits the same fonts, colors, and other styles that your WordPress theme uses, you can display it as soon as it's set up.
Want to add more customization to your YouTube feed before embedding it on your site?
The plugin's got you covered. With tons of choices to style your feed, you can easily design your feed the way you want — no technical knowledge needed!
To begin customizing your YouTube feed, navigate to the topmost part of the settings page. Next, click on the Customize tab and you'll see options to change your feed's width, height, and even background color.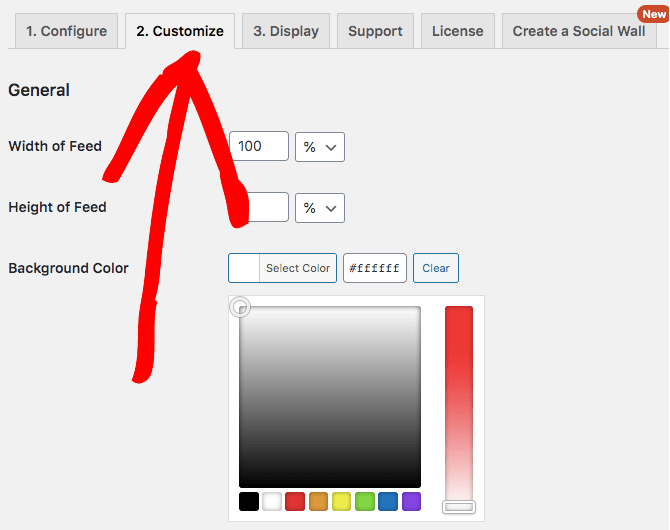 In addition to these, the plugin helps you easily change your YouTube feed's layout, too. Simply scroll down until you see the Layout section and choose the layout for your YouTube feed.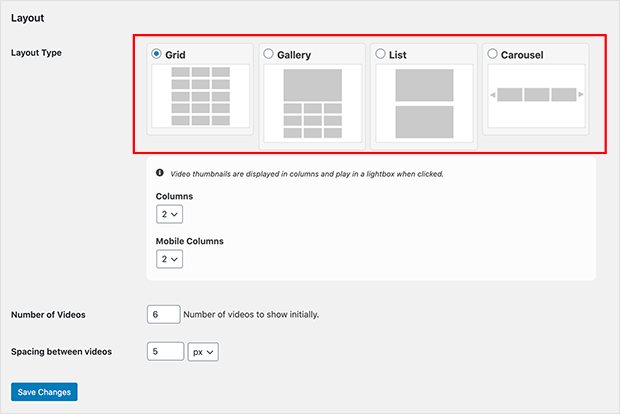 Want to show your YouTube videos in a neatly organized grid of square thumbnails? You can use the Grid layout to make this happen: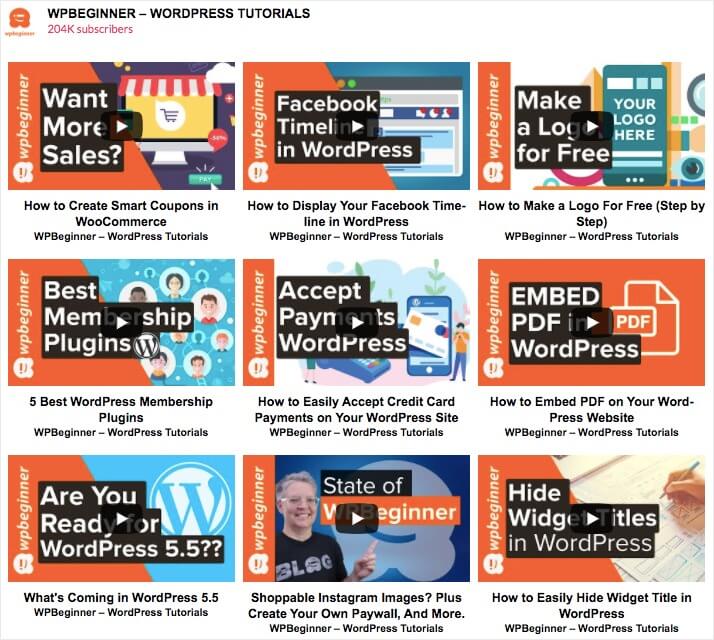 What if you're displaying video testimonials on your website? You can use the gallery layout to show 1 large video with several video thumbnails underneath for longer watch time.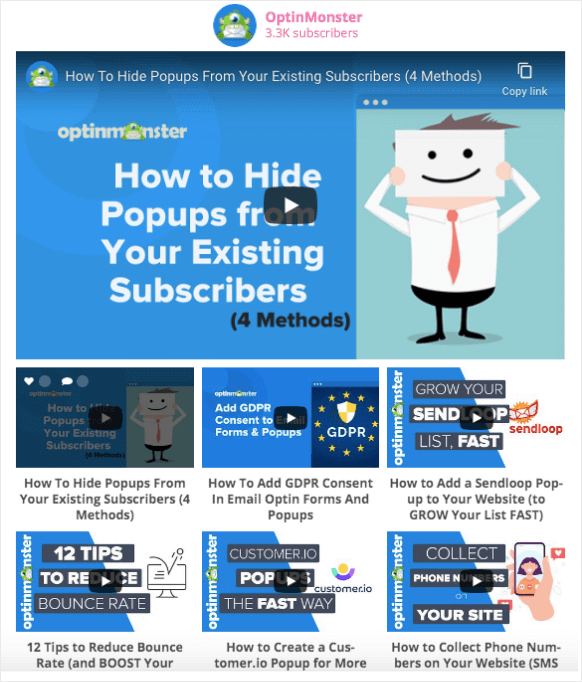 For a more straightforward design, use the list layout to display your YouTube feed in a single column.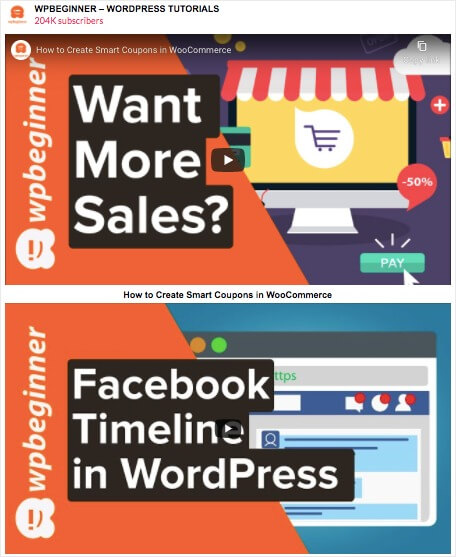 Finally, if you want to display your YouTube feed in a slideshow, you can use the carousel layout to make it easy for site viewers to consume your content.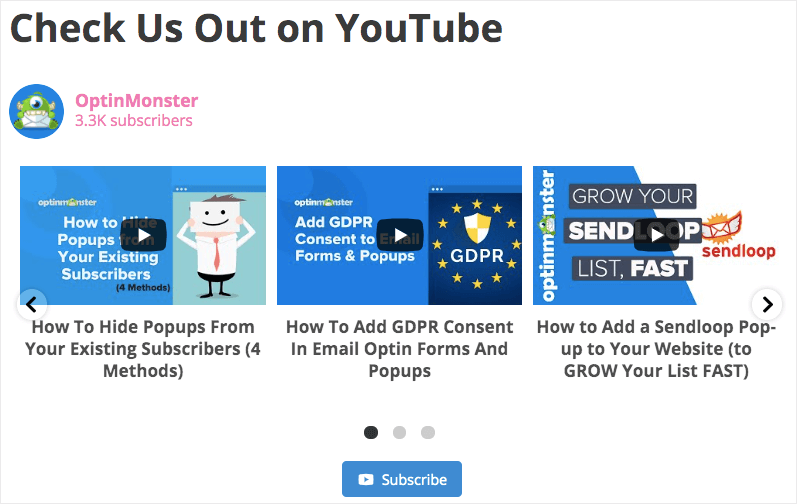 Once you've selected the layout you want, make sure to click the Save Changes button to preserve your choice. Then, you can also scroll further down to the Info Display section to hide or show certain details in your feed.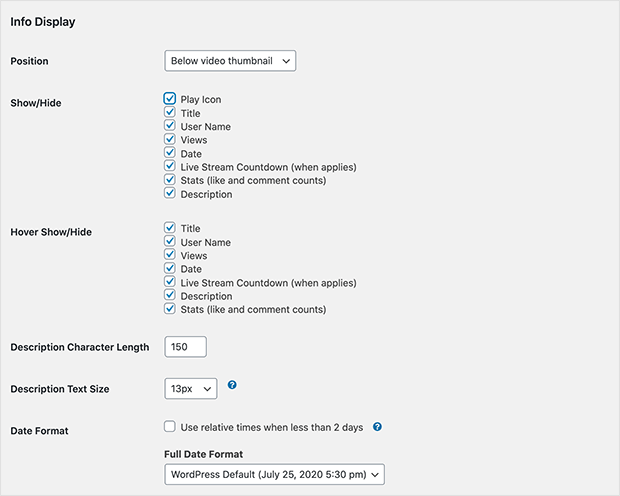 Done with customizing how your YouTube feed looks like so it's consistent with your brand? Nice work. Remember to click the Save Changes button and move on to the final step below.
Step 5: Add Your YouTube Feed on WordPress
Using the plugin, you can easily display your YouTube feed on different parts of your website:
On your page or post in WordPress, or,
On your sidebar in WordPress
Not sure where you'd like to place it? No worries. We'll talk about both steps below.
Add YouTube Feed to WordPress Page
When you choose to embed your YouTube feed on your page, you can use the plugin's WordPress block to automatically do this. First, go to Pages » Add New to create a new page.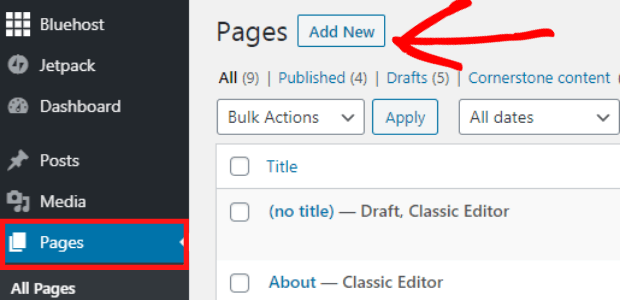 Once your block editor appears, click the Plus (+) icon to choose a new WordPress block. Simply type "youtube" into the search field. See the Feeds for YouTube block?
Just click on it so you can add it to the block editor.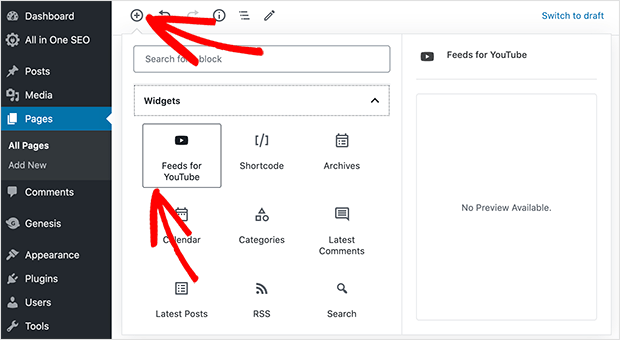 Clicking on the Feeds for YouTube block automatically displays your YouTube feed in the editor. If you have any changes in your feed's design, you can go back to the previous step to do this. If not, go ahead and click on Publish to make it live on your website, like this: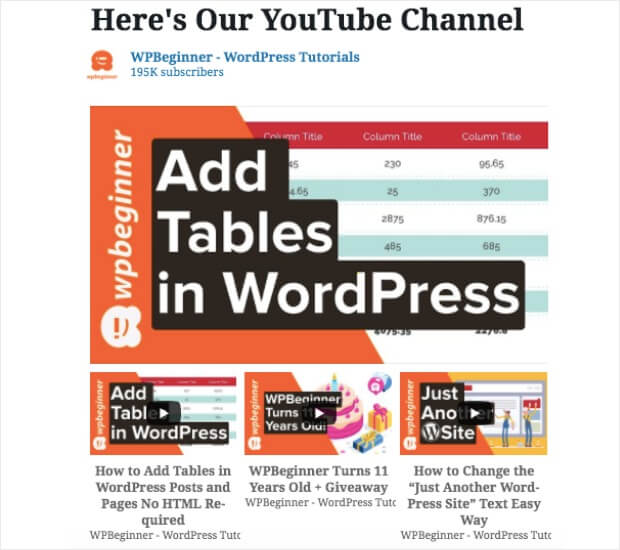 Add YouTube Feed to WordPress Sidebar
Great news! Since the plugin comes with a ready-made WordPress widget, you can easily add your YouTube feed on your sidebar area in just a few seconds.
To begin, navigate to Appearance » Widgets to view your available WordPress widgets. Next, search for the YouTube Feed widget.
Then, just drag this widget to your chosen sidebar area. Don't forget to click the Save button.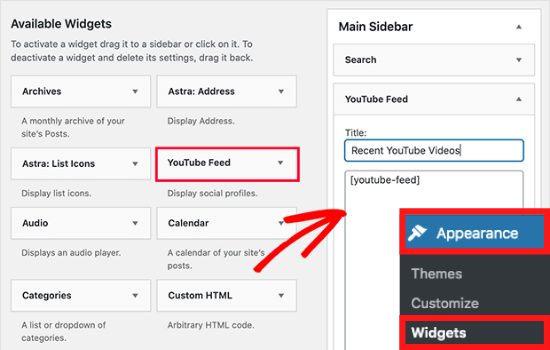 Now, when your site visitors check out your sidebar area, they can see your YouTube feed displayed like this:
So, there you have it! Congratulations. By following the step-by-step instructions on this tutorial, you can now easily add a YouTube feed on your website in just under 5 minutes!
Now, you can start your journey to getting more subscribers and growing your YouTube channel in no time.
What are you waiting for?
Get started with Feeds for YouTube here.
Want to get started with Instagram marketing? Just take a look at our article on the top Instagram marketing tips.
Finally, if you found this guide helpful, go ahead and follow us on Twitter and Facebook for more useful YouTube tutorials.