Looking for the best Facebook plugins to install on your website?
With over 200 million businesses using Facebook, it can be hard to stand out from the crowd and grow your business if you're just marketing on the platform.
And if you want to give your Facebook marketing a boost, an easy solution is to use a Facebook plugin for your WordPress site. That way, you can get more interactions, boost your followers, and grow your online presence.
In this post, we've chosen the best WordPress Facebook plugins to boost your followers and increase your sales.
How to Pick the Best Facebook Plugin
If you want to improve your site's functionality and get more out of WordPress, then plugins are definitely worth it.
But there are so many great Facebook plugins in the market, so it can be tough to find a plugin that's right for your brand's needs.
To find the best option, here's what you should look out for when choosing your Facebook plugin for WordPress:
Features: To get the most out of a plugin, you should look for the ones with powerful features to help with Facebook marketing and grow your following.
Regular Updates: Since Facebook is constantly updating and changing its API, your plugin should be regularly updated as well in order to keep up.
Ease of Use: The best option is to aim for a Facebook plugin that you can set up quickly and start using without having to deal with code.
Pricing Options: Since a WordPress plugin is an investment, it's important to pick one that's budget-friendly and has a free trial period.
Quality Support: If you go for a plugin with high-quality dedicated support, you'll always have experts ready to lend you a hand whenever you need it.
If the Facebook plugin you like fulfills all of these criteria, then you should definitely install it in WordPress.
Now that you know what to look for in your Facebook feed plugin, let's get started with our list.
Best Facebook Plugins to Grow Your Business
Below, we've collected the best Facebook WordPress plugins out there so you can easily find the option
Keep reading to learn more about these useful tools.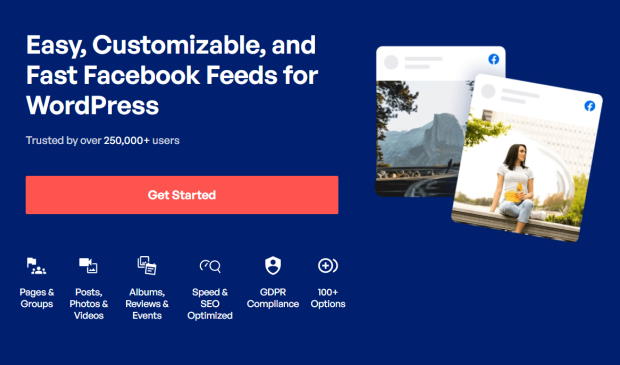 Do you want to embed beautiful Facebook feeds on your website?
With the help of Facebook Feed Pro, the best Facebook feed plugin for WordPress, you can easily do this.
In fact, the plugin lets you create, customize, and display Facebook feeds on your site — even if you're not tech-savvy.
Plus, you can easily customize your Facebook feeds to look the way you want with just a few clicks. This way, your Facebook feeds will match your brand's visual identity even if you don't have any experience in design.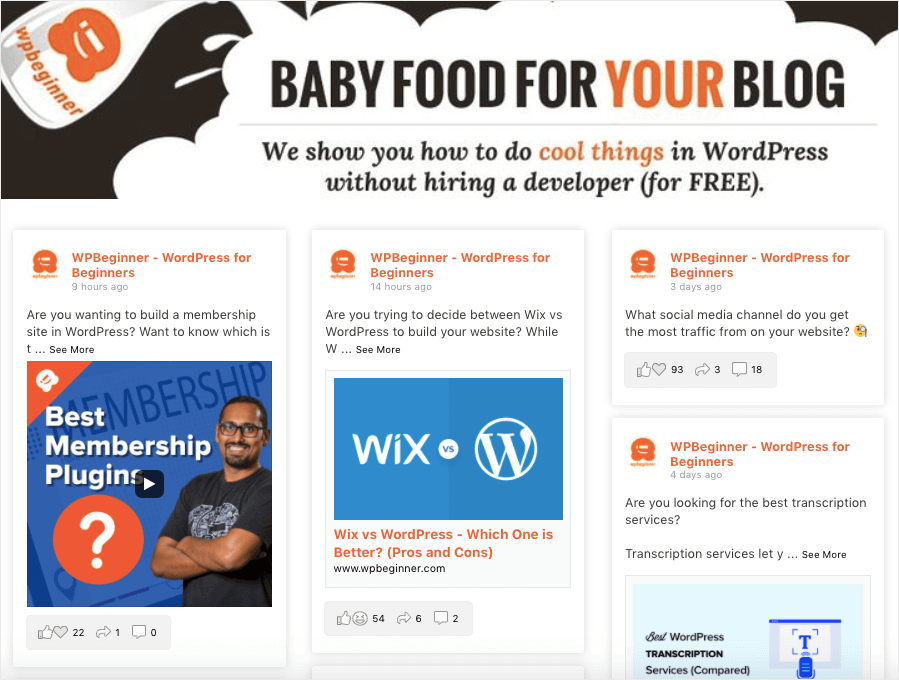 The plugin comes with different layouts that allow you to showcase your Facebook posts in different formats. Even better, it's also automatically responsive, so your Facebook feeds look great on both mobile and desktop.
Want to show posts from your Facebook group, too? No problem.
Because Facebook Feed Pro is designed to show different types of posts, you can use it to display your Facebook group feed, your Facebook photo albums, and even Facebook videos on your website.
Finally, the plugin has lightning-fast performance, so your Facebook feeds load as fast as possible on your website.
Also, the plugin ensures that your website will still display your Facebook feeds, even if Facebook's temporarily down — it's 100% reliable.
Why We Like It:
Of all the options we tested out, Facebook Feed Pro is easily the best Facebook plugin if you want a quick and easy way to embed Facebook content.
That way, you can boost your website's engagement, get tons of interactions, grow your followers, and more.
Pricing:
You can start using the Facebook Feed Pro plugin for a low price of $49/year.
Ready to get started? Level up your business with Facebook Feed Pro today!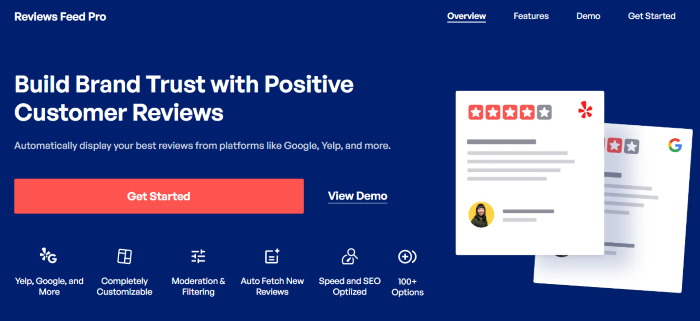 If you want a great Facebook plugin to help you grow your sales, Reviews Feed Pro can be the option for you.
As the fastest-growing reviews aggregator online, you can use Reviews Feed Pro to display positive reviews on your site.
That way, your visitors can see social proof from Facebook users who are happy with your products and services.
For more information, you can follow our guide on how to embed Facebook reviews on your website.
Features:
On top of Facebook reviews, you can use this plugin to embed reviews from other highly trusted platforms such as Yelp, Tripadvisor, Google, Trustpilot, and more.
All you have to do is follow the guided flow, and the plugin will take you through the process of creating, customizing, and embedding review feeds.
To help you show Facebook reviews beautifully, you can feed templates and a simple visual customizer — no coding needed.
Reviews Feed Pro is super lightweight, so you can embed tons of Facebook reviews at once, and your site will load as fast as ever
Since the review feeds are automatically updated, you can showcase fresh content with relevant keywords on your site and get much better SEO.
Why We Like It:
Reviews Feed Pro stands out as the best WordPress plugin for Facebook reviews and a great way to increase your sales.
Plus, showing positive reviews is a fantastic way of showing visitors that you listen to what your customers have to say. That way, you can build trust in your brand and get even more reviews.
Pricing:
To get the Reviews Feed Pro plugin, the price starts at only $49/year.
Get Reviews Feed Pro for your site today and grow your business with Facebook marketing.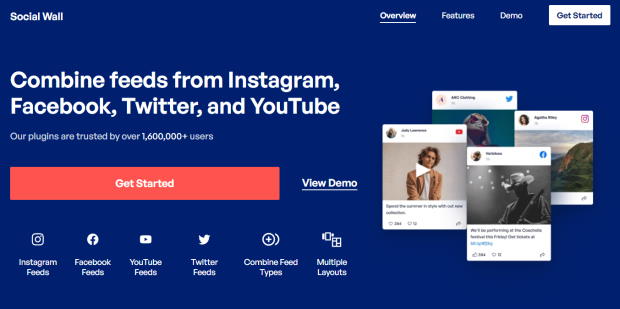 Looking for the best tool to help you display engaging social feeds from different social networks on your website?
Look no further. Social Wall Pro, the best social media aggregator for WordPress, is here to help you.
With it, you'll have an easy time promoting your business on Facebook, as well as other massive platforms.
Features:
Social Wall Pro combines feeds from Facebook, Instagram, Twitter, and YouTube into a gorgeous single feed.
Like other Smash Balloon plugins, you can set up your social feeds and showcase them on your website — no technical knowledge needed.
Since you just need to click buttons to customize your feed's content and design, you can embed your social feeds in less than 5 minutes!
No time to design your social media feeds? No worries. Social Wall Pro automatically inherits your site's existing design, so your feeds look consistent with your branding.
All the social walls you create are 100% responsive, so they'll look beautiful to your visitors no matter what device they're using.
Why We Like It:
Social Wall Pro gave us a fantastic way to boost social media marketing across some of the biggest platforms at once. It's a great way to grow your brand's overall online presence with ease.
Pricing:
The Smash Balloon All Access Bundle has the best social media feed plugins for WordPress, and for $299/year, you can get unlimited access to use them on unlimited websites.
Get started with the All Access Bundle today.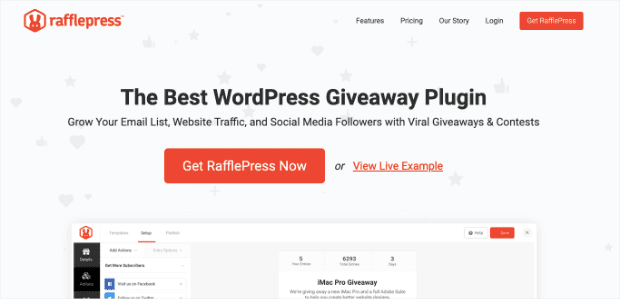 Ever wanted to create viral Facebook giveaways to increase your brand reach?
You may think it's hard to do, but with RafflePress, it's actually easier than ever.
As the best contest and giveaway plugin for WordPress, RafflePress lets you create successful Facebook contests — without hiring a developer.
For more details, you can check out this tutorial for step-by-step details on how to run a giveaway on Facebook.
Features:
The plugin comes with a drag-and-drop builder that makes it super easy to create engaging Facebook giveaways.
Since RafflePress is so user-friendly, you can create, design, and publish your Facebook contests with just a few clicks.
RafflePress also has a built-in Facebook giveaway template, so you can create a Facebook contest that requires participants to view your Facebook page to enter.
You can also ask users to view a specific Facebook post or video to increase their chances of winning your giveaway.
When your contest is over, RafflePress easily lets you choose a winner as well — no need to do this manually. The plugin even has a ready-made link you can click to email the winner right away.
Why We Like It:
In our testing, RafflePress performed really well and let us create engaging giveaways in record time.
It's a simple and effective way of giving your Facebook presence a boost while creating a great impression of your brand.
Pricing:
For RafflePress, the pricing options start at only $39.50/year.
To grow your business with viral giveaways, grab your copy of RafflePress today.
Looking for an easy way to promote your Facebook page or group?
As the best lead generation tool in the market, OptinMonster can help you create engaging marketing campaigns to turn your website visitors into Facebook followers.
Check out our detailed OptinMonster review for you to see if it's the best Facebook plugin for your business.
Features:
OptinMonster can help you create marketing campaigns to promote your sales, specific products, email list, other social media accounts, and so much more.
For your marketing campaigns, you can show popups, gamified wheels, sidebar optins, full page popups, and much more to grab the attention of your visitors.
You can also add engaging call-to-action to your campaigns and get visitors to follow you on Facebook or interact with your posts.
OptinMonster can automatically show the right marketing campaign to the right person at the right time, so there's a higher chance that they'll be converted into your leads or customers.
Why We Like It:
With beautiful templates, smart targeting, and more, OptinMonster makes it super easy to get new Facebook followers and group members.
Plus, OptiMonster turned out to be an amazing marketing tool in general. It can help grow email lists, promote sales, get website members, ask for reviews, and much more — all in a simple package.
Pricing:
You can get OptinMonster for a price of only $9/month.
Want to build effective marketing campaigns? Grab your copy of OptinMonster here.
As one of the best social media plugins for WordPress, Cresta Social Share Counter helps you easily add social sharing buttons to your WordPress posts.
In addition to a Facebook sharing button, the plugin comes with tons of social sharing buttons for different platforms such as Pinterest, Twitter, LinkedIn, email, and more.
Features:
The plugin lets you customize the location of your sharing buttons by choosing to add them before or after your post's body.
You can use the plugin to display the Facebook share count for each article on your WordPress to encourage user engagement.
Cresta Social Share Counter lets you easily choose from different button styling options, so you can choose the best look for your website.
Why We Like It:
Cresta Social Share Counter turned out to be a lightweight tool that does its job without any hassle.
If you simply want to add social shares to your website, this can be the plugin for you.
Pricing:
You can use the basic version of the plugin for free, but you'll need the Pro version starting at €9.99.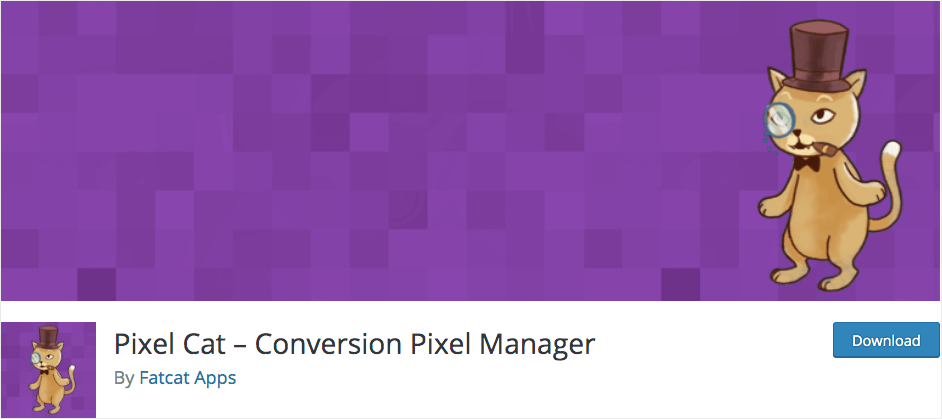 Are you running Facebook ads?
Then you need this next item on our list of the best Facebook plugins on the market.
As a conversion pixel manager, Pixel Cat helps you add Facebook retargeting pixel to your WordPress website. This retargeting pixel lets you show customized Facebook ads to Facebook users who have visited your site.
Features:
The plugin comes with a one-click setup, so you can easily add Facebook retargeting pixel — no coding needed.
Even better, you can use Pixel Cat's point-and-click builder throughout the whole process so it's easier and faster to add Facebook retargeting pixels to your website.
Pixel Cat also helps you track conversions and create retargeting audiences for your Facebook ads, so you can boost your sales by showing better ads to your audience.
Why We Like It:
Pixel Cat is a quick and easy tool that lets you get more out of Facebook ads and track conversions. It's lightweight, easy to use, and worked perfectly whenever we tried it out.
Pricing:
You can start using Pixel Cat for free right away.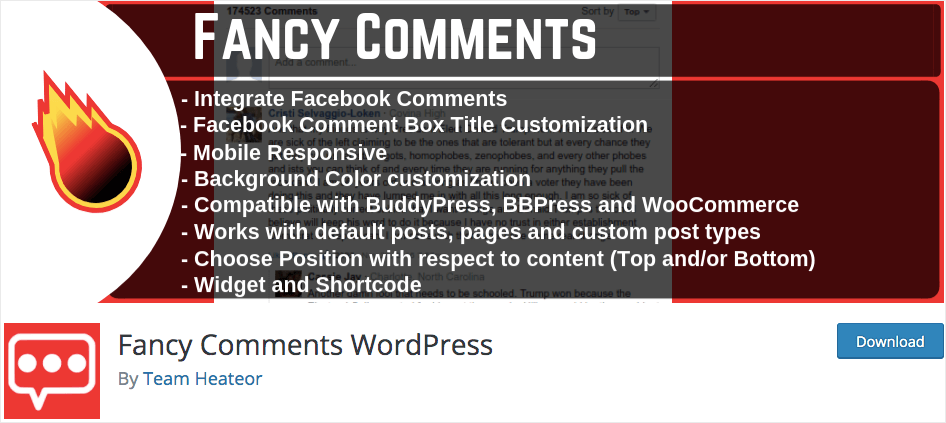 A popular Facebook comments plugin, Fancy Comments WordPress allows your site visitors to leave comments on your website with their Facebook account.
This way, you can boost user engagement on your website by making it easier for your readers to comment on your posts.
Features:
The plugin also lets your commenters choose to share their comment on their Facebook profiles. So, it's a great way to drive traffic back to your website.
Fancy Comments WordPress comes with tons of styling options, so you can customize your title text color, font style, alignment, and background color.
The plugin lets you choose between adding the comment box at the top of the content or at the bottom of the post.
Why We Like It:
While it's a niche plugin without a lot of features, Fancy Comments WordPress gives you a great new way of interacting with website visitors.
Pricing:
You can start using this free WordPress plugin without purchasing a pro version.
Which is the Best Facebook Plugin for WordPress?
As you can see, there are tons of options when it comes to Facebook plugins that you can use for your business.
We've listed some of the best ones in this article, but there's one plugin that stands out above the rest: Facebook Feed Pro.
It's the #1 Facebook feed plugin in the market and lets you embed posts, photos, videos, livestreams, albums, reviews, and more on your site.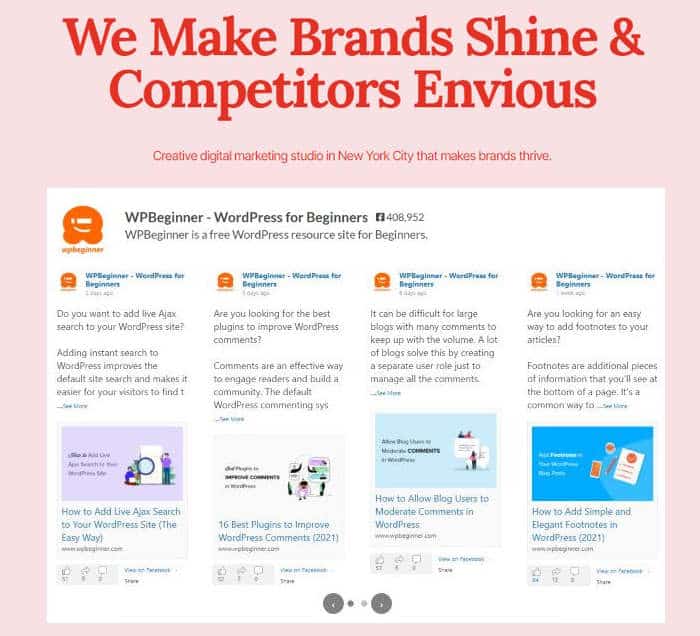 That way, you can keep your website visitors interested with a variety of engaging content and show them that you're active on Facebook.
On top of that, you can get tons of new followers, likes, and comments from the people visiting your website.
Since the plugin is so user-friendly, you can set it up and start creating beautiful Facebook feeds before you know it.
Get Facebook Feed Pro for your site today and take your social media marketing to the next level.
And that's it!
We hope this post helped you find out about the best Facebook plugins that can help you grow your business this year.
Want to take your Facebook marketing to the next level? Get started with Facebook Feed Pro today!
Or if you want unlimited access to Smash Balloon plugins so you can use them on unlimited websites, go ahead and get the All Access Bundle here.
Best WordPress Plugins and Tools (Smash Balloon Picks)
And that's just the start! There are tons of other amazing WordPress tools out there that can help you take your business to another level:
Interested in getting more Facebook engagement? Here are proven tips to boost your page engagement.
Finally, if you found this article helpful, feel free to follow us on Twitter and Facebook for more useful social media marketing tips.