At Smash Balloon, we're always looking for ways to make our plugins help you better.
And this time, we're bringing out our latest update for Facebook Feed which includes exciting new features to help you grow your business more.
Now you have pre-built themes for your Facebook feeds, so it's easier than ever to create beautiful feeds that can keep visitors engaged.
Plus, you can even connect a Facebook account that represents all locations of your business or each location individually.
For a quick overview of this update, take a look at this video:
Ready-Made Professional Themes to Create Beautiful Feeds
In the past, you could use the visual feed customizer or import templates to design your Facebook feeds without any coding.
To give you even more control over your feed's appearance, we wanted to bring you another simple way of creating engaging Facebook feeds for your website.
Now, with Facebook Feed Themes, you can choose from professionally-designed feed themes that change your feed's layout, button design, post style, and more, all in a single click!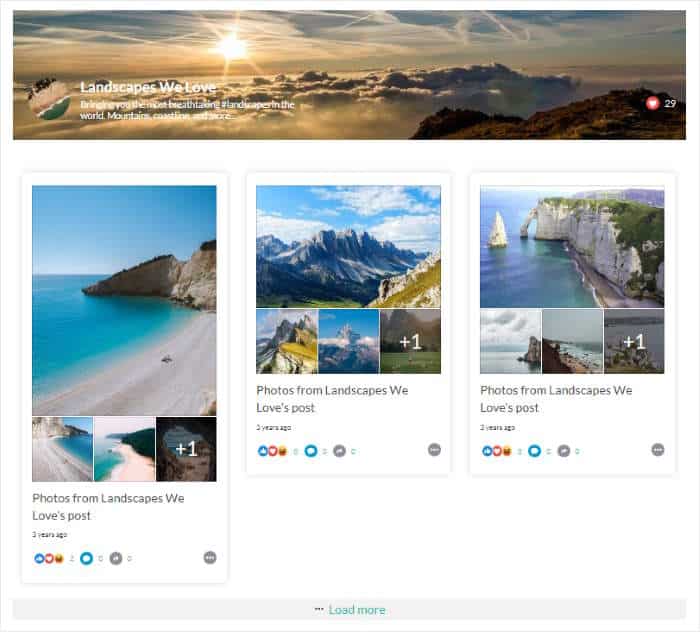 The new feed themes feature, together with the existing visual customizer and feed templates, gives you more customization options so you can freely personalize how your Facebook feed looks – no technical knowledge needed.
Once you select a source for your Facebook feed, the plugin lets you choose from 5 expertly-designed themes:
Default Theme
First, we have the Default theme that comes with a professional look that matches our original design.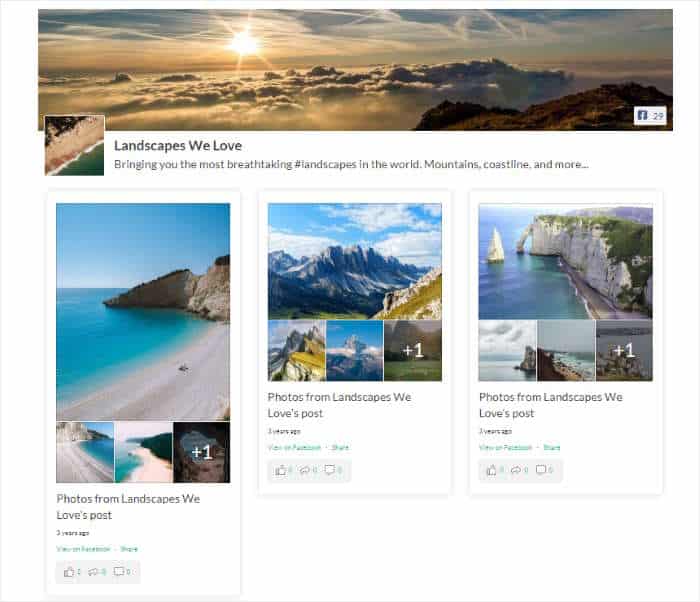 So, the Facebook content you embed will perfectly fit the default Smash Balloon look that you're already familiar with.
Using the default theme's clean look, you can embed your Facebook group feed on your site's "About" page and get more people to join your community.
Modern Theme
With the Modern theme, you can display color reaction icons along with a round profile pic for your Facebook feeds. That way, you can have feeds that resemble Facebook's official design.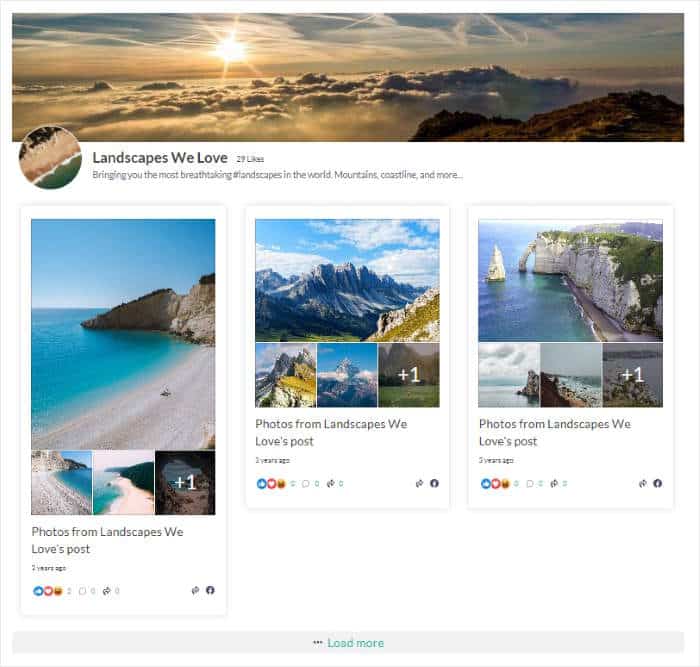 Since these feeds will look familiar to your Facebook-using website visitors, you'll have an easier time getting engagement.
You can use the Modern theme to showcase Facebook video feeds on your site and easily get tons of views and interactions.
Social Wall Theme
Next, we have the Social Wall theme that'll show a Facebook logo on each post. And at the top, you can show a banner with your profile pic and cover image.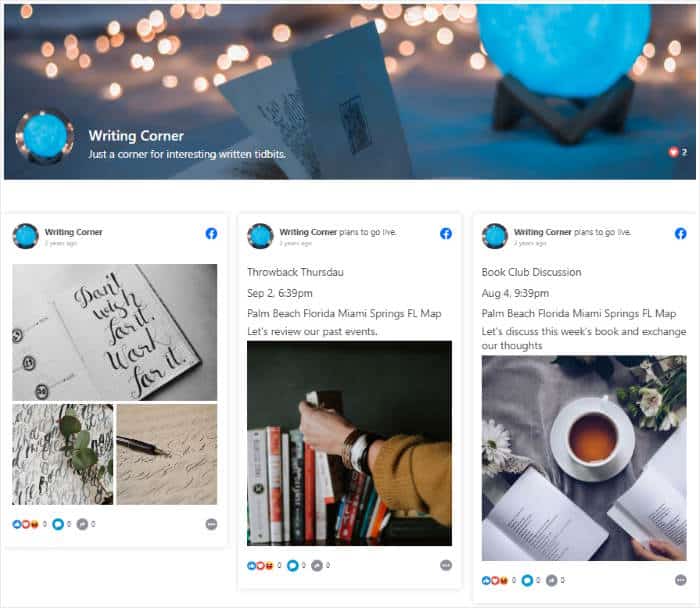 In fact, this design was inspired by our Social Wall plugin and even has rounded icons.
For instance, this theme can help you display a beautiful Facebook events calendar on your homepage.
So, you can get tons of people joining your brand's events, where you can convert them into dedicated customers and brand ambassadors.
Outline Theme
With the Outline theme, you can get a rounded cover photo and round profile pic on your Facebook feeds.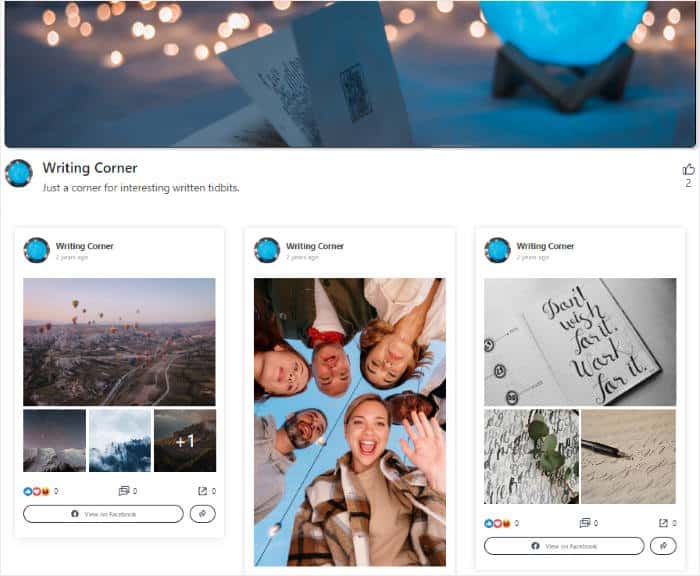 You also have wireframe designs for buttons under each post to give your feeds a unique look that stands out.
That way, you can showcase an eye-catching Facebook feed with positive reviews on your product page and convert more visitors into customers.
Overlap Theme
To show profile and cover photos with rounded corners and new buttons under each post, you can use the Overlap theme.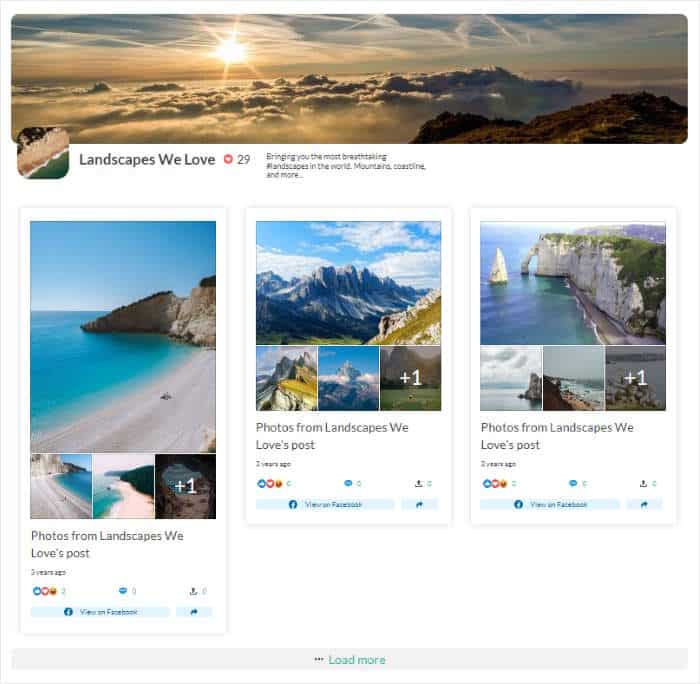 Plus, you even get a unique header layout at the top that can make your Facebook feeds more engaging.
You can display a colorful Facebook photo feed with this theme to promote your limited-time sale and get more people to buy from you.
As you can see, each theme comes with a beautiful design that can help take your Facebook marketing to the next level.
All you have to do is select the theme you want to use and then click on the Next button.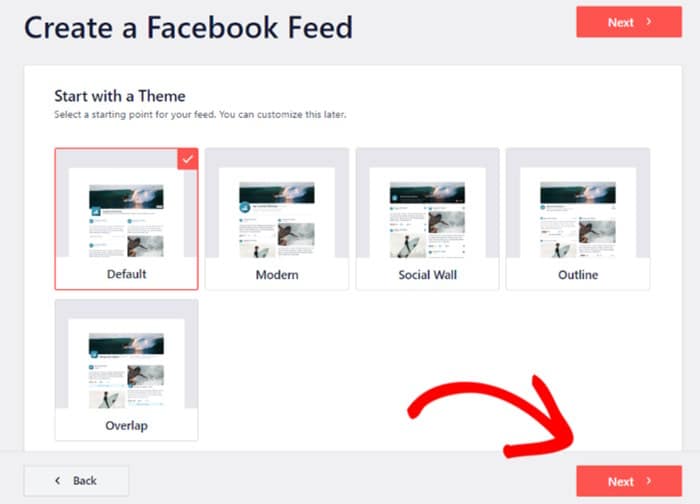 Now, Facebook Feed will automatically copy the theme's layout, colors, and design schemes for your new feed.
Created by professional designers, these themes will help you showcase Facebook content beautifully on your site.
And with beautiful Facebook feeds, you can get more engagement, boost your Facebook followers, and grow your business with ease.
Want to change the theme for your Facebook feeds? We've got you covered!
You can freely change your theme directly from the plugin's visual customizer. Just click on the Theme option on the left side panel to get started.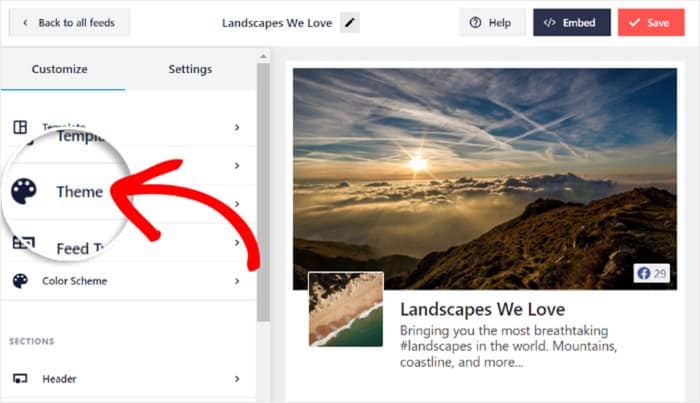 Once you do that, Facebook Feed will show your active theme on the left.
Here, click on the Change button to select another theme for your feed.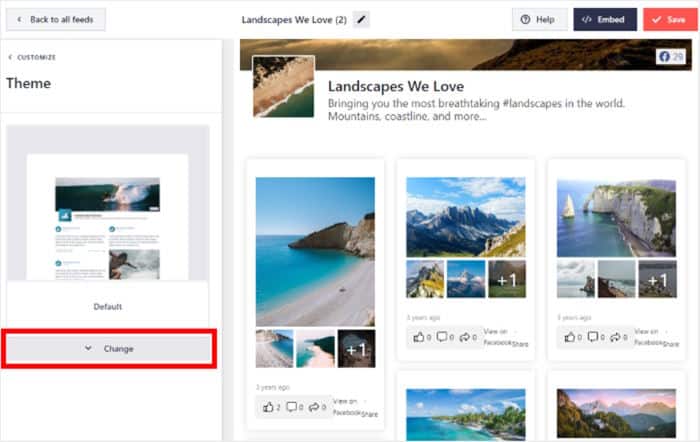 You can then use the drop-down menu to switch to any of the other themes in just a single click.
If you hover over one of the options, the plugin even shows you a preview of how the Facebook feed theme looks.
Once you select a theme you want, click on Save, and your new feed design will be saved.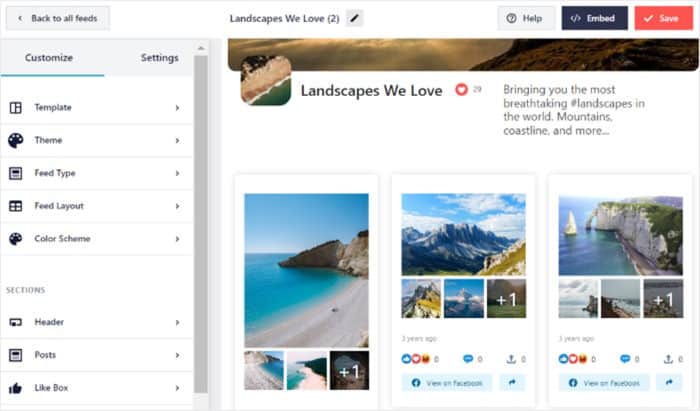 Minor Facebook Plugin Improvements
On top of new design features, we've also rolled out a couple of more improvements to make Facebook Feed better.
Recently, some users told us that the albums in their Facebook album feeds weren't showing up in the right order.
We looked into it and found that albums sometimes appeared out of order due to a problem on Facebook's end.
And with this update, we've added a simple fix to solve this issue once and for all.
Now, you can choose to short your Facebook albums by publishing date!
That way, you'll have an easier time engaging website visitors with your latest Facebook albums.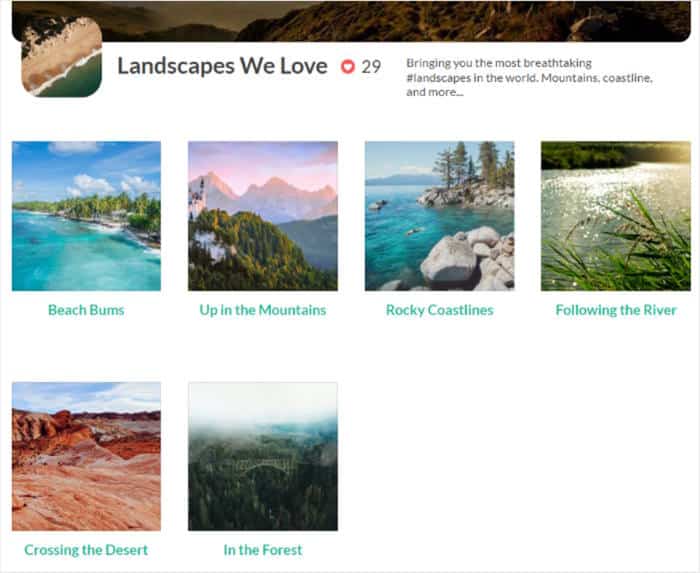 Plus, it's super easy to activate this feature. Once you update your plugin, open your albums feed in the visual customizer and then go to Settings.
There, click on the Advanced option, and you can find a new section labeled Album Order.
You can then use the dropdown menu to start showing albums based on the "Updated on" date.
Finally, we've also added a cool new feature to help brands with different Facebook pages for different locations.
When creating your feeds, you can now connect to a Facebook page that represents one specific location of your business.
Or, you can choose to show content from all locations of your business in a single Facebook feed.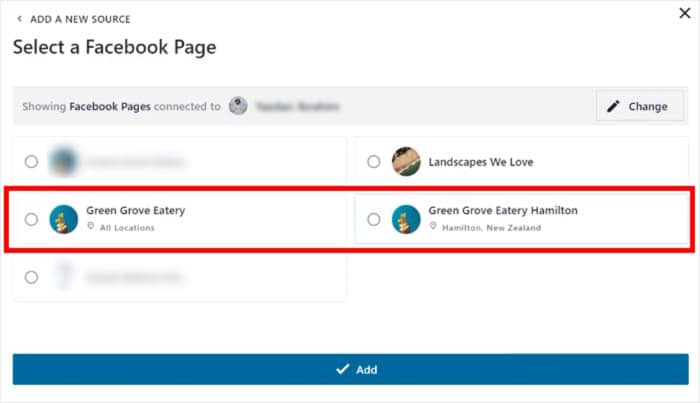 By creating Facebook feeds like this, you can:
Display Facebook content from pages representing tons of locations on your homepage to build brand awareness
Build custom landing pages for visitors from specific places so you can show them relevant Facebook content and boost your engagement
Embed Facebook posts for one specific location on your sidebar to promote a location-specific sale and get more conversions
Update Your Facebook Feed Plugin Today
And that's it for our latest update! To learn more about this update, you can check out the Facebook Feed documentation here.
As you can see, we're really serious about making sure Facebook Feed remains the best Facebook feed plugin out there.
We're always so thankful for your support. As always, we'd love to hear what you thought of this update. With your feedback, we can keep improving the plugin and help you guys out even more.
Have any questions? You can reach out to our customer support team at any time.
Don't forget to keep an eye out for even more updates in the future. After all, we've got tons of amazing new features planned out.
If you haven't unlocked the full version of Facebook Feed yet, this is the perfect chance to get started.
Get Facebook Feed Pro today and start boosting your Facebook following and growing your business with ease.