Looking for a Gumroad alternative to sell your products?
Gumroad is a popular solution for people who want to sell digital products online. While it has some useful features, Gumroad has recently started charging people 10% on top of regular fees!
The good news is that you can find tons of Gumaroad alternatives online. And today, we're going to list the best ones.
Let's get started!
Why Do You Need a Gumroad Alternative?
As a popular eCommerce platform, plenty of people are using Gumroad to sell their products on the internet.
Unfortunately, Gumroad made some unpopular changes to its pricing structure. Instead of tiered pricing for different users, Gumroad charges a flat rate of 10% to everyone.
And for many, this can mean a 300% increase in price!
On top of the pricing changes, Gumroad has a few other problems that users have to deal with:
No easy refund feature
Lack of customization options
Only a few integrations with other platforms
Limited inventory management system to track products
And much more
Instead of dealing with these downsides, you can simply go ahead and switch to a Gumroad alternative.
6 Best Gumroad Alternatives to Sell Your Digital Products
To help you out, we've listed the best Gumroad alternatives on the internet that you can use.
Here are the options that we'll cover in this article:
Let's take a look at them below.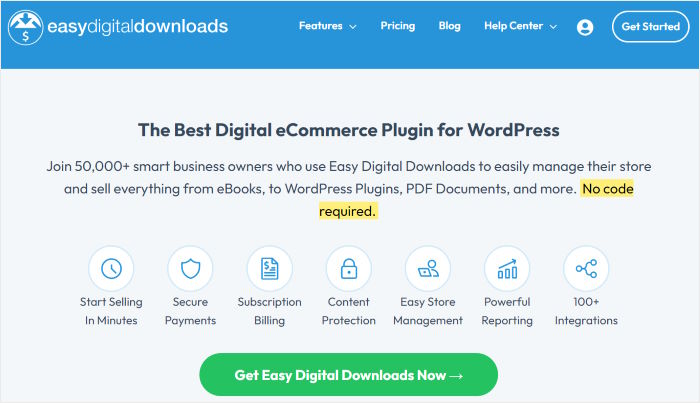 First, we have Easy Digital Downloads, the best digital eCommerce plugin for WordPress.
Just like Gumroad, Easy Digital Downloads can help you sell your digital products and grow your business online.
Since Easy Digital Downloads is a lot more flexible, it comes with tons of helpful features that make it easier to run a digital storefront.
Built for Digital Products
Easy Digital Downloads has been created specifically to help users sell digital goods like songs, software, eBooks, podcasts, webinars, and much more.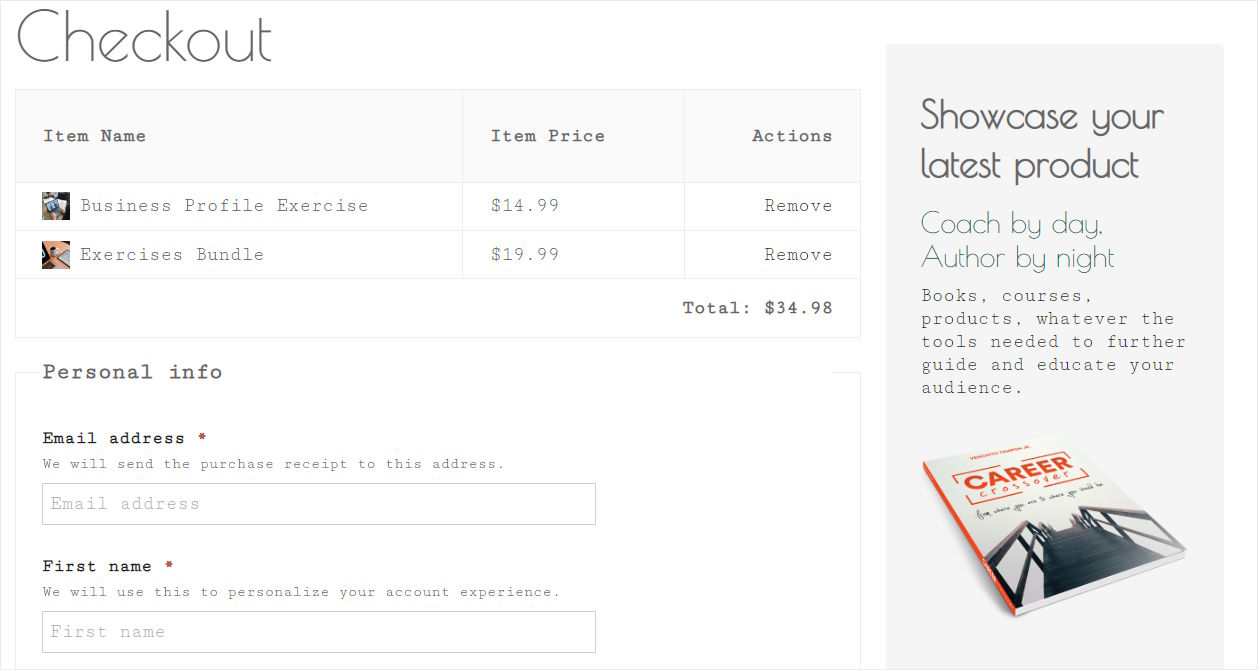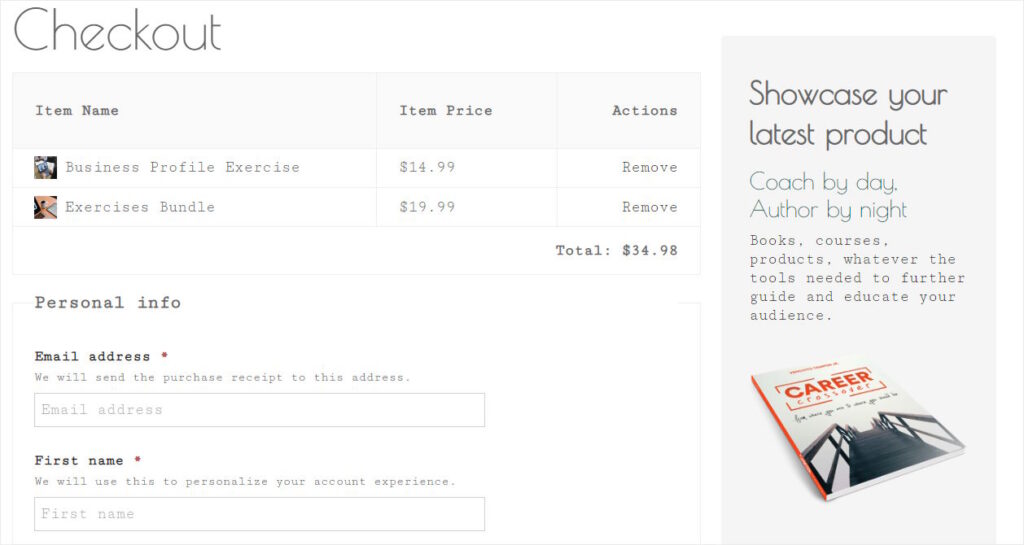 And unlike Gumroad, your users can download digital products, subscriptions, and more, directly from your library.
Since the plugin is so user-friendly, you can set up the store and start selling your digital products in just minutes – absolutely no coding needed.
Easy Shopping Cart
With the Easy Digital Downloads plugin, you also get a user-friendly shopping cart that gives your customers a much better buying experience.
To help you get more sales, you can add custom call-to-action text on your buttons. As a result, you can have a better chance of convincing visitors to buy from you.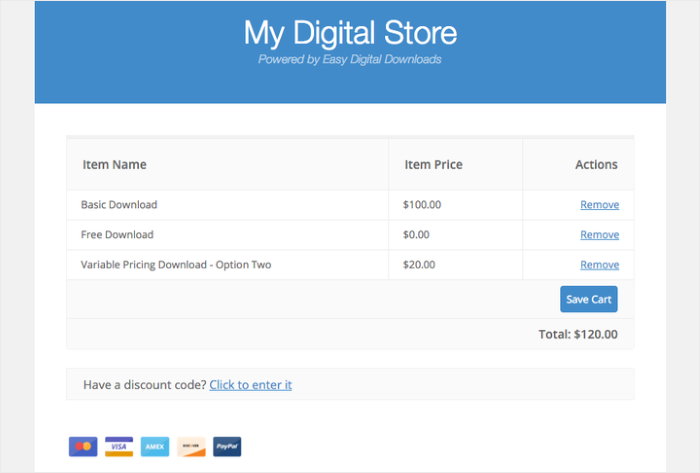 You can also freely create discount codes or coupons that your customers can use on the checkout page.
Plus, your customers can save their cart for later, which reduces cart abandonment. So, your customers can take their time shopping and buy tons of items at once. 
And if they accidentally close your site without going to the checkout page, their cart will still be saved for later.
What's more, you can let your registered users as well as guests buy from your website.
In-Depth Reports
Another great feature of Easy Digital Downloads is that you get useful analytics and real-time stats about your online store.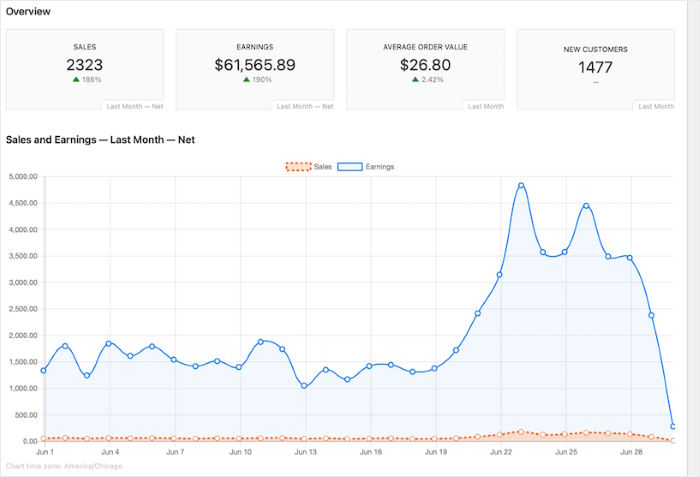 You'll then clearly see how your online store is performing with data like sales, refunds, downloads, earnings, and more.
With actionable reports from Easy Digital Downloads, you can clearly see if your marketing strategy is working and where you can improve.
Supports Major Payment Gateways
Easy Digital Downloads also gives you tons of options to pick from when it comes to payment gateways.
Your customers can buy products using Stripe, PayPal, Apple/Google Pay, and more.
By giving them lots of choices, you can make sure everyone visiting your website will have a way to pay for your products.
Plus, you can even set up recurring payments so people can buy subscriptions from your website.
The plugin also adds extra features like currency switching, automated taxes, and more. With a simpler buying experience for your customers, you'll have an easier time getting sales.
Customer Management
This Gumroad alternative also lets you manage your customers and create user profiles for them.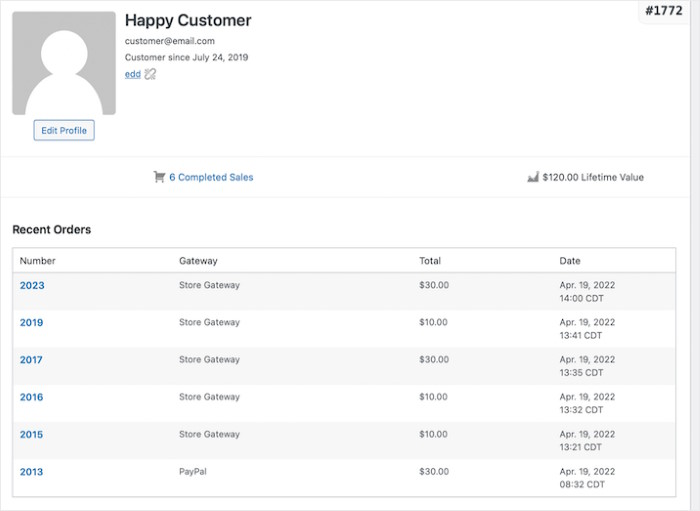 In fact, you can maintain a separate record for each customer and even freely edit or delete each record individually.
You can then link the customer records to user profiles with the plugin to recognize and track your most valuable customers.
Pricing:
You can get the free plan of Easy Digital Downloads and start your online store with ease.
Want more features? Then you can get the paid plan at a price starting at $99.50/year.
If you want to run a successful digital store, get your copy of Easy Digital Downloads today!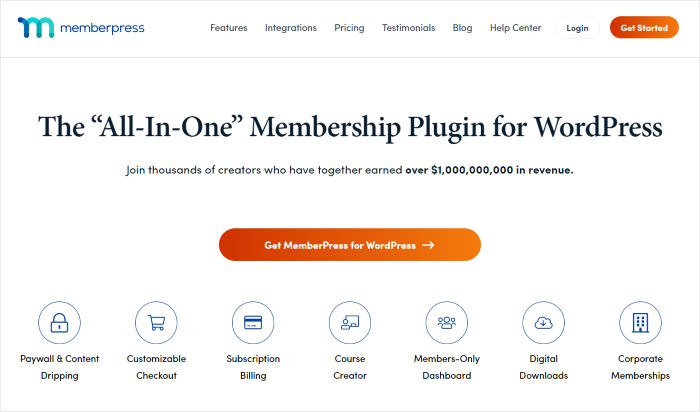 Next on our list of Gumroad alternatives, we have the best WordPress membership plugin out there: MemberPress.
Using MemberPress, you can set up a membership site and put your content behind a paywall.
That way, your website visitors can sign up for your website and pay the membership fee to access your content.
With that, you can easily sell digital content like online classes, magazines, newsletters, online courses, and much more.
Features:
Forums Support: MemberPress automatically works with popular forum plugins like bbPress, so you can build your password-protected community in no time.
Coupons Support: With this plugin, you can generate as many coupons as you want, set when they expire, and even create custom coupon codes.
Easy Pricing Pages: You get a simple page builder to create high-converting pricing pages for your site in minutes – no CSS or HTML coding needed.
Drip Content: The plugin also lets you set up timed releases and expiration dates for content so you get more control over your products.
Lots of Payment Gateways: MemberPress lets you accept Apple Pay, Google Wallet, credit cards, cash, and more.
Pricing:
For the premium version of MemberPress, the pricing plan starts at only $179.50/year.
If you want to create your membership website today, get MemberPress for your site here.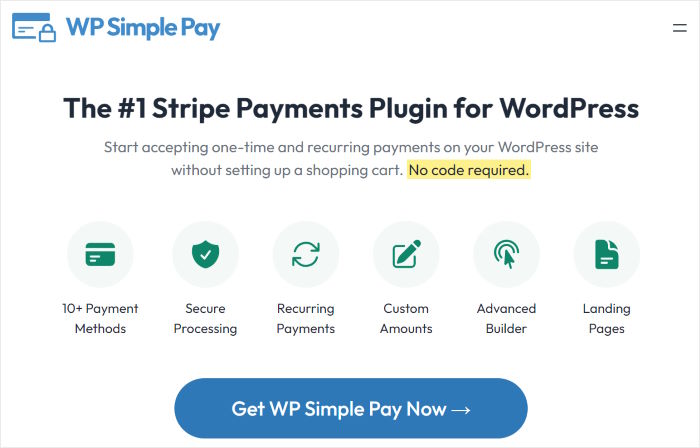 If you want a Gumroad alternative that's free and lightweight, then WP Simple Pay can be right for you.
You can use this plugin to set up Stripe payment for your website with just a few simple clicks.
Just like that, you can sell digital products from your WordPress website and start growing your business with ease.
Features:
Recurring Payments: On top of one-time payments for products, you can use this plugin to set up subscriptions with daily, weekly, monthly, yearly, or custom billing cycles.
Custom Payment Pages: With WP Simple Pay, you can instantly create custom landing pages to accept payment and convert visitors easily.
Payment Form Templates: You can choose from 70+ beautiful templates for your payment forms that can help boost your conversion rates.
Stripe's PCI-Compliant: Since WP Simple Pay is a verified Stripe partner, all payment processing will be handled by Stripe's secure servers.
Pricing:
You can start using the basic version of WP Simple Pay for free.
But if you want all the advanced features, you can simply try the premium plans for $49.50/year.
Get your copy of WP Simple Pay today and set up your online business in just minutes.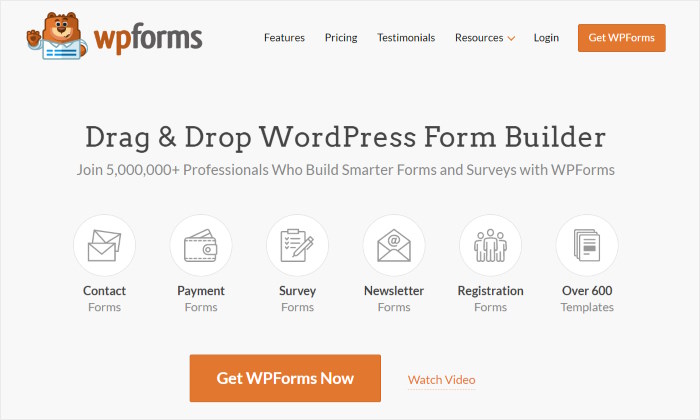 Another amazing Gumroad alternative that you can use for your website is WPForms.
As the best form builder plugin for WordPress, you can use WPForms to easily create payment forms for your website.
Just like that, you can have a simple checkout process for your site without setting up a shopping cart at all.
Features:
Easy Form Builder: WPForms comes with a drag-and-drop form builder that you can use to create your payment forms with ease – no coding needed
400+ Form Templates: On top of payment and order forms, you can use WPForms to create forms for registration, signup, newsletters, and more.
Lots of Payment Options: You can let your customers pay using Stripe, PayPal, or Square. Plus, WPForms can accent one-time payments or recurring subscriptions.
Conditional Logic: With this feature, you can choose to show or hide parts of your form depending on your customer's answers. So, your forms can change to fit each user.
Pricing:
To start accepting payments with WPForms, you can get the Pro license for $199.50/year.
Ready to build payment forms for your site? Get your copy of WPForms today!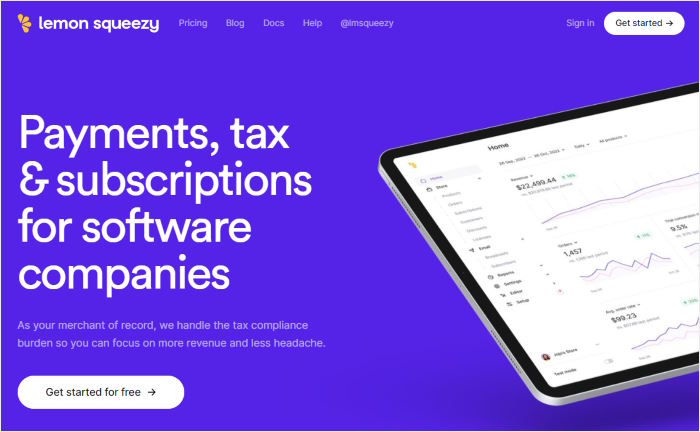 Lemon Squeezy is an eCommerce platform and a great alternative to Gumroad if you want to sell products from your own website.
Since Lemon Squeezy is an all-in-one platform, Lemon Squeezy can handle all parts of running an eCommerce store, including transaction fees, tax, and subscriptions.
On top of digital goods, Lemon Squeezy can help your online business sell physical products as well.
Let's look at Gumroad vs Lemon Squeezy in terms of their functionality and marketing features below:
Features:
Tax Compliance: To make things simpler for you, Lemon Squeezy will automatically handle taxes, merchant fees, and more all over the world.
Borderless Payment: You can sell your products across 135+ countries right out of the box, and it even supports 15+ payment methods.
AI Fraud Protection: Lemon Squeezy can also keep your store safe using an AI that tracks actions like logins, signups, and refunds to detect fraud automatically.
Local Currency: Like with Easy Digital Downloads, you can boost your chances of converting users by letting them buy in their local currency.
Pricing:
To get started with the Lemon Squeezy eCommerce plan, it'll cost 5% + 50¢ per transaction.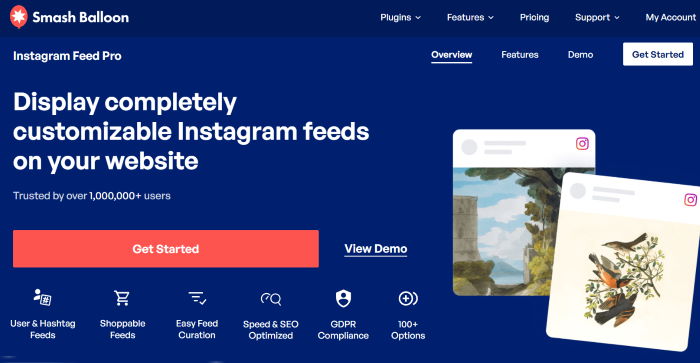 Finally, we have Instagram Feed Pro, which can help you sell digital products using Instagram feeds.
Using this plugin, you can create, customize, and embed feeds of Instagram content on your site in just a few clicks – no coding needed.
That way, you can display shoppable Instagram feeds on your website and give your visitors an amazing shopping experience.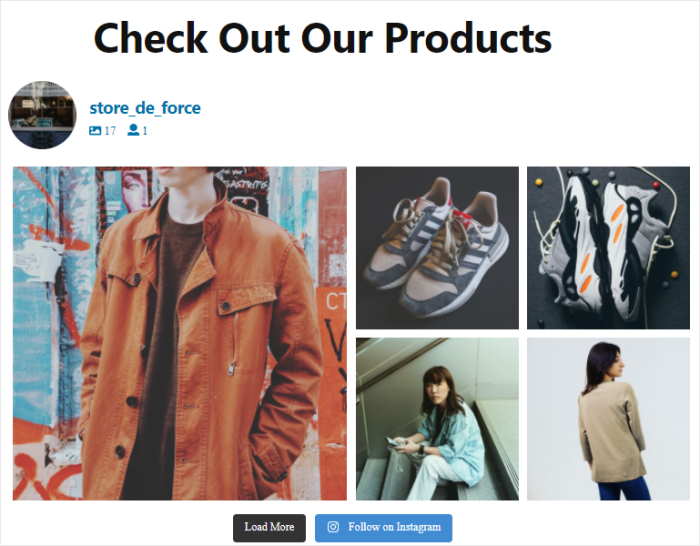 As the best Instagram feed plugin, you can also use Instagram Feed Pro to embed your Instagram profile, hashtag feeds, mentions, and more.
Features:
Instagram Shopping: You can embed beautiful feeds where visitors can click on the Instagram post to buy the shown product.
Follow Button: Your visitors can also follow your Instagram account directly from your site. As a result, you can grow your Instagram following and reach more potential customers.
Instagram Reviews: To convert more visitors, you can embed reviews and testimonials from Instagram on your website.
SEO Friendly: By showing fresh Instagram content with relevant keywords, your site can rank higher in search engine results and get even more customers.
Pricing:
You can get your copy of Instagram Feed Pro for a price of just $49/year.
Want to embed Instagram feeds to sell your products? Click here to get Instagram Feed Pro.
Verdict: Best Gumroad Alternative
Before we go ahead and pick the best Gumroad alternative, let's look at some of the honorable mentions that didn't make the list:
Sellfy
Payhip
Kofi
SamCart
Podia
Shopify
With that out of the way, let's see which option on our list will be perfect for your website.
If you're looking for a free alternative to Gumroad, then you can give Easy Digital Downloads a try.
You can set up your digital store and start selling your products in just a few clicks with this plugin.
On top of being highly flexible, the plugin was designed specifically for digital goods and lets you sell products, manage customers, get detailed reports, and much more.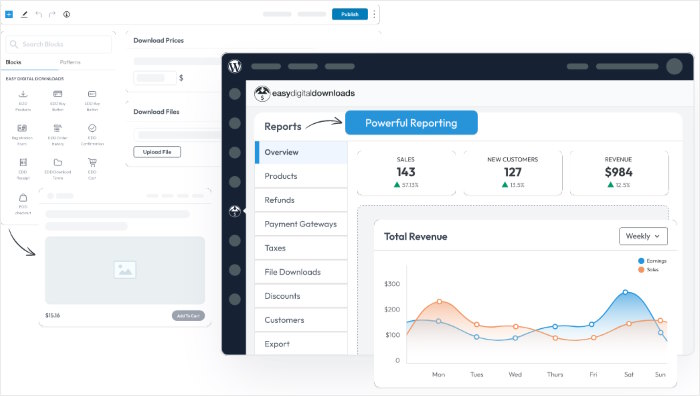 As a bonus, this eCommerce solution comes with tons of add-ons and apps for email marketing, affiliate marketing, and lots of other marketing tools.
Looking for a simple solution that lets you accept online payments without the complexity of creating a shopping cart?
In that case, WP Simple Pay is your best option.
Just pick a payment form template, set your details, and you can start getting one-time payments or subscriptions from your site.
On the other hand, if you mostly do your online selling using Instagram, then Instagram Feed Pro is the #1 Gumroad alternative for you.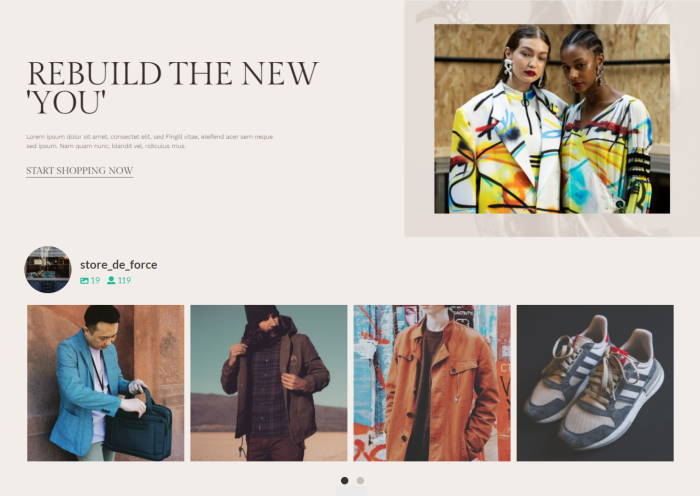 You can then give your visitors an amazing shopping experience and get tons of sales with the help of shoppable Instagram feeds.
What's more, visitors can interact with your posts and follow your Instagram account directly from your website.
By growing your Instagram following this way, you'll have an easier time reaching customers on Instagram.
Get started with Instagram Feed Pro today!
And there you go!
As you can see, you can find tons of amazing Gumroad alternatives like Easy Digital Downloads, WP Simple Pay, and Instagram Feed Pro.
Since Gumroad is now taking a larger share from many sellers, this is the perfect chance to switch to another option.
Ready to start your digital store? Get Easy Digital Downloads for your site today!
While you're here, don't forget to check out our list of the best social media marketing tips for small businesses.
For more tips and tricks for your online store, don't forget to follow us on Facebook or Twitter.