Looking for other review websites like Yelp?
When it comes to online review platforms, Yelp is a popular option used by millions of businesses all over the world.
But there are lots of other sites out there where you can get customer reviews. In this post, we've narrowed it down to a short list of the best review websites so you can give them a try.
Before we get started with our list, let's see how Yelp alternatives can help your business.
Or you can click here to skip to our list.
Why Use Yelp Alternatives for Your Brand?
Founded in 2004, Yelp has grown into a popular review platform used by millions of businesses and customers.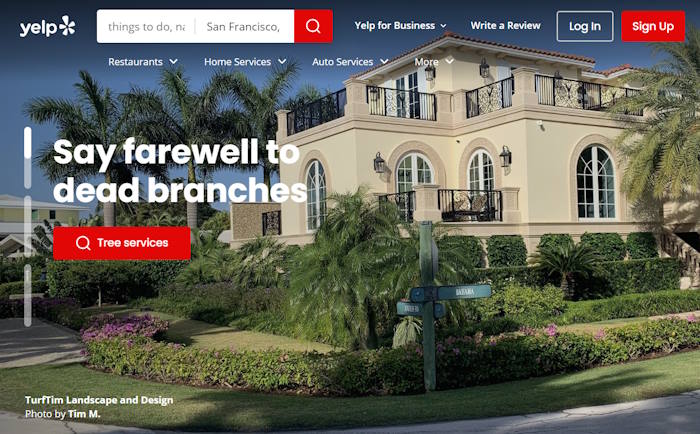 However, there are other great review sites out there, and using them can be great for your brand.
In fact, here are a few reasons why you should try out Yelp alternatives:
With Yelp, you won't be able to directly ask for customer reviews. So, you'll have more limited ways of getting social proof from our customers.
Yelp is available in many countries and locations, and your business might not make the list.
You can't make a page if your business directly sells to other businesses, generates leads, or doesn't fit the Yelp community.
While Yelp has many users, you can use another review platform to reach a different demographic group and find more potential customers.
Yelp is also focused on businesses with a physical location, so your eCommerce store might not be allowed on that platform.
Of course, Yelp is still a good platform to grow your business with social proof despite having some drawbacks.
At the same time, expanding to other review sites can be pretty helpful for your brand's growth.
Now, let's go ahead and check out our list of Yelp alternatives.
5+ Best Customer Review Websites Like Yelp
Below, we've listed out the best Yelp alternatives, along with some important pros and cons for each platform.
Let's get started!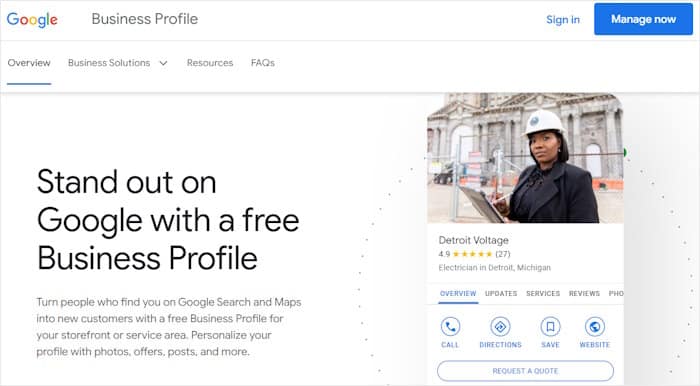 On top of being the #1 search engine, Google is also the biggest platform out there for business reviews.
As a result, you can reach a much wider audience and convert even more people into paying customers.
And like Yelp, Google will automatically detect fake reviews and quickly remove them from your brand's business profile.
Pros:
Since Google is the most popular review platform, you have a much larger audience of people to get reviews from.
Unlike Yelp, you can directly ask people to leave Google reviews for your business. That means you can even use contests and giveaways to get more reviews.
Google also has less strict guidelines for reviews, so visitors will have an easier time leaving reviews of your business.
As a bonus, Google Reviews is integrated with their map and search engine, so people will easily be able to find your business.
You'll have a much easier time adding your business to Google since the requirements are less strict.
Cons:
Like Yelp, you'll need a business with a physical location in order to add your business to Google.
While Google has a larger user base, it has a much less strict verification system compared to Yelp.
Want to get started with Google Reviews today? To give your business a boost, you can also display your Google reviews on your website.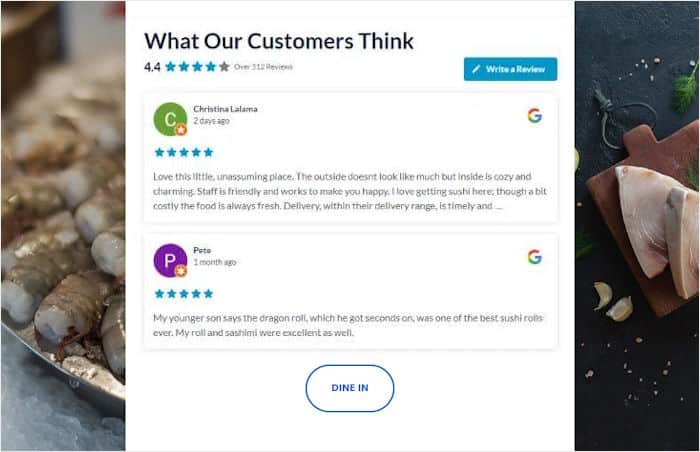 That way, you can convert your site traffic into new reviews and help your site stand out from the competition.
For more details, you can take a look at our step-by-step guide on how to embed Google reviews in WordPress.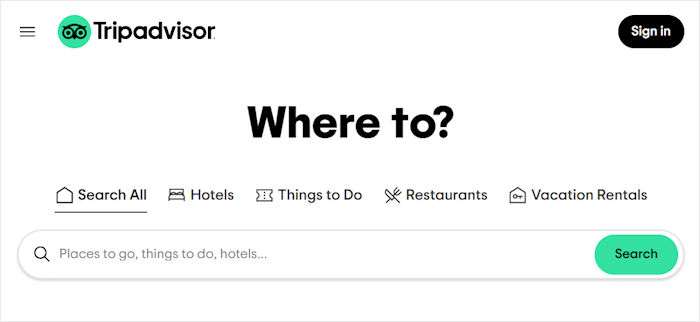 Tripadvisor is another great review website with some unique features that can be useful for your business.
Unlike Google, Tripadvisor only supports listings from businesses, places, and points of interest that are relevant to travelers.
That means this review website can be perfect for restaurants, clubs, hotels, airlines, lodging, and more.
Pros:
Tripadvisor can be the best review website if you want to target a niche audience in the field of travel and hospitality.
Like with Google, you can directly ask people to leave reviews for your business, so it's much easier to get feedback.
This review site also asks customers for in-depth reviews that give a lot of useful details about your business.
Tripadvisor also has a useful verification system to protect your business from fake reviews.
Cons:
Since Tripadvisor asks for a lot of details, some customers might not have the time to leave a review.
To join Tripadvisor, there are some specific guidelines that your business should follow.
All in all, Tripadvisor can be a good review site for certain types of businesses. Plus, there's an easy way to get the most out of Tripadvisor.
Like with Google, you can embed Tripadvisor reviews on WordPress and easily get more reviews, boost your sales, and more.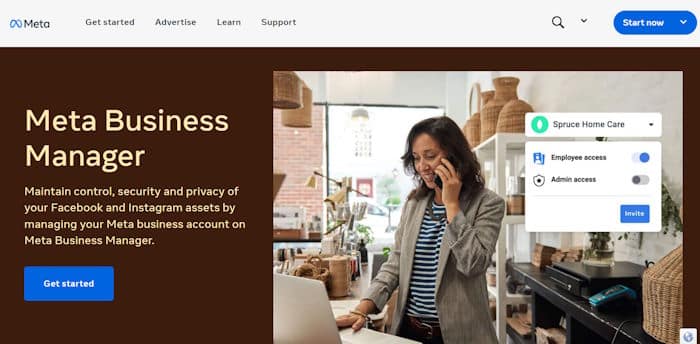 If you want a free review website like Yelp, Facebook can also be a great option.
As the #1 social platform online, it lets users create Facebook business pages where customers can leave reviews easily.
That way, you can get reviews and boost your brand's social media presence at the same time.
Pros:
With over 3 billion users, Facebook is the largest social network and a great source of potential customers.
Unlike platforms like Yelp and Tripadvisor, Facebook doesn't have limits on the types of businesses that can join.
Your customers can share your brand's Facebook posts, helping you reach even more people.
Since the reviews are attached to the customer's Facebook profile, it's easy to check that real people are buying your products and leaving reviews.
When leaving reviews, people can also follow your brand's Facebook page. This means you can promote more of your products to them in the future.
Cons:
Since there's a lower barrier of entry for Facebook, this means you'll have to compete with a lot more businesses.
People are already seeing tons of Facebook posts every day, so you'll need to stand out to promote your business on Facebook.
As you can see, Facebook can be an effective place to get reviews and reach new customers on top of being a popular social media platform.
To help you get started, we've put together this list of the best ways of getting reviews on Facebook.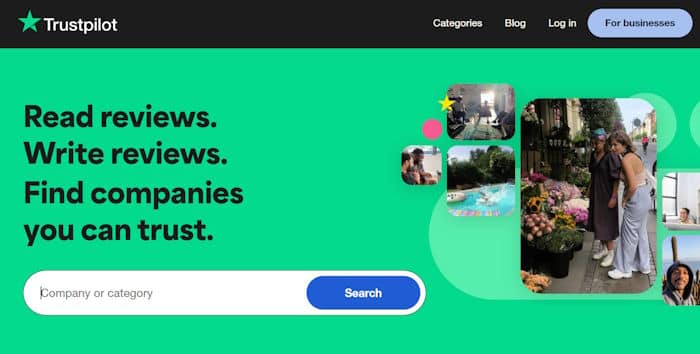 Trustpilot is another review site that's similar to Yelp and has a lot of useful features.
While Yelp focuses on helping people find local places, Trustpilot supports many more types of businesses.
In fact, Trustpilot comes with fewer limits overall, so you have more ways of promoting your brand online.
Pros:
You can ask people to leave reviews for your business as long as you do it in a neutral way.
Unlike some other Yelp alternatives, you can join Trustpilot and start collecting reviews even if you're running an online business.
If you have doubts about a reviewer, you can ask Trustpilot to verify their experience for you.
Since there's a verification process for businesses, you won't have to worry about imposters setting up fake accounts.
Cons:
Since Trustpilot doesn't moderate reviews, it relies on other users to flag suspicious reviews for them.
Trustpilot can also be text-heavy, so you'll get fewer reviews that'll show photos and videos of your business.
As you can see, Trustpilot is worth checking out if you're looking for something close to Yelp without the limits.
On top of that, you can use the Reviews Feed Pro plugin to boost your Trustpilot reviews.
With this plugin, you can embed review feeds on your homepage, posts, sidebar, footer, or pages. Then, you'll be able to create a much better impression of your business.
For more information, you can skip to this section on getting started on new review platforms.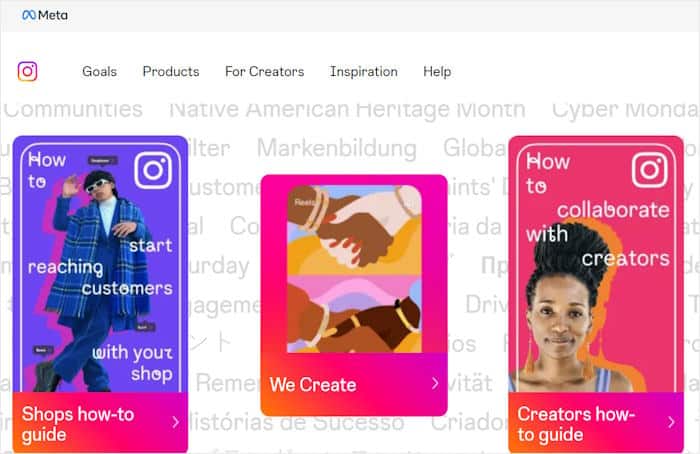 Next on our list, we have a great review site and a social media platform: Instagram.
Your customers can directly tag your brand or use your custom hashtag to let people know about your business.
Unlike other options here, Instagram puts the focus on visual content. So, you can let the photos and videos of your products do the talking.
Pros:
Instead of just telling people about your products, customers can use beautiful photos and videos to show everyone why they should give your business a chance.
Instagram doesn't have limits on the types of businesses that can join the platform.
By enabling Instagram shopping, you can use Instagram to directly sell your products and grow your sales.
You can also monetize your Instagram account and make money off your Instagram content.
Cons:
While Yelp hides bad reviews, Instagram doesn't have that kind of moderation, so you'll have to report them yourself.
Since there's a higher emphasis on images and videos, it's harder to get long-form text reviews on Instagram.
Sounds great, right?
It gets even better. You can use Instagram Feed Pro to embed an Instagram review feed on your site to get more engagement, followers, and customer reviews.
And by showing a feed of beautiful visual content, you can make your website even more engaging.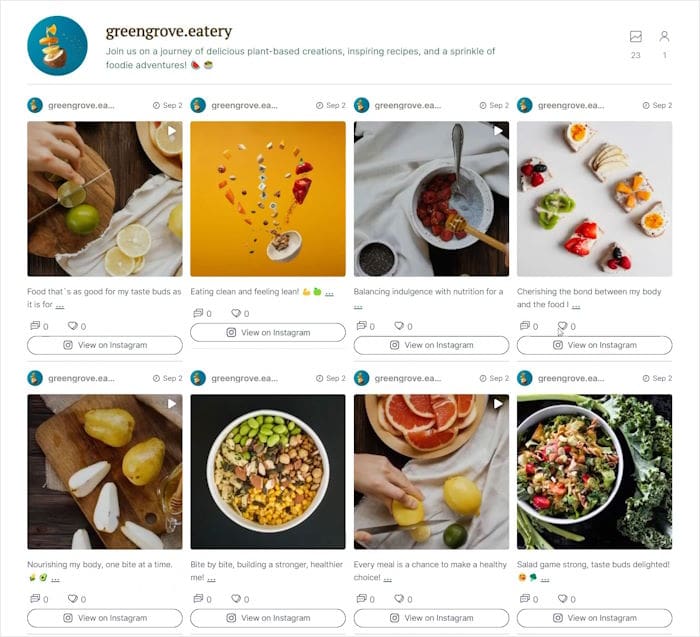 Want to boost your Instagram presence? Simply use the plugin to embed your Instagram profile, and visitors can interact with your posts and follow you for more.
All in all, this is a fantastic tool for social media marketing as well as online reviews.
To help you get started, here's a beginner's guide on how to embed Instagram feeds in WordPress.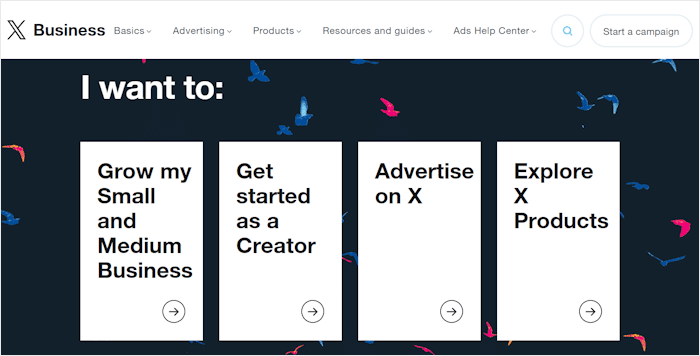 That's right, Twitter is also a fantastic place to get new reviews for your business.
Like Instagram, Twitter also doubles as a social media platform where you can post engaging tweets to reach even more potential customers.
When customers have a positive experience with your brand, they can tag your Twitter account or use your brand's hashtag and leave a review.
Pros:
When a customer posts a review, more and more people can retweet it to boost its visibility.
Twitter doesn't require a physical location, so you can promote your business even if it's 100% online.
There are lots of ways you can directly make money on Twitter while promoting your brand.
Similar to Instagram, Twitter can be a great platform to connect with influencers and grow your presence.
Cons:
Unlike sites like Tripadvisor and Yelp, anyone can leave reviews without verification of some kind.
Since Twitter wasn't made specifically for businesses, it lacks some features to help manage your brand.
All in all, Twitter is a useful reviewing website if you value organic reviews to boost your brand's profile.
Plus, you can simply embed these positive tweets about your brand so website visitors can get a better impression of your business.
With the help of Twitter Feed Pro, all it takes is a few clicks, and you can have a beautiful Twitter feed to engage visitors, grow your sales, and more.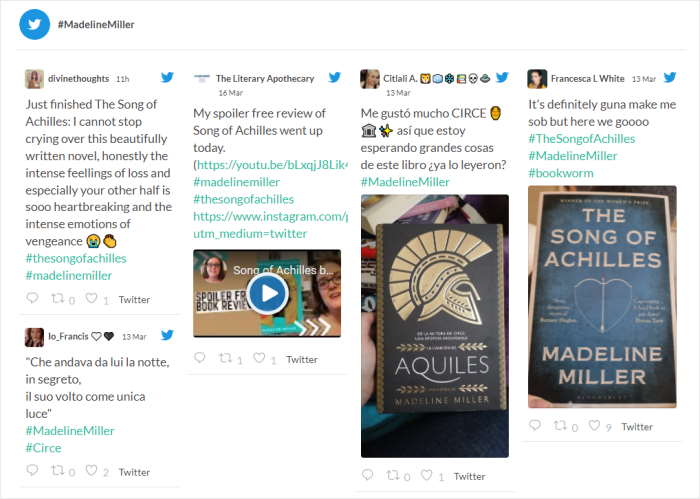 On top of embedding customer reviews, you can embed your own Twitter timeline, hashtag feeds, and more.
Here's a quick guide on how to integrate Twitter feeds with your website to get you started.
What Is the Best Alternative to Yelp?
Now that we've looked at all these review platforms, it's clear that each site has its strengths and highlights.
So, the best site for reviews can be any of these options, depending on the type of business you have.
The good news is that these customer review sites aren't exclusive! You can give all of these a try and see for yourself if they bring you new reviews.
Finally, we're giving you a great way to get tons of reviews for these highly trusted reviewing websites.
Easiest Way to Get Started With New Review Sites
Once you've chosen your Yelp alternative, it can be intimidating to get started on a totally new platform.
The good news? There's an easy way to get tons of new reviews for your brand.
All you have to do is embed review feeds on your website. That way, you can show everyone that you care about your customer feedback and listen to what people are saying.
What's more, this method can also help you build trust in your brand and convert more visitors into customers.
For the easiest way to embed reviews, you can simply use Reviews Feed Pro.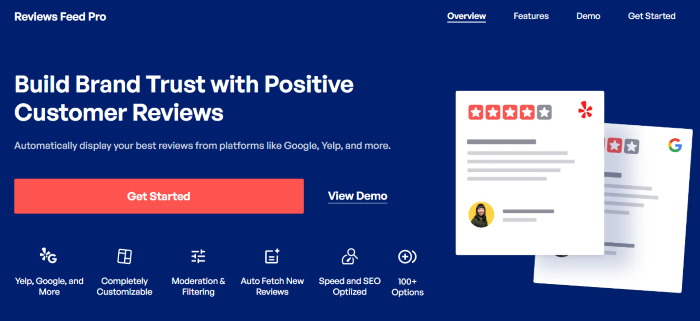 As the fastest-growing reviews aggregator out there, Reviews Feed Pro can help you showcase review feeds on your website with ease.
In fact, the plugin has a simple guided flow that you can follow to create, customize, and embed review feeds in just minutes – no coding needed!
Just like that, you can embed reviews from the biggest review websites out there:
Google
Tripadvisor
Trustpilot
Facebook
WordPress.org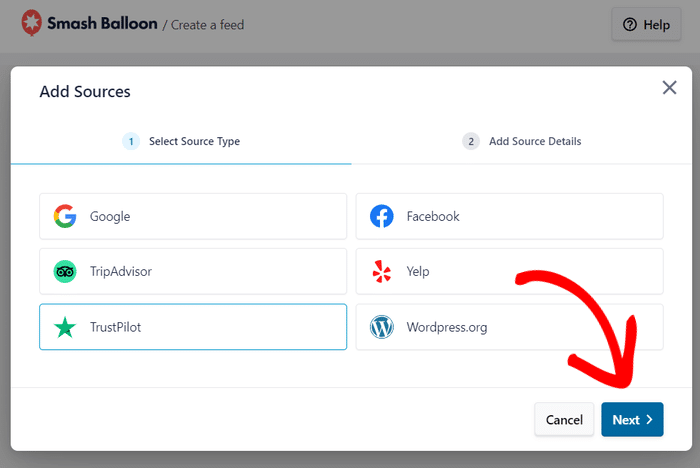 As you can see, this plugin covers some of the best Yelp alternatives out there and can help you get started on all these amazing platforms.
Your review feeds will automatically copy the design of your website and perfectly fit in with your brand's look.
Plus, you can customize how your reviews will look using pre-built templates and a visual customizer.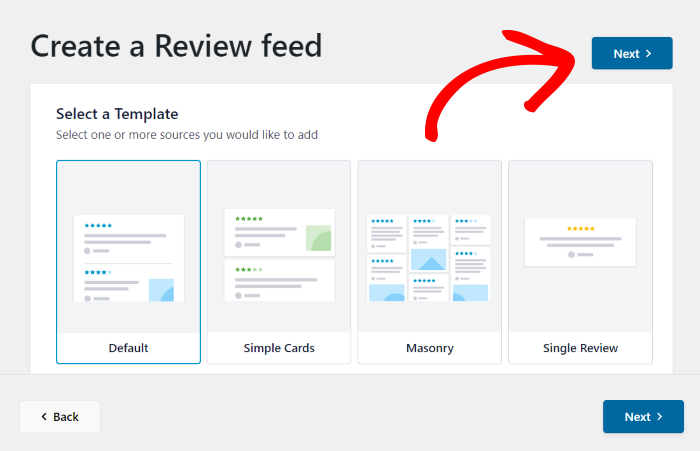 Reviews Feed Pro is also optimized for speed, so you can embed as many reviews as you want, and your site will load as fast as ever.
The great thing about a faster website is that you can give your visitors a better experience and boost your SEO at the same time.
All that, and you even get an expert support team who'll be there to help you and answer your questions.
To get started, just check out this guide on embedding social media reviews in WordPress
And there you go!
Now you know the best review websites like Yelp, so you have more ways of getting customer reviews for your business.
Just like that, you can build trust in your brand, get more sales, and boost your brand's social media presence – all at once!
Ready to get started with these review sites? Get Reviews Feed Pro for your business today.
While you're here, you can also check out our list of the best social media marketing tips and tricks.
If this article helped you out, then follow us on Twitter and Facebook, and you can get even more social media marketing tips and tricks.