Is your Facebook widget not working correctly? You've come to the right place then.
Facebook widgets can help you engage your visitors, grow your social media following, and even convert people into customers.
But if your Facebook widgets aren't working properly, they can actually damage your brand's image.
In this post, we're going to show you the easiest ways to get your Facebook widgets working once again.
Before that, let's take a look at the different ways you can use Facebook widgets to grow your business.
Or, you can click here and skip directly to our guide.
Why Add Facebook Widgets to Your Site
Facebook is the biggest social media platform and a great place to reach tons of potential customers for your business.
And if you want to use Facebook marketing to grow your website, Facebook widgets can help you out.
To get started, you can use widgets to embed your own Facebook posts on your website. That way, you can turn your website traffic into Facebook likes, comments, and followers.
As a result, you can easily boost your brand's presence on Facebook and reach even more customers.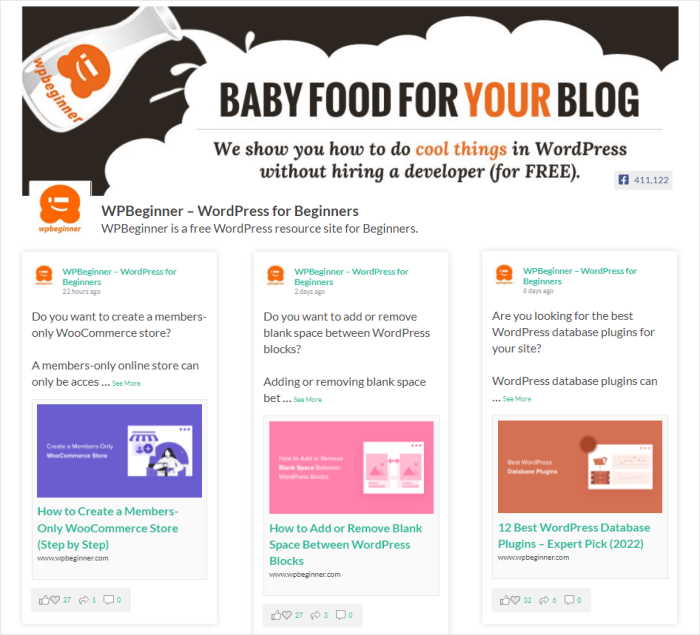 And that's just the start! Here are a few more ways Facebook widgets can help your brand grow:
You can show a Facebook review widget with positive reviews on your website and convert more visitors into paying customers.
Facebook widgets can also help you promote your group and grow a community of dedicated customers.
To get people involved in your events, you can simply show a Facebook events widget on your site.
You can display photos, videos, and albums on your website using Facebook widgets and make your site more engaging.
As you can see, Facebook widgets can help you grow your Facebook following, engage your visitors, and get more sales as well.
But if your widgets aren't working, it can actually create a worse impression of your site. And that means you lose out on potential customers.
To help you out, we'll show you our proven ways to fix Facebook widgets if they're not working properly.
How to Fix Facebook Widgets Not Working on Your Website
If your Facebook widgets are not working on your website, all you have to do is follow the steps below.
Since these are all super easy to do, you can get started and fix your Facebook widgets right away.
1. Contact the Support Team
For the simplest way to fix your Facebook widgets, you can try contacting the support team of your Facebook plugin.
That way, you can get WordPress experts who made the plugin to solve the issue for you.
But if you're manually embedding the Facebook widget, you can't turn to a support team for help. In fact, some WordPress plugins don't offer dedicated customer support, so you might not get a response in time.
The solution? You can use a plugin with high-quality dedicated support, like Facebook Feed Pro.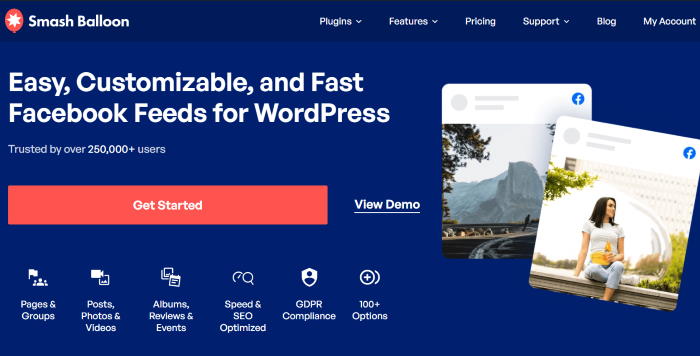 As the best Facebook feed plugin in the market, you can use Facebook Feed Pro to create, customize, and display Facebook widgets on your website with ease – no coding needed!
You can use the plugin to display Facebook page widgets, event calendars, photo galleries, Facebook reviews, and much more!
All this is supported by a dedicated support team who are always ready to lend you a hand. If your Facebook widget isn't working properly, you can just ask them for help, and they'll solve the problem for you.
In fact, you can simply check the user reviews for the plugin to see how happy people are with the quality of customer support.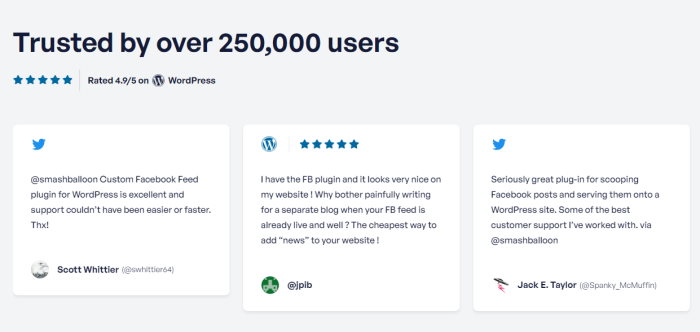 As you can see, Facebook Feed Pro also has a rating of 4.9/5 from over 250,000 active users, making it the #1 plugin for anyone who wants to embed Facebook content.
In fact, some of the world's largest brands use Smash Balloon social feed plugins to display social media widgets on their websites.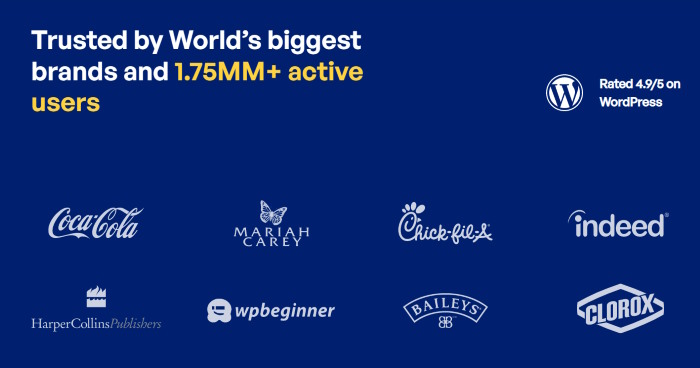 As you can see, Facebook Feed Pro can be a trusted solution if you want to display Facebook posts on your website.
Want to start creating engaging Facebook widgets? Get your copy of Facebook Feed Pro today!
To learn more, you can check out this tutorial on how to create a Facebook widget for your website.
2. Check if Facebook is Down
If your Facebook widget is not working properly, you can quickly check if Facebook itself is temporarily down.
Most Facebook widgets can't show content on your website if Facebook is offline. When that happens, you can wait until Facebook is online again, and your widgets will start working again.
Sadly, that means you might lose customers when your Facebook widget is offline.
The good news? You can simply switch to Facebook Feed Pro, and your widgets will be online even when Facebook is temporarily down.
Facebook Feed Pro uses smart caching technology, which saves a copy of your Facebook widgets.

And when Facebook is temporarily offline, the plugin will show a cached copy of your widgets. As a result, all your Facebook widgets will work just like before.
As a bonus, your Facebook widgets don't need to download data from Facebook each time they load. As a result, your widgets and WordPress pages will be much faster.
Plus, a faster website means you get much better SEO as well.
3. Enable Facebook oEmbeds
If Facebook content isn't visible on your website, you can try enabling oEmbeds.
In the past, you could automatically embed Facebook content on WordPress websites with the help of the oEmbeds feature.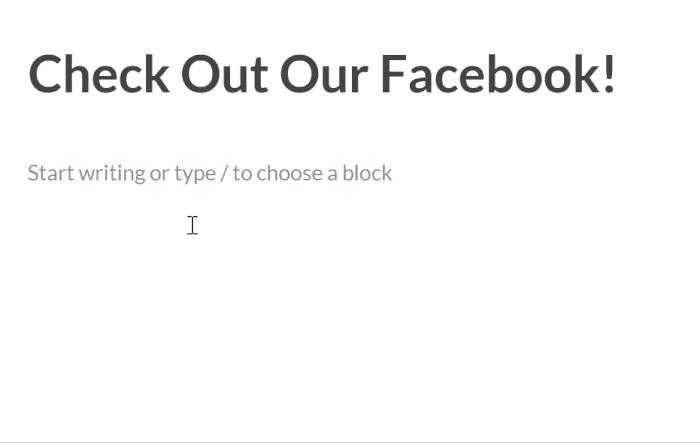 Unfortunately, WordPress stopped supporting this feature starting October 24th, 2020, which made it a lot harder for widgets to show Facebook content.
To solve this issue, you can simply turn on the oEmbeds feature for your website. You can do this in a few clicks with the help of Facebook Feed Pro.
Just open the Facebook Feed » oEmbeds menu from your WordPress dashboard and then click on Enable.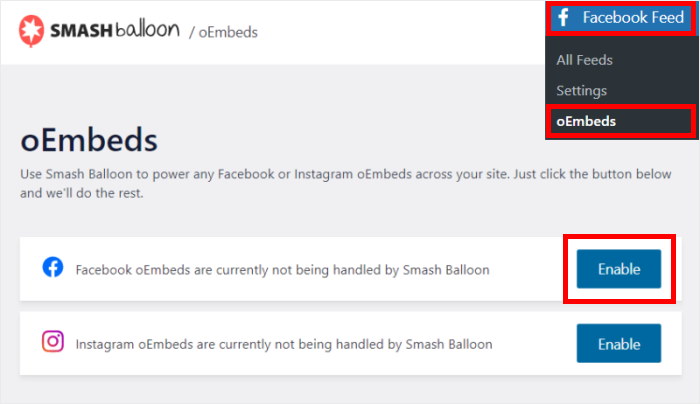 After that, you can automatically show Facebook posts on your website and engage your visitors.
For more information, take a look at this guide on how to solve Facebook oEmbeds issue.
4. Update Your WordPress Website
WordPress is regularly getting new updates that fix bugs and add features to your website.
Since these features are optimized for the newest versions of WordPress, they might not work for the older versions. And if your Facebook widgets rely on these features, they can stop working as well.
What's more, 44% of hacking attacks are targeted at websites with outdated WordPress versions.
An easy solution here is to simply update the WordPress version of your website. To get started, just click on the Please update now button at the top of your dashboard.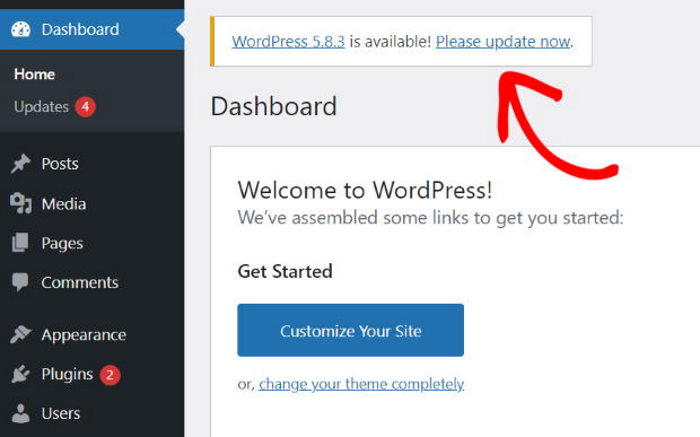 After that update is over, open your website once again and check if your Facebook widgets are working.
To learn more, you can check out this detailed guide on how to update WordPress safely.
5. Update Your Facebook Plugin
Like with WordPress itself, the plugins on your website also get regular updates.
And if you're using an outdated plugin to show Facebook widgets, they can simply stop working.
To show Facebook content on your website, your widgets have to connect to a special gateway known as Facebook API.
Since Facebook regularly changes how this API works, the Facebook plugins also have to update to keep up with these changes.
As a result, an outdated plugin can stop connecting with Facebook's API, which means your Facebook widgets will not work.
To solve this issue, you can navigate to the Plugins menu from your dashboard to see a list of WordPress plugins on your website.
There, click on the Update now button, and WordPress will automatically update the plugin to the latest version.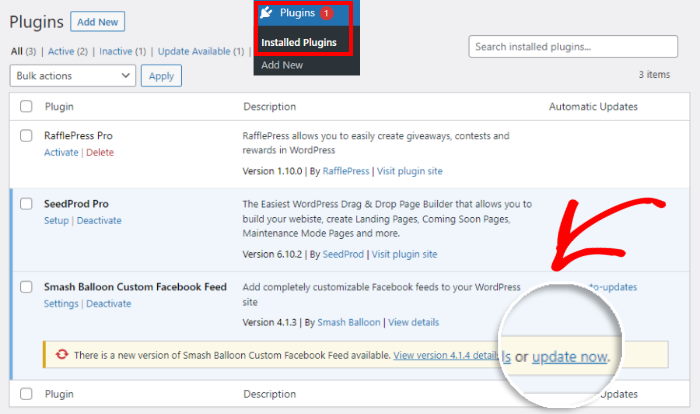 If you want your plugins to automatically be up-to-date, you can click on the Enable auto-updates button on the right.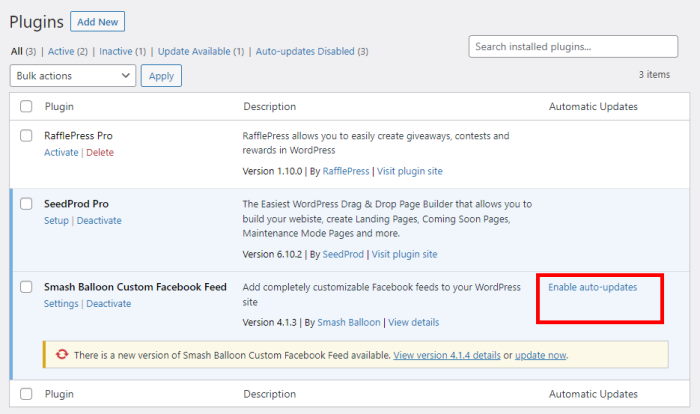 WordPress will then automatically update this plugin, so your Facebook widgets will keep working.
6. Update Your Facebook Access Token
Your Facebook widget uses a special access token to show content from Facebook on your website.
If this Facebook access token is outdated, your widgets can't display content on your website at all. To solve this issue, you can try updating your Facebook access token.
To get this access token manually, you'll have to register with Facebook as a developer and create an app of your own. As a result, the whole process can be time-consuming.
For an easier way, you can use the Facebook Feed Pro plugin, which will automatically fetch the Facebook access token for you.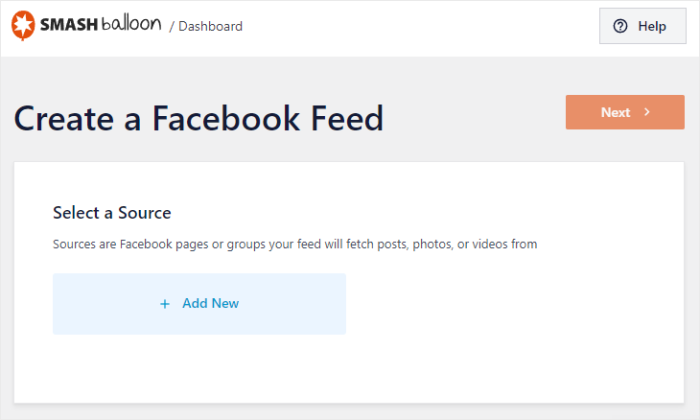 In just a few clicks, you can update your Facebook access token and get your Facebook widgets up and running.
And that's it!
As you can see, the easiest way to fix your Facebook widgets when they're not working is to contact the support team.
Since it's the best Facebook feed plugin in the market, Facebook Feed Pro comes with a team of WordPress experts who are always ready to help you out.
Want to create engaging Facebook widgets? Get Facebook Feed Pro for your website today!
While you're here, you can also check out our guide on how to get more engagement on Facebook.
Found this article to be helpful? Then follow us on Facebook and Twitter for more social media marketing tips and tricks.