Recently, a reader asked us if using YouTube Feed Pro with a "nulled" license key would be okay.
A "nulled" plugin is basically an unofficial cracked version of the plugin. While they might be tempting, they're also very risky and can even seriously harm your website.
Today, we'll show you why you should NOT use YouTube Feed Pro nulled for the sake of your website.
Here's what we'll cover in this post:
Let's get started!
What are Nulled Plugins?
Nulled plugins are pirated copies of premium WordPress plugins that have been unethically distributed around the internet.
Since the plugins are hacked, they're only available on third-party websites and not on the developer's official site.
What's more, since the code has been modified by hackers, installing nulled plugins means you're putting your website security at risk.
Should You Use Nulled Plugins?
Let's make it clear right here: you definitely should not use nulled plugins.
While WordPress itself is completely free under the General Public License (GPL), that doesn't apply to the premium WordPress themes and plugins.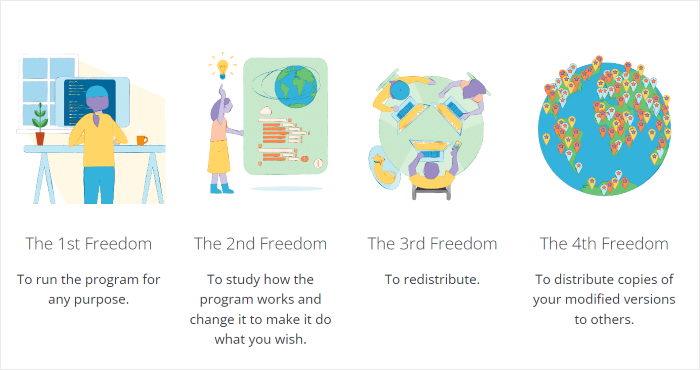 And if you care about your website, then you have to consider all the ways nulled plugins are harmful to its security. Plus, if your website is not secure, then it affects everything you do on your website.
So while they might be free, nulled plugins can end up costing you a lot more in the long run.
Why You Should Avoid YouTube Feed Pro Nulled
Let's say that you have a small business and you want to add your YouTube channel feed to your website.
In that case, using a free nulled plugin sounds like a nice deal, right?
The truth is, using YouTube Feed Pro nulled can harm your business in lots of ways, and in the end, you might end up losing a lot more money.
Here are the biggest reasons why you should avoid using YouTube Feed Pro nulled.
1. Threatens the Safety of Your Site
A big threat from nulled plugins is that they can have hidden malware.
So when you're installing a nulled plugin, you're also adding malicious codes to your site.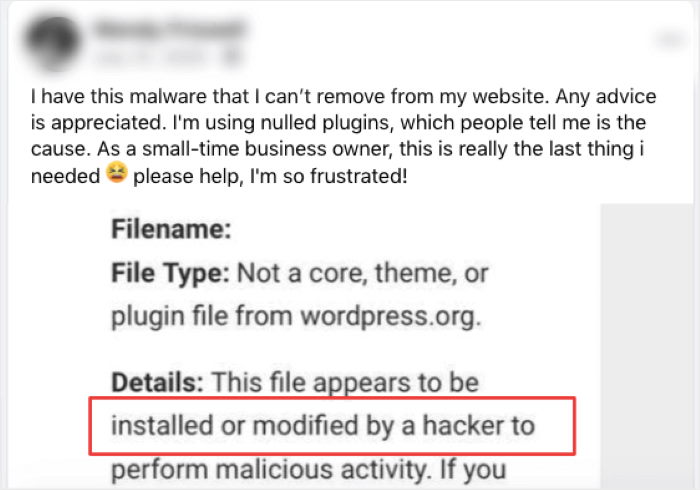 These malicious codes can lead to hacking attacks on your website, which can result in drops in traffic, suspicious links, slow loading speed, and more.
In fact, nulled plugins are one of the common reasons why websites get hacked.
And that's not all. Google also takes website security seriously. So, it may blacklist your website from search results if it detects harmful code or malware on it.
Also, when you use the nulled version of YouTube Feed Pro, your website can be blocked by browsers.
This means that Google Chrome and other browsers may stop users from visiting your site.
Why? Because it's seen as potentially dangerous.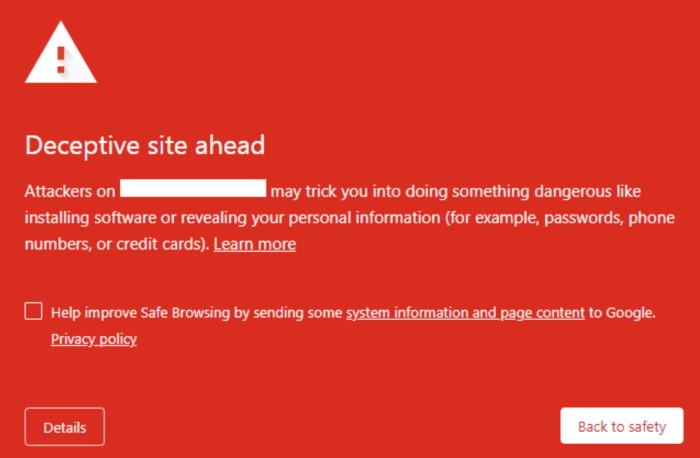 Can you imagine all the hard work you did building your website going down the drain?
Yikes.
With nulled plugins, this can be a reality.
2. Puts Your Privacy at Risk
Because of the malicious code from nulled plugins, your information can even get stolen from your website.
This means hackers can use nulled plugins to take your important data, such as:
Website username
Email address
Passwords
YouTube email
Passwords in YouTube
YouTube channel data
Contact info
Credit card information
With these important pieces of information, someone can seriously harm your business, YouTube channel, and even your personal life.
And it's not just your data either. The data of your customers would also be at risk from YouTube Feed Pro nulled.
If hackers manage to steal those types of information, you will lose the trust of your customers. As a result, the reputation of your brand is going to be seriously damaged.
3. Harms Your Site's SEO Ranking
As we said before, Google takes website security very seriously. And the same goes for all search engines.
If they detect malicious code from nulled plugins on your website, you can end up getting seriously penalized.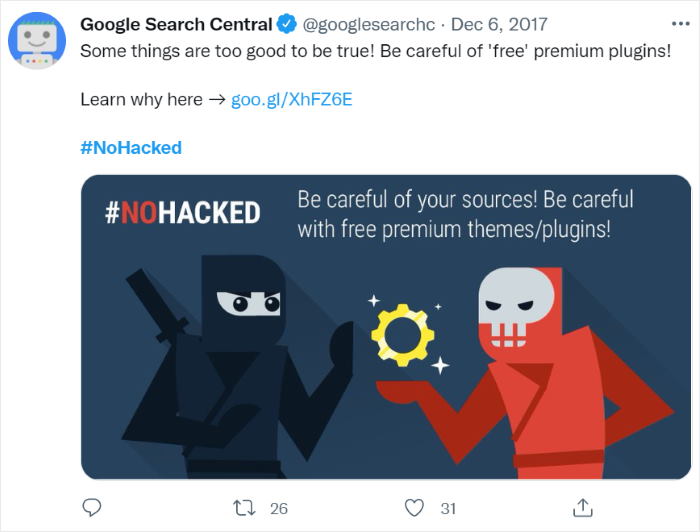 If you add Feeds for YouTube Pro nulled on your website, you're likely to be adding all kinds of spam and hidden links at the same time.
When that happens, search engines will take notice and take away your SEO ranking. In many cases, they can just completely block your site from search results.
And for your website, this means you can get absolutely no traffic at all. Sounds horrible, right?
All the effort you spent building your SEO will be gone, leaving you at rock bottom.
On the other hand, getting an official copy of YouTube Feed Pro means you'll never have to worry about this.
Since the plugin is completely safe, search engines will love your site. And the plugin has also been optimized for better SEO, so you'll have an easier time ranking in search engine results.
4. No Plugin Updates
Plus, getting YouTube Feed Pro nulled means you'll be missing out on all the new updates for the plugin.
With various updates, the official YouTube Feed Pro plugin adds more ways to embed YouTube video feeds to your website.
With a nulled plugin, you won't get any of that.
Not having updates is a serious blow to your site security as well.
After all, that means you won't get access to security updates, bug fixes, and more. Because of that, outdated plugins make your site much easier to exploit.
What's more, whenever YouTube makes a new update, your nulled version of the plugin isn't even guaranteed to work anymore.
Nulled plugins can crash your website and make it perform poorly since you're not getting the official and updated version of the plugin.
If you want new features, better security, and consistent performance, go for the authentic version of YouTube Feed Pro.
5. No Customer Support
Imagine that you're using a nulled plugin, and you come across an issue.
Sadly, you're on your own here. That's because nulled plugins don't have a support team to help you out.
But if you get your copy of YouTube Feed Pro from the official Smash Balloon website, that's not the case.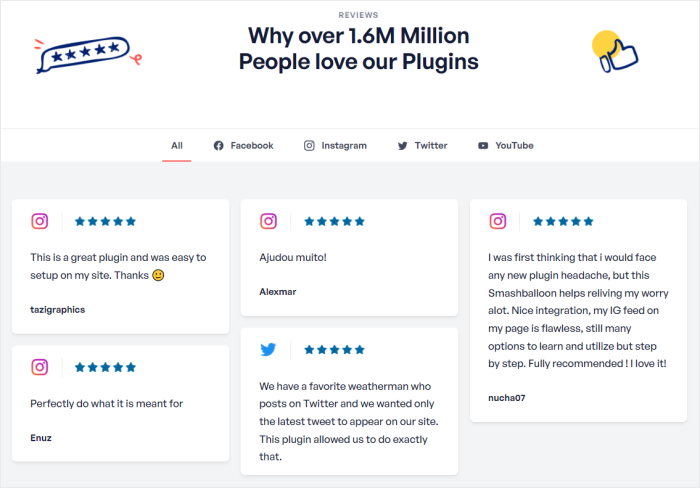 You'll get a team of WordPress experts who can help you out and make your experience as smooth as possible.
With the help of the awesome support team, Smash Balloon has now gotten a rating of 4.9/5 stars from over 1,750,000 active users! In fact, here's what our users think of YouTube Feed Pro.
"I love your products so much that I buy them all. Great work! I am having fun here." (@Chachrist)
"Thank you! Your prompt reply & quick service is AMAZING! It's scary giving money where there's no number to call and no live chat. Your same day email reply & quick fix of my mistake makes me feel secure in doing continued business with SmashBalloon!" (@victoryfitclub)
"I love the @smashballoon social feed plugins. They are my go-to for my #WordPress feed needs" (@genoq)
In fact, some of the popular brands in the world trust Smash Balloon plugins to display social media feeds on their websites.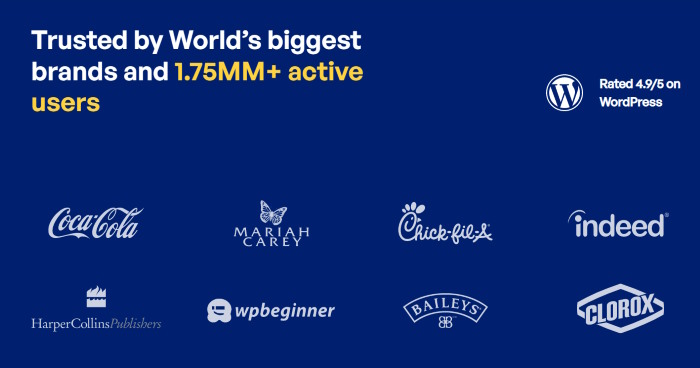 So if you want the support team to have your back, get an official copy of YouTube Feed Pro.
6. Discourages Innovation
Some people download nulled plugins because they think that it's not hurting anybody. But, that's not really true.
A piece of software is a result of a lot of skill, creativity, and hard work by some very talented people. And these people rely on that software for a living.
After spending so much time writing the code, removing the bugs, writing the documentation, providing support, and more, someone using their premium plugin for free definitely hurts them.
In fact, using nulled plugins can even discourage other plugin developers from working hard to create innovative products. Because of nulled plugins, their business ends up getting hurt, and they lose money.
So by paying for the official WordPress plugin, you're encouraging plugin developers to work hard and create quality products.
7. Free Alternatives Available
With all these risks, you're better off avoiding nulled plugins. Remember to always get your plugins from the official website or from WordPress.org.
And if you still want to use YouTube Feed Pro, there's an easy alternative here. You can just use the Feeds for YouTube plugin that's available for free.
That's right. You can use a free version of the official plugin and avoid all these headaches.
How to Get YouTube Feed Pro for FREE?
We'd like everyone to enjoy the features of YouTube Feed Pro, as it's the best YouTube feed plugin on the market. Sadly, it's not always possible because of the cost.
It's understandable if you don't have space in your budget for YouTube Feed Pro right now.
That's why we've created a great and completely FREE option to help you display YouTube video feeds on your website.
Feeds for YouTube is the completely free version of YouTube Feed Pro.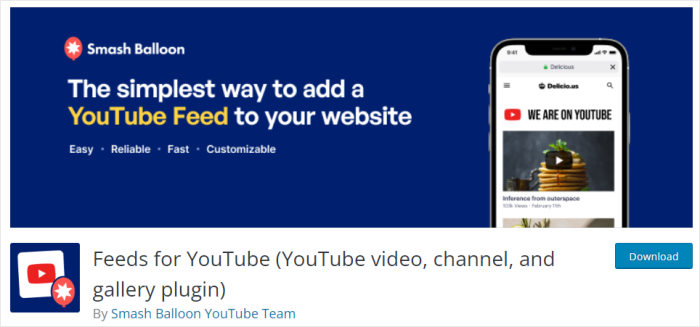 With it, you can easily create, customize, and embed YouTube feeds — no need for HTML, PHP, or any type of coding.
To help you create highly customizable YouTube feeds, this free plugin comes with a live feed editor. In just a few simple clicks, you can change your layout, colors, buttons, feed size, and more.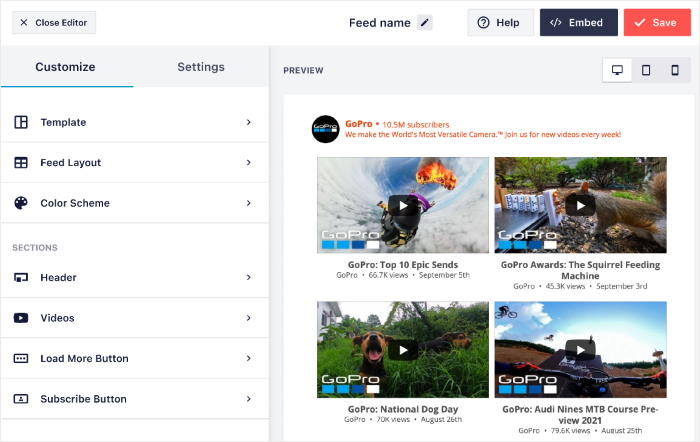 Now you can use video feeds to boost your YouTube subscribers and, at the same time, make your site more engaging for your visitors.
And the best part? You don't have to deal with any harmful effects of nulled plugins.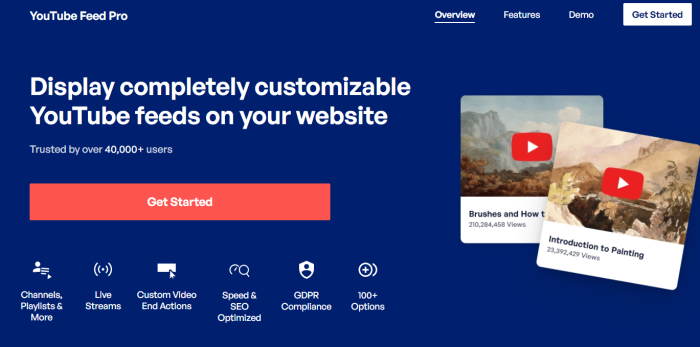 You can even upgrade to the Pro version at any time to get access to MORE features: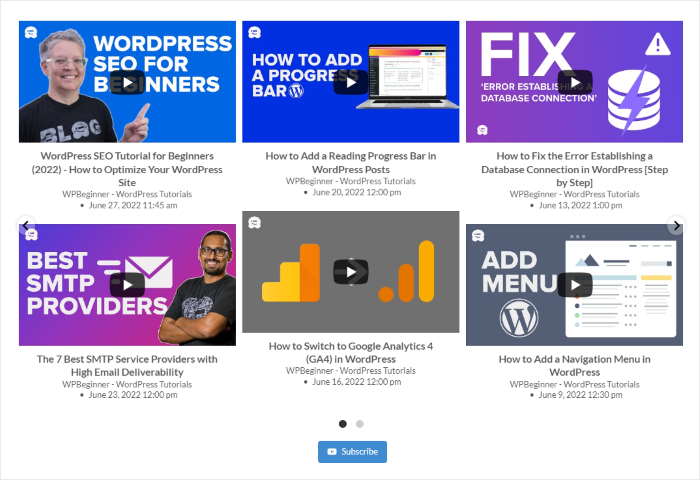 Combine multiple feeds into one
Import a pre-built feed template
Show Call-to-Action at the end of videos
And on top of all this, you can easily add your YouTube feeds to your site and also get priority customer support.
In fact, your purchase will also be protected by a 30-day money-back guarantee. So if the plugin is not right for you, you can just return it — no questions asked!
And that's it!
As you can see, there are lots of reasons why you should avoid YouTube Feed Pro nulled version.
Not only does the nulled plugin place your website at risk, but you're also missing out on the amazing support team.
So pick the safe and dependable option for your business and get a copy of YouTube Feed Pro today.
Want to take your YouTube channel to the next level? Then check out our article on how to grow your YouTube channel.
If this article helped you out, why not follow us on Facebook and Twitter for more social media marketing content?