Want to learn how to get reviews on Yelp for your brand?
It can be difficult to get your business started on Yelp, especially since you're competing with some large brands with a bigger marketing budget.
The good news? In this post, we're going to show you the best ways to get tons of Yep business reviews.
But first, let's go through a quick introduction to Yelp reviews and how they work.
Or you can click here to skip to our list.
How Do Yelp Reviews Work?
Yelp is a popular online platform where a community of people can share reviews of different businesses.
After enough well-written reviews, some users are invited to join the Yelp Elite group. Elite Yelpers can get a special badge, invitation to events, and some more benefits.
To join Yelp, all you need is a business with a physical address that caters to customers and fulfills a few criteria.
After that, you can start getting Yelp business reviews and reaching new potential customers for your brand.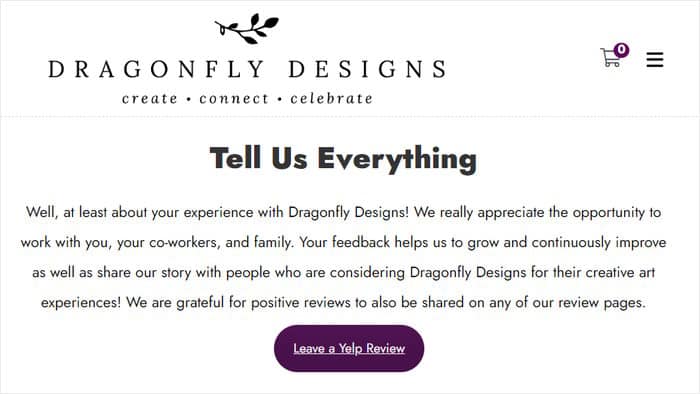 Of course, there are 2 important rules: you can't ask for Yelp reviews, and you can't offer anything in exchange for reviews.
As a result, it can be tricky to get positive reviews and start your journey to rank #1 on Yelp.
Today, we're going to help you out by listing our tried-and-tested ways to get reviews on Yelp and promote your brand.
10 Proven Ways to Get Reviews on Yelp With Ease
Ready to start getting 5-star Yelp reviews? All you have to do is follow our proven methods below:
1. Organize Your Yelp Profile
The first step to getting more Yelp reviews is to create a professional profile for your business.
That way, Yelp users will be more likely to leave reviews and engage positively with your brand as well.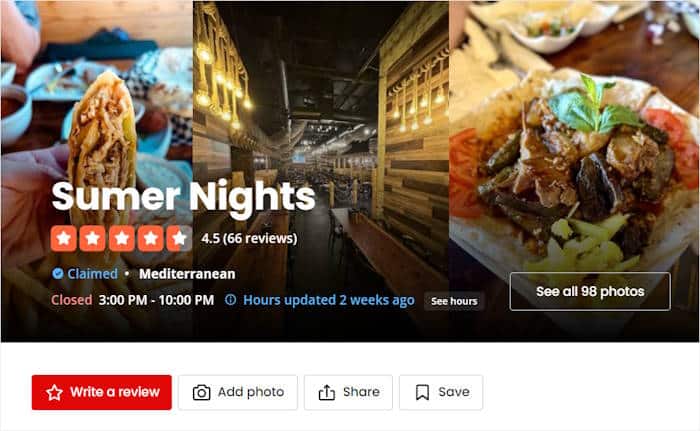 To get started, you can upload beautiful pics of your business to your Yelp page. On top of creating a beautiful Yelp page, this can also convince more people to give your business a try.
For restaurants, Yelp can also select certain popular dishes and highlight them on your profile. If certain dishes are outdated, you can just report them to Yelp.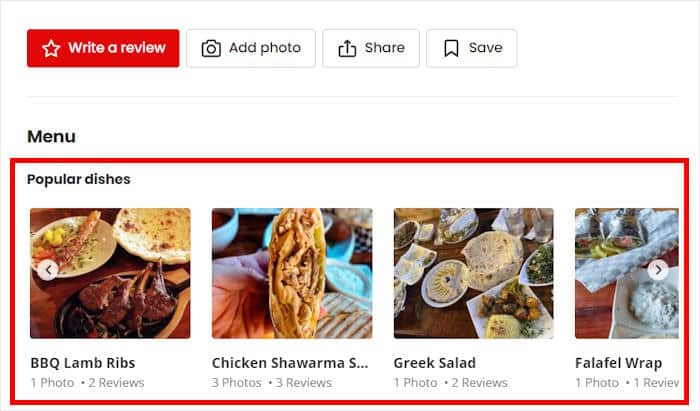 That way, your Yelp business page will only show the latest information to your visitors.
Next, you can show additional information about your business, including the phone number, address, and opening hours.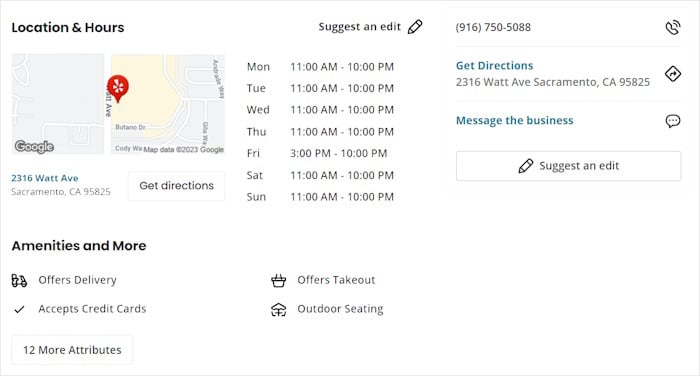 By adding accurate information here, you can create a better impression of your business and get more reviews.
You can also add a short blurb about your business in the "About the Business" section.
For best results, you can write a short introduction and follow it up with a call to action to convince people to leave reviews or visit your business.
To get started, you can check out this guide on writing the perfect call-to-action.
2. Embed Yelp Review Feeds on Your Site
By embedding a feed of Yelp reviews on your website, you can get tons of reviews from your website visitors.
After all, you're showing your visitors that you're active on Yelp, and you listen to what your customers are saying.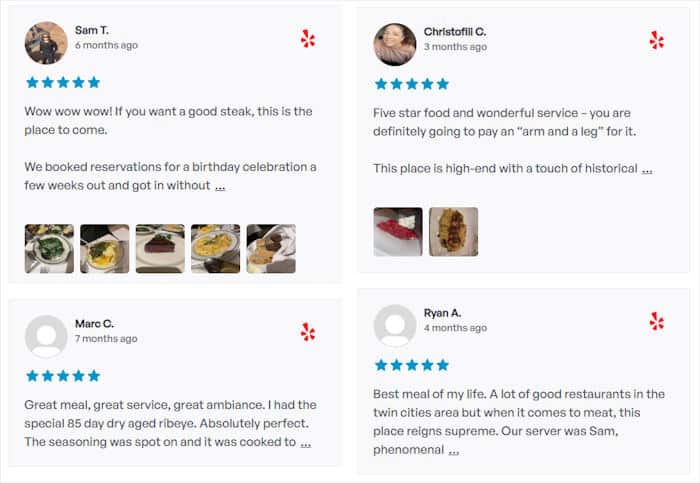 As a bonus, showing Yelp review feeds can work as social proof and convince site visitors to make a purchase.
When embedding Yelp reviews, the easiest option is to use a reviews aggregator plugin on your website.
And the best plugin for the job is Reviews Feed Pro.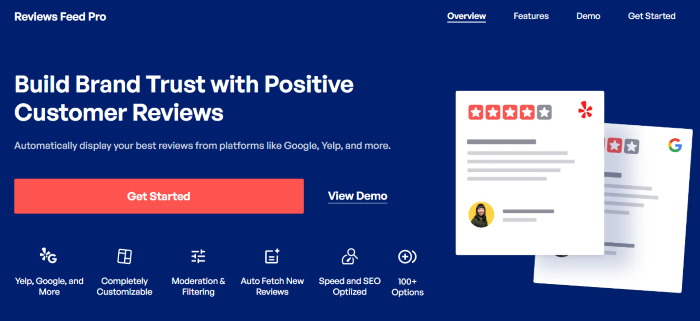 With the help of Reviews Feed Pro, you can create, customize, and embed review feeds in just minutes – no coding needed!
All it takes is a few simple clicks, and you can embed reviews from Yelp, as well as other highly trusted review sites like Facebook, Tripadvisor, Google Reviews, and more.
What's more, all the review feeds you create will insert your website's design. So, your embedded reviews will look beautiful and match your branding.
On top of that, you can easily customize how your review feeds will look using templates and a visual customizer.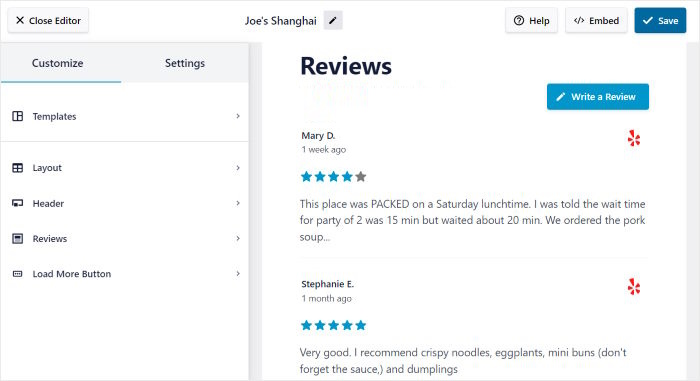 Reviews Feed Pro also comes with easy moderation options and powerful filters that let you control the reviews that are visible on your site.
For example, you can use the Yelp rating filter to only show reviews with specific star ratings. It's a great way to showcase high-quality reviews from trusted sources and create a better impression of your brand.
Ready to embed Yelp review feeds? Grab Reviews Feed Pro for your site here.
For more information, we also have a guide on how to embed Yelp reviews on your website.
3. Reply to Your Reviews
Responding to your reviews can be a great way of convincing more people to leave reviews for your brand.
Whenever someone leaves a positive review, you can follow up with a quick thank you to show your appreciation.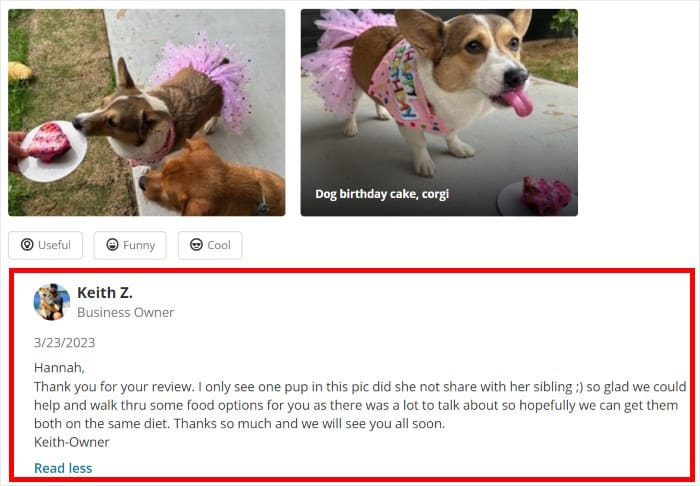 This can make other people more likely to leave reviews since they can see that you pay attention to what your customers are saying.
For negative reviews as well, leaving a response can be extremely useful. When left alone, negative reviews can be harmful to a brand's online reputation.
But with the right response, you can easily deal with these bad reviews and even turn them into 5-star reviews.
To get started, you can follow this simple 3-step guide:
Start by apologizing for the problem
Offer them ways to reach your support team
Promise to help them with their problem
That way, you're showing Yelp users that you want people to have the best customer experience and are listening to their feedback.
So, other Yelp users will be more willing to leave reviews. Plus, helping people who left negative reviews creates more happy customers at the same time.
Want more ways to deal with negative Yelp reviews? Just follow this guide on how to deal with negative online reviews.
4. Run Yelp Ads for Your Brand
Running ads can be a fantastic way of reaching new customers and getting more reviews.
After all, running Yep ads means you can get more people on your Yelp business page.
What's more, you can even put your business at the top of the search results. So, customers can easily find your page when they're searching on Yelp.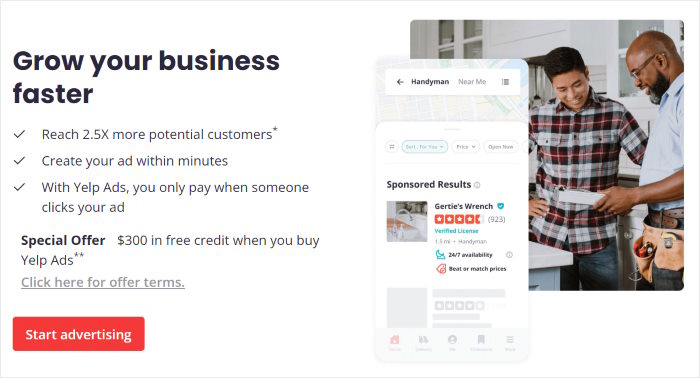 As a bonus, you only have to pay for your Yelp ads after people click on them. That means you'll save money while promoting your business.
5. Share Positive Yelp Reviews on Facebook
Sharing Yelp reviews can make more people aware of your brand's Yelp listing.
So, your customers on Facebook will be able to see that you're active on Yelp and listening to feedback. Then, these people can simply open Yelp and leave reviews there.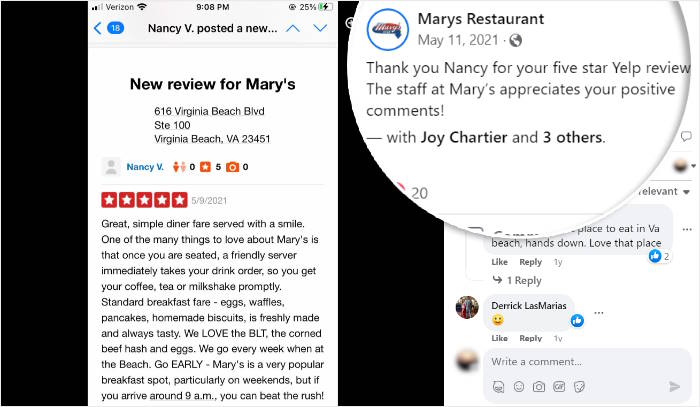 Plus, Facebook is the biggest social media platform out there, so you can reach a ton of potential customers as well.
The best part? There's an easy way to boost your Facebook following.
All you have to do is embed Facebook feeds on your site, and you can turn your site traffic into Facebook followers.
And the easiest way to do that is with Facebook Feed Pro.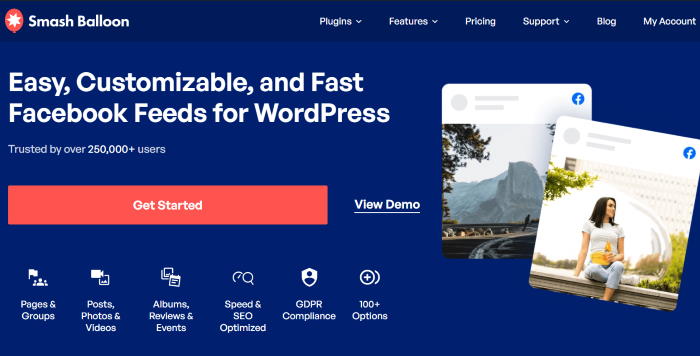 As the best Facebook feed plugin in the market, you can use it to display content from Facebook on your website – no coding needed.
Just follow the 3-step guide, and you can embed Facebook posts, groups, albums, reviews, events, and much more.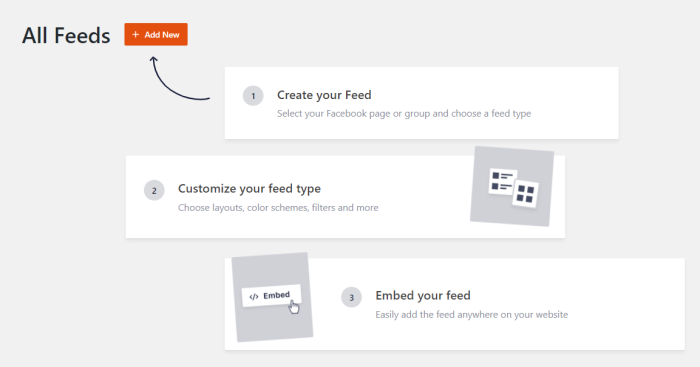 After sharing Yelp reviews on Facebook, you can use this plugin to embed them on your website as well and reach even more people.
Like with Reviews Feed Pro, the plugin will automatically copy your site's design and look beautiful right out of the box.
Plus, you can import feed templates or use the visual customizer to freely design your Facebook feeds in detail.
Grab your copy of Facebook Feed Pro and start embedding Facebook feeds with ease.
Want to use Facebook to grow your business? Here's a list of the best ways to promote your business on Facebook effectively.
6. Embed Yelp Review Widgets
Yelp review widgets can be a useful tool if you want to get tons of reviews with ease.
When you show Yelp reviews on your site's sidebar or footer, anyone visiting your site can see that your business is on Yelp.
So, the customers on your website will know that they can go and leave reviews there.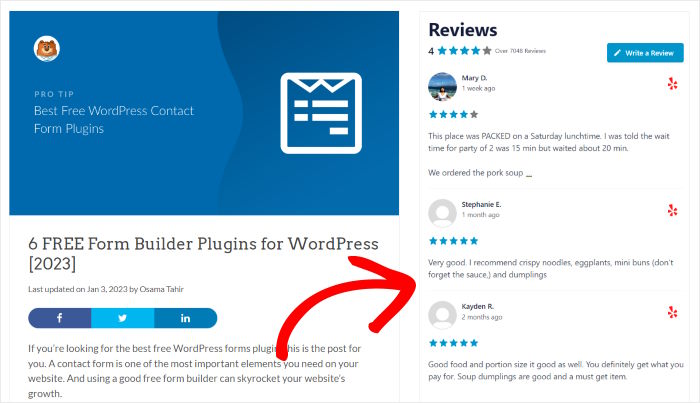 On top of helping you get more Yelp reviews, you can also boost your sales using Yelp review widgets. After all, visitors will see that real people out there are happily using your products.
If you use Reviews Feed Pro, you can embed Yelp review widgets in just minutes.
For more details, you can go ahead and follow this guide on how to embed Yelp review widgets in WordPress.
7. Promote Your Yelp Page Using YouTube Videos
If you want more people to check out your Yelp page, then YouTube can be a fantastic place.
You can simply create videos that mention your Yelp page or showcase your best reviews to create a great impression of your brand.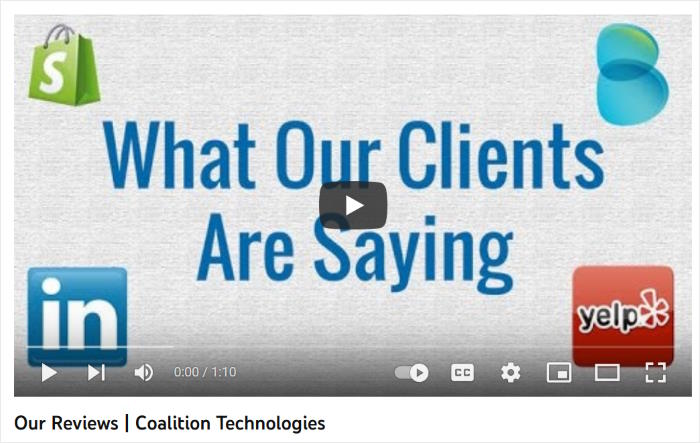 By doing that, customers will see that you're paying attention to their reviews and even highlighting them for others to see. This can be a great motivator for future customers to leave reviews.
For more information, you can check out our beginner's guide on how to make great customer video testimonials.
Want to grow your YouTube channel so more people can see your videos?
You can embed videos from your YouTube channel on your website. That way, anyone visiting your site can check out these videos as well and subscribe for more.
For that, the simplest option is to use the YouTube Feed Pro plugin.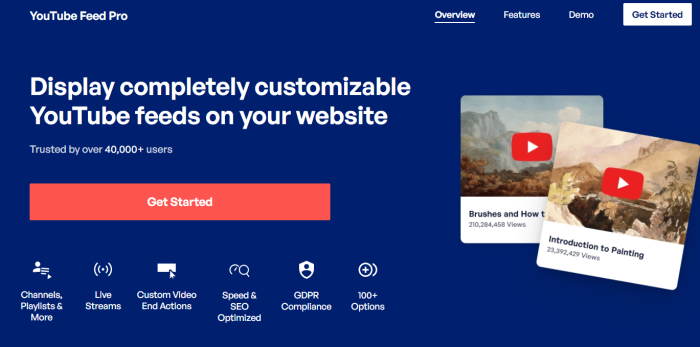 In just a few clicks, YouTube Feed Pro lets you create, customize, and embed YouTube video feeds to start engaging visitors.
What's more, your YouTube feeds will be highly customizable, so you can freely set the layout, color scheme, header design, button design, filters, and more.
And with the simple WordPress block, you can quickly embed the feeds on your website.
Plus, you can do a lot more than embedding YouTube channels. The plugin lets you display content from sources like playlists, search results, favorite lists, and even livestreams.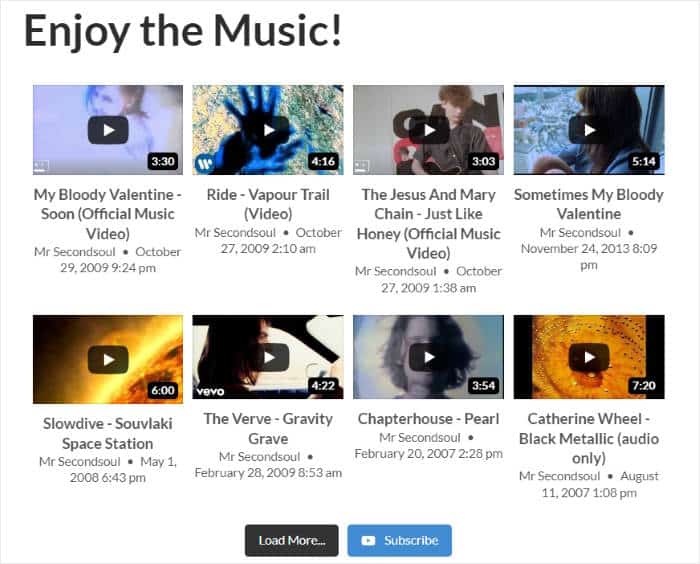 You can even embed positive video reviews of your brand. This can help you convince more visitors to buy from you.
To get started, get your copy of YouTube Feed Pro from here.
8. Share Yelp Reviews on TikTok
TikTok is one of the fastest-growing social platforms out there and a great way to reach lots of new people.
By sharing your Yelp reviews there, you can get new people to try out your business. And if they have Yelp accounts, they can leave reviews of their own.
After showing the Yelp reviews on your TikTok, more people will give your business a try as well.
And if you want even more people to check out your Yelp page, then you can embed this video on your website.
For a hassle-free way of embedding TikTok videos, you can just use TikTok Feed Pro.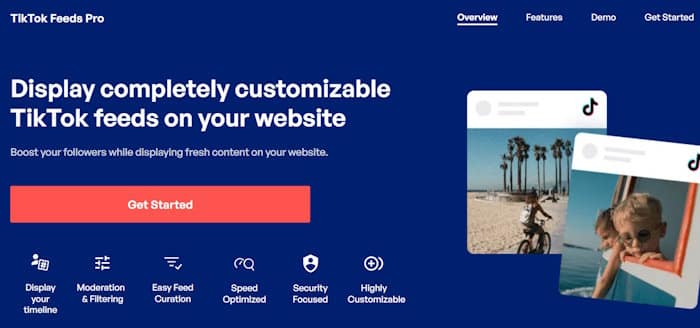 Using the plugin, embedding your TikTok videos takes only minutes — no need for HTML, CSS, or any kind of code.
Simply follow the guided flow, and your beautiful TikTok feed will be ready. Plus, the plugin will automatically post your latest videos and keep your feed updated.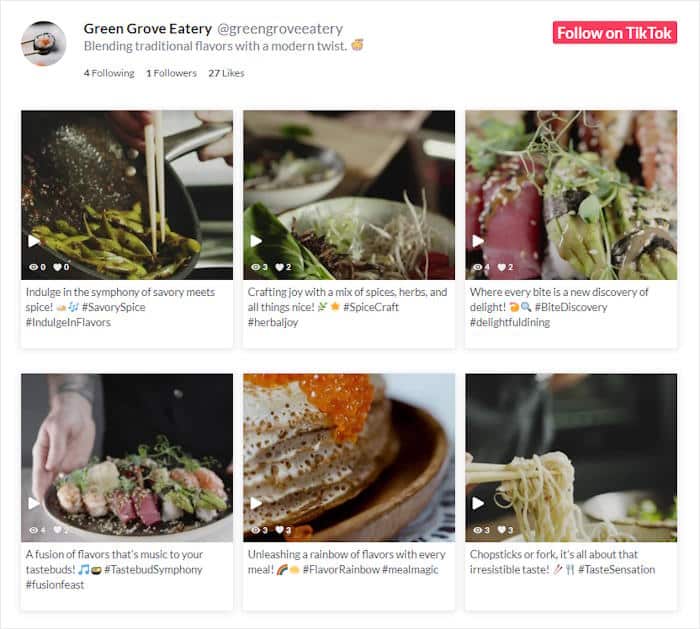 Embedding fresh content like this is a great way to get better SEO. After all, Google's algorithm loves regularly updated content.
This means you can rank high in search engine results and reach even more people with digital marketing.
Get your copy of TikTok Feed Pro and boost your online presence with TikTok embeds.
9. Add Yelp Branding to Your Business
By adding Yelp branding to your business, you can get more Yelp reviews from your customers.
Using stickers or posters, you can let people know that your business is available on Yelp. Your customers can then look up your business later and leave a review.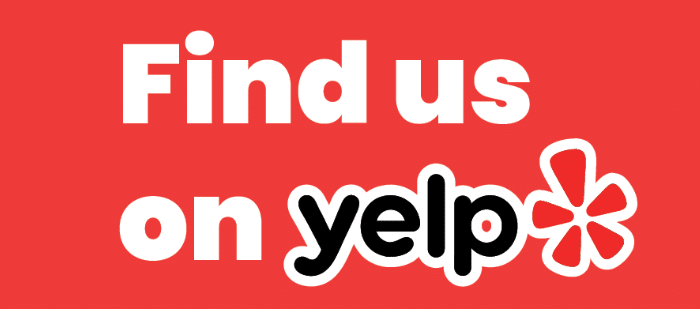 Since you're not directly asking them to leave a review, it's completely within Yelp guidelines. In fact, Yelp even has special "Find Us on Yelp" stickers that you can directly request from here.
10. Share Your Yelp on Your Social Media
To boost the reach of your Yelp page, you can also share your page on different social media platforms.
Since your followers are already interested in your brand, they're likely to leave reviews as well. All you have to do is share a link that lets visitors know about your Yelp page.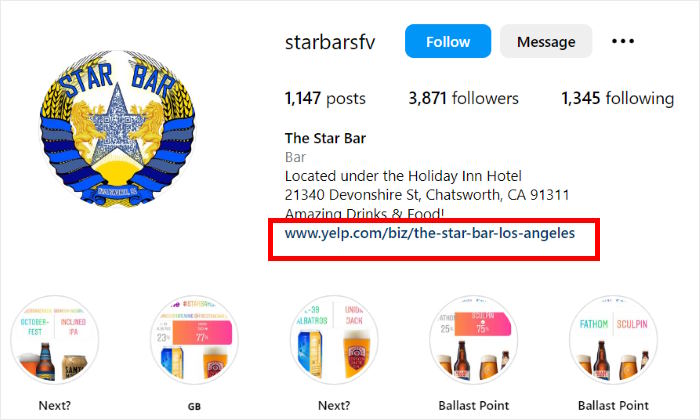 Your followers from Twitter or Instagram can then open your Yelp page and leave a review. Just like that, you can get more Yelp reviews.
Want to boost your social media presence so more people check out your Yelp page?
You can just use a social media aggregator tool like Social Wall Pro.
With this amazing tool, you can embed social walls with posts from the biggest platforms out there: Facebook, TikTok, Instagram, Twitter, and YouTube.
Your visitors can then interact with your posts and follow your accounts for more of your content. And when you share your Yelp page, tons of people will be able to check it out.
Plus, the plugin is so user-friendly that you can embed your social walls in minutes with no coding.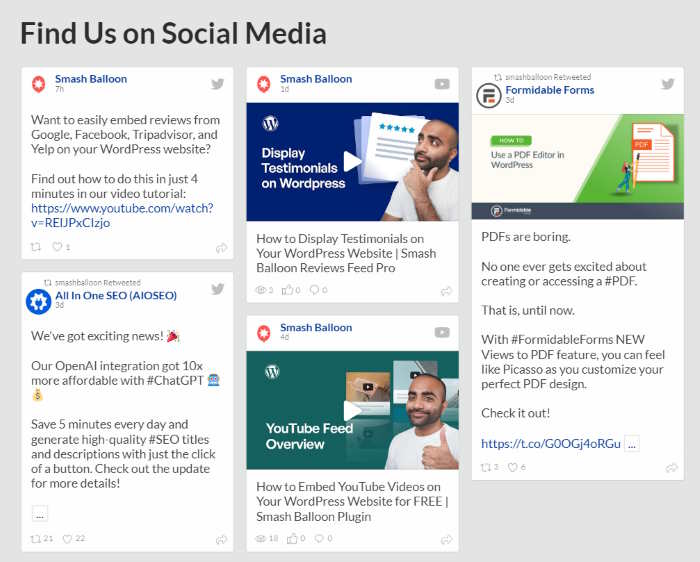 You also have a visual customizer where you can customize your social walls. With the live preview, it's' easy, quick, and accurate to design social walls before you embed them on your site.
Once you're happy with how your social walls look, you can use the plugin to easily display them on your site's posts, pages, sidebar, or the footer.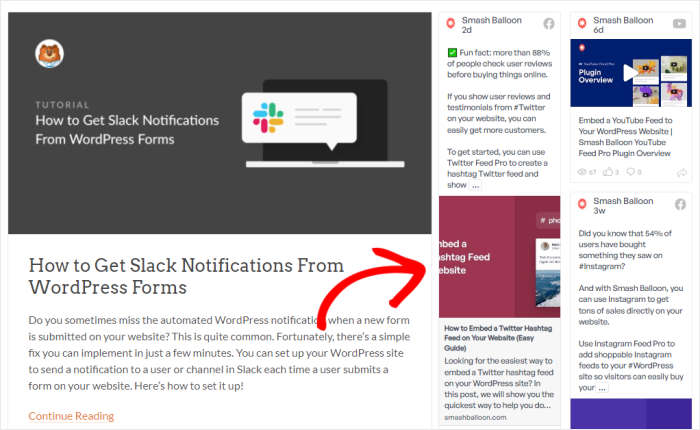 Ready to create social walls and grow your business?
Just grab the All Access Bundle, and you can get Social Wall Pro along with ALL Smash Balloon plugins at a massive discount! Plus, you can then use the plugins on unlimited websites.
And there you go!
Now you know how to get reviews on Yelp with ease and give your business a boost. By collecting new reviews this way, you can use Yelp to reach more people and get more loyal customers.
The best part? Business owners can just use a plugin like Reviews Feed Pro to supercharge their Yelp business listing and get more reviews in no time.
Ready to embed Yelp feeds and get more customer reviews? Get Reviews Feed Pro today!
If you want to get more out of social media marketing, take a look at our list of the best ways to make money on Twitter.
And don't forget to follow us on Twitter and Facebook for more social media tips and tricks.