Want to know how to embed Google Reviews in Elementor easily?
Showing positive Google reviews is a great way to make your Elementor site more engaging and boost your conversions.
But directly embedding content from the review sites is not easy — especially if you're not used to dealing with code.
The solution? We'll show you the simplest and quickest way to add Google reviews to your Elementor site.
First, let's see how embedding Google reviews in Elementor can help your brand.
But if you want to jump straight to the tutorial, simply click here.
Why Add Google Reviews to Elementor?
Elementor is a popular page builder that's used by tons of people online to promote their brand with a beautiful website.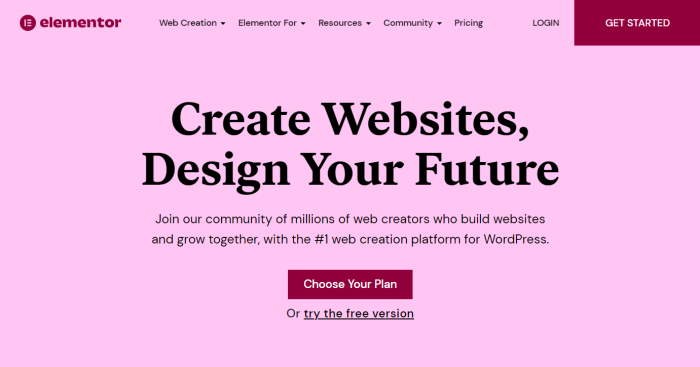 If you want to make your Elementor site convert more site visitors into customers, there's an easy solution: embed positive Google reviews on your site.
After all, Google is one of the best-known review platforms where a lot of genuine users provide organic and authentic reviews.
By showing positive Google reviews, your site visitors will see that real people out there are praising your products on popular review sites.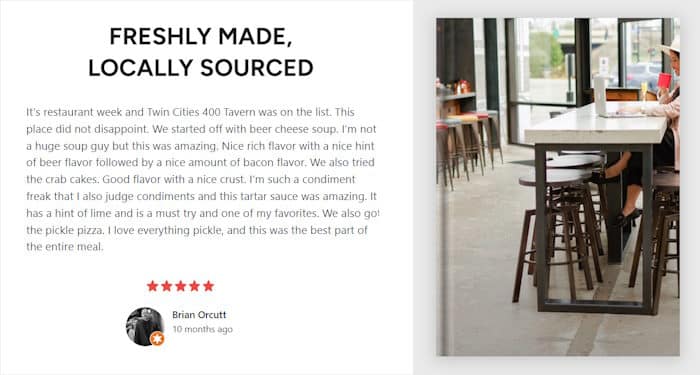 The reviews will work as social proof and help you convert more visitors into dedicated customers.
On top of that, showing the latest reviews with relevant keywords will help boost your site's SEO so you can reach even more potential customers.
Now that you know how Google reviews can help your Elementor site, let's go ahead and check out the easiest way to embed reviews.
Easiest Way to Embed Google Reviews in Elementor
A review aggregator plugin is the best and easiest option for displaying reviews on your Elementor site.
And Reviews Feed Pro plugin is the best option of all the plugins available in the market, especially for an Elementor site.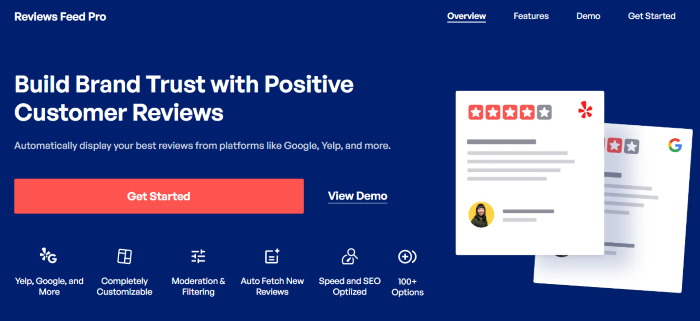 This plugin will help you embed reviews from the most popular review platforms that are trusted by millions of people:
Yelp
Google
Tripadvisor
Trustpilot
Facebook
WordPress.org
The Reviews Feed Pro plugin allows you to create, customize, and embed beautiful review feeds on your site in a matter of a few minutes.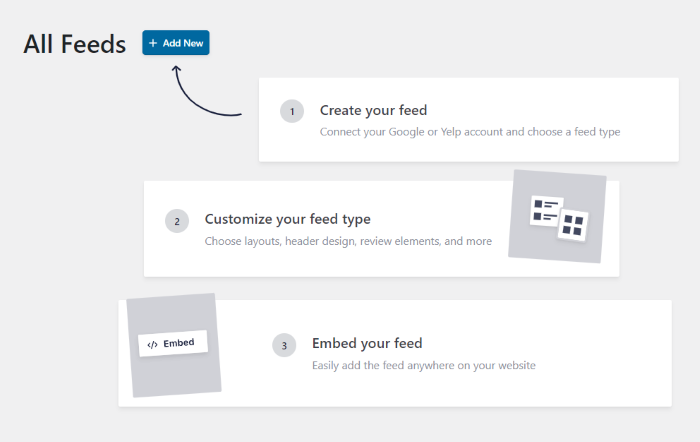 Plus, the embedded reviews will automatically take on the design of your site to blend perfectly with your site's look and feel.
The plugin also comes with tons of customization options that can be modified with a user-friendly visual customizer.
You even have the option of selecting the reviews you want to show and moderating your feed from the visual customizer.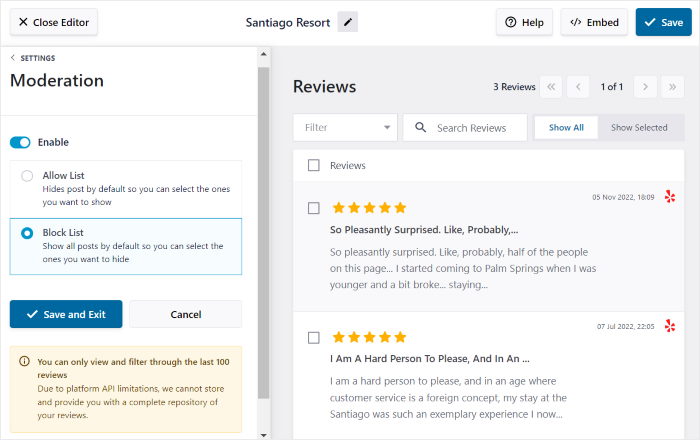 On top of that, the plugin comes with a support team of experts that you can reach whenever you need help or have any questions.
Overall, Reviews Feed Pro is currently the fastest-growing reviews feed plugin in the market. With all these amazing features, it is very obvious why it is so popular.
Ready to grow your brand by adding Google reviews? Get your copy of Reviews Feed Pro right here.
Now, let's move ahead and see how to embed Google reviews in Elementor using this plugin.
How to Embed Google Reviews in Elementor
Simply follow this detailed guide, and you will have a stunning Google reviews feed on your Elementor site in a matter of minutes.
So let's get started!
Step 1: Install and Activate the Reviews Feed Pro Plugin
To begin, click here to get the Reviews Feed Pro plugin. Next, just install the plugin and then activate it on your Elementor site.
Unsure about how to install WordPress plugins? Check out our detailed guide on installing WordPress plugins that will walk you through it.
In the next step, let's create a new review feed using the plugin's step-by-step guide.
Step 2: Create a Google Review Feed
Go to your dashboard and select the Reviews Feed » All Feeds menu to get started.
On this page, select the Add New button on the top.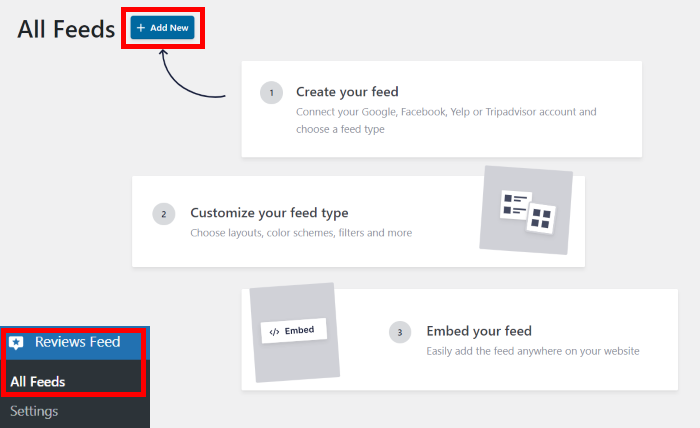 You can then add a new source for the Google reviews feed that you just created.
To get started, click on the Add Source button.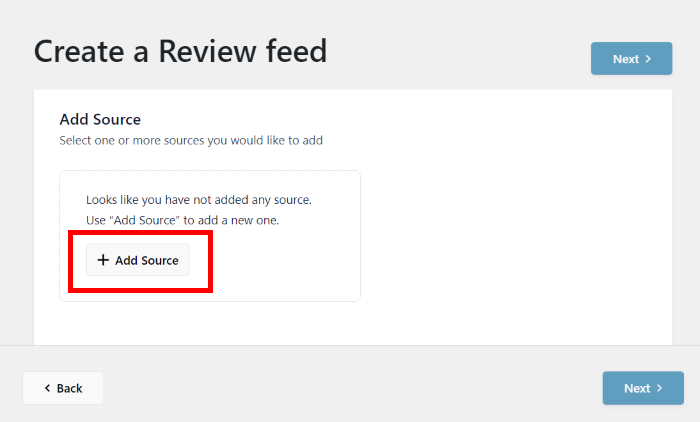 Then, the plugin will ask you to select the review type that you want to embed on your site.
You have the option of embedding reviews from Google, Facebook, Tripadvisor, Yelp, Trustpilot, and WordPress.org.
Since you want to add Google reviews, select the Google option and then press the Next button.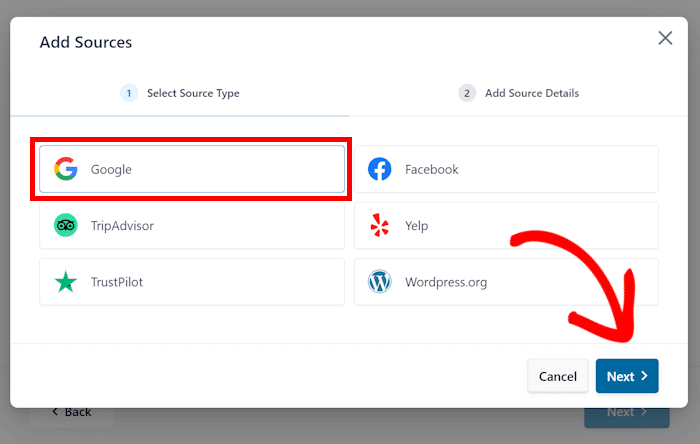 As you can see, Reviews Feed Pro makes it super easy to create new feeds for your site.
In step 3, you can connect your feed to Google and allow your feed access to your business reviews.
Step 3: Connect Your Review Feed to Google
Your new feed can fetch reviews and embed them to your site only after you connect your new feed to Google.
To do so, the easiest way is to use your Google API key.
If you don't have the key yet, just follow this guide on how to create a Google API key.
After you obtain the key, just paste it into the popup, and press the Next button to continue.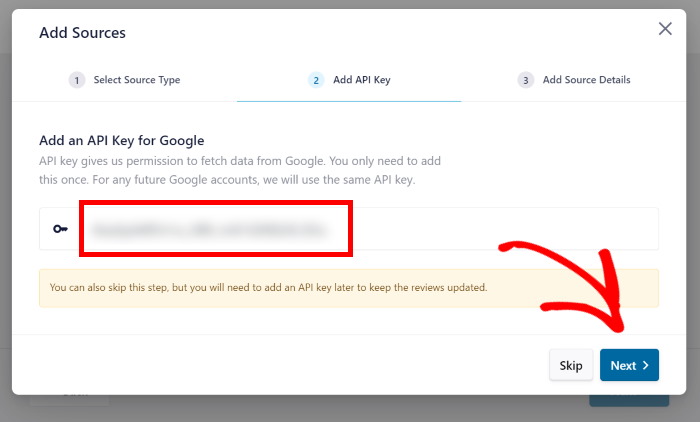 You now have the option to choose the business whose reviews you would like to show on your site feed. All you need to do is enter the location's Place ID.
To find the Place ID of a business, go to Google's official Place ID generator and scroll down until you find the map. Then, enter the location of the business on the search bar.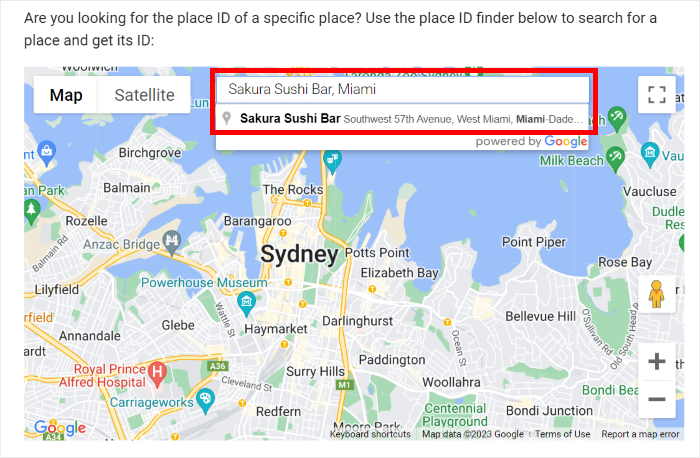 Now select the location you want from the drop-down list. Google will then show you the ID of the place on the map below.
To keep going, just copy the code that's right next to the Place ID field here.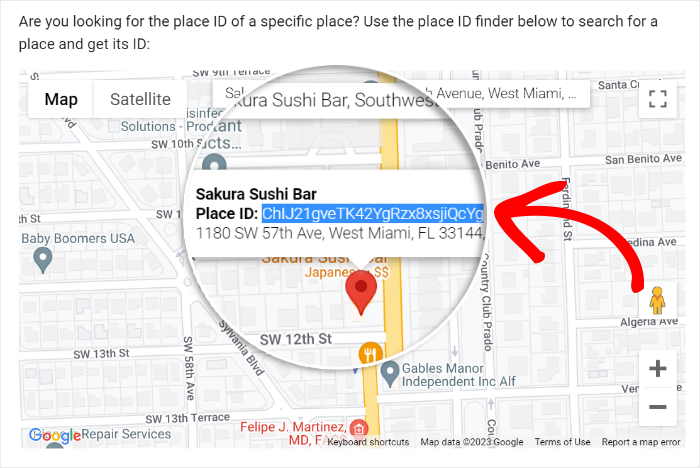 After you've done that, you can return to your site once more.
On the popup, just paste the selected code into the Place ID field and then select Finish.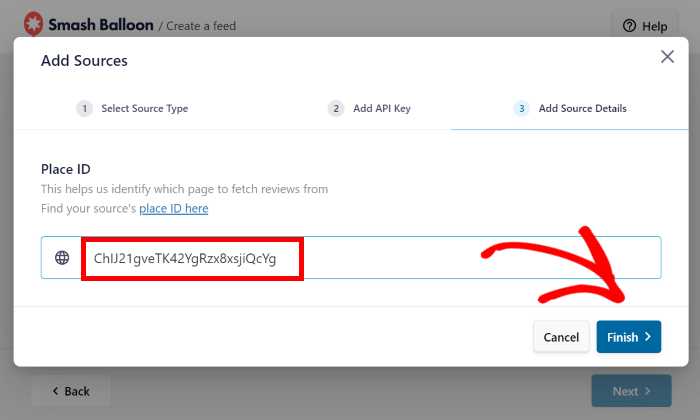 This place has now been added as a source on your Elementor site. You can reuse this source instantly every time a new review feed is created.
Click on the Next button to confirm your place choice.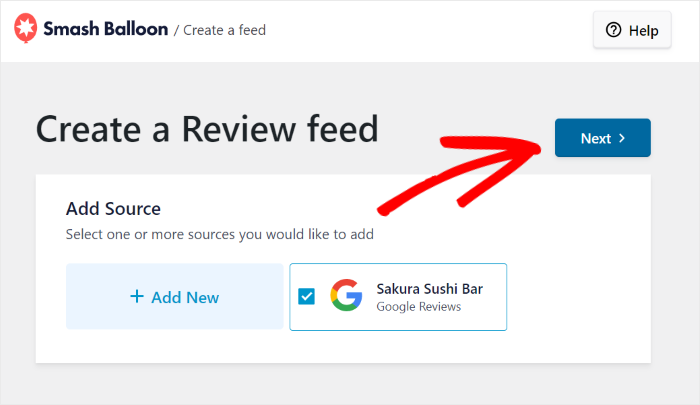 You have now created a review feed and connected it to Google. In step 4, you can customize the review feed to make sure it looks exactly how you want it to look.
Step 4: Customize Your Google Reviews
With Reviews Feed Pro, you can easily customize your review feeds. The plugin gives you the option to choose from different templates:
Default
Simple cards
Masonry
Single review
Showcase carousel
Carousel
Grid carousel
After you've picked out the template you like, click on Next.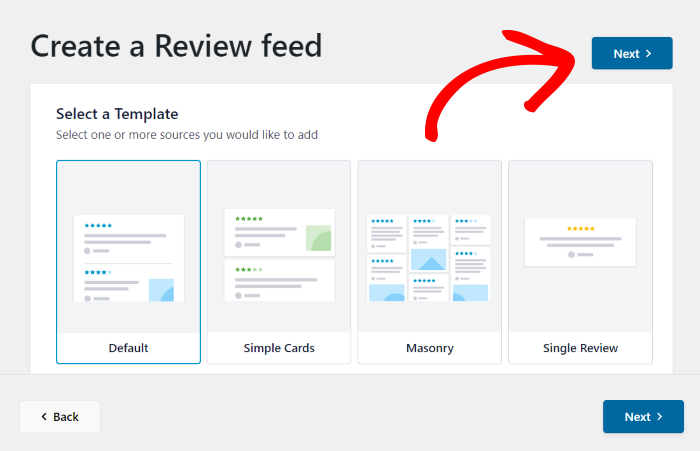 The plugin will then open your Google reviews feed in the visual customizer.
From there, you can easily customize your template, layout, header design, review elements, and so much more using the options on the left.
The customizer comes with a live preview that allows you to track any changes in real-time.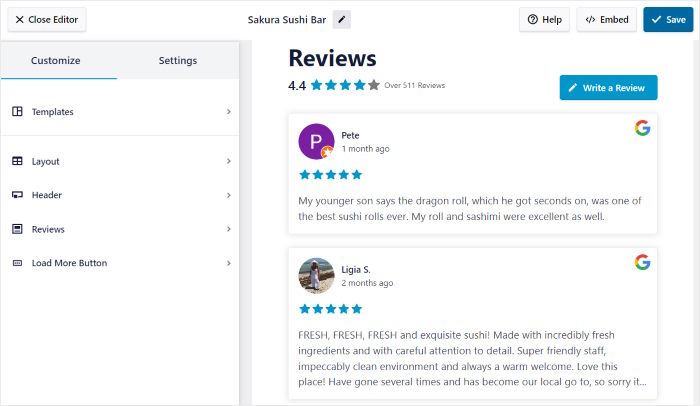 Ready to start customizing your reviews feed? To begin, let's set up the feed layout for your reviews.
To do so, select the Feed Layout option located on the left side.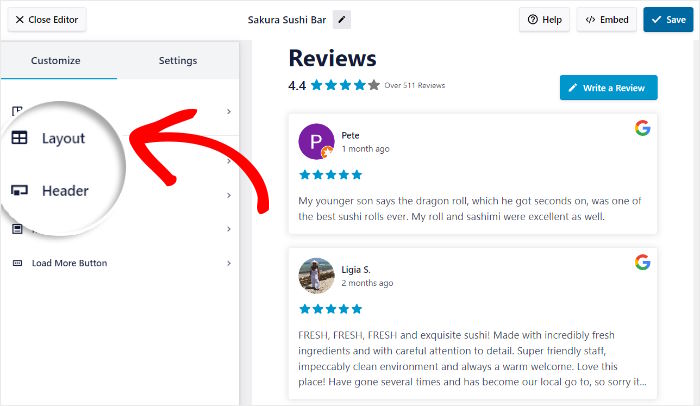 The plugin will then show you 3 layout options to select from:
Let's take a look at each of these layouts in detail below.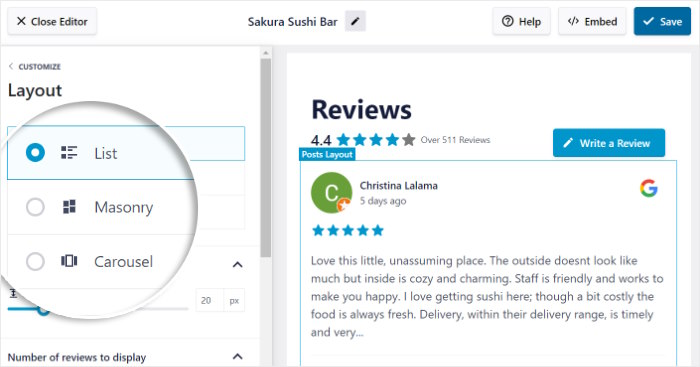 The list option allows you to show just one column of reviews on your site.
If you want to focus on each of the reviews, then this is a great option for you.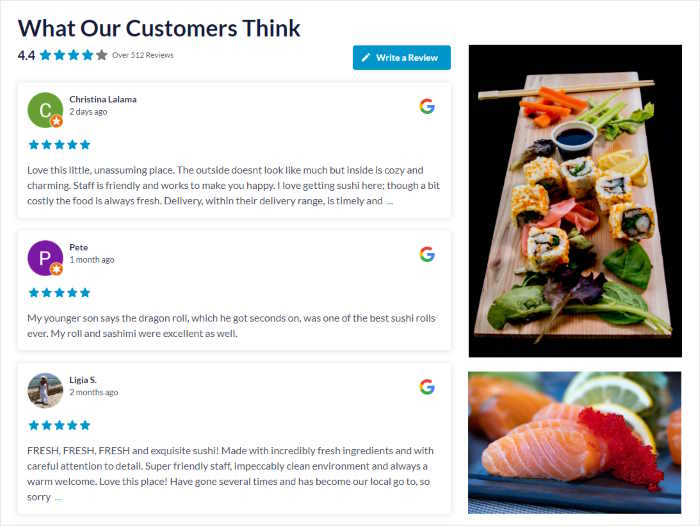 The second on the list is the masonry layout which shows the reviews in different columns.
This ensures that your site visitors can see a lot of different reviews at once.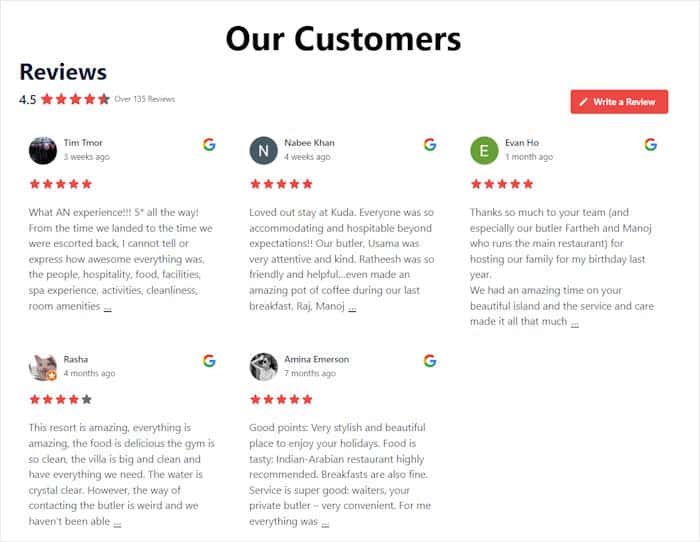 Want to engage your visitors by showing the reviews in a carousel slider?
Then, the carousel layout is the one for you.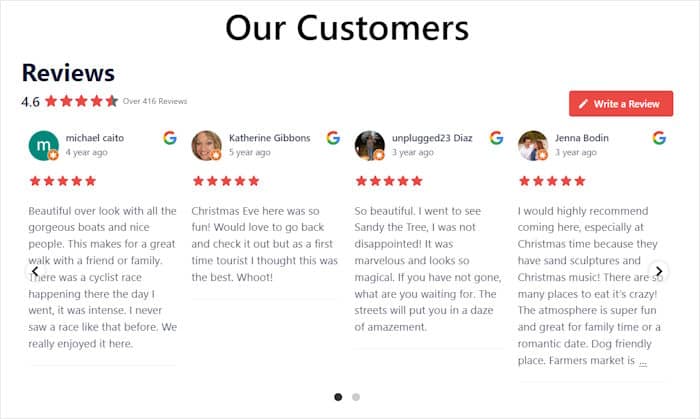 After you select your feed layout, confirm your changes by clicking on Save.
Now, you can go back to the main options to make further changes by clicking on the small Customize button.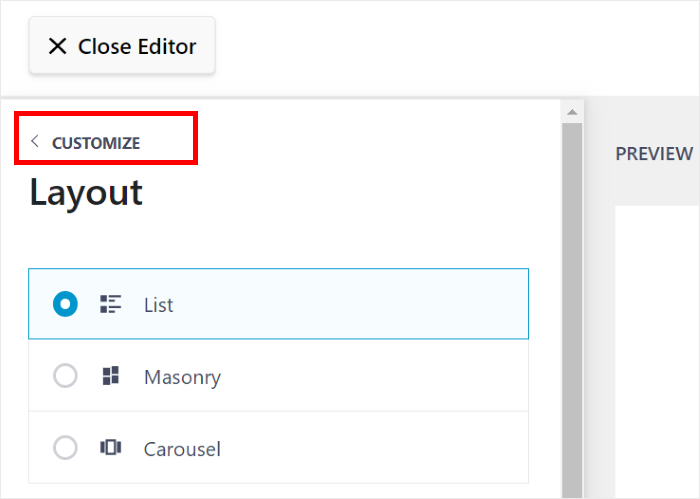 Next, you can select which reviews appear on your feed using the visual customizer.
You need to use the Filters option to do so. For this, simply click on the Settings tab located at the top and then select Filters.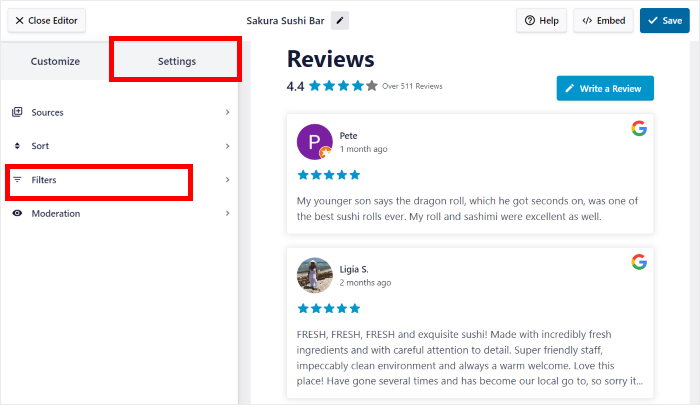 You now have the option to show or hide Google reviews based on ratings or keywords.
To do so, first, choose a star rating on the left, and your feed will only show you reviews with that rating.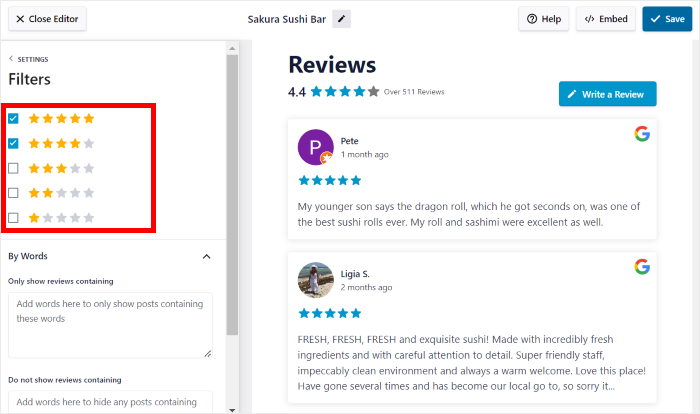 Once you are happy with the reviews filtered to be shown, click on the Save button once again.
You can also try out the remaining available options to design your buttons, header, review elements, and more. All these changes can be made from this customizer – without any coding.
Just remember to click on Save after you're finished with your customization. In the next step, you will finally add your Google reviews feed to your Elementor site.
Step 5: Add Google Reviews in Elementor
The Reviews Feed Pro plugin is super user-friendly. This means that you can start directly embedding your reviews feed from the visual customizer.
Let's get started by clicking the Embed button at the top.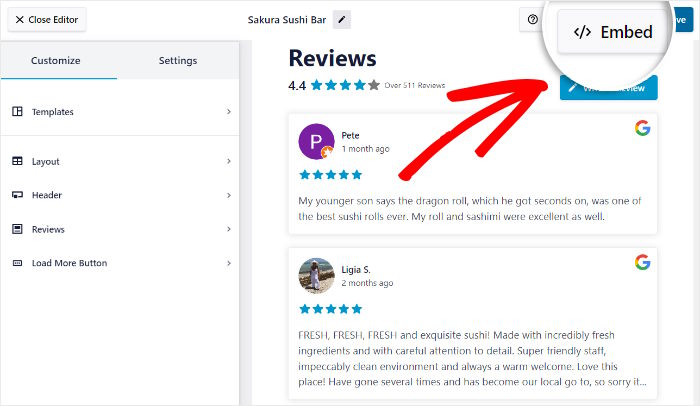 Now, the plugin will showcase different ways to embed reviews on web pages. You can even add a Google review widget to your website's sidebar or footer from the customizer.
For now, let's go with the first option. On the popup, click the Copy button to copy the shortcode shown.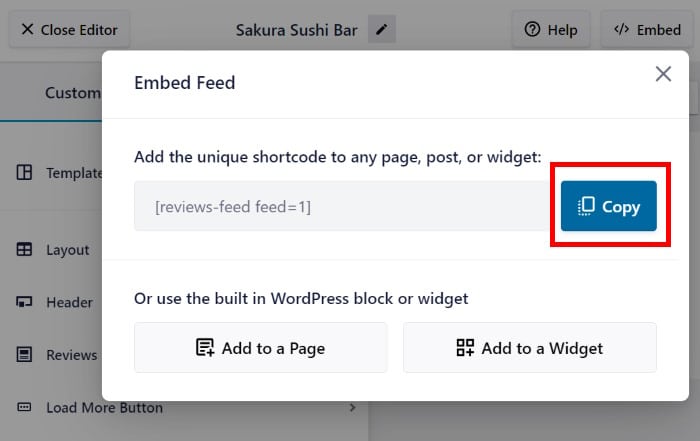 Next, you need to create a new WordPress page. To do so, go back to the dashboard and select the Pages » Add New menu.
After the new page is created, select Edit with Elementor.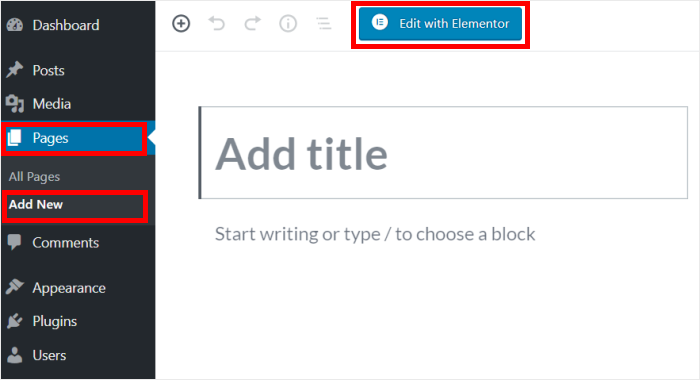 Alternatively, you can also instead choose to display the reviews feed on a post.
To do so, head over to the dashboard area and go to the Posts » Add New menu.
Similar to the page option, you need to select the Edit with Elementor button here as well.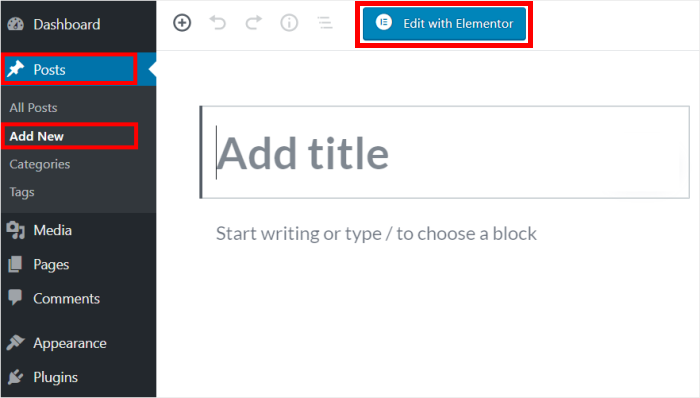 In both cases, your page or post will be opened in the drag-and-drop Elementor editor. Here all the Elementor widgets are on the left side, and the preview of the page or post is on the right.
There is a search bar on the top-left corner that you can use to look for the "shortcode" widget.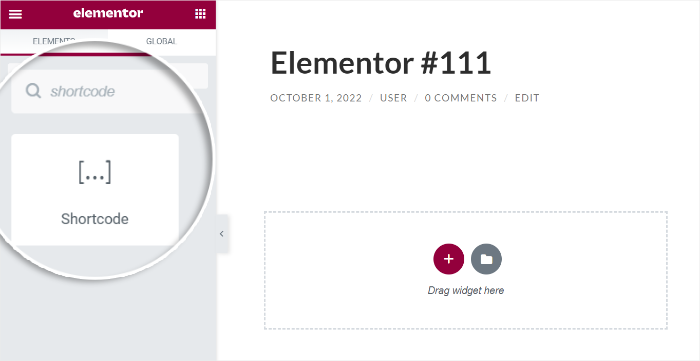 Select the Shortcode widget from the search results shown below.
Next, drag the widget over and drop it on your post or page on the right-hand side.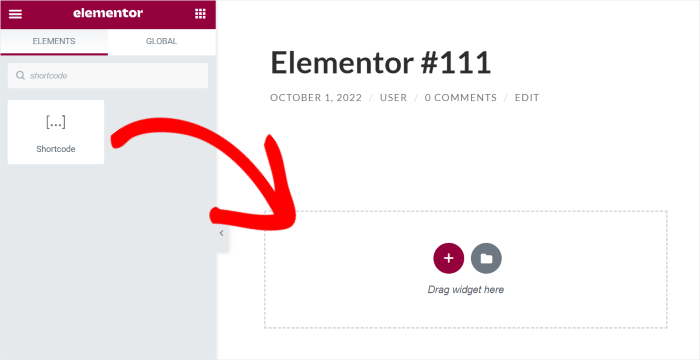 On the left, you will see some additional options for the Shortcode widget.
On the Enter your shortcode field, paste the previously copied shortcode.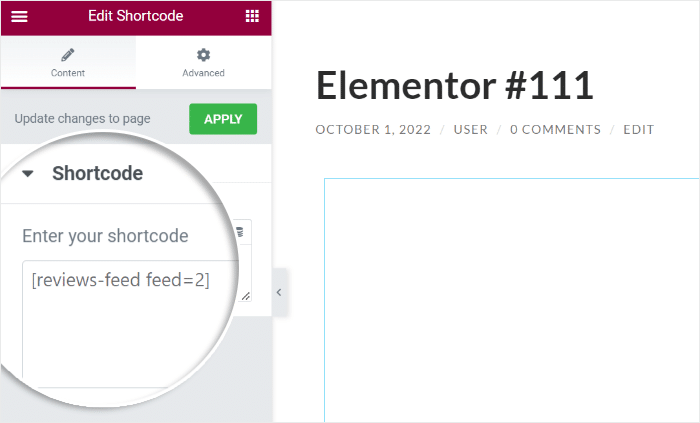 Finally, click on Publish, and your brand new Elementor page or post with a Google reviews feedwill be live.
Just open your Elementor site, and you will be able to see exactly how the feed looks to your visitors.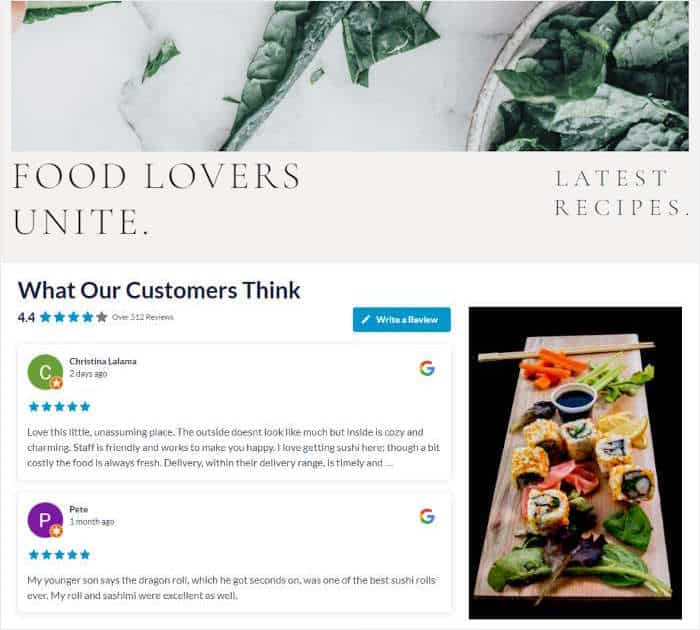 And that's it.
Now you know how to embed Google reviews on your Elementor site. And you can do so in a matter of minutes without writing even one line of code!
Reviews Feed Pro makes it effortless to display user-generated content from Google directly to your site. This allows you to engage visitors, boost conversions, and grow your sales.
Are you ready to embed Google review in Elementor? Get the Reviews Feed Pro plugin today!
Want to show a business reviews widget to boost sales? Follow this tutorial, where we show you how to embed a Yelp reviews widget.
And don't forget to follow us on Twitter and Facebook to stay up-to-date on all the latest social media tips and tricks.