Looking for the best WordPress form plugin for your business?
Adding forms to your site can be a great way to generate leads, grow your email list, and learn more about your customers.
But creating WordPress forms manually can be time-consuming, not to mention complicated.
The good news? You can simply use a WordPress plugin to help you create forms in just a few clicks.
In this post, we're going to list the best WordPress form plugins perfect for small brands.
How to Choose the Best WordPress Form Plugin
When it comes to WordPress form plugins, there are tons of options out there that you can choose from.
So, finding the best one can be tricky.
To help you make that choice, we'll go through a few things you can look for when picking your plugin:
Feature-rich: With a powerful form builder plugin, you can create tons of different types of forms to collect user information, generate leads, register users, accept payment, and more.
Ease of Use: To avoid dealing with complicated code, you should go for a form plugin that's user-friendly and easy to set up.
Fully Responsive: Since over 60% of internet users are on their phones, all the forms you create should work perfectly on mobile devices as well.
Useful Integrations: For best results, your form plugin should integrate other useful tools like giveaway builders, payment gateways, email marketing services, and much more.
Budget-friendly: Since a plugin is an investment, you should pick an option that fits your budget while giving you the features you want.
Customer Support: You should also check the plugin's reviews to confirm that it's delivering high-quality support to its customers.
Just like that, you can find a quality WordPress form plugin to help take your business to the next level.
Now that you know what to look for in a form plugin for your WordPress site, let's take a look at our plugin list.
6+ Best WordPress Form Plugins for Your Small Business
To help you find the best contact form plugin for WordPress, we're going to showcase our top picks along with the highlights for each option:
Let's get started!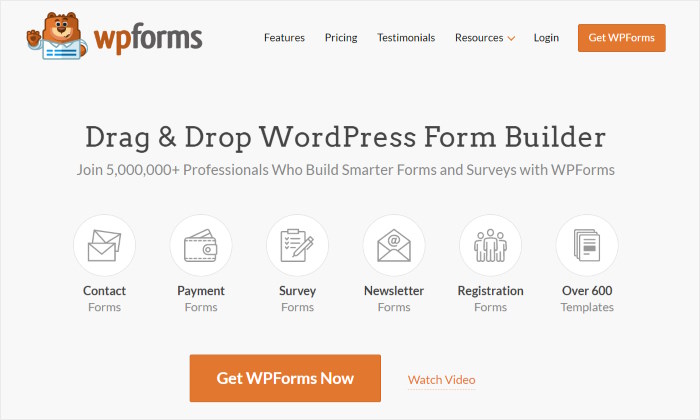 WPForms is the #1 WordPress form plugin in the market and a fantastic option for small businesses looking to compete with massive brands.
With it, you get a collection of powerful features that let you create WordPress forms in just minutes – no need to touch a single line of code.
On top of being easy to use, WPForms comes with everything you need to create effective forms for your site. In fact, over 6 million websites are using WPForms, and it even has a star rating of 4.9/5!
For more information, you can take a look at our WPForms plugin review here.
Features:
WPForm has a builder with a simple drag-and-drop interface that makes it easier than ever to create beautiful forms without any coding.
You also get smart conditional logic that can hide or show different form sections based on the user's answers. So, you can have conversational and engaging forms.
On top of being feature-rich, WPForms is lightweight and one of the fastest form plugins for WordPress.
With the help of 1000+ pre-built templates, you can instantly have an engaging form ready to go on your WordPress site.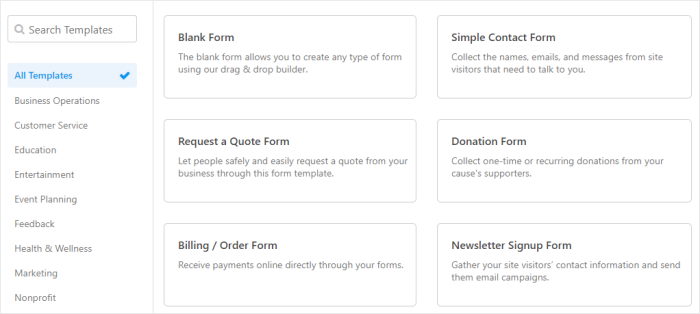 The plugin also comes with a survey and polls feature that lets you learn more about your customers and their behavior.
Since WPForms also has anti-spam functionality and Google reCAPTCHA, your forms will be safe from trolls, bots, and spammers.
WPForms supports major payment gateways, including Stripe, PayPal, Square, Authorize.net, and more, to help you sell products using forms.
It also supports CRM and email marketing platforms like MailChimp, Salesforce, Campaign Monitor, Constant Contact, and more.
Why We Like It:
As you can see, WPForms gives you tons of different features, so you can create any type of form you need from a single tool.
With extra features like conditional logic and professional templates, we were easily able to create effective forms in record time.
Pricing:
You can get the premium version of WPForms for just $49.50/year and build forms with ease.
Don't have room in your budget right now? Just grab WPForms Lite for free, and you can upgrade to the full version at any time!
Grab your copy of WPForms here to get started right away!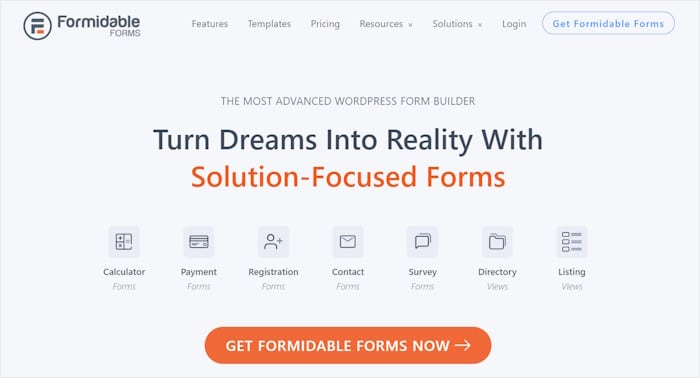 Next on our list, we have another versatile form builder that can work for WordPress sites: Formidable Forms.
While Formidable Forms isn't as beginner-friendly as WPForms, it's a powerful tool with advanced forms that can be helpful for technical industries like finance and engineering.
Using its features, you'll be able to create complex order forms, payment forms, job applications. and more.
Features:
You get calculated fields with your form and help your visitors find mortgage rates, interests, payment quotes, and much more.
While Formidable Forms can be tough to use for beginners, it still has a drag-and-drop builder to create forms — no HTML, Custom CSS, or other types of coding.
Using the plugin's AI field, your visitors can send requests to ChatGPT directly from your site and receive responses as well.
Like WPForms, you get spam protection to make sure you're getting genuine responses from real users.
You can customize, filter, and display the user-submitted data on the front end of your website.
Why We Like It:
Even though Formidable Forms isn't the most user-friendly tool out there, it's powerful and has a lot of excellent features.
It can be the perfect choice for developers or advanced WordPress users.
Pricing:
The price for Formidable Forms starts at $39.50/year for the basic plan.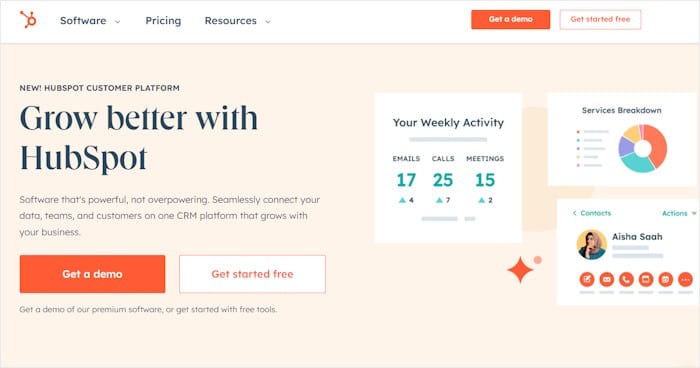 HubSpot is a popular all-in-one marketing tool that comes with an inbuilt form builder as well.
The overall HubSpot package comes with features like live chat, website builder, analytics, email hosting, and more.
As a result, a huge draw of HubSpot is that you can build forms that integrate with all these other services.
Features:
You can show exit intent forms to visitors who are about to leave your website to generate leads effectively.
With HubSpot, you can also set up time triggers, scroll depth triggers, and page targeting for your forms.
Just like WPForms, you get a drag-and-drop form builder to create engaging forms with ease – no coding needed.
For a better chance of converting visitors, you can even add calls to action to your site with the help of HubSpot.
Why We Like It:
HubSpot came with so many helpful features that it's easy to see how it can be helpful for a lot of brands.
But the form builder is only a small part of HubSpot, and dealing with all those extra features might be overwhelming for some users who just want a user-friendly form builder.
Pricing:
You can get a limited version of HubSpot's marketing software at a price of $18/month. But if you want the professional plan, the price goes up to $800/month instead.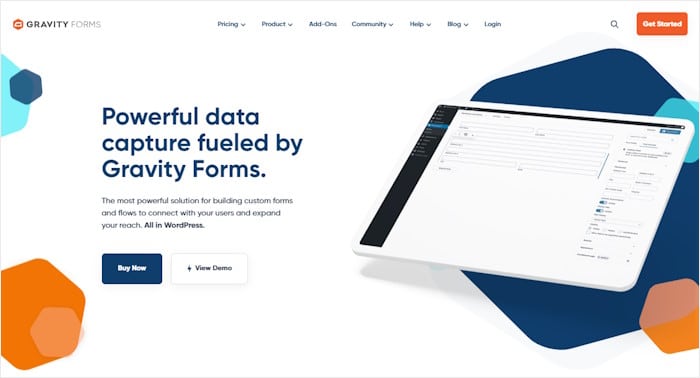 Gravity Forms is one of the best WordPress form builder plugins with lots of customization options.
If you're a developer with experience in coding, you can get the most out of this plugin and create beautiful forms for your site.
One downside of Gravity Forms is that you don't have a free plugin version that you can try out before purchasing the plugin.
Features:
From the drag-and-drop builder, you'll be able to create your forms in real-time – just like with WPForms.
You can also create multi-page forms with tons of different form fields, checkboxes, and more.
With the help of the add-ons, Gravity Forms can help you integrate popular email marketing services to reach more people.
Like many of the other entries on this list, this plugin features a powerful spam filter to keep bots and trolls at bay.
Similar to WPForms, the plugin lets you add file upload fields to your forms and directly receive files from your visitors
Why We Like It:
After trying out all the plugin's features, it was clear that Gravity Forms is one of the best options in the market when it comes to form builders.
On the other hand, you'll need to get the add-ons on top of the main plugin if you want to create complex forms.
Pricing:
The basic plan for Gravity Form starts at $59/year and supports a single WordPress website.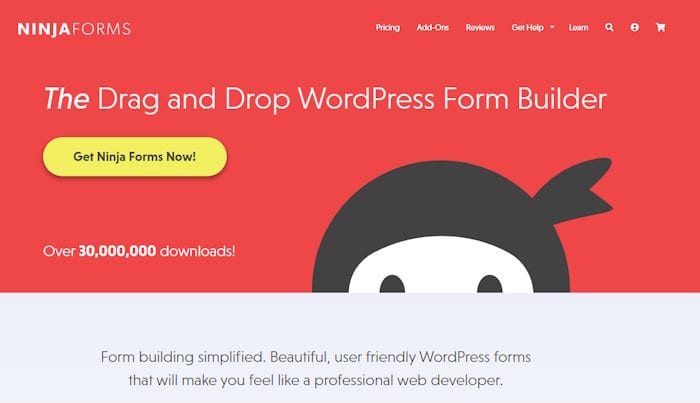 If you just want a quick and easy way of creating online forms, then Ninja Forms has you covered.
In fact, the basic plugin itself is free, so you can start building forms without having to make room in your budget.
You'll need to get the expensive premium plans if you want access to useful features like conditional logic, file upload, payment support, and more.
Features:
You can create unlimited forms for unlimited WordPress sites with the help of Ninja Forms.
To create different kinds of forms, Ninja Forms gives you 28+ different fields, along with tons of others that you get with add-ons.
Since this plugin is perfectly GDPR compliant, your site will respect your visitors' privacy and help you avoid fines or any other issues.
You also get email notifications from the plugin after a visitor's form submission.
Ninja Forms also lets you do advanced calculations on your forms so your visitors can calculate interest rates, payments, and more.
Why We Liked It:
The basic Ninja Forms plugin turned out to be a pretty useful tool and has a surprising number of features.
However, you'll need the full plugin to access the advanced features, and it can end up being expensive compared to other options.
Pricing:
You can get the base version for free, but if you get the Plus plan for $99/year, you can get more features and 20% off other add-ons.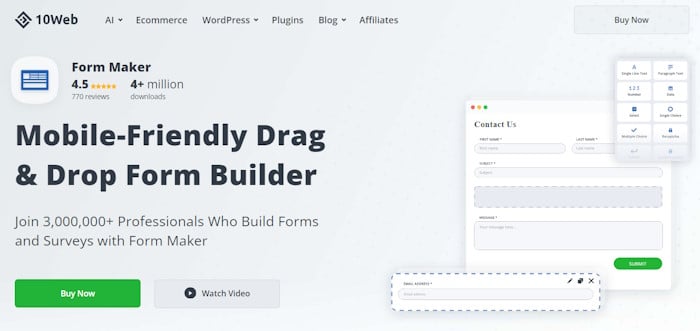 Another great option is Form Maker by 10Web, which gives you a fast way of creating simple contact forms.
Similar to other options like WPForms, your forms are responsive, so visitors from any device will be able to engage with your online forms.
You even get a simple visual builder to configure your forms, change your layouts, and more.
Features:
You'll be able to create short forms with up to 7 fields using the base version of this plugin.
This plugin comes with 5 different templates that you can import for quick and easy form building.
Ninja Forms supports feedback forms, contact forms, newsletter forms, sign-up forms, and much more.
While it's not as powerful as WPForms, you get 20+ field types, so there's a variety of options for you to choose from.
The plugin is compatible with tons of WordPress themes, automation apps like Zapier, as well as page builders like Elementor.
Why We Liked It:
Even though the base version of Form Maker has a limited number of fields, it can be a good option if you just want simple forms on your site without any hassle.
Plus, the Pro version has a nice collection of features if you want to make the investment.
Pricing:
For the paid version of Form Maker, the price starts at $30 for 6 months of premium support.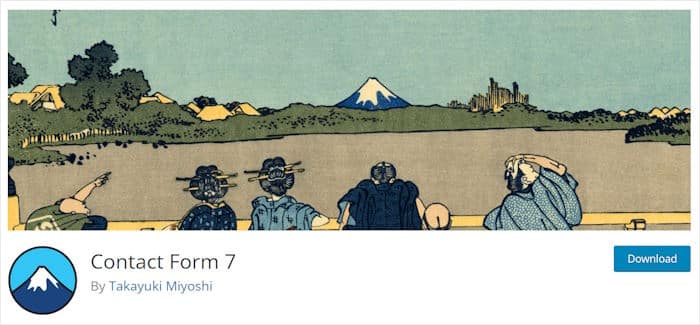 Finally, we have a popular WordPress contact form plugin that can be great if you're willing to deal with some coding: Contact Form 7.
Since it doesn't come with a visual builder, it can be tough to get used to the plugin's interface.
At the same time, Contact Form 7 has a lot to offer for advanced users, so it's one of the best free WordPress form plugins.
Features:
From the plugin's basic contact form builder, you can use HTML to create your custom forms if you're handy with coding.
Since the plugin is super lightweight, your site will load fast, and a fast website can be good for your SEO.
If you want more features with Contact Form 7, you can get some modules or third-party addons for your site.
You can insert the shortcode into your classic or block editor to add forms to WordPress pages, posts, or even as a widget.
Why We Liked It:
Contact Form 7 can be good if you're willing to deal with code and are willing to spend some time getting used to the plugin's interface.
If you want more features and a user-friendly option, WPForms is easily better than Contact Form 7.
Pricing:
Contact Form 7 is completely free to use, but there are some freemium addons out there.
Which Is the Best Contact Form Plugin for WordPress?
So this was our list of the best WordPress form plugins for small businesses. All in all, there are several great options out there.
Plus, there are other options that didn't make the cut like Fluent Forms, Forminator, Happyforms, Jetpack Forms, and more.
At the same time, there's one option that stands out as the best WordPress form plugin: WPForms.
Using WPForms, you'll be able to create beautiful contact forms for your site in just a few simple clicks – no need to touch a single line of code.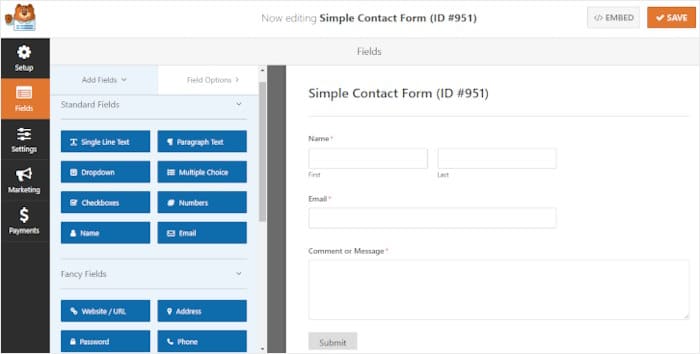 Instead, you can choose from 1000+ pre-built form templates and use the simple drag-and-drop builder to create forms.
Since the plugin is so versatile, you can create quizzes, user registration forms, order forms, online menus, and much more.
Since the plugin is so secure, you can protect your forms from spammers, bots, and more and get genuine responses.
The best part? You can try out WPForms for 14 days with the no-questions-asked money-back guarantee.
As a result, you can see if the plugin is right for your business, and it's totally risk-free!
All you have to do is grab your copy of WPForms and start building your forms today.
And there you have it!
As you can see, there are tons of great options out there when it comes to WordPress form builder plugins. With these, you'll be able to generate leads, get more subscribers, sell your products, and much more.
After a lot of testing, it's clear that WPForms is easily the best WordPress form plugin out there – especially for small businesses that are competing with massive brands.
Ready to create online forms with ease? Get your copy of WPForms for your site here.
Want another great way of generating leads? Take a look at this list of the best WordPress popup plugins.
Best WordPress Plugins and Tools for Small Businesses (Handpicked)
If you want more great plugins to help out your business, we've got you covered. Just take a look at our WordPress plugin listings below:
Found this list helpful? Then give us a follow on Facebook and Twitter for more helpful tips on social media marketing.