Looking for a detailed WPForms review of this popular form builder in WordPress?
WPForms is one of the most used contact form plugins for WordPress websites, so you're probably wondering why (and how much it costs).
We'll cover all the details on the online form builder in this WPForms review so that you'll have all the info you need to decide if it's a good fit for your small business website.
Our Detailed WPForms Review
Since this is an in-depth WPForms review, we've created a table of contents in case you'd like to jump ahead to a specific section.
What Can WPForms Do?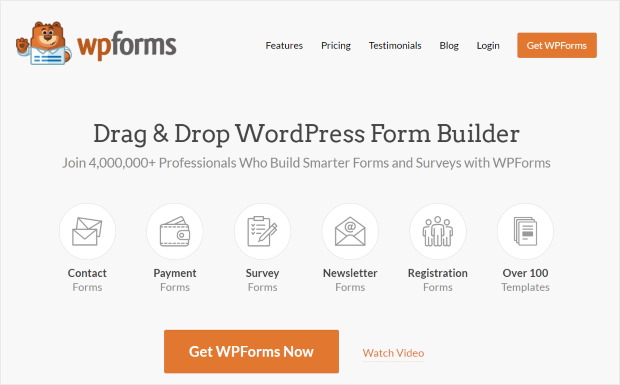 WPForms is the best WordPress plugin that gives you the functionality to embed contact forms on your website.
There are a ton of fantastic options to help make your forms powerful like surveys, conversational forms, and more (we'll cover features in detail later in the post).
If you've never installed and activated a WordPress plugin before, here's how getting set up with WPForms works.
First, you'll need to:
After you activate the WPForms WordPress plugin, you'll instantly have access to a bunch of the amazing features this tool offers to help grow your sales.
So let's go ahead and take a look at what features make WPForms Pro so popular next.
WPForms Features:
WPForms Pro offers the most 1) beginner-friendly and 2) effective features in a form builder plugin.
There are not tons and tons of advanced tools only developers and web designers can use.
On the other hand, the features that are offered are all very helpful for a small business owner's website. Let's take a deeper look into some of the major features offered with WPForms Pro:
If you'd like, you can click on any of the links above to jump to a specific spot on this list of WPForms features.
1. Drag and Drop Form Builder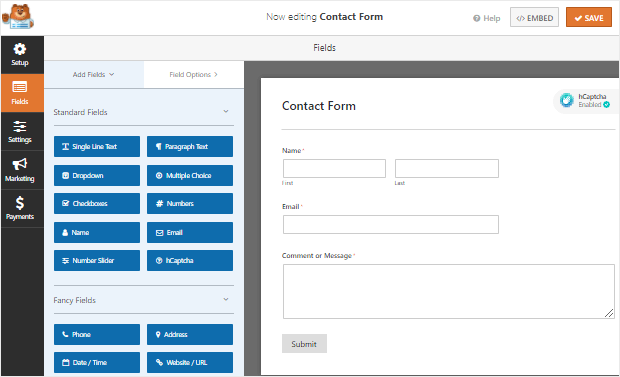 Its ease of use is one of the big things that really sets WPForms apart.
That's because WPForms has an easy-to-use drag-and-drop visual builder. Since it's so user-friendly, you can easily build your own website forms — even if you're a WordPress newbie.
To use it, you simply drag and drop a field from the left onto the form on the right. Additional customization settings for fields can be found within the lefthand panel once you click on the field.
This gives you great control over what each field of your form can do, letting you easily make amazing contact forms with WPForms.
2. 100+ Form Templates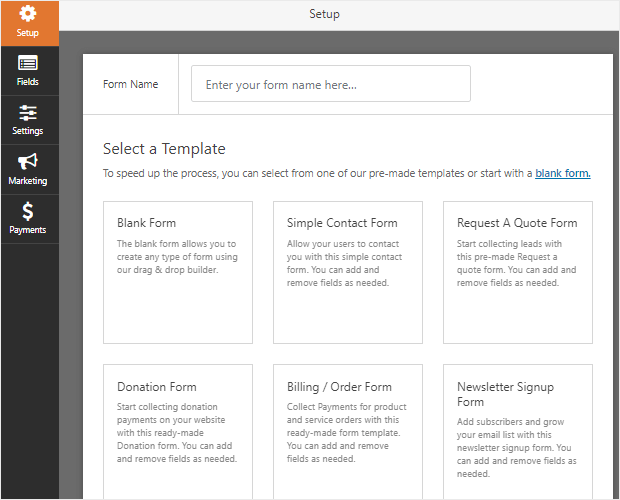 Think WPForms will just let you create a simple contact form, and that's it?
Good news: this user-friendly WordPress form plugin lets you make tons of forms, depending on the type of form your business needs.
Another great feature of WPForms is the 100+ pre-built templates that come with it. You never have to start from scratch when making your WordPress site's contact form again.
In fact, WPForms isn't just a basic contact form builder.
The WPForms Pro plan includes a bunch of form templates you can use in nearly every niche and industry, such as a newsletter signup form, suggestion form, billing/order form, or request a quote form.
For example, you can use the Testimonials form template to gather happy recommendations about your product. You can also add a file upload field to accept customer video testimonials.
3. Order and Payment Forms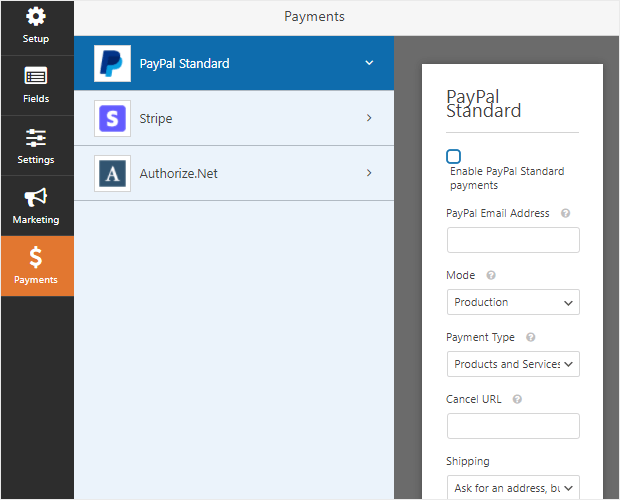 One of the most popular features we've looked at in this WPForms review is the order forms you can make.
If you're running an online store, you can receive orders from your customers with WPForms. Plus, this plugin is compatible with all the major eCommerce plugins, including WooCommerce.
WPForms offers several payment provider integrations to get you up and running with taking payments online.
Using order forms on your website is just another way to make even more money. WPForms lets you take Stripe or PayPal right on the forms, and Authorize.Net for Elite level accounts.
4. Surveys & Polls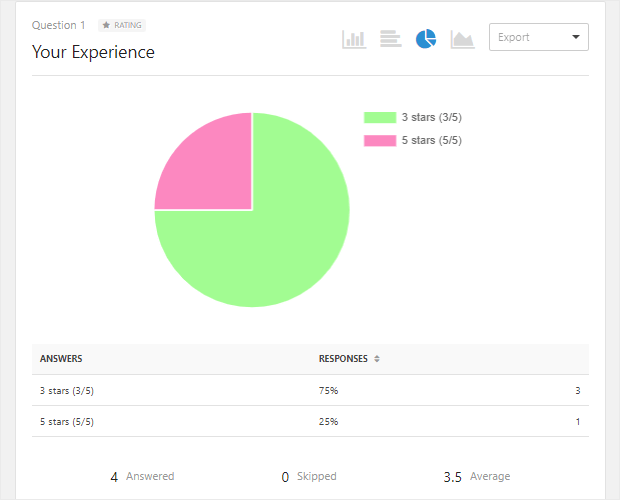 Save a ton of money on external survey software and just use surveys offered by your web forms provider (if it's WPForms).
The paid version of WPForms has a fantastic survey tool that lets you do some really great things. Then you can access your data in beautiful, easy-to-understand reports right in your WordPress dashboard.
The WPForms Survey and Polls features include:
Gorgeous Reporting Dashboard
Survey Templates
NPS Surveys
Star Ratings
Likert Scale Surveys
Polls
It's a great alternative to expensive and confusing survey tools, and you can build them right into your forms.
Plus, you can easily get the info you need by exporting all that useful survey data and reports to show others how things are going with your small business.
5. Conditional Logic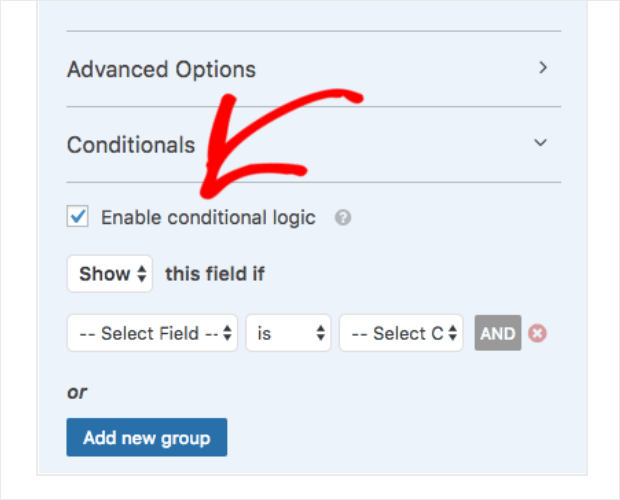 Being able to hide or show other fields on your form based on a user's previous answer is a huge must with contact forms online.
With short and direct forms, you can lower your form abandonment rate and boost conversions.
Conditional Logic is not only offered with WPForms, but it's incredibly easy to set up and use within the form builder.
6. Form Landing Pages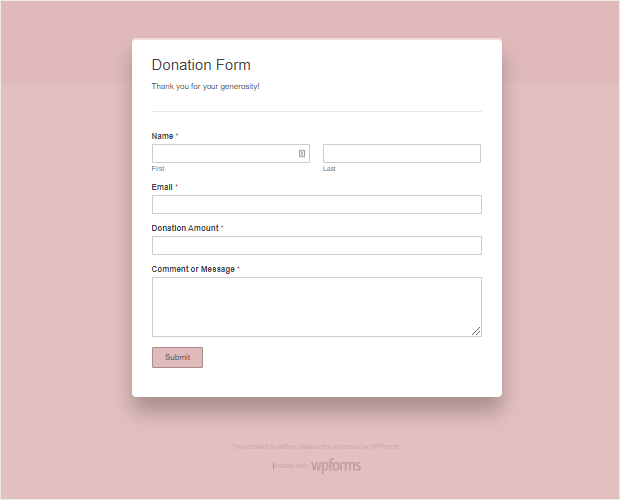 Want more email subscribers?
Landing forms are incredibly powerful, and your form builder should definitely provide you with a way to make them easily.
The WPForms Form Pages addon lets you turn a form into a landing page with just a few clicks.
Landing page forms are amazing for conversion rates. They help create a distraction-free environment when your user is filling out the form so that they focus on what they're doing and finish filling out your form.
7. Modern File Upload Field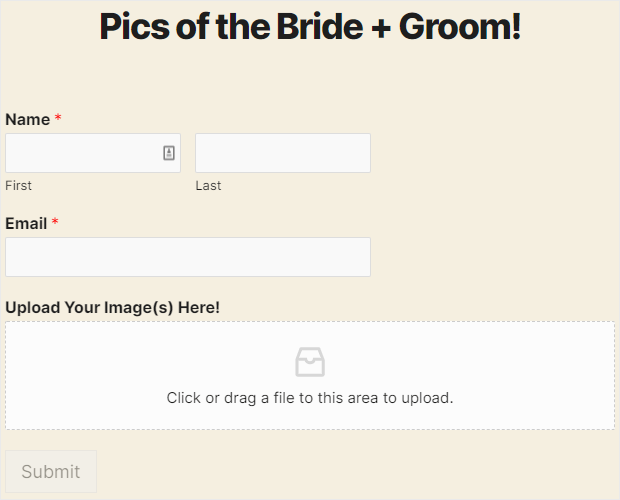 A really fantastic feature of WPForms pro version that we cover in this WPForms review is the file upload field.
With just a simple drag and drop, you can instantly add a file upload field to your forms. This form submissions feature can accept more than one file at once, too.
With this tool, you can accept images or video files for all sorts of things to use with your Youtube plugin for greater audience engagement.
You can also encourage your customers to use this feature so you can feature them on your customer testimonials page.
8. Email Marketing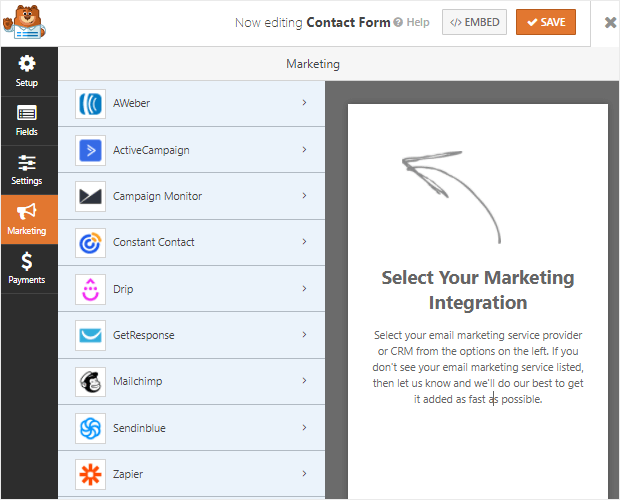 WordPress forms need to be able to talk to your email marketing provider easily.
This way, you can send leads from your site into your lists and grow your email list. WPForms has tons of email marketing integrations like:
Constant Contact
Sendinblue
ActiveCampaign
Drip
Mailchimp
AWeber
GetResponse
…and more
And another integration that WPForms has is the Zapier addon. It lets you connect your forms with 2,000+ web apps, including additional email marketing services.
9. Form Notifications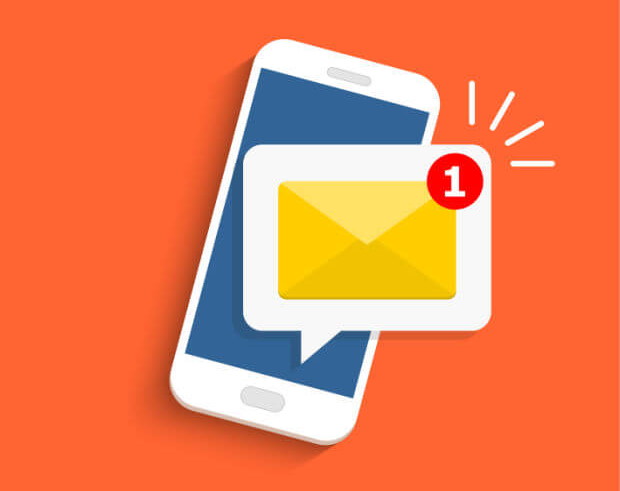 Want to really put your forms to work for you and automate things? Form notifications are an awesome and helpful way to do that.
WPForms has a great feature where you can set up and customize your WordPress form notifications.
Meaning, if you want to be notified whenever someone fills out the form, you can do that. You can also set it up to notify the person who filled it out, so you can automatically send a follow-up email right away.
And on top of that, you can make these form notifications conditional.
For instance, send emails with leads to your sales rep Stella if they say they have a budget over $5,000 and send emails with leads worth less than $5,000 to George, who works on the smaller accounts.
10. Conversational Marketing
People pay thousands of dollars to use conversational marketing on their websites. WPForms made it affordable and super easy to turn any form you'd like into a conversational-style form.
These forms take a one-question-at-a-time approach that makes your user experience feel more like human interaction.
It's an awesome way to make a customer or lead feel more connected and eager to take action.
This feature alone makes WPForms worth it because the conversion rate with these conversational forms is sky-high.
11. User Journey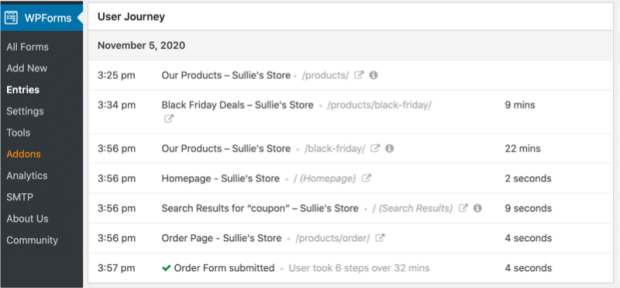 One of the newest features we want to cover in this WPForms review is a customer mapping tool.
WPForms offers a User Journey addon that lets you check out where your leads and customers are coming from before they hit submit on your forms.
Customer journey mapping is a smart way to pinpoint areas of your site that might be working really well to convert so you can do more of what's working.
12. User Registration
WPForms comes with the awesome ability to let people register themselves on your WordPress website.
The user registration feature could be a great tool if you wanted to build a custom user registration form so people can make their own user profiles on your site for things like forums.
13. Guest Post Submissions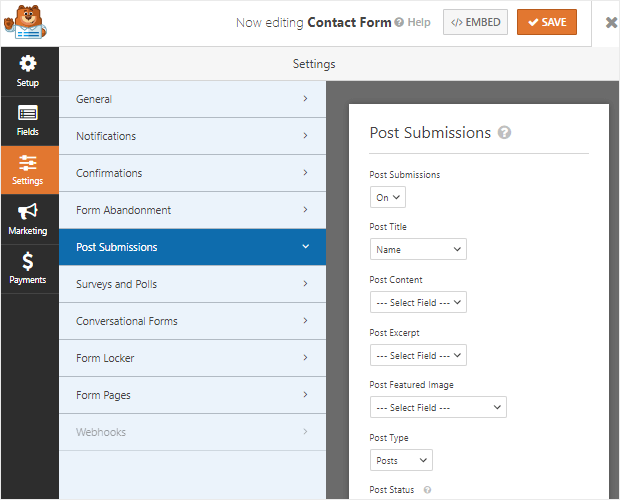 A smart way to get user-generated content from people is with the WPForms Post Submissions addon. This feature lets you easily accept guest post submissions on your blog.
Having guests post on your blog is a great way to connect with other small business owners. You can even ask them to cross-promote content, a great social media marketing example.
14. Spam Protection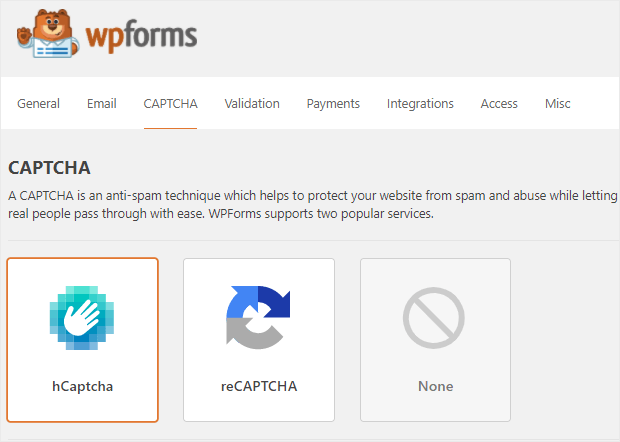 Once you've installed and activated the WPForms WordPress plugin, you get access to multiple ways to protect your forms from spam.
WordPress security should be a big priority for all site owners, and WPForms makes sure to have their users and their forms covered.
Some of the tools they offer for this are:
Multiple reCAPTCHA Options (including Google reCAPTCHA V3)
hCaptcha
Custom Captcha
GDPR Compliance
Ability to Limit Specific File Upload Types
…and others
The built-in security features of WPForm do a really great job of helping keep bots and spam from your forms.
15. Excellent Customer Support
WPForms has a support team that's known for being great at what they do — that's why we're also highlighting them in this WPForms review.
The average response time is 60 minutes. The positive reviews of their support team are pretty impressive. They've got 10,000+ 5-star reviews on WordPress.org!
The WPForms team also provides a ton of helpful and easy-to-read documentation on how to use all aspects of their plugin. And if you can't figure it out, they are more than happy to jump in and steer you in the right direction.
16. Form Abandonment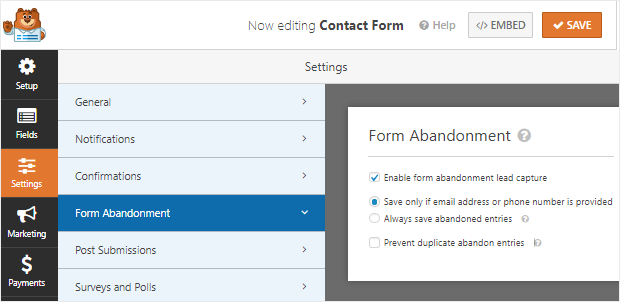 Did you know that most people start filling out a form online and never complete it? Sometimes they change their mind or get distracted. WPForms offers a fantastic little hack for this.
Their form abandonment addon lets you collect those email addresses anyway.
You can then set up an automatic marketing campaign through your email marketing provider to email these people an abandonment campaign or one-off emails inviting them back.
It's a really smart way to get even more leads.
17. Extra Features
We couldn't fit every great feature from WPForms into one post, so here are a few other cool things you can use once you buy WPForms Pro.
Form Locker — Set Date/Time limits so a form will expire, password protect your forms, and more.
Multi-page Forms — Easily break up long forms into multiple pages for a higher conversion rate (people love breadcrumbs on forms).
Offline Mode— This will save details that have already been filled out in the form in case the person filling it out loses internet. Once they get back online, they can submit their info.
Geolocation — Find out where people are filling out your forms from and learn even more about your visitors.
Digital Signatures — Get electronic signatures right on your forms, great for contracts and important documents.
Entry Management — You can see all your leads in one place on the dashboard, edit them, and export them if needed.
The WPForms team is always hard at work putting out new and exciting features, too. So once you have the plugin, you'll get access to their updates, where you'll find exciting new tools included with their tool.
WPForms Pricing Plans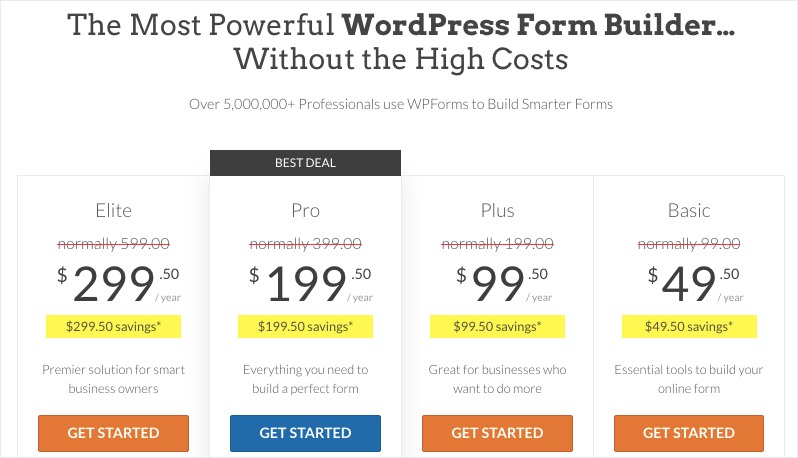 With all the powerful features WPForms provides for small business websites, you may be surprised at how affordable the plugin actually is.
The best option for most people is WPForms Pro. There's a special discount right now, making this WPForms pricing plan $199.50/year.
With WPForms Pro, you'll get access to everything we mentioned in this WPForms review and more.
No room in your budget for a paid plugin? You can download the free version of WPForms from WordPress.org to test it out.
By checking out the basic form fields in the WPForms lite version, you can see if the plugin is right for your site.
Is WPForms Worth It?
Alright, so we've covered tons of great features in WPForms as well as the cost. As you can see, it really is the best form builder for WordPress.
And since it's so affordable and has such wildly effective features, we think nearly every small business owner with a website should have WPForms.
Not already using WPForms Pro?
Go ahead and explode your form conversion rate when you get started with the premium version of the WPForms plugin now.
They offer a 14-day money-back guarantee, so you have a chance to check it out and make sure you find it useful.
And there you have it!
Hopefully, this review helped you decide if WPForms is a good WordPress form builder for your small business website.
Looking for more detailed reviews?
Check out our OptinMonster review to learn more about our thoughts on the powerful lead generation toolkit.
And if you found this review helpful, feel free to connect with us on Twitter and Facebook for more tips and tutorials.