Looking for the best WordPress recipe plugin and want to know if WP Tasty is the right plugin for you?
WP Tasty is a bundle of four plugins designed to help food bloggers display recipes, roundups, and more. It is also an effective way to monetize your blog.
This review guide will take a look at what WP Tasty has to offer and how it can benefit you.
LIMITED TIME OFFER: From April 17th to April 20th, users can save up to $100 on all WP Tasty plugins, including Tasty Recipes, Tasty Pins, Tasty Links, and Tasty Roundups.


WP Tasty offers easy-to-use WordPress solutions for your food blog. This powerful bundle of 4 plugins makes it easy to grow your traffic, monetize your blog, and customize your site just the way you want it.
With WP Tasty Recipes, you can publish beautiful, SEO-optimized recipes on your site without spending hours preparing and formatting each one.
And with WP Tasty Roundups, you can easily create engaging posts that feature curated content from your blog and beyond.
But WP Tasty isn't just about content creation.
The WP Tasty Pins plugin helps you optimize your visibility on Pinterest, while WP Tasty Links helps you maximize your affiliate revenue by automatically linking keywords to relevant products or services.
Best of all, WP Tasty is trusted by some of the biggest names in the food blogging industry, including Sally's Baking Addiction, Pinch of Yum, and Gimme Some Oven.
Now, let's explore the features of each of the plugins.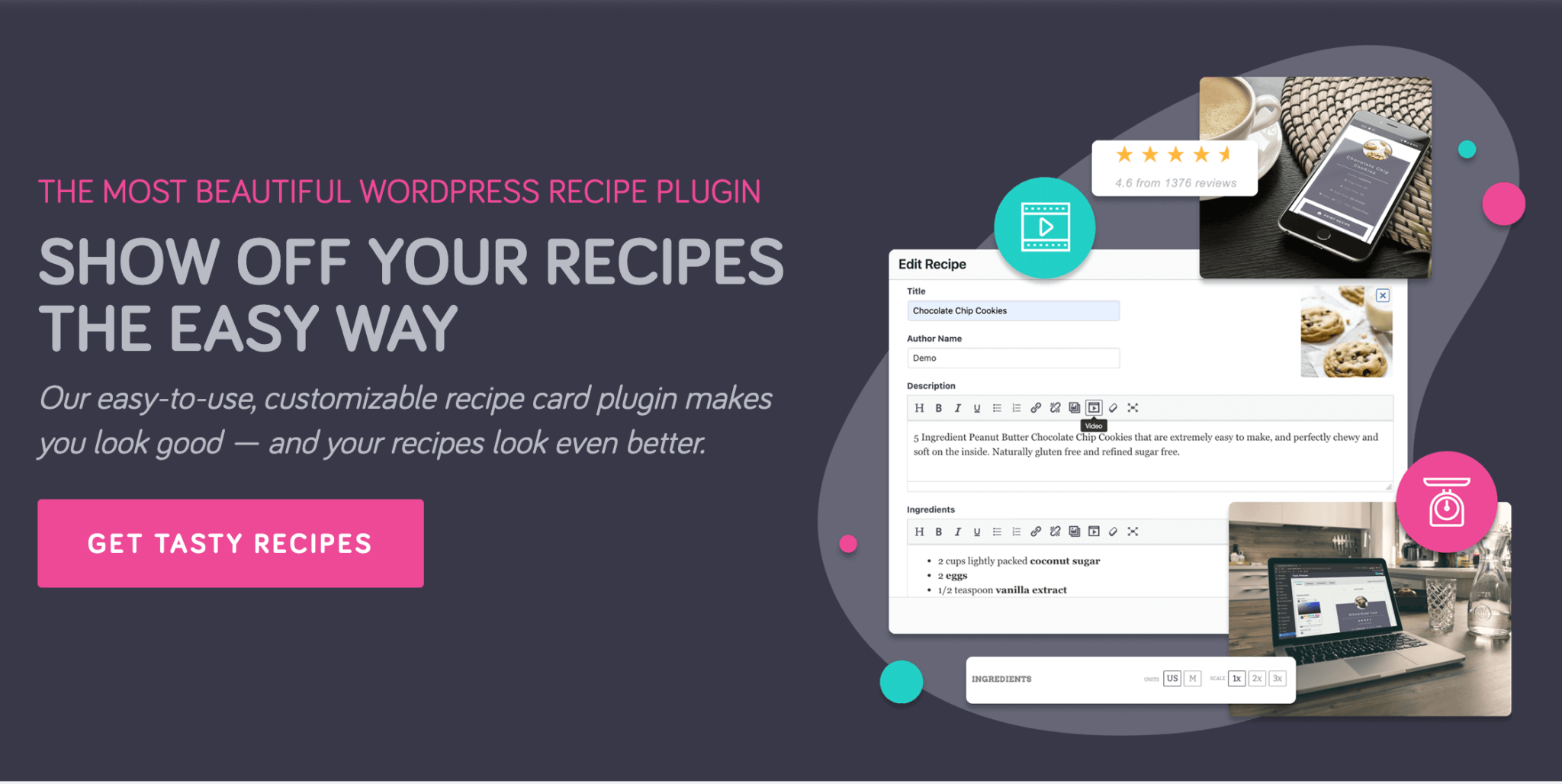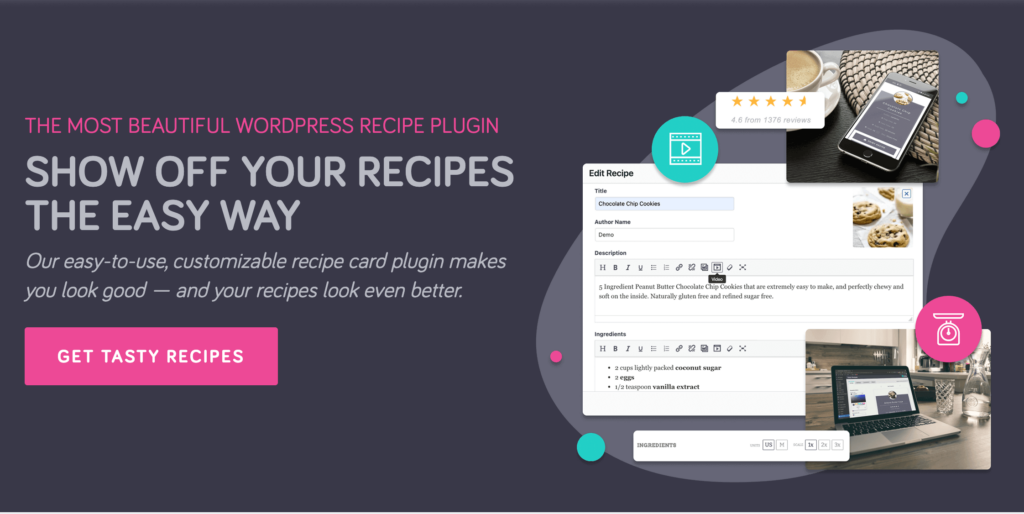 With Tasty Recipes, you can make your readers savor the experience every time they use your recipes.
This recipe card plugin offers six stunning and responsive templates that look good on all devices.
The plugin picks up on the styles from your theme to ensure your recipe cards blend seamlessly with your site, no matter which template you choose.
With consistent formatting, a clear ingredient list, and step-by-step instructions, your readers can easily find what they need to create your delicious recipes.
Setting up Tasty Recipes is a breeze. Install it just once, and then add new recipes in minutes without any hassle.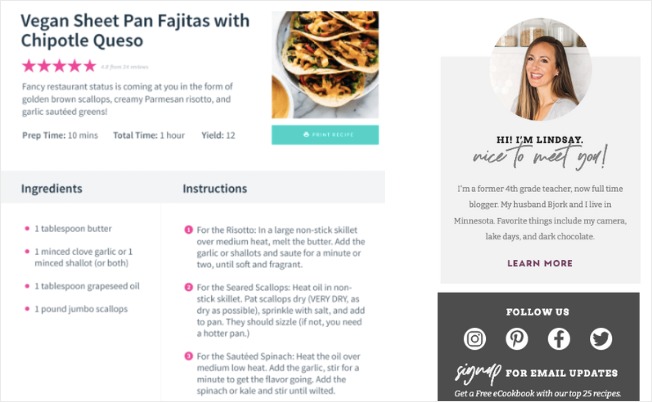 These are some of the exciting features offered by Tasty Recipes:
Display user star ratings
Convert units from US to metric
Integrate videos alongside instructions
Comprehensive nutritional data
Include a shortcut button to jump to the recipe
Add custom share, print, and save buttons
Recipe scaling to adjust serving sizes
Boxes to check off ingredients
Copy ingredients to clipboard function
Use custom translations
Include social icons and footer
Cook Mode and Instacart
Plus, Tasty Recipes simplifies recipe optimization for SEO. The plugin uses JSON-LD structured data to give search engines like Google Search and Pinterest a detailed view of your recipe. This helps you increase your visibility on search engines.
Of course, this lightweight plugin won't slow down your website, so your readers can enjoy a seamless experience.
WP Tasty also collaborates with Nutrifox to help you create and showcase engaging nutritional data labels on your recipes that include serving size, calories, proteins, carbs, and more.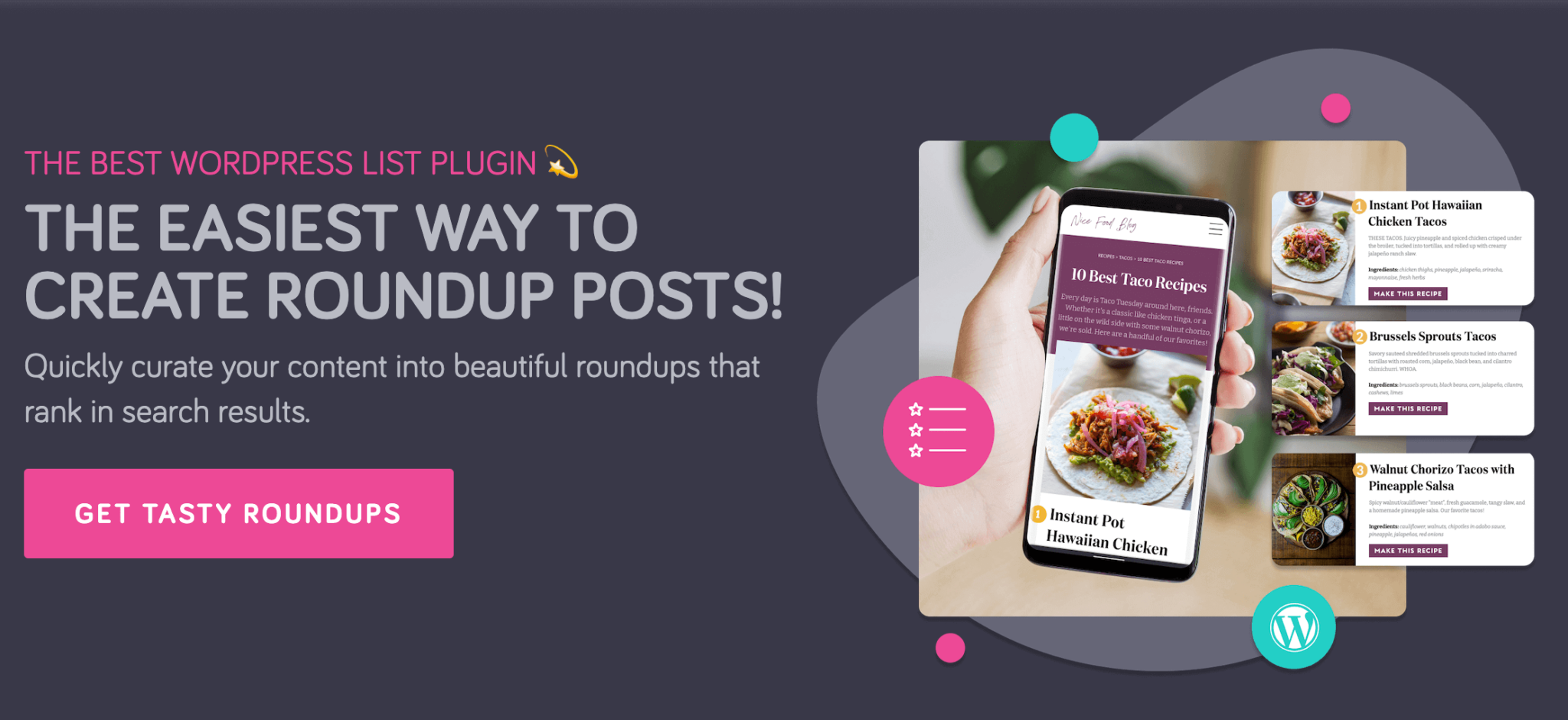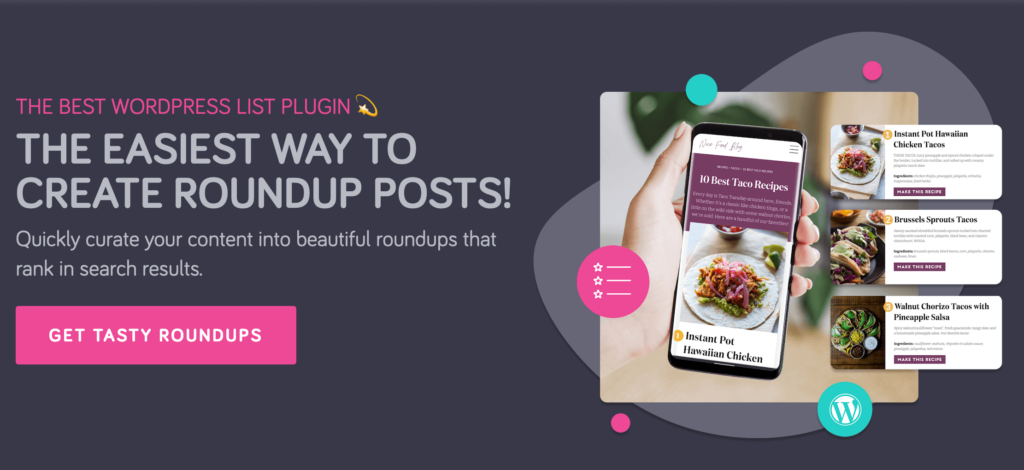 Want to boost your blog's ranking on Google and maintain it? Then you need to publish fresh content regularly.
One of the most effective ways to add new articles is by creating roundups of your recipes, such as the top 10 Mexican dishes or the 5 best chocolate pie recipes.
But manually compiling these roundups can be time-consuming.
That's where Tasty Roundups comes in handy.
With its built-in search function, it automatically pulls post images, titles, descriptions, and links to your roundups. This way, you don't need to manually copy-paste content anymore, so creating new content is fast and effortless for you.
The plugin offers unlimited roundups, unlimited listicles, 3 layout options, and autofill images and content. It also ensures that your roundups look professional with consistent formatting, a simple design, and clear links to source posts.
Tasty Roundups is a fantastic tool for food bloggers who want to save time and effort while creating engaging content that ranks well on search engines.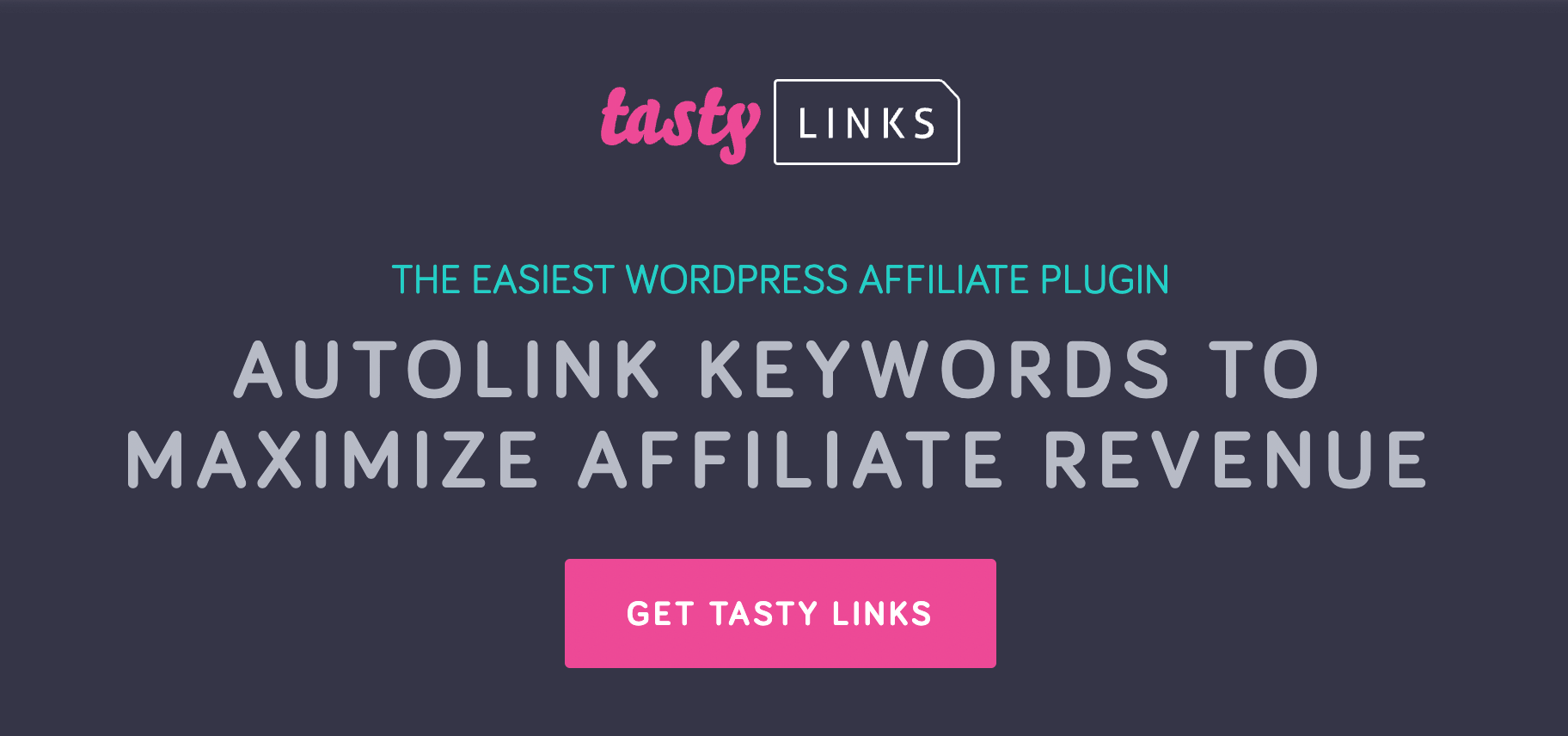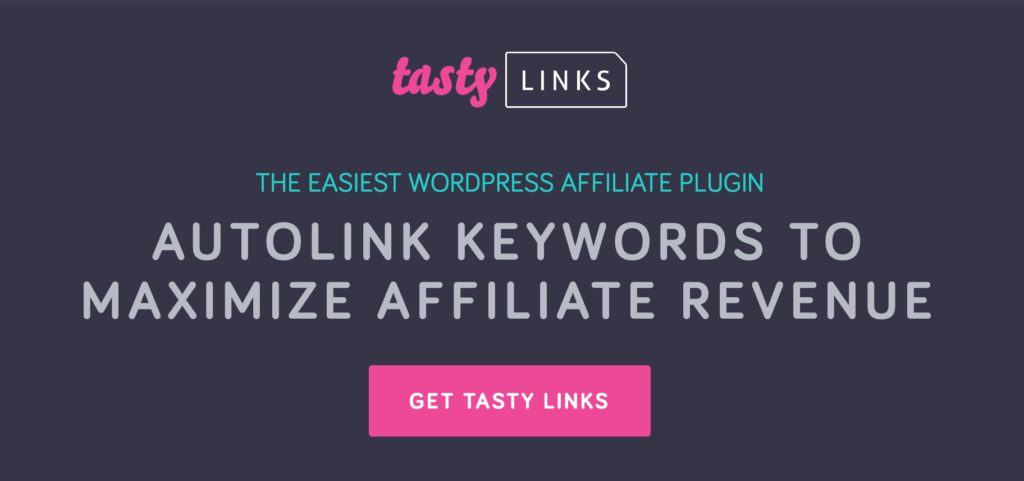 Tasty Links simplifies the process of autolinking keywords to affiliates.
You can select URLs and have the keywords within those posts linked to the correct affiliate automatically, without any manual effort.
This feature helps you promote affiliate links more effectively so you can boost your sales. Also, you can add "nofollow" and "sponsored" attributes to these links and include a piece of disclosure text as needed.
The plugin also allows you to link to Amazon affiliates, automatically pulling the image into your Tasty Link. You also have complete control over the location of your affiliate links, so they appear in specific parts of your posts that you like.
Tasty Links isn't just limited to affiliate links — you can also create an autolink for a fantastic guide or page that you wish to promote.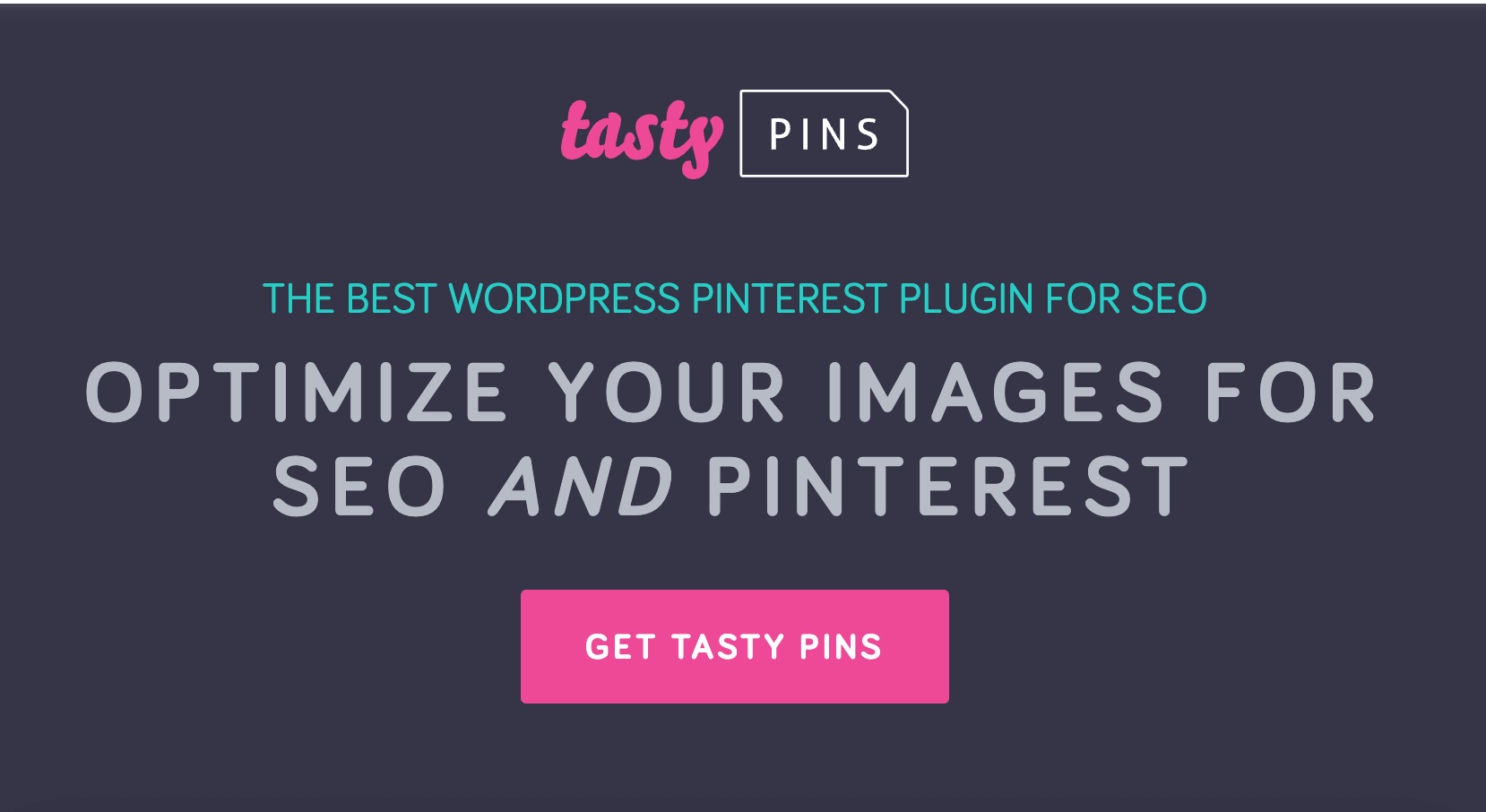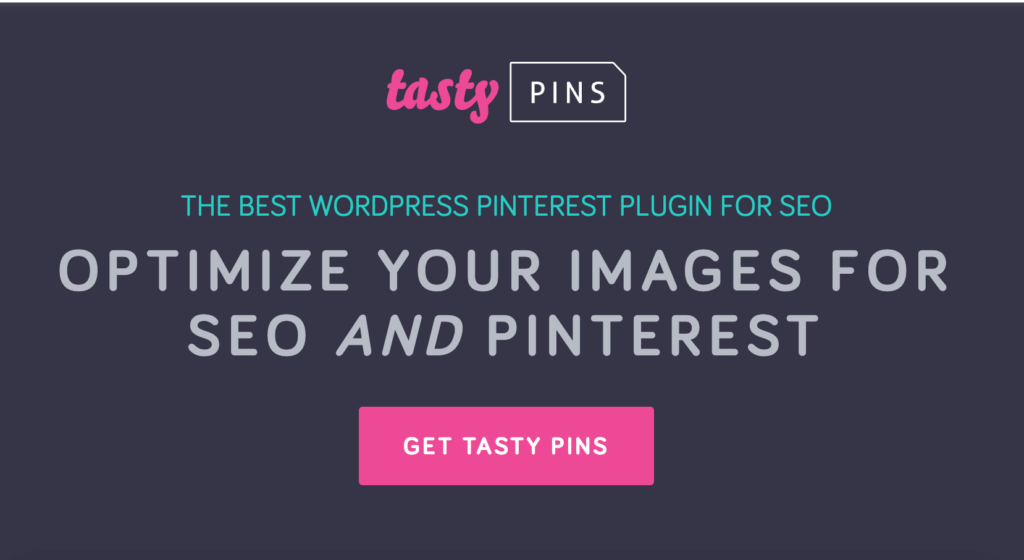 Tasty Pins specializes in Pinterest optimization for SEO, ultimately driving more traffic to your blog. The plugin offers several useful features, including:
Adding hidden Pinterest-specific descriptions and alt text to your images — so your Pinterest images are more searchable and sharable.
Disabling the pinning of certain images — so your readers have fewer but better options for saving images on Pinterest.
Customizing your pins' design — so you have greater control over your Pinterest strategy.
Tasty Pins is an excellent addition to any food blog, providing powerful features that optimize Pinterest images, add hidden descriptions and alt text, and give customization options to enhance your Pinterest presence online.
Unmatched Support and Documentation
WP Tasty prides itself on providing exceptional customer support. You can expect prompt and personalized assistance from a real person from the moment you purchase or install any of their plugins.
WP Tasty also has thorough documentation available in their help section, which provides answers to common questions you may have about your account or any of their plugins.


The WP Tasty team is also dedicated to continually innovating and adding new features to their software.
Conclusion: Should You Get the WP Tasty Plugin?
After thoroughly testing and evaluating the plugin ourselves, we confidently recommend WP Tasty as the best recipe plugin for food bloggers. Its impressive features enhance the performance and user experience of any recipe site.
To get the most out of WP Tasty, consider purchasing the All Access Bundle, which includes all 4 plugins – Tasty Recipes, Tasty Roundups, Tasty Links, and Tasty Pins – in one purchase, with cost savings.
With all of WP Tasty's plugins, there's no risk to give them a try. WP Tasty is so confident in their quality and effectiveness that they're offering a generous 14-day money-back guarantee. If for any reason you decide that their plugins aren't the right fit for your needs, they'll happily refund your purchase.
Ready to get more traffic and sales for your food blog?
Get started with WP Tasty today!
Want to get more Instagram followers? Check out this next article on the best Instagram WordPress plugins for your site.
You may also like this ultimate guide on the best WordPress plugins to grow your business online.