Over the years, Custom Facebook Feed Pro has helped its users make Facebook feeds quickly and easily.
But there's room to make it even better.
At Smash Balloon, we're always looking for ways to improve our products. And for that, we're bringing you our biggest update yet.
With the 4.0 update for Custom Facebook Feed Pro, we've done a complete overhaul to make it much easier to create, customize, and manage feeds.
So get ready, because this will completely change the way you use Custom Facebook Feed Pro. This update gives you access to the following features:
Brand New Admin User Experience
We've completely reimagined the plugin admin interface, redesigning it from head to toe.
A Simpler Way to Manage Feeds
See all your feeds in one place, edit individual feeds, and experience a brand new dashboard.
Easier Feed Creation
An easy guided flow for feed creation to make it quick and easy to create new feeds.
Completely New Feed Customizer
We've added a live feed editor so you can see changes in real time.
And Much More
Elementor support, a brand new widget, easy color scheme setting, masonry layouts for more feed types, better extension integration, and much more.
Let's dive into the details of how each feature can help grow your business even more below.
1. Simpler Way to Manage Feeds
Ever wanted an easier way to manage your Facebook feeds? We've got you covered with this latest feature we added to Custom Facebook Feed Pro:
All Your Feeds in One Place
Our new and improved feed management dashboard allows you to see and manage all of your Facebook feeds in one place.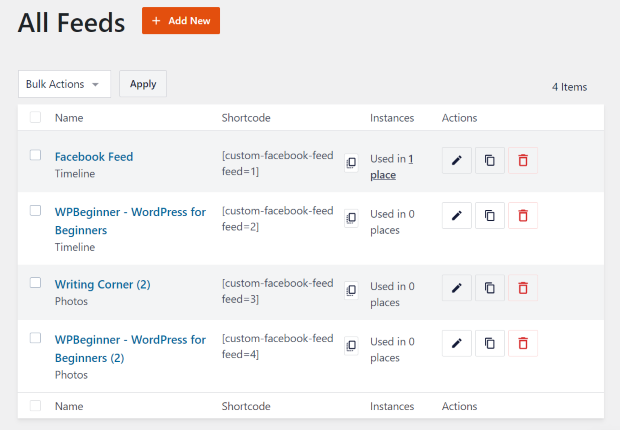 And yes, that means you can freely duplicate, delete, and edit your feeds on this page.
In the brand new feed management dashboard, one click is all it takes for you to:
Customize your existing feed to match your brand's visuals
Duplicate a feed so you can use it as your own template when creating another feed
Delete a Facebook feed if you're not using it anymore
Since it's quicker to manage your feeds, you can easily cross-promote relevant Facebook feeds to your website to get more followers and explode your brand's growth with Facebook.
Edit Individual Feeds
Looking for a simpler way to customize your single Facebook feeds?
Before, you could customize individual feeds with the use of shortcodes only.
Now, we've added another feature to help you customize your single Facebook feeds — without writing a single line of code.
With Custom Facebook Feed Pro 4.0, you can access the customization options of individual Facebook feeds with just one click.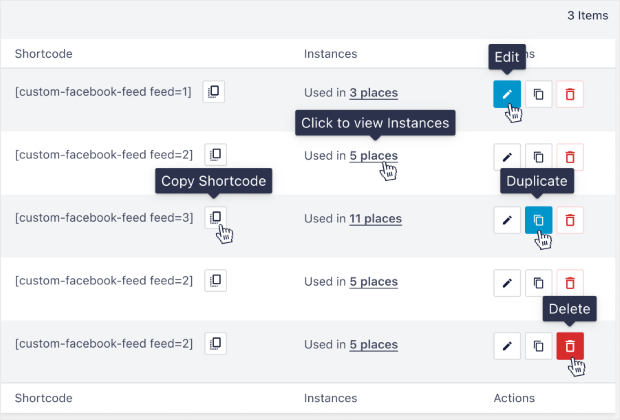 Just locate the Facebook feed you want to customize and click on Edit so you can use the new feed customizer to change your feed layout, color scheme, header, font style and more.
Any changes you make to a single feed won't affect other feeds so you can go ahead and freely customize it.
You can take advantage of this feature when you want to use specific designs for separate Facebook feeds on your website, such as:
Adding a Facebook page feed to your "About" page to let your visitors see your brand personality
Displaying your Facebook group feed to your "Community" page to encourage your visitors to join your online community
Showing your Facebook reviews feed on your "Checkout" page to show positive social proof about your brand and get more sales
And more!
Brand New Dashboard
And we're not stopping there. With the 4.0 update, Custom Facebook Feed Pro brings you a new and user-friendly dashboard.
We've revamped our design to make the dashboard much easier to use for you.
For example, since activating your license is the first step in using Custom Facebook Feed Pro, we've placed the License Key as the first section you'll see under the plugin settings page.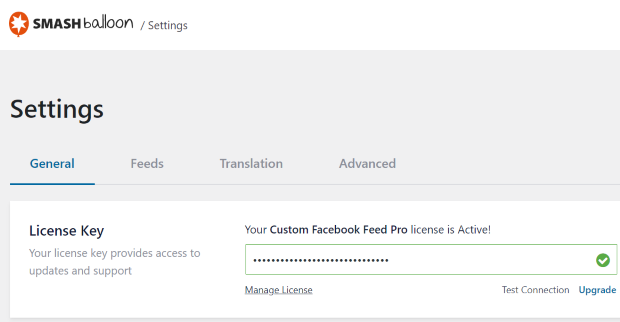 And what's the next step after activating your license?
Connecting your Facebook account, of course.
That's why below the license key section, we've added the Manage Sources section so you can easily connect your Facebook accounts to the plugin.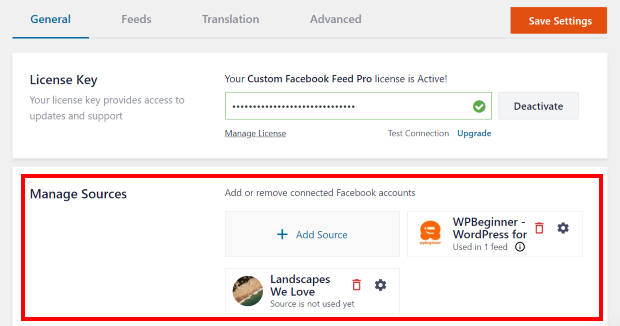 In addition to its user-friendly flow, the new dashboard also has enough whitespace and bigger font size to make sure that everything is clear enough for you to read them.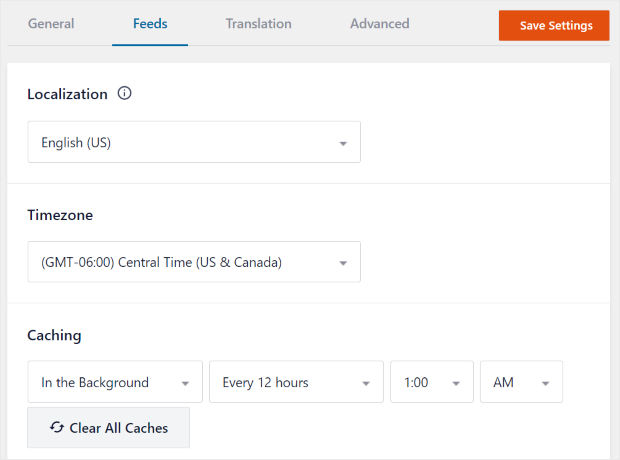 2. Easier Feed Creation
Looking for a quicker and simpler way to start making your feeds? We've completely revamped the process so it'll only take a few seconds for you to create your Facebook feeds.
Guided Flow for Feed Creation
With the 4.0 update, we have a new guided flow for feed creation that takes 3 simple steps.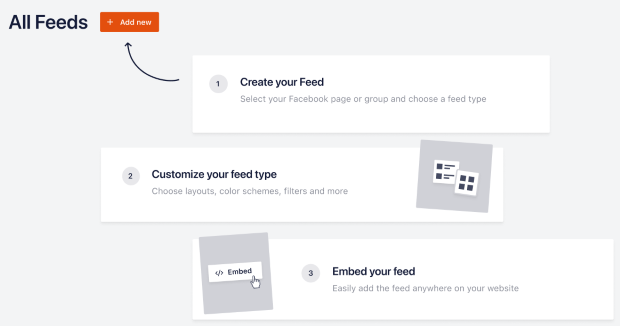 Now it's going to be much easier to create feeds with Custom Facebook Feed Pro. You can just follow along as the plugin guides you. It's as easy as 1-2-3.
Choose a feed type
Connect to your source (Facebook pages or groups)
Customize the feed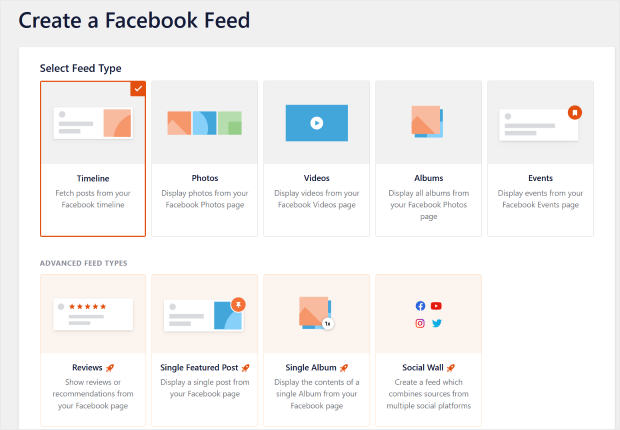 Once you're done customizing, you can embed your Facebook feed right from the editor.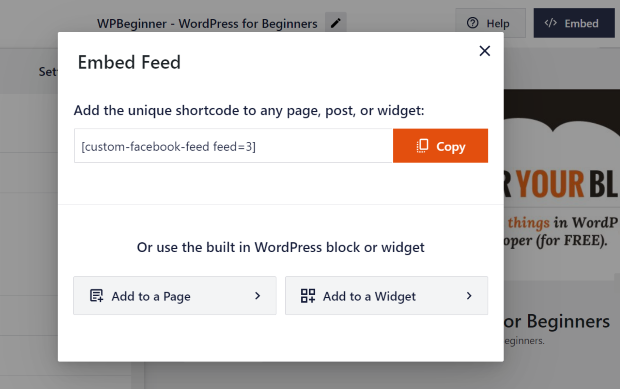 As a result, you can add lots of beautiful feeds to your website and use them to convert your visitors into customers — without hiring a developer to help you. Now it's faster and much simpler.
Better Integration with Facebook Extensions
Our new update also comes with better integration for the Custom Facebook Feed extensions. Now, using all of the extra features from the extensions is simpler, even if you're not tech-savvy.
Just click on the advanced feed type to use a Facebook extension. Since it's easier to access now, you can take advantage of the extension's features with just a few clicks.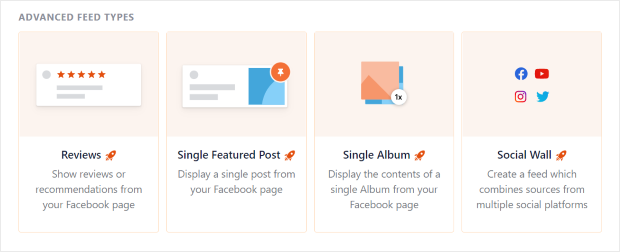 So if you want to add social proof to boost your brand image, you can just select Facebook reviews as the feed type when creating your feed.
Having a limited-time sale? You can announce this on your Facebook page as a post. Then, choose the Single Featured Post feed type so you can promote this post on your site and update your visitors, too.
Or if you'd like to display a Facebook carousel feed on your site for more user engagement, you can do this by simply selecting Carousel when making your feed.
It's straightforward and more convenient for you now.
3. Completely New Feed Customizer
With our latest update, you can quickly customize your feed's layout, colors, header, posts and social buttons — even without any coding skills.
Feed Customizer With Live Preview
We've completely revamped our customization options to give you a new feed customizer with live preview for Custom Facebook Feed Pro.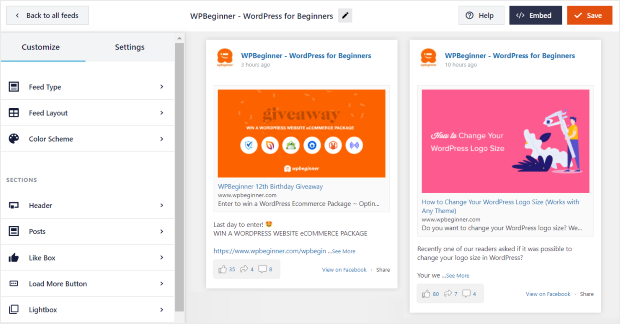 On the left panel, you can see the customization settings you can freely change such as the feed layout, color scheme, header, single post settings, like box, load more button and lightbox.
And on the right panel, you can see a live preview of your Facebook feed.
With easy point-and-click customizing options and a live preview available, you can customize your feeds and see the changes that you make — in real-time.
Also, did you know that over 60% of your visitors may abandon your site and go to your competitors if your site isn't mobile-friendly?
That's why in our newest update, you can now preview how your feed looks like on mobile and tablet devices.
This lets you see how all of your feeds would look to your mobile visitors so you can easily capture their attention and encourage them to stay on your site longer, which is great for SEO.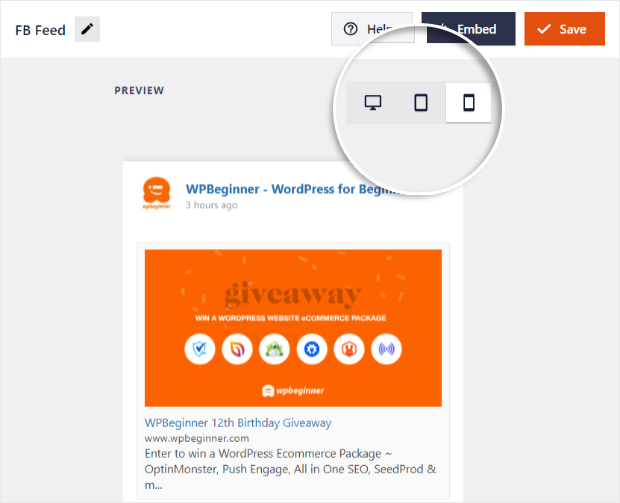 If you've ever used the WordPress live customizer, then you know how simple this all is.
With the 4.0 update, you can make all sorts of awesome Facebook feeds to engage your visitors and grow your business.
You can get more Facebook followers and sales — with less time and effort.
Masonry Layout for All Feed Types
The 4.0 update also makes the masonry layout available for all of your feed types. You'll now have more design options available when creating your Facebook feed.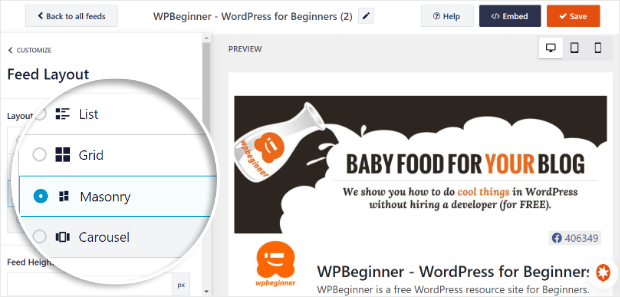 That means you can easily embed your Facebook photo, video, and album feeds with a gorgeous masonry design that keeps their original dimensions.
And the cool thing about this? You can quickly use this layout with a single click — no need to hire an expensive designer to help you.
Color Schemes
With our new color schemes options, you can quickly change the colors of your entire feed.
Want a different look for your site? You can just switch to a different color scheme.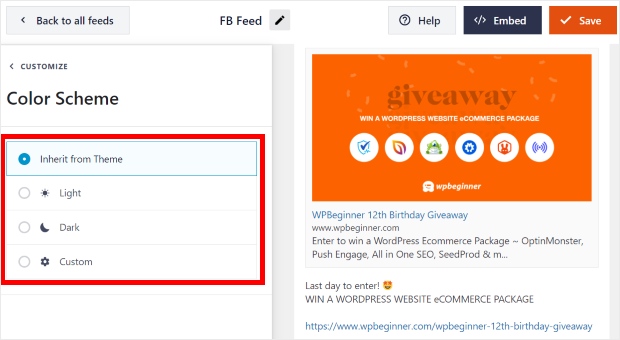 With this feature, you can quickly switch your feed to a light or dark mode in a single click. No need to change all the color options manually.
And there's still the custom color scheme feature, so you can manually choose the color for all the different parts of your feed. And this time, you'll even get a live preview to help you out.
All it takes is one click and you can change the whole color scheme of your feed. Just imagine how much time that saves!
4. Elementor Support
Custom Facebook Feed Pro 4.0 also comes with a new Elementor Integration.
Previously, the only way to embed Facebook feeds with our plugin inside the Elementor widget was to use shortcodes.
Now, there's a new Custom Facebook Feed Elementor widget so you can easily add your Facebook feeds within the Elementor builder.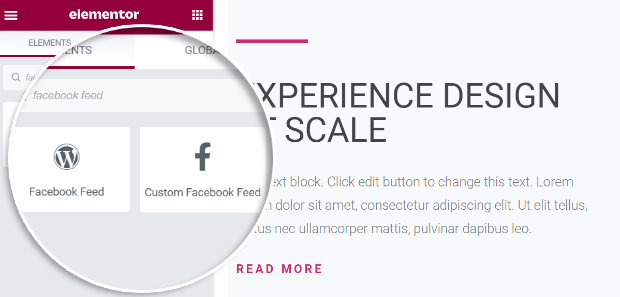 This is an awesome way to help Elementor users discover Custom Facebook Feed Pro plugin. With this new Elementor support, users like you can quickly embed Facebook feeds on your site, all within the builder.
As a result, you can boost your page engagement, get more followers and grow your business — easily, quickly and hassle-free.
What Do Existing Users Need to Know?
If you're an existing user, then no need to worry. With the new update, all your existing feeds will continue working like always.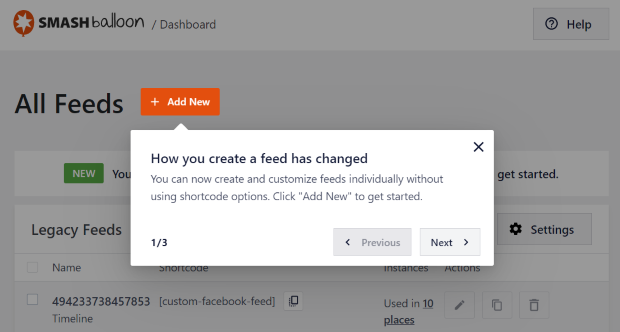 After the update, you'll get a quick tour that explains how things work now.
First, you'll need to know about legacy feeds. All of your existing feeds are going to be saved as legacy feeds on your site.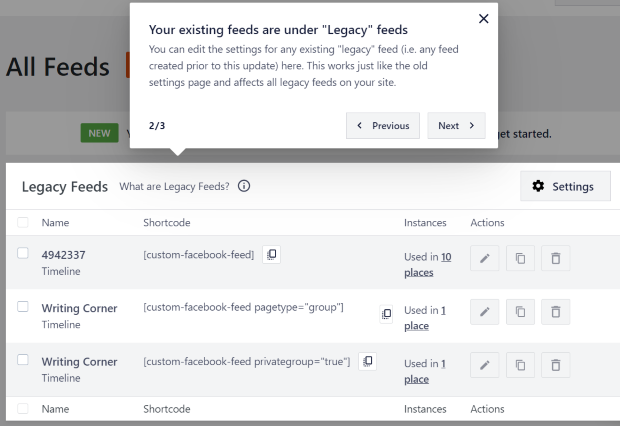 Since legacy feeds are a bit different from the new feeds, you can't edit them individually. The good news is, you can just edit all the legacy feeds at once, just like you used to.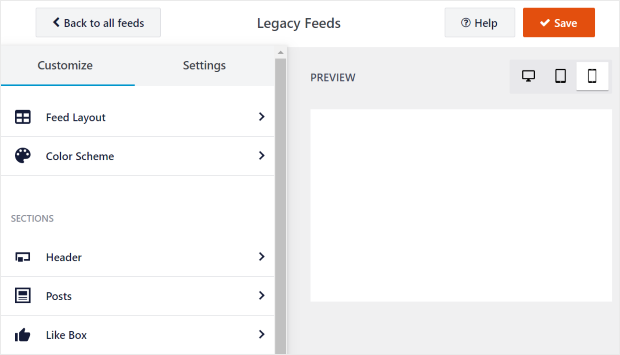 So, you don't have to worry since everything will continue working perfectly.
If you want to learn more about this new update, you can check out our Facebook documentation.
Any questions? Our customer support team is always ready to help, so don't hesitate to reach out.
And there you have it.
Your amazing support has made this update possible so we hope it helps you out.
And if you're not a part of the Smash Balloon community yet, this is the perfect time to hop in.
Get started with Custom Facebook Feed Pro today.
With Custom Facebook Feed Pro, you'll see how super easy it is to create, customize and embed engaging feeds that help convert your visitors into customers in no time.
And you can even get unlimited access to all of Smash Balloon's plugins for unlimited websites. All you need to do is grab the Social Wall Pro bundle with a huge discount!
The best part is, all of Smash Balloon products come with a 100% money-back guarantee — no questions asked. You can give the plugins a shot first and see if they're a good fit for your site.
We have tons of features and updates planned for all the Smash Balloon plugins, so keep your eyes peeled. Make sure to follow us on Facebook and Twitter for the latest updates.
As always, thank you so much for your continued support in helping us make Smash Balloon the best social media feed plugins for WordPress.