Want the best push notification software to convert your visitors?
If you want to reach people even after they leave your website, then push notifications are one of the best ways to do it.
Using push notifications, you can directly send messages to people and increase your site traffic, conversions, and sales.
And today, we're going to help you find the best push notification software to help you do all that.
Why Use a Push Notification Software?
A push notification software is a tool that can send messages to people, even when they're not on your website.
With these notifications, you can inform people about new blog posts, announcements, ongoing sales, and even abandoned cart reminders.
As a result, you can use push notifications to bring people back to your website. And that means you can get more website traffic and easily convert those visitors into customers for your business.
In fact, here's a few big reasons why push notifications are so effective:
Push notifications will directly reach the person's computer or mobile device, so you can be sure that they'll see your message.
Since these notifications are very short, users are much more likely to read them.
Unlike social media posts or email, you don't have to wait for users to open your message. People will instantly see your push notifications as soon as they're online.
They're also used by fewer businesses, so you'll have to deal with much less competition. In fact, only 8% of marketers use push notifications.
And that's just the start. If you want to market your business online, push notifications are one of the best ways to boost your website traffic and get more customers.
So let's get started and check out the best push notification software to help take your business to the top.
5+ Best Push Notification Software
Now, we'll look at the best options and see what features they have to offer. Then, you can pick the push notification tool that is the best one for your business.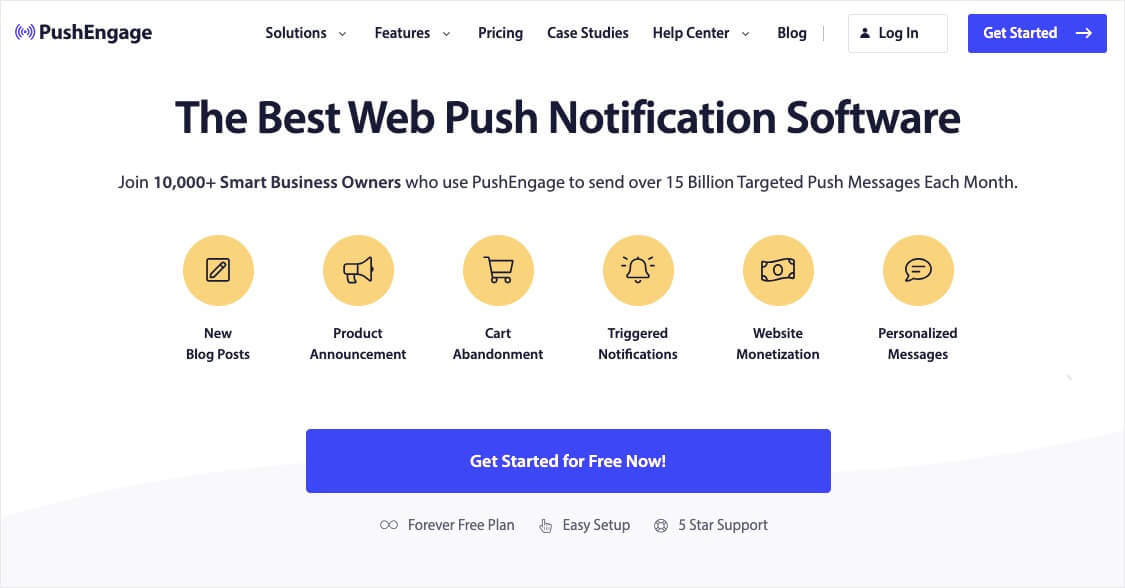 As one of the best push notifications software out there, PushEngage comes with a ton of great features. With it, you can easily send targeted notifications to users even after they've left your site.
In fact, PushEngage is so easy to use that you can create, customize, and send push notifications to convert visitors with absolutely no coding needed.
Over 10,000+ companies from 150+ countries have used PushEngage to get more customers and increase their sales. And that includes lots of popular brands like Domino's, Harvard Business Review, and WPBeginner.
You can just check out all the case studies and see why PushEngage is the best way to send push notifications.
Features
Triggered Notifications: This push notification software can detect how your visitor is behaving and automatically send notifications to the right person at the right time to give you a much better click rate.
Automated Campaigns: With PushEngage, you can also run campaigns to convert visitors with a series of push notifications and automatic replies.
Tracking and Analytics:

This tool gives you actionable data so you can see how your site is performing for traffic, revenue, sales, and other goals. And you can also clearly see how PushEngage is helping you reach your goals.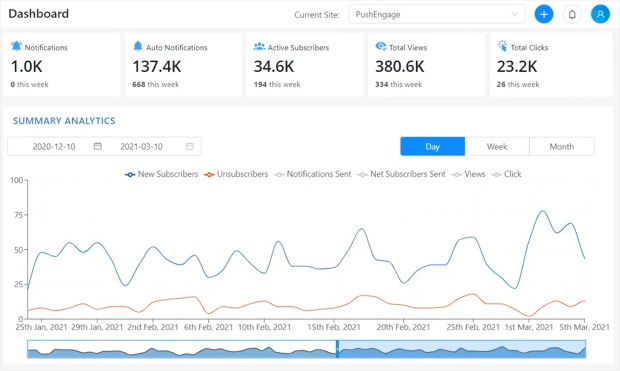 A/B Testing: You can also send out 2 versions of a push notification and compare how they perform. So, you can clearly see which push notification is better.
Personal Notifications: You can also personalize your notifications, so they match the names, locations, interests, behavior, and other details of your customers.
Advanced Customization: PushEngage also gives you total control over the design of your notification. So you can change the font, image, call-to-action text, and more.
Offline Notifications: You can send push notifications even if your subscribers are offline. They'll just see it once they're back online.
Dynamic Segmentation: PushEngage can also help you divide your users into different groups based on location, device, pages viewed, and other criteria. Then, you can send different notifications to different groups to maximize your clicks.
Pricing
For PushEngage, the yearly pricing plan starts at $9/month and the plan can handle unlimited push notification campaigns for your website and up to 50,000 subscribers.
If you want an effective way to reach people and boost your traffic, sales, and revenue, give PushEngage a try today.
iZooToo is another simple tool to send push notifications from your website.
It comes with a small but easy-to-use collection of features, and like PushEngage, you don't have to worry about coding here.
However, you'll have to get an SSL certificate for your website if you want to use iZooToo.
Features
Audience Segmentation: Just like PushEngage, iZooToo allows you to divide your subscribers into groups. Then you can send notifications to target the different groups.
Personalized Notifications: You can also personalize the notifications based on the person's details. While the personalization isn't as in-depth as the one in PushEngage, it can still help you create engaging notifications.
Clean Look: With iZooToo, your notifications will be tidy to avoid cluttering up the screens of your subscribers. So, people will have an easier time reading your message.
Campaign Reports: iZooToo also comes with analytics to track how well your push notifications are doing. Like with PushEngage, you can easily see how close you are to reaching your sales, traffic, and revenue goals.
Pricing
The cheapest pricing plan for iZooToo starts at $85/month or $1020/year, which supports up to 30,000 subscribers.
If you want to grow beyond that, you'll have to purchase the Grow plan for $250/month or $3000/year.
If you want something basic and straightforward, Webpushr is among the best push notification services out there.
While it is simple, it also lacks a few things when compared to PushEngage. You won't have features like automatic campaigns that can help you boost engagement.
Features
Customizable Notifications: You'll get a few different options for customizing the looks of your push notifications, just like PushEngage.
5-minute setup: Webpushr also tries to keep the setup process simple. Within 5 minutes, you'll be ready to start sending push notifications to engage your subscribers.
Uptime Monitoring: Webpushr will also check whether or not your site is online every 5 minutes from different locations. So, you can make sure subscribers can always reach you.
Powerful Analytics: Just like PushEngage, this option comes with useful analytics to help you keep track of your goals. You can even check how each notification is performing in real-time.
Pricing
Webpushr comes with a free plan, but if you want more than 10,000 subscribers, you'll need to upgrade to a premium one.
With the Individual plan, you can get up to 50,000 subscribers for $29/month or $348/year.
If you want to go higher, you'll need to get the Growth plan that covers up to 150,000 subscribers for $99/month or $1188/year.
Like the name suggests, PushAssist can help you send push notifications to engage people who come to your website.
Unlike PushEngage, this tool only supports 3 web browsers: Safari, Chrome, and Firefox. So, you'll be missing out on users on other major browsers like Edge and Opera.
Features
Easy Setup: Similar to PushEngage, the whole process of setting up this tool is simple, with absolutely no coding needed.
Real-time Tracking: You can also see real-time information on your subscribers and check how your push notifications are performing. While it's not as in-depth as PushEngage, you can still track your progress.
Segmentation: Like the other options on this list, you can use the segmentation feature to group users based on location, interests, buying record, and more.
Collect Consumer Data: PushAssist also allows you to see how your subscribers behave. With these insights, you can understand them better and improve your marketing.
Pricing
With the free version of PushAssist, you have to deal with limited features and a limit of just 3,000 for subscribers.
The cheapest plan starts at $9/month or $108/year, but you have a limit of 3,500 subscribers. On top of that, you'll still have to deal with PushAssist's branding.
For a larger subscriber limit, you'll need to purchase a higher-paying plan.
OneSignal is a popular notification software that can help you get more customers.
And like with PushEngage, you can combine app notifications, browser notifications, and even SMS to reach your audience.
Sadly, OneSignal doesn't have as many automation features as PushEngage. So, you'll be missing out on some useful features, including personalized campaigns with automatic replies.
Features
A/B Testing: As with PushEngage, you can send out different types of push notifications and compare their performance. This way, you can see what kind of notifications your users prefer.
Rich Media: You can also add images, GIFs, sound, videos, and more to your push notifications to make them more engaging.
Segmentation: Just like the other options here, this user notification software allows you to divide people into groups. Then you can send out push notifications that are relevant to each group.
Personalized Notifications: OneSignal can also use the subscriber details to create personalized notifications, like PushEngage.
Pricing
For the pricing plans here, you also have to pay the basic monthly fee that starts at $9/month or $108/year.
On top of that, you'll have to pay an extra $3/month or $36/year for an additional 1,000 subscribers.
That means a limit of 10,000 subscribers will cost you $39/month or $468/year at the very least.
Finally, we have another great way to quickly and easily send out push notifications: WonderPush.
Once you get past the 15-minute long setup process, you can see that WonderPush is a powerful option with lots of great features.
Features
Automatic Notifications: Like PushEngage, this option also comes with some powerful automation features. You can set the software to automatically send out notifications at the right time or schedule them for the future.
Segmentation: WonderPush also comes with segmentation options like the other options on this list. So, you can divide your subscribers into groups and send notifications that will be more effective.
High-Speed Delivery: With WonderPush, you'll get a delivery speed of 350k/s for your notifications and reach people as fast as possible.
Analytics: Although the analytics aren't as in-depth as with PushEngage, you can receive reports on website visits, click rate, conversion rate, and more.
Pricing
WonderPush has a pricing system that can be a bit confusing. You'll have to pay a basic fee of €1/month and an extra €1 for every additional 1000 subscribers you want.
Let's say you want 10,000 subscribers for your push notification campaigns. The price, in that case, will be €10/month or €120/year.
Which One is the Best Push Notification Software?
As you can see, there are some good options if you want to reach your visitors with notifications.
But there's one that stands out as the best push notifications software: PushEngage.
Using PushEngage, you can send out personalized messages, track them with advanced analytics, and use features like A/B testing to improve your messages.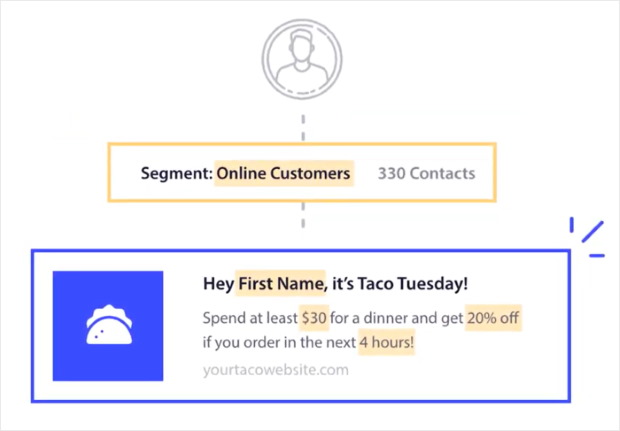 It even has automatic campaigns that set it apart from the other options. With it, you can convert subscribers into customers with very little effort.
Best of all, you can get all that for the most budget-friendly price.
And there you have it!
As you can see, there are tons of options when it comes to the best push notification software that you can use for your website.
From all the options, PushEngage stands out as the best notification plugin in the market. With it, you can easily start notification campaigns to boost your site traffic, email list, and sales!
Ready to grow your business with push notifications? Grab your copy of PushEngage today.
To gain leads and keep people engaged even when your website is offline, take a look at our guide on the best WordPress coming soon plugins.
If you thought this was helpful, then why not follow us on Facebook and Twitter for more tips on social media marketing?