We at Smash Balloon are always trying to improve our plugins by listening to your feedback.
And today, we're bringing you several updates for our Instagram Feed plugin, that's all thanks to you.
With this update, it's even easier than before to use the best Instagram feed plugin in the market. Plus, you get even more control over the posts in your Instagram feeds now.
With that, let's go ahead and see what is new with Instagram Feed 6.2.
Get More Control Over Your Instagram Feeds
We're excited to announce 2 brand-new features of our Instagram Feed plugin that let you control the content and design of your Instagram feeds – absolutely no coding needed.
Moderate Instagram Reels With Just a Few Clicks
Ever wanted to stop Instagram reels from showing up in your feeds?
After our newest update, you can simply filter out Instagram reels directly from the live feed editor.
Using the filter, you can choose the type of Instagram posts you want to show, so you have more control over the Instagram content displayed on your website.
The best part? You can do this in just a few clicks.
Just open the Settings option in the visual feed customizer and then open the Filters and Moderation settings.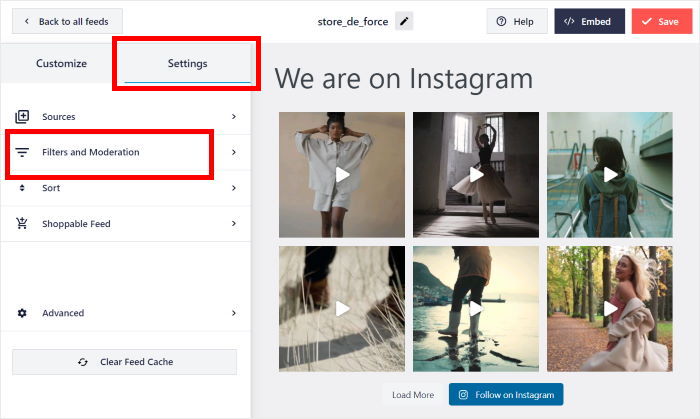 Here, scroll down and look for the Show specific types of posts option, where you can choose the types of Instagram posts on your feed.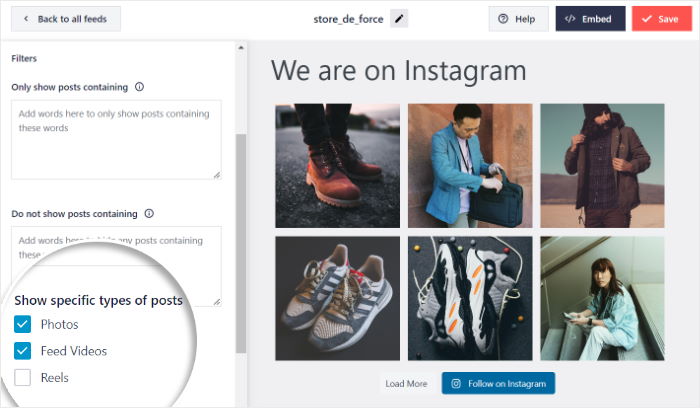 By filtering out Instagram reels here, you can show Instagram video feeds with longer content like interviews, tutorials, vlogs, behind-the-scenes videos, and more.
With longer videos, you can keep website visitors engaged for much longer. As a bonus, you also get much better SEO if people spend more time on your site.
Plus, you can filter both feed videos and reels to show a beautiful photo gallery of your products that convinces visitors to buy from you.
Did you know that Instagram reels get 67% more engagement than regular videos?
If you want an easier way to showcase your Instagram reels, the Instagram Feed plugin has you covered with this update.
Using the new filter, you can also choose to only show reels on your Instagram feed.
To do that, open the Filters and Moderation settings in the live feed editor and leave only the Reels option checked.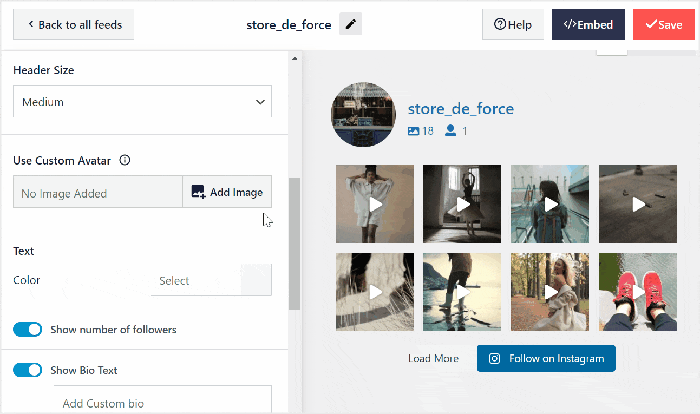 Now, you can use social proof and encourage visitors to buy from you by adding a feed of Instagram reels with positive reviews and testimonials on your product pages.
Plus, creating separate Instagram feeds for your reels is a great way to show a variety of content on your site.
People who prefer longer Instagram videos can check out your regular video feeds. But those who want shorter content can take a look at your Instagram reel feeds.
Customize Your Feed's Header Without Editing Code
Speaking of customization, Instagram Feed now has another way to help design your feeds.
From now on, you can easily upload a custom avatar for your Instagram feeds directly from the visual feed customizer.
On top of that, you can even enter a custom bio that shows up at the top of your feed. A custom bio is a short piece of text that introduces your brand or gives out important information that you want your audience to know about.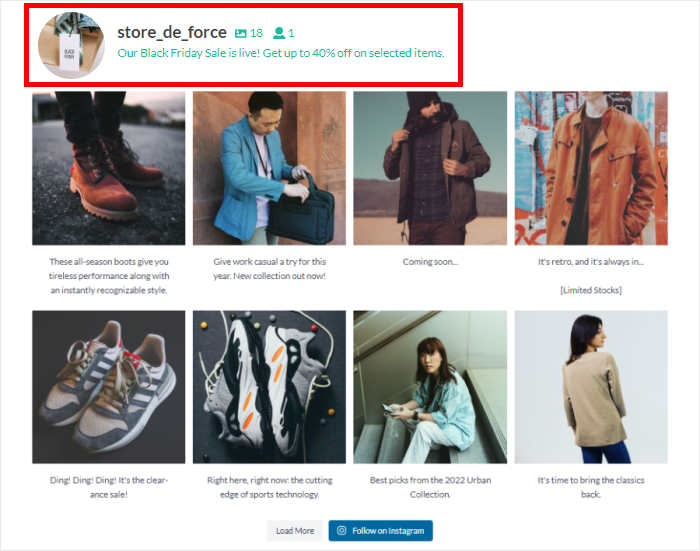 With a custom avatar and bio, you now get even more control over how your Instagram feed looks.
For instance, if you're running a special event or sale on your site, you can easily change the avatar of your Instagram feed to match the theme – with just a few clicks.
Another example is you can quickly add a call-to-action in your bio, even if you don't have any coding experience. Adding a call-to-action in your bio helps you convince visitors to make a purchase, join your email list, subscribe to your site, and more.
Easily Embed Your Instagram Reels on WordPress
In addition, we've added support for Instagram reels oEmbeds. An oEmbed is a useful feature where you can paste a link to a social media post, and your site will automatically embed it.
This means that you can use oEmbeds to automatically embed Instagram reels on your site and engage your visitors with bite-sized video content.
To do that, all you have to do is paste the link to an Instagram reel on your website.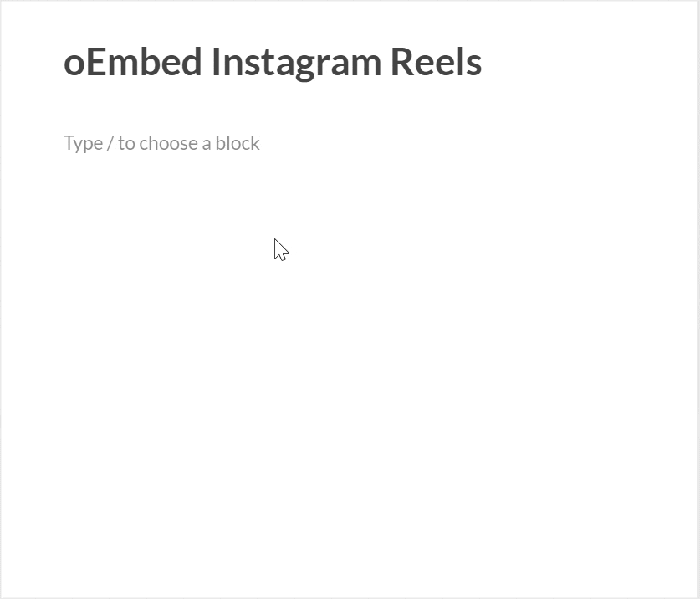 Instagram Feed will then automatically embed the reel on your website – just like any other type of Instagram post!
Since Instagram reels demand less attention, people can easily get hooked and watch the full video.
If you embed reels with product testimonials, reviews, and demonstrations, more people can check them out in full and make a purchase.
As a bonus, you can use oEmbeds to post your own Instagram reels and get tons of extra views with ease.
This can be the boost your reels need to go viral on Instagram and reach tons of new potential customers for your brand.
Instagram Plugin Improvements
On top of adding new features, we're also constantly working to make the plugin always reliable and secure to use.
We know that privacy is a huge priority for our users.
That's why Smash Balloon plugins have a lot of privacy features to keep your data safe and stop anyone from tracking you or your site visitors.
And with this update, we've further strengthened your privacy protection by validating that the code source for the feed customizer loads directly from the local plugin file.
This feature works behind the scenes automatically, and you don't need to configure any settings. But what it does do, is it helps you load your feeds faster and also lets you customize your Instagram feeds better using our visual feed customizer.
Bottom line? Your website data is even more secure than ever. And you save more time, which you can invest into growing your business more.
As you can see, we're working hard to make sure Instagram Feed remains the safest Instagram feed plugin in the market.
And that's all for now! We've got a lot of cool new features and updates planned out, so remember to keep an eye out.
For more details about this update, you can check out the plugin's documentation here.
If you have any questions, feel free to reach out to our customer support team here. We're always ready to help you out.
Not a Smash Balloon user yet? It's the perfect chance to get started with Instagram Feed Pro.
As always, thank you for supporting Smash Balloon. Your support has helped us make the best social media feed plugins in the market.
Finally, don't forget to follow us on Facebook and Twitter for the latest news and announcements like this one.