When we created YouTube Feed Pro, we had a simple goal.
We wanted to make it quick and easy for you guys to make engaging YouTube feeds and grow your business.
Ever since then, we've constantly been working hard to make the plugin even better.
And today, we're crossing a huge milestone for YouTube Feed Pro with its biggest update yet!
For our YouTube Feed 2 update, we've done a complete revamp of the plugin, so it's faster and easier than before to create, customize, manage, and embed YouTube feeds.
To help you out, we're adding awesome new features such as:
Easier Way to Manage Feeds: You can find all of your YouTube feeds in a single dashboard and manage them individually
Brand New Admin Interface: We redesigned our plugin interface from the ground up, so it's quick and easy to find the plugin's options
Guided Flow for Feed Creation: Just follow our 3-step guided flow, which will make it much easier to create YouTube feeds
Brand New Live Feed Customizer: For better customization, you get a visual feed editor where you can see all of your changes in real-time
YouTube Feed Templates: You can choose a pre-designed template and have a beautiful YouTube feed ready to go in seconds.
And Much More: Easy YouTube feed export and import, simple color scheme options, better account management, and much more.
Let's take a look at these features and see how they can help your business succeed with YouTube marketing:
1. Easier Way to Manage Feeds
With this update, managing YouTube feeds is much simpler with the help of useful features, including:
New Dashboard for All YouTube Feeds
If you wanted to find YouTube feeds before this update, you had to manually browse through your website.
With YouTube Feed 2, you can simply use the All Feeds dashboard to find all of your YouTube feeds in a single place.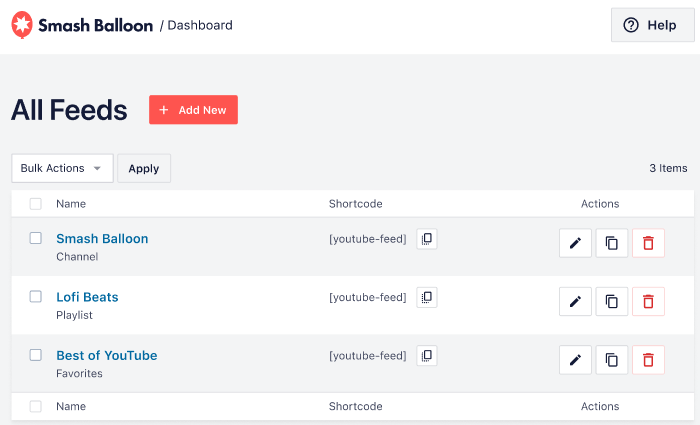 From here, you can use the new feed management features to:
Easily check all of the YouTube feeds that you've created so far
Duplicate feeds that perform well to easily create engaging new YouTube feeds
Find YouTube feeds that you don't need and quickly delete them
And more…
As a result, you'll have an easier time showing YouTube feeds that engage your visitors and convert more people into subscribers.
Edit Individual Feeds
If you wanted to customize single YouTube feeds, you had to work with shortcodes in the past.
But with YouTube Feed 2, you can easily edit each of your feeds individually – without any coding at all!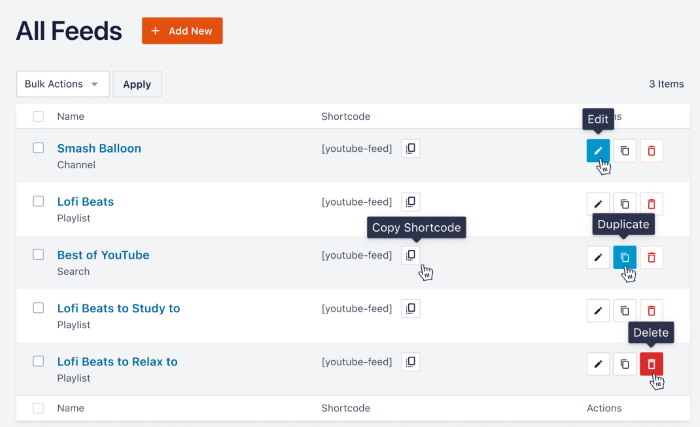 All you have to do is open the All Feeds dashboard, and you can:
Click on Edit to customize a YouTube feed's design
Remove feeds you don't need with the Delete button
Use the Duplicate button to use an older feed as a template for a new feed
Start manually embedding your feeds using the Copy Shortcode button
And if you click on Edit, you can use our new visual feed customizer with user-friendly options and a real-time preview of your feed.
You can then easily change your YouTube feed layout, template, color scheme, header design, buttons, and much more.
Plus, any changes you make won't affect the rest of your YouTube feeds.
Since you can edit individual YouTube feeds like this, you'll be able to:
Add review videos and demonstrations on your product pages to boost conversions
Create a widget to show your livestream and get tons of new viewers
Embed your YouTube content on a "Videos" page and grow your channel
And much more!
New Admin Dashboard
To give you a much more user-friendly experience, YouTube Feed Pro comes with a brand new dashboard.
We've completely revamped the dashboard so that you can find all the options with ease from now on.
Not only that, but you can also set everything up and create engaging YouTube feeds much faster now.
Just imagine you're using YouTube Feed Pro for the first time. You have to use your license key to activate the plugin first, right?
When you open the Settings page, you can find the License Key section at the top so you can get started right away.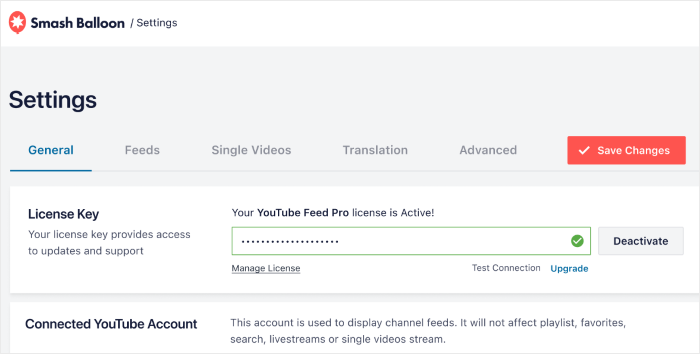 After you activate your license, it's time to connect your website to YouTube.
Just scroll down from here, and you can find the Connected YouTube Account section where you can start connecting to YouTube in a few clicks.
Plus, you can see your connected YouTube channel here and quickly change it if you want.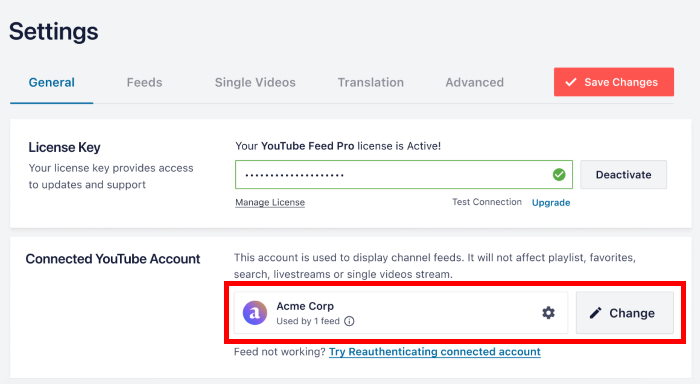 As you can see, it's now much easier to find the options you want with our new dashboard.
On top of that, the dashboard also comes with a larger font and plenty of whitespace, so you'll have a much easier time reading everything.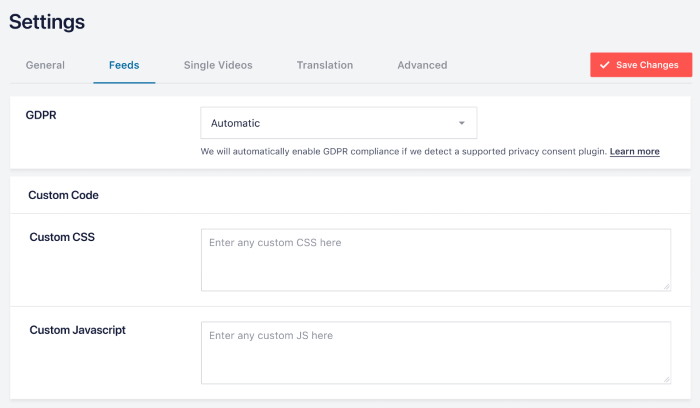 Using our user-friendly dashboard and better feed management, you can set up the plugin and start creating YouTube feeds in no time.
That way, you can save valuable time and invest that in growing your brand instead.
2. Easy Feed Creation
If you want a more user-friendly way to make new YouTube feeds, then this update has you covered.
Now, it takes only a few seconds to create YouTube feeds on your website – no coding needed.
3-Step Guided Flow
To create new YouTube feeds with a few clicks, all you have to do is follow our 3-step guided flow:
Step 1: Create a new YouTube feed
Step 2: Customize your feed's design
Step 3: Embed your YouTube feed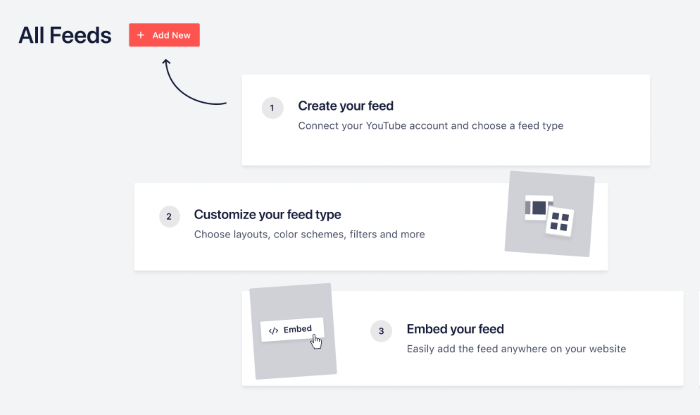 Ready to get started? Just open the All Feeds dashboard and then click on the Add New button to create a new YouTube feed.
Once you do that, you can pick the type of YouTube feed that you want on your site.
You have 6 options to pick from here, including YouTube channel, playlist, live streams, favorites, and more.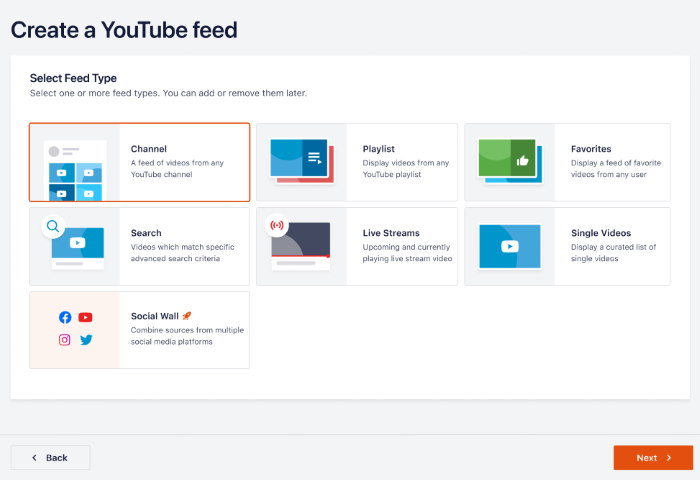 Next, you can simply connect your YouTube channel or enter an API key so the plugin can show YouTube content on your website.
Then, enter whichever channel, playlist, single video, search term, or another source that you want to embed.
Like that, you can create a YouTube feed and connect it to a source in a few clicks. Now, you can simply pick a feed template that you like.
After you do that, you can customize the design of your YouTube feed with the help of our brand-new visual feed editor.
Once you're happy with how your feed looks, it's easy to directly embed it using our feed editor – no need to touch a single line of code.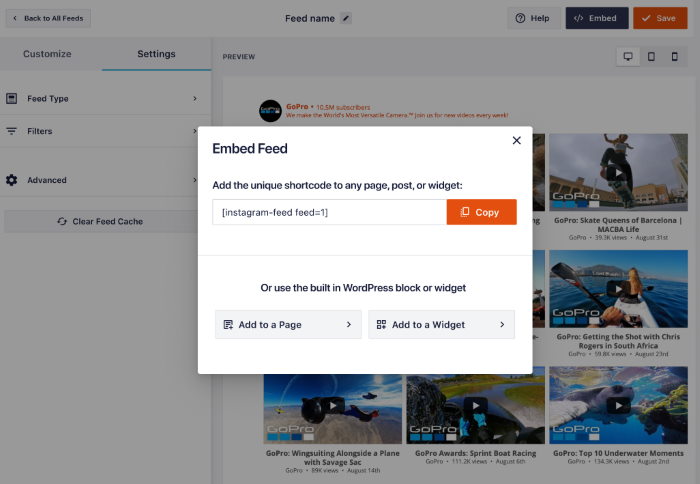 After the YouTube Feed 2 update, it's even quicker and more user-friendly to create, customize, and embed YouTube feeds on your site.
All you have to do is follow the simple guided flow – no need to hire a developer or spend time on coding.
Feed Templates
Before this update, you had to start customizing your YouTube feeds from the same base template.
As a result, creating unique designs took more time and effort.
To help you out, we're bringing you 8 pre-built templates with beautiful designs that you can choose from.
Simply pick a feed template here, and your YouTube feed will instantly copy that look.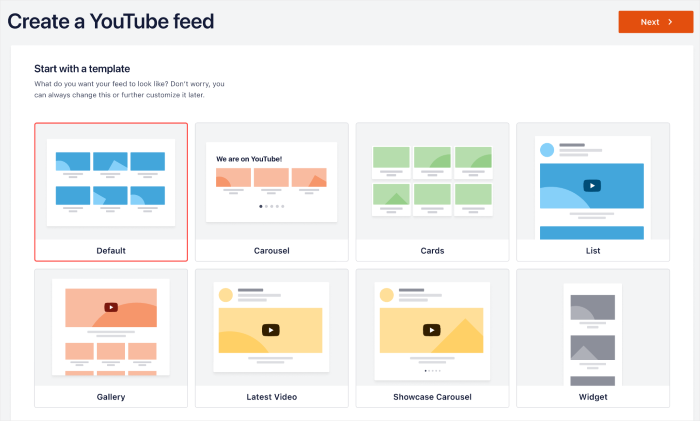 Using these pre-built YouTube feed templates, you can:
Use the widget template to show product reviews on your sidebar or footer and convert visitors into customers
Show your YouTube videos with the gallery template and get tons of views and subscribers
Pick the latest video template to show important news or announcement video on your site
Display videos highlighting your best products and boost your sales using the showcase carousel template
And much more!
Simple Feed Import and Export
With our new update, you can easily grow multiple websites with the help of YouTube feeds.
If you have YouTube feeds that perform well, you can now export them with a few simple clicks. Then, you can import those feeds to another website and engage the visitors there.
From your Settings page, select your YouTube feed from the drop-down menu and click on Export.
The plugin will then save that YouTube feed on your computer as a .json file.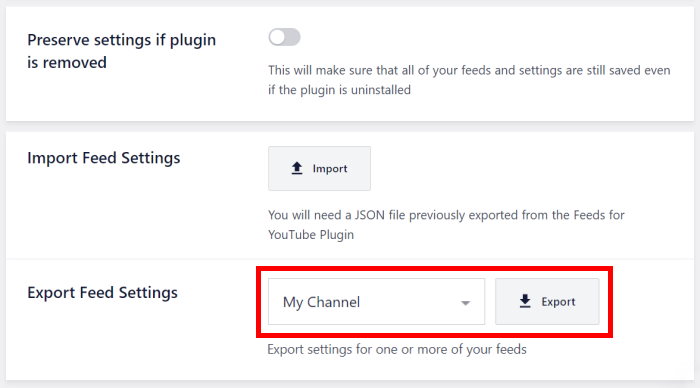 Now, you can open the Settings page on your other website and click on Import to upload your saved YouTube feed – it's that easy!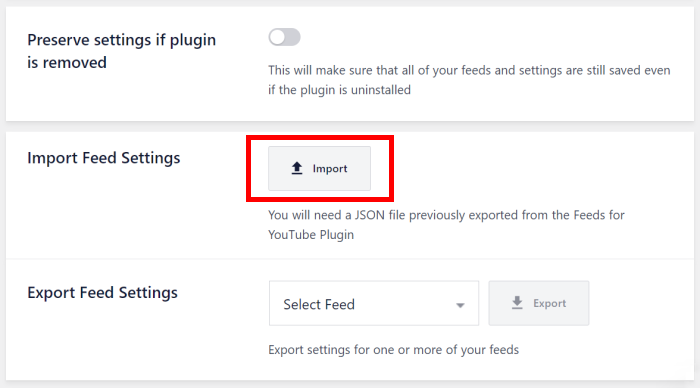 With this feature, you can use high-converting YouTube feeds on multiple websites and save the time and effort of creating engaging feeds from scratch.
For example, if your YouTube channel feed gets tons of views for your videos, you can just export the feed to another website in a few clicks.
As a result, you can reach even more people with your video content.
And if you've customized your YouTube feeds to create a unique look, you can reuse these designs for another site and keep your branding.
As a bonus, saving your YouTube feeds on your computer is a great way to safely back them up.
Just like that, you can engage even more people and grow multiple websites using YouTube Feed Pro.
3. Brand New Feed Customizer
Now, you can customize your YouTube feeds even more accurately so they perfectly match your brand identity.
And with our new visual feed customizer, you can do this much faster and easier.
Visual Feed Customizer with Live Preview
In the past, you had to open your YouTube feed in another tab if you wanted to check the preview during customization.
So, you had to spend time switching between different tabs and reloading pages.
With the YouTube Feed 2 update, we've completely revamped the customization to give you a much better experience.
Now, you have a user-friendly visual feed customizer that even shows a real-time preview of your YouTube feed.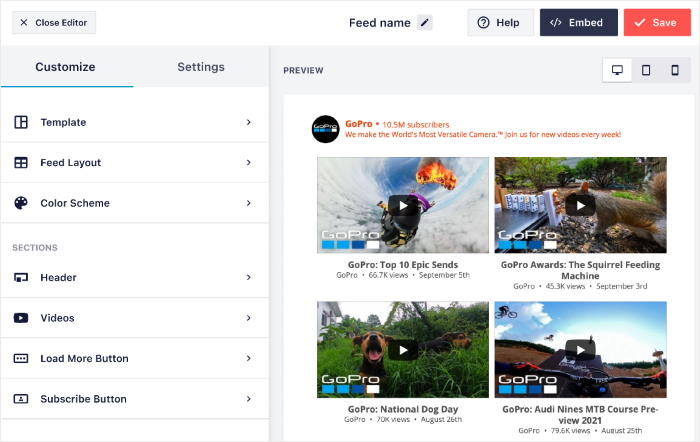 On the left side of the visual feed editor, you can see all of your customization options. With these, you can easily set your feed layout, template, color scheme, header style, button design, and more.
When you make any changes, the live preview on the right will show how your YouTube feed will look.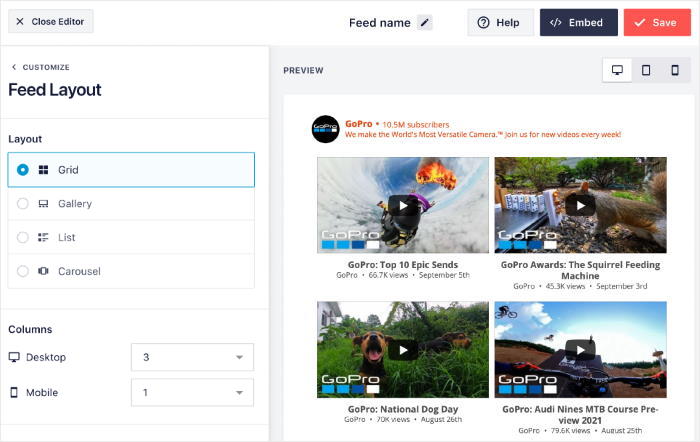 So, you can customize YouTube feeds much more accurately since all of your changes are clearly visible.
At the same time, customization is also much faster since there's no need to switch to other tabs or reload pages.
As you can see, you can easily create beautiful YouTube feeds while saving valuable time – even if you're a WordPress newbie.
Mobile Preview
Fun fact: 72% of users expect brands to have websites that work perfectly on mobile devices.
And if your website isn't mobile-friendly, all those people may just leave your website.
With YouTube Feed 2, you get a convenient mobile preview to check if your feeds are working perfectly for all your visitors.
From your visual feed customizer, enable the mobile preview with a click, and you can see for yourself.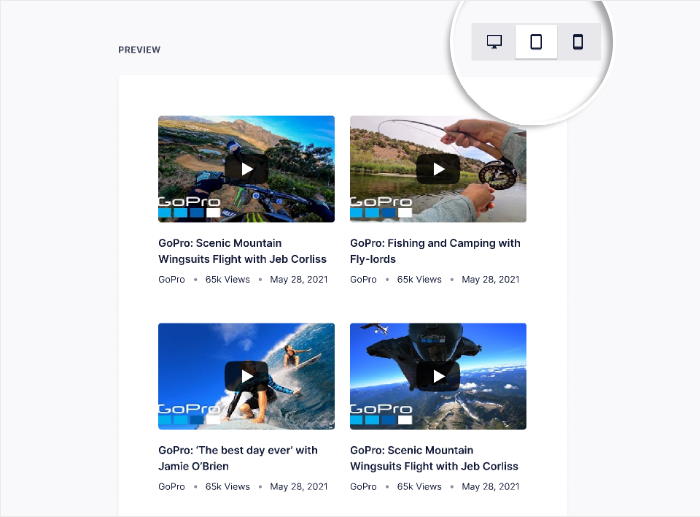 Now, you can create engaging YouTube feeds and easily check how they look on phones and tablet devices.
As a result, converting mobile visitors into customers and YouTube subscribers is much easier.
Color Scheme Options
If you want to create a memorable brand image, the colors on your website can go a long way.
By picking the right colors and using them consistently, your visitors will immediately recognize your content and products.
Since colors are so important, YouTube Feed 2 now has brand new color schemes that you can use for your feeds.
Want to change the colors of your YouTube feed? Then select a different color scheme from the live feed editor.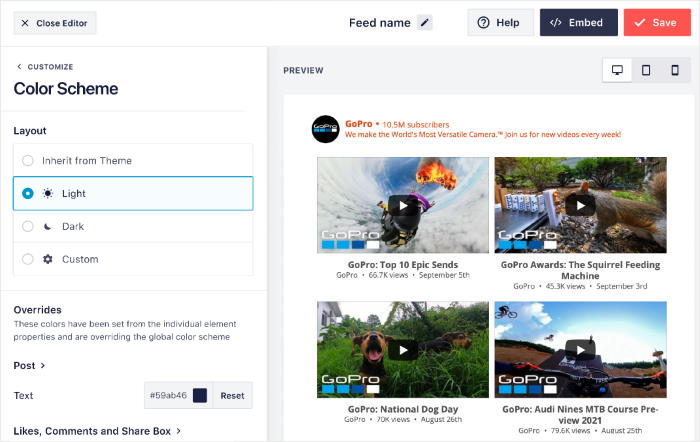 If you pick the Inherit from Theme option, your YouTube feeds will copy your website's colors and fit your branding.
Or you can also enable Light mode or Dark mode for your feed with a single click here.
And if you want to manually pick your colors like before, YouTube Feed 2 has you covered. Just pick the Custom color scheme.
What's more, you can clearly see how these color schemes will look on your feed using the live preview.
That way, you can make sure your YouTube feed will look good on a web page before you embed it.
As you can see, our new customization options can help you customize YouTube feeds even more effectively.
Want to promote a specific product using a YouTube feed? You can quickly customize the feed, so it suits the design of that product page.
If you have landing pages with unique designs, you can also create custom YouTube feeds that perfectly fit in.
What Do Existing Users Need to Know?
Are you already using YouTube Feed Pro?
You can rest easy because all of your old YouTube feeds will keep working just like usual, even after the update.
In fact, the All Feeds dashboard has a special section where you can manage your older feeds, which are now saved as legacy feeds.
Your legacy feeds work differently from the new YouTube feeds, which means you can't edit them individually.
The good news? You can still customize all of them at once like you used to. And this time, you can use the new visual feed customizer so it's much easier.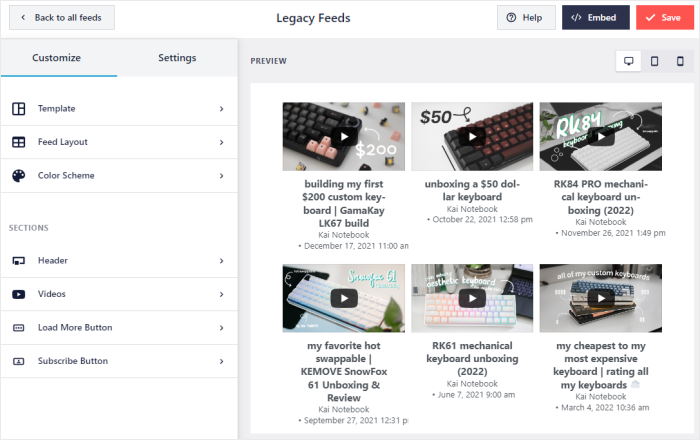 All you need to do is update the plugin so you can smoothly transition to the new version of YouTube Feed Pro. All the amazing feeds you've created so far will continue showing up on your website.
To learn more, you can check out our full YouTube documentation here.
If you have any questions, our dedicated support team will be ready to lend you a hand at any time.
And that's it!
This was our biggest update yet for YouTube Feed Pro, and we're super excited for you guys to check it out.
This was only possible because of your support, so we're really grateful. You guys inspire us to work hard so we're going to keep bringing you more helpful updates in the future.
And if you're not a Smash Balloon user, this is the perfect time to join the community and check out the update.
Get your copy of YouTube Feed Pro today.
Don't forget to keep an eye out for even more updates and fantastic new features that we've planned.
Follow us on Facebook and Twitter to get the latest news and updates.
As always, we owe you a massive thanks for supporting Smash Balloon and helping us make the best social media feed plugins.