At Smash Balloon, we're always listening to your suggestions so we can improve the ways our social feed plugins can help your business grow.
As soon as we released our newest plugin, Reviews Feed, we've been working hard behind the scenes to address your feedback and make it the best reviews aggregator in the market.
With our newest update, you can now freely translate your reviews so you can connect with your local audience and also reach your brand's customers all over the world.
Let's look at our brand new Reviews Feed 1.1 update in detail.
Easily Translate Your Google Reviews
With this latest update, you can now freely change the language for your Google reviews.
Better yet, you get 2 different ways you can translate the user reviews in your feeds – with just a few clicks.
Set a Global Language For Your Reviews
Did you know that 75% of customers prefer buying products from sites in their native language?
By showing user reviews in a language your target audience understands, you'll have an easier time converting them into customers.
Wouldn't it be awesome if there was an easy way to translate your reviews?
We've got you covered. Now, you can quickly set a global language for all the Google reviews you embed using the Reviews Feed plugin.
To use this feature, simply open the Settings page of the plugin and find the Language & Translation tab.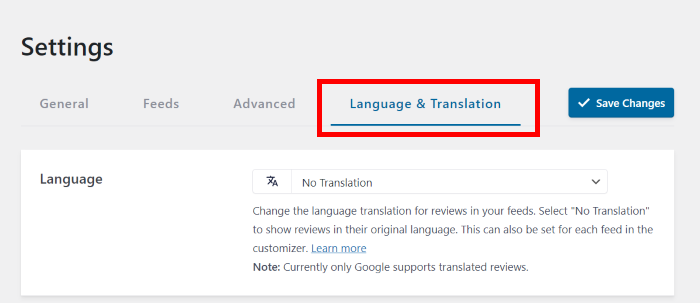 From there, just look for the Language option at the top. Here, you can use the dropdown menu to choose a language for your reviews.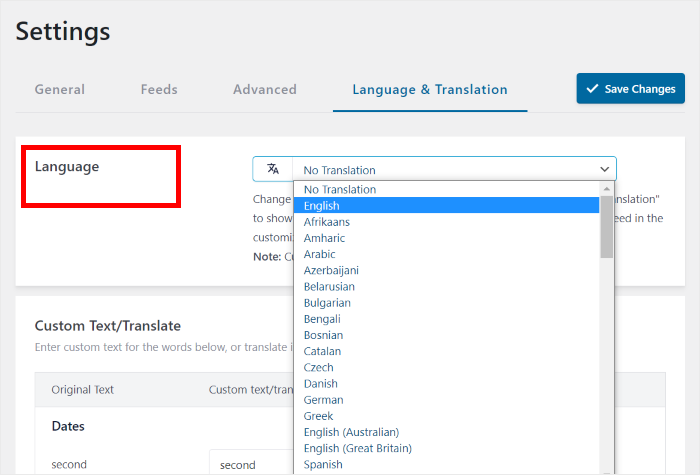 Once you do that, all the Google reviews on your site will automatically be translated to your chosen language – just like that!
By selecting a global language for your Google reviews, you can:
Display reviews in popular languages like English so your brand can cater to a broader audience and grow your customer base
Show your reviews in your local language so you can market to a niche audience without competing with massive brands
Make sure the language of your reviews match the rest of your site's copy. So, search engines will easily recognize your website's keyword-rich content, and you'll get better SEO.
Customize the Language of Individual Review Feeds
Another exciting feature of Reviews Feed 1.1 is that you can set the language for each review feed individually – no coding needed.
As a result, you can showcase different review feeds on your site that are in different languages.
The best part? You can do this directly from the visual feed customizer.
First, open the visual feed customizer and click on the Settings tab at the top. You'll then see the Language option on the left.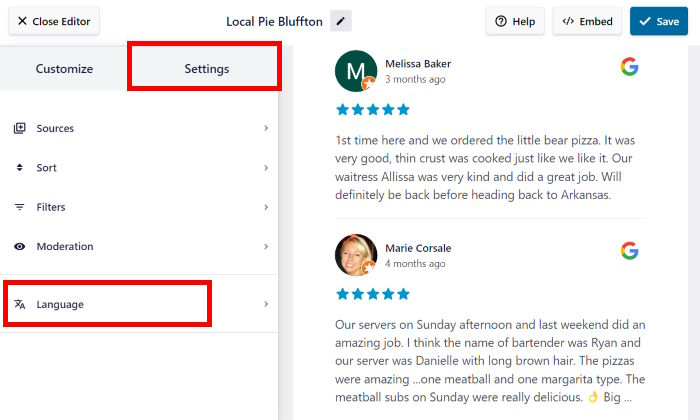 Once you click on it, you'll see the option to change your review feed's language.
If you keep it as default, your feed will use whichever global language you've set from your plugin settings.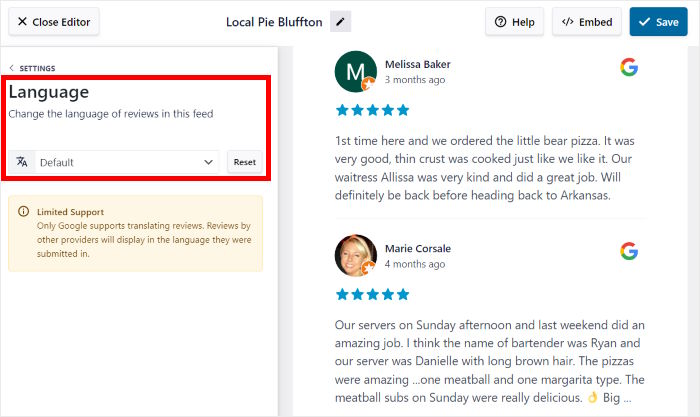 Or, you can choose from tons of different languages for your Google reviews. Once you've selected the language you'd like, Reviews Feed will automatically translate the Google reviews in that specific feed.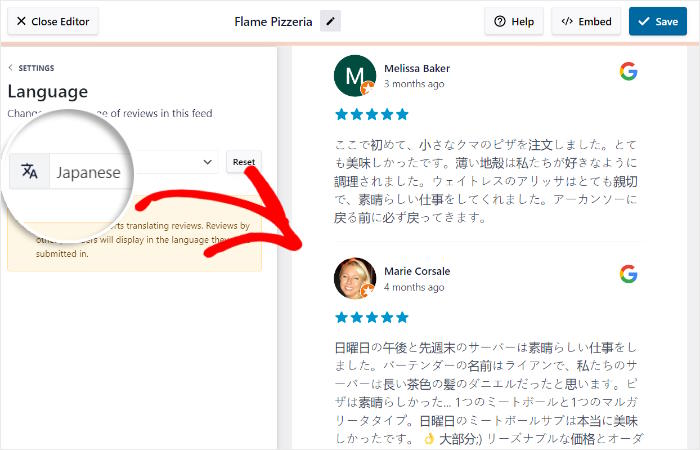 With the ability to set different languages for your individual review feeds, you can:
Create a landing page for visitors from a specific country and show reviews in their official language for better conversions
Make a "Testimonials" page with lots of review feeds with different languages and show visitors that customers from all over the world trust your brand
Improve your site's accessibility for your local customer base by showing a review feed in their language on your homepage
Minor Plugin Improvements
On top of adding these features, we've been working hard to make Reviews Feed consistent as well as secure.
After this update, you can add translations for any of the custom words from the plugin's Settings page.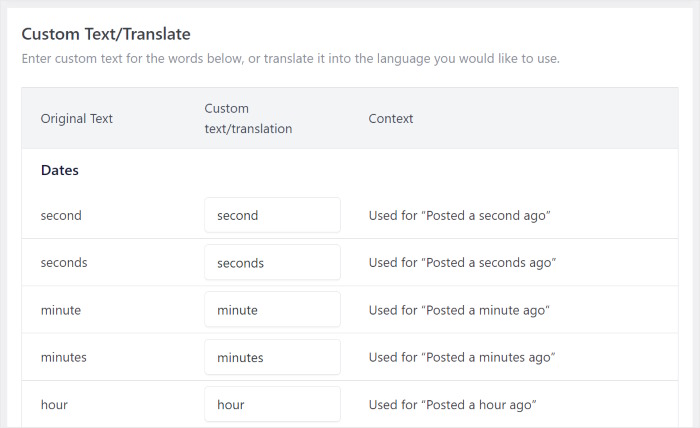 That means you can show your own version of words like days, months, seconds, hours, weeks, and so on.
Once you translate the dates to the language of your visitors, you can embed latest reviews and clearly show that your website is active and updated regularly.
Plus, Reviews Feed will also fetch images much faster now. As a result, your website will still be lightning-fast even when you're showing tons of engaging review images.
So, your visitors will have a much better impression of your brand and stay on your site for longer. As a bonus, having a faster website improves the SEO of your site.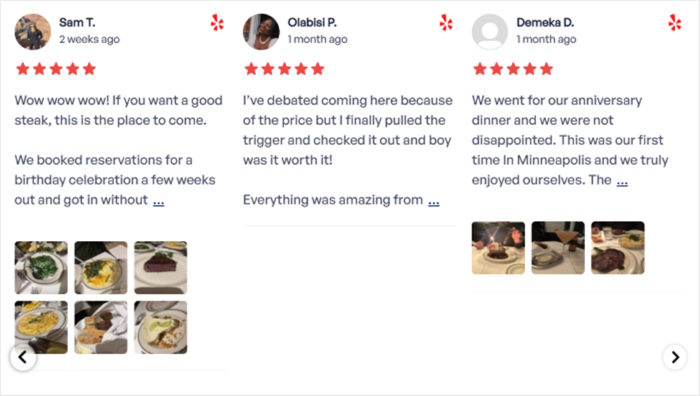 Since this feature automatically works in the background, you won't have to configure anything. Simply update your Reviews Feed plugin, and you're good to go.
Update Your Reviews Feed Plugin Today
As you can see, we're committed to making Reviews Feed the best reviews feed plugin in the market.
And so, there you have it! This covers our Reviews Feed 1.1 update and all the cool new features we added for you guys.
To learn more about this update, you can take a look at the plugin's documentation here.
Have any questions? You can reach out to our customer support team at any time.
Make sure you update your site to the latest version of the Reviews Feed plugin to try out these brand-new features.
If you're not a Smash Balloon user yet, this is the best time to join the community and start boosting conversions with Reviews Feed Pro.
Get started with Reviews Feed Pro today!
Don't forget to keep an eye out for even more updates in the future. After all, we've got tons of amazing new features planned out.
Like always, we're so grateful for your continued support and feedback. Thank you for helping us make Smash Balloon the best suite of social media feed plugins for WordPress.