For the past few weeks, our developers have been continuing to work hard on improving Smash Balloon plugins to add several integrations you may find useful.
Today, we're thrilled to announce our new integrations with 5 of the leading GDPR consent plugins in the industry!
GDPR stands for General Data Protection Regulation. It's a European Union (EU) law that aims to give EU citizens control over their personal data on the Internet. GDPR applies to all businesses worldwide as long as you collect or process data relating to individuals in the EU.
As the only social media feed plugins you can use in a GDPR-compliant way, you can now use Smash Balloon to show social media feeds on your website while complying with GDPR and other privacy regulations worldwide.
This way, you can continue to cross-promote your social media content on your site while complying with the latest privacy regulations — with just 1 click!
Let's see what's in store for you…
Easy Compatibility with GDPR Consent Plugins
Did you know that 96% of Internet users say they care about privacy?
And that businesses that are not in compliance with GDPR's requirement can face large fines, up to 4% of a company's annual global revenue or €20 million (whichever is greater)?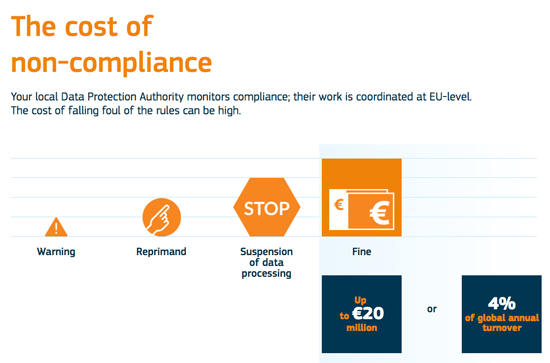 Complying with GDPR and the other latest privacy regulations such as California Consumer Privacy Act (CCPA), LGPD (Brazil) and DSGVO (German name for GDPR) is now more important than ever. It affects your brand image, customer loyalty and even your company's bottomline.
That's why user privacy is always a top priority for Smash Balloon.
In our latest updates to Custom Facebook Feed, Instagram Feed, Custom Twitter Feeds and Feeds for YouTube plugins, we added integrations with 5 of the leading privacy and GDPR consent plugins:
What do these seamless integrations with these privacy consent plugins mean?
This new feature allows you to load a GDPR-compliant version of your social feeds first. Then, once your website visitors consent via one of the mentioned plugins, the plugin will automatically load a fully functional version of your social feeds.
Using the mentioned GDPR consent plugins?
If you've activated this new feature, some parts of the feed will be limited to ensure GDPR compliance until consent is given by the user.
For example, videos won't be played initially or carousel posts will only show the 1st image in the lightbox. Plus, all images will be loaded from local versions on your website rather than directly from the social media platform.
Once the user gives their consent via one of the mentioned plugins, these limitations will be gone and you can now show a fully functional feed to your website visitors.
Not using the mentioned GDPR consent plugins? 
You can manually enable the GDPR setting on your Smash Balloon plugins. Once you do so, a GDPR compliant version of the feed will be displayed to all users.

For more details on how to configure our plugins to be GDPR-compliant, check out the following documentations:
And that's it for today! We hope our latest updates can help you comply with GDPR and seamlessly integrate social media into your site.
All these new integrations are available now. So if you don't have them yet, click here to get the world's best social media feed plugins for WordPress today.
Want to be the first to know about the next release? Great! Make sure to follow us on Facebook and Twitter for the latest updates!