Here at Smash Balloon, we recognize the need to provide timely and relevant support to any changes in the API of social media platforms such as Facebook, Instagram, Twitter and YouTube.
That's why we're always working hard on improving our plugins and making sure that they can consistently meet the demands of an ever-changing API.
Because we're committed to making and maintaining the most reliable social media plugins on the market, we've released an important update today for our Facebook feed plugin users who are displaying Facebook group feeds on their websites.
This way, Smash Balloon users like you can comfortably adapt to recent changes to the Facebook API, without any difficulties at all.
As a result, you can still embed your Facebook feeds on your WordPress site — easily, quickly and hassle-free. So, you can continue using our plugins to help you build brand awareness, boost user engagement and grow your business over time.
Let's look at the details…
Important Upcoming Facebook API Changes
First things first: what's the Facebook API? And how important is it to your social media marketing?
Simply put, the Facebook API is what our Facebook feed plugins use to get the content for your Facebook page and groups. Through it, we can display your Facebook posts in your feeds and embed your Facebook feeds on your website.
That's why it's a top priority for us to always keep our plugins up to date. We want to make sure they're 100% compatible with any changes to the Facebook API.
Starting May 25, 2021, Facebook is making a change to their API that will affect Facebook group feeds. Because of this change, Facebook will now only allow you to get posts in your Facebook group from the last 90 days.
Don't worry though, we have your back…
How to Display Facebook Group Posts Beyond 90 Days
Worried? You don't need to be!
Here's the good news:
The latest versions of both our Custom Facebook Feed free and Pro plugins will get the last 100 posts from your Facebook group (from 90 days and beyond) and permanently store them.
As new content is posted in your group, the plugin will continue to permanently store these posts to add to the existing ones, creating an ongoing record of your posts which can be displayed beyond the 90-day Facebook limit.
For example, if you've updated your Facebook feed plugin today, then the plugin will start saving your Facebook group posts. In total, our plugins can store up to 150 posts.
Since your Facebook posts are permanently stored by our plugins, then they can still be displayed in your Facebook group feeds. Yes, even after the Facebook API change takes effect!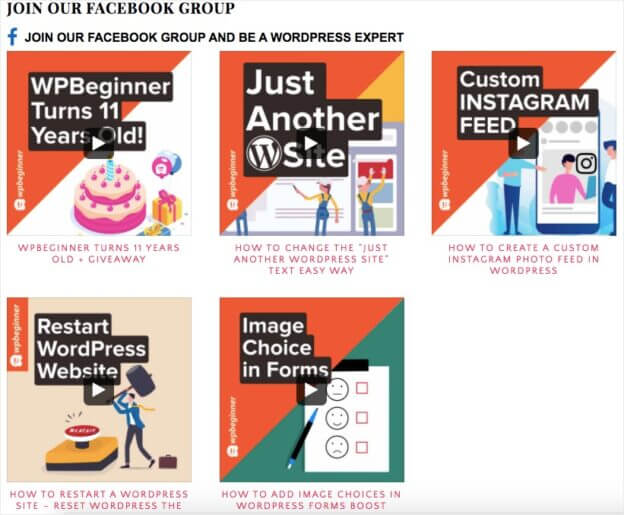 How can you make sure this happens?
It's super easy. You just need to update your Facebook feed plugin to the latest version (v3.19.3 or higher) before May 25, 2021.
Once you've updated your plugin, then you're good to go!
You can use the Custom Facebook Feed plugin to show up to the last 150 posts from your Facebook group feed — even if they're no longer available in the Facebook API.
Plus, since the plugins will continue to work after your update, then you can still display your Facebook group feeds just fine.
Just make sure that you've updated to the latest versions, and our plugins will take care of the rest for you.
For more details, you can check out this documentation on the API changes.
That's it for this update! As always, thank you for helping us make Smash Balloon plugins the best social feed plugins for WordPress.
Have any questions? Get in touch with our helpful support team here.
Finally, if you're not a Smash Balloon user yet, it's time to take your social media marketing to the next level!
Get started with Custom Facebook Feed Pro today.
Or if you want unlimited access to Smash Balloon plugins so you can use them on unlimited websites, go ahead and get the Social Wall Pro bundle here.
The great part about Smash Balloon's pricing method? It comes with a 100% no-risk money-back guarantee. This means that you can try out the plugins first and see if it's a good fit for you.
Keep your eyes peeled, because we have more features planned for all the Smash Balloon plugins. Don't forget to follow us on Facebook and Twitter for all the latest updates.