Ever wanted to display TikTok feeds on your website?
A lot of our users have been asking for a TikTok feed plugin so they can add TikTok feeds to their WordPress websites, and we've heard you loud and clear.
That's right, folks. After a lot of hard work, we're officially releasing the newest Smash Balloon plugin, TikTok Feed, today!
Now, it's easier than ever to embed TikTok video feeds on your website to engage visitors, boost your followers, and grow your business using social proof.
To help you get more followers and promote your TikTok profile, TikTok Feed has amazing features like:
Support for TikTok Feeds: You can embed content from TikTok, which is one of the biggest and fastest-growing social media platforms in the world.
Display Unlimited Feeds: The plugin lets you embed as many TikTok videos as you want on your site, with infinite loading to keep visitors watching.
User-Friendly Dashboard: Easily set up the plugin, manage your TikTok feeds, and access the plugin's settings with a simple dashboard.
Guided Feed Creation: Just follow the 3-step guide to create, customize, and embed TikTok feeds with ease – no coding needed!
Visual Feed Customizer: In just a few clicks, customize the design and content of your TikTok feeds while tracking your changes with a real-time preview.
Feed Templates: Instantly create unique TikTok feeds by using the plugin's pre-designed templates.
Mobile-Friendly: All the TikTok feeds you create will be fully responsive, so they'll work perfectly on desktop, tablet, or mobile devices.
Lightweight Design: You can embed as many videos as you want, and your TikTok feeds will still load lightning-fast.
Smart Backups: The plugin saves a cached backup of your feeds so your TikTok videos will remain online even when TikTok is temporarily down.
Let's go ahead and take a closer look at all of these features in detail below:
1. Engage Visitors With TikTok Feeds
With over 1.6 billion active users, TikTok is one of the biggest social media platforms out there.
Known for short-form videos, TikTok is a fantastic source for engaging content that's quick and easy to watch.
In the past, embedding TikTok videos on your site meant you had to generate embed code snippets, tweak them, and insert them into your site manually – for every TikTok video.
Imagine how time-consuming this was. If you wanted to display 15 TikTok videos, then you needed to repeat the process 15x! Not to mention, you have to be familiar with coding, or you risk messing up your site.
Now, you can use our newest plugin to easily embed TikTok video feeds on your website, absolutely no coding needed!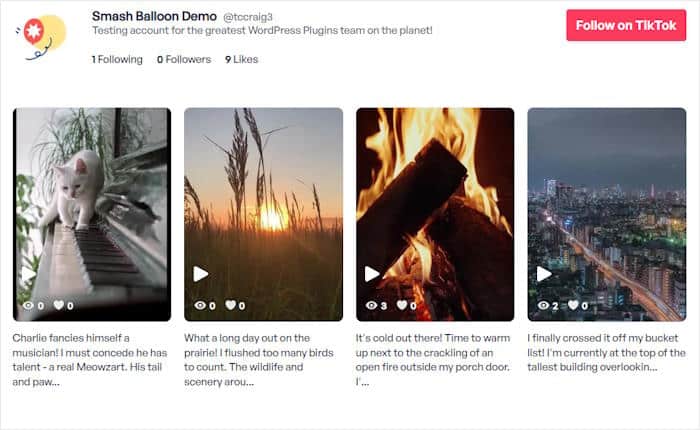 Even better, the plugin will automatically update your feed daily and display your latest TikTok videos on your website.
That means you won't have to waste time manually embedding new videos whenever you make a new post on TikTok.
With these TikTok Feed features, you can easily:
Add relevant TikTok videos to your website's sidebar to capture people's attention and get new followers.
Show positive video reviews from TikTok on your product pages to get more conversions and sales.
Cater to a younger audience and expand your customer base by showing TikTok videos on your homepage.
As you can see, TikTok Feed is a quick and easy-to-use plugin that lets you display TikTok content on your site – even if you're not tech-savvy! Your visitors can then follow your TikTok account directly from your website so that you can get more followers and engagement.
2. Quickly Create and Manage TikTok Feeds
Just like all of our social media feed plugins, TikTok Feed makes it super easy for you to create TikTok feeds, edit them individually, and manage your existing feeds in just a few clicks.
Create TikTok Feeds in 3 Steps
No need to deal with complicated coding. TikTok Feed has a 3-step guided flow that'll take you through creating, customizing, and embedding TikTok feeds in minutes.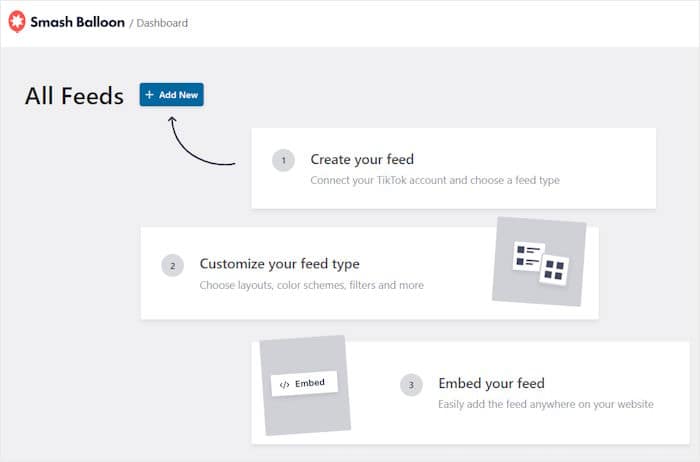 To start displaying TikTok content on your site, simply:
Connect your TikTok account and choose a feed template
Choose layouts, color schemes, filters, and more
Easily add the feed anywhere on your website
Just like that, you can start showing engaging TikTok feeds on your website in just a few minutes.
All TikTok Feeds in One Place
If you manually embed TikTok videos on your website, keeping track of everything can be a challenge in itself.
Imagine having to go through your whole website just to find where you embedded a TikTok video!
But with TikTok Feed, the plugin will automatically track your TikTok feeds, so you're free to spend your time growing your business.
You get a convenient All Feeds dashboard that lists all the TikTok feeds on your site.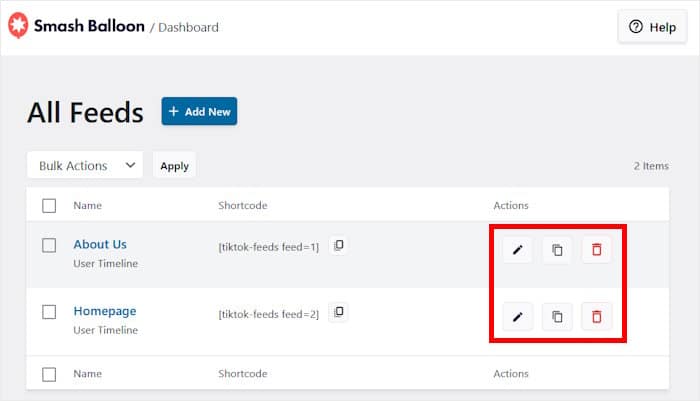 On top of that, this page lets you manage all of your TikTok feeds from a single place. In just a single click, you'll be able to:
Edit any of your existing TikTok feeds individually
Duplicate feeds that perform well and reuse their design
Delete the TikTok feeds that you don't need anymore
Copy Shortcode to manually embed feeds anywhere on your site
If you click on Edit, you can open any of your TikTok feeds in the visual customizer, where you can freely change the layout, header, video elements, button design, and much more.
Any changes you make will only be applied to this specific TikTok feed. So, you can individually edit TikTok feeds and create unique designs to complement your branding.
With the help of easy feed management options, you'll be able to:
Showcase an eye-catching TikTok feed on your site's homepage to boost visitor engagement.
Reuse high-performing feed designs across different product pages and boost your sales.
Grow your TikTok following by adding a TikTok feed widget to your "Contact Us" page.
Clean and User-Friendly Design
Of course, we wanted to make sure anyone can navigate the plugin with ease so you can display TikTok feeds on your website in minutes.
The good thing about TikTok Feed is it comes with a clean dashboard with lots of whitespace, readable fonts, and an easy-to-use layout.
Once you give it a spin, you'll see how quick it can be to find everything you need to set up the plugin.
Right after activating TikTok feeds, the plugin lets you enter the license key to finish the setup.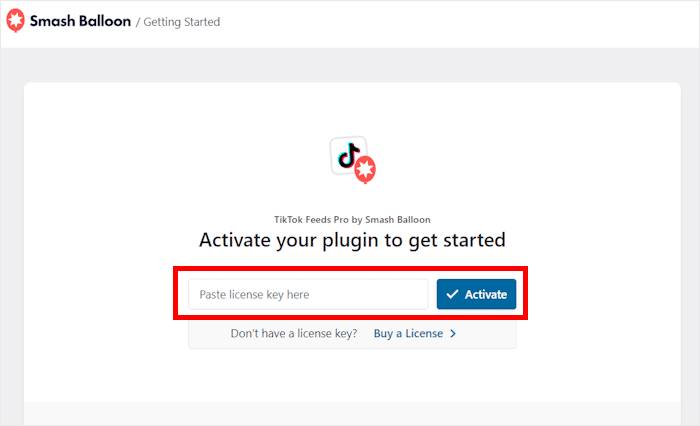 You can then start using the guided flow and start creating TikTok feeds for your website. Plus, the simple interface also makes it easy to change the plugin's settings to your needs.
After opening the Settings page, you can use the tabs at the top to browse through the different settings with ease.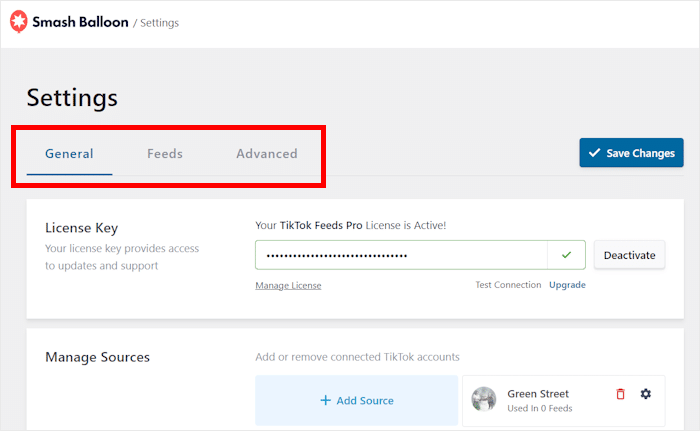 If you scroll down, you can also manage the TikTok accounts that are connected to your site.
In just a few clicks, you can directly add new accounts, track the accounts you've connected, or delete the accounts you don't need.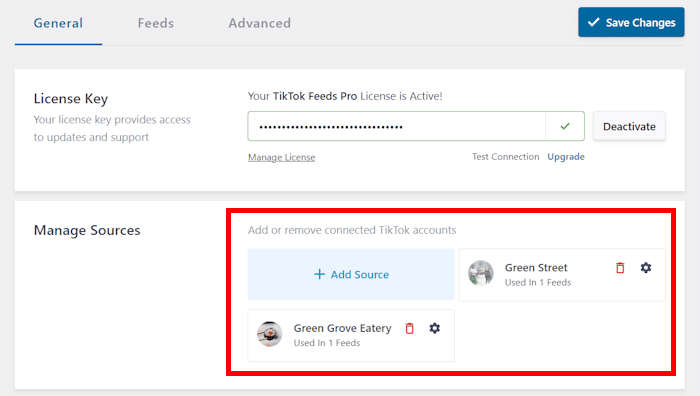 Below that, you can also find the options to Import and Export your TikTok feed designs.
Exporting a feed will save it as a .json file on your computer. You can then import the feed on any of your websites using that file.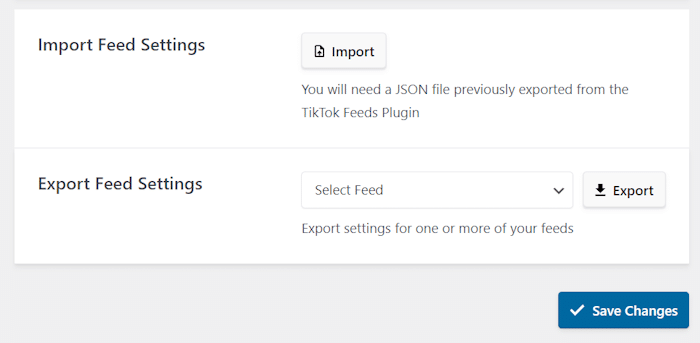 With this convenient feature, you can re-use your best TikTok feeds on multiple websites and save the time and effort of creating engaging feeds from scratch.
This also lets you transfer your TikTok video feeds when moving to a new website or domain — in just a few seconds!
If you've created unique TikTok feeds for your site, you can simply reuse them for another site you own while maintaining your visual branding. This way, it's easy for you to engage your visitors across multiple websites using TikTok feeds.
As a bonus, exporting feeds to your computer is a fantastic way of backing them up and keeping them safe.
From the remaining options, you can clear your cache, manage image optimization, enable GDPR support, and much more.
3. Easily Customize Your TikTok Feeds
Our new TikTok Feed plugin is jam-packed with features that let you create beautiful TikTok feeds with ease in record time – no need to touch a single line of code.
TikTok Feeds Automatically Match Your Branding
When embedding TikTok videos manually, all the content you embed will retain TikTok's look and design.
As a result, your TikTok feeds can end up clashing with your website's design or your branding. And if you want to fix that, it means dealing with a lot of code or spending money on a developer.
Sounds like a hassle, right?
But if you're using TikTok Feed, you can just forget about this problem. All the TikTok feeds you create will automatically copy your website's design.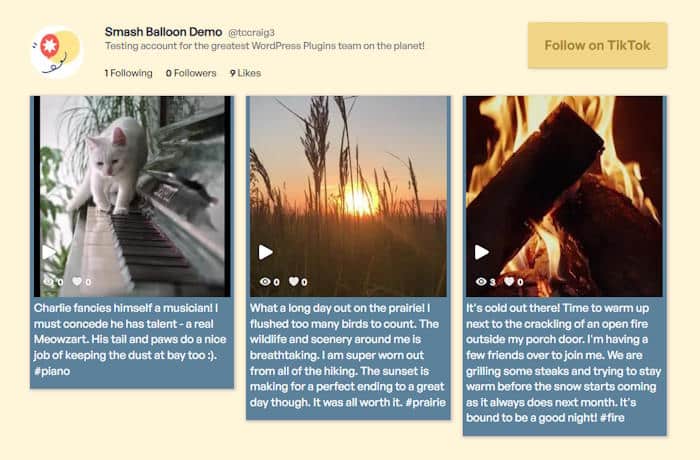 That means your TikTok feeds will look beautiful right out of the box and perfectly match the rest of your site's content.
And that's just the start! TikTok Feed also gives you more control over your feed's design with amazing features such as…
Visual Feed Customizer with Live Preview
In the past, customizing your embedded TikTok videos meant coding or hiring a developer. As a result, things could get time-consuming and expensive.
Of course, errors can always happen, and if something goes wrong, you won't have a support team to help you out.
The solution?
TikTok Feed gives you a powerful visual customizer where you can design your TikTok feeds using simple clicks.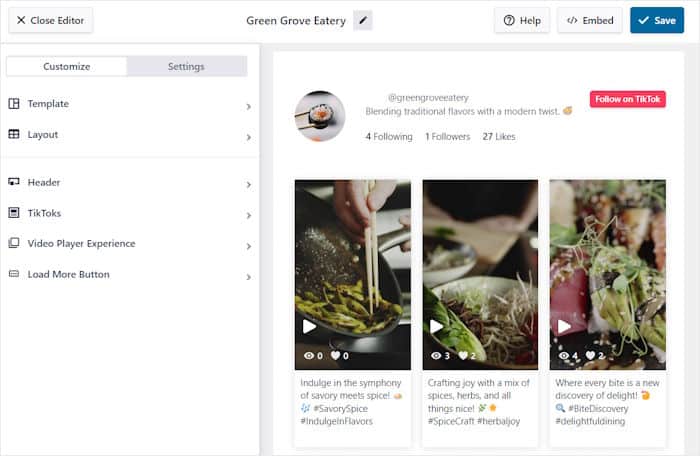 Even better, you get a live preview of your TikTok feeds that shows your customization changes in real-time, so personalizing your feeds is fast, easy, and accurate.
On the left, you can see the options to customize your feed header, layout, avatar, video player, and more. Clicking on any of these options will let you customize that part of your feed in detail.
From the layout options, you can show TikTok videos in a grid, carousel, simple list, or even a masonry gallery. Since you have a live preview, it's super easy to check how each layout looks.
You can also set the number of TikTok posts to display, along with the number of rows and columns for desktop, tablet, and mobile devices.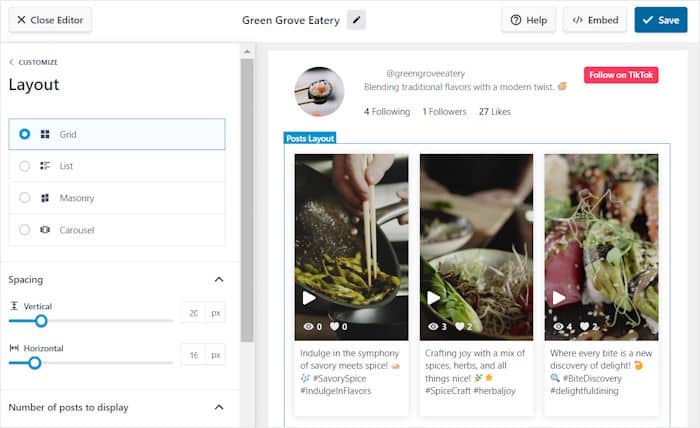 You can use the remaining customization options to change your header design, TikTok post elements, button design, and much more – all in a few clicks!
Plus, the visual customizer lets you change your feed settings so you have complete control over your TikTok feeds.
From the Sort menu, you can choose between 4 ways of ordering your TikTok videos:
Recent First
Oldest First
Most Views First
Most Likes First
Next, you can use Filters to control which TikTok posts you want to display on your site.
You can choose to only display posts with specific terms or set up banned words to automatically remove certain videos.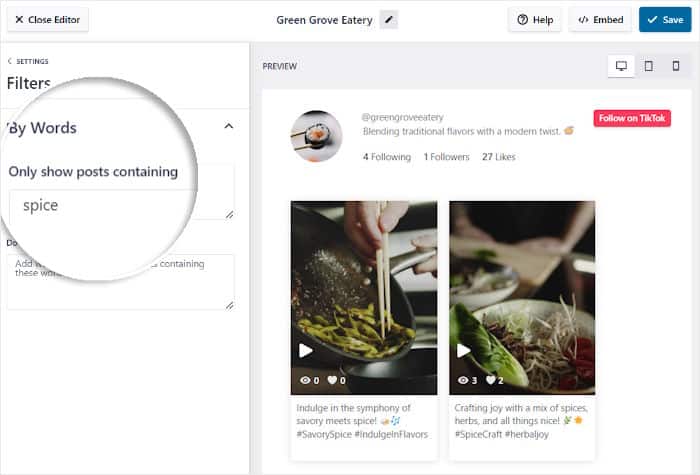 Using TikTok Feed's visual customizer, you can:
Turn your TikTok feed into a slideshow to make your website more interactive and keep visitors engaged
Showcase your most liked videos on your homepage and use your best content to immediately grab people's attention.
Use filters to display videos about a specific product on its sales page and get more sales.
Beautiful TikTok Feed Templates
Ever wanted to display beautiful TikTok feeds on your website, even without any design experience?
Great news: TikTok Feed also lets you instantly create engaging feeds with unique designs since it comes with professionally designed feed templates.
That's right! All you have to do is select a Feed Template you prefer, and the plugin will automatically copy its design for your feed.
Plus, you get 6 different templates with unique and beautiful designs to choose from:
Default
Cards
List
Latest Video
Carousel
Showcase Carousel
Using these templates, it's super easy to create TikTok feeds that grab people's attention and help you boost your following.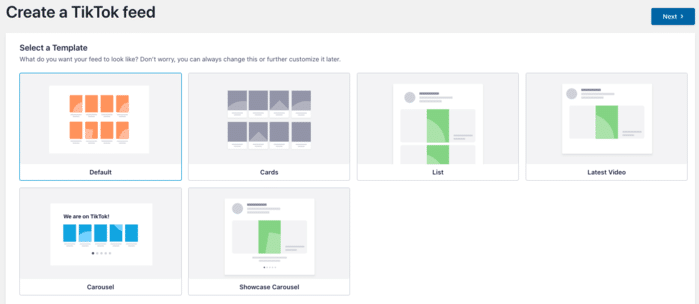 In fact, here's a few things you can do using the feed templates:
Add a List of TikTok videos that look similar to the official TikTok site and keep people scrolling.
Display product reviews on your checkout page using a Showcase Carousel to convince people to buy from you.
Use the Latest Video template to highlight a video with news about announcements, product launches, or sales.
Mobile-Friendly TikTok Feeds
These days, creating a mobile-friendly website is more important than ever. After all, over 60% of total web traffic comes from mobile users!
On top of that, most TikTok users prefer the app to the web browser. So, if you want to cater to TikTok users, having a mobile-friendly site is a must.
The good news is that the TikTok Feeds plugin is completely responsive. This means your TikTok feeds will load perfectly for visitors from all devices, regardless of screen size.
You can even check how your TikTok feed will look to mobile, desktop, and tablet users – directly from the visual customizer.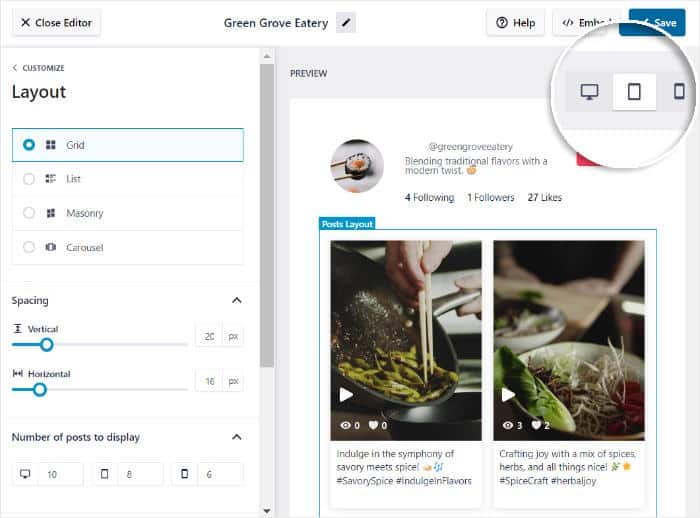 With mobile-friendly TikTok feeds, you can engage visitors from mobile or tablet devices and convert them into customers and followers with ease.
4. Embed TikTok Feeds in Just Minutes
Our newest TikTok Feed plugin lets you easily embed your TikTok feeds in just a few simple clicks. No need to hire an expert developer!
Inside the visual customizer, simply click on Embed to start adding the feed to your site.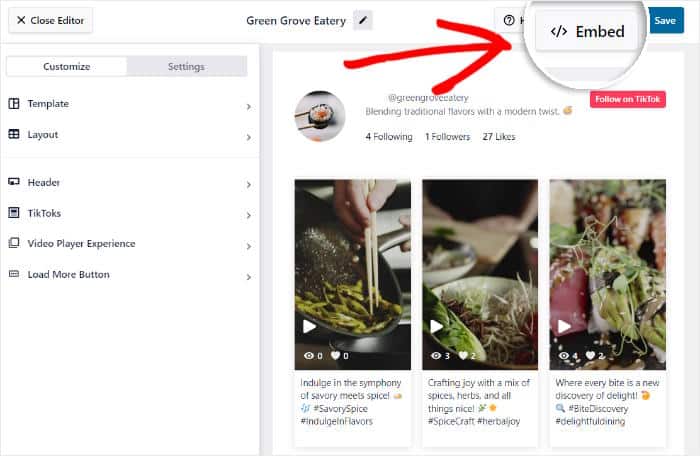 Then, you can use WordPress' built-in block to add TikTok feeds anywhere on your website, so you'll be able to:
Show a TikTok video widget on your sidebar so anyone visiting your site can watch your content and get you views.
Boost conversions by adding positive TikTok reviews to your blog post announcing a new product.
Add TikTok videos on your "About Us" page to create a great impression of your brand and build trust.
5. Optimized For Speed and SEO
To help you gain an edge over your competition, TikTok Feed has been created with SEO and performance in mind.
That way, you can reach more customers and give visitors a much better browsing experience.
Lightning-Fast TikTok Feeds
Fun fact: 40% of people will leave if a website takes more than 3 seconds to load.
Sounds worrying, right?
With TikTok Feed, you can rest easy because the plugin has been built from the ground up to be lightweight and fast.
In fact, TikTok Feed will automatically optimize your images and keep everything snappy by loading everything in the background.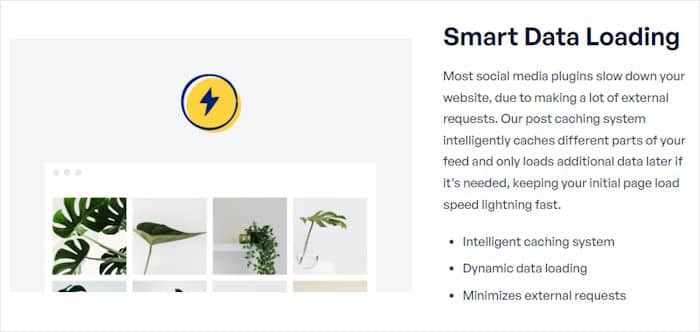 That means you can embed as many TikTok videos as you want, and your site will still load as fast as ever.
Plus, the plugin also has smart caching that saves a copy of your TikTok feeds, so your site can simply open that saved copy instead of loading everything from scratch each time.
As a bonus, the cached copy also keeps your feeds online even when TikTok is temporarily down.
Better SEO For Your Website
Unlike many other social feed plugins, TikTok Feed does not use iFrames. That's because search engine bots like Google bots can't read iFrame content.
Instead, TikTok Feed will actually embed the content on your site so you can get all the benefits of embedding engaging TikTok videos with relevant keywords in the description.
Also, did you know that Google loves websites with fresh content?
TikTok Feed automatically updates your feed regularly, so you can keep showing fresh, keyword-rich content on your site.
So, you can get better SEO, rank higher in search results, and reach more potential customers with ease.
Try TikTok Feed Today
After a lot of hard work, our newest plugin is finally out and we would love it if you tried it out to show TikTok content on your site.
For us at Smash Balloon, releasing TikTok Feed is a huge milestone – especially after so many of our users requested it.
For more information, check out the plugin's documentation or contact our support team.
Want to easily embed customizable TikTok feeds to engage site visitors, boost your online presence, increase your conversions, and grow your business?
Get TikTok Feed Pro for your site today!
Pro-tip: You can also unlock instant access to ALL Smash Balloon plugins with the All-Access Bundle. For one price, you can use all existing (and future!) Smash Balloon plugins on unlimited websites. Get started with the All-Access Bundle today!
Lastly, we want to give you a special thanks for your support. We're so grateful to have you in our community, and we can't wait to see you put this plugin to use and grow your business even more.
As always, thank you for helping us make Smash Balloon the best social media feed plugin for WordPress.