When we first created Social Wall years ago, we had a simple goal.
We wanted to help you guys easily build social walls to showcase content from the biggest social media platforms.
And today, we've taken a huge step towards this goal with our biggest update yet: Social Wall 2.0!
With this update, you can create, customize, and embed your combined social media feeds more easily.
Our new Social Wall 2.0 update comes with awesome features such as:
Faster Social Wall Creation: Create engaging social walls in just seconds and quickly add them to your site
Visual Customizer: New customizer with a live preview so you can easily personalize your social walls in a few simple clicks
User-Friendly Interface: Brand new interface that's designed from the ground up to be simple and easy to navigate
Easy Social Wall Management: Single place where you can edit, duplicate, and delete your social walls individually
And Much More: Different color palettes, convenient WordPress block, mobile preview, and more…
Let's dive deeper into how these brand-new Social Wall features can help your business grow.
1. Easily Create and Manage Social Walls
Want an even easier way to show combined social media feeds on your website? Our newest update has you covered.
Creating, customizing, and embedding social walls in WordPress has never been this easy.
Instantly Create Social Walls
Previously, creating a new social wall feed meant you had to spend time generating a special shortcode.
Now, we've revamped the plugin so you can create your social wall in just seconds.
From your All Feeds dashboard, just click on the Add New button to get started.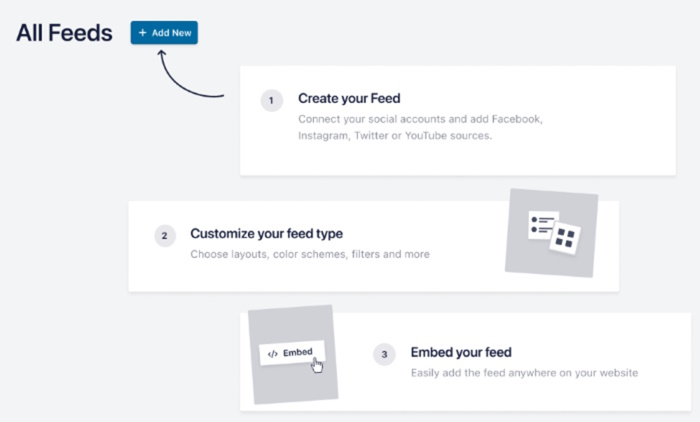 In just a few simple clicks, you can combine existing or new social media feeds from any social platforms connected to your Smash Balloon social feed plugins.
Finally, click on the Create Wall button, and the plugin will automatically prepare your social wall for you.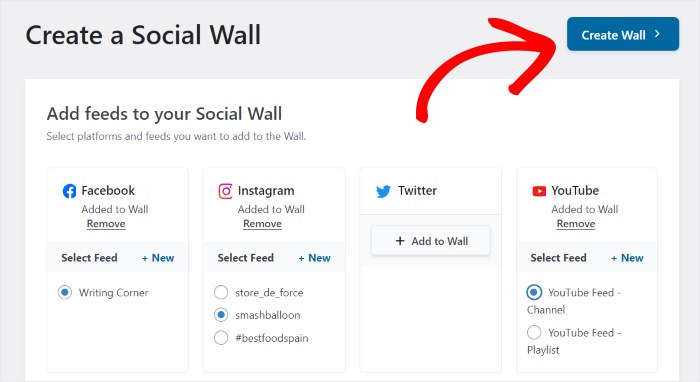 Just like that, you'll have a new social wall ready to go online on your WordPress site.
As always, the plugin will automatically copy your website's design, so your combined social media feeds will match your brand's visual identity with no extra effort on your part.
With this faster way of creating social walls, you can easily:
Embed social media posts from both your Facebook and Instagram accounts when announcing a limited-time sale
Display social videos from your Instagram and YouTube accounts and boost your watch hours on both platforms
Quickly put together a social wall with positive brand mentions from Twitter and Instagram when planning a last-minute event
View Your Social Walls in a Single Place
Ever wanted a simpler way to track all the social walls on your website?
Our newest update makes this easy by adding a single dashboard where you can find all of your combined social media feeds.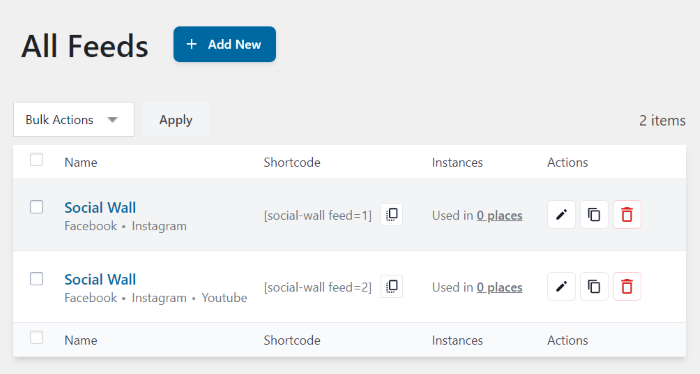 Using this new feature, you can view all the social walls that you've created and even see where you've embedded each one.
Better yet, you'll be able to interact directly with your social walls from here. For instance, you can now:
Find high-performing social walls and duplicate them to create great new social walls in much less time
Easily tweak and improve your combined social feeds by editing them so you can engage your visitors even better
Delete the social walls that you don't need anymore and focus on the ones that get you more interactions and social media followers
Manually copy the shortcode and embed your social walls the old way that you're already familiar with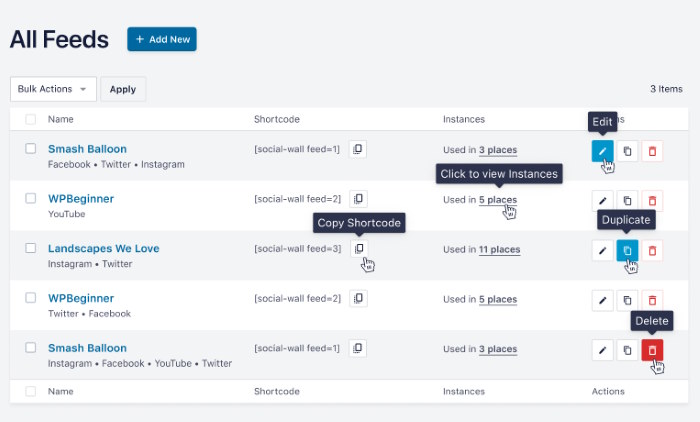 Plus, you can directly start editing your social walls from this dashboard without affecting any of your other social wall feeds.
So, customizing social walls individually is easier, faster, and requires absolutely no coding.
Simply pick the social wall you'd like to tweak and click on the Edit button from there. This will open our new and improved customizer where you can edit your social media wall's layout, color palette and more.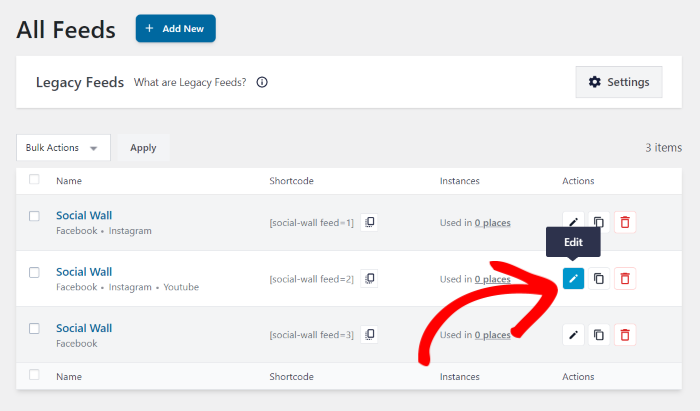 As a result, you can experiment with the design options and create unique social walls to effectively grab people's attention and convert them into followers.
Here are a few great ways you can edit your social wall feeds individually:
Show a social media wall with positive mentions of your brands on your "Checkout" page to convince people to buy from you.
Build trust by adding company photos from all your social media accounts to the "About Us" page of your site.
Display a social wall widget and add it to your sidebar, so everyone visiting your site can see it and follow you.
User-Friendly Interface
With this update, we've completely revamped the plugin's dashboard and made it even easier to use with its clean design with a simple layout, lots of white space and readable font, so everything is easier to navigate for you.
As soon as you open the Settings page, you'll see the option to enter your license key and finish setting up Social Wall on your site.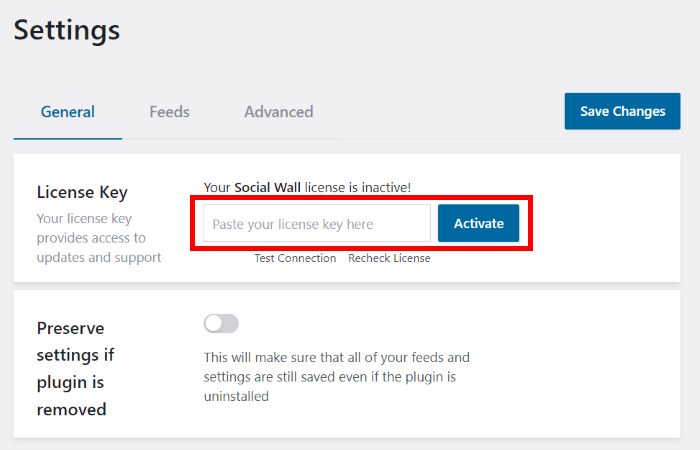 From the Settings page, you can change how often the plugin will check for new posts, or if you're an advanced user, you can also enter custom CSS or Javascript here.
Once you're happy with the plugin settings, you can scroll to the top and click on the different tabs to navigate through the rest of the plugin options.
You can click on About Us to learn more about the Smash Balloon team and our social media feed plugins, or you can click on the All Feeds tab to manage your existing social walls or create a new one.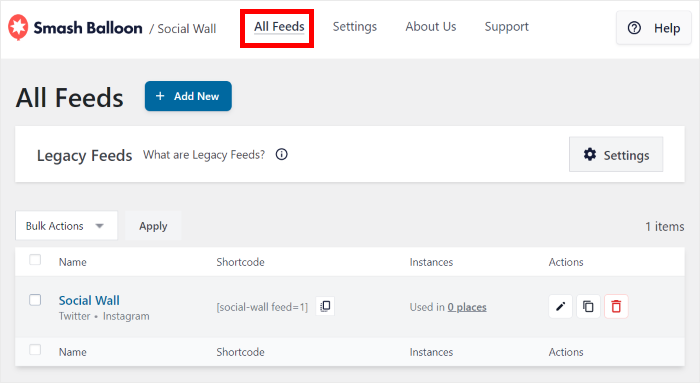 Need some help or have any questions about Social Wall? Simply click on the Support tab, and you can contact our support team directly from your website.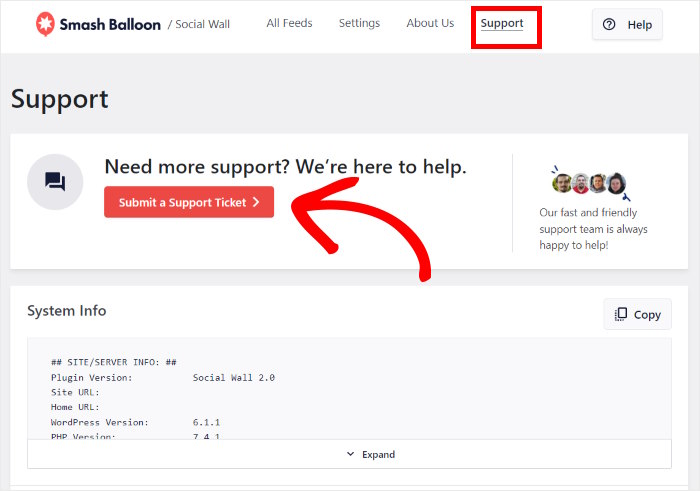 Our new user-friendly dashboard lets you set up the plugin, manage your existing social wall feeds and create new social walls with just a few clicks – no technical knowledge required.
2. Customize Your Social Feeds With Just a Few Clicks
With this update, we're bringing you a visual customizer where you can personalize your social walls in just a few simple clicks – no need to edit code or spend money hiring a developer.
Visual Customizer With Live Preview
Wouldn't it be great if you could customize how your social walls look, even if you don't have any design experience?
Well, brace yourself because we've got an amazing feature that can make this possible.
By using our new visual customizer, you can now personalize your social walls with just a few clicks. Here, you can also see a preview of any changes you make in real-time.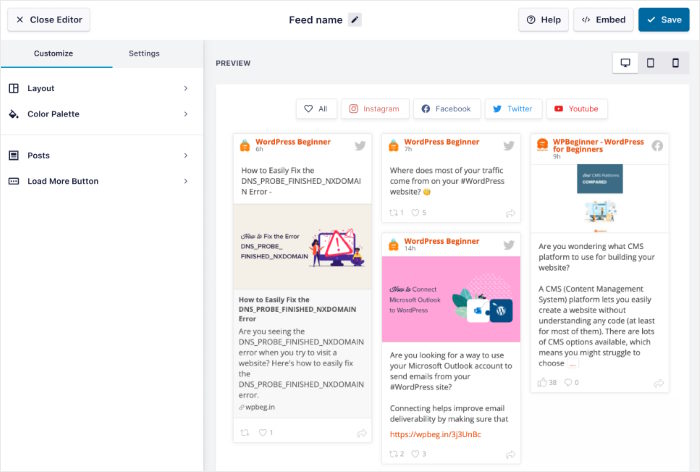 On the left, you can find the customization panel with the options to change your social wall's layout, color palette, post elements, and more.
Whenever you make changes to your social wall feed, you can see how it looks using the live preview on the right.
That way, you can confirm how your social wall looks before you decide to embed it on your WordPress site.
Now, customizing your social wall feeds is faster and more accurate, so you can create engaging social media feeds that convert site visitors into followers and customers, even if you're not a WordPress guru.
Mobile Preview
With 60.67% of all web traffic coming from mobile devices, creating a mobile-friendly site is more important than ever.
After all, your visitors might leave for your competition if your website doesn't load perfectly on mobile.
The good news? You can now check how your social walls look on mobile devices directly from the visual customizer.
With a simple click, you can switch from desktop view to mobile view and even tablet view.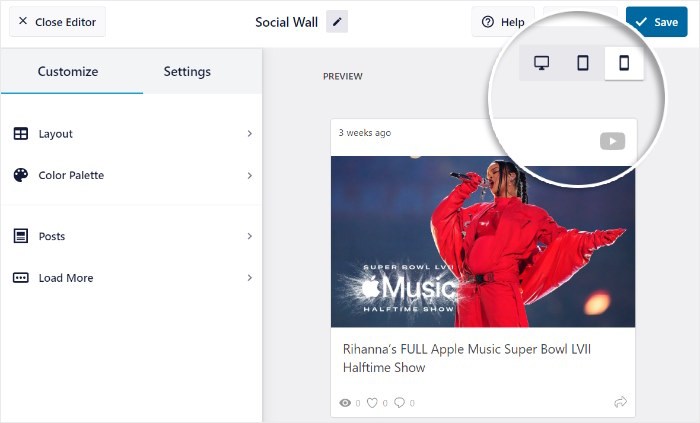 Social Wall automatically makes your social feeds responsive, so you can engage visitors from all devices and convert them into social media followers and customers for your business.
Color Palette
Colors are often the first thing people notice about a website and a great way to make a strong first impression.
With the right colors, you can create a unique brand identity that makes your brand's website stand out.
For the Social Wall 2.0 update, we've added a color palette option to our visual feed customizer so you can quickly choose the color palette you want to display on your social wall feed with a single click.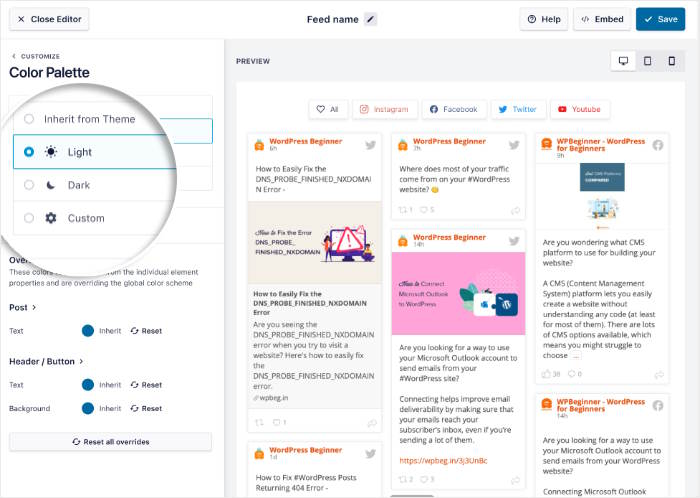 With the help of our new color palettes, you can display testimonials in a bright social wall directly on your site's homepage so you can grab people's attention and convert them.
Or if you're customizing your social feed design and you realize it's better to copy your website's theme, you can easily click on the Inherit from Theme option so your social wall feed matches your brand's visual identity quickly.
3. Simple Way to Embed Social Walls
In the new version of Social Wall, we've changed the way you embed your social walls and made it much simpler.
Instead of using shortcodes, you can start embedding social walls directly from the visual customizer.
All you have to do is click on the Embed button at the top of your editor.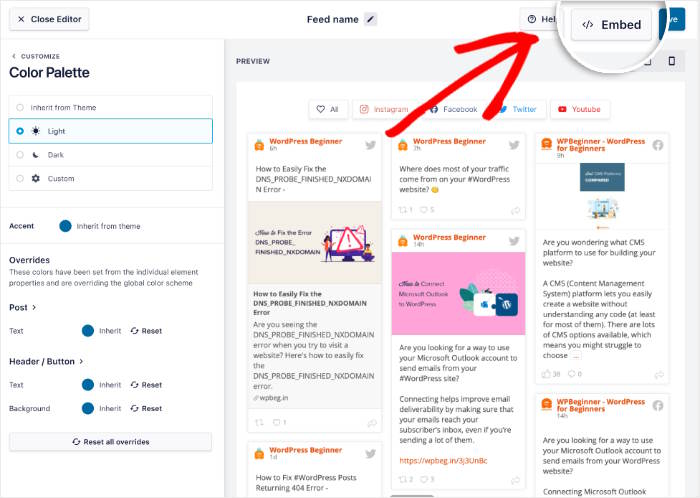 From here, you can embed this social wall to your pages or the website's widget-ready areas like the sidebar or footer.
You can even copy the shortcode here if you want to embed your social walls like you used to.
Once you select the option you prefer, you'll find another nice surprise that we've got in store for you.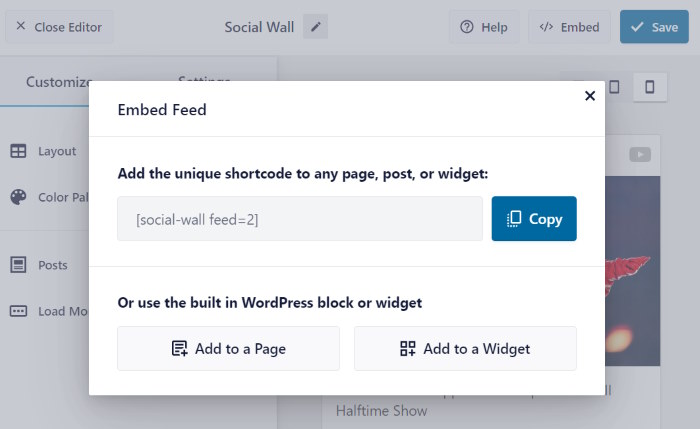 No matter where you embed your social wall, you can now do it using a convenient WordPress block.
In just a single click, you can add the Social Wall block to your page, post, sidebar, or footer and embed your social wall instantly.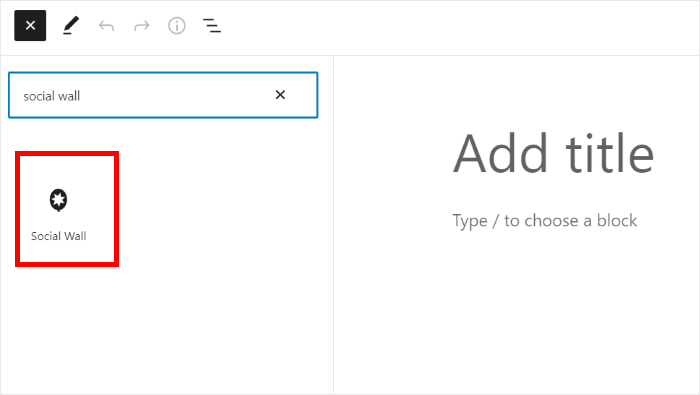 Plus, Social Wall is still maintaining support for shortcode, so you can embed your social walls the old way. This way, you'll have the flexibility to pick whichever option you prefer.
What Do Existing Users Need to Know?
If you're already using Social Wall, then we've got good news.
The plugin will save your old social walls as Legacy Feeds, and they'll continue working perfectly, just like before.
If you open the All Feeds dashboard after the update, you'll find the Legacy Feeds section above your social walls.
You can even start personalizing your old social media walls in detail by clicking on Settings.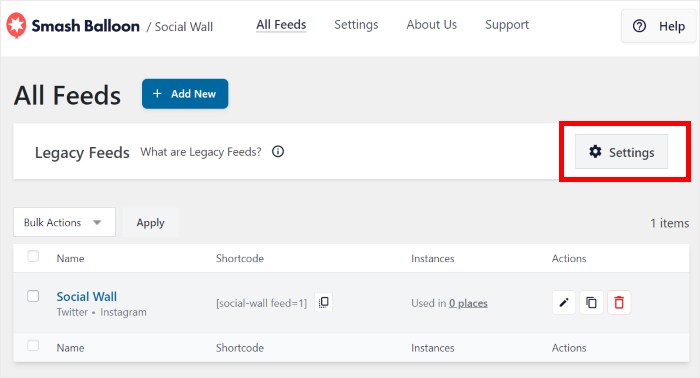 Like before, you'll be able to customize all of your old social walls at once. And this time, you get the bonus of a visual editor with a live preview for faster and more accurate customization.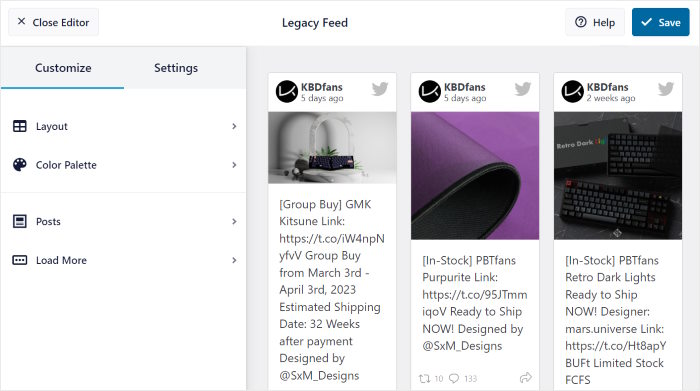 As you can see, we've taken a lot of care to make sure that updating to Social Wall 2.0 is as smooth as possible.
For more details, you can check out our full Social Wall documentation here.
If you have any questions, feel free to reach out to our support team, and they'll be more than happy to help.
Try Social Wall Today
After a lot of hard work, we've released our biggest update for Social Wall so far. This has been a huge milestone in the development of our Social Wall plugin. We really hope you guys have a great time checking out all the new features that we've added for you.
If you're not using Smash Balloon yet, now's the best time to join the community and check out this brand new update so you can use the power of social media to boost your followers, engagement and sales.
What are you waiting for?
Grab the All Access Bundle today, and you'll get Social Wall Pro, along with the best social media feed plugins for Instagram, Facebook, Twitter and YouTube at a huge discount.
Be sure to keep an eye out for more updates in the future. As always, a massive thank you to you guys for supporting Smash Balloon and inspiring us to make the best social media feed plugins in the market.