Here at Smash Balloon, we're kicking off this new year with a brand-new plugin.
You heard that right! We've worked hard on this, and now we're officially releasing our newest plugin for you guys to check out – Reviews Feed!
With the Reviews Feed plugin, you can now display customizable reviews feeds from multiple websites so you can get more sales and grow your business online.
To help you convert visitors into customers with ease, Reviews Feed has awesome features like:
Support for Biggest Platforms: Show customer reviews from the biggest review platforms: Google, Yelp, Facebook, and Tripadvisor.
User-Friendly Dashboard: Easily manage your reviews feeds and access the plugin's settings with a simple dashboard.
3-Step Feed Creation: Build engaging reviews feeds in just minutes with a guided flow – no coding needed.
Visual Feed Customization: Customize your feeds in a few easy clicks while tracking your changes with a real-time preview.
Feed Templates: Quickly create high-converting feeds by using our pre-designed templates.
Lightweight and Fast: Embed as many reviews as you want while making sure your site is as fast as ever.
Mobile-Friendly: Convert visitors from all devices with beautiful review feeds that load perfectly on all screen sizes. 
And Much More: Easy feed export/import, GDPR support, smart caching, and more.
Let's go ahead and check out these features below and see how they can help your business grow.
1. Show Reviews from Popular Platforms
Did you know that Google, Yelp, Facebook, and Tripadvisor are home to 88% of all online reviews, collectively?
In the past, embedding reviews from these platforms took a lot of time and effort.
After all, you had to generate the embed code, return to your site, and then manually insert the code. And on many platforms, you could only embed a single review at once.
But now, you can simply use the Reviews Feed plugin to embed customer reviews on your site in a few clicks – even if you're a WordPress newbie.
Using this single plugin, you can embed content from the most popular review platforms online: Facebook, Google, Yelp, and Tripadvisor.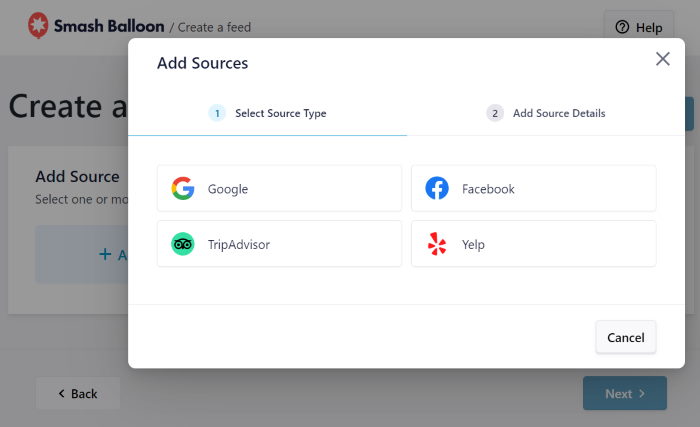 By showing reviews from highly-trusted websites like these, you'll have an easy time convincing visitors to buy from you.
For instance, you'll now be able to:
Add Google reviews to your website's "About" page to boost trust in your brand
Show Tripadvisor reviews on your booking page and encourage visitors to book with you
Embed positive reviews from your Facebook page to convert visitors into new customers
In addition to showing reviews on your site, our Reviews Feed plugin lets your visitors write new reviews of your brand from your website as well.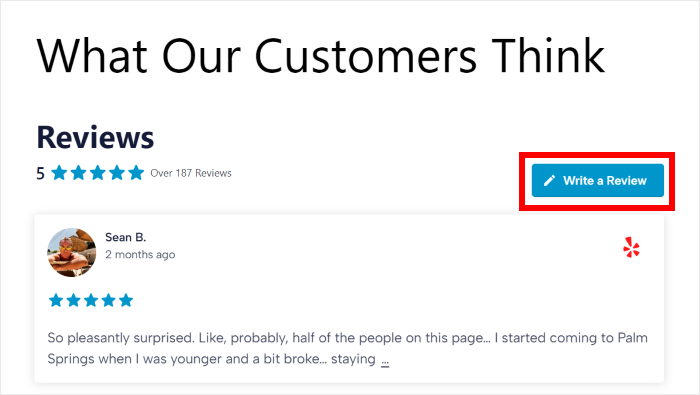 As you can see, Reviews Feed gives you a simple way to turn your site traffic into positive reviews for your brand, even if you're not tech-savvy.
It's a great way to improve people's trust in your business and convert them into dedicated brand ambassadors in no time.
2. Quickly Create and Manage Reviews Feeds
You can say goodbye to complicated HTML codes and iFrames. With this plugin, you can create, edit, and manage your reviews feeds in a few easy clicks.
3-Step Guided Flow
Previously, embedding reviews on your site meant generating custom embed code snippets and manually inserting them into your website.
And if you wanted to show reviews from different platforms, it took even more time, effort, and resources, especially if you hired a developer to help you.
To solve this problem, the Reviews Feed plugin comes with a simple guided flow for creating reviews feeds – absolutely no coding needed.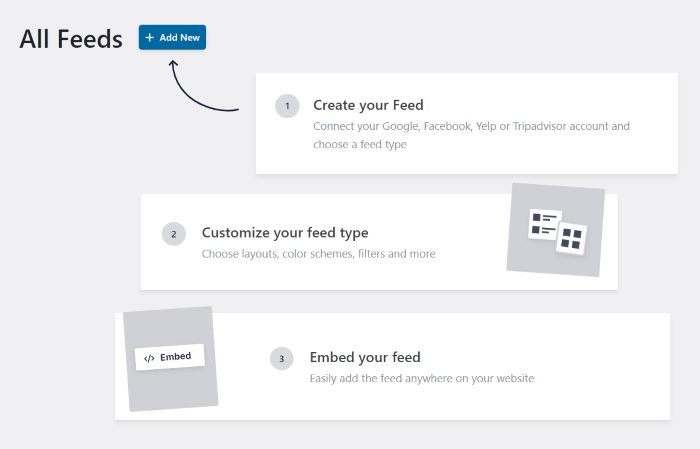 Simply follow our 3-step guide so you can easily go through the process of creating, customizing, and embedding reviews feeds.
Connect your account and choose a feed type
Choose your reviews feed layouts, color schemes, filters, and more
Easily add the feed anywhere on your website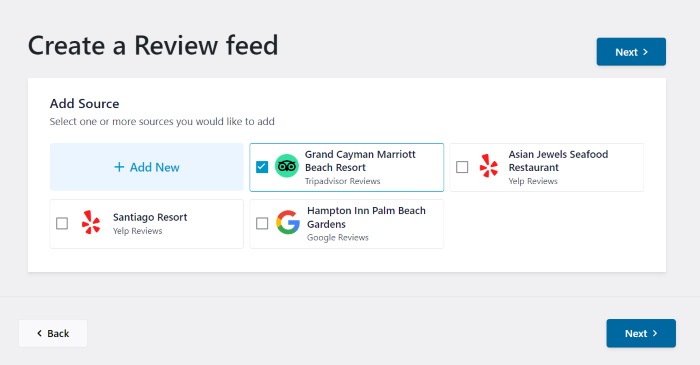 In just a few seconds, you can start turning your site visitors into customers by showing user-generated reviews for your business online.
All Your Reviews Feeds in a Single Place
It's important to keep track of your reviews so you can make sure they're boosting trust in your brand and increasing conversions for your business.
The good news? Reviews Feed makes it easy to track all of your reviews and manage them from a single place.
Just open the All Feeds dashboard, and you can see all of your reviews feeds listed conveniently.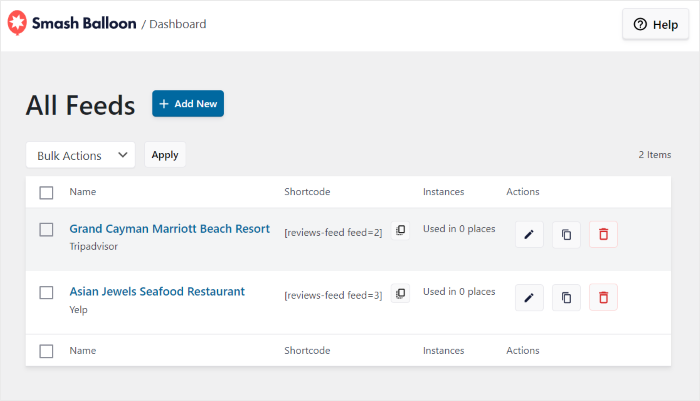 From this dashboard, you can manage your feeds with actions such as:
Edit the design of any individual reviews feeds on your website
Duplicate a high-performing feed and use its design to quickly create a new one
Delete the reviews feeds that you don't want on your site
Copy Shortcode if you want to manually insert the feed on any part of your site
View Instances to check all the locations where you've embedded your reviews feeds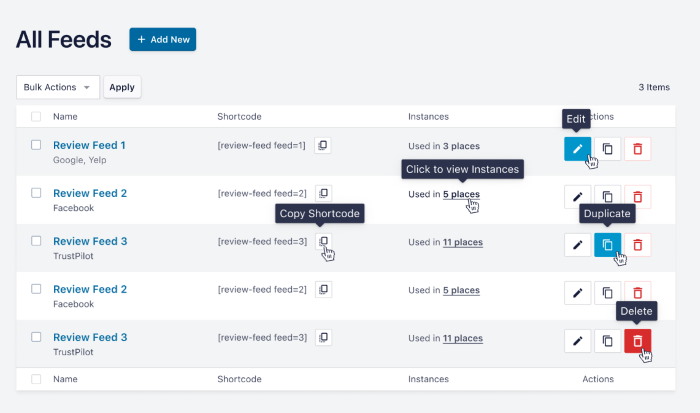 If you click on the Edit button, you can immediately start customizing the specific reviews feed however you want.
You can then customize your feed layout, header style, button design, post style, number of reviews, and much more.
What's more, all the changes you make here will only be applied to this specific reviews feed. That way, you can:
Create a great first impression of your brand by designing a feed with your best reviews and embedding it on your homepage.
Build different reviews feeds for each of your products and embed them on all the products page to boost sales.
Design a review widget and add it to your sidebar, so you can convert everyone visiting your site.
User-Friendly Interface
To make your experience of using Reviews Feed much better, the plugin comes with an easy-to-use dashboard with readable font, plenty of whitespace, and a simple layout, so everything is easier to access for you.
Once you've installed the plugin, it'll automatically ask for the license key so you can finish setting it up.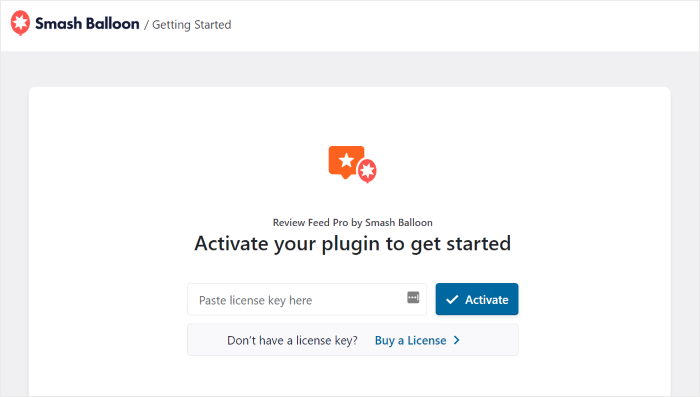 After that, simply follow the guided flow to create a new reviews feed for your site, or you can easily change the plugin settings.
When you go to the Settings page, you can conveniently add or remove the sources for your reviews feeds and manage your API keys.
In just a few clicks, you can connect your website to any of the supported review platforms and use them for your feeds – no need to hire a developer or deal with confusing code.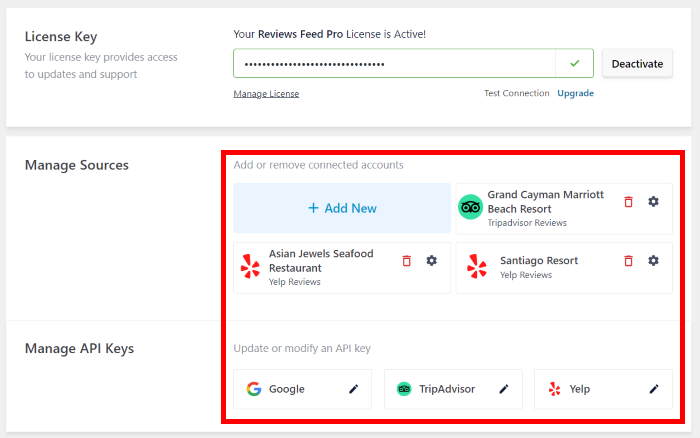 Further below, you'll see the option to export or import your reviews feeds. Exporting a feed will save it safely on your computer as a .json file.
If you own several sites or brands, you can then copy that reviews feed on another website simply by importing the file from your settings page – it's a quick way to reuse a high-performing reviews feed design across multiple websites.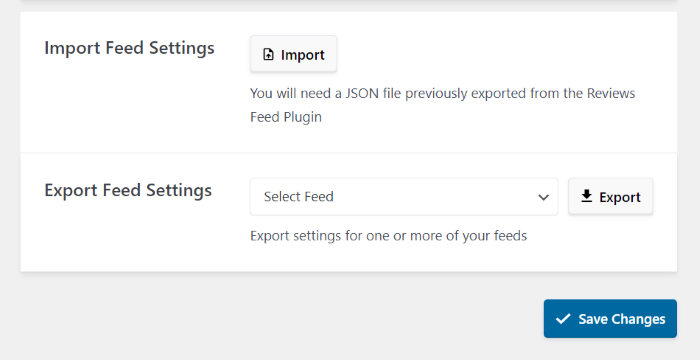 Similarly, you have lots of other options here that are all easy to use. You can clear your cache, translate certain text, enable GDPR support, and much more.
3. Easily Customize Your Reviews Feeds
Reviews Feed has tons of feed customization options that are quick, user-friendly, and require absolutely no coding. Let's take a look at them below:
Inherit Your Website's Design
Before, your embedded reviews would still have the same look as their original review platform's design. So, all these reviews could clash with the design you carefully chose for your site.
The cool thing about Reviews Feed is that it makes sure your reviews feeds automatically copy your site's design.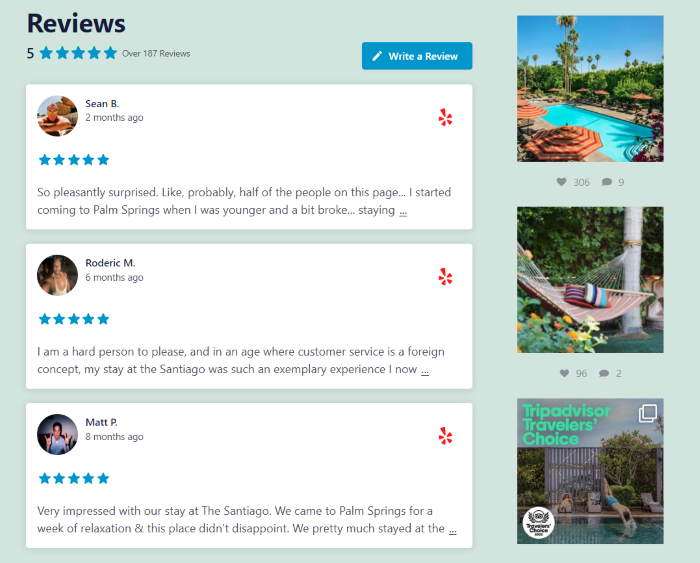 As a result, you can effortlessly create reviews feeds that perfectly match your brand's theme – even without any design experience.
And if you'd like to completely control how your reviews feeds look, then you'll love the next feature…
Visual Feed Customizer with Live Preview
Previously, customizing your reviews meant manually editing the embed code snippets and iFrames which was complex and took a lot of time.
If you didn't want to edit the code yourself, you had to spend a lot of money hiring a developer to customize your feed for you.
With the Reviews Feed plugin, you get a visual feed customizer that makes it easier than ever to customize your feeds, just like other Smash Balloon plugins!
On the left, you can find the options to change your feed templates, layout, header design, reviews design, load more buttons, and much more.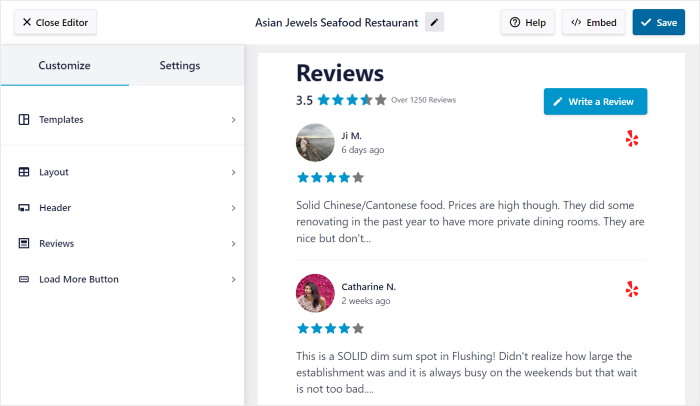 As you customize how your reviews feed looks, the live preview on the right will show your changes in real-time.
You can also use the visual customizer to moderate your feed, change your spacing, and set the number of reviews to display – no coding needed.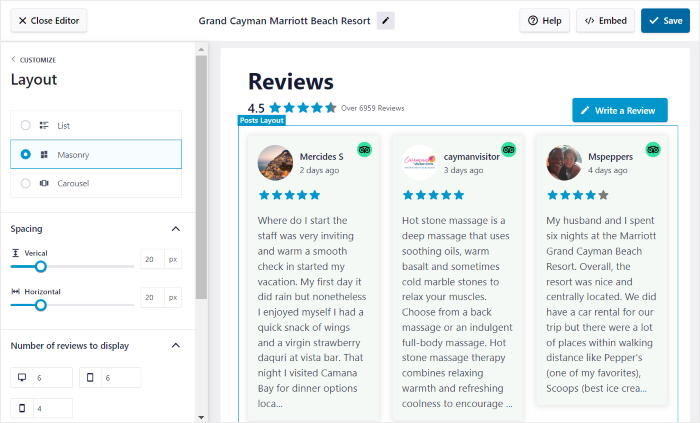 As a result, customization is faster as well as more accurate. After all, you don't have to constantly reload your page to see how your reviews feed looks.
Plus, you can quickly rearrange review elements like author name, star rating, review paragraph, and more just by dragging and dropping in the visual editor.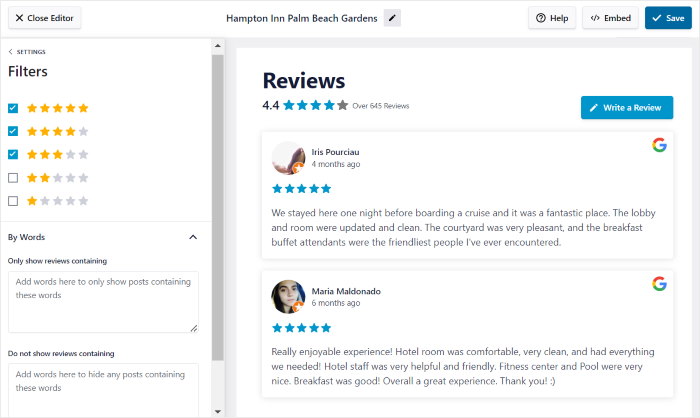 Additionally, the Reviews Feed visual customizer lets you easily:
Show your highest star ratings at the top and create a better impression of your brand
Make your reviews feed accurate by removing reviews from trolls and spam bots
Filter out reviews that contain profanity or certain banned terms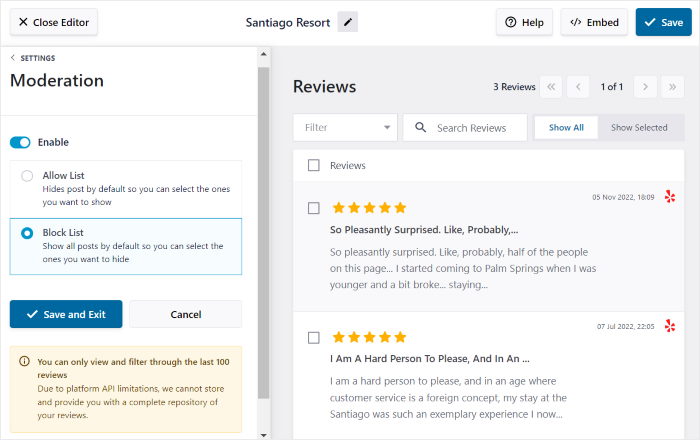 On top of saving you valuable time, the visual feed customizer makes it easy to create unique designs that grab people's attention and convert them into customers – even if you don't have any design experience.
Feed Templates
To make customization even quicker, the plugin comes with tons of ready-made templates that you can use for your feeds.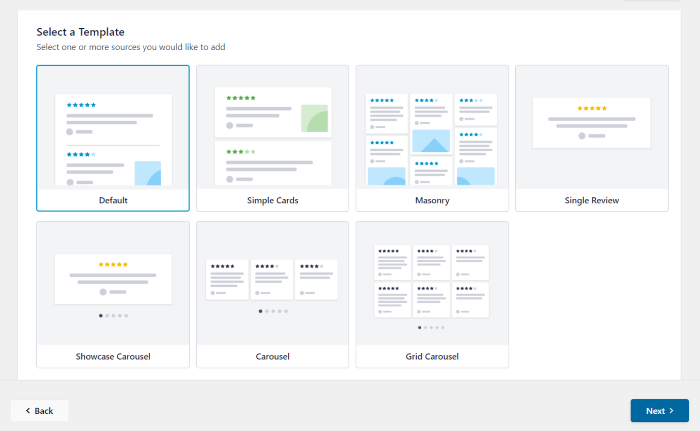 With just a single click, you can use a feed template's design for your reviews feeds. Choose from the following templates so you can quickly create your feeds:
Default
Simple Cards
Masonry
Single Review
Showcase Carousel
Carousel
Grid Carousel
With the help of these pre-designed templates, you can show different types of reviews on your site to boost your business using social proof.
Here are some examples that your business can use for your feeds:
Choose the masonry template to show Google reviews at once on your product pages
Add a showcase carousel to your homepage to highlight your top Yelp reviews for your restaurant
Use the single review template to feature a Tripadvisor testimonial from a valued customer who stayed at your hotel
And much more…
Responsive Design
With over 60.28% of internet traffic coming from mobile devices, having a mobile-friendly site is more important than ever.
And if your reviews don't load properly on mobile devices, you're losing out on so many potential customers.
Using Reviews Feed, you can rest easy because all of your reviews feeds will load perfectly on all devices.
In fact, you can even use the live feed editor to check how your reviews feeds look on desktops, tablets, and mobile devices.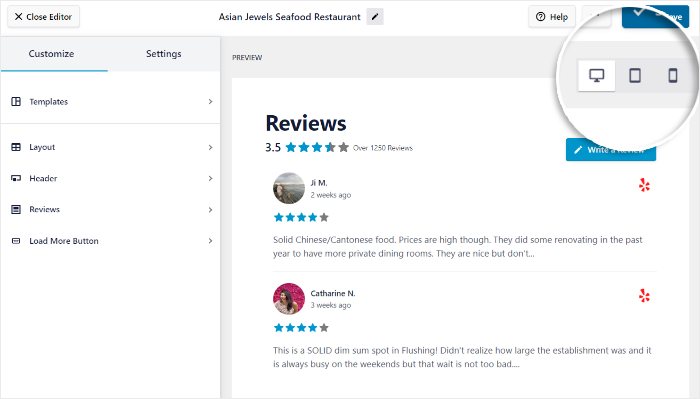 This lets you see how all of your feeds would look to your mobile visitors so you can easily capture their attention and encourage them to do business with you.
As a result, you'll have an easy time converting mobile visitors into paying customers with just a few clicks.
4. Embed Reviews Feeds With Ease
Our newest Reviews Feed plugin lets you embed your feeds for everyone to see in just a few simple clicks – no need to touch a single line of code.
Plus, you can start adding reviews feeds to your site directly from your visual customizer.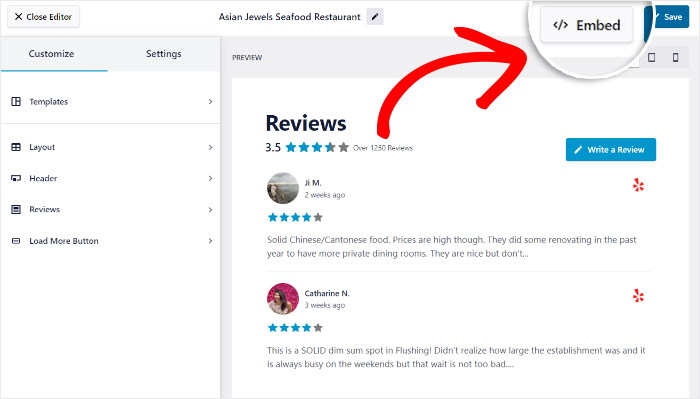 Once you're happy with how your feed looks, click on the Embed button and choose where you want to embed the reviews feeds.
To embed your reviews, all you have to do is add our built-in WordPress block to your website's pages, posts, sidebar, or footer area. With it, you can quickly:
Show glowing Yelp reviews on your restaurant's menu page to encourage more customers
Create a Google reviews page for your site where you can display the best customer testimonials
Add a Tripadvisor review widget to your sidebar to potentially convert everyone visiting your hotel's website
Embed positive Facebook reviews on the product pages of your eCommerce site
That way, you can easily showcase product reviews and grow your sales with the help of Reviews Feed.
5. Lightning-Fast Reviews Optimized for SEO
Since the Reviews Feed Pro plugin was built from the ground up to be lightweight, it comes with lots of features to help improve your website speed.
That way, you can show as many reviews as you want, and your site will be as fast as ever.
Optimized for SEO
Fun fact: Google loves websites with fresh content.
It's a great way to boost your site's SEO and engage visitors with brand-new content at the same time.
The good news? Reviews Feed automatically updates your feed with the latest reviews.
You don't need to spend time manually updating your website every time you get a review — our plugin can do this automatically.
By showing the newest positive reviews, your brand will have an easier time building trust and getting people to do business with you.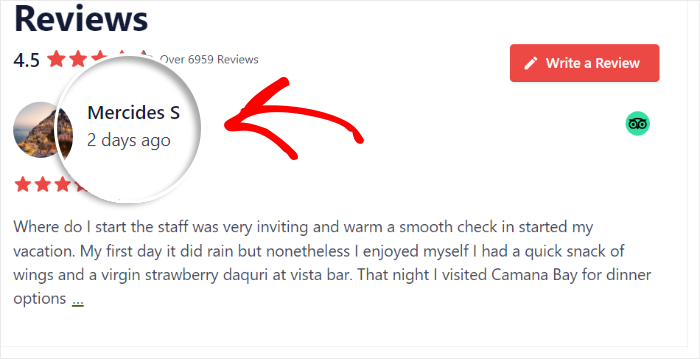 Also, unlike other plugins, Reviews Feed doesn't use iFrames since search engines like Google can't recognize them.
Instead, the plugin embeds your reviews content directly into your web page so that search engines can see relevant keywords in these reviews and help you rank your site higher in search results.
Lightweight and Fast
Did you know that 40% of people will abandon a site that takes over 3 seconds to load?
If your website speed isn't up to par, people can just leave your site and go to your competitors instead.
Our Reviews Feed plugin was created with speed in mind, so it automatically optimizes all the images in your reviews feeds. As a result, your reviews feeds load blazing fast, even if you're showing lots of engaging photos.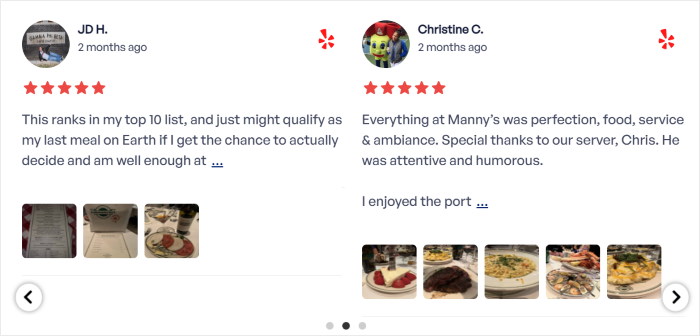 In addition, the plugin will also load everything in the background to help supercharge your website's speed.
Because of this, your reviews feeds will be ready as soon as your visitor opens your site, so everything loads much faster on different devices and you can easily give your visitors a positive user experience.
Smart Caching
Previously, the reviews on your site could stop working when the review platforms faced technical problems.
Using the plugin's smart caching feature, the plugin will automatically save a backup copy of your reviews feeds. Your website can then load this backup and embed reviews on your site without connecting to the review platforms.
With the brand-new Reviews Feed plugin, you now have peace of mind that your feeds will load perfectly even when the review platforms are temporarily down.
Plus, these backup copies of your reviews are saved locally, so your website doesn't have to load your reviews feeds from scratch each time, giving your website a faster loading time.
As you can see, Reviews Feed helps you boost conversions and grow your business with lightweight feeds that load reliably and quickly every time.
6. Easy Compatibility with GDPR Consent Plugins
Did you know that violating GDPR can result in a fine of 20 million euros or up to 4% of your yearly income?
What's more, 96% of customers care about their privacy.
By protecting the privacy of your visitors, you can protect your revenue, brand image, and even customer loyalty.
This is why user privacy has always been a key priority for Smash Balloon.
Like all of our plugins, Reviews Feed takes the privacy of your visitors very seriously and won't store any unnecessary data.
On top of that, the plugin works perfectly with the best privacy and GDPR plugins out there.
All you have to do is open your Settings page and turn on the GDPR compliance option.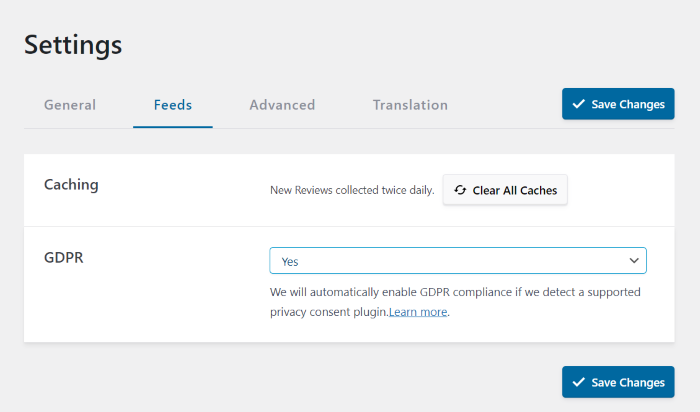 Your site will then be compliant with GDPR as well as all the other major privacy agreements like CPRA (California) and LGPD (Brazil).
That way, Reviews Feed can respect the privacy of your visitors and keep your site secure.
Try Reviews Feed Today
After so much hard work, we're finally releasing our newest plugin so you guys can try it for yourself.
This plugin has been a huge landmark for the Smash Balloon team, and we really hope you enjoy exploring all the amazing features that we've put together.
It's only because of your support that we've reached this far. We're super grateful to have such an awesome community that motivates us to do our best.
And if you haven't joined the Smash Balloon community yet, this is the perfect chance to take the plunge.
Want to easily embed customizable reviews on your site to increase trust in your brand, get more sales and grow your business?
Grab your copy of Reviews Feed Pro today!
We've got lots of other news and updates planned, so keep an eye out for more announcements in the future.
You can follow us on Twitter or Facebook to get the latest updates.
Finally, we'd like to give guys a massive thanks for helping us make the best social media feed plugins for WordPress.