As you know, we're always working hard to make Smash Balloon plugins better so they can help grow your business more.
Today, we're bringing some exciting new changes to the Reviews Feed plugin.
You can now embed reviews and testimonials from one of the biggest review platforms out there – Trustpilot.
What's more, Reviews Feed will let you showcase reviews for WordPress.org themes, plugins, and more.
On top of that, we've also made some neat little changes to make Reviews Feed much more stable and reliable.
Let's get a better look at the Reviews Feed 1.2 update in detail below!
Display Trustpilot Reviews and Convert More Visitors
In the past, Reviews Feed let you boost your sales with reviews from top platforms like Google, Tripadvisor, Yelp, and more.
Now, we're taking it a step further by supporting reviews from Trustpilot.
Used by almost 4.5 million websites, Trustpilot is one of the most popular and highly-trusted review platforms out there.
And now, you can create Trustpilot review feeds for your site using the Reviews Feed plugin.
From the plugin's guided flow, select the new Trustpilot option and then click on Next.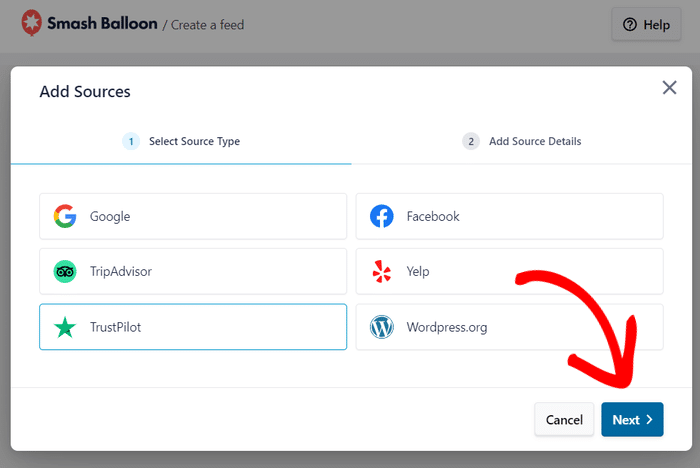 You can then select which Trustpilot page you want to showcase the reviews from.
All you have to do is paste the Trustpilot URL into the popup before clicking on the Finish button.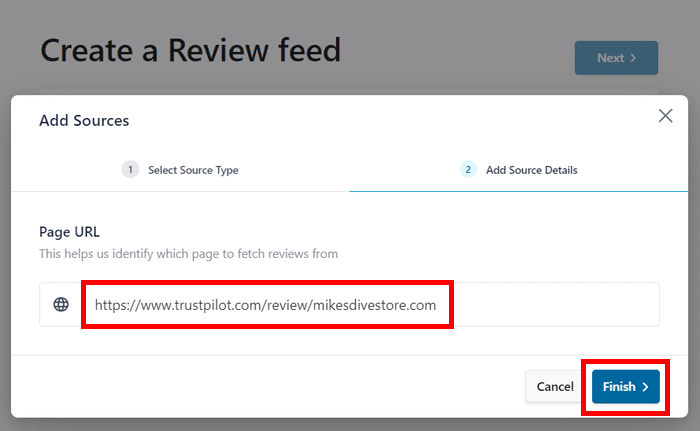 With that, you've added a new Trustpilot source to the Reviews Feed plugin. You can now use this source for your new reviews feed, just like the previous platforms.
Simply select the source and then click on Next to create your Trustpilot reviews feed.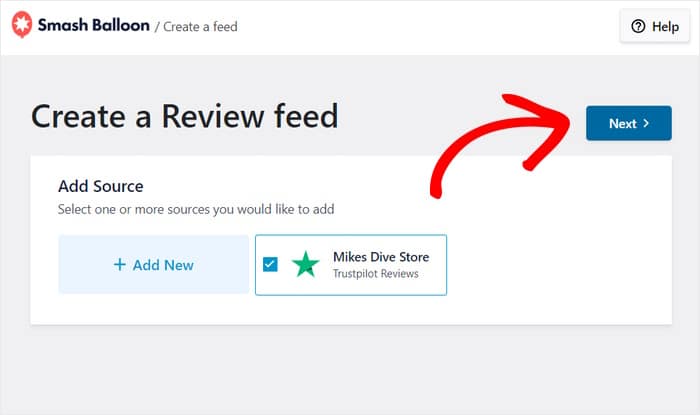 As you can see, embedding Trustpilot reviews with this plugin is a simple and familiar process. Even if you're new to WordPress, you can easily start showcasing Trustpilot reviews on your site.
By displaying Trustpilot reviews this way, you'll be able to:
Add positive Trustpilot reviews to your homepage and build trust in your brand
Showcase a widget of Trustpilot reviews on your products page to get more sales
Promote your limited-time sales with reviews and testimonials on your sales page
Promote Your Themes and Plugins With WordPress.org Reviews
Did you know that 43% of ALL websites are powered by WordPress?
Since it's the biggest web management tool, we wanted to make it easier for businesses to promote WordPress.org themes, plugins, and more.
So, you can now embed WordPress.org reviews directly on your website with the help of Reviews Feed.
From the plugin's guided flow, all you have to do is select the WordPress.org option on the popup and click on Next.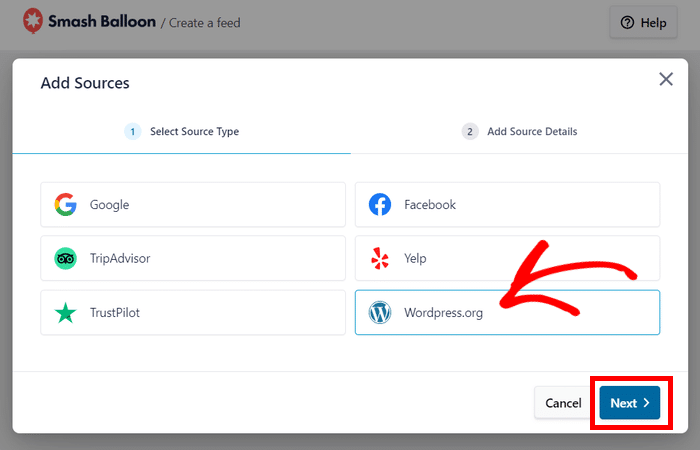 After that, just enter the URL of your WordPress plugin, theme, or tool into the popup. The plugin will now fetch the reviews from this source.
You can then click on the Finish button to continue.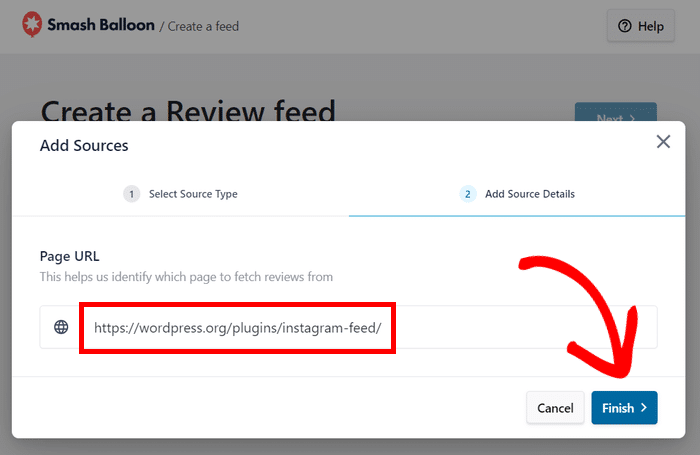 Like with Trustpilot, displaying WordPress reviews on your brand's website only takes a few simple clicks.
You can then use these WordPress.org reviews to:
Embed positive reviews on your homepage to showcase your quality as a developer and build trust in your brand
Display review widgets to show use cases for your themes and convince more people to download them
Use customer testimonials to demonstrate that your plugins are high-quality and get more conversions
Other Plugin Improvements
Our team at Smash Balloon has also been making other changes to make sure that Reviews Feed is reliable and effective for you guys.
A top priority was fixing a rare bug related to duplicate reviews from Google. We know how important it is for you to have reliable review feeds — we immediately resolved this, so your Google review feeds will continue to show accurate reviews that help you build a great impression of your brand.
We've also made it easier for your visitors to leave Yelp and Google reviews from your site.
When people click on Write a Review, the plugin will now take them to Google or Yelp using the best possible link.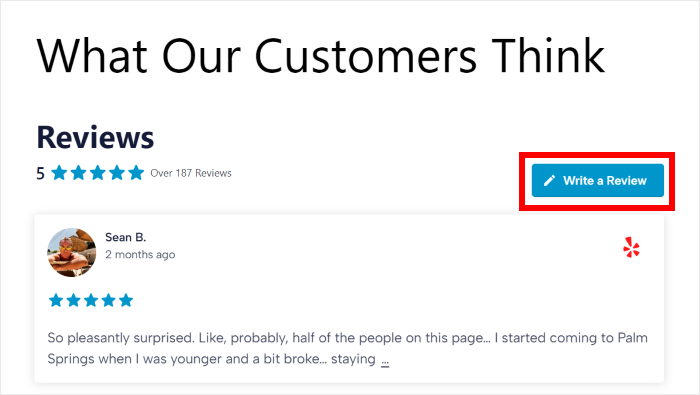 That way, your website visitors will have a much easier time leaving new reviews of your brand.
When people leave more positive reviews, you'll be able to reach new people and convert them into customers with ease.
Plus, both of these changes are applied automatically. You don't have to set anything up, just update the plugin, and these features will start working in the background.
Show Reviews From More Sources Today
This year is going to be absolutely fantastic, with a bunch of exciting Smash Balloon updates coming your way! Make sure to stay tuned to our blog because there'll be plenty more updates heading your way very soon.
Want to leverage positive customer reviews to boost confidence in your brand? Get Reviews Feed Pro today and grow your business with the best reviews aggregator in the market.
Until then, start embedding Trustpilot reviews available for our Reviews Feed Pro Plus and above license levels, and accelerate your business growth. And if you want to showcase WordPress.org reviews and get priority support, you can upgrade to the Elite license.
Even better, you can grab the All Access Bundle and get access to ALL the features of Reviews Feed, along with the best social media feed plugins in the market.