Ever wish you had an easy way to combine your social media feeds in one place?
With the launch of Smash Balloon's newest plugin, Social Wall Pro, now you can!
Use Social Wall Pro to display these social media feeds on a centralized wall posted on your website:
Facebook
Instagram
Twitter
YouTube
This easy-to-use tool can help you boost your followers in all 4 platforms, increase user engagement and grow your business via successful social media marketing.
Let's take a closer look at how Social Wall Pro can help you achieve your business goals…
3 Mobile-Optimized Layouts Ready to Use
Like other Smash Balloon plugins, Social Wall Pro is also responsive, so it looks great on any device or screen size.
You can also customize your feed's layout by choosing from 3 different options.
Use the Grid layout to display your social media feeds in different neatly designed boxes, like this: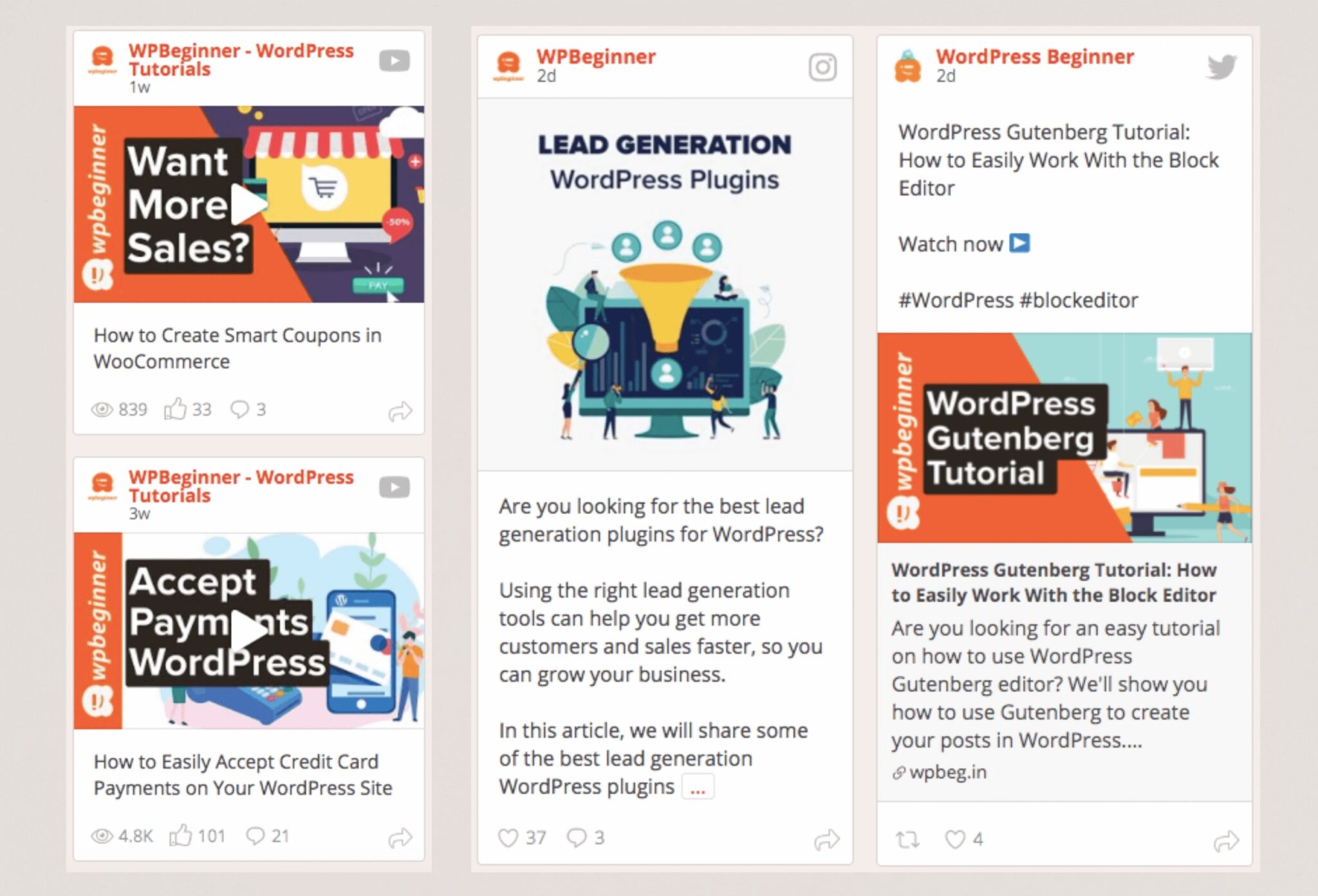 How about putting all your social media feeds on your sidebar area? We've got you. Just click on List layout to make this happen. Using Social Wall Pro's multiple feeds feature, check out how the list layout looks like below.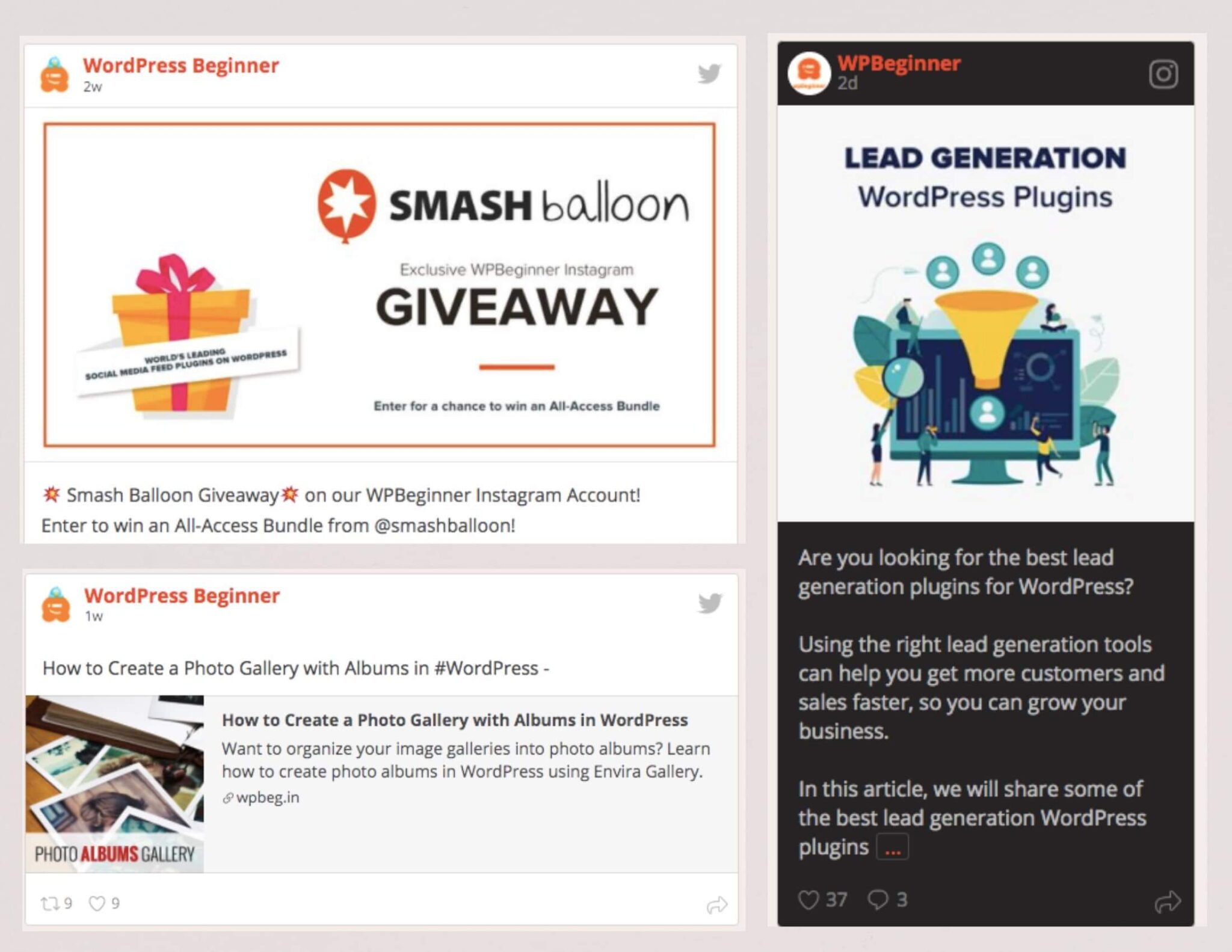 Finally, what if you want to display all your social media feeds as a slideshow? Use Carousel layout to show it on your website's footer, like this: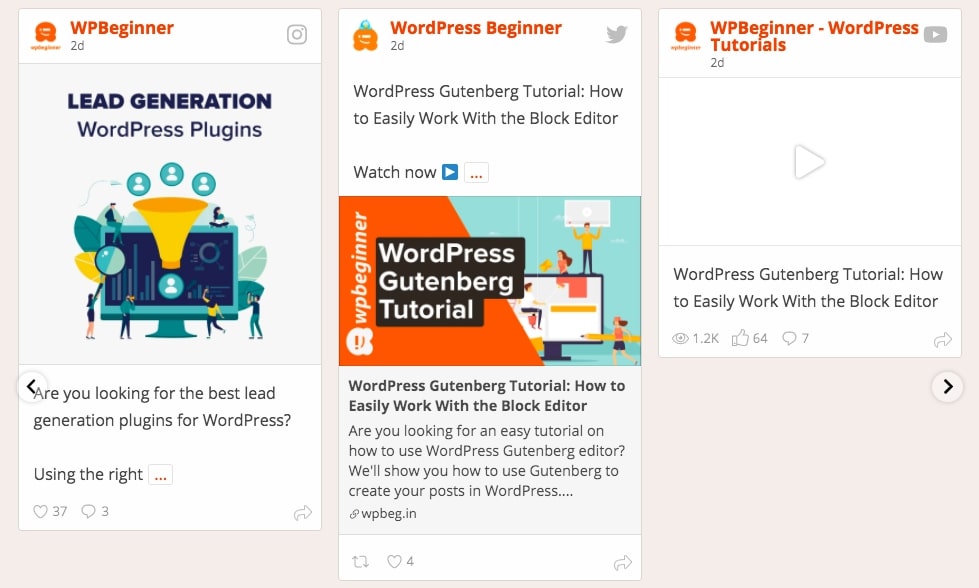 Don't want to include all 4 social media platforms in your social media aggregator?
Social Wall Pro makes it easy to add or remove any account so it won't be displayed.

Read our Social Wall Pro documentation for more details on how you can set up Social Wall Pro for your website.
Boost Your Brand Awareness and Followers
Are you struggling to build your social media presence? You're not alone.
Businesses like you need social media to grow. 51% of the world's population now use social media, after all.
That's why Social Wall Pro was made. The plugin helps you:
Target your ideal audience: Social Wall Pro shows all your social media feeds to targeted traffic — website visitors who are already interested in your brand.
Boost your brand awareness: The more people know you, the more likely they'll trust you. Make your brand more consistent and recognizable by using Social Wall Pro to display a centralized wall with your top social media accounts on your website.
Supercharge your social media followers: Get more followers on not just 1, but 4 social media accounts! Adding your social media feeds to WordPress gives your site visitors an easy way to follow and engage with you.
The result? The more your ideal audience engages with you and trusts your brand, the more likely they are to do business with you.
What Does This Mean for Existing Customers?
Do you already have the All-Access Bundle? Good! Social Wall Pro is now available in your account on the Smash Balloon website. So you can download the Social Wall Pro plugin today.
What if you have 1 or 2 Smash Balloon plugins — but not the All-Access Bundle? Get the All-Access Bundle now and have access to Social Wall Pro and all Smash Balloon Pro Plugins. The best part? You can use all these plugins on unlimited websites!
As always, thank you for continuously supporting and making Smash Balloon plugins the best social media feed plugins for WordPress!
We've got more exciting features and releases lined up for you, so keep your eyes peeled for them.
Have any questions? Get in touch with our helpful support team here. You can also connect with us via Facebook or Twitter.