When we created Reviews Feed, we had a simple goal in mind – to help you build brand trust with your target customers so you can increase conversions and grow your business.
And with this update, we're thrilled to announce some major features that will bring us one step closer to that goal.
Reviews Feed now integrates with the WordPress Multilingual (WPML) plugin for even easier translations of your embedded customer reviews.
What's more, you can also filter your reviews by character length and showcase relevant reviews on your site with just a few clicks. 
Let's take a look at the Reviews Feed 1.3 update in detail below.
Support for WPML Plugin – Easier Review Translations for Better Social Proof
Now, Reviews Feed integrates perfectly with the biggest translation plugin for WordPress – WPML!
Known as the plugin that makes over a million WordPress sites multilingual, WPML (WordPress Multilingual) is a fantastic tool that lets you translate your website with ease and reach potential customers worldwide.
Since Reviews Feed now integrates with WPML, you can seamlessly translate your Google reviews to your visitor's preferred language just by clicking!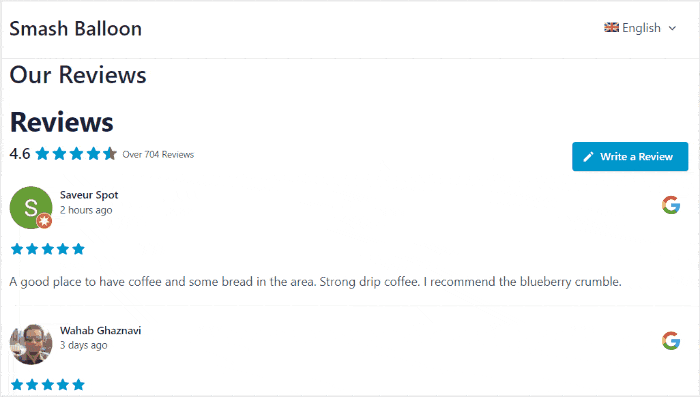 Once you've installed and activated both WPML and Reviews Feed on your site, navigate to the Reviews Feed » Settings menu from your dashboard.
Next, click on the Language & Translation tab at the top.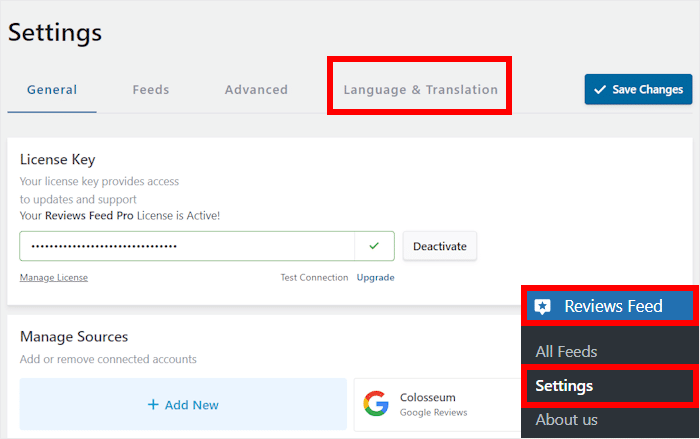 You can now use the dropdown menu next to the Language option to choose the language for your feeds.
With this update, you can see a new option here labeled Automatically with WPML.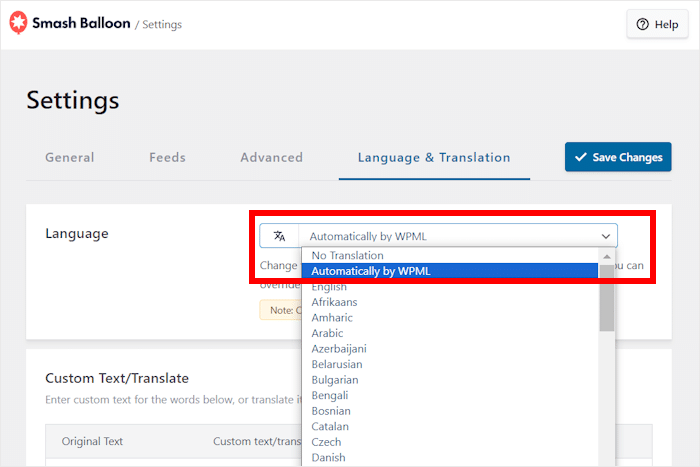 Just click on it, and you're good to go. Now, WPML will do its job and automatically translate your review feeds to your site's language.
On top of that, you can use WPML to individually set the language for your Google review feeds. From your visual customizer, click on the Settings tab and then select Language.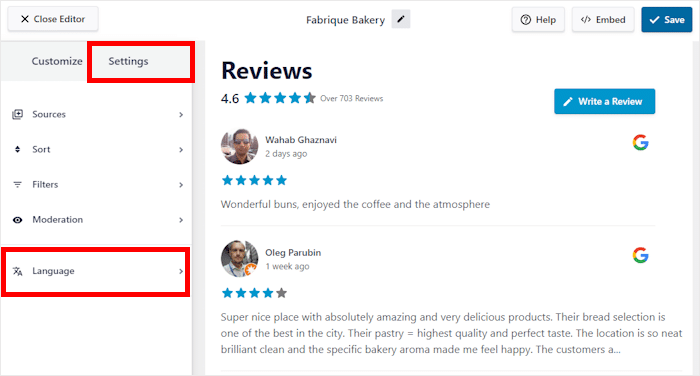 Once you've done that, you can use the dropdown menu on the left to select the Automatically by WPML option.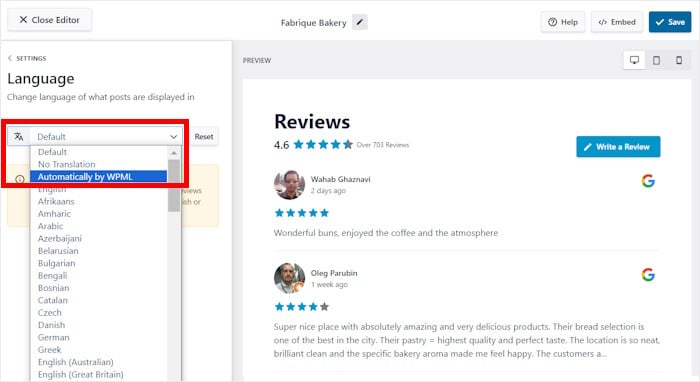 That way, you can make sure your reviews are persuasive to visitors no matter what language they prefer.
With Reviews Feed's integration for the WPML plugin, you can:
Add automatically translated English review feeds to your home page and reach an international audience
Convert Google reviews on your product pages to your local language so you can cater to that specific audience without competing with global brands – no coding needed
Quickly translate your testimonial pages into different languages and start converting visitors from all over the world without hiring multiple translators
Filter Your Reviews By Character Length – Show Relevant Reviews to Your Site Visitors
Ever wanted to have even more control over your review feeds?
You can now filter by minimum or maximum character length so you can showcase relevant reviews on your site.
Ready to give it a try?
From the visual customizer, just click on the Settings tab at the top and then select the Filters option.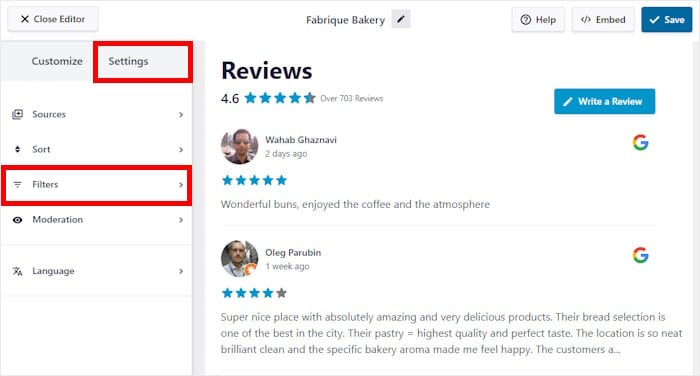 If you scroll down on the left, you can find the option labeled By Character Count.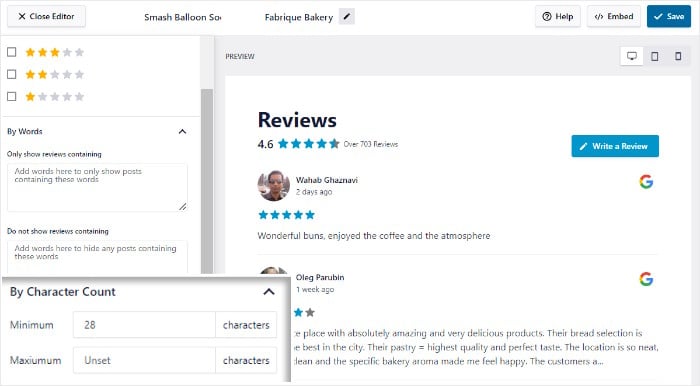 There, you can enter the minimum or maximum number of characters that you want for your review feeds.
Remember to save your settings, and you're done! Reviews Feed will do the rest and automatically filter your feed to only show the reviews you want.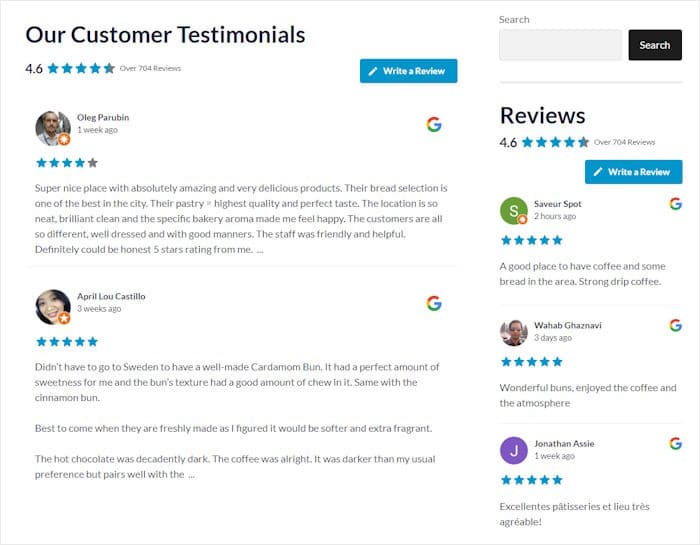 With the help of this new feature, you can:
Showcase in-depth reviews with helpful information about your products on your checkout page to boost conversions
Add short and snappy reviews to your site's home page so website visitors can easily read them and decide to buy from you
Make your product page more convincing and build trust by adding detailed reviews from your top customers
Update Your Reviews Feed Today
We've also made a few tweaks and bug fixes to make sure your experience with Reviews Feed Pro is as smooth as possible.
Ready to try out the new features? Simply open your website and update to the newest version of Reviews Feed.
For more information, you can check out the plugin's documentation here
Have any questions? Feel free to reach out to our customer support team.
Want to build brand trust with positive user reviews? Get started with Reviews Feed Pro and grow your brand with the best reviews aggregator plugin in the market.
We've got even more updates with amazing new features lined up for you in the future, so make sure to keep an eye out.