What is an Instagram Business Profile, and why would I need one?
An Instagram Business Profile is required by Instagram in order to access some feed types (such as Hashtag feeds and Tagged feeds) and also to display certain data which isn't available for Personal accounts.
If you are displaying a "User" feed from either a Personal or Business account, then it's not required to use a Business Profile you can simply connect your Personal account in the plugin instead; however, some features may be missing.  See here for a full list of all features which are only available in Business accounts.
Converting an Instagram Personal Profile to a Business Profile
You can convert your Personal account to an Instagram Business account at any time by following the steps below. It is completely free to do and will make certain features in the plugin available which don't work for Personal accounts.
1) In order to create a Business Profile, Instagram requires you to have a Facebook Page that you can connect to it. This may seem strange, but Instagram is owned by Facebook, and the platforms are becoming more intertwined. If you don't have a Facebook Page, then you'll need to create one.
2) Once you have a Facebook Page, log in to your Facebook account and go to your Facebook Page. Then copy/paste the following onto the end of the URL: settings/?tab=instagram_management so that it looks like this: https://facebook.com/[YOUR-FACEBOOK-PAGE]/settings/?tab=instagram_management.
You can also open your page, click the "Settings" icon, then click the "Instagram" option.
Note: If you are using the New Page Experience added in 2021, you need to use Facebook as the page itself by clicking your profile picture in the top right of the website, then selecting the page you want to manage Facebook as. Then, go to this link to manage your linked accounts.
3) Click the "Connect account" button, then click on "Continue"
4) Log in to the Instagram Business Profile you want to connect.
5) Once connected, if you have not switched your Instagram account to Business, click the "Switch Now" button.
Note: If you don't see the "Switch Now" it means that your Instagram account is already set as Business; you can continue to step #9.
6) You'll be redirected to Instagram; click "Next" to continue switching your account to Business.
7) Add your contact information or click the "Don't use my contact info" button to continue.
8) Once the Business Profile Setup is completed, click on "Done"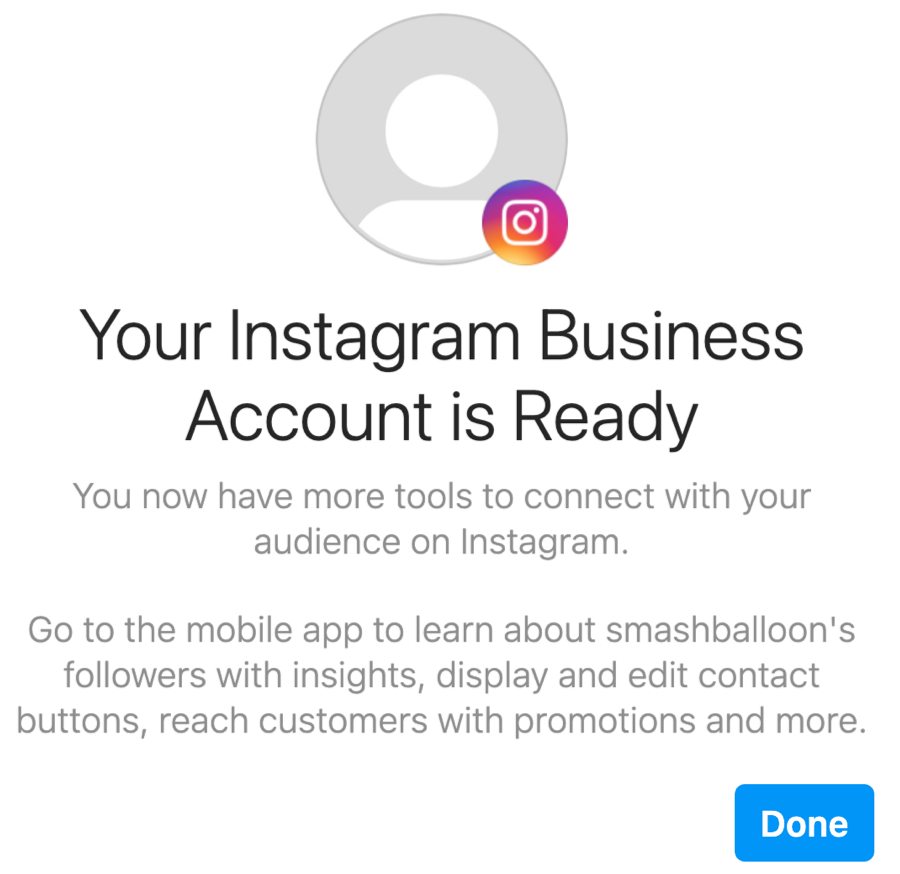 9) Now use the "Add Source" button on the plugin's Settings page to connect your Business Profile, as shown below:



Known issue: A bug in the new Instagram Hashtag API is currently causing an issue for some Instagram accounts and returning the error "The requested resource does not exist". Please see here for more information.
Was this article helpful?