This error usually shows up when connecting your Instagram account using our plugin. The issue is related to a setting called "off-Facebook activity." To help you resolve this matter, we have provided simple steps and information below.
Why Can't I See My Feed?
The Instagram connection relies on the Instagram/Facebook API, and if the "off-Facebook activity" setting is disabled, your feed cannot be displayed. This is a limitation directly imposed by the API, and unfortunately, we cannot change this.
How to Enable Off-Facebook Activity
To enable the "off-Facebook activity" setting, please follow these steps:
Visit Facebook Settings.
Look for the "Off-Facebook Activity" section.
Click Manage Future Activity.
Click Connect future activity.
Click Confirm.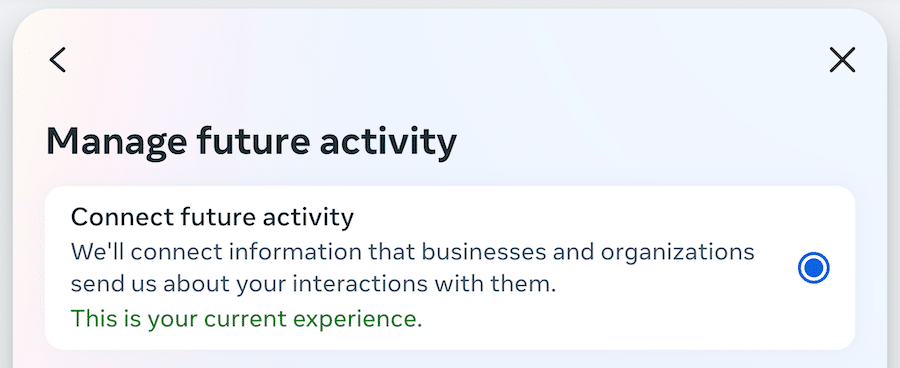 For more detailed information about off-Facebook activity, you can visit this link.
Connecting Your Account as a Business Profile
You can also try connecting your account as a Business Profile, which may offer additional options. To learn how to configure or switch your personal account to an Instagram Business Profile, follow the steps outlined in this guide.
We hope these steps help you resolve the issue and enjoy a seamless experience with our plugin. If you encounter any difficulties or have further questions, please feel free to reach out to our support team using our form here.
Was this article helpful?