This document will guide you through the process of using the 'Hide specific tweets' function in the filter settings to manage the visibility of specific tweets in your Twitter feeds.
Step 1: Accessing the Filter Settings
Log in to your WordPress admin dashboard.
Navigate to the Twitter Feed section in the left-hand menu.
Click on "All Feeds" to view a list of your existing Twitter feeds.
Locate the feed for which you want to configure the 'Hide specific tweets' function and click on "Edit."

Step 2: Accessing the Filter Settings for the Feed
After clicking on "Edit Feed," you will be directed to the settings page for the selected feed.
Look for the "Settings" tab in the upper part of the page and click on it.
Find the "Filter" section and click on it.
In the "Filter" section, locate the option labeled "Hide specific tweets.".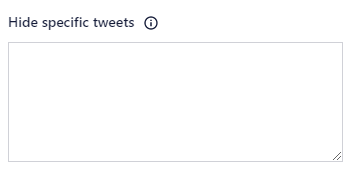 Step 3: Obtaining the Specific Tweet IDs
Open a new tab in your web browser and navigate to Twitter, or click the 'Twitter' link in the customizer.
Find the specific tweets that you want to hide in your feed.
Click on the tweet to view its details.
In the URL bar of your browser, you will see a link that looks similar to: https://twitter.com/smashballoon/status/1641790447130664960
Copy the string of numbers at the end of the URL (in this case, "1641790447130664960").
Return to the WordPress admin dashboard.
Step 4: Adding the Specific Tweet IDs to the Field
In the Custom Twitter Feeds Pro settings page, locate the field provided for entering the specific tweet IDs.
Paste the copied tweet IDs into the designated field, separating them by a comma. For example: 1641790447130664960, 1641790455376800256, 1641790464217865216
Save the changes to update the feed settings.
Please note that by adding multiple tweet IDs separated by a comma, you can hide multiple tweets simultaneously from your feed.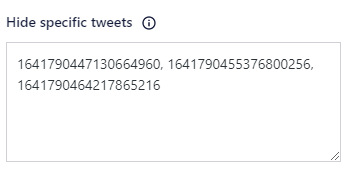 Congratulations! You have successfully used the 'Hide specific tweets' function to manage the visibility of multiple tweets in your Custom Twitter Feeds Pro plugin.
This feature is particularly useful for moderation purposes, situations where deleted tweets are still appearing due to our permanent caching system, or unwanted sponsored tweets or ads that you wish to hide from your feed.
If you have any further questions or encounter any issues, please don't hesitate to reach out to our support team for assistance. We are here to help!
Was this article helpful?