There are a few bits of text in the Instagram Feed that may need to be translated to fit your locale. Here are some different options on how you can translate the plugin.
1) Using the Plugin Settings
Version 6.0 and higher
You can set the text that appears on the Load More and the Follow on Instagram buttons by going to WordPress Dashboard > Instagram Feed > All Feeds > (click name or pencil icon to edit feed), click either Load More Button or Follow Button, and changing the value in the Text field.
Below version 6.0
You can set the text that appears on the "Load More…" button and the "Follow on Instagram" using the settings on the "Customize" tab on the "Instagram Feed" settings page found in the WordPress dashboard. Look for the settings labled "Button Text" under the "'Load More' Button" section and the "'Follow' Button" section.
2) Using Translation Files
You can also take advantage of WordPress' translation functionality to internationalize the "Load More" button text, "Follow on Instagram" button text, "Share" text in the light box, and the posted on date. Currently, language files for the following languages are included in the plugin:
Danish (Denmark)
German (Germany)
Spanish (Spain)
Finnish (Finland)
French (France)
Italian (Italy)
Japanese (Japan)
Norwegian (Norway)
Portuguese (Portugal)
Russian (Russia)
Swedish (Sweden)
If you need a language not listed here, there are many plugins that help with creating language files including the free plugin Loco Translate available in the WordPress.org plugin directory.
3) Using WPML
Our plugin has also been officially declared compatible with WPML (WordPress Multilingual Plugin) and contains a configuration file to help translate the plugin. This WPML plugin is great for sites needing to support multiple languages. The text domain for both the free and "Pro" versions is instagram-feed.
Take a look at WPML's official documentation on making the text in our plugin work on multi-language sites:
https://wpml.org/documentation/getting-started-guide/string-translation/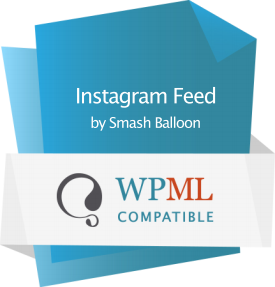 Was this article helpful?