You can merge posts or events from multiple Facebook pages into one single feed by using our handy Multifeed Extension. Simply install the extension by following the directions in the How to use the Multifeed Extension document.
Above Plugin Version 4.0
To combine events from multiple different Facebook pages into one single feed go to Facebook Feed > All Feeds > Select customize for the relevant feed > Settings > Sources > Change. This allows you to specify multiple Facebook Pages or groups, and can then merge all of the events into one single feed, ordered by date.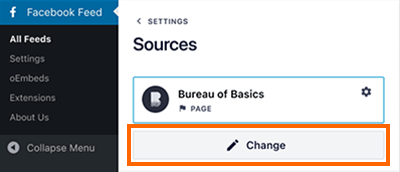 You can also make this selection when creating a new feed:
Below Plugin Version 4.0
Define the Facebook Page IDs on the plugin's Settings page. You can then select to only show Events by unchecking the other post types in the Post Types section of the Customize page.
As each events feed requires an Access Token for that specific Facebook page then you need to tell the plugin which Access Token is for which page, like so:
ID1:TOKEN1, ID2:TOKEN2, ID3:TOKEN3
Here's an example of doing this in the shortcode:
Please note that currently, defining id and accesstoken in the shortcode is not recommended. Instead, manually reconnect your page using the Events Access Token.
Was this article helpful?