If some posts by visitors to your page aren't showing up in the Facebook feed on your website then this is likely due to one of the following two reasons:
1) The post only mentions the page and is not posted directly to it
The posts are not posted directly to the Facebook page and instead only mention the page in the post text.  If a post only mentions/tags the page but is not posted to the page then it is not available in the API and so cannot be displayed by the plugin.
Here is an example of a post which was posted directly to our Facebook page. This type of post can be displayed:


Here's an example of a post where our page was mentioned/tagged in the post text. This type of post can not be displayed: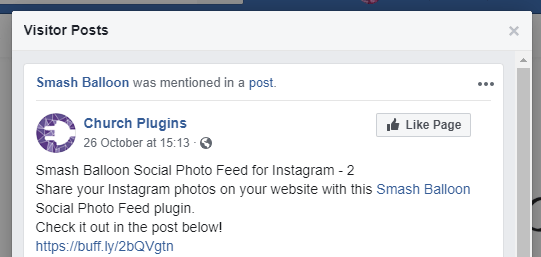 2) Privacy reasons
If a user has privacy settings on their personal profiles set not to allow apps to display some or all of their content then the post won't be accessible via the API. By preventing apps from accessing their content then it doesn't show up in the Facebook API and the plugin isn't able to display the content/posts for those users.
Was this article helpful?