With V3.9 of the Custom Facebook Feed Pro plugin it's now possible to display feeds from Facebook Groups.
What can I display?
You can display content from an open, closed, or secret group, so long as our app is added to the group.  The types of feeds you can display from a group are; Timeline post feeds, Event feeds, Videos feeds, and Album feeds.
What are the requirements?
It is only possible to display a feed from a group which you are a member or admin of and an admin has added our app to. If you are an admin of the group then just follow the directions below to do this, otherwise, please ask an admin of the group to follow the directions here.
Events
It is only possible for events to be displayed using the access token from a group admin.  If using the token from a regular member then the events can't be displayed. The person configuring the plugin would need to either be made an admin of the group or ask a group admin to generate an access token for them to use.
Directions
To display a feed from your Facebook Group just follow these directions:
1) Go to the plugin settings page in WordPress and click the big blue Facebook login button.
2) Select "Facebook Group" from the drop-down list and click "Continue".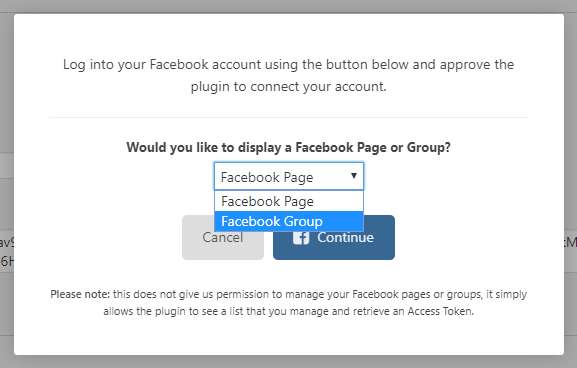 3) Select a group which you are an admin of from the list and click "Use token for this Group".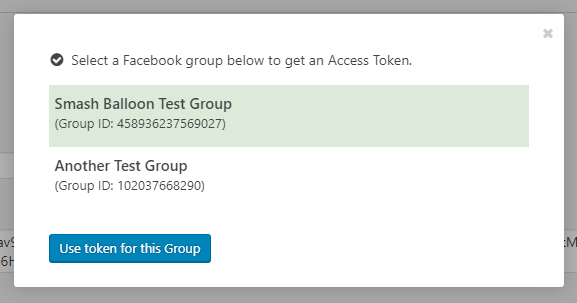 4) Follow the directions to add the Smash Balloon Facebook app to your group: click the link to go to your Facebook Group settings page, or go to it by visiting the group, clicking "More", and then "Edit Group Settings".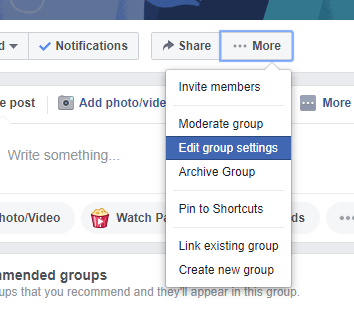 5) About half way down you'll see a section labeled "Apps". Click "Add App".



6) Search for "Smash Balloon", select our app, and click "Add".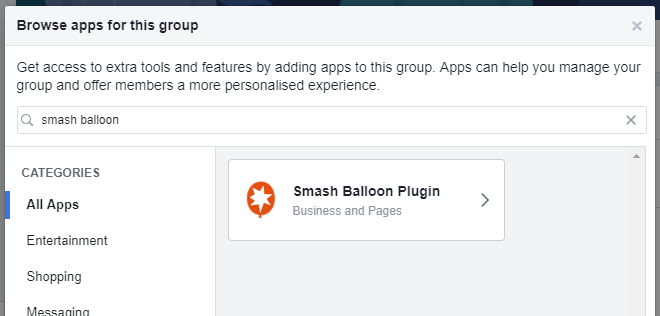 7) Go back to the plugin's Settings page in WordPress and click "Done".



8) Make sure to change the setting labeled "Is this a page or a group?" to be "Group", or use the shortcode setting pagetype=group in the shortcode.