Version 3.0 and above
Versions 3.0 and above of the plugin includes a "Load More" button that allows you to load more content into the bottom of your feed. To enable the button simply check the "Display Load More button" setting on the plugin's main Settings page in WordPress.

You can customize the button using the following settings.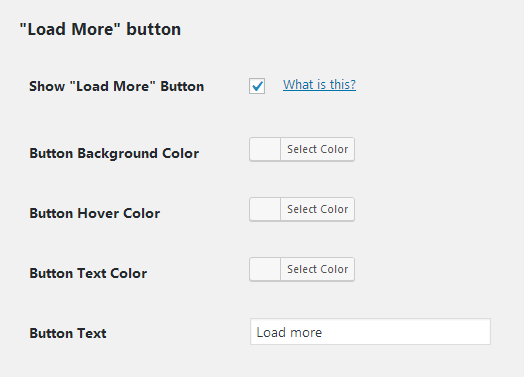 Below version 3.0
The plugin doesn't include a Load More button in earlier versions, but you could mimic this functionality in two ways:
1. Add an "artificial" Load More button
Set the number of posts to be higher than you want, say 30 for example. Then you can add the following to the plugin's Custom JavaScript section (Customize > Misc > Custom JavaScript). This will show only 5 posts initially and then add a Load More button which loads 5 more each time it's clicked:
var counter = 5;
$('#cff .cff-item').last().after('<a class="cff-load-more" href="javascript:void(0);">Load More</a>');
cffLoadMore();

function cffLoadMore(){ 
  $('#cff .cff-item').show().slice(counter).hide();
}
$('.cff-load-more').on('click', function(){ 
  counter = counter + 5;
  cffLoadMore();
});
You can also add the following to the Custom CSS section to style the load more button:
#cff .cff-load-more { 
    display: block;
    clear: both;
    float: left;
    text-align: center;
    padding: 5px 0;
    background: rgba(0,0,0,0.05);
    border-radius: 5px;
    margin: 5px 0;
    width: 100%;
}
2. Mimic Pagination
You can mimic pagination by using the plugin's built-in "offset" setting. This allows you to use multiple shortcodes and offset the number of posts in each one, giving the effect of pagination. For example:
Page 1:
[custom-facebook-feed num=10 limit=10]
Page 2:
[custom-facebook-feed num=10 limit=20 offset=10]
Page 3:
[custom-facebook-feed num=10 limit=30 offset=20]